Michigan Wolverines:

Dave Warner
March, 11, 2014
3/11/14
12:00
PM ET
Spring batted an eyelash toward Chicago on Monday. Wednesday:
more snow
. That Mother Nature, such a tease.
February, 12, 2014
2/12/14
5:00
PM ET
It's time for the second Big Ten mailbag in three days. Lucky you. And here's one last call for
comments from Maryland and Rutgers fans
. The response from Rutgers fans has been terrific. Step it up a bit, Maryland supporters.
On to your questions ...


Samuel from Iowa City writes:
Brian, with Rutgers and Maryland joining the league, what kind of time frame do you think we're looking at before it becomes apparent whether adding them is/isn't paying the dividends the honchos expect?
Brian Bennett:
Well, let's first remember that these moves were more about demographics and markets more than the on-field football product, Samuel. So in that sense, we'll need to judge the expansion success of lack thereof based on a lot more than just won-loss records. The first measurement should come as soon as next year, when negotiations begin on the new Big Ten TV contract. The league figures to cash in big regardless, but the addition of markets like the New York/New Jersey and Maryland/Virginia/D.C. areas could mean an even more serious windfall. And the other big thing to look at is recruiting. The Big Ten hopes these moves open up new talent pipelines for its teams, and I think within five years, we should be able to see whether the league is
signing more players from the East Coast
.
Of course, it would also be nice if the Scarlet Knights and Terrapins are going to bowl games and contending for league titles, but that would be mostly gravy for the league.
---

Tim from Raleigh writes:
As we saw the other day,
Gary Andersen interviewed for the Cleveland HC position
(possibly offered?), but then didn't pursue it. That doesn't surprise me at all that he'd turn that down. I can't image him ever going to the NFL. Andersen seems to really care about his players and developing them into good football players as well as good people in general. NFL players are old enough that they probably don't want their coach mentoring them in day to day life, which he would want to do. He also doesn't strike me as a man that cares that much about the extra million or so he'd get in the NFL. Thoughts?
Brian Bennett:
I think some might have made a mountain out of a molehill from the Andersen news, which is understandable considering how surprising it was and how little else is going on in college football right now. We don't know how far along the talks between the Browns and Andersen got, but it sounds like there was merely some gauging of interest. The Browns took their sweet time in hiring a new coach and apparently turned over every rock. I have a hard time believing Andersen -- who is a very good coach but doesn't have any NFL experience or even a long track record as a college head coach -- was near the top of the Browns' wish list. And I surely don't blame Andersen for listening when an NFL team comes calling.
The encouraging thing is that by all indications, Andersen kept Barry Alvarez informed during the process and didn't use the opportunity to try and leverage the Badgers for a big raise or other concessions. It's not realistic to assume Andersen will stay in Madison the rest of his career if he piles up successful seasons. But I don't think he's actively looking to leave, either, especially with his son,
Chasen
, just entering the program.
---

Redenbacher V. from Sandusky, Ohio, writes:
In regards to your entry outlining
Mark Schlabach's updated rankings for next year
: I was not surprised he moved Michigan up 3 spots. They will continue to rise in the rankings throughout the offseason and as they play nonconference patsies as they do every season. Everyone will forget the ills of the past season and give the Wolverines the benefit of doubt. By the time August 30th gets here, they will be ranked between 14-18. If they manage to beat another perennially over-ranked team in Notre Dame, they will likely climb into the top 10 before falling apart all over again during the conference season. How many times does this cycle have to repeat itself before the Wolverines stop receiving the benefit of doubt?
Brian Bennett:
While I don't really agree with Mark's ranking of Michigan, I also know it's not easy finding teams to fill out those last four or five spots on the ballot, especially at this point in the season. (Though I'd put Nebraska there ahead of the Wolverines). This also isn't a phenomenon that's limited to Michigan. Every year, we see "brand-name" schools get overrated in preseason polls. How many seasons have programs like Notre Dame, Texas, Florida and Miami lived off their reputations? Michigan will get a quick test out of the gate at Notre Dame in Week 2. If the Wolverines can win in South Bend, there's a good chance for a 6-0 start heading into an Oct. 11 home game against Penn State.
Polls shouldn't really matter for anything more than discussion going forward with the new playoff system and selection committee in place. They really don't matter in February. But it gives us something fun to talk about.
---

Sparty from Marquette, Mich., writes:
Most of the coordinator talk surrounding MSU is regarding when Pat Narduzzi will leave. On the opposite end of the spectrum, do you think Mark Dantonio will make room on his staff for Don Treadwell now that he's back on the job market?
Brian Bennett:
Dantonio has an obvious affinity for Treadwell, who was his offensive coordinator from 2004 to 2010 at Cincinnati and Michigan State. Dantonio also was not happy when Miami (Ohio) fired Treadwell less than three seasons into his tenure as head coach last year. But right now there are no openings on the Spartans staff, and after the way the Michigan State offense developed under coordinator Dave Warner (and, yes, Jim Bollman), Dantonio has no reason to shake things up. If an opening occurred on the offensive side, I could definitely see him turning toward Treadwell. But right now, that's not happening.
---

John S. from Lindale, Ga., writes:
As a lifelong Michigan fan, there's something different to me about the teams of the last five or six years, something other than mediocrity. It is as if these teams, with the exception of the 2011 team, lack the belief they can win. That seems to have been the case with the RichRod teams, as well as the teams of the last three years, with the previously noted exception. My question is this: Do you think with Coach Hoke that what has happened is there's a coach in place who wants to be at Michigan, understanding the history and tradition of success, more than a coach who is capable of replicating that success? I wonder if, perhaps, Brady Hoke has been confused with someone who is capable of replicating the success of the past, simply because he understands the context in which that success was achieved. In other words, is Brady Hoke someone who appreciates the history, but who isn't necessarily capable of matching it?
Brian Bennett:
John, you raise some interesting questions. There's no question that Hoke's status as a "Michigan man" fueled his early popularity, and there would likely be a lot more heat on him entering Year 4 if he was more of an outsider. Hoke was very successful at previous stops as a head coach, but I think he still has a lot to prove as a coach at the highest level. As to whether the Wolverines lack a belief they can win, I'm not sure about that. Yes, the 2013 team lost several close games, but they've also won some of those in Hoke's tenure. The biggest difference, to me, from the 2011 squad to the past two years was an apparent lack of standout leaders who could will the team to win, like Mike Martin and David Molk.
But we might not even be having this discussion if Michigan had just played a little bit better. The most pressing concern for the Wolverines and Hoke going forward is whether the program can do a much better job of coaching and developing all the star-studded recruits it has brought in.
---

Eddie from Kansas City writes:
When will the B1G ever get around to scheduling conf games each of the first 4 weeks of the season like other conferences (2020)?
Brian Bennett:
Eddie, you must have missed all the offseason scheduling news we wrote about last year. September conference games are on the way. There will be one in 2014 when Penn State visits Rutgers on Sept. 13, though that was a previously scheduled nonconference game that turned into a league contest when the Big Ten added the Scarlet Knights. Ohio State and Indiana will play in the 2017 season opener, and there will be two other Big Ten games in Week 3 of that year. We won't get many others before then because of previously scheduled nonconference games, but when the nine-game league schedule begins, you will see that happening on a more regular basis. I can't wait.
October, 3, 2013
10/03/13
9:00
AM ET
Adam has a one-game lead in the standings, and we've got five interesting league contests to forecast this week.
Without further ado, the crystal ball says …
PENN STATE at INDIANA


Brian Bennett:
Indiana is 0-for-16 lifetime against Penn State, so you'd have to ignore all historic precedent to pick the Hoosiers. I see IU doing some damage on Penn State's pass defense just as UCF and
Blake Bortles
did. But the Hoosiers' defense won't have any answers for
Christian Hackenberg
and
Zach Zwinak
, the latter of whom scores three times. …
Penn State 42, Indiana 34
Adam Rittenberg:
The Lions defense isn't as bad as it performed against UCF and not as good as it performed against Kent State. But an average Penn State defense, combined with Hackenberg and a stable of running backs, will be too much for Indiana to overcome. Hackenberg twice connects with
Allen Robinson
for touchdowns, and Indiana's quarterback situation becomes cloudier.
… Penn State 38, Indiana 27
ILLINOIS at NEBRASKA


Adam Rittenberg:
Illinois' big-play offense isn't a welcome sight for Nebraska's beleaguered defense, which has been gashed by pretty much everyone so far this season. But Bo Pelini's teams typically perform well after open weeks, and at some point, the defense will start to tighten up. Illinois'
Josh Ferguson
gives his team an early lead, but Nebraska rallies in the second half behind running backs
Ameer Abdullah
and
Imani Cross
, as well as wideout
Kenny Bell
, who hauls in two touchdown passes.
… Nebraska 38, Illinois 31
Brian Bennett:
The Illini have a chance here, especially if
Taylor Martinez
doesn't play or is severely limited.
Nathan Scheelhaase
will burn the Huskers for three touchdown passes. But Nebraska's running game, led by a 150-yard day from Abdullah, will prove the difference, and
Stanley Jean-Baptiste
picks off Scheelhaase late to thwart a potential rally. …
Nebraska 38, Illinois 28
MICHIGAN STATE at IOWA


Brian Bennett:
I've picked against the Hawkeyes three times already and have been wrong twice. (It's nothing personal, Iowa fans, I swear). I really should learn from my mistakes. But I think Michigan State's defense can slow down
Mark Weisman
and generally make life miserable for
Jake Rudock
on Saturday. I have little confidence in the Spartans' offense, but a bye week should have given Dave Warner and Jim Bollman a chance to come up with a couple of plays that work. That may be all it takes in a game like this, which is decided on field goals.
… Michigan State 13, Iowa 10.
Adam Rittenberg:
Tsk, tsk, Brian. Haven't you learned never to doubt Herky in an under-the-radar year? Iowa has the momentum right now, and the Hawkeyes will wear down the Spartans in the second half with Weisman (2 TDs) and
Damon Bullock
. Michigan State's defense keeps it close as always, but the offensive issues continue as Iowa linebacker
James Morris
seals the win with his third interception of the season.
… Iowa 20, Michigan State 17
MINNESOTA at MICHIGAN


Adam Rittenberg:
The open week came at a perfect time for Michigan to clean up its act. Quarterback
Devin Gardner
limits his risks and makes smarter decisions in this one, firing two second-half touchdown passes to
Jeremy Gallon
. Michigan rides running back
Fitzgerald Toussaint
(130 rush yards, 2 TDs) and contains a Minnesota offense that simply doesn't look ready for Big Ten play. Michigan once again teaches Minnesota how to juggy.
… Michigan 31, Minnesota 13
Brian Bennett:
The Wolverines have issues, but I don't think they are as big as the problems Minnesota has, which include an MIA passing game. Surely two weeks of studying film have made Gardner more cautious with the ball. Michigan just has more weapons, especially at home where they never lose under Brady Hoke. It's not always pretty, but Gardner accounts for four touchdowns behind a revamped offensive line. …
Michigan 28, Minnesota 14
OHIO STATE at NORTHWESTERN


Brian Bennett:
Northwestern should be able to make some plays on Ohio State's defense, especially with
Venric Mark
back and some questions in the Buckeyes' secondary. But I think the Wildcats will need turnovers to have a strong chance to win. They'll get two, but it won't be enough as
Braxton Miller
has his best game of the year, running for 120 yards and passing for 250. Ohio State starts fast again and holds on.
… Ohio State 36, Northwestern 27
Adam Rittenberg:
Northwestern hasn't handled spotlight games well in the past, although the team seemed to turn a corner last year in ridding itself of its bowl bugaboo. Is Northwestern's Buckeye bugaboo next? I expect the Wildcats' offense to perform well and open up the playbook, especially with Mark back in the fold. Mark twice reaches the end zone and
Trevor Siemian
attacks a vulnerable Ohio State secondary playing without
Christian Bryant
. But Ohio State's big-play ability will be a little too much to overcome, as Miller leads a memorable game-winning drive in the final minutes.
… Ohio State 34, Northwestern 31
Now it's time for our guest picker. As a reminder, throughout the season we'll choose one fan/loyal blog reader each week to try his or her hand at outsmarting us. There's nothing but pride and some extremely limited fame at stake. If you're interested in participating, contact us
here
and
here
. Include your full name (real names, please) and hometown and a brief description why you should be that week's guest picker. Please also include "GUEST PICKS" in all caps somewhere in your email so we can find it easily.
This week's guest prognosticator is Brandon Poturica, who's stationed at Morón Air Base in Spain. Take it away, Brandon:
"Adam & Brian: Why you should choose me is simple. I met Urban Meyer in Kuwait during a USO tour in the summer of 2011, only months away from when he took the OSU job. I'm from his hometown of Ashtabula, Ohio, and have been stationed overseas since he took the job (Japan and Spain). The Buckeyes have been undefeated since the last time I stepped on American soil, and I'm a superstitious man, so if that means I don't return home and they keep winning, then I'll just have to cheer from afar. Go Bucks and God Bless the USA."
How could we say no to that? Thanks for your service, Brandon, and save us some sangria and tapas. Here are Brandon's picks:
Penn State 38, Indiana 17
Illinois 28, Nebraska 21
Iowa 17, Michigan State 14
Michigan 38, Minnesota 10
Ohio State 56, Northwestern 35
SEASON RECORDS
Adam Rittenberg:
44-6
Brian Bennett:
43-7
Guest pickers:
40-10
August, 19, 2013
8/19/13
1:14
PM ET
We are here to do a job, not channel Scrooge McDuck.
May, 20, 2013
5/20/13
9:00
AM ET
Ohio State already had started paying more competitive salaries for assistant coaches before Urban Meyer arrived in November 2011.
But when Meyer and athletic director Gene Smith sat down to discuss staff pay, Smith soon realized he needed to do more.
"I think Michigan had stepped up with their coordinators," Smith recalled last week during Big Ten spring meetings in Chicago. "So we were already going to that before Urban Meyer came, but we bumped it up a little more. Any time there's change, you have that opportunity."
[+] Enlarge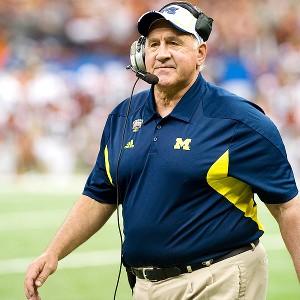 Lon Horwedel/Icon SMIMichigan DC Greg Mattison ranks as the highest-paid assistant coach in the Big Ten for the 2013 season.
"Everyone's always focused on head coaches' salaries," Smith continued. "That's always the thing. But really when you look at the changes, it's really been assistants' salaries across the country -- not just in the SEC, but the Big 12, Pac-12, all across the country."
The Big Ten is part of the change, too, as the league is allocating more money toward football assistants than ever before. The Detroit Free Press has an
excellent look at Big Ten assistants' salaries
, complete with a
database
that includes 10 of the 12 current members (Northwestern doesn't submit salaries as a private institution, and Penn State doesn't have to because of state laws).
The Free Press found that eight of the 10 schools are paying more for assistants in 2013 than they did in 2012 (only Indiana and Illinois are not). There are some significant total increases, such as Wisconsin (up $558,000), Nebraska (up $518,500), Purdue ($400,000) and Minnesota ($355,000). Staff pay had been an issue at Wisconsin, which lost six assistant coaches following the 2012 Rose Bowl, and at Purdue, which paid less for its staff during the Danny Hope era than any Big Ten school.
The total trend among the 10 schools is an increase of $1,720,852.24 for 2013.
Ohio State and Michigan remain No. 1 and No. 2 in Big Ten staff salary, as the Buckeyes allocate $3.416 million and the Wolverines allocate $2.805 million. Nebraska and Wisconsin make the biggest moves in the league for 2013, as the Huskers rise from sixth to third and the Badgers rise from seventh to fourth.
Illinois, which replaced five assistants from the 2012 team, including co-offensive coordinators Chris Beatty and Billy Gonzales, dropped from third in staff pay ($2.314 million) to eighth ($2.065 million).
The database shows that nearly every Big Ten assistant with "coordinator" in his title -- whether he's the sole coordinator or a co-coordinator -- will earn north of $300,000 for 2013. Only 18 assistants listed will make less than $200,000 in 2013 -- 15 work for Minnesota, Illinois, Purdue and Indiana.
Some notes:
Although Wisconsin paid former offensive coordinator Paul Chryst good coin, the school has increased its commitment for Gary Andersen's staff, not only with the coordinators but with some coveted position coaches like running backs coach Thomas Hammock ($300,000).
All of Nebraska's assistants are earning $200,000 or more for 2013, but there's a huge drop-off between Beck and the next highest-paid assistant (defensive coordinator John Papuchis at $310,000).
Michigan State has a similar drop off between Narduzzi and co-offensive coordinators Dave Warner ($270,000) and Jim Bollman ($260,000). Warner will be the primary offensive play-caller and has been on Mark Dantonio's staff since 2006, while Bollman is a newcomer.
Although Michigan is paying top dollar for its coordinators, the school gets its assistants for a relative bargain. Receivers coach/recruiting coordinator Jeff Hecklinski will earn $225,000 in 2013, while the others all will earn $205,000. Ohio State, meanwhile, pays all but one of its assistants $286,000 or more.
The Big Ten's three lowest-paid assistants all are in their first years: Illinois wide receivers coach Mike Bellamy ($125,000) and Purdue linebackers coach Marcus Freeman and running backs coach Jafar Williams (both at $120,000).
Although schools like Illinois, Wisconsin and Iowa ($325,000) pay their coordinators the exact same amount, others have slight differences in salary. Purdue's Shoop makes $5,000 more than defensive coordinator Greg Hudson. Minnesota defensive coordinator Tracy Claeys ($340,000) makes $5,000 more than offensive coordinator Matt Limegrover. Wonder if that leads to any underlying jealousy?
Most Big Ten schools have assistant salaries in round numbers, but there are some interesting totals from Indiana, which pays co-offensive coordinators Seth Littrell and Kevin Johns $255,500.04 and new recruiting coordinator/assistant defensive line coach James Patton $173,740.08. Never know when that change can come in handy.
The Big Ten still lacks some of the OMG totals seen in the SEC -- LSU is
paying new offensive coordinator Cam Cameron $3.4 million
in the next three years -- but the overall trend puts the league more on par with what we're seeing nationally.
Michigan C Cites Concussions In Decision To Quit
BIG TEN SCOREBOARD
Thursday, 9/3
Friday, 9/4
Saturday, 9/5
Sunday, 9/6
Monday, 9/7