Michigan Wolverines:

Dave Aranda
December, 12, 2013
Dec 12
2:30
PM ET
USA Today has released its annual
database of assistant coach salaries
throughout college football so let's see how the Big Ten aides stack up. Ten of the 12 Big Ten schools report coaches' salaries (Northwestern and Penn State do not).

Once again, Michigan defensive coordinator Greg Mattison leads Big Ten assistants in pay at $851,400, which ranks fourth nationally behind million-dollar coordinators Chad Morris of Clemson, Kirby Smart of Alabama and John Chavis of LSU.
Michigan offensive coordinator Al Borges is the only other Big Ten assistant in the top 10 nationally in total pay ($709,300). Nebraska offensive coordinator Tim Beck ($700,000) is next, followed by Ohio State defensive coordinators Luke Fickell ($610,000) and Everett Withers ($585,000), Michigan State defensive coordinator Pat Narduzzi ($558,908) and Ohio State offensive coordinator Tom Herman ($555,000).
On the whole, the Big Ten has fewer assistants making top-20 salaries than the SEC. There's also a decent drop-off in salary after Herman, as no others make more than $500,000 (Wisconsin coordinators Dave Aranda and Andy Ludwig both make $480,000).
Here are the highest-paid assistants for the 10 Big Ten squads reporting salary:
Michigan:
Defensive coordinator Greg Mattison ($851,400)
Nebraska:
Offensive coordinator Tim Beck ($700,000)
Ohio State:
Defensive coordinator Luke Fickell ($610,000)
Michigan State:
Defensive coordinator Pat Narduzzi ($558,908)
Wisconsin:
Defensive coordinator Dave Aranda and offensive coordinator Andy Ludwig ($480,000)
Purdue:
Offensive coordinator John Shoop ($400,000)
Illinois:
Offensive coordinator Bill Cubit and defensive coordinator Tim Banks ($400,000)
Indiana:
Offensive coordinator Seth Littrell ($356,500)
Minnesota:
Defensive coordinator Tracy Claeys ($346,800)
Iowa:
Defensive coordinator Phil Parker ($325,500)
Claeys clearly is the best value in the league, as he served as Minnesota's acting head coach during Jerry Kill's health-related absence and remained as the main sideline coach even after Kill returned to duty. Iowa's Parker, along with OC Greg Davis ($325,000) also earned their keep and then some as the Hawkeyes flipped their record from 4-8 to 8-4.
Some Michigan fans will scoff at Borges' salary after the Wolverines offense struggled for much of Big Ten play. Fickell, Shoop and Banks also directed units that had forgettable seasons.
One thing to keep in mind when some of these assistants are mentioned for head-coaching jobs is the pay cuts they'd likely take to lead teams in smaller conferences.
In terms of total staff pay, Ohio State leads the Big Ten and ranks sixth nationally at $3,474,504, trailing LSU, Alabama, Clemson, Texas and Auburn. Michigan comes in next at $3,072,000, which ranks 14th nationally.
Bret Bielema left Wisconsin for Arkansas in part because he had lost so many assistants in his final two years in Madison. Bielema's staff at Arkansas ranks 10th nationally in total staff pay ($3,233,000), while Gary Andersen's staff at Wisconsin ranks 28th ($2,495,000)
Here are the Big Ten teams sorted by total staff pay:
Ohio State:
$3,474,504
Michigan:
$3,072,000
Nebraska:
$2,648,500
Wisconsin:
$2,495,000
Michigan State:
$2,410,483
Iowa:
$2,367,500
Minnesota:
$2,152,350
Indiana:
$2,074,780
Illinois:
$2,066,400
Purdue:
$2,010,000
We can have an endless about debate whether college football coaches make too much money in general, but these numbers remain problematic for the Big Ten in my view. Only two teams are truly paying top dollar for their staffs, and some groups are undervalued.
Michigan State's staff obviously jumps out after the Spartans just won the Big Ten championship. MSU co-offensive coordinators Dave Warner ($280,800) and Jim Bollman ($262,000) are among the lowest-paid coordinators in the league, as several position coaches make more than them. Athletic director
Mark Hollis said last week that raises are coming
for head coach Mark Dantonio and his assistants.
Minnesota's staff also deserves a nice bump after handling such a tough situation this season. I also wonder whether Iowa's coordinators get a raise, especially considering what head coach Kirk Ferentz makes.
Purdue's Marcus Freeman and Jafar Williams are the Big Ten's lowest-paid assistants at $120,000. Only one SEC assistant, Kentucky's Derrick Ansley, makes less than $140,000.
November, 22, 2013
Nov 22
12:00
PM ET
Winter's cold is too much to handle.
November, 17, 2013
Nov 17
10:00
AM ET
Lessons learned from the weekend that was in the Big Ten:
[+] Enlarge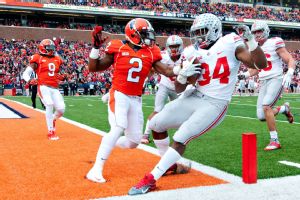 Bradley Leeb/USA TODAY SportsTailback Carlos Hyde rushed for 246 rushing yards and scored five touchdowns in the Buckeyes' win over Illinois.
1. Michigan State vs. Ohio State is happening, so get ready:
The Big Ten championship game is not signed, sealed and delivered yet. But it would take some major chaos for that game not to feature Michigan State and Ohio State. The Spartans clinched at least a tie for the Legends Division title with their
41-28 win at Nebraska
. All they need is to win one of their final two games -- at Northwestern and versus Minnesota -- or have Minnesota lose next week against Wisconsin in order to punch their ticket to Indianapolis. Coach Mark Dantonio's team has come too far to slip up two straight weeks. Ohio State needs one more win to clinch the Leaders spot in the title game because of its head-to-head win over Wisconsin, and the Buckeyes will be favored by multiple scores next week at home against Indiana. This is the matchup that the Big Ten should want -- Michigan State will be in the top 15 and possibly the edge of the top 10 if it wins out, and the Spartans' outstanding defense will test Ohio State's high-scoring offense. It hasn't been the most exciting Big Ten regular season, but things are setting up for a fantastic finish at Lucas Oil Stadium.
2. Wisconsin's defense deserves more notice:
Indiana came into Saturday's game averaging 43.1 points and 527 yards. Whatever you think of the Hoosiers, their offense is legitimately explosive. Wisconsin completely defused that attack in a
51-3 win
, shutting out Indiana in the first half while allowing 224 yards and a lone third-quarter field goal. The Hoosiers had scored in every quarter but three this year and hadn't been blanked in a half since September of last season. The point is that the Badgers' defense is outstanding, yet like the team as a whole, remains underrated. Everyone will notice how Wisconsin ran all over IU for 554 yards, second most in school history, but that pretty much happens every year in the Indiana game. The Badgers D is led by experienced players up front like
Chris Borland
,
Beau Allen
and
Brendan Kelly
and is getting terrific play from less experienced guys like
Sojourn Shelton
and
Tanner McEvoy
on the back end. Don't forget that Ohio State turned in its lowest point total of the season (31) against Dave Aranda's defense. This is a complete team, even if the the voters in the major polls still somehow fail to recognize it.
3. Don't tell Michigan this season is over:
We could have understood if Michigan would have mailed in the end of Saturday's Northwestern game. The Wolverines have been beaten up by opponents and piled on by fans and critics for their lackluster offensive performances. Their Big Ten title hopes are dead, and in coach Brady Hoke's own view, that means the season is a failure already. In the rain in Evanston, they found themselves down 9-6 in the closing moments of an ugly game. But Michigan pulled off a truly incredible effort to set up
Brendan Gibbons
' field goal at the very end of regulation, then ground its way through a
triple-overtime win
. Quarterback
Devin Gardner
, who has been battered and bruised countless times, appropriately scored the winning touchdown and two-point conversion. The Wolverines looked in serious danger of losing out for a 6-6 campaign before Saturday's gritty comeback. While wins at Iowa and against Ohio State the next two weeks won't be easy to come by, Michigan proved that it will not fold up shop. As for Northwestern, you can't fault the effort. But the Wildcats have now lost in just about every terrible way imaginable, including twice in overtime and on a Hail Mary. It's just one of those years for coach Pat Fitzgerald's crew.
[+] Enlarge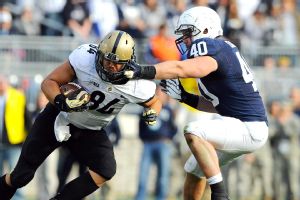 Rich Barnes/USA TODAY SportsLinebacker Glenn Carson and the Nittany Lions gave up just 264 yards to Purdue in the win.
4. It's wait 'til next year -- again -- for Illinois and Indiana:
The best thing you can say about Illinois is that it has shown a lot of fight this year -- even if that sometimes means near fisticuffs between coach Tim Beckman and offensive coordinator Bill Cubit. The Illini did not give up after falling behind Ohio State 28-0 and 35-7 on Saturday, battling back to keep it a two-score game throughout most of the second half. But like the games against Penn State and Indiana, the team simply couldn't finish the job. And so any slight bowl hopes were officially extinguished for Illinois, which now owns the nation's longest conference losing streak -- and second-longest in the long history of the Big Ten -- at 20 games. If Beckman can't lead the team to a win over hapless Purdue next week, he might not get a chance to finish his job, either. Indiana entered the year with high hopes for a bowl. The Hoosiers can still technically get to six wins, but that would require a win next week in Columbus over Ohio State. If you believe that will happen, you are either incredibly optimistic or completely untethered from reality. Coach Kevin Wilson's team has made strides this season on offense and in the running game despite Saturday's showing in Madison, but the defense has failed to grow at all and has some historically inept performances this season. The Hoosiers' status won't change until that side of the ball develops any competency. So it's back to the drawing board for both programs, and they'll have all of December to rethink things.
5. Freshmen making strides at Penn State, Purdue:
If you didn't watch
Penn State's win over Purdue
, we don't blame you. Neither team is going anywhere this season. But the game did provide some hope for the future, thanks to the play of true freshmen on both sides. Purdue quarterback
Danny Etling
took a step forward with the best start of his career, throwing for 223 yards and a touchdown. Both he and Penn State freshman quarterback
Christian Hackenberg
finished with similar stat lines. And their first-year targets fared pretty well, too.
DeAngelo Yancey
was Purdue's leading receiver, with four catches for 83 yards, and Nittany Lions tight end
Adam Breneman
caught the first TD pass of his career. Both teams are looking forward for different reasons, and the play of their youngsters gave them some reasons for hope.
November, 7, 2013
Nov 7
6:00
PM ET
My first chat of November is in the books. Did you miss it? Check out the
full transcript here
.
Some highlights:
DJ from Mlps:
When reading bowl projections, one thing that always seems to come up is Minnesota having a bad reputation for traveling fan support. In fairness, Minnesota hasn't played on New Year's Day in over 50 years and I believe that Minnesotans would flood any warm destination to a Bowl Game of more prominence. We had the largest fan support in our run to the NCAA Final Four in 1997 (since taken off the books). Can Minnesota get past this reputation issue? Hoping for a Gator Bowl bid if we can knock off Penn St. this weekend!
Adam Rittenberg:
DJ, some good points here. Ultimately, it's Norwood Teague's job to sell Minnesota to the bowl reps. I've had multiple bowl people tell me Minnesota travels worse than any fan base in the Big Ten, but part of that could be apathy about the bowls the Gophers have made. There's certainly some enthusiasm around the program right now, and a New Year's Day bowl would only enhance that. I don't think you can compare a Final Four to, say, a Gator Bowl appearance, but Minnesota will have opportunities to sell why it should go to a good bowl.
---
Matthew from Winston Salem:
If you had to pick one coordinator from the B1G to be head coach of your team, who would you pick and why?
Adam Rittenberg:
I'd go with MSU defensive coordinator Pat Narduzzi, and not just because I like him personally and would love to cover his teams. Narduzzi would instill the type of defense that could take a bad or middling program to the next level. Recruits would want to play for him, especially on defense. Narduzzi also has matured a little and should handle the head-coaching spotlight better than he would have a few years ago. I also think Wisconsin defensive coordinator Dave Aranda is a future head coach, but Narduzzi is further along in his career.
---
Mike from Texas:
Does Urban win coach of the year? Or is OSU just ineligible for the award?
Adam Rittenberg:
Mike, I'm going to write this soon, but if Ohio State runs the table again, Urban absolutely should win the award. It shouldn't just go to a first-year coach or one who improves a middling team. We haven't seen a Big Ten team go undefeated in back-to-back years for a very long time. It's absurd that an Ohio State coach can't seem to win the award, but that should end this year if the Buckeyes win out.
---
Steven from Madison, Wis.:
If the coaching hires were reversed for Purdue and Wisconsin, how do you see this season shaping up for each team? (i.e. is Wisconsin doing better because of better players in the system, or is Anderson a better coach?)
Adam Rittenberg:
Interesting question, Steven. Gary Andersen certainly deserves credit for Wisconsin's success, and for keeping the team on track after the Arizona State debacle. But let's be honest here. Andersen inherited a great situation in Madison, one you almost never see for a new coach. Wisconsin has 25 seniors, a defensive superstar in Chris Borland, two exceptional running backs and other standouts. Hazell stepped into a much shakier situation at Purdue. Does that absolve him of blame for a team that might be the worst in recent Big Ten history? No. But the situations are very different and the coach can only do so much.
---
Mike from Detroit:
Rich Rod struggled his first year at UM and the excuse was that Lloyd Carr left the cupboard bare. Rich Rod's teams gradually got better when "his" recruits arrived. Brady Hoke went 11-2 with seemingly all of Rich Rod's recruits. Now UM seems to be getting gradually worse on the field as more of Brady Hoke's recruits come in and Rich Rod's graduate or leave. Does that not seem like there may be a coaching issue at Schembechler Hall?
Adam Rittenberg:
There could be, Mike, but let's keep in mind that Hoke is still on track to win more games this season than Rodriguez ever did at Michigan. He has opportunities still to beat some of the Big Ten's better teams, which Rodriguez never did. Is his tenure a failure so far? By his own standards, yes. But three years isn't enough time, especially when the recruiting seemingly has been so strong. Like I said before, if we're still sitting here in 2015 and Michigan isn't winning the Big Ten, a change may be in order.
Thanks again for the questions. Let's do it again next week.
September, 27, 2013
Sep 27
12:00
PM ET
Enjoy the fact that your royal overlords are a frail old woman and a tiny baby.
September, 26, 2013
Sep 26
12:00
PM ET
Welcome back, Ron Swanson.
May, 20, 2013
May 20
9:00
AM ET
Ohio State already had started paying more competitive salaries for assistant coaches before Urban Meyer arrived in November 2011.
But when Meyer and athletic director Gene Smith sat down to discuss staff pay, Smith soon realized he needed to do more.
"I think Michigan had stepped up with their coordinators," Smith recalled last week during Big Ten spring meetings in Chicago. "So we were already going to that before Urban Meyer came, but we bumped it up a little more. Any time there's change, you have that opportunity."
[+] Enlarge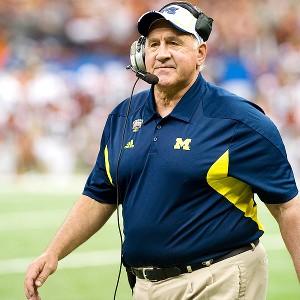 Lon Horwedel/Icon SMIMichigan DC Greg Mattison ranks as the highest-paid assistant coach in the Big Ten for the 2013 season.
"Everyone's always focused on head coaches' salaries," Smith continued. "That's always the thing. But really when you look at the changes, it's really been assistants' salaries across the country -- not just in the SEC, but the Big 12, Pac-12, all across the country."
The Big Ten is part of the change, too, as the league is allocating more money toward football assistants than ever before. The Detroit Free Press has an
excellent look at Big Ten assistants' salaries
, complete with a
database
that includes 10 of the 12 current members (Northwestern doesn't submit salaries as a private institution, and Penn State doesn't have to because of state laws).
The Free Press found that eight of the 10 schools are paying more for assistants in 2013 than they did in 2012 (only Indiana and Illinois are not). There are some significant total increases, such as Wisconsin (up $558,000), Nebraska (up $518,500), Purdue ($400,000) and Minnesota ($355,000). Staff pay had been an issue at Wisconsin, which lost six assistant coaches following the 2012 Rose Bowl, and at Purdue, which paid less for its staff during the Danny Hope era than any Big Ten school.
The total trend among the 10 schools is an increase of $1,720,852.24 for 2013.
Ohio State and Michigan remain No. 1 and No. 2 in Big Ten staff salary, as the Buckeyes allocate $3.416 million and the Wolverines allocate $2.805 million. Nebraska and Wisconsin make the biggest moves in the league for 2013, as the Huskers rise from sixth to third and the Badgers rise from seventh to fourth.
Illinois, which replaced five assistants from the 2012 team, including co-offensive coordinators Chris Beatty and Billy Gonzales, dropped from third in staff pay ($2.314 million) to eighth ($2.065 million).
The database shows that nearly every Big Ten assistant with "coordinator" in his title -- whether he's the sole coordinator or a co-coordinator -- will earn north of $300,000 for 2013. Only 18 assistants listed will make less than $200,000 in 2013 -- 15 work for Minnesota, Illinois, Purdue and Indiana.
Some notes:
Although Wisconsin paid former offensive coordinator Paul Chryst good coin, the school has increased its commitment for Gary Andersen's staff, not only with the coordinators but with some coveted position coaches like running backs coach Thomas Hammock ($300,000).

All of Nebraska's assistants are earning $200,000 or more for 2013, but there's a huge drop-off between Beck and the next highest-paid assistant (defensive coordinator John Papuchis at $310,000).

Michigan State has a similar drop off between Narduzzi and co-offensive coordinators Dave Warner ($270,000) and Jim Bollman ($260,000). Warner will be the primary offensive play-caller and has been on Mark Dantonio's staff since 2006, while Bollman is a newcomer.

Although Michigan is paying top dollar for its coordinators, the school gets its assistants for a relative bargain. Receivers coach/recruiting coordinator Jeff Hecklinski will earn $225,000 in 2013, while the others all will earn $205,000. Ohio State, meanwhile, pays all but one of its assistants $286,000 or more.

The Big Ten's three lowest-paid assistants all are in their first years: Illinois wide receivers coach Mike Bellamy ($125,000) and Purdue linebackers coach Marcus Freeman and running backs coach Jafar Williams (both at $120,000).

Although schools like Illinois, Wisconsin and Iowa ($325,000) pay their coordinators the exact same amount, others have slight differences in salary. Purdue's Shoop makes $5,000 more than defensive coordinator Greg Hudson. Minnesota defensive coordinator Tracy Claeys ($340,000) makes $5,000 more than offensive coordinator Matt Limegrover. Wonder if that leads to any underlying jealousy?

Most Big Ten schools have assistant salaries in round numbers, but there are some interesting totals from Indiana, which pays co-offensive coordinators Seth Littrell and Kevin Johns $255,500.04 and new recruiting coordinator/assistant defensive line coach James Patton $173,740.08. Never know when that change can come in handy.
The Big Ten still lacks some of the OMG totals seen in the SEC -- LSU is
paying new offensive coordinator Cam Cameron $3.4 million
in the next three years -- but the overall trend puts the league more on par with what we're seeing nationally.
Weekend Recruiting Wrap: Big Ten - Dec. 2