Michigan Wolverines:

Darryl Baldwin
June, 11, 2014
6/11/14
5:00
PM ET
It's mailbag time once again. Don't forget to follow us on
Twitter
, and you can ask us mailbag questions there.

Rob NitLion from Morristown, N.J., writes:
Brian, this whole scheduling FCS teams issue REALLY makes me upset as a fan and a season ticket holder. I think it's really quite ridiculous that the Power 5 conferences want to play by their own set of rules, but also schedule games against teams that are already at a competitive disadvantage. Why is it that no one in the media is questioning the logic behind, as you said in your
most recent article
"with power teams needing seven home games to make budget", how does this make sense when schools are bringing in tens of millions of dollars more in media contracts now than they were 10 years ago? It seems the Power 5 conferences want to play by their own rules and act autonomously, but yet refuse to work together on scheduling partnerships to ease the process for nonconference scheduling. I'm also sick of the excuse that the B1G needs to consider scheduling FCS schools to maximize potential to get into the new "Playoff." I think the selection committee should ignore any game played against an FCS school when identifying the best teams for the playoff.
Brian Bennett:
Some very good points, Rob, and you and I appear to be in total agreement that these FCS games should be eliminated. I didn't even mention ticket prices in my post, but the rising costs of attending games is yet another reason why these games are abhorrent. And I also agree that the seven home games argument is a bit odd given the massive amount of money flowing into Power 5 conference teams. It has been projected that the Big Ten could distribute $45 million to each of its member schools after the league's new TV contract is negotiated. Surely some of this can help make up for a lack of a seventh home game in some seasons, no? Or do schools need to continue to raise coaches' salaries and build even more spectacular facilities with that cash?
I also love your last point about the selection committee ignoring wins over FCS opponents. So if, say, an ACC team is 11-1 but has a win over an FCS team, it should be considered 10-1. That might make a big difference when comparing it to an 11-1 team from another conference that has 11 wins over actual FBS teams. I think that would change some schools' willingness to schedule FCS opponents very quickly.
---
Dave from Minneapolis writes:
Honestly, I love the no-FCS mandate, as well as the nine-game B1G schedule for entertainment, but it is not the best move for getting into the playoff. While the schedule will be considered, it certainly won't be enough to counter a loss to a lower-level FBS (former) team. If an 11-2 B1G team is up against a 12-1 ACC/SEC team for playoff selection, the B1G team won't get selected. Sure, it may help when 12-1 against 12-1, but seems the extra risk might not be worth the reward ... for those concerned with the "playoff." All the more reason why it should be an eight-team playoff, with each major conference champ gaining entrance.
Brian Bennett:
Dave, while I agree with you on an eight-team playoff, which in my view would be the perfect setup, we need to be happy that we at long last have some sort of a playoff system. And it will eventually expand, I believe. I also don't think the FCS mandate will have much impact on the Playoff in terms of wins or losses. Let's face it: Any team that loses to an FCS or lower-level FBS team is not going to make the four-team Playoff field anyway. What not scheduling FCS opponents does for the Big Ten is raise its overall strength-of-schedule component, which could be key for selection purposes.
---

Jared from Minnesota writes:
Your recent article about B1G needing to stay the course and ultimately refrain from scheduling FCS opponents is definitely legitimate. However, I recall a mailbag post a little bit ago where (I'm not sure if it was you or Rittenberg) argued the point that some schools -- Indiana, for example -- might benefit from scheduling an FCS team in order to help their program to move to the next level, in the Hoosiers' case, become bowl eligible. Would you agree (or still agree if that was your stance) that there is still some stock to that scenario?
Brian Bennett:
I don't believe I ever said that schools like Indiana should schedule FCS schools. However, I do believe a team like the Hoosiers should dumb down its schedule if it needs to get over the hump and into a bowl game. Last year, Indiana played Navy, Missouri and Bowling Green in the nonconference schedule, which seemed to me a bit too ambitious for a program looking for its second bowl appearance since 1993 and first in six years. There are plenty of easier games against lower-level FBS schools to be had, even if it means a home-and-home series to reduce costs.
---
Josh from NYC writes:
When do you think Michigan becomes a national, or at least regional, power again? Other programs have faced or are facing similar paths, Bama between Bryant and Saban, Oklahoma and Texas now, and it'll happen again. However the school is just built for success and I don't see anything shy of the death sentence keeping this program down. Not that I'm not enjoying MSU's recent success, but it's fun to see some brotherly competition.
Brian Bennett:
Great question, Josh, and it's something that needs to happen, not just for Michigan but to strengthen the entire Big Ten. Michigan has every possible resource you would need, including the nation's largest stadium and huge revenue streams. Brady Hoke's staff has recruited highly ranked classes. So there's really nothing that should be keeping this program down. Either Hoke will get it there in the next couple of years, or someone else will get a chance to try.
---
JK from NoVA writes:
Brian, have you actually looked at Ohio State's offensive line? That was a rhetorical question because if you did, you wouldn't post
this rubbish
. Ohio State's talent level up front is shameful. They will likely duke it out with Michigan for the worst offensive line in the Big Ten. They have next to no experience, very little talent, and they make Penn State's depth situation look positively good (it is actually far better than most think).
Brian Bennett:
Shameful? Really? I have "actually looked" at the Buckeyes' line and have seen them in practice. That line includes left tackle
Taylor Decker
, who started last year and who Urban Meyer said was playing as well as any Ohio State lineman at the end of 2013. It includes
Chad Lindsay
, who transferred from Alabama after starting several games there at center. It also includes
Pat Elflein
, who filled in for Marcus Hall very well last year. Fourth-year junior
Antonio Underwood
and fifth-year senior
Darryl Baldwin
ran with the first team most of the spring. There are a lot of younger players behind them pushing for time.
Meyer wasn't satisfied with his line play this spring, but to say the group lacks talent is disingenuous. Remember there were many questions about the line before 2012, and Ed Warriner quickly shaped that group into one of the country's strongest units. Warriner is one of the best in the business, and while this year's O-line likely won't be as good as the 2013 version, he'll get it figured out.
April, 10, 2014
4/10/14
4:00
PM ET
Head coaches from the Big Ten East Division, along with a player from each team, addressed the media this afternoon on teleconferences. The
West Division players and coaches
spoke Wednesday.
Here's a closer look at the East:

INDIANA
Defense has been a lingering Indiana concern for years, but coach Kevin Wilson believes he's starting to see a change, thanks to new defensive coordinator Brian Knorr. The scheme hasn't changed radically, but the Hoosiers return 10 starters there -- and Wilson's seen a promising spring so far with an added focus on competition and communication: "They've for sure held their own on a daily basis -- and, in some ways, probably even better -- against the offense."
Wilson believes teams need to invest scholarships into the kicking game, but he thinks it's also too risky to offer recruits straight out of high school. If you look at the NCAA's top 25 kickers, Wilson estimated at least 15 started out as walk-ons. So he's hoping to find some walk-ons who are willing to work for a scholarship, rather than be granted one right away.
At 5-foot-7, Shane Wynn is the Hoosiers' leading returning receiver, and he's transitioning to playing the outside. It's been a little different for Wynn, who said he's had to watch more film as a result. He's reading the corners now, instead of the safeties, as just one example.

MARYLAND
Maryland coach Randy Edsall is confident in his offense and believes the Terrapins have enough options so that opponents can't focus on just one person. If defenses lock on to wideout Stefon Diggs, then quarterback C.J. Brown can take off running or receiver Deon Long can pick up some slack. "The No. 1 thing I do like," Edsall said, "is we can spread the field."
Maryland's staff has already started looking at film of Big Ten teams, so they know what to expect when the conference season begins. Edsall said he wants to at least get a feel for their personnel and what kind of schemes he'll face. He's also confident the Terps will be ready: "We fully expect to be able to compete when we get into the Big Ten this year."
Brown said one of the main reasons he committed to Maryland was the coach who recruited him at the time, former Terps assistant and current Penn State coach James Franklin. He's looking forward to squaring off against Franklin this season, and Edsall said there's no question he would like to develop a rivalry with the Nittany Lions.

MICHIGAN
The quarterback derby will continue, and Brady Hoke included all three of his options in the discussion heading into the offseason. The Wolverines coach did acknowledge, though, that Devin Gardner "probably would be" the starter if there was a game on the schedule this weekend. There isn't, so Shane Morris and Wilton Speight will continue to be in the conversation.
The first opponent on the schedule will always stir emotions for Michigan fans, but Hoke didn't attach any revenge or sentimentality to his reasons for wanting to take on Appalachian State in the opener this fall. "We needed a game," Hoke said. "I thought it would be a good game." Defensive end Frank Clark was certainly aware of the history between the programs, even though he was still years away from joining Michigan and getting a shot at making up for the upset loss in 2007 -- which he called "shocking" and "shows how hard those guys play."

MICHIGAN STATE
Michigan State is coming off a Rose Bowl victory, but coach Mark Dantonio and quarterback Connor Cook would prefer not to think about that any longer. Dantonio said they've talked a lot these last four months about not growing complacent, and Cook only echoed his coach. "A lot of people keep bringing up the Rose Bowl," Cook said. "But we're past that. We're focusing on the now."
The offensive line has made some big strides since January, at least according to Cook. He felt like he had no time in the pocket last spring and said the pass rush was getting to him every time. This spring? He doesn't feel rushed in the pocket, and he thinks that's pretty indicative of how far this line has come.
Jeremy Langford earned a lot of praise from Cook, who said the running back has become a much bigger part of the passing attack. "He's improved a lot with catching the ball," Cook said, complimenting Langford's versatility. "He's done so many different things for us."

OHIO STATE
There is still work to be done in addressing the most glaring weakness on the team last season, but Urban Meyer called Ohio State's pass defense "drastically improved" and will be watching closely for more signs of progress in Saturday's spring game. The Buckeyes will play a traditional game, but the emphasis will be on throwing the football and assessing the skill players on both offense and defense -- giving Meyer a chance to evaluate backup quarterback Cardale Jones in a live setting in addition to checking out the secondary.
Arguably the strongest part of last season's team is undergoing a transition without four senior starters, and the offensive line is somewhat of a concern for Meyer heading into the offseason. With guard Pat Elflein the only other player to have earned a first-team slot to play alongside junior Taylor Decker at this point, that competition is likely to spill over into preseason camp in August. Both tackle Darryl Baldwin and guard Antonio Underwood were praised for their work by defensive tackle Michael Bennett, and Billy Price and Jacoby Boren are dueling at center.

PENN STATE
Franklin said he knew exactly what he was getting into at Penn State, in terms of the current depth and sanctions. He and former coach Bill O'Brien worked together at Maryland, and he said the two had a lot of honest conversations about the current state of the Nittany Lions. The two have continued to talk since.
Derek Dowrey and Brian Gaia are both making transitions from defensive tackle to offensive guard, and Franklin said he has been pleased with their performances so far: "They're doing a good job for us -- and they have to. We're thin at that position."
Franklin said he feels especially comfortable with the talent at running back and defensive line. Middle linebacker Mike Hull was more specific about naming the players who impressed him, pointing to backup linebacker Gary Wooten and cornerback Da'Quan Davis. Hull said Wooten is always around the football and that Davis, who missed part of the spring with a hamstring injury, has come up with several interceptions.

RUTGERS
Another open competition at the most critical position on the field -- quarterback -- is still playing out at Rutgers, and coach Kyle Flood isn't ready to declare a winner in what would seem to be a wide-open battle. Flood indicated that Gary Nova, Mike Bimonte and Chris Laviano are all "really vying for that first-team job."
The change in conference affiliation has been welcomed with open arms by the Scarlet Knights, who can "feel the energy" as theypractice for their first season in the Big Ten. Defensive tackle Darius Hamilton said the team was already buzzing with excitement about the opportunity, and Flood called joining the league a "positive in every way." The move also presents the opportunity for a rivalry to develop with new divisional neighbor Penn State, with both Flood and Hamilton citing the proximity between the schools as a bonus.
March, 25, 2014
3/25/14
12:00
PM ET
Five months and three days 'til the start of college football.
February, 28, 2014
2/28/14
2:30
PM ET
We're taking snapshots of each position group with each Big Ten team entering the spring. Up next: the big uglies.

Illinois:
This is another group that appears to be in significantly better shape now than at the start of coach Tim Beckman's tenure. The Illini lose only one full-time starter in tackle
Corey Lewis
, as four other linemen who started at least eight games in 2013 return. Senior tandem
Michael Heitz
and
Simon Cvijanovic
are two of the Big Ten's most experienced linemen, and guards
Ted Karras
also has logged plenty of starts. Right tackle appears to be the only vacancy entering the spring, as
Austin Schmidt
and others will compete.

Indiana:
The Hoosiers have somewhat quietly put together one of the Big Ten's best offensive lines, and the same should hold true in 2014. Everybody is back, and because of injuries before and during the 2013 season, Indiana boasts a large group with significant starting experience.
Jason Spriggs
should contend for first-team All-Big Ten honors as he enters his third season at left tackle. Senior
Collin Rahrig
solidifies the middle, and Indiana regains the services of guard
Dan Feeney
, who was sidelined all of 2013 by a foot injury.

Iowa:
The return of left tackle
Brandon Scherff
anchors an Iowa line that could be a team strength this fall. Scherff will enter the fall as a leading candidate for Big Ten offensive lineman of the year. Iowa must replace two starters in right tackle
Brett Van Sloten
and left guard
Conor Boffeli
.
Andrew Donnal
could be the answer in Van Sloten's spot despite playing guard in 2013, while several players will compete at guard, including
Tommy Gaul
and
Eric Simmons
. Junior
Austin Blythe
returns at center.

Maryland:
Line play will go a long way toward determining how Maryland fares in the Big Ten, and the Terrapins will
make the transition with an experienced group
. Four starters are back, led by center
Sal Conaboy
, who has started games in each of his first three seasons. Tackles
Ryan Doyle
and
Michael Dunn
bring versatility to the group, and Maryland should have plenty of options once heralded recruit
Damian Prince
and junior-college transfer
Larry Mazyck
arrive this summer. Prince is the top Big Ten offensive line recruit in the 2014 class, according to ESPN RecruitingNation. New line coach Greg Studwara brings a lot of experience to the group.

Michigan:
The Wolverines' line is under the microscope this spring after a disappointing 2013 season. Michigan loses both starting tackles, including
Taylor Lewan
, the Big Ten's offensive lineman of the year and a projected first-round draft choice. The interior line was in flux for much of 2013, and Michigan needs development from a large group of rising sophomores and juniors, including
Kyle Kalis
,
Kyle Bosch
,
Jack Miller
,
Graham Glasgow
, and
Patrick Kugler
. Both starting tackle spots are open, although
Ben Braden
seems likely to slide in on the left side.
Erik Magnuson
is out for spring practice following shoulder surgery, freeing up opportunities for redshirt freshman
David Dawson
and others.

Michigan State:
The line took a significant step forward in 2013 but loses three starters, including left guard
Blake Treadwell
, a co-captain. Michigan State used an eight-man rotation in 2013 and will look for development from top reserves such as
Travis Jackson
(
Yes! Yes!
) and
Connor Kruse
.
Kodi Kieler
backed up Treadwell last season and could contend for a starting job as well. Coach Mark Dantonio said this week that converted defensive linemen
James Bodanis
,
Devyn Salmon
and
Noah Jones
will get a chance to prove themselves this spring. It's important for MSU to show it can reload up front, and the large rotation used in 2013 should help.

Minnesota:
For the first time since the Glen Mason era, Minnesota truly established the line of scrimmage and showcased the power run game in 2013. The Gophers return starters at four positions and regain
Jon Christenson
, the team's top center before suffering a season-ending leg injury in November. Right tackle
Josh Campion
and left guard
Zac Epping
are mainstays in the starting lineup, and players such as
Tommy Olson
and
Ben Lauer
gained some valuable experience last fall. There should be good leadership with Epping, Olson,
Marek Lenkiewicz
and
Caleb Bak
.

Nebraska:
Graduation hit the line hard as five seniors depart, including 2012 All-American
Spencer Long
at guard and
Jeremiah Sirles
at tackle. Nebraska will lean on guard
Jake Cotton
, its only returning starter, and experienced players such as
Mark Pelini
, who steps into the center spot. Senior
Mike Moudy
is the top candidate at the other guard spot, but there should be plenty of competition at the tackle spots, where
Zach Sterup
,
Matt Finnin
and others are in the mix. Definitely a group to watch this spring.

Northwestern:
Offensive line struggles undoubtedly contributed to Northwestern's disappointing 2013 season. All five starters are back along with several key reserves, and coach Pat Fitzgerald already has seen a dramatic difference in the position competitions this spring as opposed to last, when many linemen were sidelined following surgeries. Center
Brandon Vitabile
is the only returning starter who shouldn't have to worry about his job.
Paul Jorgensen
and
Eric Olson
opened the spring as the top tackles, and
Jack Konopka
, who has started at both tackle spots, will have to regain his position.

Ohio State:
Like Nebraska, Ohio State enters the spring with a lot to replace up front as four starters depart from the Big Ten's best line.
Taylor Decker
is the only holdover and will move from right tackle to left tackle. Fifth-year senior
Darryl Baldwin
could step in at the other tackle spot, while
Pat Elflein
, who filled in for the suspended
Marcus Hall
late last season, is a good bet to start at guard.
Jacoby Boren
and
Billy Price
will compete at center and
Joel Hale
, a defensive lineman, will work at guard this spring. Ohio State has recruited well up front, and it will be interesting to see how young players such as
Evan Lisle
and
Kyle Dodson
develop.

Penn State:
New coach James Franklin admits he's concerned about the depth up front despite the return of veterans
Miles Dieffenbach
and
Donovan Smith
on the left side. Guard
Angelo Mangiro
is the other lineman who logged significant experience in 2013, and guard/center
Wendy Laurent
and guard
Anthony Alosi
played a bit. But filling out the second string could be a challenge for Penn State, which could start a redshirt freshman (
Andrew Nelson
) at right tackle. The Lions have to develop some depth on the edges behind Nelson and Smith.

Purdue:
The Boilers reset up front after a miserable season in which they finished 122nd out of 123 FBS teams in rushing offense (67.1 ypg). Three starters return on the interior, led by junior center
Robert Kugler
, and there's some continuity at guard with
Jordan Roos
and
Justin King
, both of whom started as redshirt freshmen. It's a different story on the edges as Purdue loses both starting tackles. Thursday's addition of junior-college tackle
David Hedelin
could be big, if Hedelin avoids a potential NCAA suspension for playing for a club team.
Cameron Cermin
and
J.J. Prince
also are among those in the mix at tackle.

Rutgers:
Continuity should be a strength for Rutgers, which returns its entire starting line from 2013. But production has to be better after the Scarlet Knights finished 100th nationally in rushing and tied for 102nd in sacks allowed. Guard
Kaleb Johnson
considered entering the NFL draft but instead will return for his fourth season as a starter. Rutgers also brings back
Betim Bujari
, who can play either center or guard, as well as
Keith Lumpkin
, the likely starter at left tackle. It will be interesting to see if new line coach Mitch Browning stirs up the competition this spring, as younger players
Dorian Miller
and
J.J. Denman
could get a longer look.

Wisconsin:
There are a lot of familiar names up front for the Badgers, who lose only one starter in guard
Ryan Groy
. The tackle spots look very solid with
Tyler Marz
(left) and
Rob Havenstein
(right), and
Kyle Costigan
started the final 11 games at right guard. There should be some competition at center, as both
Dan Voltz
and
Dallas Lewallen
have battled injuries. Coach Gary Andersen mentioned on national signing day that early enrollee
Michael Deiter
will enter the mix immediately at center. Another early enrollee, decorated recruit
Jaden Gault
, should be part of the rotation at tackle. If certain young players develop quickly this spring, Wisconsin should have no depth issues when the season rolls around.
February, 3, 2014
2/03/14
2:30
PM ET
National signing day is less than 48 hours away, and Big Ten fan bases are preparing to officially welcome the 2014 class. My interest in recruiting has increased during the years, but I likely will never reach the mania of many fans.
[+] Enlarge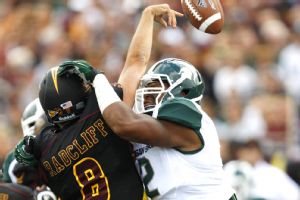 Zuma Press/Icon SMIWilliam Gholston played three seasons for Michigan State, recording 142 tackles and 10 sacks.
The reason: There have been so many examples of supposed top recruits who go bust, and under-the-radar guys who become stars, especially in a largely developmental league like the Big Ten. Recruiting evaluation is an inexact science.
As we prepare for the faxes to roll in, especially from the Big Ten prospects in the
ESPN 300
, it's always interesting to take a look back at how the top Big Ten recruits from four years ago performed. There wasn't an ESPN 300 back in 2010, just an
ESPN 150
, which included 15 Big Ten players. Some became stars, some never got started and others haven't closed the book on their college careers.
Let's take a closer look (positions listed according to ESPN recruiting profiles):
Top 50
No. 12: Demar Dorsey, S, Michigan -- Although Dorsey signed with Michigan, he was denied admission to the school. He had a checkered past but reportedly was given no specific reason for the denial. Dorsey appeared headed to Louisville but never made it and played for Grand Rapids Community College in 2011. He planned to transfer to Hawaii in 2012 but never played for the Warriors.
No. 42: William Gholston, DE, Michigan State -- Gholston played three seasons for the Spartans, recording 142 tackles, including 30 for loss and 10 sacks. He started 24 games and stood out in bowl wins against Georgia and TCU. After a big performance in the 2012 Outback Bowl, Gholston appeared on several preseason watch lists but underachieved at times during the 2012 campaign. He skipped his final season and was a fourth-round pick in the 2013 NFL draft.
Nos. 51-100
[+] Enlarge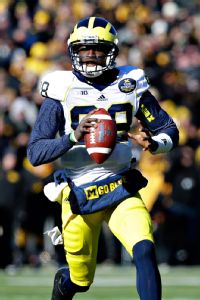 AP Photo/Charlie NeibergallThe reviews have been mixed for Devin Gardner, who passed for 2,960 yards and 21 touchdowns in 2013.
Nos. 101-150
More misses than hits in the group, although several players still could finish their college careers as stars.
Michigan C Cites Concussions In Decision To Quit
BIG TEN SCOREBOARD
Thursday, 9/3
Friday, 9/4
Saturday, 9/5
Sunday, 9/6
Monday, 9/7