Michigan Wolverines:

Danny O'Brien
May, 14, 2014
5/14/14
12:00
PM ET
Busy time for a Wednesday in May. Keep up
here
with Adam Rittenberg's reports from the spring meeting of Big Ten athletic directors.
January, 31, 2014
1/31/14
4:30
PM ET
Wishing you a great weekend. I'll be hooping it up Saturday in Madison.
Don't forget:
Twitter
.
B1G in Memphis writes:
I agree in principle with
Kain Colter
's call for the organization of student athletes if it seeks to prevent injuries or compensate student athletes for injuries sustained in their college careers. However, the concept of paying student athletes that many have suggested seems unreasonable to me. You couldn't just pay the revenue sports players, because that would be discriminatory to female athletes (Title IX, anyone?). And if you paid all athletes, athletic departments would have an incentive to eliminate non-revenue sports.
[+] Enlarge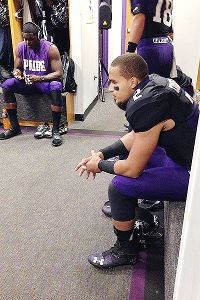 Adam Rittenberg/ESPN.comNorthwestern QB Kain Colter's attempts to unionize players might have good intentions, but seems like it will face many obstacles.
Adam Rittenberg:
Some really good points, B1G. I have a hard time seeing how anything changes without adhering to Title IX. My understanding is if the value of athletic scholarships increase, as the Big Ten and other major conferences have wanted for years, it would apply to all full-scholarship athletes to meet Title IX standards. Colter made it clear that money isn't the top priority in all of this -- long-term medical expenses are -- and if there are some additional protections athletes can receive, that's a good thing.
Chase from Detroit writes:
Adam, I think the other side to the this Brendan Gibbons story is missing here. The program and university definitely need to answer questions about when Gibbons' separation from the university was official, how the information should have been released, and why the investigation took so long. But let's not forget the fact that Gibbons was investigated by the police and faces no legal charges. How is his situation any different from
Jameis Winston
from FSU,
Keith Appling
and
Adreian Payne
from MSU, or
Prince Shembo
from ND? All of these guys were involved in serious sexual assault investigations, but there was never enough evidence or cooperation to face legal charges like Gibbons. Shouldn't Michigan also be commended for taking a hard-line stance even where there were no legal charges?
Adam Rittenberg:
Chase, while Michigan seems to have its policy correct now, we don't know the full story of how the university responded to the initial allegations. Did the alleged victim feel the university responded swiftly and appropriately in her case? It's unfortunate that an incident in 2009 only has repercussions four years later, essentially after Gibbons' playing career. But it does seem like Michigan will approach these situations correctly going forward. I don't think that calls for a ton of praise, though.
---

Nathan from Burlington, Vt., writes:
Adam, I'm a die-hard Rutgers fan. This year was pretty disappointing for us. I expect us to have a .500 record our first year in the B1G but have high hopes for 2015. We have a great recruiting class coming in. Do you think we have a shot at being a top team in 2-3 years in the B1G?
Adam Rittenberg:
Nathan, you mention the recruiting class, and that's what it will take for Rutgers to rise up in the Big Ten, particularly in a tough division like the East. Rutgers will have to lock down its borders and keep the best in-state players at home, which is no easy task given how many Big Ten programs recruit in the Garden State. I also think Rutgers must make strong financial investments in its program, including the coaching staff, to keep pace with the deep-pocketed Big Ten. Should be interesting.
---
Rob from Chicago writes:
What questions must Michigan answer? The timing of the incident is known. The timing of when it was reported to the school is known. The expulsion came at the end of the school's investigation and its own determinations. No criminal charges were ever filed, and there is not an ongoing investigation by the police. (A fact dropped from your attack piece.) Without criminal charges, its akin to the Jameis Winston case. There was no suspension there. Maybe ask MSU the tough questions about [Max] Bullough? ... If we are going to ask tough questions, ask that one as well.
Adam Rittenberg:
Yes, Rob, it's always about what the other school did in its case, never about yours. The glee that certain fan bases take about the troubles of rival teams really bothers me, but whatever. The question here is when Michigan's athletic department and Brady Hoke knew about two things: the initial letter stating the school had determined Gibbons engaged in unwanted sexual conduct, and when the school had decided to suspend Gibbons. If Michigan knew all of this in November and still let Gibbons play at Iowa, that's a problem in my view -- if not a legal/official one, a moral one.
---

Drew from Kennebunk, Maine, writes:
What does Indiana have to do to fix its defense, which has been last in the Big Ten the last three years running, and one of the worst in the nation. They hired a new DC recently, but is coaching the issue here, or something else? Is it more of a lack of talented defensive players, rather than coaching?
Adam Rittenberg:
Love Kennebunk and that entire area, Drew. Talent certainly is the biggest factor when it comes to IU's defense, and Indiana played a bunch of freshmen in Kevin Wilson's first two seasons. New coordinator Brian Knorr will inherit a group with a lot of starting experience. IU will never have the best defensive talent in the Big Ten, but with improved recruiting and a good scheme, the defense can rise to a respectable level, which might be enough because the offense is so strong. If Indiana has a mediocre defense last season, it probably wins seven games.
---

Max Wittek from Los Angeles writes:
Hey Adam, I'm an unrestricted free agent eligible to play immediately after graduation this spring. What are the chances of me continuing the QB transfer tradition in Madison? If the Badgers pursue me, am I
Danny O'Brien
or will I be
Russell Wilson
? How's the weather compared to LA?
Adam Rittenberg:
Weather is awesome, Max. Just like L.A. I'd be a little surprised if you ended up in Madison, especially since Wisconsin has several younger quarterbacks it's looking to develop.
Bart Houston
is only a redshirt sophomore, and
Joel Stave
still has two seasons of eligibility left and a lot of experience under his belt. I don't know if the desperation is the same as it was when Wilson and O'Brien came to Madison.
---

Matt from Plymouth, Minn., writes:
With
Jeff Jones
canceling his visits to Florida and Michigan, it's looking more and more like he will end up a Gopher after all. How big is this going to be for Jerry Kill and the Gopher program if they end up with this year's top in state player?
Adam Rittenberg:
It's huge, Matt. Minnesota has lost many of its top in-state prospects to other programs over the years. There are a limited amount of great players in the state, so to be able to keep one at home is really significant. Jones is a guy who could step in right away and help
David Cobb
in the run game.
February, 4, 2013
2/04/13
2:30
PM ET
Way back in the heady days of the 2012 preseason, we ranked every Big Ten position group from No. 1 through 12. We had to base our thoughts on previous performance and a lot of projections in August.
We're going back now and issuing a final, postseason ranking for each position group, and these will be far less subjective now because we have an actual full season's worth of data on hand.
Quarterbacks, naturally, are up first. (Those guys hog all the glory). You can take a look back and see how we ranked this group in the preseason
here
. Depth is an important factor in these position rankings, but having a standout main guy under center (or in the shotgun) is the most overriding concern with this group.
[+] Enlarge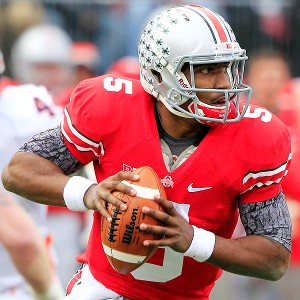 AP Photo/Jay LaPreteThanks to consistent play by QB Braxton Miller, the Buckeyes finished the 2012 season unbeaten.
1. Ohio State (Preseason rank: 5):
We figured
Braxton Miller
would improve greatly in his second year of starting and in Urban Meyer's system. We didn't know he'd become the Big Ten offensive player of the year or finish fifth in the Heisman Trophy voting. While he didn't always throw the ball with precision, Miller made all the big plays and led his team to a 12-0 record. The biggest preseason worry was what would happen if he got hurt.
Kenny Guiton
answered that in the Purdue comeback.
2. Penn State (Preseason: 12):
The Nittany Lions were dead last in our preseason rankings, and with good reason considering their past performances at the position. But I did write at the time: "Call me an optimist, but I believe
Matt McGloin
will be more effective at quarterback now that he's got a more modern offensive system and peace of mind that he's the starter." Uh, yeah. McGloin led the Big Ten in passing yards (3,266) and passing touchdowns (24) while throwing only five interceptions. And he stayed healthy, keeping Penn State's youthful backups from getting exposed.
3. Nebraska (Preseason: 3):
Taylor Martinez
led the Big Ten in total offense and completed a career-best 62 percent of his passes. When he was good, he was as good as there was in the league. But he still struggled with turnovers in key games, including 12 interceptions and numerous fumbles. If he can eliminate the mistakes, the sky's the limit.
4. Michigan (Preseason: 2):
The Wolverines are a hard to team to peg in these rankings. Do we rank them based on
Denard Robinson
's poor showings in big games against Alabama and Notre Dame? Do we rank them based on
Devin Gardner
's strong finish to the season, when he was as productive as any Big Ten QB? How much do we factor in the team's lack of a solid backup plan in the Nebraska loss when Robinson got hurt early? You have to weigh the good with the bad, which makes this spot feel about right.
5. Northwestern (Preseason: 9):
Starting quarterback
Kain Colter
threw for 872 yards, which was nearly 450 yards less than nominal backup
Trevor Siemian
. But Colter also rushed for 894 yards and kept defenses off balance with his versatility. Meanwhile, the Wildcats could use Siemian when they needed to stretch the field. The next step for Northwestern is developing a more consistent downfield passing attack.
6. Indiana (Preseason: 11):
Who would have guessed in the preseason that the Hoosiers would actually exhibit the best depth at quarterback? After starter
Tre Roberson
went down in Week 2, Indiana was able to plug in juco transfer
Cameron Coffman
and true freshman
Nate Sudfeld
to sustain the league's top passing offense. The three combined to throw for more than 3,700 yards. Coffman got the bulk of the work but needed a better touchdown-to-interception ration than his 15-to-11 mark.
7. Purdue (Preseason: 1)
: We overrated the Boilermakers' depth in the preseason. It turned out that only one of the trio of former starters performed at a high level, and
Robert Marve
didn't play enough because of a torn ACL and Danny Hope's misguided insistence on sticking with
Caleb TerBush
. Purdue actually led the Big Ten in passing touchdowns (30) and finished third in passing yards, but much of that was because the team often had to throw the ball a lot after falling way behind. This ranking could have been higher with a full season of Marve.
8. Wisconsin (Preseason: 8):
Danny O'Brien
quickly showed that he was not the next Russell Wilson, but luckily the Badgers had some depth. Redshirt freshman
Joel Stave
showed major promise before his season was derailed by a broken collarbone, and
Curt Phillips
turned in a nice comeback story by managing the team well down the stretch. Still, Wisconsin ranked last in the Big Ten in passing yards.
9. Michigan State (Preseason: 10):
It was not exactly a season to remember for first-year starter
Andrew Maxwell
, who was benched late in the Spartans' bowl game. But for all his struggles, Maxwell still finished No. 4 in the league in passing and had some nice games in the middle of the year.
10. Minnesota (Preseason: 6):
What could
MarQueis Gray
have done if he hadn't hurt his ankle, prompting an eventual move to receiver? True freshman
Philip Nelson
took over the reins midseason and broke out with a huge first half against Purdue. However, he failed to throw for more than 80 yards in the team's final three regular season games. Nelson led the team with just 873 passing yards on the season, and the Gophers threw 15 interceptions.
11. Iowa (Preseason: 4):
Nobody took a bigger tumble than the Hawkeyes, as
James Vandenberg
went from a 3,000-yard passer as a junior to often looking lost as a senior. He completed only 57.3 percent of his passes and tossed only seven touchdowns, with eight interceptions, and Iowa showed almost no ability to go vertical. And no other Hawkeye attempted a pass all season.
12. Illinois (Preseason: 7):
The Illini had experience at the position with
Nathan Scheelhaase
and
Reilly O'Toole
, but they were both part of a wildly dysfunctional offense. Illinois was next-to-last in passing yards in the Big Ten and also had just 11 touchdown passes versus 14 interceptions. In fairness, both QBs were often running for their lives and had very little help.
October, 29, 2012
10/29/12
9:00
AM ET
There's no more debate. Quarterback
Braxton Miller
and the
Ohio State Buckeyes
made sure everyone knows they're the best team in the Big Ten.
The so-called Ineligi-bowl on Saturday night in State College paired the top two teams in the most recent power rankings. Penn State came in brimming with confidence following five straight wins, but it missed several big opportunities early in the game. Ohio State took over behind Miller and a surprisingly good defense, showing that it remains the class of the Big Ten.
Nebraska moves up to the No. 2 spot after keeping Michigan out of the end zone, while Michigan, Wisconsin, Penn State and Iowa all drop. Wisconsin looks very shaky without top quarterback
Joel Stave
, and Iowa is a mess after being outclassed for the second straight week. Aside from Wisconsin's and Iowa's drops, and Minnesota's and Indiana's rises, there's not a ton of movement. Purdue and Illinois remain at the bottom of the barrel.
As a reminder, the power rankings are a snapshot of a team's current state -- how it is performing in real time. Injuries are considered.
Here's the rundown ...
1. Ohio State (9-0, 5-0 Big Ten, last week: 1):
The Buckeyes have the Big Ten's best player in Miller and the league's best team, period. They racked up 234 rush yards and three touchdowns against a stout Penn State defense and controlled the line of scrimmage on both sides of the ball. Ohio State's defense had one of its best efforts, keeping Penn State out of the end zone for more than three quarters. Urban Meyer's squad had looked shaky the previous two weeks, but it cranked things up in the second and third quarters and never looked back. A perfect season seems much more realistic with three games to play.
2. Nebraska (6-2, 3-1, last week: 5):
Three weeks after being crushed by Ohio State in Columbus, Nebraska has new life and control of the Legends Division. The Huskers have regained their swagger on defense and capitalized on a
Denard Robinson
-less Michigan team in the second half Saturday night, allowing just 52 yards. Nebraska has survived almost two full Big Ten games without top running back
Rex Burkhead
, who should be back this week at Michigan State. Bo Pelini challenged his team to win out after Ohio State, and the players have responded. Another test awaits this week against the Spartans.
3. Penn State (5-3, 3-1, last week: 2):
Bill O'Brien's team had been efficient and opportunistic in its first three Big Ten games. The Lions were neither against Ohio State, failing to build a bigger first-half lead and making too many mistakes in the middle part of the game. Penn State had too many penalties, not enough third-down conversions, not enough in the run game and not enough third-down stops against Ohio State. The Lions took a big step up in class but couldn't match the Buckeyes despite an electric atmosphere in State College. They aim to get back in the win column this week at Purdue.
4. Michigan (5-3, 3-1, last week: 3):
No Robinson equaled big, big problems for Michigan against Nebraska. Backup quarterback
Russell Bellomy
struggled mightily, and Michigan could have a tough time in the coming weeks if No. 16 doesn't return to the field. The defense still performed well against Nebraska, at least until the fourth quarter, but Michigan is too invested in Robinson on offense and has very few answers without him. The Jug Game becomes a lot more interesting as Michigan visits a Minnesota team coming off of its best performance in Big Ten play.
5. Northwestern (7-2, 3-2, last week: 6):
After three very shaky weeks on offense, Northwestern finally established its identity behind junior quarterback
Kain Colter
and the option game. Iowa had no answers for Colter and the Wildcats' ground attack, as Northwestern piled up 349 rush yards, averaging 7.1 yards per attempt. Northwestern's defense once again allowed some yards but limited points and big plays, making Iowa work for every point it scored. Pat Fitzgerald's team got through October, a month when it typically struggles, at 2-2, and enters November with some momentum.
6. Michigan State (5-4, 2-3, last week: 7):
There's new life in Sparta as Michigan State's beleaguered offense showed up just in time and helped the Spartans rally past Wisconsin in Madison. Pat Narduzzi's defense has been elite for most of the season but cranked things up a notch at Camp Randall Stadium, limiting Wisconsin to 10 first downs and 19 net rushing yards, and racking up five sacks and 12 tackles for loss. Defensive end
William Gholston
finally had a breakout game, and linebacker
Max Bullough
and others were fabulous. The Spartans now return home to play the spoiler role as they host Legends Division front-runner Nebraska.
7. Wisconsin (6-3, 3-2, last week: 4):
The Badgers lost their first home game since 2009 and also their top quarterback, Stave, to injury. All the mojo generated from three consecutive impressive wins is gone, as Wisconsin's offense reverted to its early September form under backup
Danny O'Brien
. Wisconsin still has the inside track to represent the Leaders Division in Indianapolis, but Indiana is now in the running, too, and the Badgers must get things together offensively during a much-needed open week before heading to Bloomington.
8. Minnesota (5-3, 1-3, last week: 10):
The future is now, and his name is
Philip Nelson
. Minnesota's freshman quarterback dazzled before the home faithful Saturday against Purdue, firing three first-half touchdown passes and finishing with 246 pass yards, 37 rush yards and no interceptions. With Nelson at the controls, Minnesota scored more points (44) against Purdue than it had in its first three Big Ten contests (39). An improved defense shut down Purdue until garbage time and received a nice lift from cornerback
Michael Carter
. Minnesota looks to make a major statement and regain the Little Brown Jug this week against Michigan.
9. Indiana (3-5, 1-3, last week: 11):
Kevin Wilson and his team finally celebrated a Big Ten win Saturday, and several more could be coming in the next few weeks. Indiana -- yes, Indiana -- controls its own fate in the Leaders Division and has two huge home games coming up against Iowa and then Wisconsin, the only other team that can represent the Leaders in Indianapolis. The Hoosiers made fewer mistakes than Illinois, received a nice lift from their defense at times and seemed to identify their top quarterback in freshman
Nate Sudfeld
. IU has been in every game this season and could be tough to beat down the stretch.
10. Iowa (4-4, 2-2, last week: 8):
The frustration is mounting in Hawkeye Country as Iowa received a thorough beating for the second straight week. The Hawkeyes lost by only 11 at Northwestern, but they never stopped the Wildcats' rushing attack and couldn't attack a shorthanded secondary down the field. The offense piled up 336 yards but couldn't translate them into nearly enough points. A bigger concern is a defense that has surrendered 937 yards the past two weeks. If Iowa can't rebound this week against Indiana, it could be staring at a bowl-less season.
11. Purdue (3-5, 0-4, last week: 11):
The Boilers' season is on life support, and
Danny Hope's tenure as head coach could be, too
. Billed by Hope as his best team, Purdue hasn't shown up for three of its first four Big Ten contests. The Boilers' defense, featuring several future NFL players, let Minnesota's Nelson have his way with them Saturday at TCF Bank Stadium.
Caleb TerBush
clearly isn't the answer at quarterback, but it has taken too long for Hope to figure that out. Purdue has replaced Michigan State as the Big Ten's biggest disappointment, and it'll be tough for the Boilers to get bowl-eligible with four games to play.
12. Illinois (2-6, 0-4, last week: 12):
Illinois had more first downs (23-14) and total yards (372-292) than Indiana, and held the ball for more than 33 minutes Saturday. But a flurry of mistakes -- penalties, turnovers, sacks, you name it -- allowed Indiana to score 24 of the game's final 27 points.
Nathan Scheelhaase
did some good things and
Donovonn Young
(124 rush yards) provided a boost in the ground game, but Illinois makes far too many errors to win games right now. It only gets tougher for Tim Beckman's crew as it heads to Columbus.
October, 28, 2012
10/28/12
2:15
AM ET
LINCOLN, Neb. -- After Nebraska forced 10 three-and-outs and held Northwestern's offense in check last week, coach Bo Pelini made his defenders an offer.
It was an offer they could refuse. And they did. The Huskers turned down their coveted blackshirts.
"They didn't want them," Pelini said. "They didn't think they'd earned them yet. It shows the character of our kids and the type of standards that they have. They said they hadn't earned them, and [that] we'll revisit it after the Michigan game.
"I think they earned them."
Nebraska's defenders donned the blackshirts in a joyous locker room late Saturday night following a
23-9 win
against Michigan. The Huskers earned them by keeping Michigan in check before
Denard Robinson
left the game with a right elbow injury, and they earned them by slamming the door on backup signal caller
Russell Bellomy
in the second half. Nebraska held Michigan to just 44 yards after Robinson's injury.
It received big performances from linebacker
Sean Fisher
(7 tackles, 2 TFLs), linebacker
David Santos
(10 tackles, 1 TFL), nickel back
Ciante Evans
(2 TFLs, 1 sack), safety
Daimion Stafford
(interception, tackle for loss), safety
P.J. Smith
(53-yard interception return) and many others.
The blackshirts, while meaningful, aren't Nebraska's garb of choice this fall. Five weeks from Saturday, they want to be donning Big Ten championship T-shirts at Lucas Oil Stadium in Indianapolis.
The Big Ten is a weak league that actually seemed to get weaker in Week 9, but some team is going to wear those shirts in Indiana. Some coach is going to hoist the championship trophy. Some group of players will celebrate on the field with roses in their mouths.
Why not Nebraska? Three weeks after getting pounded by Ohio State, the Huskers (6-2, 3-1) have steadied themselves and regained control in the Legends Division.
[+] Enlarge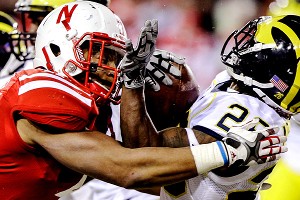 AP Photo/Nati HarnikDavid Santos and the Nebraska defense earned its blackshirts against Michigan.
"With the Big Ten standings, [Saturday's game] was kind of a must-have," Fisher said. "Not that it wasn't still possible to get to the Big Ten championship, but it was out of our control if we lost.
"We want to control our own future, and winning tonight took us one step closer to that."
After getting pummeled in Columbus, Pelini challenged his team to win out. A cross-division loss, as painful as it was, wouldn't hurt if Nebraska ran the table in the Legends Division. Following an off week, the Huskers rallied from 12 points down in the fourth quarter to beat Northwestern by a point last Saturday.
They never truly lost control against Michigan, keeping the Wolverines out of the end zone and capitalizing against Bellomy, a freshman who misfired on his first 11 pass attempts and had three interceptions. Pelini made a few defensive calls he didn't expect with Robinson out of the game, but Nebraska didn't change much schematically. It loaded up at the line and made Bellomy make throws he couldn't deliver.
"Obviously, you notice," Fisher said of Robinson's absence. "He's such a threat. I hope he's OK, I don't know what happened, and obviously, you don't want to see anybody get injured. But we weren't upset about it."
Robinson aggravated a nerve in his throwing elbow that he initially hurt Oct. 13 against Illinois. He only missed about a quarter against the Illini but didn't return Saturday, as he had trouble gripping the ball.
Coach Brady Hoke is optimistic the senior will return soon, possibly next week against Minnesota, and Michigan's hopes to challenge Nebraska in the division could hinge on it.
The Robinson injury was among several key developments in the Big Ten, a league no eligible team seems to want to win.
Wisconsin lost starting quarterback
Joel Stave
early in the third quarter of Saturday's overtime loss to Michigan State. Stave reportedly has a broken collarbone, which would cost him his season. A Badgers team that had regained its mojo after early-season struggles, now has a murky future on offense, as backup
Danny O'Brien
struggled mightily against Michigan State. Who could challenge the Badgers in the Leaders? How about Indiana, a team that has been in every game this season and finally got over the hump Saturday at Illinois.
Iowa has tumbled out of the race after consecutive blowout losses, while Northwestern, like Nebraska, has new life after a strong performance. Michigan State is in position to shape the race after the win in Madison, but with three league losses already, Mark Dantonio's squad must win out and get a lot of help to return to Indy.
Ohio State separated itself as the Big Ten's best team Saturday, but the Buckeyes won't be going to Indy because of NCAA sanctions. Neither will Penn State, a good team, but one that didn't measure up against Urban Meyer's squad.
The Big Ten has become the league of second chances. Michigan might get one. The Huskers certainly have theirs, and they don't intend to squander it.
"This is a big step for us," Pelini said. "I told the team, when you're winning, as the season goes on, the stakes get higher and higher every week."
Huskers players have embraced the urgency of the league race as they chase their first conference title since 1999. Claiming the tiebreakers against both Michigan and Northwestern could loom large in the coming weeks.
"In the end, it may be a big deal, but we have to make sure we take care of us the rest of the way, or none of that's going to matter," tight end
Ben Cotton
said. "We know we've got to stay in control."
To do so, Nebraska must win next week in East Lansing, where Michigan State already has lost three times, but returns with some confidence. Control has been fleeting in this league.
Don't tell Pelini about being in the driver's seat for Indianapolis.
"I don't buy into all that crap," he said.
His players didn't buy into the blackshirt offer, either. And in a few weeks, the Huskers might have the look of a champion.
October, 22, 2012
10/22/12
2:27
PM ET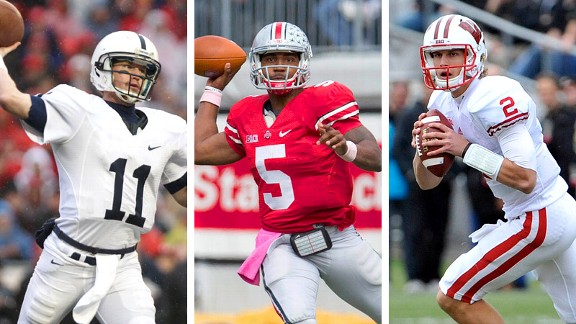 US PresswireThe recent performances by (L to R) Penn State's Matt McGloin, Ohio State's Braxton Miller and Wisconsin's Joel Stave give the Big Ten some hope for improved quarterback play.
Of the many theories to explain the Big Ten's collective struggles this season, the one about the league's dearth of elite quarterbacks certainly rings true.
Through eight weeks, the Big Ten has just one quarterback ranked among the nation's top 30 in pass efficiency (Nebraska's
Taylor Martinez
at No. 15). The league has just one quarterback in the nation's top 30 in completions per game (Penn State's
Matt McGloin
at No. 19). The league has zero quarterbacks ranked in the nation's top 30 in total passing yards.
As former
Ohio State coach Earle Bruce told me last month
, "A team can't get cut short at that position. I don't know whether the evaluation of the quarterbacks has been wrong, or they had injuries or whatever, but the quarterback position is down in the Big Ten. There's no doubt about that."
Bruce is right. There's no doubt. But there's also hope on the horizon for a league that hasn't had a quarterback selected in the first round of the NFL draft since 1995 (Penn State's Kerry Collins).
I sat in Kinnick Stadium on Saturday night and watched McGloin pick apart what had been a pretty salty Iowa defense. McGloin had complete command and tremendous awareness of his receivers and tight ends. He made correct reads and confident throws. McGloin's mobility is, well, limited, but one of his best plays came in the first quarter, when he evaded the rush and spotted tight end
Jesse James
on a deep crossing route to set up Penn State's first touchdown. As I
tweeted at the time
, McGloin is simply a different quarterback.
August, 27, 2012
8/27/12
1:00
PM ET
Week 1 of the 2012 season is finally, gloriously upon us. Here is your preview of what to expect as Big Ten football makes its most welcome return into our lives this week (all times ET):
Thursday
Minnesota at UNLV
(11 p.m., CBS Sports Network): Grab an extra cup of coffee Thursday afternoon and get ready to watch the Gophers kick off the season for the Big Ten. Minnesota should be improved in Year Two under Jerry Kill. If so, they should be able to beat a struggling UNLV program, even on the road.
Friday
No. 24 Boise State at No. 13 Michigan State
(8 p.m., ESPN): We waited nearly nine months for college football to return, and this is a reward for our patience. Two new quarterbacks are the big story here, as both get tossed into the fire against stout defenses. Should be great.
Saturday
Northwestern at Syracuse
(Noon, ESPN2): The journalism bowl helps get the first Saturday of the season started.
Kain Colter
and the Wildcats' skill players should have some fun running on the Carrier Dome turf.
Ohio at Penn State
(Noon, ESPN): The Bill O'Brien era kicks off, and there are sure to be plenty of stories focusing on the atmosphere around Beaver Stadium. But don't overlook the Bobcats, who won 10 games last year for Frank Solich.
Western Michigan at Illinois
(Noon, ESPNU): The Tim Beckman era begins against a Broncos team that played the Illini tough last year in Champaign. Beckman coached Toledo to a 66-63 victory over Western Michigan last year. There will probably be less scoring this weekend.
Miami (Ohio) at No. 18 Ohio State
(Noon, Big Ten Network): Urban Meyer coaches his first game for the Buckeyes, who figure to be heavy favorites over the RedHawks. The spread offense will take over the 'Shoe.
Iowa vs. Northern Illinois
(3;30 p.m., ESPNU): Hawkeyes fans are sure to flock to Chicago's Soldier Field to watch their team take on the Huskies, who went 11-3 last season. It could be a tough early test for Iowa's rebuilt defensive line.
Eastern Kentucky at Purdue
(3:30 p.m., BTN): Boilermakers coach Danny Hope faces his alma mater, but the FCS Colonels shouldn't be much of a match for what appears to be an improved Purdue squad. If they are, that's a bad sign.
Southern Miss at No. 17 Nebraska
(3:30 p.m., ABC regional): The Huskers don't have a gimme in their opener against the Golden Eagles, who went 12-2 in 2011. But Southern Miss has a new coach and several new starters, so
Taylor Martinez
and Co. should take care of business.
Northern Iowa at No. 12 Wisconsin
(3:30 p.m., BTN): Northern Iowa is a good FCS program that won 10 games last season. But the Badgers, who debut new starting quarterback
Danny O'Brien
, usually make quick work of outmanned opponents at Camp Randall Stadium.
No. 8 Michigan vs. No. 2 Alabama
(8 p.m., ABC): You might have heard a little something about this game at Cowboys Stadium in Arlington, Texas. The Wolverines could plant a big flag for the Big Ten and themselves if they can pull this one off.
Indiana State at Indiana
(8 p.m., BTN): You'll probably be watching Michigan-Alabama, but if you switch to this game you'll like see the Hoosiers win their first game since Sept. 17 of last year.
August, 27, 2012
8/27/12
11:00
AM ET
»
Power Rankings
:
ACC
|
Big 12
|
Big East
|
Big Ten
|
Pac-10
|
SEC
|
Non-AQ
Game week is here, and not a moment too soon.

Preseason camps have wrapped up around the Big Ten, and teams are now locking in for their openers this coming weekend. The power rankings will appear each Monday throughout the season, and we're getting things kicked off today.
There aren't many changes from our last version, although some offseason news has affected the rundown. The top five teams certainly have separated themselves in our eyes, while there's not much separating the next five on the list.
Here we go ...
1. Michigan State:
We understand why Michigan is the highest-rated Big Ten team in the polls, but Michigan State gets the top spot in our power rankings because of its defense. A top-10 unit in 2011 could easily become a top-five unit this season, as the Spartans are strong at just about every position. While the concerns at quarterback and receiver are warranted, the offense will be effective enough with the run as
Le'Veon Bell
and a more seasoned line return.
2. Michigan:
The Wolverines endured some injuries and off-field issues this summer and in camp, but they still enter the season with justifiably high hopes. Senior quarterback
Denard Robinson
has matured during his career and could make a serious push for national awards this fall. Michigan must shore up its lines and hope some young players grow up in a hurry. A relentless schedule is the biggest challenge for Brady Hoke's squad.
3. Wisconsin:
The offense might not be as electric as it was the past two seasons and the defense has some question marks (secondary, pass rush), but Wisconsin knows how to win and boasts enough to claim another Big Ten title.
Montee Ball
is extremely motivated after a rough summer, and while
Danny O'Brien
isn't Russell Wilson, he gives the offense some stability. A favorable schedule with both Michigan State and Ohio State at home helps the Badgers.
4. Ohio State:
It's a close call for the No. 4 spot, but the Buckeyes get the edge based on a defense with the potential to be one of the nation's best.
John Simon
anchors arguably the league's top defensive line, and almost everyone returns in the secondary. While there will be growing pains on offense, the unit can't possibly be worse than last year's, and
Braxton Miller
has a chance to make significant strides this season.
5. Nebraska:
Fifteen starters return to a Huskers team that should be much more comfortable with the Big Ten in Year 2. But questions remain surrounding quarterback
Taylor Martinez
, replacing star power on defense and getting over the hump on the road. A signature road victory would go a long way for Bo Pelini's program, which returns 15 starters and has a great chance to climb this list and challenge for the Legends division.
6. Purdue:
Danny Hope repeatedly called this his best Boilers team during the offseason, and we can see why. Purdue boasts a formidable defensive front and two bona-fide stars on defense in tackle
Kawann Short
and cornerback
Ricardo Allen
. The Boilers also return most of their key weapons on offense. What we still need to see is a team that can avoid the major mistakes and mental lapses that have plagued Purdue throughout Hope's tenure. A challenging start to Big Ten play will tell a lot about the Boilers.
7. Penn State:
The Lions will ride emotion and a stout defensive front seven this fall, and they could go further than most think after a brutal offseason. Still, it's hard to figure out how Penn State will score points, and the turmoil is bound to catch up with Bill O'Brien's crew at some point. If O'Brien bolsters an offense featuring mostly unproven personnel, Penn State could make a strong push. The schedule is favorable as the Lions get both Ohio State and Wisconsin at Beaver Stadium.
8. Iowa:
Youth will be served this fall in Iowa City as the Hawkeyes turn to unproven players at several spots, namely defensive line and running back. The good news is that Iowa boasts a veteran in senior quarterback
James Vandenberg
, who could thrive under new coordinator Greg Davis. Iowa must ride Vandenberg's right arm and a talented back seven on defense headlined by cornerback
Micah Hyde
and linebacker
James Morris
. Iowa also should benefit from its schedule.
9. Illinois:
The Illini and Penn State are nearly mirror images, as both teams have first-year coaches, talented defensive front sevens and question marks on offense. Defense could carry Illinois a long way this fall, as end
Michael Buchanan
and linebacker
Jonathan Brown
anchor the unit. A new offensive scheme could spark third-year starting quarterback
Nathan Scheelhaase
, although he'll need unproven weapons to emerge. Illinois could be a sleeper team this fall, although its Big Ten road schedule is flat-out brutal (Wisconsin, Michigan, Ohio State, Northwestern).
10. Northwestern:
After a drop in wins the past three seasons, can Northwestern get things turned around? The Wildcats once again should be strong on offense as
Kain Colter
takes over at quarterback, although there are some questions up front. The defense can't be much worse than it was in 2011, and while there will be more youth throughout the unit, there also should be more talent. Northwestern must capitalize on the first chunk of the schedule, which features several toss-up games but isn't overly taxing.
11. Minnesota:
The Gophers will be an improved team in Year 2 under Jerry Kill. The problem is they play in a loaded division and face a tricky schedule with no gimme games. Quarterback
MarQueis Gray
has a chance to do big things as a senior, although his supporting cast remains a mystery.
Troy Stoudermire
's return should spark the defense, which played better down the stretch in 2011. Like Northwestern, Minnesota needs to get off to a good start and build confidence.
12. Indiana:
The Hoosiers won't go 1-11 again, and they could be dangerous on the offensive side as sophomore quarterback
Tre Roberson
matures and the passing game becomes a bigger part of the plan. Question marks remain throughout the defense, and Indiana hopes an influx of junior-college players helps the situation immediately. Indiana will be older and better than it was in 2011, and the Hoosiers should be more competitive in Big Ten games. But until they prove otherwise, they're at the bottom.
August, 7, 2012
8/07/12
12:19
PM ET
Most of the preseason award watch lists have already been announced, but the Johnny Unitas Golden Arm Award joined the fun on Tuesday.
The award goes to the nation's top quarterback and was presented to Stanford's Andrew Luck last year. Three Big Ten players made the cut for the preseason list, and they are:
No surprise to see Robinson and Vandenberg on there, but Scheelhaase is a bit interesting. He hasn't gotten a lot of preseason attention after the way the Illini offense played down the stretch last season. But maybe switching to the spread under new coach Tim Beckman will elevate his numbers.
Still, I would have thought Nebraska's
Taylor Martinez
, Wisconsin's
Danny O'Brien
and Ohio State's
Braxton Miller
would all have made the watch list before Scheelhaase. Not making the list doesn't preclude any of those guys from winning the award, however.
July, 16, 2012
7/16/12
10:26
PM ET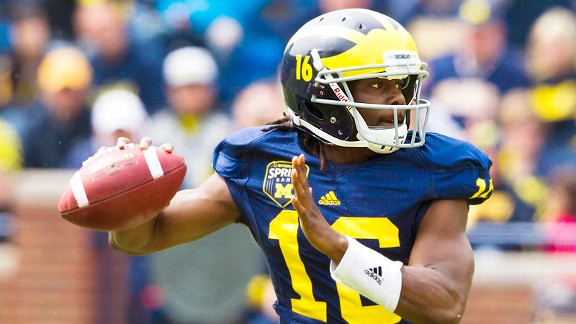 Rick Osentoski/US PresswireLast season, Michigan quarterback Denard Robinson passed for 20 touchdowns and rushed for 16.
Last week, Adam kicked off the preseason position rankings by looking at
running back
, the league's most star-studded position in 2012.
Today, we're going to take a look at the position that puts every player under the spotlight: quarterback. We're ranking the top 10 individual players at each spot and then offering team rankings a little later on. These rankings are based on past performance and potential for the 2012 season, placing a bit more emphasis on their track record to this point.
Quarterback is an intriguing group heading into '12. Here's our Top 10:
1. Denard Robinson, Michigan, senior:
Say what you will about Robinson's faults -- and we've said plenty about his sometimes erratic throws and Big Ten worst 15 interceptions in 2011. Robinson remains one of the best playmakers in the country and a three-year starter who's got plenty of heroic moments under his belt. He showed improved passing mechanics this spring and should benefit from his second year under Al Borges. And we all know what he can do with his feet. With the league's top precision passers from 2011 all having moved on, Robinson inherits the top spot.
2. James Vandenberg, Iowa, senior:
Only 17 returning players in the FBS threw for more yards in 2011 than Vandenberg, who had 3,022, plus 25 touchdowns. His completion percentage needs to improve, as does his road performance, and he won't have Marvin McNutt around anymore. But he's easily the most polished pocket passer in the league heading into the season.
3. Braxton Miller, Ohio State, sophomore:
Miller still has a lot to learn and he'll be doing so in an entirely new offensive system. Yet he showed flashes of brilliance last year, such as his performance against Michigan or his game-winning play versus Wisconsin. He's got the athleticism to be a tremendous dual threat quarterback. Matched with Urban Meyer's creativity, Miller has enormous potential.
4. Taylor Martinez, Nebraska, junior:
Martinez put in a lot of time this offseason working on his throwing motion. His dedication to self-correction is very encouraging, and a better understanding of Tim Beck's offense plus more experienced receivers could lead to a higher completion percentage than last year's 56.3. If Martinez can become a reliable passer to go along with his explosive running skills, look out.
5. MarQueis Gray, Minnesota, senior:
Gray had a rocky beginning to the season as he adjusted back to the quarterback position and a new coaching staff. But in his last five games, he averaged 255 yards of total offense. Of returning Big Ten players, only Robinson, Vandenberg and Martinez were responsible for more total yardage than Gray last season. Like many on this list, Gray has worked on improving his mechanics and accuracy. There isn't a more impressive physical specimen at quarterback than this 6-foot-4, 240-pounder.
[+] Enlarge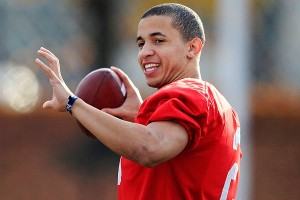 Marcio Jose Sanchez/AP PhotoCan QB Nathan Scheelhaase lead the Illini to a better end-of-season performance this year?
6. Danny O'Brien, Wisconsin, junior:
O'Brien has yet to play a down of Big Ten football but is the presumed starter for Wisconsin. The Badgers hope the Maryland transfer is more like the player of 2010 (2,438 passing yards, 22 touchdowns, eight interceptions) than 2011 (1,648 passing yards, seven touchdowns, 10 interceptions). Wisconsin's offensive line and running game should create plenty of open passing lanes, and if O'Brien takes advantage of that he could quickly and easily climb this list.
7. Nathan Scheelhaase, Illinois, junior:
After a promising freshman campaign and solid start to 2011, Scheelhaase struggled along with the entire Illini offense. He bounced back with a good bowl game performance against UCLA and now must master the new spread attack under Tim Beckman. There are always going to be questions about Scheelhaase's size and arm strength but not about his intelligence and toughness. Does he have enough skill position complements this year?
8. Kain Colter, Northwestern, junior:
Is Colter simply an athlete playing quarterback? Or can he become much more than that? Those are big questions heading into the year for a guy who filled in quite nicely for
Dan Persa
last year. Colter has elite athleticism but only attempted 22 passes in Northwestern's final 10 games. He could be helped by perhaps the league's deepest receiving corps.
9. Caleb TerBush, Purdue:
Though he's being pushed by veterans
Robert Marve
and
Rob Henry
, TerBush got the vote of confidence as the starter from Danny Hope after spring ball. Thrust into a starter's role because of injuries to start last season, he improved as the year went on. He'll need to continue working on his decision-making, because the Boilermakers won't hesitate to go to one of their other options.
10. Andrew Maxwell, QB, Michigan State:
Maxwell has attempted only 51 career passes in mostly mop-up duty. But he has spent four years in the Spartans' system, being groomed under Kirk Cousins. At 6-foot-3 and 212 pounds, he's got the physical and mental makeup needed to be a standout Big Ten quarterback. He just needs more experience.
Michigan C Cites Concussions In Decision To Quit
BIG TEN SCOREBOARD
Thursday, 9/3
Friday, 9/4
Saturday, 9/5
Sunday, 9/6
Monday, 9/7