Michigan Wolverines:

Dan Ferrigno
November, 18, 2013
11/18/13
11:00
AM ET
Twelve seconds.
That's how much time remained in regulation at Northwestern after Michigan quarterback
Devin Gardner
hit
Jeremy Gallon
on a 16-yard pass. The clock was running. What happened next was what Wolverines coach Brady Hoke said "might be the best single play I've ever seen."
The Michigan field goal unit sprinted onto the field. Holder
Drew Dileo
, who had run a pattern as a wide receiver, ran in from the other side of the field and slid into position. The snap came with one second to go, and kicker
Brendan Gibbons
made a 44-yarder to send the game into overtime, where the Wolverines eventually won.
Northwestern coach Pat Fitzgerald was upset that his team didn't get a chance to substitute its block team in. The Wildcats were in disarray as the field goal try went up. Referee Bill LeMonnier
explained to a pool reporter afterward
that on the final play of the half, teams aren't automatically given the right to substitute on field goal defense.
That play goes down as the second-craziest finish to regulation of a Big Ten game this year. In the Wisconsin-Arizona State game, there were 18 seconds left when
Joel Stave
downed the ball. The Badgers never got to run another play.
Take that and rewind it back ...
[+] Enlarge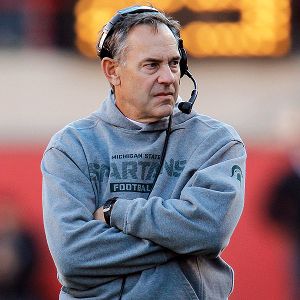 Bruce Thorson/USA TODAY SportsMark Dantonio and the Spartans control their own destiny to reach the Big Ten title game.
Team of the week:
Michigan State. It was not a vintage defensive performance for the Spartans, who allowed 28 points to a Nebraska offense that turned the ball over five times and played with a stitched-together line. But Mark Dantonio's team still won by double digits on the road in Lincoln for its first win over the Huskers while clinching at least a share of the Legends Division title. Then there's this: Through 10 games, the Spartans are averaging 30.9 points per contest.
Worst hangover:
Northwestern finds more ways to lose than anybody. The Wildcats had a dominant defensive effort against Michigan in allowing no touchdowns in regulation. But they had a 7-yard shank punt that set up a Michigan first-and-goal,
Ibraheim Campbell
dropped an easy interception on the Wolverines' final drive, and they couldn't pounce on a fumble in overtime. Northwestern has lost twice in overtime, once on a Hail Mary and in games that went down to the final drives against Minnesota and Ohio State. Sheesh.
Best call:
Nebraska had to be ready for some Michigan State tomfoolery, right? We've seen it so many times from Dantonio in a big game.
And it worked again on Saturday. The Spartans lined up for a field goal on fourth-and-1 from the Nebraska 27, leading 27-21 in the fourth quarter. Punter
Mike Sadler
, who serves as the holder on field goals, took the snap and pushed his way forward for 3 yards. The play was called "Charlie Brown," evoking memories of Lucy snatching the ball away in "Peanuts." But Sadler was actually supposed to check out of the play because of the way Nebraska was set up, and the play was never designed to go up the middle where he ran.
"That was the last thing going through my mind," said Sadler, who went up the middle on a successful punt fake at Iowa last month. "I was just trying to think of my touchdown dance."
He didn't score, but
Connor Cook
delivered a touchdown pass three plays later to all but seal the victory.
Big Man on Campus (Offense):
Ohio State running back
Carlos Hyde
piled up five total touchdowns while rushing for 246 yards on just 24 carries versus Illinois. He had touchdown runs of 51 and 55 yards in the final four minutes to put the game on ice.
Big Man on Campus (Defense):
In a game that didn't feature a whole lot of defense, Ohio State's
Ryan Shazier
still managed an impressive stat line at Illinois: 16 tackles, 3.5 tackles for loss, 1.5 sacks and a forced fumble. He had the safety on
Reilly O'Toole
that gave the Buckeyes some breathing room. And while he had a chance to turn that into a touchdown had he not celebrated a bit too soon, Shazier still had an outstanding performance considering Ohio State's other two starting linebackers were out with injuries.
[+] Enlarge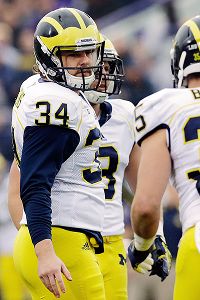 AP Photo/Nam Y. HuhBrendan Gibbons hit a 44-yard field goal as time expired to put Michigan into overtime at Northwestern.
Big Men on Campus (Special teams):
This goes to the entire Michigan field goal unit, including Gibbons, Dileo, snapper
Jareth Glanda
, special-teams coordinator Dan Ferrigno and everyone else involved in that unbelievable play at the end of regulation at Northwestern. That was a team effort, and if one guy was a half-second late, the Wolverines lose. (Tips of the cap also go out to Purdue's
Raheem Mostert
and Illinois'
V'Angelo Bentley
, who both scored on returns).
Sideline interference:
Illinois coach Tim Beckman
had to be separated
from offensive coordinator Bill Cubit on the sidelines after quarterback Reilly O'Toole was sacked in the end zone. Both coaches later said it was just a heat-of-the-moment thing, and Cubit added, "You'd be shocked at how many times" that happens during games. But it's still not a good look for Beckman, whose sideline mishaps the past two years include getting called for interference penalties and getting caught using chewing tobacco.
Who needs tickets?:
Want to see a Big Ten game, but you don't have more than 50 cents in your pocket? Then this week's Illinois-Purdue Basement Bowl is for you. On
StubHub this morning
, several tickets to Saturday's game at Ross-Ade Stadium could be had for as little as 39 cents. Get 'em while they're hot!
Fun with numbers (via ESPN Stats & Info):
Wisconsin ran for 554 yards Saturday versus Indiana. It was the second most in school history, behind the 564 the Badgers compiled against the Hoosiers last year. So in the past two games against IU, Wisconsin has rushed for 1,118 yards and 13 touchdowns; on Saturday the Badgers had three 100-yard rushers (James White, Melvin Gordon and Corey Clement) and an 86-yard rusher (Jared Abbrederis, on reverses). The Badgers' running game added 35.8 expected points to their net scoring margin; two of the top 10 rushing EPA games in the FBS the past 10 years were posted by Wisconsin against Indiana. The Badgers still fell far short of the Big Ten rushing record of 832 yards, set by Minnesota in 1905. But they do get Indiana again next year, so you never know.
ESPN's strength of schedule rankings (out of 126 FBS teams):
Alabama: 48th
Florida State: 60th
Ohio State: 88th
Baylor: 95th
June, 24, 2013
6/24/13
10:37
PM ET
ANN ARBOR, Mich. -- Brady Hoke has pledged a commitment to special teams players. He showed this in the 2013 class by offering a scholarship to long snapper
Scott Sypniewski
(Ottawa, Ill./Marquette). And it keeps getting better for special teams recruits across the country.
Hoke proved his commitment even further Monday when he extended an offer and accepted a commitment from 2015 kicker
Andrew David
(Massillon, Ohio/Washington).
"I grew up a Michigan fan," David said. "My wardrobe and my carpet in my room are maize and blue. It was a lifelong dream to go there and now it's coming true. It's awesome."
March, 11, 2013
3/11/13
10:00
AM ET
ANN ARBOR, Mich. -- From a basketball perspective, Sunday was not a great day for Michigan. With its one-point loss to Indiana, the Wolverines will head into the Big Ten tournament with the No. 5 seed without any share of the Big Ten title.
But from a football recruiting perspective, the day was a success. Michigan was able to secure visits from two Grand Rapids Christian (Mich.) High School prospects -- Watch List wide receiver
Drake Harris
and offensive lineman
Tommy Doles
.
To continue reading this article you must be an Insider
February, 21, 2013
2/21/13
10:00
AM ET
The 2012 and 2013 classes account for all four of the scholarship tight ends on Michigan's roster. Moving to a more pro-style offense, the Wolverines will look to pick up more tight ends and will target the best in the 2014 class who can fit into their group, bringing depth and the possibility of early playing time.
Here's a look at some of those targets for the 2014 class:
To continue reading this article you must be an Insider
February, 15, 2013
2/15/13
10:30
AM ET
ANN ARBOR, Mich. -- Long snapper is a position in which offering a scholarship is still somewhat unorthodox. Much like giving kickers and punters scholarships a decade ago, this new wave of scholarship offers is slowly gaining acceptance.

As football continues to become more specialized, giving long snappers a free ride for four years is beginning to happen more often.

Michigan was always going to take a long snapper somehow. It has been a personal preference of coach Brady Hoke for years, and this season made the most sense to grab one.


February, 7, 2013
2/07/13
10:00
AM ET
ANN ARBOR, Mich. -- There's no way to look at Michigan's 2013 class and not believe Brady Hoke when he says he's putting an emphasis up front.
Not only is it impressive that the Wolverines were able to pull in six offensive line signees, each is big and physical (averaging 6-foot-5, 295 pounds).
"It was very important for us to establish guys who can play at the line of scrimmage the way we want to play Michigan football," Hoke said. "For the style of football we need to play, I think that was important."
To continue reading this article you must be an Insider
September, 10, 2012
9/10/12
10:00
AM ET
[+] Enlarge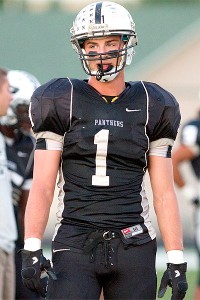 Courtesy Scott Sanders/PicktownPicsJake Butt enjoyed watching Michigan tight end Devin Funchess in action Saturday.
ANN ARBOR, Mich. -- Tight end
Jake Butt
(Pickerington, Ohio/Pickerington North) had been in Michigan Stadium twice before, for the Notre Dame and Ohio State games in 2011. But his hopes on Saturday for the performance and hype in the Big House were no different for the Air Force game.
No, it wasn't a marquee opponent. But the 2013 commit expected the ambiance and fans to be just as intense. And he wasn't disappointed.
"It's always good to be in the Big House, because it's such a great environment," Butt said. "It was a little bit different but it was still so loud in there. The fans are always getting hyped."
To continue reading this article you must be an Insider
August, 12, 2012
8/12/12
4:16
PM ET
ANN ARBOR, Mich. -- Even if Brady Hoke had an offensive line resembling an NFL roster instead of one with three players starting at new positions and a defensive line starting four players at four new positions, the second-year Michigan coach would be concerned about who he was putting out there.

The reason is simple. When it comes to offensive and defensive line play, Hoke believes Michigan's first opponent, defending national champion Alabama, is just that good.


March, 13, 2012
3/13/12
10:46
AM ET
ANN ARBOR, Mich. -- Former Michigan football coach Rich Rodriguez rarely used the tight end in his spread offense, but when Brady Hoke arrived on campus he made it clear tight ends would be playing a much bigger role in his.
And now, with his 2012 and 2013 recruiting classes, Hoke has drawn some of the top tight end talent in the country to put into his pro-style offense over the next few years.
In his first year at the helm of the Wolverines, Hoke began using
Kevin Koger
mainly to block but also as a target for quarterback
Denard Robinson
, giving Michigan's offense a new look. Hoke often described Koger as being the prototypical tight end the Wolverines want, which to Koger meant being versatile and tough.
To continue reading this article you must be an Insider
March, 3, 2012
3/03/12
10:44
PM ET
No position on the Michigan roster has more questions and needs more help entering next season than tight end.
Kevin Koger
? Gone.
Steve Watson
? Gone.
And considering offensive coordinator Al Borges plans on incorporating the tight end into the offense more and more as the seasons progress, this becomes an important position. Never mind Koger was a safety net for quarterback
Denard Robinson
.
To continue reading this article you must be an Insider
February, 9, 2012
2/09/12
12:09
PM ET
ANN ARBOR, Mich. -- He was a last-minute decision, a quick-trigger addition to a class that looked mostly full. Yet running back
Dennis Norfleet
(Detroit/Martin Luther King) might be one of Michigan's most important overall additions.
While Norfleet doesn't fit the style of running back Michigan is attempting to recruit -- big, bruising backs with speed -- he does serve another key role. When the Wolverines dismissed Darryl Stonum for violations of team rules in January, Michigan was left with a big hole in the return game.
It is a role Norfleet could slip into almost immediately.
To continue reading this article you must be an Insider
February, 6, 2012
2/06/12
5:18
PM ET
Michigan knew one of its needs in the last recruiting cycle was increasing both its depth and talent level at tight end. And following a two tight end haul in the Class of 2012, the Wolverines expected tight end would be a place they would look to add more players in 2013 as well.
Michigan kind of has to as it transitions from a spread offense to a pro-style one. Last season, Michigan used mostly three tight ends:
Kevin Koger
,
Steve Watson
and
Brandon Moore
.
The Wolverines won't be able to do that in the future.
To continue reading this article you must be an Insider
Coaches Contending For 'King Of Spring'
BIG TEN SCOREBOARD
Thursday, 9/3
Friday, 9/4
Saturday, 9/5
Sunday, 9/6
Monday, 9/7