Michigan Wolverines:

Damion Terry
April, 11, 2014
Apr 11
4:30
PM ET
Enjoy all the spring games this weekend. We'll recap each early next week.
Follow us
on Twitter
!
To the inbox ...
Ethan from Abbottstown, Pa., writes
: While watching March Madness, I couldn't help but notice how full the stands were for semis and finals. One of the arguments against the college playoff was that fans wouldn't travel on short notice. Why? I never understood that argument. March Madness has been in play for more than 75 years and the less popular college basketball with smaller fan bases have been traveling to game sites for under a week's notice for years.
Adam Rittenberg:
Ethan, the concern isn't so much that fans would travel to a national semifinal but whether they could travel to both a semifinal and the championship game the following week. Are Ohio State fans going to attend the Rose Bowl in Pasadena and then head back to Arlington, Texas, the following week for the championship game? Would Oregon fans make two potentially long trips back to back? The nice thing about basketball's Final Four is that both the semis and title game are at the same site. Remember, you're filling much larger stadiums for football, and you ideally don't want the title game to just feature a corporate crowd.
---

LoveLikeLacey from Chicago writes:
What are your thoughts on how the backup QB situation will work out at MSU? There are a great deal of implications if either
Damion Terry
or
Tyler O'Connor
transfer, since Sparty didn't take a QB in the 2014 class. I realize Terry has a great skill set and might even see the field this year in certain packages, but O'Connor was fairly highly recruited himself and I believe he also has some skills.
Adam Rittenberg:
Love the name, Lacey. It will be interesting to see how that competition unfolds. Before
Connor Cook
became Connor Cook, some folks criticized the staff for not giving O'Connor much of a chance to prove himself in games. O'Connor seemed to perform well in last week's jersey scrimmage (10-for-15 passing, 132 yards, TD), and he has
created some separation with Terry
since the start of the spring. It might be a case in which MSU uses Terry in different ways to keep him involved this year, but Cook still has two years left, so a true O'Connor-Terry competition might not take place until 2016. It's not ideal, and it could result in one player leaving.
---

A.J. from Madison, Wis., writes:
Adam, I love how Gary Andersen tries to adapt his schemes to the personnel he has. What has been driving me nuts, however, is the continual position switching of players back and forth. I get that he wants to maximize the talent on the field, but doesn't it hurt the development of the players? If you want to get the best players at the positions, part of that is learning technique and scheme, which seems difficult to do if guys keep getting moved.
Adam Rittenberg:
A.J., it could come back to hurt Andersen, and as he told me this week, the switches don't always work, but you never know if you don't try. The good thing is Andersen has a track record for moving players around on defense and making it work. He did it at Utah State, which typically has less talent than Wisconsin, and produced strong defenses. There's definitely a big emphasis on technique as well, but the coaches need to see how a player looks at a certain position before making their determination.
---

Bob from Virginia writes:
I didn't think you were fair with your comments about Julie Hermann and the Star-Ledger's campaign against her, specifically Steve Politi. I'd like to see you tell her face to face that you actually believe she was glad those people lost their jobs. You know it's not true. Have some integrity and stand up for what's right, Adam, not for a has-been columnist who had more to do with his paper's demise than anything else. Here's a
different point of view of what happened
in that classroom: Last I heard it was a free country, and if Julie felt the way she did about a newspaper, she had a good reason for it.
Adam Rittenberg:
Bob, whether or not she's actually glad to see the newspaper struggling, she should have been more careful with her comments. Stand up for what's right? How about showing some poise despite the pressure? That's what other Big Ten athletic directors do. I understand there are discretion policies about comments made in classroom settings at Rutgers, but the risk of something like this getting out outweighs the potential benefit (is there a benefit?) of making that comment.
I doubt you're the only Rutgers fan who feels this way, but I look at the bigger picture. Very few people are fired up about Rutgers in the Big Ten. A lot of Big Ten fans strongly believe Rutgers doesn't belong. The events of the past year at Rutgers only reinforce this perception. It's up to Hermann, with help from Big Ten commissioner Jim Delany, to change the perception. This didn't help.
---
Mitch from Massachusetts writes:
With Michigan's relatively new tradition of giving the numbers of great players from the past to current stars, do you see them ever giving out Charles Woodson's number 2? If so, who (besides
Jabrill Peppers
) has a shot of wearing it?
Adam Rittenberg:
Interesting question, Mitch. Most of the legends Michigan is honoring played a long time ago, such as Tom Harmon (QB
Devin Gardner
wears his No. 98) or Bennie Oosterbaan (LB
Jake Ryan
wears his No. 47). I'm not sure how Michigan would feel about doing the same thing for a fairly recent player like Woodson, who is still active in the NFL. My sense is the program would rather wait and honor other players who might be lesser known by most younger fans. While Peppers could be a star, I'd be shocked if he received such an honor early in his career. Veteran CB
Blake Countess
would be a better bet.
January, 24, 2014
Jan 24
1:00
PM ET
The last two seasons have shown that two-quarterback systems can work in the Big Ten.
Northwestern recorded 10 wins in 2012 while rotating
Kain Colter
and
Trevor Siemian
. Indiana led the Big Ten and ranked ninth nationally in total offense last fall while alternating between
Tre Roberson
and
Nate Sudfeld
.
[+] Enlarge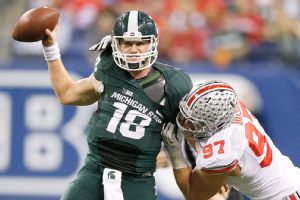 Gregory Shamus/Getty ImagesAfter taking over the quarterback job in Week 5, Connor Cook led the Spartans to 10 consecutive wins.
Given the recent success, my next statement might surprise you: Every Big Ten team would be best served picking one quarterback and sticking with him in 2014. That includes Indiana and Northwestern.
Quarterback rotations can be successful in the short term, but they are rarely sustainable or desirable. We saw this at Northwestern last fall, as the Wildcats never established a consistent offensive rhythm and operated with a reduced playbook, in part because of injuries but also because the unit lacked a clear identity. Northwestern finished 10th in the league in scoring.
Minnesota alternated between quarterbacks
Philip Nelson
and
Mitch Leidner
during several games, including the Texas Bowl against Syracuse. Although the Gophers had a nice surge during Big Ten play and recorded eight wins, they also finished 11th in the league in scoring and last in passing.
Nebraska had some success using two quarterbacks (
Tommy Armstrong Jr.
and
Ron Kellogg III
) last season but did so out of necessity following
Taylor Martinez
's injury. The Huskers also struggled to pass the ball, finishing 11th in the league.
The strongest argument for picking a quarterback and sticking with him comes from the Big Ten's best team in 2013. Michigan State's offense was a train wreck in non-league play as the Spartans used three quarterbacks. After a Week 4 loss to Notre Dame, the coaches decided
Connor Cook
would be their guy. You all know what happened next, but what struck me was Cook's mindset at the time.
"We went through spring ball competition and fall camp competition, it was the most stressed out I've ever been in my entire life just trying to be the quarterback," Cook said last month before the Rose Bowl. "After I got the starting job and started a couple of games, the stress went away and it turned to focus, me being focused and knowing they're not going to use other quarterbacks in the game and not stress too much that go if I make a bad play I'm going to be pulled.
"That's when the stress went out the window."
Players like Northwestern's Siemian and Indiana's Roberson and Sudfeld are more accustomed to sharing time than Cook was, but each of them, like any quarterback, would rather be the clear-cut starter.
Illinois'
Nathan Scheelhaase
is another good example of a player who benefited from an unambiguous role. He struggled
from the middle of the 2011 season through all of 2012, raising the possibility of a rotation last season. Instead, Scheelhaase started every game and led the Big Ten in passing (3,272 yards).
[+] Enlarge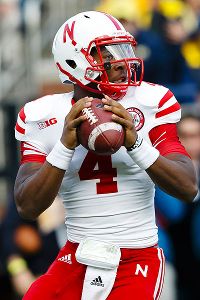 Rick Osentoski/USA TODAY SportsAfter playing well in place of Taylor Martinez, sophomore signal-caller Tommy Armstrong Jr. is the favorite to start for the Cornhuskers in 2014.
I'm all for competition at quarterback, and the Big Ten will feature plenty of it this spring and summer. Only five quarterbacks -- Ohio State's
Braxton Miller
, Penn State's
Christian Hackenberg
, Michigan State's Cook, Iowa's
Jake Rudock
and Michigan's
Devin Gardner
-- can feel pretty secure about their starting roles. Gardner has been mentioned as a possible rotation candidate with
Shane Morris
-- some Michigan fans wouldn't mind seeing Gardner line up at wide receiver, a position of need -- but I'd be surprised if Morris leapfrogs the senior.
I'm also OK with teams employing change-up quarterbacks for a package of plays, be it the Wildcat or something else. Michigan State could be a candidate for this in 2014 with dynamic redshirt freshman
Damion Terry
possibly spelling Cook from time to time.
The first few games also provide a platform to use multiple quarterbacks in settings that can't be replicated on the practice field. Former Ohio State coach Jim Tressel often did this with his younger quarterbacks, giving them a first-half series or two. It makes sense. But by Week 4, roles must be identified.
The offseason is full of Big Ten quarterback questions:
Will Oklahoma State transfer Wes Lunt take the reins at Illinois?

How will Gardner and Hackenberg fare with new offensive coordinators?

After Nelson's transfer, who emerges at Minnesota among Leidner, Chris Streveler and possibly a young quarterback such as Dimonic McKinzy?

Nebraska's Armstrong went 6-1 as a freshman starter, but can he hold off Johnny Stanton?

Can Gary Nova retain his job at Rutgers?

Will Danny Etling keep the top job at Purdue, or will Austin Appleby and possibly early enrollee David Blough enter the mix?

How does Siemian bounce back at Northwestern, and do the Wildcats look at Matt Alviti and Zack Oliver?

Will either Roberson or Sudfeld finally separate himself at IU?
Ultimately, these questions must be answered. The teams that avoid prolonged rotations should be better off for it.
January, 10, 2014
Jan 10
4:30
PM ET
Wishing you a great weekend.
Penn State hiring of new coach James Franklin
should be finalized Saturday, so be sure and check the blog for reaction.
Don't forget:
Twitter!
To the inbox ...
Josh from NYC writes:
I know, I know, offensive MVP of the Rose Bowl and Big Ten Championship game. However had those very catchable INTs gone through, Cook could just as easily come out the villain rather than the hero. That said, when, if at all, do you think we start seeing some
Damion Terry
action over there in East Lansing?
Adam Rittenberg:
Josh,
Connor Cook
lived on the edge for most of the season with his throws, and he certainly had fortune on his side. But what I loved is that he'd respond from a near-interception with a great throw on the run in traffic or a nice deep ball. If you get the breaks, you have to capitalize, and that's what Cook did. He deserves to be the starting quarterback entering the 2014 season. That said, Terry should be part of the offense, and I could see Michigan State employing a package of plays to get Terry more involved. Mark Dantonio understands the need to have more mobility and play-making skills from the quarterback spot. Terry certainly can help in that area.
[+] Enlarge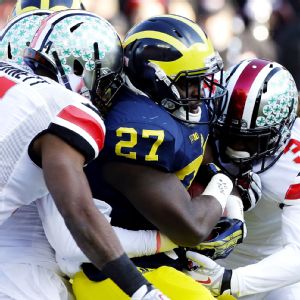 AP Photo/Carlos OsorioOhio State's defense had its struggles against Michigan but have found what needs correcting before facing Michigan State.
Shane from Michigan writes:
Hi Adam, I have a question maybe you can help me with. First of all, I am very optimistic about Michigan's latest hire of Doug Nussmeier. He sounds like a very proven coach. My concern is still the offensive line. The line has never really been great for the three years of the Brady Hoke era. So my question to you is this: how much of the offensive line woes fall on the O-line position coach and how much is that actually on the offensive coordinator?
Adam Rittenberg:
It falls mainly on offensive line coach Darrell Funk, especially because he directly recruited the linemen. The coordinator must create schemes catered to players' strengths and make the right play calls and the right times, but when you can't convert third-and-1 on a consistent basis, there's not much a coordinator can do. I'm interested to see how Michigan's blocking schemes change under Nussmeier, who clearly knows the run game is a priority after the past two seasons. But the development of individual players falls more on Funk.
Brian from Raleigh, N.C., writes:
As the dust clears from the 2013 season, Northwestern loses "QB 1A"
Kain Colter
. Predictions, please: Does
Trevor Siemian
take over as a full-time QB in a 2009 Kafka-style offense? Is there open competition in the spring between Siemian,
Zack Oliver
, and
Matt Alviti
? Or does NU try to replicate 2012's success/take advantage of differing skill sets with another multiple-QB system?
Adam Rittenberg:
Brian, I'm glad you brought up the 2009 offense, and I'd even throw in (pun intended) the pass-heavy 2008 offense led by C.J. Bacher. If Siemian is the starter, and it seems likely he will be, Northwestern should shape the offense more around his skill set, which is pocket passing. Assuming a two-quarterback system will work every year is risky, and assuming one quarterback will get hurt every year because of how much Northwestern runs its quarterbacks isn't a long-term formula for success in my view. There should be a competition this spring and Siemian shouldn't be handed the job. But if he stays healthy and develops with the receiving corps, which should be pretty good, I think Northwestern ditches the 2-QB deal and goes back to the 2008/2009 offenses, except this time with better running backs.
Casey from Dublin, Ohio, writes:
I think the West division from top to bottom will be better than the East in 2014. After Mich St and tOSU they don't have anybody to compete. Michigan still has to prove it can get back. Penn St loses the top playmaker and will break in a new head coach. The West has Neb, Wisky, Iowa, Minny and possibly NW competing for the title in the west if they can get strong QB play and Mark can return to the Mark of 2 seasons ago.
Adam Rittenberg:
Casey, the West undoubtedly has more parity entering 2014 and could be a more exciting divisional race. Will it be top-to-bottom better than the East? A lot depends on Michigan, which must rebound from a very disappointing season, and Penn State, which once again welcomes a new coaching staff. If those two programs both improve, the East should be stronger overall. Every West team has potential flaws, as Wisconsin loses a huge senior class, Minnesota has quarterback problems, Iowa needs to show more on offense, Nebraska must overcome long-term erratic play, and Northwestern comes off a brutal 5-7 year. I feel pretty comfortable writing that MSU and OSU will be pretty good in 2014. There are more unknowns in the West, but it should be a lot of fun to watch.
Greg from Philadelphia writes:
Really Adam?
Christian Hackenberg
isn't a star to watch in 2014?! You're ridiculous.
Adam Rittenberg:
I've been called worse, Greg. It's a national list and you can't include everyone. Penn State's uncertain coaching situation at the time the story ran played a role in not including Hackenberg, who has given every indication he'll return but still faces a decision on his future with the new staff. He certainly looks like an eventual superstar, but he'll have to adjust to a new set of offensive coaches under James Franklin.
[+] Enlarge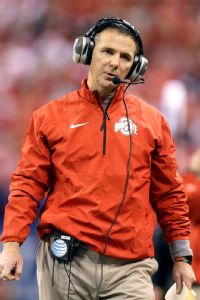 AP Photo/Michael ConroyUrban Meyer has some big shoes to fill on his defensive staff.
Steve from Columbus, Ohio, writes:
Hey Adam, how do you see Coach Meyer handling his defensive staff after he reviews the year, and who are some likely candidates to replace Coach Withers?
Adam Rittenberg:
Meyer will be a busy man next week at the American Football Coaches Association in Indy as he must not only replace Withers but also defensive line coach Mike Vrabel, who is joining Bill O'Brien with the NFL's Houston Texans. Both Withers and Vrabel were exceptional recruiters, so Meyer has to find candidates who not only can develop young players in both areas but get it done on the trail. I think it's important to get an assistant with ties to the South like Withers had. Could Ohio State bring back former coordinator Jim Heacock as defensive line coach? Extremely underrated assistant, in my view.
Nathan from San Antonio writes:
Hey Adam, did you happen to see that next years MSU @ Oregon game was moved from week 3 to week 2? I have only read it in one location and wondered if it was true and if so, how come?
Adam Rittenberg:
It has been moved, Nathan, to accommodate national television and a certain time slot, which won't be at night. The TV plans aren't final, but the game needed to be played Sept. 6 rather than Sept. 13. So Michigan State won't have an extra week to prepare for the Ducks after the opener against Jacksonville State, but it also won't have to deal with Autzen Stadium at night, which is never fun for the visiting team.
Donnie from Atlanta writes:
Hey Adam/Brian, when will the Maryland & Rutgers additions be league official and when will you guys bring them in as part of the blog? Excited to learn more about the newcomers and the new stadiums/fan bases my Buckeyes will be going up against.
Adam Rittenberg:
Donnie, we typically make the transition around national signing day, so check the blog in February as we'll officially welcome Maryland and Rutgers.
December, 19, 2013
12/19/13
12:00
PM ET
September, 15, 2013
9/15/13
10:00
AM ET
Five lessons from the week that was in Big Ten football.
1. Buckeyes are clear clubhouse leaders:
Just a week ago, we declared that Ohio State had company at the top of the Big Ten. Our bad, Buckeyes. As much of the Big Ten struggled or looked sluggish for large stretches on Saturday, Urban Meyer's team rolled up more than 600 yards and beat Cal 52-34 on the road. What's so impressive about Ohio State so far is that
Braxton Miller
has played only a little more than one game, and last year's leading rusher (
Carlos Hyde
) remains suspended for one more game, yet the offense hasn't missed a beat.
Kenny Guiton
threw for four touchdowns and ran for 92 yards at Cal, while tailback
Jordan Hall
ran for 168 yards and three scores. It's scary to think how good this offense can be when it has a full cast of characters. The Buckeyes still need to tighten things up on defense, and it has major challenges coming up against Wisconsin (Sept. 28) and at Northwestern (Oct. 5). But this team deserved to be the preseason favorite, and through three weeks, it remains the one to beat.
[+] Enlarge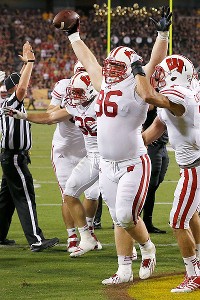 AP Photo/Ross D. FranklinMaybe Wisconsin couldn't celebrate a win against Arizona State thanks to the craziest ending seen in years, but the Badgers showed just how tough they will be this season.
2. Wisconsin will be a tough out for Buckeyes, Big Ten:
Gary Andersen's Badgers deserved better at the end of their game against Arizona State, as an inexcusable officiating blunder let the clock run out and prevented a potential game-winning field goal attempt. It was a bizarre and incredibly painful way to lose, but we learned that the Badgers will battle this season and could push Ohio State in the Leaders Division.
Melvin Gordon
is a revelation, possibly the most naturally talented running back during a run of very good/great ones at Wisconsin. The only question after Gordon rushed for 193 yards and two touchdowns at Arizona State: Why didn't he get more touches? Wisconsin has its problems, from continued poor pass protection to inconsistent quarterback play to a young secondary, but Andersen's team will be fun to watch this season. The defensive scheme is fascinating, and linebacker
Chris Borland
, who added a fake-punt pass to his repertoire Saturday night, is among the most entertaining players in the Big Ten. Remember, Wisconsin knows how to win Big Ten games and will be tough to beat the rest of the way.
3. Michigan, Penn State have work to do:
We were already looking forward to Michigan's Oct. 12 trip to Penn State, thinking both teams could be 5-0. We got ahead of ourselves. The Wolverines probably will still have that record, but suddenly there are major concerns for a team that was celebrated just a week ago. After the big win over Notre Dame, Michigan was a yard away from a mojo-killing loss to Akron that would have rivaled Toledo in 2008 for the worst in recent program history (sorry, the 2007 Appalachian State team was much better than these Zips, who have lost 27 straight road games). Quarterback
Devin Gardner
looked like a first-year starter, committing three interceptions and a fumble. Michigan's defense looked leaky for the second straight week, allowing 21 first downs and 418 yards. Last week, the Wolverines looked to be ahead of schedule for a breakthrough, especially on offense. Saturday, they looked like a very young team, prone to mistakes and lapses. Penn State, meanwhile, lost at home to UCF. The Knights are a solid team with a very good veteran quarterback in
Blake Bortles
, but the Nittany Lions made them look like a powerhouse with a superstar under center. Their defense, so good in the first two weeks against offensively challenged Syracuse and Eastern Michigan, simply could not make a key stop and gave up 507 yards. That's not a good sign for the future, with teams like Ohio State, Nebraska and, yes, Michigan on the schedule.
4. Michigan State offense, Indiana defense establish starting point:
Before Saturday, no Big Ten unit had shaken its fans more than Michigan State's offense, which produced just two touchdowns, none through the air, in the first two games. There wasn't much optimism entering Week 3 as the coaches went back to
Connor Cook
to lead the offense. But Michigan State's offense showed up early and often against Youngstown State, exploding for 35 first-half points and 49 in the first three quarters. Cook showed good command in the pocket, completing 15 of 22 passes for 202 yards with four touchdowns and, most important, no interceptions. The
Damion Terry
chatter can die down, at least for a week. Indiana's defense also rebounded after failing to force a single punt and surrendering 444 rush yards last week against Navy in a 41-35 loss. Not only did the Hoosiers do a better job against the run (136 yards) in a dominant win against Bowling Green, but they kept a dangerous Falcons offense out of the end zone. Defensive end
Nick Mangieri
had a big day with a sack and an interception for the Hoosiers. Neither Michigan State's offense nor Indiana's defense will lead the Big Ten this year, but neither unit needs to be dominant, given each team's strength on the other side of the ball. The two units just need to be respectable. They finally looked the part Saturday.
5. Bottom rises up:
Say this about the Big Ten: there might not be any truly bad teams, if Saturday's action was a true indicator. Purdue occupied the bottom spot in our power rankings for good reason, but the Boilermakers battled Notre Dame to the wire. Darrell Hazell's team showed far more fire, resolve and offensive cohesion than it had in its first two games. Though the schedule remains brutal, Purdue has something to build on with that effort. Illinois had a prove-it game against Washington, and while the Illini lost 34-24, they kept battling back and stayed competitive throughout. This still looks like a vastly improved team over last year's 2-10 version. Iowa came through with a much-needed victory over rival Iowa State on the road. The Hawkeyes physically dominated their Big 12 foe, outrushing the Cyclones 218-59. The score didn't have any business being as close as 27-21, and Iowa's lack of big-play ability will hurt it down the line. But Kirk Ferentz's team ran it 60 times on Saturday and has an identity in its power ground game. None of these three teams will be pushovers in Big Ten play if they can replicate this weekend's performances.
September, 12, 2013
9/12/13
10:15
AM ET
Ten items to track around Big Ten football in Week 3:
1. Illinois' Chicago Homecoming:
The Fighting Illini hope to capture some interest in the Windy City, as they'll be playing
at Soldier Field for the first time since 1994
. Illinois athletic director Mike Thomas said back in 2011 that he hoped the university would become the "king of Chicago," and while that won't be decided with a win or loss Saturday, a victory could help the Illini take that first step. They'll be playing No. 19 Washington and could start the season 3-0 with the upset -- already surpassing their two-win total from just a year ago. Nothing helps build up fan support quite like winning.
2. Best in the nation, worst in the nation:
OK, the good news first -- the Nittany Lions are a perfect 4-for-4 on fourth downs, the best rate in the country. The problem? They've converted just two third-down attempts ... in 26 tries. That happens to be the worst rate in the country. PSU has been able to overcome that handicap with some long gains, but Central Florida's defense is built to prevent those. So, something will have to give in Happy Valley this weekend if PSU wants to remain undefeated.
3. No more cupcakes for Wisconsin:
The Badgers got their fill of overmatched opponents in the first two weeks by outscoring UMass and Tennessee Tech by a combined score of 93-0. Saturday night will be the first true test for Wisconsin as it takes on a good Arizona State team on the road. Can Wisky adjust, and can the running game continue to shine? Stay tuned.
[+] Enlarge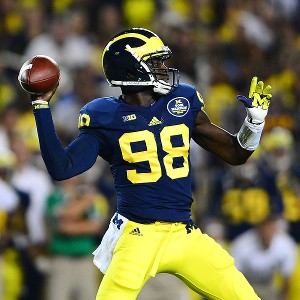 Andrew Weber/USA TODAY SportsDevin Gardner opened the season on the edges of Heisman conversations. That has changed.
4. Devin Gardner's increasing Heisman stock:
During the offseason, Gardner was a 40-to-1 long shot to win the Heisman. Then, as the season neared, he shot up to 25-to-1. Now, after his performance against Notre Dame? 14-to-1, according to Bovada. He's making Michigan fans and Big Ten gamblers pretty happy so far, and at this pace, he just might usurp
Braxton Miller
as the B1G favorite. He's contributing close to 300 yards per game and already has five passing TDs and three rushing scores to his name.
5. As the Spartans' QB carousel turns:
Connor Cook
will start again Saturday against Youngstown State, while true freshman
Damion Terry
appears to be the backup. That means Week 1 starter
Andrew Maxwell
could be riding the bench, alongside
Tyler O'Connor
, who saw action last week. It's definitely the most unique quarterback situation among teams hovering near the top 25, and Mark Dantonio is hoping to find something that works. Cook can run, and that's a plus, but the offense is still trying to find an identity outside of "three-and-out."
6. Braxton vs. sprained MCL:
Ohio State's dual-threat quarterback
remains a game-time decision
against Cal, and Urban Meyer might be forced to start
Kenny Guiton
. Even if Miller can go, it will be interesting to see just how much the sprain affects him. He could have some stiffness Saturday, and that obviously could impact a quarterback who ran for more than 1,200 yards in 2012. It goes without saying that Miller plays a critical role in the OSU offense, so anything that affects Miller will affect this team in a big way.
7. Defensive vengeance:
653. Nebraska fans know what the number means. It's the number of yards the Huskers surrendered to UCLA last season, the second-most yards a Nebraska defense ever gave up. (UCLA won 36-30.) Now, with No. 16 UCLA headed to Lincoln, Neb., it's the Huskers' chance for some payback.
"They're coming into our house, and we owe them,"
Bo Pelini told his players. This should be a good measuring stick for Nebraska's defense and should show how far it has come since last season ... if it has come anywhere at all.
8. Must-win for Kirk Ferentz.
The Iowa State Cyclones have knocked off Ferentz's squad by a field goal in the past two meetings, and Iowa can ill afford a repeat here. The Hawkeyes opened the season with a loss to Northern Illinois, and a loss to their in-state rival would be devastating for a program that fans worry already might be on the decline. This is a statement game for Ferentz and his Hawkeyes.
9. Ball-hawking secondary.
Quick, what college football team leads the nation in interceptions? If you said Northwestern, congratulations. This Wildcats defense has evolved into an opportunistic one and already has come up with seven picks in just two games. (It's tied with Tennessee, which also has seven.) Last season, three Big Ten teams -- Indiana, Michigan, Illinois -- finished their seasons with just seven total picks. Northwestern has an easy matchup this week against Western Michigan and could pad its leading number.
10. Erasing the question marks:
Taylor Martinez
is one of the most decorated quarterbacks in Nebraska history. He owns school records for passing yards, touchdowns and total offense. He's a Davey O'Brien Award candidate, and he is arguably the best passer in the Big Ten. BUT, he has been knocked for turnovers and the inability to win big games. Martinez can change that narrative and answer those question marks by beating No. 16 UCLA this weekend. This is his final season and last chance to prove he's able to win those important games -- and Saturday's is undoubtedly important.
September, 11, 2013
9/11/13
5:00
PM ET
It's Wednesday. Business time. So let's get down to the business of your e-mails:
Adam from D.C. writes:
After two weeks down, I have a couple questions/observations. First, Michigan should top the power rankings after putting down Notre Dame. OSU has yet to really impress/dominate their weak scheduled opponents. This was really evident when Baylor hung 70 points and put up 781 yards on the same Buffalo team that OSU only scored 40 on and put up 460 yards. Is Michigan really the B1G team to beat and should they be on top of the power rankings? Secondly, we all know the Nebraska defense is still having issues. But Northwestern has actually given up the most yards of all the B1G teams so far and is second-to-last in points per a game allowed. You could argue they had to play Cal, but then Cal just barely beat Portland State. So who has the worst defense in the B1G?
Brian Bennett:
Adam and I had the Michigan-Ohio State power rankings debate on Saturday night. If you go only by what the two teams have on their 2013 résumés, then the Wolverines deserve to be on top. They are, after all, the only Big Ten team to defeat a ranked opponent. However, Ohio State hasn't had the opportunity to do the same, and we were convinced all offseason that the Buckeyes were the best and most talented team in the conference. Are we really going to abandon that notion simply because their wins over Buffalo and San Diego State (by a combined score of 82-27, by the way) weren't otherworldly beatdowns?
The other thing to consider here is that Urban Meyer has yet to play with a full deck.
Carlos Hyde
remains suspended,
Bradley Roby
and
Rod Smith
missed the opener,
Braxton Miller
missed most of last week's game,
Corey Linsley
has been recovering from an injury, etc. I still think Ohio State at full strength is the Big Ten's best team, but it sure would be nice to actually see that total lineup go against a strong opponent. Guess we'll have to wait for the Wisconsin game. Also: Two games are in the books. Let's not get too hung up on rankings just yet.
As for Northwestern, the defense hasn't put up terrific stats, but the Wildcats easily have played the toughest schedule in the first two weeks. They are the only team in the league who has opened against a pair of AQ teams, and whatever you want to say about Cal, that team is going to score a whole bunch of points this year. Syracuse really only moved the ball effectively in the second half after Northwestern had built a huge lead and might have been coasting a bit. The loss of cornerback
Daniel Jones
hurt in the Cal game, and freshman
Dwight White
needs to make some major improvements before Big Ten play. But I like the playmaking ability of that defense, which has come up with seven interceptions in the first two games.
It's impossible to judge Northwestern's defense statistically against a team like Wisconsin, which has pitched a pair of shutouts against FCS quality teams. The title of worst defense in the Big Ten still belongs to Indiana until proven otherwise.
---
Quinn from Moline, Ill., writes:
Michigan came off a huge win recently, but Notre Dame hadn't completely proven themselves as a really good team, in my opinion. As well, Northwestern just dismantled Syracuse, but Syracuse isn't nearly as good as Notre Dame is. Who has more momentum going into Week 3?
Brian Bennett:
Let's not take anything away from Michigan's win. Notre Dame is very, very good, and I believe that will be shown throughout the season. I can't believe how many people want to dismiss the Irish and seem to be completely forgetting that they still have many of the same players as last year's team that played for the BCS title.
Northwestern, to me, has been wildly impressive. You can't overstate how tough it was to start on the road in Pac-12 country, fly across two time zones and back, and then play a physical (if perhaps not offensively gifted) Syracuse team. And the Wildcats won both games by double digits without basically anything from
Venric Mark
. They deserve accolades right now, and if you don't think this is a legitimate conference contender, you're not paying attention.
As far as momentum? I'm not sure it matters. Both teams might be a little beat up, emotionally and physically, after these early season challenges. And Michigan plays Akron and UConn next, while Northwestern gets Western Michigan and Maine.
---
Mike from San Diego writes:
Brian, I know the Badgers have played inferior competition so far this year, but I have never been more optimistic for a game against OSU. In Week 1, OSU didn't look too sharp against Buffalo (granted they were missing a few players due to alleged criminal activity). I don't expect the Badgers' defense to throw a shutout against the Buckeyes, but Wisconsin did hold them to the fewest amount of points in regulation last year. Let's say a glimpse of last year's defense shows up to the game and Wisconsin running backs run like they are capable. Stave is healthy (he was injured last year), and Miller already has a few bumps and bruises. Under those assumptions how do you like Bucky's chances? Personally, I am more worried about Northwestern the following week.
Brian Bennett:
More worried about Northwestern at home than Ohio State on the road? That might be a first. Wisconsin has looked great the first two weeks -- who's had a better early honeymoon than Gary Andersen? -- but the competition was so weak that it's hard to know what that means. Bret Bielema's teams used to steamroll inferior competition at home all the time. The Badgers did play very well defensively against Ohio State last year. Miller might have been a bit banged up, but that Wisconsin defense did a great job of taking away his runs, gumming up the middle of the field and making it a slog. That could happen again, as we don't know yet how healthy Miller will actually be in two weeks with that MCL sprain. On the other hand, the Buckeyes are much better at receiver this year and have more weapons on offense, including
Dontre Wilson
and a healthy
Jordan Hall
. Plus, Carlos Hyde will be back that week with presumably fresh legs.
Of course, we also need to see how that young Silver Bullets defense will handle Wisconsin's powerful running game. We'll have a much, much better handle on the Badgers after this week's Arizona State matchup, which I think will tell us a lot more about Wisconsin's chances vs. Ohio State.
---
Steven from Ann Arbor writes:
It has come up regarding
Devin Gardner
and the Michigan quarterback depth situation a couple times, and I apologize if it has already been addressed, but there is a significant amount of data that suggests running quarterbacks aren't nearly as injury-prone as we all (me included) naturally feel they would be. This
link
is a quick sample of what I could find off hand, and there is more, but, as unnatural as it seems, every additional Gardner run does not necessarily magnify his injury risk. With the example of Denard fresh in our memories from last year, this gets lost. I'm sure there are several factors, but one would probably be that hits at the end of a QB run are much more well prepared for than a blindside sack. It clearly isn't as simple as "more runs = more hits = more injuries."
Brian Bennett:
Steven, we may overrate the injury risk of running quarterbacks, since there are plenty of those in college football and they're not getting hurt every week. Knowing how to slide and avoid contact at the end of a run is huge. But the anecdotal evidence on the other side is pretty strong, too. Just look at Braxton Miller, who had to leave Saturday's game against against San Diego State after spraining his MCL when he got sandwiched at the end of a run. Miller also got hurt last year vs. Purdue after taking a hit on a long run. Northwestern's
Kain Colter
suffered a concussion on the second play at Cal when he was smacked on a run. Quarterbacks can get hurt staying in the pocket as well -- just ask Wisconsin's
Joel Stave
, who suffered a broken collarbone when he was sacked last year by Michigan State. But I feel pretty good about Devin Gardner's blind side as long as
Taylor Lewan
is protecting it. I don't have a problem with Michigan running Gardner, because that's a big weapon and they have to play to his strengths. But I find it hard to believe that there isn't added risk of injury there.
---
Matt E. from Southern MD writes:
Brian, thanks for all the work you and Adam do to entertain us B1G faithful. Why no love for Penn State in "What We Learned in the Big Ten: Week 2" though? We obviously have some growing to do and need to establish some consistency, but I thought there were a number of positives to take away from this past weekend.
Brian Bennett:
Matt, the title of that post is "What We Learned in the Big Ten," not "Giving Love to Teams in the Big Ten" or "Here Are Some Positives to Take Away." We're taking a big-picture approach there, trying to assess the big themes and league-wide revelations from each game day. We do only five items per week. With 12 teams in the Big Ten, odds are we're not going to hit on every team in great detail, especially during a nonconference weekend that includes some pretty lopsided games. As for Penn State, what did we really learn about the Nittany Lions?
Christian Hackenberg
had some highs and lows, the running game looked much better and the defense continues to shine. But it was Eastern Michigan. Penn State
should
beat Eastern Michigan 45-7. We learned much more about Penn State in Week 1 against Syracuse, a game I covered in person, and we'll likely learn more this week against UCF.
---
Dave from Kansas City writes:
Do you think Kirk Ferentz is in as much danger of losing his job as Mack Brown or Lane Kiffin?
Brian Bennett:
It's actually an interesting comparison, because Brown and Kiffin are among the handful of coaches who make as much or more per year as Ferentz. The Kiffin similarities end, however, when you consider he's only under contract until 2015, at a reported $4 million per year. While eating two more years at that price would be painful, USC can afford it.
Brown's situation is closer to Ferentz, contract wise. Texas has him signed through the 2020 season -- the same length as Ferentz's deal -- with a $5.2 million annual salary and $100,000 raises each year. But, ESPN's Darrell Rovell has reported that Brown's buyout right now is only (maybe I should say "only") $2.75 million. For a school that has more money than Walter White buried in the desert, that's pocket change. Iowa would owe Ferentz around $18 million if it fired him this season, a figure that is still crazy to wrap your head around. And the program isn't nearly as rich as Texas.
Of course, the Hawkeyes are coming off a win, so let's be optimistic here. Iowa really needs to beat Iowa State this week to calm down this talk about Ferentz and to position itself for a potential return to a bowl game this year.
---
Jesse from Plymouth, Mich., writes:
Part of me thinks MSU (and its fan base) should take the patient approach with
Damion Terry
-- allow him to learn the playbook, create chemistry with his teammates, etc. Besides, if we play him and he ends up finishing it out, you can pretty much guarantee Cook, O'Connor and Maxwell won't be on the roster next year. That's a scary thought knowing we won't have any backup QBs besides true freshmen. However, the other part of me wants to see him on the field badly. Everyone keeps pointing to the fact that he doesn't know the playbook as well and that would hinder the play calling. After seeing pro set, read option, Wildcat, pistol, abracadabra ... maybe that would be a good thing, going back to basics and returning to a more simplified scheme for the time being?
Brian Bennett:
Well, first off I can guarantee you that
Andrew Maxwell
won't be on the roster next year because he's a senior. Let's also acknowledge the mythical, magical qualities that fans associate to the backup quarterback. The thrill of the unknown is always so much better than the guy you've seen on the field struggling. Fact is, almost nobody has actually witnessed Terry perform in a Michigan State uniform in practice besides the coaches and a few media members. I trust Mark Dantonio's coaching staff to know whether he's ready to go.
My take on it has been and remains that if the coaches think Terry is ready, or that there's a better than average chance he could offer an improvement on the other quarterbacks the Spartans have, then he needs to play. Because there is no sense in saving a guy's redshirt when it's possible that he could help you win now. This Michigan State team is built to win this year with its defense and its schedule. You worry about next year next year. Whether Terry is in fact an upgrade, no one really knows. I do know that if the receivers, offensive line and play calling don't all also get better, whoever is playing quarterback for the Spartans will have a difficult time succeeding this year.
September, 11, 2013
9/11/13
12:00
PM ET
August, 28, 2013
8/28/13
10:00
AM ET
Every season, each Big Ten player, coach and team sets out to prove something. Maybe it's to prove last season was just a hiccup or that this season is the start of something special.
Whatever it is, some naturally have more to prove than others. So here's a look at 10 players, units and coaches in the Big Ten who have the most to prove:
[+] Enlarge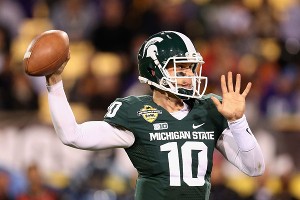 Christian Petersen/Getty ImagesAndrew Maxwell could be on a short leash in East Lansing, so he has plenty to prove.
1. Michigan State QB Andrew Maxwell.
Despite starting every game last season, Maxwell was just named the 2013 starter on Tuesday. So it's not exactly a stretch to think he's on a short leash.
Connor Cook
will get some playing time Friday,
Tyler O'Connor
is "in the mix" and true freshman
Damion Terry
wowed the staff in a recent scrimmage. If Maxwell doesn't quickly prove he's the right man for the job, he'll be watching the right man from the bench.
2. Iowa coach Kirk Ferentz/offensive coordinator Greg Davis.
Are Ferentz's best years behind him? And was last year's passing offense the start of a trend for Davis? The Hawkeyes finished last season at 4-8, their worst record since 2000, and finished with the nation's No. 114 offense. There are plenty of questions surrounding both of these coaches right now, and quieting them would certainly go a long way in proving Iowa's winning tradition isn't gone for good.
3. Penn State special teams.
The Nittany Lions ranked near the bottom statistically in nearly every special teams category in the Big Ten last year. They were tied for ninth in field goal percentage, 11th in punting average, last in kick return average and ninth in punt return average.
Sam Ficken
rebounded in the second half of the season after missing four field goals against Virginia, but he was sporadic again in the Blue-White Game.
Alex Butterworth
's hang time also needs to improve.
4. Purdue coach Darrell Hazell.
He guided Kent State to an impressive 11-3 record last season, became the Mid-American Conference coach of the year and nearly earned a berth in the Rose Bowl. But that was the MAC and this is the Big Ten. There's a big difference, and he wants to show fans of the gold and black that kind of success can carry over.
5. Michigan QB Devin Gardner.
He has big shoes to fill when it comes to replacing Denard Robinson, but expectations are already soaring for the player who has started just four career games at quarterback. Some sporting books have
increased Gardner's odds at the Heisman to 25-to-1
, which means increased confidence, and Michigan is expected to compete with Ohio State for the conference title this season. That's a lot of pressure and, by default, means Gardner has a lot to prove.
6. Wisconsin front seven.
New coach Gary Andersen is hoping the new 3-4 defense can create some headaches for opposing offenses, and the front seven here are trying to show they're quick studies. Wisconsin will have to rely on these seven to win, and their adjustment to the new scheme will have a direct impact on the number of marks in the "W" column.
7. Ohio State defensive line.
Having four new starters tends to mean there are question marks, and this young group will have to answer them.
Noah Spence
came in as the nation's No. 4 recruit back in 2012, and reports all seem to conclude he's living up to the hype. Depth here isn't great and neither is experience, but talent and health are the main things that matter.
8. Nebraska defense.
There's no problem on the offensive side of the ball with players such as
Taylor Martinez
and
Ameer Abdullah
, but defense is what's preventing this team from being great. The Huskers' run defense ranked 90th in the nation last season -- allowing 653 yards, 498 yards, 640 yards and 589 yards in their four losses -- and they could be even worse this year. Three new linebackers will take the field, and Nebraska lost two of its top pass-rushers. A lot to prove? You bet.
9. Michigan RB Fitzgerald Toussaint.
There's no way around it. You have to use the term "disappointment" when referring to Toussaint's 2012 season. Coming off a breakout 1,000-yard campaign in 2011, he struggled last season, averaging just four yards a carry and running inconsistently before breaking his leg against Iowa. He wants to show that 2012 was an aberration.
10. Badgers' receivers outside of Jared Abbrederis.
If you're having difficulty naming a Wisconsin receiver other than Abbrederis, don't feel bad. Abbrederis caught 49 balls last season -- more than all of the other Wisconsin wideouts combined (48).
Jordan Fredrick
,
Alex Erickson
and
Kenzel Doe
will need to step up to make sure secondaries don't just focus on the fifth-year senior.
August, 22, 2013
8/22/13
4:00
PM ET
We are one week from kickoff, people. One week! Remember to breathe.
And if you're not
following us on Twitter
, get to it. We're going to have a lot of great updates on there throughout the season, especially on game days. More than 86,000 followers can't be wrong.
Now back to the old-school way of communicating -- by email.
---
Ryan W. from West Michigan writes:
With all the talk about the Big Ten's perception, tell me why I should even care? Outside of the new playoff committee starting next year, who cares what other people outside of the B1G think? I mean, if us fans enjoy the product on the field, I couldn't care less what someone in Oregon or Florida thinks about my favorite team and conference.
Brian Bennett:
Ryan, if you want to go all Midwest isolationism, have at it. There's something to be said for just following your favorite team and caring primarily about winning the Big Ten. The success of the Big Ten Network validates this. The flip side is, if you want to take that approach, you can't complain about where your team is ranked in the polls, when it is snubbed for a spot in the four-team playoff or when the media incessantly cover the SEC. Perception can also play a large role in recruiting, as some top prospects want to go where they think they have the best chance for a national championship and national exposure. The nature of college football's postseason and the different schedules each team plays has made perception of conferences important in the big picture. But if you like focusing on the small picture, so be it.
---
Tom from Marion, Iowa, writes:
Help me out, fellow Redbird fan. I just don't get it! Well I do get it... the SEC is King. But, in the BCS era, the Big 12 has been in the BCS title game seven times, won two lost five; ACC, Big East, B1G and Pac-12 three times, all with one title; ND o for 1. All I hear is how much the BIG stinks. Where's the hate for the others? Specifically the Big 12; they've lost five out of seven? That's what I don't get.
Brian Bennett:
Huge stretch coming up for the birds on the bat. Anyway, I think there are a few things at play here in terms of the Big Ten's reputation. One is the power of the what-have-you-done-for-me-lately mentality. The Big Ten hasn't had a team play for the national title since the 2006 season, and that's an eternity in our Instagram society. Also, the last two times the league played on that stage, Ohio State got blown out in consecutive years by SEC teams, beginning the whole SEC-speed-trumps-Big-Ten-narrative. Another problem is that the Buckeyes are the only conference team to play for a title, whereas leagues such as the Big 12 (Texas and Oklahoma) and Pac-12 have (USC and Oregon) have had more than one team in the BCS championship game and others right on the cusp of it (Oklahoma State, Stanford). Finally, the Big Ten has not performed well in the past couple of years against the SEC in bowl games or in its nonconference games in general, and its Rose Bowl record in the past decade-plus is abysmal.
Other conferences, as you mention, have had their own failures, and you could argue that Oklahoma has fared just as poorly, if not worse, on the big stage as Ohio State. Why they have escaped the vitriol seemingly directed at the Big Ten is not entirely clear, but some moves by the league that have been viewed as pompous -- ahem, Legends and Leaders -- surely played a role.
---
Darrin from Reedsburg, Wis., writes:
It appears
Tanner McEvoy
is going to be third on the QB depth chart at best. Any chance of seeing him at wide receiver this year?
Brian Bennett:
Darrin, McEvoy worked out at receiver during practice this week. Though he was rather adamant about not playing receiver when
I asked him about it earlier this month
, it makes sense for both him and the team. McEvoy is an excellent athlete who is 6-foot-6, and he played receiver in high school until his senior year. Wisconsin is also very thin at wideout beyond
Jared Abbrederis
. This could be a situation like
Devin Gardner
at Michigan, where McEvoy sacrifices for the team for a while before eventually working his way back to quarterback.
---
Brian from Portland, Ore., writes:
Hey Brian -- cool name! Ohio State offensive coordinator Tom Herman said that he has the two best tight ends in the nation in
Jeff Heuerman
and
Nick Vannett
. To which, I would respond, "Uh, who?" Who's your pick for the top TE in the B1G this year? My bet is on someone wearing blue and white.
Brian Bennett:
As far as tight end groups go, it's hard to beat Penn State. Bill O'Brien seemingly has about a dozen options there, led by
Kyle Carter
and
Jesse James
. I'm also excited to see true freshman
Adam Breneman
-- the nation's No. 1 tight end recruit last year -- in action this season. The Nittany Lions aren't the only ones blessed with outstanding tight ends, however.
Jacob Pedersen
is a proven weapon for Wisconsin.
Devin Funchess
could have a huge year at Michigan.
Ted Bolser
is a big-time receiving threat for Indiana, and Iowa's's
C.J. Fiedorowicz
has a boatload of ability. I even left out a few really good ones. Tight end should once again be a position of strength in the Big Ten.
---
Mike from Macungie, Pa., writes:
Someone posed a question about
Allen Robinson
(I think) being in the running for a Heisman. My question isn't that we do/don't have a Heisman contender, but do you think the sanctions would put a contender from Penn State at a disadvantage? Let's say (and this is a HUGE hypothetical) Allen Robinson has as good of a year, or a better year, than last season. If he's in the top three for the Heisman, do you think the voters would take into account the sanctions against Penn State in possibly not voting for him? Matt Barkley came close two years ago, and you could argue similar circumstances.
Brian Bennett:
It's an interesting question. I don't think probation necessarily hurts a Penn State player's chances of winning the Heisman. Sure, some voters might hold it against a Nittany Lions star, but think about what a great story it would be if a player had a tremendous year and led the team to a 12-0 regular season. That narrative would carry a lot of weight. And remember, Heisman voting is done before the bowls. A Penn State player would potentially be hurt by the lack of a conference championship game, as his season would end a week earlier than some other candidates. The bigger question is, of course, whether the Lions will have enough depth to go 11-1 or 12-0, which is likely a requirement for one of their players to get in the mix. And no matter how good Robinson is, receivers have almost no chance of winning the Heisman. If
this guy
couldn't do it in 2003, or
this guy in 2007
with those ridiculous numbers, forget about it.
---
Shifty from O'Fallon, Ill., writes:
I've seen plenty of references (to include yours in the mailbag Monday), about what Bill O'Brien can do with
Christian Hackenberg
based on how he transformed Matt McGloin. I think they'll likely be great together, but I think everyone underplays how important McGloin's B1G experience was to his breakout season. It's not like McGloin was a 18-year-old walk-on. Dont you think we need to pump the brakes a little before we decide the only thing between Hack and Todd Blackledge is four weeks with BO'B?
Brian Bennett:
Shifty, huh? Remind me not to enter into a real estate deal with you. Anyway, I agree that they hype is probably getting a little out of control for Hackenberg, since he's only a true freshman. But that's what happens when you're the No. 1 quarterback recruit in the nation. I don't think anyone is suggesting that he will put up McGloin's numbers from last year (3,266 yards, 24 touchdowns) right away. McGloin, as you mentioned, had a lot of experience. But as much as I loved watching McGloin's bust out last year, let's not forget that A) he really struggled at times before O'Brien came along; and B) he never had the biggest arm. Hackenberg simply has better physical tools. Does that mean he'll grasp the system and play with McGloin's moxie this year, or ever during his career? Not necessarily. But when you combine his pure skills, O'Brien's quarterback acumen and an offense loaded with receiving targets, the outlook is pretty bright for Hackenberg.
---
Enrique from Grand Rapids, Mich., writes:
Brian, put yourself in Mark Dantonio's shoes.
Damion Terry
has performed admirably the first two fall scrimmages. Your other quarterbacks have been lackluster, failing to make big plays. Meanwhile, your exciting true freshman is 14 of 21, for 341 yards in the air, 40 on the ground, with four touchdowns and no interceptions, and much of that has come against the first-team defense. If (yay, hypotheticals!) Terry can continue to perform this well in the fall practices, would you, the head coach, go with the young upstart? You might not get a better chance than this year to make it to the Rose Bowl after a prolonged absence. Or do you redshirt him and prep him for next year?
Brian Bennett:
Next question
.
Oh, sorry. I got a little too into my Dantonio role-playing. First all, let's acknowledge that Dantonio and his offensive coaches know a heck of a lot more about who's playing well in practice and who understands the system than you and I can glean from some reports and limited practice viewing. And let's not anoint a true freshman based on one glowing scrimmage performance. But I do believe Michigan State should play Terry this season, especially in the first few games, so he could redshirt if he were to get hurt. I'll be surprised if
Andrew Maxwell
is not the starter vs. Western Michigan next Friday, but I think Dantonio should give Terry snaps in some special packages just to see what the kid can do. He is the future, and the future is now for the Spartans. They have an elite defense and a favorable schedule, so they need to go for it this year. The last thing the team needs is a quarterback who is going to make a bunch of mistakes, and there is a serious risk of that with Terry. But he can likely be very effective in certain situations and in a handful of plays per game, giving Michigan State a much-needed different look on offense.
That's me in Dantonio's shoes, anyway. (
So where's the tread?
).
August, 20, 2013
8/20/13
12:34
PM ET
Game week is rapidly approaching ...
August, 19, 2013
8/19/13
1:14
PM ET
We are here to do a job, not channel Scrooge McDuck.
August, 8, 2013
8/08/13
12:00
PM ET
Happy happiness happens day.
Michigan Outlook: 2014
BIG TEN SCOREBOARD
Thursday, 8/28
Saturday, 8/30