Michigan Wolverines:

Damario Jones
April, 28, 2014
4/28/14
9:00
AM ET

The spring workouts are in the books and the long offseason has arrived. But before diving into summer and the painful wait for football to return, we're taking a look back at the developments from March and April and sneaking a peek at what to expect in the fall for Michigan.
Three things we learned in the spring
Front seven, front and center: The Wolverines didn't stand pat on defense this offseason. Defensive coordinator Greg Mattison is now coaching the linebackers, while Mark Smith moved down to take over the defensive line. They also shuffled their linebackers, switching Jake Ryan to the middle and emerging star James Ross III to the strong side. The moves seemed to work out well this spring, with Ryan looking like his old playmaking self a year removed from ACL surgery. The defensive line could be one of the team's strengths, led by senior defensive ends Frank Clark and Brennen Beyer and improving youngsters Taco Charlton, Chris Wormley and Willie Henry. Mattison wants to blitz more this season and hopes the defensive line can get more pressure on its own.
Early enrollees, immediate impact: When players skip the final half of their high school senior years to enroll in college in January, the hope is that they will be more advanced than most freshmen. Wide receiver Freddy Canteen and offensive lineman Mason Cole exceeded those expectations. Both impressed the coaching staff right away, with Canteen drawing raves and Cole getting a lot of first-team reps at left tackle. Both were with the starting unit during the spring game and figure to have roles on the team this fall.
More QB clarity: Brady Hoke talked of a quarterback competition this spring, and Devin Gardner wasn't originally expected to do a whole lot while recovering from a broken foot. But Gardner surprised the coaches by fulling participating in all 15 spring practices and asserting his hold on the position. Hoke said Shane Morris closed the gap a bit on Gardner and that the competition would continue. But even though Gardner didn't play well in the spring game, it's pretty clear that this remains his team.
Three questions for the fall
Can O-line be less offensive?: New offensive coordinator Doug Nussmeier has brought a simplified blocking scheme and a focus on running downhill. Players said there were times this spring when that was effective. But concerns about the youth and chemistry on the line remain, and not just because of another shaky performance in the spring game. When a mid-year enrollee (Cole) is starting at left tackle, that raises serious red flags. The return of Erik Magnuson and Joey Burzynski from injury and Graham Glasgow from his one-game suspension will help the experience and talent level. But for now, the line is full of young, unproven players who must find a way to raise their games between now and late August.
Skill position suspense: With Jeremy Gallon and Drew Dileo graduated, Devin Funchess is the only returning receiver with more than 15 career catches. Canteen's emergence provided another option at the position, but a lot of question marks remain at wideout. Michigan is hoping Jehu Chesson, Csont'e York, Da'Mario Jones and Dennis Norfleet step forward, Amara Darboh successfully returns from injury and freshman Drake Harris can contribute. But there are few sure things. At running back, the team is hopeful that Derrick Green breaks out as a sophomore and De'Veon Smith joins him for a powerful duo. Again, though, it's mostly optimism and little track record at this point.
Enough leadership? Hoke has suggested that he wasn't thrilled with the leadership during last season's 7-5 team. He and the players have said that the chemistry and accountability have been good this spring. The fact remains, however, that this team has only 12 seniors, and only seven of them are position players who see the field a lot. Leadership will also have to come from the junior class and elsewhere if Michigan wants to get over the hump of mediocrity.
One way-too-early prediction
Jabrill Peppers
immediately becomes the team's best defensive back. That's a bold call, as Peppers isn't even on campus yet. But he was the No. 2 player in the 2014 ESPN 300 for a reason, and he should be the kind of physical, cover corner that Michigan has lacked. The Wolverines could try him in several different positions, but if he's the real deal, he can start quickly at cornerback. Program insiders believe his ceiling could be in the Charles Woodson neighborhood. No pressure, kid.
March, 24, 2014
3/24/14
1:30
PM ET
The spring game is a preview for the season and with so many early enrollees this year, it really is going to give fans and the media a pretty good look at what next year could hold for the Wolverines. So leading up to the scrimmage, we're going to look a few stats that really matter for next season for Michigan if the Wolverines want to make the Big Ten Championship game.
Stat: Average distance from goal after kickoff returns (tomorrow, we'll look at punt returns).
[+] Enlarge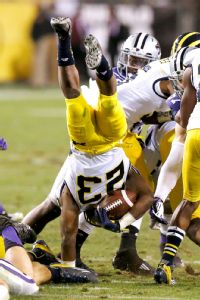 AP Photo/Ross D. FranklinThe Wolverines don't need to turn their return game upside down, but Dennis Norfleet's success on kickoff returns has a big effect on the offense's success.
2013 review:
Coach Brady Hoke has made it very clear that he sees the special teams as the third facet of his team. Sometimes coaches focus on offense and defense and barely give a second thought to special teams. However, Hoke has personally worked with the kickers, given scholarships to long snappers and put emphasis on the return game.
But in 2013, the return game was a big issue for the Wolverines. On average, Michigan was 73.6 yards from the goal line after kick returns (80th nationally). With the Wolverines averaging 5.4 yards per play, that means that it would take 14 plays to reach to the end zone if they met that average. However, the Wolverines only had 22 drives this season (of their 167) that were at least 10 plays. That means most drives ended in Michigan not reaching the goal line. Of Michigan's 167 drives last season, only 40 gained for 60 yards or more, and only 11 gained 80 yards or more.
From an efficiency standpoint, there's a general stat in football that every offense wants -- to have more drives that end in a touchdown than drives that end without a touchdown or first down. Michigan didn't achieve that last season. Of their 167 drives, 54 ended without a first down/touchdown and 48 ended in a touchdown. By comparison, Florida State, which had 176 drives, had 84 of its drives end in a touchdown and only 38 end without a first down/touchdown. Obviously not all of these drives begin after a kickoff return, but improvement certainly can be made in the return game.
On 15.7 percent of kickoff returns, the Wolverines gained at least 30 yards (eight of the 51 returns). TCU led the nation in this statistic, returning one-third of its 39 returns at least 30 yards. Future Big Ten member Maryland finished in the top 10 nationally, returning 23.5 percent of its returns at least 30 yards. Ohio State finished 34th nationally (17.2 percent) and Nebraska finished 35th nationally (17.1 percent).
Only 43 teams this season scored on a kickoff return. Michigan wasn't one of them. The Wolverines averaged 22.1 yards per kickoff return (49th nationally). Wisconsin led the Big Ten in kickoff returns at 23.1 yards per return.
On the surface, one yard isn't a lot of difference, but wouldn't that one extra yard have been nice against Ohio State this season? Or where would the Wolverines have been in the past few seasons against Notre Dame if they were moved back a yard on certain drives?
2014 outlook:
Dennis Norfleet
is back and will be looked to in these situations. But he's going to need to be much more productive than he was last season. As a whole, the Wolverines weren't super efficient in this category. Norfleet didn't break many tackles and never found the open field in the return game.
This is certainly an area in which
Jabrill Peppers
could make an impact if the coaches allow him to play something other than defense this season. Other candidates include
Jourdan Lewis
or
Da'Mario Jones
, quick-footed receivers who could make an impact. Field position is so crucial, and this is where it starts.
• Most of the teams that started at or fewer than 70 yards from the end zone were teams that did well last season: Stanford, Florida State, Alabama, Oklahoma, UCLA. So what does Michigan need to do to get to that 70-yard mark? Averaging 22.1 yards per return isn't going to do it. If the Wolverines can improve that by one yard, they'd be in the top 30 nationally. If they could improve it by two yards, they'd be in the top 15. That's the difference between a player holding a block for half a second longer or the returner falling forward. Little things make a big difference. A block here, a yard here and a step there can be the difference between a touchdown and a punt.
February, 6, 2014
2/06/14
9:00
AM ET
With the graduation of
Jeremy Gallon
alone, Michigan lost nearly 43 percent of its receiving yardage and 27 percent of its receptions. Add
Drew Dileo
,
Jeremy Jackson
and
Joe Reynolds
' contributions to those statistics and the Wolverines are looking to replace more than half of their receiving yardage from last season.
That's no small feat and that means several reps and opportunities are open for younger guys to step up.
Devin Funchess
and
Jake Butt
return at tight end and will be targeted more as they gain chemistry with
Devin Gardner
and
Shane Morris
.
But as far as pure wide receivers go, the Wolverines are going to have to reach into the freshmen and sophomore classes next season as they look for production.
And wide receiver coach Jeff Hecklinski may not need to look any further than the 2014 class, which signed one receiver on Wednesday and had two early enroll in January.
Both
Drake Harris
and
Freddy Canteen
are on campus and will participate in spring practices.
Maurice Ways
, who signed his letter of intent on Wednesday, will enroll this fall.
Hecklinski said he sees a lot of athletic ability in all three wide receivers in the 2014 class. Specifically, Hecklinski pointed out Harris' ball skills, which were helped by his basketball background. Harris had initially wanted to play both basketball and football in college, committing to Michigan State in June 2013 to do so. He later backed off that commitment, deciding to focus on football. Michigan believes it can use Harris as an X-receiver in a similar way that the Wolverines used Gallon this past season.
Canteen has a lot of speed in the open field and quickness off the ball. Because of his versatility, coaches believe they could use him at the Z-receiver, X-receiver or slot. And Ways, who comes in with a chip on his shoulder after being under-recruited, has a lot of size. At 6-foot-4, 193 pounds, Ways is the biggest WR in the 2014 class and because of his vertical-threat ability he's projected as a Z-receiver.
It was the second consecutive class with three wide receiver signees. In the 2013 class the Wolverines signed
Jaron Dukes
,
Da'Mario Jones
and
Csont'e York.
Jones played on special teams and York played in one game as a backup wide receiver, so they will both be sophomores during the 2014-15 season. Dukes redshirted and will still have four years of eligibility remaining.
"I think when you look at last year's class and the three we added and you look at this year's class and the three that we added, they're different," Hecklinski said. "You don't want carbon copies of each other out there because then you get tied in to having just one guy."
While those six will definitely be in the running for playing time, the two who seem to have the biggest jump will be
Amara Darboh
, who's coming off a foot injury, and
Jehu Chesson
, who caught 15 passes this season for 221 yards and a touchdown.
Regardless, there are a lot of catches that are up for grabs and with two early enrollees in the 2014 class and one of the biggest wide receivers on the entire roster enrolling this fall, there's a decent chance a true freshman receiver could hit the field.
"I think all three complement [one another]," Michigan coach Brady Hoke said. "And I know that all three of them, we were very excited to have."
August, 21, 2013
8/21/13
10:00
AM ET
ANN ARBOR, Mich. -- After quarterback
Devin Gardner
tweeted an impressive one-handed catch from
Amara Darboh
and a good spring game performance from the wide receiver, fans couldn't wait to see Darboh hit the field in Michigan Stadium this fall.
[+] Enlarge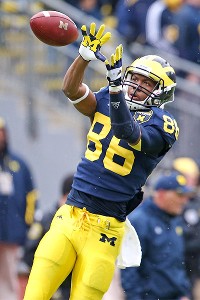 Leon Halip/Getty ImagesWith Amara Darboh out, Jehu Chesson's size and speed might find him more playing time this fall.
But on Tuesday, Michigan coach Brady Hoke announced that Darboh had gotten "banged up a little bit" in Saturday night's scrimmage and by Wednesday, the news had gotten quite a bit worse.
Now fans will have to wait another season to see that potential as the school announced Wednesday that
Darboh would miss the 2013 season
with a foot injury that would require surgery.
With the injury, Michigan is in a bit of a bind. Though Darboh didn't register any catches last season and mainly just played special teams, he did have game-time experience, which is a huge factor when throwing players into the fire. He had been an expected starter (Hoke actually referred to him as such in the press release) and Gardner spent much of his time in the offseason building chemistry with Darboh.
But there are options at wide receiver for the Wolverines.
Gardner still has security blankets in redshirt senior
Jeremy Gallon
and senior
Drew Dileo
, though neither really fits the mold for what Al Borges wants in a big, rangey, downfield target. Neither is above 5-foot-10 and while both have proven effective for Michigan, they really don't have the same skill set as Darboh.
Michigan's likely option will be redshirt freshman
Jehu Chesson
, the 6-foot-3 former track star whose speed has impressed. Redshirt senior
Joe Reynolds
has had a nice fall camp as well, and at 6-foot-1 he could be a bigger target for Gardner.
The injury might also mean Wolverines have to burn some redshirts. In their 2013 class they have three wide receivers who are at least 6-foot-3 -- Csont'e York, Da'Mario Jones and
Jaron Dukes
. Michigan does require its wide receivers to block which many have said takes a lot of time to learn, but if any of these three could pick up blocking more quickly, they could have the chance to see the field this fall.
Considering the nonconference schedule, though Notre Dame's secondary returns several players, Michigan will still have a bit of time to get younger or less experienced wide receivers into the swing of things.
But with Darboh being missing the season, it definitely leaves the Wolverines receiving corps feeling banged up as well.
June, 7, 2013
6/07/13
10:30
AM ET
ANN ARBOR, Mich. -- Can a true freshman really contribute at the college level? Is it easier to do so at one position than another? Over the coming weeks WolverineNation will be breaking down the probabilities of playing time and projections of the Wolverines' freshmen, position by position.


April, 17, 2013
4/17/13
10:00
AM ET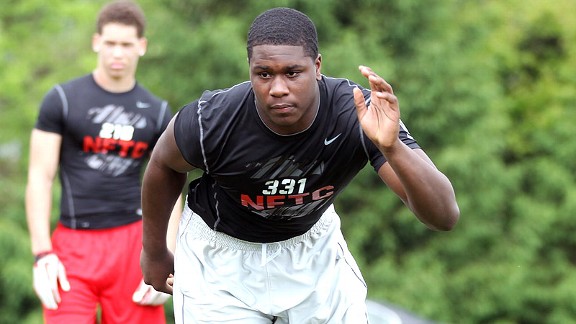 Tom Hauck for ESPN.comESPN Watch List defensive end Malik McDowell doesn't exactly have to worry about losing a potential spot in Michigan's 2014 class.
ANN ARBOR, Mich. -- The weather is warming up in Michigan, which means a few things: basketball is over, spring football is most definitely over, and camps and combines are right around the corner. So, since recruiting is going to dominate the airwaves for the next few months as Brady Hoke puts this next class together, I decided to dedicate most of today's mailbag to questions about the 2014 class.
Next week Mike is taking care of this, so get your questions to him (michaelrothsteinespn@gmail.com or @MikeRothstein). Now, on to this week's questions...
1) Micah Nuechterlein via Twitter:
If
Lawrence Marshall
(Southfield, Mich./Southfield) were to commit, would they still take
Malik McDowell
(Detroit/Loyola) and
Da'Shawn Hand
(Woodbridge, Va./Woodbridge) in this class?
A:
I really don't see that happening. But, if it did (and crazier things have happened), then yes, I do think that they would take all three. Because you just don't pass on a Da'Shawn Hand or Malik McDowell. They are all different players along the line, so as long as the numbers work the coaches wouldn't pass on any of them. That might not matter, though, because they all seem to have different timelines to make their decision. The coaches are aware of where they stand with each guy and how many spots they have left, so I wouldn't worry too much about this scenario.
To continue reading this article you must be an Insider
February, 20, 2013
2/20/13
8:30
AM ET
By
Brad Bournival & Chantel Jennings
| ESPN Insider
The writers at WolverineNation and BuckeyeNation put their heads together to break down the rivals' 2013 classes. Position-by-position, they'll give you a look at who Brady Hoke and Urban Meyer brought in and, ultimately, which class edged out the other. It's too early to say what will happen over the next few seasons, and we won't make any promises except that Hoke and Meyer are going to put talent on the field.
[+] Enlarge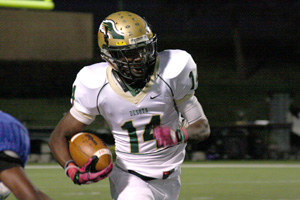 Travis L. Brown/ESPNDallas.com Dontre Wilson's playmaking abilities will make him a dangerous weapon in the OSU offense.
Ohio State got:
If there was ever a position where Urban Meyer proved he was one of the best closers in the game, it is the wide receiver position. The Buckeyes headed into the last week of recruiting with just
Taivon Jacobs
(Forestville, Md./Suitland) and
Jalin Marshall
(Middletown, Ohio/Middletown) in the fold. Meyer picked up junior college standout and former Akron (Ohio) Buchtel star
Corey Smith
(East Mississippi Community College) first before really closing the door.
Dontre Wilson
(Desoto, Texas/Desoto) was next to commit with
James Clark
(New Smyrna Beach, Fla./New Smyrna Beach) wrapping things up as a signing day special. It left no room for Jacobs, who stayed home to play with his brother at Maryland. What it also did was give the Buckeyes three four-star commitments in the final week and rounded out a position of strength that has four four-star signees to help Meyer and his spread offense continue to grow.
To continue reading this article you must be an Insider
February, 7, 2013
2/07/13
10:00
AM ET
ANN ARBOR, Mich. -- There's no way to look at Michigan's 2013 class and not believe Brady Hoke when he says he's putting an emphasis up front.
Not only is it impressive that the Wolverines were able to pull in six offensive line signees, each is big and physical (averaging 6-foot-5, 295 pounds).
"It was very important for us to establish guys who can play at the line of scrimmage the way we want to play Michigan football," Hoke said. "For the style of football we need to play, I think that was important."
To continue reading this article you must be an Insider
January, 9, 2013
1/09/13
10:00
AM ET
Over the next few weeks, WolverineNation will look at every position on the Michigan roster and give a depth chart analysis of each heading into the offseason.
For the second consecutive season, Michigan will enter a football season with some questions as to who, exactly, will catch the ball. Entering the 2012 season, with the graduation of Junior Hemingway, there were some options but few known quantities.
Entering next season, there once again are options, but even fewer players who have had past production on which to make a reliable projection.
To continue reading this article you must be an Insider
November, 29, 2012
11/29/12
11:00
AM ET
ANN ARBOR, Mich. -- Michigan will continue its streak of not having a 1,000-yard receiver this season, but that doesn't necessarily mean the Wolverines have struggled at the position.
While Mario Manningham was Michigan's last 1,000-yard receiver in 2007 (1,174 yards), Michigan has seen inconsistent, but increased, production from receivers this season over last year.
Considering Michigan's transition from a spread to a pro-style offense, that could be deemed as progress at a position where there were major questions entering the season.
To continue reading this article you must be an Insider
October, 31, 2012
10/31/12
12:43
PM ET
Michigan has been searching for another wide receiver prospect in the 2013 class, and it seems that it has found that target. Wide receiver
DaMario Jones
(Westland, Mich./John Glenn) received an offer from the Wolverines on Tuesday and committed on the spot.
"It's one of the best things that has ever happened to me," he said. "I talked with the Coach [Brady] Hoke and Coach [Jeff] Hecklinski, and they asked me if I would like the opportunity to play there."
Jones said he had no hesitation on committing when he received the offer and let the coaches know right there that he would be a Wolverine.
To continue reading this article you must be an Insider
October, 2, 2012
10/02/12
12:14
PM ET
Not every college coach can find every prospect, and there are situations where football players don't get the attention they should. That might be the case with 2013 wide receiver
Damario Jones
(Westland, Mich./John Glenn), who believes there is a reason why he hasn't yet landed a big-time offer.
"I'm suspecting that I might get some more offers, but as of now I think it's the underexposure due to me transferring," he said. "It hindered me to a certain degree, but once I started balling and going to camps, I think everything will work itself out as far as recruiting goes."
[+] Enlarge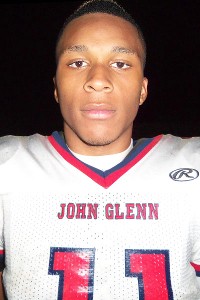 Tom VanHaaren/ESPN.comDamario Jones camped at Michigan this summer and will visit Ann Arbor on Oct. 20.
Jones transferred from a school in New Jersey to John Glenn High School a little more than a year ago. This is now his second season with John Glenn, but he believes the transfer has hurt his exposure with college recruiters. Switching schools can often cause prospects to lose touch with coaches and the chances of earning a scholarship might lessen.
To continue reading this article you must be an Insider
Michigan C Cites Concussions In Decision To Quit
BIG TEN SCOREBOARD
Thursday, 9/3
Friday, 9/4
Saturday, 9/5
Sunday, 9/6
Monday, 9/7