Michigan Wolverines:

Curt Phillips
September, 2, 2013
9/02/13
12:00
PM ET
I labored to put these links together. Get it? Get it? Enjoy the holiday.
August, 21, 2013
8/21/13
12:00
PM ET
My dog tried to play with a skunk this week. I think we're all getting stir crazy waiting for the football season.
August, 13, 2013
8/13/13
12:00
PM ET
"College Football Live" and its Summer Tour stops in Columbus today. Joe Tessitore and Brian Griese will be at Ohio State checking in on Urban Meyer, Braxton Miller and Co. Catch them throughout the day on "SportsCenter" and on CFB Live at 5 p.m. ET on ESPN2.
To the links ...
August, 12, 2013
8/12/13
5:00
PM ET
Can we hop in the DeLorean and travel ahead to Aug. 29? No? OK, then, let's just answer some emails.
Justin from Baltimore writes:
Hi, Brian. Which of the following outcomes would be most beneficial in boosting the BIG's national rep? 1. Win all nine of the top nonconference games (ND at Michigan, UCLA at Nebraska, MSU at ND, Wisconsin at ASU, OSU at Cal, PSU vs. Syracuse, BYU at Wisconsin, NW at Cal, and Iowa at ISU ... I think it would actually be in the BIG's interest for ND to beat Purdue in game No. 10 as to not totally devalue the other victories against the Irish). 2. Win the Rose Bowl. 3. Place a team in the BCS championship game and lose in a close, competitive game that really could have gone either way?
[+] Enlarge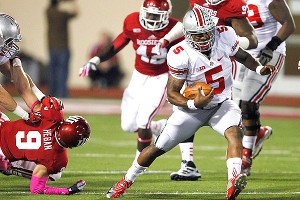 AP Photo/Sam RicheOhio State and Braxton Miller have their eyes on the big prize this season.
Brian Bennett:
I think we can quickly rule out No. 1. The Big Ten just doesn't have many high-profile nonconference games. If Notre Dame loses to both Michigan schools, that probably means the Irish won't have a great season, and beating teams like Cal, UCLA and Arizona State simply doesn't carry that much weight. A Rose Bowl win would be great, but we don't know who the opponent would be. Is it a highly-ranked Pac-12 champion? Even then, I think the No. 3 item in your scenario is the most important. Winning championships is obvious the most beneficial accomplishment for a league's perception. The second-best way to do that might be playing for a championship and coming really close. Especially if a Big Ten team were to take an SEC champ to the wire, that could go a long way toward improving perception.
Nick from Bay Area, Calif., writes:
Suppose the following situation plays out: In the Legends Division, Nebraska finishes 11-1 with its only loss at Michigan. Michigan loses a close one to the Buckeyes and drops another on the road (take your pick, @PSU, @NW, @MSU) to finish 10-2. In the Leaders, Ohio State finishes 12-0 and Wisconsin loses close ones at OSU and Arizona State to finish 10-2. Ohio State destroys Nebraska in the B1G CG. If the Buckeyes go to the NCG, is there a shot that the Badgers could end up in the Rose Bowl again?
Brian Bennett:
I see it's a hypothetical day. Yep, we all need some real football around here to talk about. Anyway, it's an interesting question. Of course, there are scenarios where the Rose Bowl could take a non-Big Ten team if it lost the league champion to the BCS title game, but I doubt the game would want to do that in the final season before the playoff and certainly not in its 100th edition. Let's assume all three Big Ten teams you mentioned finished in the top 14 of the BCS standings but not in the top four. The Rose would be free to take its pick of those teams. I actually think Nebraska or Michigan would be more likely to go to Pasadena, both because they'd have stronger nonconference wins in your scenarios (Notre Dame for the Wolverines, UCLA for the Huskers) than Wisconsin, and because the Rose Bowl might have a bit of Badgers fatigue (and vice versa).
Glenn from Leesburg, Fla., writes:
Brian, why all the hype over OSU? Realistically, what more do they have than teams like UM, PSU, Wisconsin, and Nebraska? They have
Braxton Miller
, but except for PSU, there's some pretty good QBs starting for the other three schools. OSU appears to have a good secondary, so does PSU. OSU lacks depth at LB and DL. They have a good OL, so does PSU and UM. OSU has Urban Meyer, PSU has last season's Coach of the Year, UM has Brady Hoke. OSU has a questionable backfield to support Miller, especially the first few games. OSU had a great recruiting year, so did UM which was ranked ahead of the Bucks in that category. Last fall's undefeated season for OSU has nothing to do with this year's upcoming season. So, why all the hype? You and Adam make it sound like we might as well skip the BIG season and send OSU right to the BCS championship game. Biased much?
Brian Bennett:
Well, let me tackle the "biased much" question first, since it is so ridiculous. Our job here involves giving informed opinions and predictions at times, and we have both said Ohio State is the league favorite. This is not an absurd opinion, since the Buckeyes are ranked No. 2 in the preseason coaches' poll and have been picked to win the Big Ten by just about every major publication, writer, etc. Last year, we both picked Michigan State to win the Big Ten. Did that make us biased toward the Spartans? Come on, Glenn.
Anyway, as a guy from Florida, you should know part of the answer here: Urban Meyer. Yes, he's not the
only
great coach in the league. But he is the only one with national title rings. And in his first season in the conference, he went 12-0. The Buckeyes have had an abundance of talent most years, and they're loaded again in 2013. The offensive line is excellent, Miller finished fifth in the Heisman voting last year, and the skill players are improving, especially with the rave reviews freshman
Dontre Wilson
has garnered thus far. There are questions on defense, but there are also All-America type players on that side like
Ryan Shazier
and
Bradley Roby
, plus stars-in-the-making like
Adolphus Washington
and
Noah Spence
. I've said I think it will be hard for the Buckeyes to go undefeated again, and let's not forget that they had several close calls last season. But if you're going to predict a 2013 Big Ten champ, Ohio State is the obvious pick right now.
Brian M. from Oregon, Ohio, writes:
Brian, I must take exception to your response to Brian from Atlanta. You can't look at it as 25 games in a row. You have to look at it one game at a time. The Buckeyes aren't playing 25 straight games. They're playing one opponent, and then preparing for the next. When you look at it on a game-by-game basis, you're hard pressed to think that Ohio State
won't
finish undefeated. Further, what happened last season is already in the past. It has no bearing on this season. From here, it's 14 games to go, not 25 (or 26 as it were). Additionally, Brian from Atlanta mentioned some of the close games Ohio State had last year. This seems to be a common misapprehension amongst Buckeye doubters. The Buckeye team that beat that school up north in November, was far better than the one that took the field against Miami (OH) (IO) in September. Certainly other teams have improved as well, but consider the giant leap forward Urban Meyer-coached teams traditionally take in Year 2 of his system. Other teams will have improved, but Ohio State has improved more, and they are better to begin with. Once again, it seems far more likely that Ohio State will finish undefeated than not.
Brian Bennett:
While it's true that this season's Ohio State team is different, and it won't have to win 25 games in a row this season, my point was that it's really, really hard to go undefeated in any given year, much less do it two years in a row. You make a good point about Meyer's second-year track record, but also recall that he had only one undefeated season under his belt before last year, and that was at Utah. You also make it sound like Ohio State didn't have close games late in the season, but the Buckeyes won an overtime game in the penultimate game at Wisconsin, as well as that miracle comeback against Purdue on Oct. 20. And remember that they only beat Michigan by five points, at home. Yes, Meyer's team should be favored in at least 11 games this season, but we are saying that based mostly on what those opponents did last year, not the teams that they will become this season. I won't be surprised if the Buckeyes run the table, but I'd give better odds that they slip up somewhere.
Josh from Madison, Wisc., writes:
Who ultimately starts for the Badgers this season,
Joel Stave
or
Tanner McEvoy
?
Brian Bennett:
You're giving short shrift to
Curt Phillips
, who might not have the arm strength of Stave or the athleticism (post injuries) of McEvoy but has a combination of both and serious veteran moxie. It's nearly impossible right now to tell whom Gary Andersen and Andy Ludwig will choose as their starter. McEvoy is at a disadvantage because he didn't arrive on campus until the summer, and his experience at playing quarterback on any level is limited. I'd probably put my money on Stave, just because he has the best chance to help the offense stretch the field with his downfield passing ability, and he played well last season before getting hurt. But I also think McEvoy will play at some point this fall, and I still wouldn't count out Phillips being the last man standing.
February, 4, 2013
2/04/13
2:30
PM ET
Way back in the heady days of the 2012 preseason, we ranked every Big Ten position group from No. 1 through 12. We had to base our thoughts on previous performance and a lot of projections in August.
We're going back now and issuing a final, postseason ranking for each position group, and these will be far less subjective now because we have an actual full season's worth of data on hand.
Quarterbacks, naturally, are up first. (Those guys hog all the glory). You can take a look back and see how we ranked this group in the preseason
here
. Depth is an important factor in these position rankings, but having a standout main guy under center (or in the shotgun) is the most overriding concern with this group.
[+] Enlarge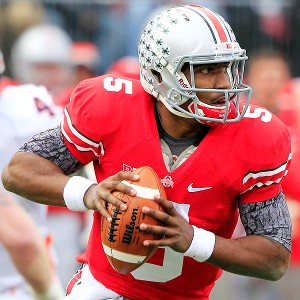 AP Photo/Jay LaPreteThanks to consistent play by QB Braxton Miller, the Buckeyes finished the 2012 season unbeaten.
1. Ohio State (Preseason rank: 5):
We figured
Braxton Miller
would improve greatly in his second year of starting and in Urban Meyer's system. We didn't know he'd become the Big Ten offensive player of the year or finish fifth in the Heisman Trophy voting. While he didn't always throw the ball with precision, Miller made all the big plays and led his team to a 12-0 record. The biggest preseason worry was what would happen if he got hurt.
Kenny Guiton
answered that in the Purdue comeback.
2. Penn State (Preseason: 12):
The Nittany Lions were dead last in our preseason rankings, and with good reason considering their past performances at the position. But I did write at the time: "Call me an optimist, but I believe
Matt McGloin
will be more effective at quarterback now that he's got a more modern offensive system and peace of mind that he's the starter." Uh, yeah. McGloin led the Big Ten in passing yards (3,266) and passing touchdowns (24) while throwing only five interceptions. And he stayed healthy, keeping Penn State's youthful backups from getting exposed.
3. Nebraska (Preseason: 3):
Taylor Martinez
led the Big Ten in total offense and completed a career-best 62 percent of his passes. When he was good, he was as good as there was in the league. But he still struggled with turnovers in key games, including 12 interceptions and numerous fumbles. If he can eliminate the mistakes, the sky's the limit.
4. Michigan (Preseason: 2):
The Wolverines are a hard to team to peg in these rankings. Do we rank them based on
Denard Robinson
's poor showings in big games against Alabama and Notre Dame? Do we rank them based on
Devin Gardner
's strong finish to the season, when he was as productive as any Big Ten QB? How much do we factor in the team's lack of a solid backup plan in the Nebraska loss when Robinson got hurt early? You have to weigh the good with the bad, which makes this spot feel about right.
5. Northwestern (Preseason: 9):
Starting quarterback
Kain Colter
threw for 872 yards, which was nearly 450 yards less than nominal backup
Trevor Siemian
. But Colter also rushed for 894 yards and kept defenses off balance with his versatility. Meanwhile, the Wildcats could use Siemian when they needed to stretch the field. The next step for Northwestern is developing a more consistent downfield passing attack.
6. Indiana (Preseason: 11):
Who would have guessed in the preseason that the Hoosiers would actually exhibit the best depth at quarterback? After starter
Tre Roberson
went down in Week 2, Indiana was able to plug in juco transfer
Cameron Coffman
and true freshman
Nate Sudfeld
to sustain the league's top passing offense. The three combined to throw for more than 3,700 yards. Coffman got the bulk of the work but needed a better touchdown-to-interception ration than his 15-to-11 mark.
7. Purdue (Preseason: 1)
: We overrated the Boilermakers' depth in the preseason. It turned out that only one of the trio of former starters performed at a high level, and
Robert Marve
didn't play enough because of a torn ACL and Danny Hope's misguided insistence on sticking with
Caleb TerBush
. Purdue actually led the Big Ten in passing touchdowns (30) and finished third in passing yards, but much of that was because the team often had to throw the ball a lot after falling way behind. This ranking could have been higher with a full season of Marve.
8. Wisconsin (Preseason: 8):
Danny O'Brien
quickly showed that he was not the next Russell Wilson, but luckily the Badgers had some depth. Redshirt freshman
Joel Stave
showed major promise before his season was derailed by a broken collarbone, and
Curt Phillips
turned in a nice comeback story by managing the team well down the stretch. Still, Wisconsin ranked last in the Big Ten in passing yards.
9. Michigan State (Preseason: 10):
It was not exactly a season to remember for first-year starter
Andrew Maxwell
, who was benched late in the Spartans' bowl game. But for all his struggles, Maxwell still finished No. 4 in the league in passing and had some nice games in the middle of the year.
10. Minnesota (Preseason: 6):
What could
MarQueis Gray
have done if he hadn't hurt his ankle, prompting an eventual move to receiver? True freshman
Philip Nelson
took over the reins midseason and broke out with a huge first half against Purdue. However, he failed to throw for more than 80 yards in the team's final three regular season games. Nelson led the team with just 873 passing yards on the season, and the Gophers threw 15 interceptions.
11. Iowa (Preseason: 4):
Nobody took a bigger tumble than the Hawkeyes, as
James Vandenberg
went from a 3,000-yard passer as a junior to often looking lost as a senior. He completed only 57.3 percent of his passes and tossed only seven touchdowns, with eight interceptions, and Iowa showed almost no ability to go vertical. And no other Hawkeye attempted a pass all season.
12. Illinois (Preseason: 7):
The Illini had experience at the position with
Nathan Scheelhaase
and
Reilly O'Toole
, but they were both part of a wildly dysfunctional offense. Illinois was next-to-last in passing yards in the Big Ten and also had just 11 touchdown passes versus 14 interceptions. In fairness, both QBs were often running for their lives and had very little help.
November, 5, 2012
11/05/12
1:00
PM ET
Only three weeks left in the Big Ten regular season, and it's put up or shut up time for several teams. Here's an early look at the Week 11 story lines:
Wisconsin (6-3, 3-2 Big Ten) at Indiana (4-5, 2-3)
, Noon, ESPN2: It's true. We have an actual large and meaningful Big Ten game in Bloomington. In football. The surprising Hoosiers can pull even with Wisconsin and would hold the head-to-head tiebreaker for the Leaders Division spot in the Big Ten title game if they can win their third straight conference game. Let's put that in perspective: Indiana won a
total
of three Big Ten games from 2008-11. So, yeah, this is all a bit new. The Badgers have had two weeks off to try and figure out their new situation at quarterback (our money is on
Curt Phillips
). Their defense will be under pressure to stop an IU passing game that has caused everybody fits this year. Wisconsin has won seven straight in this series by an average of 34 points.
Penn State (6-3, 4-1) at No. 18 Nebraska (7-2, 4-1)
, 3:30 p.m., ABC: The Huskers can't clinch the Legends title yet, but they can take one more giant step toward Indianapolis with a win this week in their toughest remaining game. Penn State can't go to the postseason but will have a huge say in both division races, with this game and remaining ones against both Indiana and Wisconsin. This game features the top two passers in the league in Nebraska's
Taylor Martinez
and the Nittany Lions'
Matt McGloin
. If you just woke up from a four-month coma and read that sentence, we forgive you for feeling very disoriented.
Northwestern (7-2, 3-2) at Michigan (6-3, 4-1)
, Noon, ESPN: Devin or Denard? That will be the big question this week for Michigan, which did just fine with
Devin Gardner
replacing
Denard Robinson
at quarterback last week. Northwestern had its own quarterback drama before seemingly settling on
Kain Colter
as the full-time option. The loser of this game can pretty much kiss its Legends hopes goodbye.
Minnesota (5-4, 1-4) at Illinois (2-7, 0-5)
, 3:30 p.m., Big Ten Network: The Gophers built a little offseason momentum by upsetting Illinois in last year's season finale. Now they need to beat the Illini to gain postseason eligibility for the first time since 2009. Minnesota has won its last three trips to Champaign, while Illinois has lost 11 straight Big Ten games dating back to last season.
Purdue (3-6, 0-5) at Iowa (4-5, 2-3)
, Noon, BTN: You'd be hard-pressed to find another game this weekend featuring two fan bases less enthusiastic about their teams. The Boilers have been in a five-week tailspin that might well cost Danny Hope his job, while Iowa has lost three straight in disheartening fashion after a promising 2-0 start in league play. The Hawkeyes still have a chance to get to a bowl but must win here and then upset either Michigan on the road or Nebraska at home on Black Friday. The Boilers have Illinois and Indiana left, so a win here would keep their faint postseason hopes flickering.
Byes:
Ohio State, Michigan State
Michigan C Cites Concussions In Decision To Quit
BIG TEN SCOREBOARD
Thursday, 9/3
Friday, 9/4
Saturday, 9/5
Sunday, 9/6
Monday, 9/7