Michigan Wolverines:

Christian Kirksey
December, 2, 2013
Dec 2
11:00
AM ET
There were two huge rivalry games Saturday, with BCS national title implications at stake. What were the odds that both underdog home teams would score a touchdown to get within one point with 32 seconds left in the game?
That was the scenario in both the Ohio State-Michigan and Alabama-Auburn games. You know what happened. Brady Hoke went for the two-point conversion and didn't get it. Auburn chose to kick the extra point for the tie and won on a heaven-sent final play.
[+] Enlarge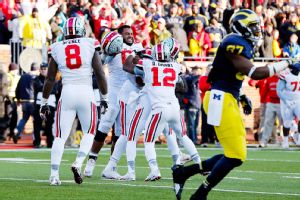 Gregory Shamus/Getty ImagesOhio State survived a scare from Michigan after the Wolverines failed on a two-point conversion to win the game.
Of course, the Tigers and Wolverines were in vastly different situations. Auburn had much more on the line, while Michigan's season would have been made by beating Ohio State. Auburn also knew that Alabama had a dicey kicking situation. Yet Michigan also was at home, where it had lost only once under Hoke, and it already had played in two overtime games this season. The Wolverines could have given themselves a chance to win on a miracle in regulation or in overtime.
Ultimately, I had no problem with Hoke's call, though the two-point play itself was uninspiring. Sometimes it's not the decision but how it unfolds.
Consider that in the biggest play calls for both Penn State and Northwestern on Saturday, both coaches went with a run up the middle on third down. The Nittany Lions' surprise draw play on third-and-9 from their 19 resulted in a 61-yard gain by
Zach Zwinak
that put Wisconsin away. Northwestern went with a basic running play on third-and-6 at Illinois and got 11 yards from
Treyvon Green
, allowing the Wildcats to then run out the clock.
Had those runs been stuffed, both coaches would have been criticized for being too conservative and playing not to lose. It's a tough world, coaching. Unless you are blessed with Guz Malzahn's luck.
Take that and rewind it back ...
Team of the week:
Penn State. Absolutely no one saw the Nittany Lions'
31-24 win
at Wisconsin coming, especially because PSU had played so poorly on the road in Big Ten play. But coach Bill O'Brien led his team to another victory in a season finale, and recording two straight winning seasons under heavy NCAA sanctions is wildly impressive.
Worst hangover:
BCS for Wisconsin? Yes, if that stands for Badgers Caught Sleepwalking. Instead of earning a possible Orange Bowl bid, the Badgers laid a giant egg. A tremendously successful large senior class somehow went out on the worst possible note at Camp Randall Stadium.
Big Men on Campus (offense):
It has been a tough year for Northwestern, but the Wildcats finally got a Big Ten
win at Illinois
. And quarterback
Trevor Siemian
and receiver
Christian Jones
were big reasons why. Siemian threw for 414 yards and four touchdowns, while Jones had two of those scores during a 13-catch, 182-yard career day.
Big Man on Campus (defense):
Iowa linebacker
Christian Kirksey
was named Walter Camp national defensive player of the week after recording 11 tackles, including three for loss, plus a sack and a forced fumble against Nebraska. Really, you could just as easily single out fellow linebackers
James Morris
and
Anthony Hitchens
, who also had great games to cap tremendous seasons by all three. The Hawkeyes will really miss all three seniors next year.
[+] Enlarge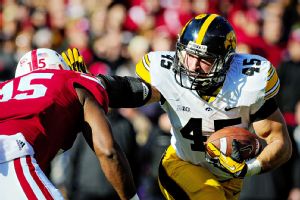 Eric Francis/Getty ImagesIowa's Mark Weisman scored two touchdowns in the win over the Cornhuskers.
Big Man on Campus (special teams):
Chris Davis
. Sure, he plays for Auburn. But his incredible 109-yard kick-six touchdown against Alabama just might allow a Big Ten team to play for the national title for the first time since the 2007 season. Buckeye Nation is a big fan of Davis.
Strangest moment:
Penn State's hurry-up offense clearly confused Wisconsin's defense several times. The most obvious moment came early in the third quarter, when the Badgers had only nine men on defense when the Nittany Lions ran a play. Somehow, Wisconsin got out of that power-play situation when
Tanner McEvoy
broke up an underthrown deep ball.
Pointing the thumb or the finger?
Coaches always talk a good game about accountability, and Bo Pelini usually is one to take blame for a poor performance by his team. But the Nebraska coach looked everywhere but in the mirror on his 15-yard unsportsmanlike conduct penalty against Iowa. Pelini said the call was chicken manure -- I'm paraphrasing -- and even brought Iowa coach Kirk Ferentz's own sideline demeanor into the conversation.
But where was the personal responsibility for Pelini nearly hitting an official in the face with his hat? In what other sport -- or walk of life -- would that be acceptable? Even Prop Joe and Avon Barksdale ("The Wire" nerd alert) knew better than to accost the ref in their annual basketball game. Pelini is lucky to still be employed by Nebraska after Friday's meltdowns.
A Bucket load of offense:
Indiana took out a little offensive frustration on Purdue. After being bottled up on offense by Wisconsin and Ohio State, the Hoosiers unleashed a school record 692 yards and 42 first downs to win the Old Oaken Bucket for the first time in three years.
Tre Roberson
,
D'Angelo Roberts
and
Stephen Houston
all rushed for more than 100 yards for Indiana, the first time in school history the team produced a trio of 100-yard rushers in the same game.
Zero sum game:
Minnesota failed to score an offensive touchdown in its final 10 quarters of the regular season. The lack of an explosive/entertaining offense could hurt the Gophers come bowl selection time. Meanwhile, Michigan State has held six opponents without an offensive TD and pitched shutouts in six of its eight Big Ten games.
Fun with numbers:
Because the debate is about to take over our lives, some key comparisons between Ohio State and Auburn:
Scoring margin: Plus-27.9 per game for Ohio State, plus-16.1 for Auburn

Rushing yardage: 321.3 per game for Ohio State, 318.3 for Auburn

Total yards: 530.5 per game for Ohio State, 491 for Auburn

Team adjusted QBR: 83.8 for Ohio State, 81.0 for Auburn

Yards allowed per game: 355.8 for Ohio State, 414.3 for Auburn

Sagarin strength of schedule rating: 61st for Ohio State, 26th for Auburn

Wins over ranked teams: One for Ohio State (Wisconsin), three for Auburn (Alabama, Georgia, Texas A&M)
December, 1, 2013
Dec 1
9:00
AM ET
Recognizing the best and the brightest around the Big Ten during rivalry weekend:
September, 19, 2013
Sep 19
4:00
PM ET
Every Big Ten team has already completed one-quarter of its regular-season schedule, and after this weekend, everybody but idle Illinois will have finished off a third of its regular season. (Don't blame me, I'm just the messenger).

With a little bit of data to crunch, it's time to bring back the weekly awards race tracker, where I attempt to gauge the temperature for some of the Big Ten's top individual honors. Please note that there's a long way to go, and performance in conference play looms large, so these will fluctuate wildly. But for now, here's how I see these races stacking up:
Graham–George Offensive Player of the Year
1. Penn State WR Allen Robinson:
Receivers have a tough time winning these kinds of awards because they're so dependent on others. But I'd argue Robinson stands farther above his Big Ten peers at his position than any running back or quarterback right now. He ranks fourth in the FBS in receiving yards with 405 through three games, and that's with missing the first half of the opener because of a suspension. He's on pace for a 1,600-yard season.
2. Wisconsin RB Melvin Gordon:
He's leading the Big Ten in rushing with 477 yards while averaging a ludicrous 12.9 yards per carry.
3. Michigan QB Devin Gardner:
He would have been the frontrunner after Week 2, but his turnover binge against Akron really hurt. Still, he's leading the league in total offense.
4. Indiana QB Nate Sudfeld:
He's tops in the conference in passing (917 yards) and passing touchdowns (10) while ranking seventh nationally in pass efficiency.
5. Iowa RB Mark Weisman:
He's been Superman for the Hawkeyes so far, carrying the ball 85 times in three games and averaging 141.7 yards per game. The big news is that neither
Braxton Miller
, the reigning champ, nor
Taylor Martinez
appear in our initial Graham-George tracker. Miller simply hasn't played enough, while Martinez hasn't put up the rushing numbers we expected. But it's early.
Waiting room:
Illinois QB
Nathan Scheelhaase
; Michigan WR
Jeremy Gallon
; Ohio State RB
Jordan Hall
Nagurski–Woodson Defensive Player of the Year
1. Michigan State DE Shilique Calhoun:
The Spartans sophomore gets the early nod in a wide-open race thanks to his scoring heroics (three defensive touchdowns so far) and being one of the faces of the league's best defense by a large margin.
2. Wisconsin LB Chris Borland:
The Badgers statistically have the Big Ten's second-best defense, though that's propped up by two early cupcake opponents. Still, Borland has been his usual brilliant self, leading his team with 24 tackles.
3. Penn State DT DaQuan Jones:
He was dominant in the Nittany Lions' first two games, not so much in the UCF shredding last week. Yet Jones' numbers -- 23 tackles, two sacks, five tackles for loss -- are very impressive.
4. Minnesota DT Ra'Shede Hageman:
Hageman is having the big senior season we expected from him. He has collected 4.5 tackles for loss, and his push inside has helped free teammate
Theiren Cockran
, who's leading the league in sacks (three).
5. Northwestern S Ibraheim Campbell:
All he does is catch the other team's passes. Campbell has three interceptions so far and one in each of his past five games.
Waiting room:
Ohio State LB
Ryan Shazier
, Michigan State LB
Max Bullough
, Illinois LB
Jonathan Brown
, Iowa LB
Christian Kirksey
Thompson–Randle El Freshman of the Year
1. Penn State QB Christian Hackenberg:
Keep reminding yourself that he's only 18 years old, but Hackenberg has been every bit as good as advertised, and quite possibly better. He has completed 71.7 percent of his passes for 851 yards and four touchdowns, though he does have three interceptions.
2. Ohio State WR Dontre Wilson:
Speed kills, and Wilson is an assassin. He is averaging 9.3 yards per carry, has caught seven passes for 72 yards and has a 51-yard kickoff return. Expect his role to grow throughout the season. For now, this is a two-man race.
Waiting room:
Michigan OL
Kyle Kalis
; Minnesota QB
Mitch Leidner
; Nebraska LB
Josh Banderas
, DE
Avery Moss
and DT
Vincent Valentine
; Indiana S
Antonio Allen
and LB
T.J. Simmons
; Wisconsin RB
Corey Clement
September, 16, 2013
Sep 16
11:00
AM ET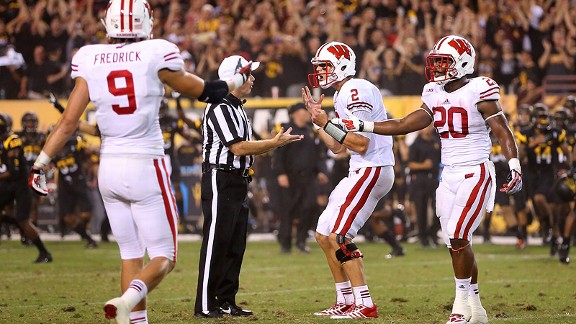 Christian Petersen/Getty ImagesJoel Stave and the rest of the Wisconsin Badgers were flabbergasted by the ending of Saturday night's loss to Arizona State, as the Badgers bizarrely ran out of time deep in ASU territory.
It was a rough weekend all around for the Big Ten, which went 0-3 against ranked teams, 1-3 versus the Pac-12 and only 5-5 against FBS competition. Even some of the winning teams either had major scares (Michigan), looked sluggish (Northwestern) or had the game overshadowed by a different concern (Minnesota).
But, really, all I want to talk about is the Wisconsin-Arizona State ending, aka the Desert Debacle.
If you haven't read up on one of the most absurd finishes of all time yet, take a moment to brush up
here
and
here
and
here
. Consider all the things that went sideways in 18 infamous seconds:
As Badgers quarterback Joel Stave ran to his left to center the ball for an upcoming field goal try, he collided into the backside of left guard Ryan Groy and very nearly clipped Groy's heel while attempting to kneel. (Groy didn't even need to be there, as he'd shed a defender and had no one left to block.) Adding to the confusion, Stave quickly bounced up and placed the ball on the 15-yard line as if the pigskin were covered with scorpions. Had he merely Tebowed it and held onto the ball for a couple of seconds, or just handed it to an official, the ensuing chaos probably doesn't occur.

A whistle had blown and the referee, stationed behind the Wisconsin offense, clearly signaled the ball as down. And yet, other officials and players seemed unsure if Stave had actually knelt or whether it was a live, loose ball. Postgame photographic evidence proved he did take a knee, but it took a specific angle on a freeze frame from the hi-def broadcast to remove doubt. Things aren't nearly as clear in full speed live action when you're a 50-year-old-plus referee who's been running around in desert heat for three-plus hours.

But here's the thing: It shouldn't have mattered whether Stave's knee actually ever touched the turf. According to the NCAA rules manual (specifically, Rule 4, Article 2, Section A), the ball is dead if "an official sounds his whistle (even though inadvertently) or otherwise signals the ball dead." Later in Rule 4, the handbook states that the play is dead "when a ball carrier simulates placing his knee on the ground." So Stave should be off the hook here, even though his actions looked odd at the time.

Three Sun Devils players went for the ball, understandably so given the mixed signals, and Anthony Jones laid on it for more than five seconds. Ironically, Arizona State fans booed earlier in the game when they thought Wisconsin's Michael Caputo faked an injury to slow their team's offensive pace by the goal line. Apparently, an even better way to disrupt tempo is to smother the ball like it's a rogue hand grenade, because Jones astonishingly got away with a clear and obvious delay of game infraction.

Even if Stave's kneel-down had gone smoothly, the clock would not have stopped, and the Badgers had no timeouts. Yet, Stave and his teammates wasted precious time by looking to the confused officials instead of rushing into formation for a spike. In fact, Wisconsin players only frantically pointed to the clock when there were two seconds left. The umpire, moving slower than most Arizona retirees, wrongly signaled for the Badgers line to back away, but even that didn't happen until 0:02. The umpire also appeared never to have looked at the referee as the latter was signaling the ball as down.
Without question, the Pac-12 officiating crew displayed a shocking lack of rules knowledge and cohesion. They never huddled together to try and figure out what had happened. The referee, who presumably whistled the play dead and signaled it as so, should have taken charge of the situation. It's disgraceful that two teams could play so hard for 59-plus minutes, only to have officials approach the frenzied final moments so casually (they sure moved fast once they'd decided the Sun Devils had won, however). And if we're going to continually interrupt games for replays, many of which have seemingly little effect on the final outcome, then why isn't there a protocol in place to correct last-second disasters like this on review?
While the officials deserve nearly all the blame, Wisconsin played with fire in trying to get the ball into only slightly better kicking position with the clock dwindling. Badgers coach Gary Andersen said his team practices that specific play for that amount of time, but any seasoned Saturday observer knows that most college teams are notoriously bad at late-game execution. That's because of both inexperienced players and the NCAA 20-hour rule that limits the amount of time coaches can spend on such scenarios. Even when teams do practice for it, they can neither simulate nor predict how quickly -- or, in this case, how interminably -- a given official will clear the pile and spot the ball.
Two more points to consider: First, the bizarre finish absolved Arizona State's Todd Graham of some atrocious clock management and play calling on the Sun Devils' final drive. Graham has yet to impress as a head coach; he twice decided to go for two-point conversions far too early in a back-and-forth game, and it nearly cost his team.
Secondly, Wisconsin's kicking game has been highly suspect for a while now, so there's no guarantee
Kyle French
makes that field goal, even if it's only from 27 yards out after a delay penalty. But French is 6-for-6 in his career from 30 yards or closer, and he'd made one from 34 earlier Saturday night. It's a shame we'll never know if he could have hit the game winner.
One last question: Why do so many weird things keep cropping up at the end of games for the Badgers, who now have 10 losses by a touchdown or less since the start of 2011? Wisconsin fans can no longer scapegoat Bret Bielema for late-game mismanagement; his wife's schadenfreude was readily apparent when Jen Bielema tweeted "#karma" shortly after the Arizona State fiasco ended.
Take that and rewind it back ...
Team of the Week:
Iowa. The Hawkeyes snapped a two-game losing streak against Iowa State, beat a FBS team for the first time since Oct. 13 of last year, and now can feel much better about a potential return to postseason play.
Biggest hangover:
Nebraska. For all
the obvious reasons
. The sky isn't falling in Lincoln, as the Huskers should still be able to win at least eight or nine games. But the sun sure ain't shining, either.
[+] Enlarge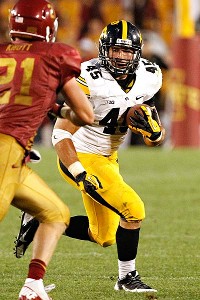 David Purdy/Getty ImagesMark Weisman made 35 carries against Iowa State. Workhorse running backs are still typical throughout the Big Ten.
Fun with numbers (via ESPN Stats & Info):
Iowa's
Mark Weisman
ranks third in the FBS in rushing yards, but his most impressive stat might be his 85 carries. Weisman, who toted it 35 times versus Iowa State, has run the ball 10 times more than anybody else in the nation. Michigan State workhorse Le'Veon Bell had 81 carries through three games last year. ... Wisconsin's
Melvin Gordon
, meanwhile, leads the country at 12.89 yards per rush. The redshirt sophomore is averaging 10.1 yards per attempt for his career. ... Indiana's
Nate Sudfeld
has taken over the Big Ten lead in QBR. Sudfeld ranks seventh nationally with his 91.7 raw score (based on a 100 point scale). Sudfeld also is tied for the national lead in most completions of 20 yards or more, with 19. ... Penn State continues to baffle with its ineptitude on third down, having now converted just four of 34 tries. Only Miami of Ohio (3-for-29) has been worse. ... Bet you wouldn't have guessed this, but Iowa is leading the league in plays per game, at 83 snaps per contest. The Hawkeyes are tied for 10
th
nationally in plays per game. Minnesota is running the fewest plays per game in the Big Ten, at 60.
Big Man on Campus (Offense):
Kenny Guiton
-- or Kenny Football, as I've taken to calling him, because the real Kenny G is far too lame -- continues to get it done in
Braxton Miller
's absence. The Ohio State quarterback threw for 276 yards and four touchdowns and ran for 92 yards in the win at Cal. Urban Meyer says he might find ways to play Guiton when Miller is healthy.
Big Man on Campus (Defense):
Not a lot of great individual defensive performances in Week 3 (see below), so we'll go with Iowa's linebackers.
Christian Kirksey
,
Anthony Hitchens
and
James Morris
combined for 25 tackles, and Morris had a 27-yard interception return. They helped limit Iowa State to just 59 yards rushing.
Big Man on Campus (Special teams):
It's time to recognize Purdue's
Cody Webster
, who might win the Ray Guy Award if it were handed out today. Webster continued his tremendous season by averaging 41.8 yards per punt and downing three of them inside the 20 versus Notre Dame.
Pointing up (the wrong way):
In the first two rewinds of 2013, we pointed out how scoring is up in the Big Ten. In Week 3, that was also true in a negative way. Six Big Ten teams (Nebraska, Ohio State, Penn State, Wisconsin, Purdue and Illinois) gave up at least 31 points, and Michigan nearly joined them (and would have been the sixth of seven to lose if so). Offenses have improved in the league, but let's face it: Most Big Ten teams still aren't well-equipped to win shootouts, so the defenses need to play better.
Strangest moment, Part II:
Nothing tops the end of the Wisconsin-Arizona State game for absurdity. But more strangeness occurred in the UCLA-Nebraska game, when officials signaled for a made field goal on a kick that was obviously wide right. The call was overturned on replay, but how is that missed in the first place? An Arizona State field goal early against Wisconsin was similarly odd, as it appeared to curve from out, to in, to above the right upright. Officials called it good, but it was hard to tell for sure. Both plays only added fuel to comedian Adam Carolla's common-sense
crusade to raise the darn uprights already
.
Did you see?
A skywriter
spelled out "Go Blue" over Spartan Stadium
shortly before Michigan State's game against Youngstown State on Saturday. Who bothered to do that or why remains unclear, but as Michigan State swimming coach Matt Gianiodis tweeted: "That's a lot of work for your 3
rd
biggest rival." Maybe Michigan fans should have focused more on Akron.
September, 3, 2013
Sep 3
9:00
AM ET
After several mostly speculative versions of the Big Ten power rankings, we finally had a chance to evaluate these teams in games. The Week 1 competition mostly wasn't great, and the Big Ten's overall performance left something to be desired. We'll learn a lot more about most of these teams in the coming weeks.

We try to keep these rankings consistent with our ESPN.com national power rankings, so Ohio State remains No. 1, ahead of Michigan, even though the Wolverines looked more impressive against their MAC opponent than Ohio State did. But a Michigan win against Notre Dame this week could change things.
Wisconsin and Nebraska trade places in the rankings, and so do Penn State and Michigan State.
Here's one last look at the
preseason power rankings
.
Let's get to the rundown ...
1. Ohio State (1-0, preseason: 1):
The Buckeyes had a flawless record in 2012, but they were a flawed team. They still are, and they showed some warts during the final three quarters of a 40-20 win against a plucky Buffalo squad. Quarterback
Braxton Miller
has improved and has a much better supporting cast, including running back
Jordan Hall
, but the Buckeyes need to take better care of the ball. A soft schedule should give Ohio State's young defense time to develop.
2. Michigan (1-0, preseason: 2):
This year's opener went just a tad better than last year's for Brady Hoke's Wolverines. Michigan made big plays in all three phases and received contributions from many different players, delivering the most impressive debut in the league. Quarterback
Devin Gardner
(162 pass yards, 52 rush yards, three total touchdowns, two interceptions) can build off of this performance before facing a talented Notre Dame defense under the lights next week.
3. Northwestern (1-0, preseason: 3):
The Wildcats remain in the three hole but solidified themselves after a resilient performance on the road against Cal. They played most of the game without their dynamic backfield of quarterback
Kain Colter
and running back
Venric Mark
, which fundamentally changed the offense. Thanks to unlikely heroes such as linebacker
Collin Ellis
and running back
Treyvon Green
, Northwestern remained perfect in openers under Pat Fitzgerald. Up next, Syracuse.
4. Wisconsin (1-0, preseason: 5):
Fortunately, Wisconsin's next three openers (LSU twice, Alabama) will provide a lot more clues about the Badgers than Saturday's laugher against FBS bottom-feeder UMass. But you play the team across the field, and to Wisconsin's credit, it completely dismantled the Minutemen on both sides of the ball. The three-headed rushing attack of
James White
,
Melvin Gordon
and
Corey Clement
sparkled, combining for 388 yards and three touchdowns on 40 carries.
5. Nebraska (1-0, preseason: 4):
The concerns about Nebraska's young defense weren't merely confirmed in the opener against Wyoming. They grew. Nebraska surrendered 35 first downs and 602 yards and nearly blew a 16-point fourth-quarter lead before surviving 37-34. Coach Bo Pelini didn't sound too discouraged Monday, but defensive coordinator John Papuchis said the defense has "nowhere to go but up." Nebraska needs a crisper performance this week against Southern Miss.
6. Penn State (1-0, preseason: 7):
Like Northwestern, Penn State fought through some adversity to beat another major-conference team away from its home stadium. Freshman quarterback
Christian Hackenberg
backed up the hype for the most part, and tackle
DaQuan Jones
and safety
Stephen Obeng-Agyapong
sparked the defense. The Lions must get better on third down (1-of-15) before Central Florida comes to town in Week 3.
7. Michigan State (1-0, preseason: 6):
As dominant as the Spartan Dawgs were against Western Michigan -- and could be the entire season -- the big concern here is an offense that appears to have regressed, if that's even possible. The quarterbacks remain the focus, but Michigan State isn't getting enough from any part of its offense. If things don't change, expect another season of games that can go either way. MSU has a chance to get well this week against slumping South Florida.
8. Minnesota (1-0, preseason: 8):
Credit defensive tackle
Ra'Shede Hageman
and the Gophers for making big plays in all three phases in their opener against UNLV. But the 51-23 final score masked some of the issues Jerry Kill's team must address before the competition level improves. Minnesota needs a more physical effort from its offensive line, and it has to get off the field on defense after allowing UNLV to go 4-for-4 on fourth down. The Gophers need to clean things up this week on the road against New Mexico State.
9. Indiana (1-0, preseason: 9):
A loaded Hoosiers offense set a
Memorial Stadium record with 73 points
against Indiana State, and Indiana has multiple weapons at quarterback, running back and wide receiver. But we've seen big offense from Indiana before. Can the Hoosiers' defense improve enough to boost the win total to bowl eligibility? IU's discipline will be tested this week against Navy's tricky triple-option offense.
10. Iowa (0-1, preseason: 11):
Yes, the Hawkeyes actually move up a spot despite a loss (it has more to do with Purdue's plunge). Iowa in some ways looked like a better team against Northern Illinois, surviving a sluggish start to take control behind quarterback
Jake Rudock
, linebacker
Christian Kirksey
and a physical defense. But breakdowns on both sides of the ball doomed Iowa down the stretch, and Rudock's interception led to NIU's game-winning field goal. Iowa really needed a win and must regroup this week against Missouri State.
11. Illinois (1-0, preseason: 12):
Senior quarterback
Nathan Scheelhaase
looks much more comfortable in Bill Cubit's offense and threw for a career-high 416 yards and two touchdowns against Southern Illinois. That's the good news. Illinois still has many areas to fix, especially on defense after nearly blowing a 22-point third-quarter lead. We'll learn a lot more about this team the next two weeks against Cincinnati and Washington.
12. Purdue (0-1, preseason: 10):
What a mess. Nothing went right for the Boilers in coach Darrell Hazell's debut. The defense couldn't get off of the field on third down or fourth down.
Rob Henry
struggled and the offense committed three turnovers. Aside from a Cincinnati special-teams blunder, Saturday was a nightmare for the Boilers, who fell 42-7. Fortunately, Indiana State is next, but there's a lot of work to do.
August, 22, 2013
Aug 22
11:59
AM ET
By
ESPN.com staff
| ESPN.com
No Big Ten position group returns more talent and production than linebacker. The list of returnees includes four first- or second-team All-Big Ten selections from 2012 -- Wisconsin's
Chris Borland
, Ohio State's
Ryan Shazier
, Michigan State's
Max Bullough
and Michigan's
Jake Ryan
-- along with two other former All-Big Ten selections (Michigan State's
Denicos Allen
and Illinois'
Jonathan Brown
), plus a host of other potential stars. Eight of 12 teams return multiple starters at linebacker -- Iowa's senior trio of
James Morris
,
Anthony Hitchens
and
Christian Kirksey
has combined for 65 career starts and 662 tackles -- and only one squad (Nebraska) must replace its entire starting group from last season.
Click here
for more from Adam Rittenberg.
September, 12, 2012
9/12/12
3:45
PM ET
Investor confidence in the Big Ten neared an all-time low in Week 2. But past performance does not necessarily indicate future results. Let's check the stock market:
Stock up
Chi Chi Ariguzo:
The Northwestern linebacker moved into a starting role for the first time this season, and the move has gone very well for the redshirt sophomore. Ariguzo -- whose actual first name is Ikechi -- was named the Big Ten defensive player of the week after collecting 10 tackles, including three for loss, against Vanderbilt. In Week 1 at at Syracuse, he had an interception and returned a botched lateral for a touchdown. He currently leads the Big Ten with 4.5 tackles for loss.
Devin Funchess:
The Michigan true freshman tight end was outstanding against Air Force, hauling in four catches for 106 yards and a touchdown. The athletic 6-foot-5, 229-pounder showed receiving skills, and could provide a much needed target for
Denard Robinson
. He has future star written all over him.
[+] Enlarge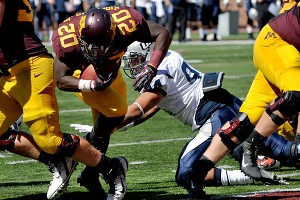 AP Photo/Tom OlmscheidRunning back Donnell Kirkwood has sparked an improved rushing attack for Minnesota.
Minnesota's running game:
The Gophers currently rank fourth in the Big Ten at 224.5 rushing yards per game, a marked improvement over last season's 160 yards per game. It hasn't just been quarterback
MarQueis Gray
, either, as sophomore
Donnell Kirkwood
has rushed for at least 70 yards in the first two games. Head coach Jerry Kill says better play out of the receivers is opening some things up for the running game. Minnesota must prove it against better defenses than UNLV and New Hampshire, but is off to a good start in building a more complete offense.
Iowa's linebackers:
Not much has gone right for the Hawkeyes' offense, but the linebackers have done their part. Head coach Kirk Ferentz said
James Morris
, who had 12 tackles and a key interception late against Iowa State, played tremendously last week.
Christian Kirksey
has been doing his part as well, which Ferentz said has opened opportunities for
Anthony Hitchens
. A first-year starter, Hitchens tallied an eye-popping 19 tackles last week. Now, if the defense could just get some help ...
Purdue in the red zone:
Boiler up inside the 20. Purdue is currently tied for the national lead in red-zone offense, scoring on all nine drives inside the opponent's 20-yard line. That includes eight touchdowns. The Boilermakers also rank 13th nationally in red-zone defense, having surrendered just four scores -- and only two touchdowns -- during their opponents' seven trips inside their 20.
Stock down
Iowa in the red zone:
The Hawkeyes, of course, have scored only one touchdown all season, and that came from outside the red zone on a 23-yard run by
Damon Bullock
against Northern Illinois. Iowa has been in the red zone on offense six times in two games -- and come away with only five field goals.
Wisconsin's running game:
You knew the Badgers' offensive output was atrocious, which led to offensive line coach Mike Markuson being dumped this week. Wisconsin has only 203 rushing yards as a team after two games, an average of 101.5 yards per game. To put that in perspective,
Montee Ball
alone only had three games all of last season when he failed to gain at least 115 yards, and he exceeded 203 yards against both Purdue (223) and Illinois (224).
Quarterback fears vs. Spartans, Buckeyes:
There was near universal agreement this preseason that Michigan State and Ohio State would field the best defensive lines in the Big Ten this season. While they haven't been bad, it's somewhat shocking to see that the Spartans and Buckeyes have combined for only four total sacks this season. Urban Meyer has stressed the need for a better pass rush from his team. Michigan State has gotten decent pressure, but has only sack to show for it, and defensive coordinator Pat Narduzzi says he's not happy with the play of the defense overall. Sack numbers can be overrated, but it's also true that both lines can do a better job bringing down quarterbacks.
Illinois' defense:
The Illini defense looked terrific in the opener against Western Michigan, continuing a string of great performances dating to last season. Which is why it was so shocking to see Arizona State move the ball at will against Illinois in last week's 45-14 shellacking. Players said this week that they had mix-ups in communication and were caught off guard by the Sun Devils' tempo. The latter doesn't make much sense since Todd Graham's teams have always played up-tempo, and the Illini defenders practiced against their own spread offense all preseason. We'll see if this was just one bad showing or an alarm bell.
Big Ten expansion candidates:
With Notre Dame off the chessboard and the ACC going to a $50 million exit fee, who's left if the Big Ten ever decides to expand again? Rutgers? UConn? Louisville? None of those are very appealing, and it means that the league will be better off staying at 12 for the foreseeable future -- or at least until the next big seismic conference shift.
Weekend Recruiting Wrap: Big Ten - Dec. 2