Michigan Wolverines:

Christian Bryant
May, 12, 2014
5/12/14
1:00
PM ET
Tired of NFL draft rewind posts? Well, it's nearly over. And besides, not much else is happening in mid-May.
We're taking a closer look, roundtable-style, at
the Big Ten's draft
: how certain teams did, the risers, the falls and more. Noted draft hater Brian Bennett is somewhere in Italy, so Big Ten reporters Mitch Sherman, Josh Moyer and Austin Ward are kind enough to join me in breaking down the draft.
The draft roundtable is on the clock ...
[+] Enlarge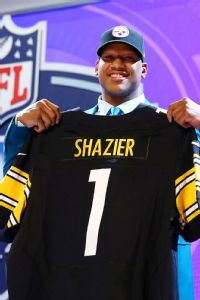 Elsa/Getty ImagesRyan Shazier ended a three-year drought without a Buckeye in the first round.
Let's start off with individual teams you cover -- Nebraska (Sherman), Penn State (Moyer) and Ohio State (Ward), for those who need a refresher. What stood out to you most about each team's draft showing?
Moyer:
Penn State had just three players drafted, so what really stood out to me was how divided the opinion was on
Allen Robinson
, who was picked up by the
Jacksonville Jaguars
in the second round. At times, he was a projected first-rounder. At other times, he wasn't projected to go until Day 3. Some lauded the Jags' pick; others labeled it a reach. Let me add my two cents: He's going to succeed in the NFL. I spoke with two former PSU and NFL wideouts,
O.J. McDuffie
and Kenny Jackson, and they both said last season that A-Rob boasts more physical skills than they ever did. That has to count for something.
Sherman:
NFL organizations continue to rate Nebraska defensive backs highly. Cornerback
Stanley Jean-Baptiste
(second round to the Saints) was the 11th draftee from the secondary in the past 10 years. Since 2003, though, just two Nebraska offensive players, including new Redskins guard
Spencer Long
, have landed in the top three rounds. Receiver
Quincy Enunwa
, despite technical shortcomings, offers value to the Jets as a sixth-round pick. As expected, all others, including quarterback
Taylor Martinez
, had to take the free-agency route.
Ward:
Ohio State has long been a pipeline for the next level, but it had actually been three years since it had produced any first-round picks until
Ryan Shazier
and
Bradley Roby
on Thursday night. The Buckeyes followed that up with four more players being selected, which suggests the talent level is starting to get back to the level the program is accustomed to after going through a bit of a down stretch. It seems a bit backward that two guys from a beleaguered defense were the top picks while the record-setting offense wasn't represented until
Carlos Hyde
and
Jack Mewhort
were grabbed in the second round, but either way the Buckeyes appear to be back as a favored target for NFL organizations.
Turning our attention to the entire Big Ten, which player surprised you by how high he was drafted, and which player surprised you with how far he fell in the draft?
Rittenberg:
I was a little surprised to see
Michael Schofield
go before the end of Day 2. We knew Michigan's poor offensive line play wouldn't impact
Taylor Lewan
, but I thought it might make teams hesitant about selecting Schofield. He's a good player who enters a great situation in Denver. Another Big Ten offensive lineman on a struggling unit, Purdue's
Kevin Pamphile
, surprised me with how early he went. I didn't see
Darqueze Dennard
, the nation's most decorated cornerback on arguably the nation's best defense last season, dropping to No. 24 overall. Wisconsin's
Chris Borland
and Ohio State's Hyde went later than I thought they would.
Sherman:
Long's rise to the third round surprised me after he missed the final six games of his senior season with a knee injury that kept him out of the combine and limited him at Nebraska's pro day. I pegged the former walk-on as a fifth- or sixth-round pick. And I thought Lewan might slip past the first 15 picks because of character questions from a pair of off-field incidents at Michigan. Conversely, I thought Borland's exemplary résumé at Wisconsin might propel him into the top 50 picks. At No. 77 to the 49ers he's a steal.
Ward:
There really weren't guys who made shocking jumps up the board in my mind, though Ohio State safety
Christian Bryant
sneaking into the seventh round was a feel-good story after he missed the majority of his senior season with a fractured ankle. The Big Ten also had a handful of first-round caliber players slide to the second day, so Minnesota's
Ra'Shede Hageman
, Indiana's
Cody Latimer
, Hyde or Penn State's Robinson all qualified as minor surprises -- and great values for their new teams.
Moyer:
How many people thought
Dezmen Southward
would be the first Badger drafted? I sure didn't. The
Atlanta Falcons
scooped him up early in the third round, and they probably could've snagged him two rounds later. As far as guys who fell, I expected both Latimer and Dennard to go sooner. They didn't free-fall, but you kept hearing before the draft how those two improved their stock -- and then Latimer nearly fell to the third round, anyway.
[+] Enlarge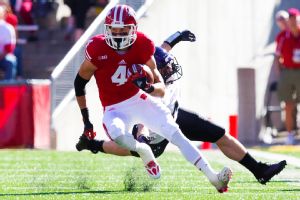 Jeff Hanisch/USA TODAY SportsWisconsin WR Jared Abbrederis went in the fifth round to the Green Bay Packers.
Which Big Ten players will be the biggest sleepers/best values in the draft?
Ward:
General managers and coaches might view running backs as easily replaceable in this new era in the NFL, but the league's most recent champion offered another reminder of how important it is to have a productive rushing attack and an elite tailback. Hyde hasn't proven anything at the next level yet, so comparing him with Seattle's
Marshawn Lynch
is a bit premature. But Hyde has all the physical tools to be a star, from his well-built frame to his often overlooked speed, and he's going to a team in San Francisco that has a system that will put him in position to thrive.
Rittenberg:
Southward's high selection surprised me, too, but the other four Wisconsin players -- Borland,
Jared Abbrederis
, running back
James White
and nose tackle
Beau Allen
-- all are good value pickups. White is an extremely versatile player who might never be a featured back but can block, catch passes and do whatever his coaches need. Allen gained great experience as a nose tackle last fall. I think the
New York Jets
get a sixth-round steal in Enunwa, whose blocking skills should help him get on the field. Big Ten coaches loved
DaQuan Jones
, who looks like a nice value pickup for Tennessee in the fourth round.
Sherman:
I'll place Robinson (second round to Jacksonville) and Abbrederis (fifth to Green Bay) together in a category of undervalued Big Ten receivers. Perhaps it illustrates a general stigma about offensive skill players from the conference; throw second-rounders Latimer and Hyde into the discussion, too. NFL decision-makers might not respect the competition these players face on a weekly basis and count it against them in evaluations. If so, that's a big problem for the Big Ten.
The Big Ten had eight more players drafted this year than in 2013, but its champion, Michigan State, had only one selection. What does this say about the league and its trajectory?
Sherman:
After 2012, the Big Ten presumably had nowhere to go but up in producing quality prospects. The influx of Urban Meyer-recruited talent will soon impact the Big Ten in the draft. Same goes for Brady Hoke, even if he's not making gains in the standings. Penn State and Nebraska, too, are upgrading their talent, so the trajectory figures to continue upward. As for Michigan State, it was young on offense and clearly better than the sum of its parts on defense, a testament to Mark Dantonio and Pat Narduzzi. The absence in the draft of
Max Bullough
and
Denicos Allen
caught me off guard.
Moyer:
Having more picks shows the Big Ten is on the right track ... but it still has a long way to go. Yes, it improved on last year -- but it still finished behind the SEC (49), ACC (42) and Pac-12 (34) this year, in terms of players drafted. As far as Michigan State, I think their success serves as a reminder that the right coaching and the right schemes can still trump a roster full of NFL-caliber players. Penn State's success during the sanctions also helps to reinforce that.
Ward:
It's another reminder of how well-coached the Spartans were a year ago, particularly in turning a defense that had just one player drafted into the nation's best unit. Dantonio deserves another bow for the job he and his staff did a year ago, even if they didn't have much to celebrate during the draft. The league does seem to be on the rise again in the minds of top athletes around the country with Meyer, Hoke and now James Franklin upping the ante on the recruiting trail. Those efforts should produce even better weekends than the one that just wrapped up.
Rittenberg:
It says something when arguably the best Big Ten team in the past seven or eight years -- MSU had nine double-digit league wins plus the Rose Bowl triumph -- produces only one draft pick. Still, I think the arrow is pointed up after a horrendous 2013 draft. The Big Ten has struggled to produce elite prospects at both cornerback and wide receiver in recent years. This year, the league had three corners drafted in the first two rounds, and while I agree the Big Ten's wide receivers were undervalued, the league still produced five picks. The next step is obvious: generating better quarterback play as no Big Ten QBs were drafted this year.
May, 12, 2014
5/12/14
9:00
AM ET
The biggest non-game on the American sporting calendar is
all done
, as the 2014 NFL draft wrapped up Saturday afternoon in New York. After
arguably its worst draft in the modern era
in 2013, the Big Ten performed better this year with 30 picks. Still, the league finished fourth among conferences in selections, trailing the SEC (49), ACC (42) and Pac-12 (34).
After a big Friday night with six second-round selections -- including four in a row -- and six third-round selections, the Big Ten's momentum slowed a bit Saturday in the final four rounds. The league had only one sixth-round pick and only four in the seventh round.
Let's start the breakdown by listing Big Ten draftees by round (with comments below). Maryland and Rutgers players aren't included here because neither group competed in the Big Ten (Terrapins CB Dexter McDougle went in the third round; Rutgers had no players drafted).
FIRST ROUND (4)
[+] Enlarge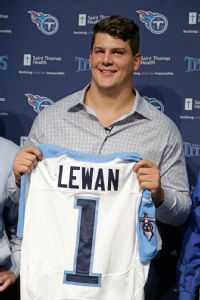 AP Photo/Mark HumphreyTaylor Lewan was the first Big Ten player selected, going 11th overall to the Tennessee Titans.
Analysis:
Click here for my first-round thoughts
SECOND ROUND (6)
Analysis:
Hageman ends up in a really good spot with the Falcons. Although Latimer had an excellent pre-draft performance, it wasn't surprising to see him end up in the middle of the second round. Hyde waited longer than many anticipated, but he enters a great situation with a team that loves to play power football. Robinson joins a new-look Jaguars passing attack featuring quarterback
Blake Bortles
and wideout
Marqise Lee
.
THIRD ROUND (6)
Analysis:
Everyone had Southward going before Borland, right? Borland, the 2013 Big Ten defensive player of the year, had an exceptional college career, but concerns about his height and perhaps his injury history moved him down the draft boards. The Iowa Effect shows up here as both Fiedorowicz and Kirksey were swept up by teams that respect what the Hawkeyes do. What does it say that Michigan's offensive line struggled mightily in 2013 but had two tackles drafted in the first three rounds? Those young Wolverines linemen had better step up this fall.
FOURTH ROUND (4)
Analysis:
Some really good pickups in this round, especially White, who will fit in very well with New England's offense. Although
James Morris
received the most accolades among Iowa's linebackers at the college level, both Kirksey and Hitchens were mid-round selections, while Morris went undrafted and signed with New England as a free agent. As a Chicago Bears fan, I love the Vereen pick. He's a smart, athletic versatile player who knows from his older brother what it takes to succeed in the NFL.
FIFTH ROUND (5)
[+] Enlarge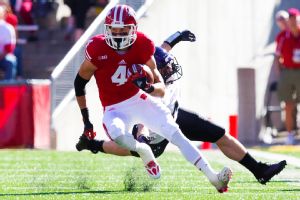 Jeff Hanisch/USA TODAY SportsJared Abbrederis isn't venturing far from Madison as he was drafted by the Green Bay Packers.
Analysis:
Like his teammate Borland, Abbrederis had a much longer wait than expected but lands in a very familiar spot with Green Bay. I think he's a steal and will surprise people with his ability to make plays despite less-than-ideal measurables. Pamphile had a fairly quiet college career but is seen as a project and could develop into a better pro. Urschel is another player who lacks the ideal physical traits sought in the NFL, but could make up for it with exceptional intelligence.
SIXTH ROUND (1)
Analysis:
Enunwa complemented his superb blocking skills with big-play ability in the pass game as a senior. He's a good value for a Jets team that needs to boost the league's 31st-ranked pass offense.
SEVENTH ROUND (4)
Analysis:
All four players could be very good values. Bolser is an athletic tight end who had 15 career touchdown catches. Allen showed versatility as a senior, transitioning to a 3-4 scheme. Gallon heads to a Patriots team that has had success with smaller, productive receivers. Bryant likely would have been selected higher if not for major leg and ankle injuries last season.
Here are the draft picks per B1G team:
Ohio State:
6
Wisconsin:
5
Michigan:
3
Penn State:
3
Nebraska:
3
Iowa:
3
Purdue:
2
Minnesota:
2
Indiana:
2
Michigan State:
1
The big surprise is a Michigan State team that dominated Big Ten play and won the Rose Bowl had just one player selected, as standout linebackers
Max Bullough
and
Denicos Allen
didn't have their names called. Only four teams -- LSU, Alabama, Notre Dame and Florida State -- had more selections than Ohio State. Illinois, which led the Big Ten in draft picks last season (4) and had 18 picks between 2009-13, had no selections. Northwestern also went without a draft pick for the second straight year.
Curious about the Big Ten's undrafted free-agent signings? Check back in a bit as we take a look.
May, 6, 2014
5/06/14
12:00
PM ET
January, 2, 2014
1/02/14
12:00
PM ET
The Big Ten certainly seems to be smelling a little better already in 2014.
December, 11, 2013
12/11/13
5:00
PM ET
The weather outside is frightful. But your emails are so delightful. Well, except for the guy who sent me repeated missives in all caps about how
Braxton Miller
should have been suspended for the Big Ten championship game. Dude, give it a rest.

Anyway, on to the mailbag:
Scott M. from Charlotte, N.C., writes:
Will we ever know why Ohio State felt two carries were plenty for
Carlos Hyde
in the fourth quarter? The game turned in the third quarter because of the bruiser. Braxton Miller is the driver of the car but those two calls late in the game were just awful. How anyone can say I have third-and-three for the game and my 230 pound, 7-yards-a-rush running back will not touch the ball really needs to look at themselves in the mirror.
Brian Bennett:
Should Carlos Hyde have gotten more than 18 carries against Michigan State? Probably. But don't forget that the Spartans defense specializes in loading the box and daring teams to throw deep. Plus, Miller was the more effective runner of the two most of the night and finished with more yards and yards per carry than Hyde.
The fourth quarter began with an Ohio State punt. Then Michigan State drove for a field goal. On Ohio State's first real possession of the fourth, Hyde ran for four yards on second-and-10, setting up a passing situation on third down. Miller then threw an incomplete pass. The series you're talking about started with 7:36 left. The Buckeyes had Miller run it on third and fourth down, and he was stuffed both times. Urban Meyer said it was his call to give the ball to Miller on fourth-and-2.
And it's hard to fault him for that. We're talking about the two-time Big Ten offensive player of the year who ran for 142 yards vs. Michigan State. A running quarterback is one way to counter the Spartans defense. It didn't work out, mostly because Pat Narduzzi called the right blitz and
Denicos Allen
made a great play. After that, Michigan State scored a touchdown to go up by 10 points, and the the time to run the ball was over for Ohio State.
Bottom line is you have to be successful passing the ball to beat the Spartans. And Ohio State went 8-for-21 for 101 yards through the air.
Tommy B. from Savannah, Ga., writes:
Brian, as a Buckeye fan it's crazy for me to think that after the 2011 6-7 disaster that I'd be so disappointed after the team would go 24-1 under Urban Meyer so far. I'd almost forgot what it felt like to lose on a Saturday (emphasis on almost, it felt terrible in case you were wondering). The problem has obviously been complete inconsistency with the defense. They have big name veteran stars with gaudy numbers and at times (including in the B1G title game) they've been dominant. But in the Michigan game and for some big game-changing plays against MSU they've had complete breakdowns. They have the talent to be better than they are. In your opinion, what's the problem? Fickell? Key injuries (Bryant)? Fickell? Youth in key positions? Fickell?
Brian Bennett:
It's a good question. The place we thought Ohio State's defense might be vulnerable to start the year was up front because of all the youth there. Yet that was arguably the strength of the defense, with guys like
Michael Bennett
,
Joey Bosa
,
Noah Spence
and
Adolphus Washington
. The problem really seemed to be at the linebacker positions other than
Ryan Shazier
and at safety, especially when
Christian Bryant
got injured. Michigan State exposed the Buckeyes' safeties early on last Saturday.
It's kind of hard to believe that Ohio State would find itself so thin at linebacker. The Buckeyes recruited some highly-regarded defensive backs last year, but guys like
Vonn Bell
didn't have much of an impact this season. They're still young, so that's to be expected, but it was disappointing that some of the more veteran players didn't have great seasons (relatively speaking, because Ohio State did go 12-0).
The Buckeyes' defensive coaches all have strong track records, so I have a hard time believing it's simply a coaching issue. But Ohio State clearly needs to develop better depth in its back seven, especially if Shazier decides to leave for the NFL.
Randy from Waukesha, Wis., writes
: I just learned that Wisconsin's
Jared Abbrederis
won an award for the national best walk-on player-of the-year in CF! Did I miss your guys' article on this? If not please tell us more..... B1G can use all the kudos it can get, especially at this time of the year!
Brian Bennett:
Yes,
Abbrederis won the Burlsworth Trophy
, which is award to the best player who started his career as a walk-on. We didn't write a post about it, mainly because there are seemingly thousands of college football awards now, but we did tweet it. Abbrederis was a slam-dunk choice for that award, and it's hard to believe he ever was a walk-on. He'll be on an NFL roster next fall.
King from Los Angeles writes:
I agreed with you about the silliness of the coaches' poll. I am a Huskers fan and I do not believe we deserved a top 25 ranking even though Bo thinks so. I think they should change the way coaches vote by making a rule that you cannot vote for your own team. That could take away all the biases. What do you think?
Brian Bennett:
That would only solve part of the problem, as there still would be inherent conflicts of interest involving teams in a coach's own conference, his opponents, friends, etc. The good news is it won't matter at all as part of the national championship provess next year, so the coaches can be as silly as they want to be. And given how little most coaches want to deal with the hassle, I'm not sure why there should even be a coaches' poll next year.
Greg from Lansing, Mich., writes:
In giving conferences more power on selecting bowl match-ups should we just assume Ohio State/Michigan will always occupy the better bowl games? (If they aren't already in the play-off).
Brian Bennett:
I can understand why there's a feeling in some quarters that Ohio State and Michigan get preferential treatment from the league office. But the truth is that the biggest brand-name schools already get preferential treatment from bowls. Is there any reason why Michigan at 7-5, should be in the Big Ten's No. 3 non-BCS bowl this year? Or why Ohio State went to the Gator at 6-6 in 2011? Only one: drawing power.
What the new system will basically do is allow the leagues more input on the process so as to avoid teams going to the same destination over and over again and to create better matchups. Had it been in place this year, however, I doubt we'd see Nebraska going back to Florida for a rematch with Georgia. Bowls are always going to want big-name teams as long as they are businesses. But better matchups and fresher destinations should help fans.
Greg from Atlanta writes:
As an Iowa fan living in Georgia, I'm wondering how an 8-4 Georgia team gets ranked and an 8-4 Iowa team doesn't? Now, I'm not saying Iowa deserves a ranking, because 4 wins shouldn't get you in the top 25. But, Georgia lost to Vandy and needed double OT to beat Ga Tech. They also struggled with teams they should have throttled and fell far below expectations. Iowa played two teams tough that will both play in BCS bowls. Is this just more bias against the Big Ten? If so, will that bias ever go away?
Brian Bennett:
I don't think this is a case of anti-Big Ten bias as much as it is probably pro-SEC sentiment. Iowa is a tough case and a team I debated putting in my final Top 25 for a while before ultimately deciding against it. Barely. The Hawkeyes' four losses are all highly respectable -- Michigan State, Ohio State, Wisconsin and Northern Illinois. But you shouldn't get credit for just losing to good teams. Iowa's best wins are over Minnesota, Michigan and Nebraska, with two of those on the road. Very solid, but not spectacular.
Georgia's in a similar boat in terms of "good" losses, including Clemson and Missouri. The Dawgs also lost on the road to Auburn thanks to a miracle play at the end. They have also beaten South Carolina and LSU, two wins better than anything Iowa can claim, and the team was decimated by injuries this season.
I think the Hawkeyes are good, and they have some nice momentum after winning their final three games. That's why I'm really looking forward to seeing how they play against LSU. Iowa definitely ends the season in the Top 25 with a win over the Tigers in the Outback. And given the wide-open nature of next year's West Division, at least on paper, Iowa could emerge as one of the preseason favorites in that division in 2014.
October, 5, 2013
10/05/13
7:00
AM ET
It's the first Saturday of October, so that means conference play is in full swing. Today brings five interesting Big Ten games, and we're here to get you ready for them ...
Noon ET
Penn State (3-1) at Indiana (2-2), Big Ten Network:
The Nittany Lions try to improve to 17-0 all time against the Hoosiers, but their pass defense -- which was shredded by UCF -- will get a workout in Bloomington. Indiana's bowl hopes would take another major hit if it cannot pull off the upset.
Illinois (3-1) at Nebraska (3-1), ESPNU:
On paper in the offseason, this didn't look like much of a game. Thanks to the Illini's surprising offensive resurgence, however, this now seems like a potentially dangerous one for Nebraska and its shaky defense.
Taylor Martinez
is questionable because of a lingering case of turf toe. If he can't go, Illinois has a big experience edge at quarterback with Natahan Scheelhaase, but Tim Beckman's team will still be the underdog on the road.
[+] Enlarge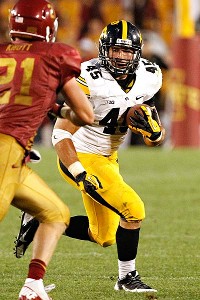 David Purdy/Getty ImagesRB Mark Weisman leads Iowa against Michigan State's stout run defense.
Michigan State (3-1) at Iowa (4-1), ESPN2:
The punters had better get ready, because this could become a defensive struggle. Something's got to give between Iowa's rushing attack, which is averaging 244.4 yards per game led by
Mark Weisman
and a stout offensive line, and Michigan State's defense, which ranks No. 2 in the FBS in rushing yards allowed at 58.3 per game.
3:30 p.m. ET
Minnesota (4-1) at No. 19 Michigan (4-0), ABC/ESPN2:
The Wolverines are the most questioned undefeated team in the land after escapes against Akron and UConn. Michigan had a bye week to figure some things out and will likely shake up its offensive line. Minnesota looks to bounce back after a disappointing performance against Iowa. The Gophers have won the Little Brown Jug only three times since 1968.
8 p.m. ET
No. 4 Ohio State (5-0) at No. 16 Northwestern (4-0), ABC:
The headliner of the day's games and the site of ESPN's "College GameDay."
Venric Mark
returns from injury for Northwestern, which will look to beat Ohio State for just the second time in the last 30 tries. The Buckeyes begin life without injured senior safety and captain
Christian Bryant
. If Urban Meyer's team survives, it will be halfway to another undefeated regular season with two of its main hurdles cleared.
Bye weeks:
Purdue, Wisconsin
Weather
Rain, wind and maybe even some thunderstorms could be a factor in today's games.
The National Weather Service is calling for a 70 percent chance of rain in Evanston tonight with likely thunderstorms. Meanwhile, there's a 40 percent chance of precipitation in Iowa City, Bloomington and Ann Arbor, with storms also possible in each place.
Nebraska should avoid the rain, but wind gusts of up to 30 mph are possible, and that could affect the passing games of both teams.
Top Week 6 stories
What to watch
|
Predictions
|
Did you know?
Wildcats are still purple people seekers
Buckeye bugaboo lingers for Northwestern
Carlos Hyde back in a leading role
'Cats, Buckeyes share versatile attacks
Jake Rudock's calm nature helps Hawkeyes
Michigan State-Iowa series a "man's game"
Experience matters for Illini QB, Huskers D
A wager, a win and a wedding
Gophers hope to dust off, take jug
Penn State secondary not focusing on the past
Friday Q&A: Darqueze Dennard
October, 1, 2013
10/01/13
12:00
PM ET
The baseball postseason starts today. Who ya got? (Hint: birds on a bat).
September, 30, 2013
9/30/13
9:00
AM ET
The first truly significant Big Ten game of 2013 is in the books, and Ohio State, thanks to the return of quarterback
Braxton Miller
and a stout run defense, found a way to prevail. As a reward, the Buckeyes remain atop the Big Ten power rankings heading into another showdown this week at Northwestern.
It's not much consolation to Wisconsin or its fans, but there might not be a better two-loss team in the FBS than the Badgers, who displayed a lot of fight in Columbus even after top running back
Melvin Gordon
injured his knee. We've been more impressed with Wisconsin than 4-0 Michigan or 3-1 Nebraska, so we're keeping the Badgers in the No. 3 hole for now.

Iowa makes a major move up the rankings after its impressive win in Minneapolis, while the Gophers take a tumble.
Half of the Big Ten spent Saturday on the couch, so there wasn't much movement in the power rankings.
One last look at
last week's rankings
.
And away we go ...
1. Ohio State (5-0, 1-0 Big Ten; last week: 1):
Welcome back, Mr. Miller. The Ohio State quarterback returned to the field with a bang Saturday night, firing four touchdown passes and completing 17 of 25.
Carlos Hyde
also seemingly has reclaimed his place atop the running back depth chart, and Ohio State's young defense took a step against Wisconsin's power run game Saturday night. The Buckeyes now must figure out how to replace standout safety
Christian Bryant
as they face another test this week at Northwestern.
2. Northwestern (4-0, last week: 2):
After two uninspiring performances against weak competition, Northwestern knows it must elevate its play significantly against Ohio State in what will be the most anticipated game of the Pat Fitzgerald era. Expect running back
Venric Mark
to return against the Buckeyes, as Northwestern will need its zone-read game to be in top form to keep pace with Ohio State on the scoreboard.
3. Wisconsin (3-2, 1-1; last week: 3):
Credit the Badgers for a strong effort in Columbus despite a shaky start, a disastrous end to the first half and the loss of running back Melvin Gordon to a knee injury. But Wisconsin once again came up just short on the road. Despite another single-digit loss, Wisconsin can take away some positives from Columbus, namely the play of quarterback
Joel Stave
and wide receiver
Jared Abbrederis
. But the Badgers, who are off this week, will need some help if they want to return to Indianapolis.
4. Michigan (4-0, last week: 4):
No team needed the off week more than Michigan, which had plenty to clean up following near disasters against Akron and Connecticut. Quarterback
Devin Gardner
's decision-making skills will be under the microscope against Minnesota, and the Wolverines' line play also will be in the spotlight against a Gophers team that has improved up front.
5. Nebraska (3-1, last week: 5):
No one wants to hear Bo Pelini talk about execution anymore. It's time for Nebraska's defense to show some improvement, or it will be a long Big Ten season in Lincoln. After an open week, the Blackshirts will face a good test from
Nathan Scheelhaase
and an Illinois offense that doesn't resemble the unit we saw last season. Quarterback
Taylor Martinez
's health will be an interesting story line this week.
6: Iowa (4-1, 1-0; last week: 9):
We knew Iowa was an improved team, but we needed a little more validation. Kirk Ferentz's crew provided it Saturday with a dominant performance against Minnesota to ruin its rival's homecoming. The offense is significantly better behind quarterback
Jake Rudock
and running back
Mark Weisman
, and an opportunistic defense shut down Minnesota's run game and controlled the line of scrimmage. Iowa is minutes away from being undefeated and returns home to play Michigan State with a bunch of momentum.
7. Michigan State (3-1, last week: 7):
The Spartans had a familiar to-do list during their open week -- fix the offense. Coach Mark Dantonio is sticking with
Connor Cook
as his starting quarterback, but Dantonio clearly wants to see more plays made from the signal-caller. Michigan State's offensive line can build off its performance at Notre Dame, but the Spartans need some chunk plays.
8. Penn State (3-1, last week: 8):
Bill O'Brien once again has the offense moving, as the Nittany Lions' run game looks strong and freshman quarterback
Christian Hackenberg
is performing beyond his years. The bigger questions remain on defense, as Penn State rebounded against a woeful Kent State offense but must show it can contain more explosive attacks. The good news is we'll find out as Penn State opens Big Ten play against four strong offenses, starting this week at Indiana.
9. Illinois (3-1, last week: 10):
Here come the Illini. The biggest surprise in the Big Ten completed nonleague play at 3-1 and heads to Nebraska with a lot of confidence, particularly on offense. Scheelhaase takes aim at a vulnerable Huskers defense after firing five first-half touchdown passes and finishing with 278 pass yards on 19-of-24. The big question now is, can he follow it up against a major-conference team after struggling against Washington? Illinois already has exceeded last year's wins total.
10. Minnesota (4-1, last week: 6):
The Gophers take a tumble after a horrendous performance on homecoming against Iowa. It seems like Minnesota was a product of a weak nonleague schedule, as some of the small problems that surfaced against weaker competition became big problems against Iowa, which dominated the Gophers at the line of scrimmage. Quarterback
Philip Nelson
struggled mightily and didn't get much help from the run game. After
Mitch Leidner
provided a spark in Week 4, it will be interesting to see what Jerry Kill does at quarterback going forward.
11. Indiana (2-2, last week: 11):
A regrouping week was in order for Indiana after nearly nothing went right against Missouri. Quarterback
Nate Sudfeld
must rebound from his first real brush with adversity (three interceptions). Indiana's defense faces another balanced attack in Penn State after failing to stop Missouri on the ground or through the air. After sluggish starts in both of its losses, IU needs a strong first quarter against the Lions.
12. Purdue (1-4, 0-1; last week: 12):
The misery continues for Darrell Hazell's crew, but there's a reason to watch the Boilers for the rest of the season. The
Danny Etling
era is underway, as Hazell opted to burn the quarterback's redshirt after
Rob Henry
continued to struggle. Etling showed some promise in Purdue's loss to Northern Illinois, as the offense racked up 524 yards. An open week comes at a good time for the beleaguered Boilers and their young quarterback.
September, 29, 2013
9/29/13
10:00
AM ET
Five lessons from four games in Week 5. Got that?
Let's go ...
1. Ohio State's young defense is growing up:
Lost amid the
Braxton Miller
-
Kenny Guiton
debate this week was the fact a mostly young Ohio State defense with only one returning starter in the front seven would be put to the test by
Melvin Gordon
,
James White
and the formidable Wisconsin run game. The young Bucks certainly earned a passing grade after holding Wisconsin to just 104 yards on 27 carries. Gordon's knee injury limited the Badgers, but Ohio State prevented big runs and forced Wisconsin to win the game through the air. Linebacker
Ryan Shazier
shined, while linebacker
Curtis Grant
and lineman
Michael Bennett
both recorded sacks. The loss of safety
Christian Bryant
to a season-ending ankle injury is a big blow, but Ohio State has enough talent in the secondary to make up for it, as long as they don't run into
Jared Abbrederis
again soon. Ohio State's offense will win plenty of games, but you know what they say about defenses and championship. These might not be the typical Silver Bullets, but they're developing and can build on Saturday's performance as they face an even another formidable offense in Northwestern next week.
[+] Enlarge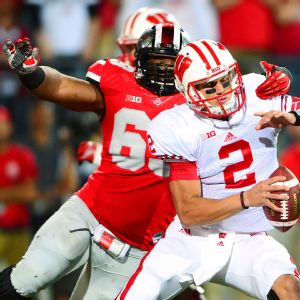 Andrew Weber/USA TODAY SportsJoel Stave and the Badgers hung around, but they were eventually tamed by Michael Bennett and the Buckeyes.
2. Wisconsin is an excellent 56-minute team:
Gary Andersen's crew showed plenty of grit Saturday night in Columbus. Quarterback
Joel Stave
quieted some of his critics -- thanks in large part to a career performance from Abbrederis (10 catches, 207 yards, 1 TD) -- and linebacker
Chris Borland
was brilliant, as usual. But Wisconsin's inability to finish off halves remains a troubling trend, and it surfaced in the loss to Ohio State. The Badgers trailed by only three points when freshman cornerback
Sojourn Shelton
dropped an easy interception near the goal line. Miller found
Philly Brown
for a 40-yard touchdown on the next play, giving Ohio State a huge boost with one second left in the half. Wisconsin struggled to manage the clock down the stretch as its comeback attempt fell short. This isn't a team built to come back in games based on the pass game, and it showed. Coupled with the Arizona State debacle (granted, more officiating than execution), Wisconsin has had a lot of bad things happen at critical moments. That's what could separate the Badgers from a fourth consecutive Big Ten title.
3. Iowa will be a factor in the Legends Division:
The Hawkeyes might not be a great team yet, but it's clear they are vastly improved from last season. On Saturday, Iowa went into Minnesota and pushed the Gophers around on their home turf, piling up 464 total yards and allowing only 30 rushing yards in a 23-7 win. The pig will return to Iowa City, but even more importantly, the hogs up front are getting it done in classic Kirk Ferentz fashion. Iowa has rushed for at least 200 yards in every game this season and went for 246 against a Minnesota defense that thought it had made strides in that area. This team has an identity, and it starts with the power running game led by
Mark Weisman
and a solid offensive line. Quarterback
Jake Rudock
has shown an ability to extend plays, and Iowa even got an explosive play in the passing game when
Damond Powell
took a short pass 74 yards to paydirt. The defense is also playing well right now; the Gophers' only score came after a long kickoff return. The Hawkeyes are 4-1 and gets Michigan State at home next week, while Northwestern and Michigan still must come to Kinnick Stadium. The schedule is difficult the rest of the way, but Iowa will have a big say in who wins the Legends.
4. Nathan Scheelhaase is the Big Ten's most improved player:
A year ago, Scheelhaase was sputtering at the helm of one of the nation's worst offenses, hardly resembling the player who had shown promise as a freshman and during the first part of his sophomore season. No Big Ten player has made bigger strides in the past season than the Illinois senior quarterback, who threw five first-half touchdown passes Saturday against Miami (Ohio) and finished with 278 pass yards on 19 of 24 attempts. Scheelhaase leads the Big Ten in passing yards and is second in touchdowns (12), tripling his total from last season. He's just five touchdown passes shy of his single-season best and 15 shy of Kurt Kittner's single-season team record. Offensive coordinator Bill Cubit deserves a lot of credit for Scheelhaase's surge -- and that of the entire Illini offense -- but Scheelhaase clearly is back on track after a year and a half in the dark. It will be interesting to see what he does this week against Nebraska's shaky defense.
5. Future starts now for Etling, Purdue:
Darrell Hazell stuck with senior quarterback
Rob Henry
through this season's early offensive struggles, but the Purdue coach realized it was time for a change Saturday against Northern Illinois. The last straw was Henry's second interception of the first half, a terribly thrown floater into the Huskies' end zone. That prompted Hazell to give the reins over to true freshman
Danny Etling
, the prized former recruit who made his collegiate debut. This was no fairy tale, so Etling didn't lead the Boilermakers to a comeback victory. He threw two interceptions, including a pick-six, and narrowly avoided another one. But Etling (19-for-39, 241 yards) did show good mobility and flashed his strong arm, especially on his first career touchdown pass, a 16-yarder to
Cameron Posey
. The offense will have more of a chance to stretch the field with him under center. Quarterback is hardly the only problem for Purdue, which got housed 55-24 at home by a MAC team and might have a hard time finding another win this season. But while Boilers fans don't like to see the words "Danny" and "hope" in the same sentence, Etling at least gives them something to look forward to as Hazell tries to work the program out of this mess.
September, 4, 2013
9/04/13
12:00
PM ET
We've come this far, for us. What's one more?
July, 16, 2013
7/16/13
10:00
AM ET
COLUMBUS, Ohio -- Training camp hasn't even started yet. After that grueling month, there's still almost an entire season to be played before "The Game" that matters most.
But it's never too early to set the table for the feud between Ohio State and Michigan, and at BuckeyeNation and WolverineNation, we're doing it all week.
We looked back on Monday at some
heroes
and
villains
on both sides of the rivalry. Today we're looking ahead at the strengths and weaknesses that could decide the latest edition in the storied series, which is just more than four short months away.
STRENGTHS
Ground and pound: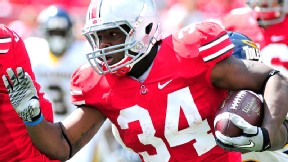 David Dermer/Diamond Images/Getty ImagesOhio State running back Carlos Hyde is poised for a big senior season.
The Ohio State rushing attack was potent enough a year ago, but it's only added more experience and weapons to the mix now. By November, it might be almost impossible to slow down the Buckeyes on the ground as they incorporate the new pieces to the attack and potentially get more support from the passing game.
Braxton Miller
is obviously a threat to score from anywhere on the field, and if
Carlos Hyde
makes the kind of improvement he's targeted in terms of making defenders miss at the second level, that one-two combination will continue to rank among the best in the country, particularly with four seniors back on the offensive line.
But it might be the added dimension of a healthy
Jordan Hall
or a true freshman such as
Dontre Wilson
or
Jalin Marshall
at the hybrid, Pivot position that gives opponents even more fits. Or maybe it's a backfield that can be loaded up with as many as three talented rushers, rolling out
Rod Smith
or
Bri'onte Dunn
in a diamond formation with Hyde and Miller. Either way, the Buckeyes have the personnel to give Michigan a workout in the front seven.
Air patrol:
The expectations are growing for Michigan's passing attack now that
Devin Gardner
has the position all to himself, and he'll have plenty of time to develop and find a rhythm before meeting up with the Buckeyes. But there might be no stiffer test in the country than the one Ohio State can present a quarterback thanks to its overflowing talent and veteran savvy in the secondary. Cornerback
Bradley Roby
and safeties
Christian Bryant
and
C.J. Barnett
would make life difficult on their own, but the Buckeyes can complement that with another senior safety in reserve in
Corey "Pittsburgh"' Brown
, a junior cornerback looking to make a name for himself in
Doran Grant
and a class of incoming defensive backs that represented perhaps the best signing day haul in the nation.
The Buckeyes plan to get as many of those guys involved as possible this season, which could make the secondary even more fearsome by the time Gardner gets a crack at them.
WEAKNESSES
Middle ground:
The fresh faces are almost everywhere in the front seven, but heading to training camp, there's not all that much uncertainty about who will be filling which shoes left behind by the defenders who helped the Buckeyes go unbeaten last fall.
Noah Spence
and
Adolphus Washington
are poised for breakouts at end and
Curtis Grant
and
Joshua Perry
appear ready to lend a hand next to
Ryan Shazier
at linebacker, but there are two critical spots on the inside of the line that bear monitoring as Ohio State prepares to stop opposing rushing attacks.
Michael Bennett
is close to a lock for one role, but there could be a heated competition for reps next to him to complete the rotation.
Tommy Schutt
battled injuries throughout spring practice, but he has the ability to be a future star.
Joel Hale
is a grinder and respected leader, and the junior could be an intriguing option as well. And if big
Chris Carter
can manage his weight, his massive frame clearly could fill up some rushing lanes.
By November, the Buckeyes figure to have long ago answered those questions up front and should have also built up plenty of experience. But that will be at the top of the priority list as Ohio State chases a Big Ten title -- and keeps an eye on its rival.
Kicking it:
More often than not, the Buckeyes had the edge over opponents in the third phase. But considering how much value Urban Meyer places on special teams and how much production he expects, Ohio State wasn't all that close to giving him what he wanted a year ago. Kicker
Drew Basil
wasn't used all that much, aside from the season-ending win over Michigan, but among his 11 attempts last season were a pair of missed field goals from less than 39 yards that didn't exactly inspire confidence. The Buckeyes will be breaking in a new punter as well, and winning the field position battle is as important under Meyer as it has always been under previous regimes at Ohio State -- putting pressure on some young contributors to make plays in kickoff and punt coverage.
Philly Brown
took a couple punts back for touchdowns last year and the "Freak Show" punt block unit made itself a nuisance a few times, but Meyer and newly-promoted special teams coordinator Kerry Coombs keep the bar pretty high in that area of the game. And in tightly contested rivalries, it can make all the difference.
August, 8, 2012
8/08/12
12:10
PM ET
The "Inside the Game" position preview series concludes with a look at the Michigan and Ohio State secondaries.
Like many of the other position groups discussed by Austin Ward of BuckeyesNation and Michael Rothstein of WolverineNation, a peek into the secondaries of Michigan and Ohio State reveals a lot of similarities between the schools.


Ohio State
Ward:
No infusion of new talent is necessary for Ohio State.
All the Buckeyes need is a deep pool of veteran defensive backs to take another step forward, and throwing the ball against them could be one of the tougher challenges in the Big Ten.
Bradley Roby
is shaping up as an emerging star at cornerback, and while
Travis Howard
and
Doran Grant
could battle for the right to start opposite him, the Buckeyes figure to be fine with either of them or backup
Adam Griffin
on the field.
C.J. Barnett
might be poised to breakout as well at safety, though there's plenty of experienced depth alongside him at the back of the defense. A pair of juniors in
Christian Bryant
and
Corey Brown
and senior
Orhian Johnson
provide plenty of options for defensive backs coach Everett Withers, who brings a proven track record of creating turnovers with him to Ohio State.
The Buckeyes picked off 13 passes last season, with Johnson and Roby tied for the team lead with three apiece. But both of those numbers will have to improve for Withers to be happy at the end of the season, and there is more than enough know-how and ability to make that happen.
Rothstein:
What once was a group of players thought to have little talent and no experience has turned into this: the best unit on Michigan's entire roster.
A few holdovers from the disastrous 2009 and 2010 seasons for the Michigan secondary remain on the roster in key positions, including starting cornerback
J.T. Floyd
and safety
Jordan Kovacs
, both of whom were thrown into unenviable positions as young players in a 3-3-5 defense few inside the Michigan program were familiar with.
But they learned and went from questionable players to two of the more reliable players anywhere on the Michigan roster. Joining them in the likely starting defensive backfield are safety
Thomas Gordon
and sophomore cornerback
Blake Countess
.
All four started at least half of Michigan's games a season ago.
The four are just the front line of an incredibly deep secondary with both experience -- nickel back
Courtney Avery
-- and a youthful push, including highly touted freshman safety
Jarrod Wilson
and sophomore cornerback
Delonte Hollowell
, who stood out on special teams as a freshman.
There could be trouble if Kovacs were to be injured, but otherwise this is Michigan's most dependable position group.
March, 22, 2012
3/22/12
2:30
PM ET
Michigan offensive coordinator Al Borges likes what he has to work with this spring. And who wouldn't be excited about
Denard Robinson
and
Fitz Toussaint
returning in the backfield as the offensive core?

But like every team, the Wolverines have some issues. One of the key concerns is building a solid two-deep along the offensive line.
"It's a position where we feel good about the kids who are playing," Borges said. "We just need to enhance our depth."
Michigan must replace Rimington Trophy winner
David Molk
at center, and
Ricky Barnum
will get the first crack at the gig. Barnum was injured most of last season, and has played left guard in the past.
"He's athletic," Borges said. "Ricky can move. He's really has the profile more of a center. He's smart, he understands who to block and he's played some guard, which should have some carry-over to center. So I think Ricky is going to be fine."
Making up for Molk's leadership might be the toughest task this spring. Borges said Barnum, left tackle
Taylor Lewan,
and senior guard
Patrick Omameh
should help pick up the slack in that area.
The starting group up front should be solid, with senior
Elliott Mealer
taking over at left guard, and
Michael Schofield
moving to right tackle to replace
Mark Huyge
. Behind them is a lot of inexperience. Borges said redshirt freshmen
Jack Miller
and
Chris Bryant
should contribute. And an incoming freshman like
Kyle Kalis
has a chance to crack the depth chart.
"We'll see how quick they can pick it up," Borges said.
Another area of concern is tight end, which loses departed seniors
Kevin Koger
and
Steve Watson
. Borges said senior
Brandon Moore
, who has played sparingly, and
Ricardo Miller
, who's more of a receiving tight end, will get the bulk of the work this spring. But it's a position that remains unsettled.
"We're looking at other kids, and the jury is still out," Borges said. "It's a position where, if a freshman came in and showed something, he could probably make a contribution."
Incoming recruit
Devin Funchess
could be that guy, though he'll likely need to put on some weight. The Wolverines also signed
A.J. Williams
as a tight end prospect.
"Seeing who's going to come to the forefront and be our starting tight end this spring, that's huge," Borges said.
Harbaugh: Split With 49ers Not Mutual
BIG TEN SCOREBOARD
Thursday, 9/3
Friday, 9/4
Saturday, 9/5
Sunday, 9/6
Monday, 9/7