Michigan Wolverines:

Chips-Wolverines-083113
September, 1, 2013
9/01/13
2:00
PM ET
Michigan opened its 2013-14 season Saturday afternoon with a 59-9 win over Central Michigan. It's hard to glean too much from games of that nature, but a few facts were very evident in the Wolverines' blowout victory.
[+] Enlarge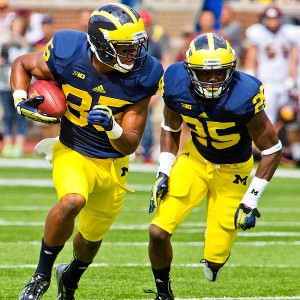 AP Photo/Tony DingFreshman Dymonte Thomas' blocked punt turned in a Joe Reynolds touchdown, Michigan's first of the 2013 season.
Michigan's has a lot of young talent.
Michigan played 13 true or redshirt freshman on Saturday against CMU. And not only did these guys play, they contributed. Freshmen accounted for nearly a third of the team's total tackles (21 of 64). True freshman
Dymonte Thomas
who came up with the huge punt block that led to the Wolverines' first touchdown of the game and
Channing Stribling
had the second most tackles of anyone on Michigan's roster. Offensively, freshmen made up for one touchdown, 76 rushing yards, eight receiving yards and 59 passing yards. Freshman quarterback
Shane Morris
was 4-of-6 with one interception but looked solid for a true freshman in his first collegiate appearance. However, the freshmen offensive highlight came on a drive in the third quarter, when freshmen
De'Veon Smith
and
Derrick Green
split 10 carries in putting together a 55-yard touchdown drive capped off by a Green touchdown.
Devin Gardner isn't Denard Robinson, but don't expect him to sit in the pocket.
With so little depth behind Gardner at the QB position, most people thought it would be smart to keep Gardner as safe as possible -- meaning in the pocket. However, he showed on Saturday that he wasn't afraid to take off and scramble, even if it means eventually being hit. The Wolverines weren't primarily under center by any means and ran some very quick offense, especially early in the game. Keeping Gardner's offensive options open will keep the Wolverines as a team that's tough to game plan for, even without Robinson on the roster.
The defensive line has gotten better.
The Wolverines have been talking about how much their D-line improved over the offseason and that getting pressure on opposing quarterbacks was one of their biggest goals this season. But we've heard that before and didn't see much of a result. However, it seemed as though the Michigan D-line was much improved on Saturday. Granted, these things need to be taken with a grain of salt considering they were facing what could be one of the least talented offensive lines they'll see all season. But it was a starting point and it showed a lot of promise. The defense accounted for four sacks and two quarterback hurries.
Penalties. Penalties. Penalties.
The Wolverines racked up 55 yards worth of penalties, which isn't a very good sign. Those are yards that they just gave over to CMU and while the Chippewas weren't able to capitalize on those opportunities, plenty of Big Ten teams would be glad to. While the Wolverines' youth has been a good thing, the substitution infractions, false starts and blocks in the back would be the flipside of that kind of inexperience.
August, 31, 2013
8/31/13
7:04
PM ET
ANN ARBOR, Mich. -- No. 17 Michigan had a shaky start with an interception from quarterback
Devin Gardner
on the Wolverines' first offensive drive, but came back and rolled to a
59-9 season-opening win
over Central Michigan. It wasn't all pretty and the Wolverines will definitely have some game film to study, but it seems as though they've found some kind of an identity as an offense as they head into their big matchup with Notre Dame next weekend.


It was over when:
it started. Yes, Gardner threw an interception, but even when the Wolverines weren't looking spectacular, there was never really any serious worry that this would be anything other than a blowout. Central Michigan running back
Zurlon Tipton
(who was held to just four carries for 10 yards) exited the game during the first quarter and QB
Cody Kater
followed his running back to the sideline not long after. With their biggest offensive threat and their first-string quarterback on the sideline, the Chippewas really didn't stand much of a chance.
Game ball goes to:
Wide receiver
Jeremy Gallon
. The senior had only four catches, but this game proved his prowess in this Michigan offense. While he's not exactly the fit the Wolverines want at WR (he's only 5-foot-8 … on a good day), he proved to be Gardner's security blanket with glue for hands and a vertical that few defensive backs can match. He accounted for one 16-yard touchdown reception before exiting the game with a big Michigan lead.
Stat of the game:
35-point run. From the beginning of the second quarter until the beginning of the fourth quarter, the Wolverines went on a 35-0 scoring run. The Chippewas' scoring drought lasted 27:24 and was a combination of Michigan's defense (the Wolverines accounted for three sacks, one interception and one QB hurry during that drought) and a struggling CMU offense, devoid of its starting quarterback and running back (backup QB
Alex Niznak
was 5-of-8 during that time but CMU only accounted for 10 rushing yards).
Unsung hero:
Kyle Kalis
. In his first start at right guard for the Wolverines, the redshirt freshman excelled. Michigan accounted for 242 rushing yards -- much of which was behind the 302-pound guard while he was in.
What Michigan learned:
It's hard to really say too much considering one of the biggest takeaways from this game is that the Wolverines were able to beat a team they should beat. But in a game that gave the Wolverines the ability to get younger, inexperienced guys on the field, they were able to figure out that some of those guys might be able to be contributors this year.
Shane Morris
looked serviceable as a backup QB.
Dymonte Thomas
blocked a punt that was returned for a touchdown on the opening series.
Derrick Green
looked solid in the run game.
Channing Stribling
appeared stout in the secondary. These are all guys who can use this kind of experience to build on as the season goes on.
What Central Michigan learned:
Life's hard without Eric Fisher. The No. 1 overall pick in last year's NFL draft gave the Chippewas a continuity and strength on the offensive line that just isn't there this season. Central Michigan only accounted for 144 passing yards and 66 rushing yards and much of that came after the Wolverines began to call up their second- and third-string guys.
Michigan C Cites Concussions In Decision To Quit
BIG TEN SCOREBOARD
Thursday, 9/3
Friday, 9/4
Saturday, 9/5
Sunday, 9/6
Monday, 9/7