Michigan Wolverines:

chat
February, 2, 2014
2/02/14
12:35
PM ET
The Super Bowl is over, but if you think there's no football to discuss, you're crazy.
Signing day is Wednesday, and spring practice will be here before you know it. So come on by my Monday Big Ten chat, and we'll discuss it all. I'll be in my usual time slot of 3 p.m. ET, and you can find me right
here
. See you there this afternoon.
January, 30, 2014
1/30/14
10:45
AM ET
January, 23, 2014
1/23/14
4:00
PM ET
As we suffer through winter and the offseason together, we also bond over Big Ten football. Thanks to those who joined me earlier today for the weekly Big Ten chat. We discussed the East-West balance in the Big Ten, recruits flipping, new coaching hires and more.
[+] Enlarge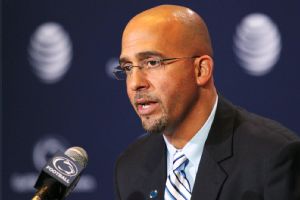 Matthew O'Haren/USA TODAY SportsAs James Franklin can attest to, flipping recruits is part of the business.
Did you miss out? Not to worry. Here's a
full chat transcript
, along with some highlights:
Bernard from Columbus:
Larry Johnson an upgrade over [Mike] Vrabel in both recruiting and coaching?
Adam Rittenberg:
Hmmm, good question. In coaching, I'd say yes, mainly because Johnson has way more experience than Vrabel and a track record of producing elite defensive linemen. As a recruiter, I'd also give Johnson a slight edge because of his long-term success, but Vrabel had quickly developed himself into an outstanding recruiter.
Rob from Morristown, N.J.:
What is your honest take on [James] Franklin flipping recruits from Vandy to PSU? I hear a lot of other teams' fans talking about how we were up in arms when other programs were poaching our players once the sanctions were handed down ... as much as many of us were upset that recruits like
Noah Spence
and
Armani Reeves
flipped to Ohio State ... there is no comparison, we were upset that other schools were trying to flip our CURRENTLY enrolled players ... just wanted to get that out there...
Adam Rittenberg:
Rob, we both know that no fan base likes it when coaches flip their recruits, but fans also should know by now that it happens all the time and will continue to happen unless there's an early signing period. James Franklin was honest about it when asked: Players do pick coaches, not schools, and will follow coaches if they leave. Is it unfortunate? To a degree. But it's the nature of the business, and Penn State has experienced both sides of it in recent years. I agree that the attempts to flip current players -- looking at you, Tim Beckman -- annoyed PSU fans more than losing recruits to Urban [Meyer].
TB from Champaign, Ill.:
What are the odds of me keeping my job with the Illini after 2014 and finishing off my "Fighting Force 2015" recruiting class?
Adam Rittenberg:
It could happen, TB, but you need to make a bowl game this season. Few coaches with three bowl-less seasons are going to survive, especially those who have never won over the fan base/boosters. So how do you get to six wins? It's certainly possible with a schedule that includes three likely non-league wins (Youngstown State, Western Kentucky and Texas State), and a crossover schedule that doesn't include Michigan State or Michigan. The road schedule is once again brutal (Washington, Nebraska, Wisconsin, Ohio State, Northwestern), so your team must play well on its home field.
Rick from Georgia:
Adam, with a new OC at Michigan, do you think they may go in the direction of using a two-QB system similar to Northwestern? It would be nice to see [Devin] Gardner line up at wide receiver while also getting snaps at QB.
Adam Rittenberg:
Rick, while you can't rule this out because Michigan loses both
[Jeremy] Gallon
and
[Drew] Dileo
, the team would like to keep Gardner at quarterback, if at all possible. The Wolverines have some talent at tight end with
[Devin] Funchess
(essentially a WR) and
Jake Butt
, but they must develop some other options at receiver this spring.
Shane Morris
' progress at QB also will be key. Can he really push Gardner, or will a healthy Gardner separate himself in spring ball? Should be really interesting.
Steve from NJ:
Adam, really miss chatting with everyone since the turn to Facebook, but oh well. As for the B1G East this year, I have no trouble giving OSU credit for what they did, although you have to admit, many of [its] games could have gone either way. MSU looks very strong. UM hasn't shown much of late. And PSU, even with the sanctions, is still hanging on. My point is, the winner of the East could be any of those four based on how the ball bounces. In the West, I really only see Wisc and Neb, with NW and Iowa having an outside shot.
Adam Rittenberg:
Steve, I guess I wonder why you think Wisconsin and Nebraska are far and away the favorites in the West? Wisconsin loses an enormous senior class and has QB questions. Nebraska lost to Iowa and Minnesota and was a Hail Mary tip from losing to Northwestern. Will the Huskers suddenly eliminate their sloppiness and become dominant in 2014? Maybe, maybe not. I think the West is pretty even with the top 4-5 teams, while the East likely will be a 2- or 3-team race, as I don't think Penn State has enough to keep up.
Thanks again for your questions and participation. Let's do it again soon.
January, 6, 2014
1/06/14
11:15
AM ET
The Big Ten bowl season is officially over, which means we have eight months without another real game featuring a league team.
But the Big Ten Monday chat is still here. We can discuss all the postseason games, plus offseason news and what to expect next season. Here's the
link to the chat
, which starts at 3 p.m. ET.
See you there.
January, 2, 2014
1/02/14
11:00
AM ET
Still reveling in Michigan State's Rose Bowl victory? Want to chat about Nebraska's upset of Georgia in Jacksonville or Ohio State's upcoming matchup against Clemson? Let's do it
today at noon ET
as my chat takes place from sunny Los Angeles.
I'm interested in your thoughts on the Big Ten's bowl season, Penn State's upcoming coach search and more. See you at noon.
December, 23, 2013
12/23/13
11:15
AM ET
It's Festivus. Time for the airing of the grievances. Of course we do that every Monday on the Big Ten chat, anyway.
It's your final chance to tell me what you want for Christmas. I won't get it for you, but I may just answer your question about the league bowl season, offseason news and any other Big Ten issue on your mind. So come on by at 3 p.m. ET and chat with me for an hour.
Here is
the link
. See you there.
December, 16, 2013
12/16/13
5:00
PM ET
For the first time in a long while, there was no football from the previous weekend to discuss. But we still had a lively Big Ten Monday chat. Here's
the full transcript
, plus some choice highlights:
HP (STL, Missouri): Any chance Texas look at B1G for their coaching vacancy? Dantonio, Fitzgerald, O'Brien all look like ripe targets for money making Texas program.
Brian Bennett:
The Texas search could be a wild one. I really don't know how that ends up. Don't think Pat Fitzgerald gets a call. Dantonio and O'Brien? Maybe, though I would think O'Brien is far more likely to leave for the NFL. Would think Texas is after bigger names like Fisher and Malzahn, but things could get very interesting if their top targets turn down the 'Horns. We shall see.
Tim (Columbus): Ohio State getting the #1 ILB in McMillan is HUGE! And that reminds me, Urban Meyer has been recruiting very well on the defensive side of the ball the past couple years. When is that going to start paying off and we can get back to being called "The Silver Bullets" again?
Brian Bennett:
I don't think it will be long. You're right in that some serious talent has been brought in on that side of the ball. Young guys like Bosa, Spence and Washington have already developed into very good players. There is young talent at LB and in the secondary waiting in the wings. Now it's all about developing that talent.
Matt (MI): If I am not mistaken it seems as if EVERY B1G team brings back a ton of experience and talent at the QB position (Illinois may be the exception). It has been a long time since this could be said, but it looks like next season could be a very good year for B1G QBs and could help improve the conference perception. Which quarterbacks do you expect to take a huge leap in production and do you agree it could be a good year for the B1G because of the QBs?
Brian Bennett:
Illinois is an exception, and Ohio State could be if Miller goes pro. Nebraska has some experience in Armstrong but not exactly a ton, while Northwestern loses
Kain Colter
but brings back Siemian. But for the most part, there will be a lot of experience coming back at the position. That should help, and the position needs to get stronger throughout the league. It was not a great year for QB play in 2013, though many teams did play young guys there.
Samuel (Iowa City, Iowa): Brian, not too long ago it seemed that Wisconsin, MSU and Iowa were at the same level. Wisconsin has been to the Rose Bowl. Now MSU is going. Iowa bottomed out and is progressing again. But will the Hawkeyes progress enough to earn a trip to Pasadena in the near future?
Brian Bennett:
That's a good question. I like the progress I saw from Iowa this year, rebounding from a tough season. Kirk Ferentz proved he's still as good as there is at developing talent. I think the Hawkeyes still need to improve at the skill positions to be a Rose Bowl type team. The wide receiver position in particular is a glaring need. Hard to win big in college football these days without a couple of difference makers who can make plays in the open field.
Grant (San Francisco): With the playoff system coming, and lending itself really REALLY well to a 4-mega-conference system with conference champions earning a playoff berth, which four conferences would survive this shift, and which conferences would be split up?
Brian Bennett:
I look at it differently. I think the current conference setup lends itself perfectly to an 8-team playoff. You take the 5 power conference champions, the best champion from the other leagues and Notre Dame and then two wild cards. Enhances the conference races and only forces committee to pick two teams and seeding. I think we'll end up there if logic wins out.
Jake (State Farm): Here's a thought: O'Brien is overrated. He didn't turn PSU around (they went 9-3 in 2011). They already had talented players on both sides of the ball and great senior leadership. I would hope that a team with Allen Robinson, Hackenberg, DaQuan Jones, Deion Barnes, and all the tight ends would go 7-5. Any NFL team would be taking a risk with O'Brien. More unproven than people think.
Brian Bennett:
Any unproven NFL head coach is a risk. O'Brien has experience running the offense with the Pats, but not all former Pats assistants have worked out. That said, do I think he's overrated? No. No coach has had to deal with all the things that were thrown at him, and he's handled them beautifully.
James (Detroit): Michigan can beat Kansas State if _____.
Brian Bennett:
The offensive line can make major strides this month. Kansas State is not a great team by any stretch but did play well in the final month or so. Michigan is just as talented but has no chance if it can't protect Gardner or field some semblance of a running game.
Troy (Wisconsin): Wisconsin's only first or second team all big 10 player was Chris Borland, while Ohio State had 3 such players. Wisconsin's defense put up better numbers as a unit statistically, shouldn't this be reason for you to pick Borland over Shazier for DPOY? While Shazier had better numbers, he had a better supporting cast (according to you) and a worse defense (according to stats).
Brian Bennett:
I suppose you could make that argument. If we had a third team, a few Badgers like
Brendan Kelly
,
Beau Allen
, Dez Southward and
Sojourn Shelton
would have been on it. Wisconsin probably had fewer frontline stars but much more experience and depth than Ohio State's D. I think Borland is probably the best defensive player in the Big Ten for all that he does, but I thought Shazier had the better year, if that makes sense.
December, 9, 2013
12/09/13
11:15
AM ET
The Big Ten bowl lineup is set. We just had an exciting Big Ten championship. And there are a handful of teams already looking toward the 2014 season.
So there's plenty to discuss, even with no league teams in action this weekend (frowny face) for the first time since August. Come on by my Big Ten Monday chat and we'll break it all down.
The chat starts at 3 p.m. ET, and here is
the link
. See you there.
October, 31, 2013
10/31/13
10:00
AM ET
The Big Ten chat returns to its usual day and time. All 12 teams are in action for the first time since Week 3, so there's plenty to discuss around the conference. Please attend the chat dressed in your Halloween costume. I'll be passing out candy.
See you
today at noon ET
.
September, 30, 2013
9/30/13
2:15
PM ET
Want to talk about last weekend's games or the big ones coming up this Saturday? Well, come on by my Big Ten Monday chat, and we'll discuss all of it.
The chat kicks off in less than an hour, at 3 p.m. ET. Here's
the link
. See you there.
September, 26, 2013
9/26/13
10:45
AM ET
You know how I always tell you to show up on time for the Big Ten chat? Well, I violated my own rule last week. Apologies to those who showed up at noon ET, as I was quite tardy to my own party.
It won't happen again. Let's
talk Big Ten football today at noon ET
. Some key games are on tap despite a limited Week 5 slate, and there are interesting off-field story lines around the conference.
See you then.
August, 29, 2013
8/29/13
10:45
AM ET
College football returns tonight, and my Big Ten chat also ends its long hiatus. Did you miss me? Don't lie. You've been waiting for this day for months.
Well, here's your chance to ask me anything -- about Big Ten football, that is --
today at noon ET
. My weekly chat typically will be at this time throughout the season, so mark your calendars and tell your bosses you're working on those TPS reports.
I'll see you at noon ET. Don't be late.
Coaches Contending For 'King Of Spring'
BIG TEN SCOREBOARD
Thursday, 9/3
Friday, 9/4
Saturday, 9/5
Sunday, 9/6
Monday, 9/7