Michigan Wolverines:

Cameron Gordon
December, 23, 2013
12/23/13
1:00
PM ET
Hindsight is 20/20, and it's especially hard to draw conclusions about what could've or should've happened when an injury is involved. But with how confident the coaches seem to be in
Jake Ryan
in everything he does, I don't think they should've had anything but confidence when he said he'd be back by October. So while this shoulda, woulda, coulda is shaped around
Brennen Beyer
, it also has Ryan as a key component.
Previous posts:
Coulda, shoulda, woulda: Jake Butt
Coulda, shoulda, woulda: Derrick Green
[+] Enlarge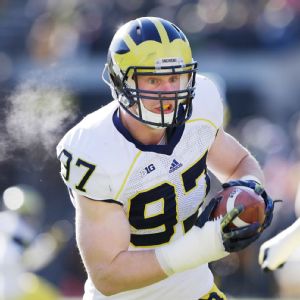 AP Photo/Charlie NeibergallGetting Brennen Beyer more reps at DE early would have helped Michigan's DE during the Big Ten season.
Shoulda …
played Beyer at defensive end some through the first four games. Before Ryan came back the coaches said that they weren't really thinking about what they would do when Ryan got back on to the field. However, even if Ryan didn't play quite as well as he did last season (and I still think Ryan could best that in the Buffalo Wild Wings Bowl), I think they knew he'd be a SAM, that he'd take reps, that he would be a player they wanted on the field. With that mindset, they should've been preparing
Cameron Gordon
and Beyer for that and deciding what to do with them. There's no problem with Beyer still taking reps at SAM, but he could've been building in-game chemistry with the defensive linemen and getting game reps there through the first four games.
Coulda …
Put more pressure on opposing QBs throughout the season. It's hard to put a number or exact statistic on this, but Beyer is definitely one of the better pass rushers on the team. Chemistry is really important on the defensive line and with him up front gaining chemistry with other players early in the season, it would've allowed the line to be more consistent later in the season. It also would've meant another leader on the defensive line.
Jibreel Black
and
Quinton Washington
were good leaders up there, but having another upperclassmen to work with the younger guys, get players up for games, and keep them organized is never a bad thing, especially when some of the defensive line issues stemmed from communication problems. Beyer isn't the loudest person in the world, but he's definitely more talkative than Washington and a bit louder than Black.
Woulda …
Had a better idea of what their line would look like through conference play. The Michigan defensive line didn't reach the expectation for the position this season, but having Beyer take a few reps through the non-conference schedule would've given the D-line a chance to be closer to that expectation by the end of the season. The coaches should've trusted that Ryan would return, and had they started giving Beyer time on the line two or three weeks before they expected Ryan back, it would've given the defensive line a jump start in the Big Ten season.
September, 27, 2013
9/27/13
9:00
AM ET
Even at 4-0, we've seen the best and worst out of Brady Hoke's team this season. With four games under the Wolverines' belt and eight (or nine ... or 10) more to go, here's what we've gathered, and have yet to gather, about this Michigan team.
What we know so far
[+] Enlarge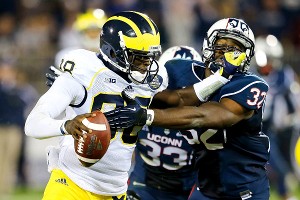 Jim Rogash/Getty ImagesDevin Gardner has been both a playmaker and an enigma through Michigan's first four games.
1. When Michigan is on, it's very, very pretty.
The Wolverines rolled against Central Michigan and Notre Dame. Following those two games, Michigan was being talked of -- understandably so -- as a top-10 team, and quarterback
Devin Gardner
was in Heisman conversations. That has been derailed a bit since, but it was pretty apparent that when Michigan is kicking on all cylinders, it's a hard team to stop, and it fields a defense that can stop others, too. If the Wolverines can find that groove and keep it, they could head into the final weekend of November undefeated.
2. The linebackers might be the most solid position group on the team, even without Jake Ryan.
Who would've thought that was possible? When Ryan went down with an ACL tear, for many Michigan fans it seemed as though their worlds were crashing down. But instead,
Brennen Beyer
has been a very good SAM linebacker, and
Desmond Morgan
and
James Ross III
both have been solid. Not to mention the depth behind those three in
Cameron Gordon
and
Joe Bolden
. With the expected return of Ryan sometime in October, it's pretty crazy to think how talented the linebackers will be and what exactly they'll do to distribute the wealth. Assuming Ryan is back in tip-top shape, the Wolverines could use Beyer on the both the D-line and at SAM ,as he has played both over the two years, or, Mattison could scheme completely differently.
3. The defense has bent but not broken -- under Greg Mattison this has seemed to be a trait of a Wolverine D.
Whether it be because they lack depth at certain positions or the offense just keeps putting them in tough spots, the Michigan defense has found itself in a number of tight situations but been on the winning end nearly all the time. Between the quick-change situations because of turnovers or the quick scoring situations in other games, the Wolverines have found themselves trotting on the field just as quickly as they left it. In a lot of young teams, that kind of mental turnover can create mistakes, but Michigan hasn't been a victim of that too badly. The defense obviously needs work, but their focus and ability to respond hasn't gone unnoticed.
Lingering questions
1. Is there enough talent/depth to put together an offensive line?
Taylor Lewan
and
Michael Schofield
seem to be safe. However, the interior three spots are written in pencil, as Hoke and Al Borges have said over and over again. But the interior line has struggled quite a bit, specifically the last two games. Lewan said that
Graham Glasgow
,
Jack Miller
and
Kyle Kalis
displayed a sense of urgency in the second half against UConn, but that was about six quarters too late. Michigan really hasn't funneled anyone else through there, so the coaching staff was either waiting until the bye week to test guys at different positions, or they don't have enough depth (or they have too many injuries). It could be a combination of many things, but there's a decent chance that we won't see the same starting five against Minnesota.
2. What happened to Gardner? Can it really be fixed? Can it be avoided?
Throughout his career, he seemed completely unfazed by the pressures of being a Michigan quarterback, going through a position change, stepping into the spotlight, what have you. But for some reason, all that came crashing down against Akron and UConn. The young, inexperienced Gardner came to the forefront, and for the most part, he looked out of synch. But give him some props -- when Michigan desperately needed a score against the Zips and Huskies, he got the Wolverines in position to get one. But outside of that, the turnovers looked atrocious. Worse yet, Hoke said they've reached a point where they're re-coaching him, or having to give him the same correction multiple times, because he's making the same error multiple times. That was not a problem earlier in his career. But it's crucial Michigan figures out what happened to Gardner, not only so they can fix it, but also so they can avoid it in the future.
3. Is the secondary going to step up?
The Wolverines' defensive pressure up front has steadily improved through the non-conference schedule, and that has helped all the defenders behind it. It seems strange to start up front when discussing a problem with the secondary, but part of the reason the secondary is giving up so many big pass plays is the fact that the D-line's pass rush hasn't always been fantastic. Every single play of 20 or more yards the Wolverines have given up has been through the air. The secondary has played soft coverage time and time again, and the players keep getting beat. The Wolverines are going to face quarterbacks -- like Penn State's
Christian Hackenberg
, Nebraska's
Taylor Martinez
and Ohio State's
Braxton Miller
-- that will try to exploit that as much as they can, because that'll only open up the run game for their backs (or for themselves).
May, 14, 2013
5/14/13
9:25
AM ET
The injury to
Jake Ryan
affected a few positions along Michigan's depth chart at linebacker, such as moving
Brennen Beyer
from defensive end,
Desmond Morgan
back to MIKE from WILL.
Michigan still has some needs that are being addressed in recruiting, so here is a look at the current depth chart with the strengths, weaknesses and what they mean in terms of recruiting.
May, 2, 2013
5/02/13
10:00
AM ET
ANN ARBOR, Mich. -- While Michigan's offense has a bunch of questions surrounding who will play where and how much time freshmen might see, the Wolverines' defense has other issues.
These, though, aren't so bad.
Michigan has significant depth -- albeit some inexperience -- at every spot on its defense. This allows the Wolverines to come closer to reaching defensive coordinator Greg Mattison's goal of being able to rotate players at both defensive line and linebacker to keep them fresh for later in games and later on in the season.
To continue reading this article you must be an Insider
April, 13, 2013
4/13/13
4:25
PM ET
ANN ARBOR, Mich. -- Michigan football coach Brady Hoke said Saturday that
Jake Ryan
, the team's leading tackler who suffered an ACL tear a few games into spring practice, could return as early an mid-October.
"I'm not a doctor," Hoke said, "but possibly middle of October."
It's promising news for Ryan, who had to watch Michigan's spring game from the sidelines on crutches Saturday. A mid-October return would place him right around Michigan's bye week, early enough to play in both the Michigan State and Ohio State rivalry games.
Ryan led the Wolverines last season with 88 tackles, including 56 solo tackles, en route to an All-Big Ten season. He finished third in the conference in tackles for losses (16).
Because of the injury, the Wolverines have been forced to regroup, moving rush end
Brennen Beyer
back to the SAM linebacker position, which he played as a freshman. Beyer is competing with
Cameron Gordon
at the position but with a possible mid-October return, Michigan could find themselves regrouping yet again, halfway through the Big Ten season.
Bold Predictions For Spring Recruiting
BIG TEN SCOREBOARD
Thursday, 9/3
Friday, 9/4
Saturday, 9/5
Sunday, 9/6
Monday, 9/7