Michigan Wolverines:

C.J. Fiedorowicz
December, 2, 2013
Dec 2
6:15
PM ET
You've had a chance to check out the 2013 All-Big Ten teams and individual award winners. The four major award winners -- Offensive Player of the Year, Defensive Player of the Year, Coach of the Year and Freshman of the Year -- will be unveiled Tuesday.

Let's dive into today's selections ...
INDIVIDUAL AWARDS
The overall list isn't bad, although some of the selections certainly are debatable.
ALL-BIG TEN TEAMS
Overall, these looked a little
better than the 2012 version
, which contained several glaring problems in our view. The coaches' team continues to surprise us (not in a good way) with six defensive backs and two punters because of ties in the voting, and no Mewhort on the first team is hard to believe. But this was a slight step up.
(By the way, the Big Ten still doesn't have either of us vote for the media team, so direct your blame elsewhere).
Lewan, Mewhort and Iowa's Brandon Scherff all are terrific tackles, but we would have gone with Mewhort and Lewan on the first team, which the coaches did not.
Although Michigan's Devin Funchess claimed Kwalick-Clark Tight End of the Year honors, the coaches went with Iowa's C.J. Fiedorowicz as their first-team tight end. We can debate whether Funchess actually is a tight end or not, but his receiving numbers (47 catches, 727 yards, six touchdowns) are way better than Fiedorowicz's (26 catches, 253 yards, six TDs).
The coaches had six first-team defensive backs but didn't find room for Michigan's Blake Countess, who tied for the league lead in interceptions, or Nebraska's Stanley Jean-Baptiste, who had four picks and 11 pass breakups. Maybe only one Michigan State safety (our pick would be Kurtis Drummond) should be there.
Michigan wide receiver Jeremy Gallon had some huge performances, but he probably belongs on the second team behind Penn State's Robinson and Wisconsin's Jared Abbrederis, who were more consistent as the season went along. The coaches went with Ohio State's Corey Brown as their other second-team wideout, while the media went with Indiana's Cody Latimer. We like Latimer there.
One player the coaches and media differed on is Minnesota safety Brock Vereen, a first-team selection by the coaches but just an honorable mention selection by the media. He probably belongs right in between, on the second team, after leading a stout Gophers defense.

Another big difference between the coaches and media involved Iowa's B.J. Lowery. The media voted him as a first-team defensive back, while the coaches did not have Lowery among their eight choices on the first and second teams. Lowery is a nice player, but we're scratching our heads a bit as to why he was a first-team pick by the media.
Both Wisconsin back, Melvin Gordon and James White, made the second team. It says a lot about the depth at running back this year that Michigan State's Jeremy Langford, who ran for 1,200 yards and 16 touchdowns, couldn't crack the first or second teams.

We sure wish the league had a process for breaking ties on the coaches' team. Six defensive backs and two punters? That's just strange, though we'd like to see that two-punter formation in real life.
Connor Cook or Nathan Scheelhaase as the second-team quarterback? The coaches and media split on that. Scheelhaase has the better numbers, but Cook won all eight Big Ten starts. No wonder that latter fact probably impressed the coaches more.
The major awards -- offensive and defensive players of the year, freshman of the year and coach of the year -- will be announced on Tuesday.
October, 29, 2013
Oct 29
1:00
PM ET
It's November. It's the month when championships are decided -- and also when individual honors are earned. Let's take a look at where some of the major Big Ten award races stand with two months in the books:
Graham–George Offensive Player of the Year
1. Wisconsin RB Melvin Gordon (Last week: 1):
The Badgers were off this week, but Gordon still leads the Big Ten with 1,012 rushing yards, to go along with 11 touchdowns, through seven games. He'll get a test this week against Iowa's run defense.
[+] Enlarge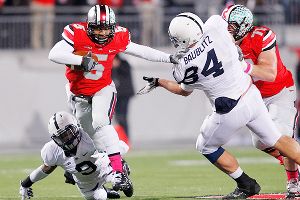 AP Photo/Paul VernonOhio State's Braxton Miller is putting up big numbers in Big Ten play.
2. Ohio State QB Braxton Miller (LW: 3):
Yeah, he missed a big chunk of the nonconference season, but Big Ten play is what matters. And that's where Miller is asserting himself. The Buckeyes' quarterback is completing 70.6 percent of his passes with nine touchdowns and only one interception in league action and running for 80 yards per game.
3. Nebraska RB Ameer Abdullah (LW: 2):
Abdullah showed he is Nebraska's best player in the Huskers' loss at Minnesota last week. He ran 19 times for 165 yards while shaking off an early injury. Abdullah is averaging 172 rushing yards per game in conference play.
4. Michigan WR Jeremy Gallon (LW: 4):
The Wolverines were off last week, giving Gallon time to rest after his Big Ten-record 369 receiving yards vs. Indiana. He's got a huge matchup this week against Michigan State cornerback
Darqueze Dennard
.
5. Ohio State RB Carlos Hyde (LW: Not ranked):
Like Miller, Hyde was a nonfactor in the nonconference season. But he's averaging 137 yards per game in league games and has seven rushing touchdowns in the Buckeyes' four Big Ten wins.
Nagurski–Woodson Defensive Player of the Year
1. Wisconsin LB Chris Borland (LW: 1):
Borland got hurt against Illinois and so has basically been out of action for two weeks. Time to remind us why we ranked him No. 1 this week at Iowa.
2. Ohio State LB Ryan Shazier (LW: 2):
He had 10 tackles and a sack against Penn State, and he now is tied for the most tackles for loss in the Big Ten with nine.
3. Michigan State CB Darqueze Dennard (LW: 4):
The Spartans should rack up plenty of all-conference honors on defense;
Shilique Calhoun
,
Max Bullough
and
Denicos Allen
are among the very deserving. Dennard gets a showcase matchup against Gallon this week.
4. Minnesota DT Ra'Shede Hageman (LW: 5):
His numbers would have been better last week if he didn't have two sacks wiped out by face-mask penalties, but Hageman was still a menace to the Nebraska offense and a big reason why Minnesota's defense has kept the team in just about every game.
5. Iowa LB James Morris (LW: NR):
He had eight tackles, a pair of sacks and a fumble recovery against Northwestern last week, continuing a standout senior season for the Hawkeyes' defensive leader.
Kwalick-Clark Tight End of the Year
1. Devin Funchess, Michigan:
Funchess is really more of a big wide receiver, so if you heavily value blocking from the position, you might look elsewhere. But it's hard to ignore his impact, as he leads all league tight ends with 492 receiving yards, plus four touchdowns.
2. Ted Bolser, Indiana:
Bolser gives the Hoosiers yet another outstanding weapon in the passing game, with 247 receiving yards and five touchdowns on the season.
3. C.J. Fiedorowicz, Iowa:
Hawkeyes fans would love to see CJF get even more involved in the offense; he caught the game-winning score in overtime last week against Northwestern and has 17 receptions for 153 yards and four scores this season. The top tight end race is a good one in the league, with Northwestern's
Dan Vitale
and Wisconsin's
Jacob Pedersen
also in the mix.
October, 28, 2013
Oct 28
11:00
AM ET
You know the old adage about offense selling tickets and defense winning championships? Forget about it.
If that were true, how could you explain that four of the top five scoring teams in the country are Baylor, Oregon, Florida State and Ohio State? And that all four are undefeated, ranked in the top five in the major polls and in the BCS title chase? (No. 4 on that list, by the way, is Texas A&M, which has a reigning Heisman Trophy winner and is 12th in the BCS standings). Even Alabama is averaging 41.2 points per game, 13th best in FBS.
[+] Enlarge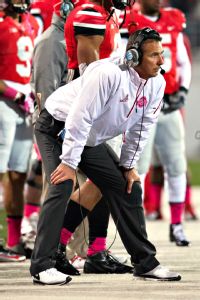 Greg Bartram/USA TODAY SportsUrban Meyer and Ohio State were on the offensive against Penn State.
The only team in the Top 25 nationally in points per game that doesn't have a winning record? Indiana, which is tied for eighth at 42.4 PPG -- but also is No. 119 in total defense.
You've got to score a lot to win big in college football these days, and you've got to do the same to stand out in the BCS crowd. So no wonder Urban Meyer and Ohio State put their foot on the gas pedal Saturday against Penn State, scoring 42 points in the first half en route to a 63-14 rout.
The Buckeyes' 686 total yards were their most ever against a Big Ten opponent. Meyer, in classic step-on-your-neck fashion, challenged a spot on a Penn State fourth-down play late in the third quarter. Ohio State led 56-7 at the time -- and got the call reversal to go its way. Nittany Lions coach Bill O'Brien just stared ahead for several seconds when a a reporter later asked about that challenge, then declined to comment. But O'Brien did say of the game, "We'll remember some things."
Still, it's hard to blame the Buckeyes for doing everything they could to put up an impressive score after they've heard about their lack of style points all year long. The scary thing for the rest of the Big Ten is that Ohio State and
Braxton Miller
appear to be just now finding their stride on offense. Yes, that's a funny thing to say for a team scoring 47.2 points per contest and that has seven 50-point games since 2012, or one more than the program managed in the entire Jim Tressel era. But it's true.
This is an offense that appears to be steamrolling toward a championship. Wouldn't it be fun if Michigan State's equally dominating defense got a chance to test that old adage in Indianapolis?
Take that and rewind it back:
Team of the week:
For the second straight week, it's Minnesota. Of course it is, after the Gophers knocked off Nebraska for the first time since 1960, got their signature Big Ten win and clinched bowl eligibility. What the team has been doing while head coach Jerry Kill is on a leave of absence is incredible.
Worst hangover:
There have been some ugly losses in the Bo Pelini era at Nebraska, but maybe none as dispiriting as Saturday's defeat at Minnesota. The 9-7 home loss to Iowa State might be the only one to trump it. Tommie Frazier, who publicly criticized Pelini and his staff after the UCLA debacle, tweeted out "Do I need to say anymore?" right after the game ended. It will be another uncomfortable week in Lincoln.
Best play:
Facing third-and-7 from the Northwestern 8-yard line in overtime,
Iowa's
Jake Rudock
dropped back to pass and almost immediately had blitzing safety
Ibraheim Campbell
in his grille. When Rudock released the ball, it looked in live action as though he was merely throwing it away. Instead, the ball sailed perfectly to tight end
C.J. Fiedorowicz
for the touchdown that proved to be the game winner.
[+] Enlarge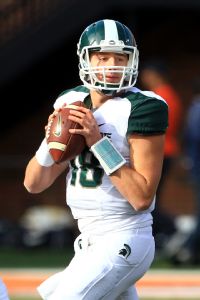 Pat Lovell/USA TODAY SportsConnor Cook won't soon forget Saturday's win.
Craziest play:
Speaking of surprising touchdown passes,
Connor Cook
must be living right. The Michigan State
quarterback scrambled to his right late in the first half
on a third-and-25 from the Illinois 29-yard line. He then threw toward the end zone into double coverage, and a pair of Illini defensive backs,
Jaylen Dunlap
and
Eaton Spence
, were in front of Bennie Fowler for the underthrown pass, and Dunlap tipped it twice before it fell in the hands of Fowler for a TD. The score was 7-3 before that play, and it was the start of 35 unanswered points for Michigan State. "I was a little afraid," Cook said of his throw. But he finished with just one incompletion in 16 attempts.
Big Man on Campus (Offense):
Braxton Miller is getting hot. Scorching hot, in fact. He went 18-of-24 for 252 yards and three touchdowns through the air while rushing for 68 yards and two scores in the 63-14 trouncing of Penn State. If he plays like that, nobody in this league is beating the Buckeyes.
Big Man on Campus (Defense):
Iowa linebacker
Anthony Hitchens
had nine tackles, a sack and a key forced fumble in the win over Northwestern.
Big Man on Campus (Special teams):
His team lost, but
Pat Smith
did all he could for Nebraska. Smith went 3-for-3 on field goals, connecting from 37, 42 and 45 yards on a windy day. Say this for the Huskers: They keep churning out excellent kickers.
Got a plane to catch?
This might be the craziest number of the week: 2:50. That's how long the Northwestern-Iowa game lasted. Yes, the two teams somehow managed to play an overtime game in less than three hours, or about the time it takes for two David Ortiz at-bats. Of course, it might have taken a bit longer had Pat Fitzgerald elected to use his timeouts at the end of the game.
After a
Mike Trumpy
fumble, Iowa took over at midfield with 3:14 remaining. The Hawkeyes struck on an 18-yard Fiedorowicz pass reception to get near field goal range and then started going conservative as the clock drained. Fitzgerald, who had two timeouts in his pocket, did not call either of them to save some potential time for the Northwestern offense. He finally called one after Iowa had used its own timeout on fourth-and-11 with 15 seconds left. The Wildcats then intercepted the pass but had no time to do anything but take a knee.
Fitzgerald said later that he thought the wind would make it tough on Iowa to kick a field goal and that "we were playing to win the game." It sure seemed instead that he was playing for overtime, and we saw in the Michigan game that playing not to lose often leads to exactly the thing you're trying to avoid.
October, 28, 2013
Oct 28
9:00
AM ET
Northwestern has made its exit from the Big Ten's top half and shows no signs of returning. Now it's Nebraska's turn to be shown the door. Meanwhile, we welcome an unexpected visitor in Minnesota to the top half of the power rankings.

Minnesota's historic upset of Nebraska provided the major shake-up in this week's rundown. The Gophers, who were No. 11 two weeks ago, have turned around their season with upset wins against both Northwestern and Nebraska. They've guaranteed a second consecutive bowl appearance and can make some noise in the Legends Division down the stretch. Iowa also looks like it will be going back to the postseason after an overtime win against Northwestern.
Michigan State moves up to No. 3 after pulling away from Illinois in Champaign, while Iowa moves up after its overtime win against slumping Northwestern. Penn State's historically bad night at Ohio State bumps the Lions down a few pegs.
Let's take one last look at the
Week 8 rankings
.
Now, for the fresh rundown:
1. Ohio State (8-0, 4-0 Big Ten; last week: 1):
There was no need for a second-half surge as Ohio State throttled Penn State from the get-go, picking up an easy win and the style points it has looked for in Big Ten play. After his near benching at Northwestern, quarterback
Braxton Miller
has performed like a Heisman Trophy candidate, picking apart Penn State's defense for 252 passing yards and three touchdowns. Ohio State racked up its highest-ever yardage total (686) against a Big Ten foe. The Buckeyes' defense recorded three takeaways. Ohio State now visits Purdue, a recent trouble spot.
2. Wisconsin (5-2, 3-1; last week: 2):
The
nation continues to sleep on the Badgers
, but at some point the credit will come if Gary Andersen's crew continues to win. Wisconsin's second open week came at a good time as star linebacker
Chris Borland
had some extra time to heal from a hamstring injury. Borland should be good to go for this week's trip to Iowa, as Wisconsin reunites with its longtime rival for the first time since 2010. Andersen likes the way quarterback
Joel Stave
is progressing, and this week's game should provide a nice gauge.
3. Michigan State (7-1, 4-0; last week: 4):
After a one-year hiatus, Michigan State is back in the Big Ten title race. The Spartans are the only Legends Division team without a Big Ten defeat and can take a huge step toward Indianapolis by beating rival Michigan this week. Quarterback
Connor Cook
and the offense got on track against Illinois, racking up 42 points and 477 total yards. When Cook is in rhythm,
Jeremy Langford
finds running room and the offensive line controls play, Michigan State is tough to beat. But the challenges will get tougher now.
4. Michigan (6-1, 2-1; last week: 5):
Who are these Wolverines? The young, talented group that beat Notre Dame in September or the shaky, flawed squad that hasn't looked very impressive since Sept. 7? We'll finally get some real answers as Michigan begins a challenging November stretch this week at Michigan State.
Devin Gardner
and the offense scored at will against Indiana but face an exponentially tougher challenge against the Spartans' nationally elite defense. A second Big Ten loss would make it tough for Michigan to reach Indianapolis, given the remaining schedule.
5. Iowa (5-3, 2-2; last week: 7):
After struggling against Northwestern's
Kain Colter
last year, Iowa's defense stepped up in a big way, shutting out the Wildcats for a half and recording six sacks, its highest total since the 2008 season. The linebacking corps was terrific, and so was
Drew Ott
. Quarterback
Jake Rudock
wasn't great but made the big throw when it counted to
C.J. Fiedorowicz
in overtime. Iowa is a win away from becoming bowl eligible as rival Wisconsin comes to Kinnick Stadium this week. The Hawkeyes get the edge against Minnesota for the five spot after dominating the Gophers at TCF Bank Stadium.
[+] Enlarge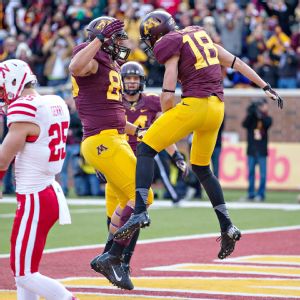 Jesse Johnson/USA TODAY SportsMinnesota's upset of Nebraska moved the Gophers up two spots and dropped the Huskers four spots.
6. Minnesota (6-2, 2-2; last week: 8):
Two weeks ago, many were wondering if Minnesota would make a bowl game and if head coach Jerry Kill would step down because of his health issues. While Kill's future remains somewhat in doubt, he has been in the coaches' booth to watch his team record upset wins against Northwestern and Nebraska. Saturday's dominant performance against the Huskers marked Minnesota's first win against Big Red since 1960. The Gophers received big performances from running back
David Cobb
(138 yards), defensive linemen
Ra'Shede Hageman
and
Theiren Cockran
and others. Minnesota could be a surprise contender in the Legends Division if it continues to win this week at Indiana.
7. Nebraska (5-2, 2-1; last week: 3):
A four-spot drop in the rankings for one loss might seem harsh, but Nebraska invalidated any perceived progress since the UCLA game by struggling in all three phases in a loss at Minnesota. Despite his big-game flaws, Bo Pelini's teams typically had won the games they should win, but the Huskers fell apart after building a 10-0 lead. Quarterback
Taylor Martinez
looked very rusty and the defense couldn't stop Minnesota's ground game. Nebraska tries to get well against slumping Northwestern this week in Lincoln.
8. Penn State (4-3, 1-2; last week: 6):
There will be better nights for quarterback
Christian Hackenberg
and Penn State, which fell behind quickly at Ohio State and never challenged the Buckeyes in the ugliest loss of the Bill O'Brien era. Penn State's defensive issues are very real, though, as the Lions have allowed more than 40 points in three consecutive games for the first time since 1899 (!). Hackenberg's health will be a storyline this week as Penn State faces Illinois. At least the Lions don't have any more open weeks.
9. Indiana (3-4, 1-2; last week: 9):
It's still all about fixing the defense for Indiana, which had no answers for
Jeremy Gallon
, Gardner and Michigan in Week 8. The IU offense can strike and strike quickly, regardless of whether
Tre Roberson
or
Nate Sudfeld
is playing quarterback.
Kevin Wilson
's crew enters a critical home stretch against Minnesota and Illinois. IU likely needs to win both to have a chance of going bowling this year.
10. Northwestern (4-4, 0-4; last week: 10):
Halloween arrives Thursday, but the nightmare has lasted four weeks for the Wildcats, whose October woes have reached a new low under Pat Fitzgerald. All of Northwestern's hallmarks -- great ball security, limited penalties, being great in the clutch -- seem to be going out the window. Fitzgerald has blamed himself and his staff for the recent struggles, and it's hard to disagree after the ultra-conservative decisions late in Saturday's loss to Iowa. Northwestern heads to Nebraska this week, as misery loves company.
11. Illinois (3-4, 0-3; last week: 11):
The Illini's fast start seems like a distant memory now as they've been swallowed up in Big Ten play. Illinois' second consecutive home blowout loss makes a bowl game highly unlikely, and there are issues to address on both sides of the ball. A young defense is getting exposed by power running teams, as Michigan State had its way with the Illini. Bill Cubit is a creative play-caller, but Illinois needs something more against Big Ten defenses. Illinois had a meager eight first downs and 128 total yards against Michigan State.
12. Purdue (1-6, 0-3; last week: 12):
The Boilers entered their second bye week feeling a bit better than they did entering their first. A stout defensive performance against Michigan State, particularly by
Bruce Gaston
and his fellow linemen, provides Purdue something to build on before the stretch run. Purdue now needs to get something going on offense. Ohio State comes to town this week, which should be special for Purdue coaches Darrell Hazell and Marcus Freeman.
October, 22, 2013
Oct 22
1:00
PM ET
Not much went according to plan in Week 8, a slate of likely blowouts that turned out to be surprisingly captivating, especially in both Ann Arbor and Columbus. Brian Bennett and I had the same set of winners, so there was no opportunity to gain ground.
We both ended up missing on one contest. As for those score predictions ... not good.
Week 8/Season record
Adam Rittenberg: 4-1, 55-9
Brian Bennett: 4-1, 54-10
Here's one final look at the
Week 8 predictions
we made and those of guest forecaster Micah Tweeten from St. Paul, Minn.
Let's rewind the tape ...


Minnesota at Northwestern
Brian Bennett's pick: Northwestern 35, Minnesota 20
Adam Rittenberg's pick: Northwestern 34, Minnesota 21
Actual score: Minnesota 20, Northwestern 17
20-20 hindsight: Bennett nailed the Gophers' score and I came close, but we both expected Northwestern's offense to show up. Wildcats QB Kain Colter never played, as I thought he would, and QB Philip Nelson provided the spark for Minnesota's offense, not Mitch Leidner.


Purdue at Michigan State
Bennett's pick: Michigan State 34, Purdue 6
Rittenberg's pick: Michigan State 31, Purdue 7
Actual score: Michigan State 14, Purdue 0
20-20 hindsight: We expected more offense from both teams, especially Michigan State, which mustered only one offensive score in the game. Bennett's prediction of three Connor Cook touchdown passes fell short as Cook struggled, and while Jeremy Langford (131 rush yards) stepped up, neither he nor Delton Williams reached the end zone (I had them for three combined touchdowns). My prediction of a first-half defensive touchdown proved true as LB Denicos Allen had a scoop and score.


Indiana at Michigan
Bennett's pick: Michigan 38, Indiana 28
Rittenberg's pick: Michigan 35, Indiana 27
Actual score: Michigan 63, Indiana 47
20-20 hindsight: We weren't too far off on Michigan's margin of victory, but both offenses certainly exceeded our forecasts on a record-setting day at the Big House. Indiana QBs Nate Sudfeld and Tre Roberson both led first-half scoring drives, as Bennett predicted, but Michigan QB Devin Gardner (team record 584 yards of offense) blew past Bennett's projection (350 yards). My prediction of two first-half rushing touchdowns for Michigan's Fitzgerald Toussaint came true, and Indiana WR Cody Latimer (96 receiving yards, TD) wasn't too far off my prediction (120 receiving yards, 2 TDs).


Iowa at Ohio State
Bennett's pick: Ohio State 37, Iowa 17
Rittenberg's pick: Ohio State 42, Iowa 20
Actual score: Ohio State 34, Iowa 24
20-20 hindsight: This turned out to be one of our better score predictions, although we were still both off by 10 or more points. Buckeyes RB Carlos Hyde became the first player to rush for a touchdown against Iowa this season, as I thought he would, and exceeded my predicted rushing total (125 yards) by 24 yards. Ohio State QB Braxton Miller came one passing touchdown and one rushing touchdown shy of Bennett's prediction. Iowa received a boost from a tight end, but it was Jake Duzey (six catches, 138 yards, TD), not C.J. Fiedorowicz.


Wisconsin at Illinois
Bennett's pick: Wisconsin 31, Illinois 14
Rittenberg's pick: Wisconsin 34, Illinois 20
Actual score: Wisconsin 56, Illinois 32
20-20 hindsight: We both expected Illinois to take an early lead, but the Badgers stormed out to a 21-0 advantage before the Illini steadied themselves a bit in the second quarter. Bennett nearly nailed Wisconsin's rushing total (he predicted 290 yards; the Badgers finished with 289), and Badgers RB James White finished two yards shy of my triple-digit prediction for both he and Melvin Gordon. TE Jacob Pedersen had three receptions, but none for touchdowns.
You've seen our picks. Now it's time to check on our guest picker, Micah.
Northwestern 31, Minnesota 17
Michigan State 34, Purdue 10
Ohio State 38, Iowa 24
Michigan 31, Indiana 21
Wisconsin 35, Illinois 18
Micah's picks mirrored ours, so he also went 4-1. He had similar score predictions, too, although he came closer on Ohio State-Iowa than we did, nailing the Hawkeyes' score on the dot. Like us, he expected much more offense from Michigan State and much more defense from Michigan, Indiana and Illinois. Not a bad result, though.
Interested in being this week's guest picker? Tell us why you should be the choice
here
and
here
(be brief and use "GUEST PICKS" in the message).
October, 21, 2013
Oct 21
11:00
AM ET
Old-school and new-school Big Ten football were on display in Week 8.
The two early Saturday games epitomized traditional Big Ten-style football, as Michigan State slogged through a 14-0 win over Purdue while Minnesota and Northwestern played a 7-7 first half before the Gophers eventually won 20-17. But just when the "Big Ten is boring" rants threatened to take over Twitter, Michigan 63, Indiana 47 happened.
[+] Enlarge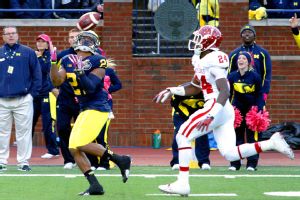 AP Photo/Lon HorwedelJeremy Gallon will be one of the keys to Michigan finding the end zone against Michigan State on Nov. 2.
Some of the crazier numbers from that game:
Michigan receiver Jeremy Gallon's record-setting 369 yards receiving were more than the leading receivers for Illinois, Iowa, Michigan State, Minnesota, Nebraska and Purdue currently have for the entire season.

Michigan quarterback Devin Gardner put up a school-record 584 yards, the highest total by an FBS player this year (yes, including Johnny Football). Gardner came up 1 yard short of the Big Ten single-game record for total offense, set by Illinois' Dave Wilson in 1980. Gardner has had his problems this year, but he leads the Big Ten in total offense by a mile, and at his current pace (including a bowl game), he would finish with 4,271 total yards. Former teammate Denard Robinson set the Big Ten single-season record in 2010 with 4,272.

The Wolverines' 751 total yards were the second-most in Big Ten history, trailing only the 763 Purdue put up against Indiana in 2004. The 751 yards were also the sixth-highest total by an FBS team this year, with the top five spots all belonging to Baylor and Oregon. Michigan and Indiana combined for the third-highest point total (110) ever for a Big Ten conference game. Michigan's 67-65 win over Illinois in 2010 still ranks No. 1.
Is this the wave of the future in the league? On Saturday night, Wisconsin and Illinois combined for 88 points. Scoring remains up in the conference this season, as eight of the 12 teams are averaging at least 30 points, compared to just four teams that did so in 2012. Even teams that we don't think of as offensive juggernauts like Minnesota, Iowa and Michigan State are all scoring at least 28 points per game. The Big Ten -- yes, the Big Ten -- has five teams ranked in the top 18 of the FBS in scoring this year, led by Ohio State at 45 points per game.
Those numbers will surely go down as we get into the heart of conference play and the weather turns colder in November. But don't be surprised if new-school Big Ten football soon becomes the norm.
Take that and rewind it back ...
Team of the week:
Minnesota. The Gophers were the lone team to score an upset in Week 8, beating Northwestern on the road. They did it with coach Jerry Kill making a surprise appearance. "That gave us the little edge we needed," quarterback
Philip Nelson
said. Minnesota has been through a lot already this season and has some major flaws. But the team is 5-2, and a second straight bowl appearance is just one win away.
Worst hangover:
Northwestern enjoyed all kinds of glowing coverage in the lead-up to the Ohio State game and showed the country what kind of team it was that night in a close loss. Or so we thought. Injuries to
Kain Colter
and
Venric Mark
have been a killer, and losing at home to Minnesota after getting blown out at Wisconsin left the Wildcats at 0-3 in the league. A bowl is no sure thing, which would have been a crazy thing to say a little more than two weeks ago. "I see a team that's not executing very well right now," head coach Pat Fitzgerald said. "We have to look at that." And fast.
Big Man on Campus (offense):
Michigan's Gallon and Gardner share the honor. But should we put an asterisk next to any records set against Indiana's defense?
Big Man on Campus (defense):
Minnesota's
Ra'Shede Hageman
knocked down three Northwestern passes and intercepted a fourth in the Gophers' big road upset.
Big Man on Campus (special teams):
After missing one in the first half, Minnesota's
Chris Hawthorne
drilled two field goals in the fourth quarter, and the last one from 38 yards out ended up as the game winner.
[+] Enlarge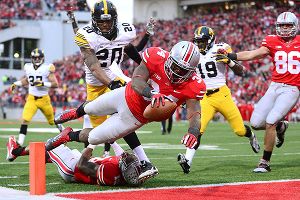 Andrew Weber/USA TODAY SportsCarlos Hyde's fourth-quarter TD run against Iowa displayed what makes Hyde such a talented running back.
Best play:
Carlos Hyde
's fourth-quarter, 19-yard touchdown against Iowa was just ridiculous. He looked to be stopped just inside the 10-yard line, went backward after breaking a tackle and then dived into the end zone. It was incredibly nimble for a guy his size, and it also gave the Buckeyes the lead for good. "I've never had a run like that," Hyde said. We haven't seen too many like it, either.
Stay on target:
Ohio State's
Bradley Roby
became the second Big Ten player this season to be ejected under the new targeting rules after his first-quarter hit on Iowa tight end
C.J. Fiedorowicz
. The Buckeyes didn't like the call, but it looked like a textbook example of the kind of hit the rule is designed to prevent since Roby made helmet-to-helmet contact. Nebraska's
Stanley Jean-Baptiste
was ejected two weeks ago against Purdue. The Huskers didn't agree with that one, either. For what it's worth, the 6-foot-3 Jean-Baptiste had to duck down to tackle 5-9 Purdue running back
Dalyn Dawkins
. Roby, at 5-11, is eight inches shorter than Fiedorowicz.
Fun with numbers (via ESPN Stats & Info):
A reminder that the Big Ten needs better quarterback play: The league does not have a player in the top 25 of ESPN's opponent-adjusted QBR rating. Ohio State's Braxton Miller leads the conference and is 29th nationally with a rating of 74.6. The SEC has five QBs in the top 20, while the Pac-12 has four.

One thing the Big Ten can do is stop the run. Four league teams rank in the top 10 nationally in rushing yards allowed per game, topped by Michigan State at No. 1 with 58.6 yards per game. Wisconsin is No. 4, Ohio State is No. 7 and Michigan is No. 10. In addition, Iowa is No. 16.

Wisconsin's Melvin Gordon became one of two players to eclipse 1,000 rushing yards for the season in Week 8. He is one spot behind FBS rushing leader Antonio Andrews from Western Kentucky, but Andrews has only 24 more yards on 45 more carries than Gordon. The Badgers star is also tied for third nationally in rushing touchdowns (11) and trails only Oregon's Marcus Mariota in yards per carry (9.46) among qualified ball carriers. Gordon has yet to fumble this year, either.

Ohio State's Hyde and Minnesota's Rodrick Williams Jr. are hard to bring down behind the line of scrimmage. Each has only four rushes for zero or negative yards this season, tied for sixth-lowest in the FBS among qualified rushers.

Nebraska has allowed just three sacks all season, tied with Fresno State for the fewest in the FBS. Northwestern has given up 22 sacks, most in the Big Ten and more than all but six teams in the country.

Ohio State has gone three-and-out only 11 times all season; only Baylor has fewer, with nine. By contrast, Purdue has gone three-and-out 32 times this year.
October, 17, 2013
Oct 17
9:00
AM ET
The second half begins this week, and it should be a very close race -- in our predictions contest, that is.
Adam leads by one game, thanks to his correct pick of Penn State in a quadruple-overtime thriller. Yep, it's that close. Let's kick off the second-half picks now:


MINNESOTA at NORTHWESTERN
Brian Bennett:
Last week's loss at Wisconsin was one of the worst performances in a long time for Northwestern. Pat Fitzgerald promised this week that his team would bounce back and play well, and I believe him. The Wildcats ought to be mad for this one, and though
Mitch Leidner
will lead Minnesota to a couple of scores, Northwestern will seize control in the second quarter. ...
Northwestern 35, Minnesota 20
Adam Rittenberg:
Will this be The Hangover Part II? I think Northwestern gets it together behind quarterback
Kain Colter
, who records a rushing touchdown, a passing touchdown and a receiving touchdown. Minnesota finds some gaps in Northwestern's defense early on, but the Gophers' one-dimensional offense dooms them in the second half.
Tony Jones
gets back on the touchdown train as Northwestern records its first Big Ten win. ...
Northwestern 34, Minnesota 21


PURDUE at MICHIGAN STATE
Rittenberg:
This isn't the type of matchup Purdue needs with all of its issues right now. Michigan State records two first-half takeaways, one for a touchdown, and rides
Jeremy Langford
and
Delton Williams
on the ground for three more touchdowns. The Spartans continue to take care of business against weak competition and improve to 3-0 in Big Ten play. ...
Michigan State 31, Purdue 7
Bennett:
The Spartans, who rolled up 42 points on Indiana last week, will continue to enjoy the Hoosier State this week. Purdue isn't doing much of anything right and didn't score until the final minute last week versus Nebraska. Good luck against the Spartans defense.
Connor Cook
throws for three TDs in an easy win. ...
Michigan State 34, Purdue 6



INDIANA at MICHIGAN
Bennett:
Do the Hoosiers have a shot? Their run defense is awful, but so is Michigan's rushing attack. I foresee a hot start by Indiana as
Nate Sudfeld
and
Tre Roberson
each lead first-quarter scoring drives. IU leads at halftime as Ann Arbor starts to panic. But Michigan takes over in the second half, and
Devin Gardner
puts up 350 total yards (250 passing, 100 rushing). ...
Michigan 38, Indiana 28

Rittenberg:
I might pick Indiana if the game was in Bloomington, but Michigan has been perfect at home under Brady Hoke and won't stop now. The Wolverines finally have some success in the run game as Fitzgerald Toussaint scores two first-half touchdowns. Indiana mounts a third-quarter comeback behind Roberson and wideout
Cody Latimer
(120 receiving yards, 2 TDs), but Michigan responds in the fourth quarter with two Gardner touchdown passes. ...
Michigan 35, Indiana 27


IOWA at OHIO STATE
Rittenberg:
Iowa is an improved team on both sides of the ball, but the Hawkeyes haven't seen an offense like Ohio State's.
Carlos Hyde
becomes the first player to rush for a touchdown against Iowa this season, and finishes with 125 yards on the ground. Iowa gets a boost from tight end
C.J. Fiedorowicz
, but the Buckeyes pull away late in the second quarter and cruise to 7-0.
... Ohio State 42, Iowa 20
Bennett:
This is a tough matchup for Iowa, as Ohio State has the second-best rush defense in the Big Ten and the Buckeyes can exploit some speed advantages. It's a big week for
Braxton Miller
, as he throws three touchdown passes and breaks Iowa's streak by running for another. ...
Ohio State 37, Iowa 17


WISCONSIN at ILLINOIS
Bennett:
The Illini will come out firing after the bye week and burn the Badgers for a couple of early scores. But then the Wisconsin defense shuts things down, and the running game grinds out 290 yards against the Illinois defense, led by
Melvin Gordon
's 160. ...
Wisconsin 31, Illinois 14

Rittenberg:
I agree that Illinois takes the early lead as
Nathan Scheelhaase
connects with
Josh Ferguson
and
Ryan Lankford
for touchdowns. But Wisconsin will crank up the run game as Gordon and James White both eclipse 100 yards. Tight end
Jacob Pedersen
hauls in a touchdown from
Joel Stave
as the Badgers march on. ...
Wisconsin 34, Illinois 20
Now it's time to hear from our guest picker. As a reminder, throughout the season we'll choose one fan/loyal blog reader each week to try his or her hand at outsmarting us. There's nothing but pride and some extremely limited fame at stake. If you're interested in participating, contact us
here
and
here
. Include your full name (real names, please), hometown and a brief description of why you should be that week's guest picker. Please also include "GUEST PICKS" in all caps somewhere in your email so we can find it easily.
This week's guest picker is
Micah Tweeten from St. Paul, Minn.
Take it away, Micah.
"I would love to be your guest picker of the week. I grew up in Nebraska, now live in Minnesota, and have been a Hawkeyes fan all my life (don't get me wrong though, Husker Nation is great too, it's definitely crazy at the games). I've been reading your (and Adam's) predictions and posts for a while now. Now let's see. Why should I be the guest picker of the week? Well it's simple. Iowa plays Ohio State this week, and being that they have only won two games against OSU since 1988 and this year isn't looking to promising for a win for the Hawkeyes either, I don't have much hope for this Saturday. I would love to have at least something to look forward to for this upcoming weekend. Thanks!"
Here are Micah's Week 8 picks …
Northwestern 31, Minnesota 17
Michigan State 34, Purdue 10
Ohio State 38, Iowa 24
Michigan 31, Indiana 21
Wisconsin 35, Illinois 18
SEASON RECORDS
Adam Rittenberg:
51-8

Brian Bennett:
50-9

Guest pickers:
45-14
September, 5, 2013
Sep 5
8:00
AM ET
We went a combined 23-1 in our first week of predictions, so let's see if we can keep that robust pace going. And how will our Week 2 guest picker fare?

Let's get to it:
Eastern Michigan at Penn State
Brian Bennett:
Not much to see here, as Eastern Michigan has long been a Big Ten sacrificial lamb. This is a good opportunity for
Christian Hackenberg
to work out some kinks, and the kid throws three TD passes. ...
Penn State 35, Eastern Michigan 9.
Adam Rittenberg:
The Hackenberg-
Allen Robinson
connection will link up for two touchdowns, and Penn State coach Bill O'Brien will keep to his word and call better plays, sparking the run game to 175 yards and two scores. Lions roll.
... Penn State 31, Eastern Michigan 10
Indiana State at Purdue
Adam Rittenberg:
Rob Henry
gets the confidence boost he needs and Purdue fixes its communication issues on offense as running back
Akeem Hunt
goes for 135 yards and two touchdowns. The Boilers come out fast and get a first-quarter forced fumble from big
Bruce Gaston
.
... Purdue 38, Indiana State 14
Brian Bennett:
The FCS just had a great weekend, so maybe we should take the three Big Ten games against FCS opponents seriously on Saturday. Nah. A team that just got done giving up 73 points to Indiana is just what the sputtering Purdue offense needs. ...
Purdue 45, Indiana State 17.
Missouri State at Iowa
Brian Bennett:
Iowa finally snaps its seven-game losing streak, using its superior beef to run for 200 yards, and getting a special-teams score. ...
Iowa 31, Missouri State 13.
Adam Rittenberg:
Yeah, this game has
Mark Weisman
and
Damon Bullock
written all over it. The tandem combines for three rushing touchdowns and
Jake Rudock
adds two more through the air to
C.J. Fiedorowicz
and
Kevonte Martin-Manley
.
... Iowa 38, Missouri State 10
Tennessee Tech at Wisconsin
Adam Rittenberg:
James White
rushing touchdown,
Melvin Gordon
rushing touchdown,
Corey Clement
rushing touchdown. Rinse and repeat.
... Wisconsin 63, Tennessee Tech 3
Brian Bennett:
Yawn. Are we done with the FCS games yet? ...
Wisconsin 56, Tennessee Tech 7.
South Florida at Michigan State
Brian Bennett:
If the Spartans can't move the ball against a Bulls team that gave up 53 points to McNeese State last week, they've got even bigger problems than we realized. Three different QBs play for MSU, and two of them throw for TDs. ...
Michigan State 30, South Florida 10.
Adam Rittenberg:
I agree that Michigan State can't be much worse on offense than it was in the opener and will move the ball better, especially on the ground.
Jeremy Langford
and
Riley Bullough
both reach the end zone, and
Tyler O'Connor
makes the quarterback race a little more interesting.
... Michigan State 34, South Florida 3
Cincinnati at Illinois
Adam Rittenberg:
The Illini start quickly and jump ahead on a
Nathan Scheelhaase
touchdown pass to
Josh Ferguson
. But reality begins to set in as a superior Cincinnati team takes charge behind its athletic defense.
... Cincinnati 28, Illinois 17
Brian Bennett:
Illinois will put up a more respectable showing against the Bearcats than Purdue did. Scheelhaase throws for 300 yards and the game is close until midway through the third quarter. But there's just too much
Munchie Legaux
(I can't help myself). ...
Cincinnati 42, Illinois 27
.
San Diego State at Ohio State
Brian Bennett:
I was interested in this game until San Diego State gagged against Eastern Illinois. The Buckeyes turn in a better overall effort than in Week 1, and
Bradley Roby
has a pick in his first game back. ...
Ohio State 45, San Diego State 20.
Adam Rittenberg:
My concern is Ohio State might be less interested than you are, BB. The Buckeyes overcome a sluggish start as
Braxton Miller
fires two second-quarter touchdown passes. Freshman
Dontre Wilson
scores his first touchdown for the Scarlet and Gray.
... Ohio State 41, San Diego State 13
Southern Miss at Nebraska
Adam Rittenberg:
After a
passionate postgame speech last week
, emerging leader
Ameer Abdullah
takes matters into his own hands. The Huskers running back piles up 200 yards and three touchdowns. The defense has its typical hiccups early before settling down.
... Nebraska 42, Southern Miss 17
Brian Bennett:
I expect -- and would hope -- that the Nebraska offense comes out mad after not finishing key drives last week. The Huskers go for the jugular this week behind
Taylor Martinez
's five total TDs, and the defense makes slight improvements. ...
Nebraska 49, Southern Miss 24.
Navy at Indiana
Brian Bennett:
It's never easy or fun to play Navy, but the Hoosiers got some experience against the option last year. The Midshipmen will shorten the game and frustrate the IU offense some, but
Nate Sudfeld
throws a fourth-quarter TD pass to
Kofi Hughes
to seal it. ...
Indiana 28, Navy 20.

Adam Rittenberg:
Sudfeld and the Hoosiers will finish drives better than they did last year against Navy, as
Tevin Coleman
twice reaches the end zone. IU forces a key third-quarter fumble and pulls away midway through the fourth quarter.
Tre Roberson
sees more field time in this one.
... Indiana 34, Navy 23
Syracuse at Northwestern
Adam Rittenberg:
Northwestern's injury issues are worth monitoring, but the Wildcats have enough weapons on offense to outscore a Syracuse team that didn't impress me much last week against Penn State.
Trevor Siemian
connects with
Dan Vitale
on two touchdowns, and the defense comes up big again with a fourth-quarter takeaway.
... Northwestern 28, Syracuse 20
Brian Bennett:
Hard to know what to expect from Northwestern because of the iffy status of both
Venric Mark
and
Kain Colter
. But Syracuse looked limited offensively last week, and I think Siemian rescues the 'Cats once again. ...
Northwestern 31, Syracuse 24.
Minnesota at New Mexico State
Brian Bennett:
It was a tough call between Ann Arbor and Las Cruces for the "GameDay" crew this week -- seriously, what is Minnesota doing here? Are the Gophers just big "Breaking Bad" fans who are planning a side trip to Albuquerque? Anyway, it's close for a half but the defense comes up with another score to send the Aggies to Belize. ...
Minnesota 37, New Mexico State 20
.
Adam Rittenberg:
Maybe the Gophers can take a side trip to Roswell and check out the UFOs. Minnesota quarterback
Philip Nelson
will provide a few identified flying objects in this one, firing two touchdown passes in the second half. It's not a pretty game, but it's a win as Minnesota improves to 2-0.
... Minnesota 34, New Mexico State 21
Notre Dame at Michigan
Adam Rittenberg:
Can't wait to witness this one under the lights at the Grande Casa. Although Michigan struggles early with Notre Dame's fearsome defensive front, the offense settles down late as
Devin Gardner
and
Jeremy Gallon
connect for two second-half touchdowns, including the game-winner in the final minutes. Tommy Rees' mastery of Michigan ends with two second-half interceptions.
... Michigan 24, Notre Dame 21
Brian Bennett:
I just keep remembering how Michigan mostly outplayed Notre Dame last year except for all those picks, and I don't think Gardner will make the same mistakes. Gardner finds Gallon for a pair of scores, and
Blake Countess
intercepts
Tommy Rees
on Notre Dame's final series to turn the lights out on the Irish. ...
Michigan 27, Notre Dame 24.
Now it's time to hear from our guest picker. As we announced last week, we'll be choosing one fan/loyal blog reader each week to try his or her hand at outsmarting us. There's nothing but pride and some extremely limited fame at stake. If you're interested in participating, contact us
here
and
here
. Include your full name (real names, please) and hometown and a
brief
description why you should be that week's guest picker. Please also include "GUEST PICKS" in all caps somewhere in your email so we can find them easily.
The response so far has been overwhelming. This week's guest picker is
Nick Schmit from West Des Moines, Iowa
. The floor is yours, Nick:
"As a graduate of the University of Iowa, I have been following the conference and teams for as long as I can remember. I have plenty of insight and knowledge to offer. Besides, my wife is due with our first daughter on 10/19 (Iowa vs. OSU). Other than her birth, I need something to be excited about in what looks to be another long, depressing, mediocre (or worse) season for the Hawks."
Nick's picks:
Penn State 28, Eastern Michigan 13
Purdue 28, Indiana State 21
Iowa 34, Missouri State 10
Wisconsin 70, Tennessee Tech 3
Michigan State 35, South Florida 10
Cincinnati 31, Illinois 21
Ohio State 42, San Diego State 6
Nebraska 51, Southern Miss 17
Indiana 41, Navy 31
Northwestern 42, Syracuse 20
Minnesota 33, New Mexico State 21
Notre Dame 27, Michigan 24
SEASON RECORDS
Brian Bennett: 12-0
Adam Rittenberg: 11-1
Guest picker: 9-3
August, 22, 2013
Aug 22
4:00
PM ET
We are one week from kickoff, people. One week! Remember to breathe.
And if you're not
following us on Twitter
, get to it. We're going to have a lot of great updates on there throughout the season, especially on game days. More than 86,000 followers can't be wrong.
Now back to the old-school way of communicating -- by email.
---
Ryan W. from West Michigan writes:
With all the talk about the Big Ten's perception, tell me why I should even care? Outside of the new playoff committee starting next year, who cares what other people outside of the B1G think? I mean, if us fans enjoy the product on the field, I couldn't care less what someone in Oregon or Florida thinks about my favorite team and conference.
Brian Bennett:
Ryan, if you want to go all Midwest isolationism, have at it. There's something to be said for just following your favorite team and caring primarily about winning the Big Ten. The success of the Big Ten Network validates this. The flip side is, if you want to take that approach, you can't complain about where your team is ranked in the polls, when it is snubbed for a spot in the four-team playoff or when the media incessantly cover the SEC. Perception can also play a large role in recruiting, as some top prospects want to go where they think they have the best chance for a national championship and national exposure. The nature of college football's postseason and the different schedules each team plays has made perception of conferences important in the big picture. But if you like focusing on the small picture, so be it.
---
Tom from Marion, Iowa, writes:
Help me out, fellow Redbird fan. I just don't get it! Well I do get it... the SEC is King. But, in the BCS era, the Big 12 has been in the BCS title game seven times, won two lost five; ACC, Big East, B1G and Pac-12 three times, all with one title; ND o for 1. All I hear is how much the BIG stinks. Where's the hate for the others? Specifically the Big 12; they've lost five out of seven? That's what I don't get.
Brian Bennett:
Huge stretch coming up for the birds on the bat. Anyway, I think there are a few things at play here in terms of the Big Ten's reputation. One is the power of the what-have-you-done-for-me-lately mentality. The Big Ten hasn't had a team play for the national title since the 2006 season, and that's an eternity in our Instagram society. Also, the last two times the league played on that stage, Ohio State got blown out in consecutive years by SEC teams, beginning the whole SEC-speed-trumps-Big-Ten-narrative. Another problem is that the Buckeyes are the only conference team to play for a title, whereas leagues such as the Big 12 (Texas and Oklahoma) and Pac-12 have (USC and Oregon) have had more than one team in the BCS championship game and others right on the cusp of it (Oklahoma State, Stanford). Finally, the Big Ten has not performed well in the past couple of years against the SEC in bowl games or in its nonconference games in general, and its Rose Bowl record in the past decade-plus is abysmal.
Other conferences, as you mention, have had their own failures, and you could argue that Oklahoma has fared just as poorly, if not worse, on the big stage as Ohio State. Why they have escaped the vitriol seemingly directed at the Big Ten is not entirely clear, but some moves by the league that have been viewed as pompous -- ahem, Legends and Leaders -- surely played a role.
---
Darrin from Reedsburg, Wis., writes:
It appears
Tanner McEvoy
is going to be third on the QB depth chart at best. Any chance of seeing him at wide receiver this year?
Brian Bennett:
Darrin, McEvoy worked out at receiver during practice this week. Though he was rather adamant about not playing receiver when
I asked him about it earlier this month
, it makes sense for both him and the team. McEvoy is an excellent athlete who is 6-foot-6, and he played receiver in high school until his senior year. Wisconsin is also very thin at wideout beyond
Jared Abbrederis
. This could be a situation like
Devin Gardner
at Michigan, where McEvoy sacrifices for the team for a while before eventually working his way back to quarterback.
---
Brian from Portland, Ore., writes:
Hey Brian -- cool name! Ohio State offensive coordinator Tom Herman said that he has the two best tight ends in the nation in
Jeff Heuerman
and
Nick Vannett
. To which, I would respond, "Uh, who?" Who's your pick for the top TE in the B1G this year? My bet is on someone wearing blue and white.
Brian Bennett:
As far as tight end groups go, it's hard to beat Penn State. Bill O'Brien seemingly has about a dozen options there, led by
Kyle Carter
and
Jesse James
. I'm also excited to see true freshman
Adam Breneman
-- the nation's No. 1 tight end recruit last year -- in action this season. The Nittany Lions aren't the only ones blessed with outstanding tight ends, however.
Jacob Pedersen
is a proven weapon for Wisconsin.
Devin Funchess
could have a huge year at Michigan.
Ted Bolser
is a big-time receiving threat for Indiana, and Iowa's's
C.J. Fiedorowicz
has a boatload of ability. I even left out a few really good ones. Tight end should once again be a position of strength in the Big Ten.
---
Mike from Macungie, Pa., writes:
Someone posed a question about
Allen Robinson
(I think) being in the running for a Heisman. My question isn't that we do/don't have a Heisman contender, but do you think the sanctions would put a contender from Penn State at a disadvantage? Let's say (and this is a HUGE hypothetical) Allen Robinson has as good of a year, or a better year, than last season. If he's in the top three for the Heisman, do you think the voters would take into account the sanctions against Penn State in possibly not voting for him? Matt Barkley came close two years ago, and you could argue similar circumstances.
Brian Bennett:
It's an interesting question. I don't think probation necessarily hurts a Penn State player's chances of winning the Heisman. Sure, some voters might hold it against a Nittany Lions star, but think about what a great story it would be if a player had a tremendous year and led the team to a 12-0 regular season. That narrative would carry a lot of weight. And remember, Heisman voting is done before the bowls. A Penn State player would potentially be hurt by the lack of a conference championship game, as his season would end a week earlier than some other candidates. The bigger question is, of course, whether the Lions will have enough depth to go 11-1 or 12-0, which is likely a requirement for one of their players to get in the mix. And no matter how good Robinson is, receivers have almost no chance of winning the Heisman. If
this guy
couldn't do it in 2003, or
this guy in 2007
with those ridiculous numbers, forget about it.
---
Shifty from O'Fallon, Ill., writes:
I've seen plenty of references (to include yours in the mailbag Monday), about what Bill O'Brien can do with
Christian Hackenberg
based on how he transformed Matt McGloin. I think they'll likely be great together, but I think everyone underplays how important McGloin's B1G experience was to his breakout season. It's not like McGloin was a 18-year-old walk-on. Dont you think we need to pump the brakes a little before we decide the only thing between Hack and Todd Blackledge is four weeks with BO'B?
Brian Bennett:
Shifty, huh? Remind me not to enter into a real estate deal with you. Anyway, I agree that they hype is probably getting a little out of control for Hackenberg, since he's only a true freshman. But that's what happens when you're the No. 1 quarterback recruit in the nation. I don't think anyone is suggesting that he will put up McGloin's numbers from last year (3,266 yards, 24 touchdowns) right away. McGloin, as you mentioned, had a lot of experience. But as much as I loved watching McGloin's bust out last year, let's not forget that A) he really struggled at times before O'Brien came along; and B) he never had the biggest arm. Hackenberg simply has better physical tools. Does that mean he'll grasp the system and play with McGloin's moxie this year, or ever during his career? Not necessarily. But when you combine his pure skills, O'Brien's quarterback acumen and an offense loaded with receiving targets, the outlook is pretty bright for Hackenberg.
---
Enrique from Grand Rapids, Mich., writes:
Brian, put yourself in Mark Dantonio's shoes.
Damion Terry
has performed admirably the first two fall scrimmages. Your other quarterbacks have been lackluster, failing to make big plays. Meanwhile, your exciting true freshman is 14 of 21, for 341 yards in the air, 40 on the ground, with four touchdowns and no interceptions, and much of that has come against the first-team defense. If (yay, hypotheticals!) Terry can continue to perform this well in the fall practices, would you, the head coach, go with the young upstart? You might not get a better chance than this year to make it to the Rose Bowl after a prolonged absence. Or do you redshirt him and prep him for next year?
Brian Bennett:
Next question
.
Oh, sorry. I got a little too into my Dantonio role-playing. First all, let's acknowledge that Dantonio and his offensive coaches know a heck of a lot more about who's playing well in practice and who understands the system than you and I can glean from some reports and limited practice viewing. And let's not anoint a true freshman based on one glowing scrimmage performance. But I do believe Michigan State should play Terry this season, especially in the first few games, so he could redshirt if he were to get hurt. I'll be surprised if
Andrew Maxwell
is not the starter vs. Western Michigan next Friday, but I think Dantonio should give Terry snaps in some special packages just to see what the kid can do. He is the future, and the future is now for the Spartans. They have an elite defense and a favorable schedule, so they need to go for it this year. The last thing the team needs is a quarterback who is going to make a bunch of mistakes, and there is a serious risk of that with Terry. But he can likely be very effective in certain situations and in a handful of plays per game, giving Michigan State a much-needed different look on offense.
That's me in Dantonio's shoes, anyway. (
So where's the tread?
).
August, 29, 2012
8/29/12
9:00
AM ET
The Big Ten doesn't announce an official preseason all-conference team. But that doesn't mean we can't.
Here are our picks for the 2012 preseason All-Big Ten team:

Offense
QB:
Denard Robinson
, Michigan
RB:
Montee Ball
, Wisconsin
RB:
Rex Burkhead
, Nebraska
RB:
Le'Veon Bell
, Michigan State
WR:
Jared Abbrederis
, Wisconsin
TE:
C.J. Fiedorowicz
, Iowa
OT:
Taylor Lewan
, Michigan
OT: Ricky Wagner, Wisconsin
OG:
Spencer Long
, Nebraska
OG:
Chris McDonald
, Michigan State
C:
Travis Frederick
, Wisconsin
Defense
DE:
John Simon
, Ohio State
DE:
William Gholston
, Michigan State
DT:
Kawann Short
, Purdue
DT:
Johnathan Hankins
, Ohio State
LB:
Gerald Hodges
, Penn State
LB:
Chris Borland
, Wisconsin
LB:
Jonathan Brown
, Illinois
CB:
Johnny Adams
, Michigan State
CB:
Ricardo Allen
, Purdue
S:
Isaiah Lewis
, Michigan State
S:
Jordan Kovacs
, Michigan
Specialists
K/P:
Brett Maher
, Nebraska
KR:
Raheem Mostert
, Purdue
PR: Abbrederis
Thoughts:
The first thing that likely jumps out at you is that we have three running backs and just one receiver on our first-team offense. No, we haven't forgotten the rules of football. It's just that we continue to feel the wide receiver crop is weak this season, and no great candidates for the second spot leap out at us. Perhaps
Keenan Davis
of Iowa or one of Northwestern's many receivers will have a great season, but no one has proved anything on a consistent basis. We'd rather have Bell -- who we believe is primed for a huge year -- on the team than any of the receiver candidates. Plus, isn't running the ball what Big Ten football is all about? ... Some of the toughest omissions came at linebacker, where Michigan State's duo of
Denicos Allen
and
Max Bullough
and Wisconsin's
Mike Taylor
were among those left out. At least we know we'd have an outstanding second-team unit at that position. ... Fiedorowicz is a bit of a projection pick, but we love the way he finished last season and how he fits into Greg Davis' new scheme. You certainly could make a strong case for Wisconsin's
Jacob Pedersen
or Ohio State's
Jake Stoneburner
there as well. ... Some of these players won't live up to expectations, and others will explode on the scene this fall. But for now, we'd feel pretty good about throwing this team on the field.
July, 19, 2012
7/19/12
2:16
PM ET
On Wednesday, we ranked the top
individual wide receivers and tight ends
in the Big Ten heading into 2012. So of course that means it's time to look at the position group as a whole throughout the league. Remember, we're weighing past performance heavily here with consideration given to potential.
It's go time.
1. Northwestern:
We didn't rank a single Wildcat in our top 10 individual receivers or tight ends, yet we have the group No. 1. Have we lost our minds? Well, maybe. But we really like the depth of this group, even with star Jeremy Ebert off to the pros.
Demetrius Fields
,
Christian Jones
,
Tony Jones
and
Venric Mark
are all very good, and if Kyle Prater gets eligible this might be the deepest receiving corps in the league. The drawback is the lack of an experienced tight end to take over for Drake Dunsmore, but that's less important in a spread offense.
[+] Enlarge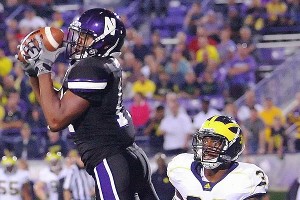 Dennis Wierzbicki/US PresswireNorthwestern's Christian Jones helps form one of the best wide receiver groups in the Big Ten.
2. Nebraska:
The Huskers might not be the most prolific passing team, but they've got a lot of options.
Kenny Bell
emerged as a real weapon last season, and
Quincy Enunwa
,
Jamal Turner
and
Tim Marlowe
all bring something to the table. Add to that one of the league's top tight end duos in
Kyler Reed
and
Ben Cotton
, and this is a strong group.
3. Wisconsin:
Bonus points here for star power, as receiver
Jared Abbrederis
and tight end
Jacob Pedersen
enter the season as the top-rated players at their respective position. There are a lot of other question marks at receiver, though the Badgers have a large cast of candidates. And they're loaded at tight end.
4. Iowa:
Keenan Davis
and
Kevonte Martin-Manley
form one of the best returning receiving tandems in the Big Ten.
C.J. Fiedorowicz
could become a star at tight end. Marvin McNutt is gone, but
James Vandenberg
should still have plenty of targets.
5. Purdue:
The Boilers bring back three of their top four pass-catchers from a year ago, led by
Antavian Edison
. They need to stretch the field more, and perhaps star kick returner
Raheem Mostert
can add more playmaking ability to the group. They have a deep group of tight ends that could be one of the strengths of the offense.
6. Michigan:
Junior Hemingway is gone, but the Wolverines are hopeful
Roy Roundtree
can fill his role.
Jeremy Gallon
is tiny but manages to make big plays. Michigan will need a third receiver to emerge and for someone to take over for
Kevin Koger
at tight end.
Brandon Moore
is the top candidate for that.
7. Penn State:
Justin Brown
gives the Nittany Lions a solid top option, but the loss of
Curtis Drake
and
Devon Smith
hurt the depth. Penn State's tight ends have mostly been anonymous, but that -- along with overall passing game production -- should change with the new staff.
8. Indiana:
There's talent here, if the Hoosiers can harness it.
Kofi Hughes
can be one of the league's top receivers and is complemented by
Duwyce Wilson
,
Cody Latimer
and the diminutive
Shane Wynn
.
Ted Bolser
had a nice spring and looks ready to be very productive at tight end.
9. Ohio State:
By now, you know the stat. No Buckeye had more than 14 catches last year. No matter how many times you hear it, it's still a little hard to believe. At least Ohio State has talented players to work with in guys like
Corey Brown
,
Devin Smith
and freshman Michael Thomas. And
Jake Stoneburner
could thrive under Urban Meyer at tight end. Expect the group's numbers to soar.
10. Illinois:
It was almost A.J. Jenkins or bust for the Illini receivers last year. They'll need to find new playmakers in the spread offense.
Darius Millines
has to step up, along with
Spencer Harris
.
Jon Davis
had a promising freshman year at tight end.
11. Michigan State:
The Spartans lost their top three receivers and their starting tight end, so no wonder they're so low on this list. The addition of Tennessee transfer
DeAnthony Arnett
helps, and
Andre Sims
Jr. and
Keith Mumphery
had good springs. Still, playing time here is wide open, and true freshmen will get a chance to contribute.
Dion Sims
has as much physical talent as any Big Ten tight end.
12. Minnesota:
Quick, name a Minnesota receiver. If you're not a Gophers fan, you probably are still thinking. This is a group of largely unknown guys who'll have to raise their profile this fall.
Brandon Green
,
Malcolm Moulton
and
Devin Crawford-Tufts
are the leading returning receivers. Transfer Isaac Fruechte and some youngsters will be counted on to contribute. Senior
John Rabe
brings experience to the tight end spot.
Weekend Recruiting Wrap: Big Ten - Dec. 2