Michigan Wolverines:

Brock Vereen
December, 2, 2013
Dec 2
6:15
PM ET
You've had a chance to check out the 2013 All-Big Ten teams and individual award winners. The four major award winners -- Offensive Player of the Year, Defensive Player of the Year, Coach of the Year and Freshman of the Year -- will be unveiled Tuesday.

Let's dive into today's selections ...
INDIVIDUAL AWARDS
The overall list isn't bad, although some of the selections certainly are debatable.
ALL-BIG TEN TEAMS
Overall, these looked a little
better than the 2012 version
, which contained several glaring problems in our view. The coaches' team continues to surprise us (not in a good way) with six defensive backs and two punters because of ties in the voting, and no Mewhort on the first team is hard to believe. But this was a slight step up.
(By the way, the Big Ten still doesn't have either of us vote for the media team, so direct your blame elsewhere).
Lewan, Mewhort and Iowa's Brandon Scherff all are terrific tackles, but we would have gone with Mewhort and Lewan on the first team, which the coaches did not.
Although Michigan's Devin Funchess claimed Kwalick-Clark Tight End of the Year honors, the coaches went with Iowa's C.J. Fiedorowicz as their first-team tight end. We can debate whether Funchess actually is a tight end or not, but his receiving numbers (47 catches, 727 yards, six touchdowns) are way better than Fiedorowicz's (26 catches, 253 yards, six TDs).
The coaches had six first-team defensive backs but didn't find room for Michigan's Blake Countess, who tied for the league lead in interceptions, or Nebraska's Stanley Jean-Baptiste, who had four picks and 11 pass breakups. Maybe only one Michigan State safety (our pick would be Kurtis Drummond) should be there.
Michigan wide receiver Jeremy Gallon had some huge performances, but he probably belongs on the second team behind Penn State's Robinson and Wisconsin's Jared Abbrederis, who were more consistent as the season went along. The coaches went with Ohio State's Corey Brown as their other second-team wideout, while the media went with Indiana's Cody Latimer. We like Latimer there.
One player the coaches and media differed on is Minnesota safety Brock Vereen, a first-team selection by the coaches but just an honorable mention selection by the media. He probably belongs right in between, on the second team, after leading a stout Gophers defense.

Another big difference between the coaches and media involved Iowa's B.J. Lowery. The media voted him as a first-team defensive back, while the coaches did not have Lowery among their eight choices on the first and second teams. Lowery is a nice player, but we're scratching our heads a bit as to why he was a first-team pick by the media.
Both Wisconsin back, Melvin Gordon and James White, made the second team. It says a lot about the depth at running back this year that Michigan State's Jeremy Langford, who ran for 1,200 yards and 16 touchdowns, couldn't crack the first or second teams.

We sure wish the league had a process for breaking ties on the coaches' team. Six defensive backs and two punters? That's just strange, though we'd like to see that two-punter formation in real life.
Connor Cook or Nathan Scheelhaase as the second-team quarterback? The coaches and media split on that. Scheelhaase has the better numbers, but Cook won all eight Big Ten starts. No wonder that latter fact probably impressed the coaches more.
The major awards -- offensive and defensive players of the year, freshman of the year and coach of the year -- will be announced on Tuesday.
August, 5, 2013
Aug 5
9:00
AM ET
ANN ARBOR, Mich. -- Every Michigan offensive play has a little bit of magic to it. Seriously. Not Criss Angel stuff. Something more intricate.
Try the sleight of route.
In his third year as Michigan's wide receivers coach, Jeff Hecklinski teaches all of his receivers to leave the line of scrimmage the same no matter the play. Run? Pass? Doesn't matter. Make like you are running a route.
Try, actually, to go deep. Be so precise, so similar, opposing corners and safeties are unsure of what is coming. Get them to start backpedaling or, better still, turn to cover a deep route.
Then, Michigan's receivers know they have accomplished exactly what they needed.
[+] Enlarge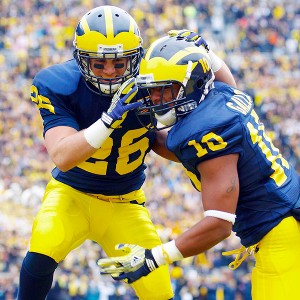 Rick Osentoski/US PresswireMichigan wide receivers Drew Dileo (26) and Jeremy Gallon (10) are hoping more end-zone celebrations will result from blocking for each other this fall.
The importance of this will only increase for Michigan as its offensive philosophy shifts to a pro-style offense predicated on the success of play-action sells from the quarterback and receivers.
Opponents have noticed the blocking. Defensive backs understand facing Michigan's receivers will be tougher. Not because of their skills, but because of what they do without the ball.
"They act as if they are more excited to block than they are to catch a pass," Minnesota safety
Brock Vereen
said. "Sadly, I'm not even exaggerating."
This starts in the preseason, when Hecklinski has 15 minutes daily to work with his receivers. Half of each session, his receivers will not touch a ball.
Instead, he will motion to the usual offensive linemen tool, the five-man sled. Most college receivers know how to catch. Many run crisp routes. At Michigan, blocking passes all of that.
Blocking at Michigan, Hecklinski explains, is the easiest path to playing.
"We'll do some two-man sled work, do some five-man sleds, hit some bags," Hecklinski said. "A lot of the same things the offensive line does. The offensive line, they train to block every day. We can incorporate those drills into the stuff we do."
Hecklinski rarely sees live what he teaches accomplished in games. Perched in the coaches' box, his in-game job is to watch the interior of the offensive line against the linebackers, so he only knows the exploits of his receivers when they tell him on the headset between series. They'll celebrate pancaking a cornerback or hitting their general goal of combined double-digit knockdowns every game.
Hecklinski reviews receiver tape the next day. Based on what he watches -- and how beat up his players are -- he'll taper the blocking work back to one session a week as long as the results are showing up in games.
By then, Hecklinski's message reached his players.
"A lot of wide receivers won't use all that energy," Purdue cornerback
Ricardo Allen
said. "Like if it is a running play to the other side, why do I need to run full speed? Why do I need to go cut this safety off? People like Denard [Robinson] was probably very happy he had receivers like Roy Roundtree and [
Jeremy] Gallon
last year. He got 50- and 60-yard runs because the corners were never able to go in on the run."
Hecklinski's blocking mantra, always based on hitting hard, evolved as he moved with Brady Hoke from Ball State to San Diego State and then to Michigan. At Ball State, he said, he used to teach his receivers to cut block consistently.
Hecklinski removed cut blocking upon arrival at Michigan for two reasons. First, a shift in blocking rules in college football made cut blocking a riskier choice with penalties. The second dealt with the ability of the defensive backs his receivers faced.
This began at Ball State and became clearer when the staff put together in the MAC and Mountain West reached the Big Ten.
"They are like those Weeble Wobbles that you had growing up," Hecklinski said. "You can throw a great cut and he's right back up making a play and golly, that's a great cut.
"You got him down, took his legs out and then he pops back up it's a three-yard gain. So we took all cut blocking out of it."
Now, he wants his players to act as boxers on the perimeter. He uses analogies to other sports but this is a favorite. He wants his receivers to treat each play as a mini-boxing match.
"I'm going to try and throw my right uppercut as hard as I can and we're going for the knockout punch every time," Hecklinski said. "I'm trying to Mike Tyson you in the first round."
Start with an initial rope-a-dope. Hit as hard as you can. Try to run through the chest or shoulders of a defensive back. Blow him up. Knock him down.
It's simple, really. If Michigan is successful, what starts at deception fast turns into big-play blocking devastation.
Weekend Recruiting Wrap: Big Ten - Dec. 2