Michigan Wolverines:

Bri'onte Dunn
July, 16, 2013
Jul 16
10:00
AM ET
COLUMBUS, Ohio -- Training camp hasn't even started yet. After that grueling month, there's still almost an entire season to be played before "The Game" that matters most.
But it's never too early to set the table for the feud between Ohio State and Michigan, and at BuckeyeNation and WolverineNation, we're doing it all week.
We looked back on Monday at some
heroes
and
villains
on both sides of the rivalry. Today we're looking ahead at the strengths and weaknesses that could decide the latest edition in the storied series, which is just more than four short months away.
STRENGTHS
Ground and pound: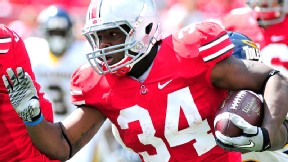 David Dermer/Diamond Images/Getty ImagesOhio State running back Carlos Hyde is poised for a big senior season.
The Ohio State rushing attack was potent enough a year ago, but it's only added more experience and weapons to the mix now. By November, it might be almost impossible to slow down the Buckeyes on the ground as they incorporate the new pieces to the attack and potentially get more support from the passing game.
Braxton Miller
is obviously a threat to score from anywhere on the field, and if
Carlos Hyde
makes the kind of improvement he's targeted in terms of making defenders miss at the second level, that one-two combination will continue to rank among the best in the country, particularly with four seniors back on the offensive line.
But it might be the added dimension of a healthy
Jordan Hall
or a true freshman such as
Dontre Wilson
or
Jalin Marshall
at the hybrid, Pivot position that gives opponents even more fits. Or maybe it's a backfield that can be loaded up with as many as three talented rushers, rolling out
Rod Smith
or
Bri'onte Dunn
in a diamond formation with Hyde and Miller. Either way, the Buckeyes have the personnel to give Michigan a workout in the front seven.
Air patrol:
The expectations are growing for Michigan's passing attack now that
Devin Gardner
has the position all to himself, and he'll have plenty of time to develop and find a rhythm before meeting up with the Buckeyes. But there might be no stiffer test in the country than the one Ohio State can present a quarterback thanks to its overflowing talent and veteran savvy in the secondary. Cornerback
Bradley Roby
and safeties
Christian Bryant
and
C.J. Barnett
would make life difficult on their own, but the Buckeyes can complement that with another senior safety in reserve in
Corey "Pittsburgh"' Brown
, a junior cornerback looking to make a name for himself in
Doran Grant
and a class of incoming defensive backs that represented perhaps the best signing day haul in the nation.
The Buckeyes plan to get as many of those guys involved as possible this season, which could make the secondary even more fearsome by the time Gardner gets a crack at them.
WEAKNESSES
Middle ground:
The fresh faces are almost everywhere in the front seven, but heading to training camp, there's not all that much uncertainty about who will be filling which shoes left behind by the defenders who helped the Buckeyes go unbeaten last fall.
Noah Spence
and
Adolphus Washington
are poised for breakouts at end and
Curtis Grant
and
Joshua Perry
appear ready to lend a hand next to
Ryan Shazier
at linebacker, but there are two critical spots on the inside of the line that bear monitoring as Ohio State prepares to stop opposing rushing attacks.
Michael Bennett
is close to a lock for one role, but there could be a heated competition for reps next to him to complete the rotation.
Tommy Schutt
battled injuries throughout spring practice, but he has the ability to be a future star.
Joel Hale
is a grinder and respected leader, and the junior could be an intriguing option as well. And if big
Chris Carter
can manage his weight, his massive frame clearly could fill up some rushing lanes.
By November, the Buckeyes figure to have long ago answered those questions up front and should have also built up plenty of experience. But that will be at the top of the priority list as Ohio State chases a Big Ten title -- and keeps an eye on its rival.
Kicking it:
More often than not, the Buckeyes had the edge over opponents in the third phase. But considering how much value Urban Meyer places on special teams and how much production he expects, Ohio State wasn't all that close to giving him what he wanted a year ago. Kicker
Drew Basil
wasn't used all that much, aside from the season-ending win over Michigan, but among his 11 attempts last season were a pair of missed field goals from less than 39 yards that didn't exactly inspire confidence. The Buckeyes will be breaking in a new punter as well, and winning the field position battle is as important under Meyer as it has always been under previous regimes at Ohio State -- putting pressure on some young contributors to make plays in kickoff and punt coverage.
Philly Brown
took a couple punts back for touchdowns last year and the "Freak Show" punt block unit made itself a nuisance a few times, but Meyer and newly-promoted special teams coordinator Kerry Coombs keep the bar pretty high in that area of the game. And in tightly contested rivalries, it can make all the difference.
February, 19, 2013
Feb 19
8:00
AM ET
By
Chantel Jennings & Brad Bournival
| ESPN.com
The writers at WolverineNation and BuckeyeNation put their heads together to break down the rivals' 2013 classes. They'll give readers a position-by-position look at who coaches Brady Hoke and Urban Meyer brought in and, ultimately, which class edged out the other. It's too early to say what will happen through the next few seasons, and we won't make any promises except that Hoke and Meyer are going to put talent on the field.
To continue reading this article you must be an Insider
January, 18, 2013
Jan 18
10:00
AM ET
Michigan's run game in 2012 was a disappointment. As a result, the coaches have ramped up their efforts to right the ship immediately. The Wolverines are hoping to use the 2013 recruiting class to get the ground game going as the post-
Denard Robinson
era begins.
Michigan's rushing attack produced 2,389 yards last season, a number that doesn't sound terrible until you further dissect the details. Michigan's two quarterbacks, Robinson and
Devin Gardner
, accounted for 1,367 of those yards and 14 of the 27 rushing touchdowns.
Robinson led the way, averaging 7.2 yards per carry, while the running back trio of
Fitzgerald Toussaint
,
Thomas Rawls
and
Vincent Smith
combined to rush for 918 yards, averaging only 4.1 yards per carry. That combined average would rank No. 80 in the country.
Without Robinson, Michigan is looking for help to transform the offense.
To continue reading this article you must be an Insider
March, 12, 2012
3/12/12
11:29
AM ET
ANN ARBOR, Mich. -- Dwaine Smith lives in Columbus, Ohio, not too far from a very famous horseshoe, smack dab in the middle of scarlet and gray Buckeye country.
But he has one plea for his son,
Deveon Smith
, a 2013 running back who's starting to pick up interest from colleges across the country.
Please don't go to Ohio State.
To continue reading this article you must be an Insider
February, 9, 2012
2/09/12
11:53
AM ET
By
WolverineNation
| ESPN.com
1. Which special teams player do you think will help the most in the Wolverines' return game?
Michael Rothstein
: Someone who isn't even on campus yet --
Dennis Norfleet
(Detroit/Martin Luther King). Michigan really started to show interest in him once
Darryl Stonum
was dismissed from the team -- and Stonum was slated to be the Wolverines' top returner next season. So if Norfleet can come on campus and show the same speed and elusiveness he did in high school, he could end up being Michigan's quickest, most unexpected, contributor on special teams in 2012.
Tom VanHaaren
: I think
Jeremy Gallon
probably helps out the most, but it really seems like new signee Norfleet can bring a lot of speed on special teams. If he can bulk up a little bit and keep that speed then I think he has a chance to be electric back there.
To continue reading this article you must be an Insider
December, 15, 2011
12/15/11
9:54
AM ET
The Weekly Update at WolverineNation is a sneak peak inside Michigan recruiting.
As with everything we do here, we ask that this information stays on The Den Forum.
This information is for WolverineNation subscribers only.
To continue reading this article you must be an Insider
December, 8, 2011
12/08/11
10:17
AM ET
The Weekly Update at WolverineNation is a sneak peak inside Michigan recruiting.
As with everything we do here, we ask that this information stays on The Den Forum.
This information is for WolverineNation subscribers only.
Subscribers found to be passing this information to other sites or by email will be banned from the forum. The reason why it is posted on the forum is because it is the only way to ensure that the info is exclusive to WolverineNation. This will only work if everyone helps make it work.
On to the update….
TIGHT ENDS
As you remember, former Michigan commit
Pharaoh Brown
decided to take a visit to Oregon, which is why he is now a former commit. The coaching staff doesn't allow visits from committed players, so they are now looking to replace that spot.
Towards the end of his commitment, Brown was asked if he would be willing to play tight end. It now seems as though the coaching staff would like to fill that spot with another tight end.
The coaches were recruiting
Taylor McNamara
(San Diego/Westview), and tight ends coach Dan Ferrigno was on an in-home visit with McNamara a week ago. However, his recruitment changed and McNamara is no longer considering Michigan.
He wanted to graduate early and wouldn't be able to do so with Michigan, so he dropped the Wolverines.
That decision probably had something to do with why the coaching staff recently offered tight end
Sam Grant
(Lakewood, Ohio/St. Edward). A teammate of current Michigan commit Kyle Kalis, Grant is currently committed to Boston College.
Kalis tells me, however, that Grant is likely going to take an official visit to Michigan this weekend with Kalis.
With his teammate on board, Michigan might be able to convince the 6-foot-5, 230-pound tight end to flip his decision like they did with Kalis.
Michigan coaches also dropped in on recent Penn State decommit
J.P. Holtz
(Pittsburgh/Shaler), whom I mentioned in last week's Update.
DEANTHONY ARNETT
I have mentioned before that there could be a chance current Tennessee wide receiver DeAnthony Arnett will decide to transfer from the Vols' program.
Charlie Baggett was one of the main reasons Arnett chose Tennessee, and now that the wide receivers coach has left the program it has changed a lot for Arnett.
Michigan was heavily involved with his recruitment, and one of the big hangups for Arnett was the spread offense that Rich Rodriguez ran. That problem no longer exists now that Brady Hoke has entered the picture and wants to run a pro-style offense.
The numbers, however, are now going to come into play for his recruitment. Will Michigan will have a scholarship available and can itfit Arnett on the roster?
If the coaches can make room then there is definite interest from Arnett, and interest from the Wolverines.
YURI WRIGHT
As I wrote in my blog post,
Yuri Wright
(Ramsey, N.J./Don Bosco Prep) has
Michigan in his top list of schools
. He has maintained that Michigan is one of his favorite schools, and that he would like to visit Ann Arbor.
That visit sounds like it finally might come to fruition as Wright told me he would like to schedule his official visit to Michigan, and it will likely be his third official after Colorado and Notre Dame.
Michigan has a real opportunity to give Wright a lot of personal attention. He'll also most likely get a chance to check out a practice session as Michigan prepares for the Allstate Sugar Bowl.
This visit will probably determine if Michigan makes it in his next top list, so it will be a big deal to see how he feels after the visit happens.
JEHU CHESSON
Michigan coach Jeff Hecklinski was recently out to see wide receiver
Jehu Chesson
(Chesterfield, Mo./Ladue Horton Watkins). As I wrote in my update Chesson is down to Michigan, Northwestern and Iowa.
What most people don't know is that Chesson is being very methodical in his recruitment. He has a spreadsheet listing the pro's and con's of each school, and will likely decide by weighing all of the lists side by side.
I believe that Michigan and Northwestern currently have an edge over Iowa, but he is visiting Iowa on the 16
th
. He has lined up the schools side by side so far, and Michigan might have the slight edge over the other two. This last visit to Iowa will be very important in his decision. Nothing is set in stone yet, so we'll see how that visit plays out.
EXTRA AND LINKS
Running back Bri'onte Dunn (Canton, Ohio/Glenoak) is visiting Ohio State this weekend. His father told me that Dunn might still visit Michigan next weekend. I have a feeling how the Ohio State visit goes will determine a lot of that. Dunn is still getting an in-home visit from Brady Hoke today.
There have been quite a few questions about wide receiver Stefon Diggs (Olney, Md./Good Counsel). The Michigan coaches did try to visit Diggs, but he was on another visit. As of right now it is unlikely he'll sign with Michigan. If he decides to visit then there might be a chance, but I wouldn't count on it.
To continue reading this article you must be an Insider
November, 28, 2011
11/28/11
11:02
AM ET
Ohio State running back commit
Bri'onte Dunn
(Canton, Ohio/Glenoak) was in Ann Arbor the past two weekends as Michigan took on Nebraska and Ohio State. The most recent game against the Buckeyes was obviously the more important as Dunn is still technically committed to OSU.
He has been open about his concerns with Ohio State, and he has serious interest in the Wolverines. With the mess that happened in Columbus, Dunn and his father are still monitoring the situation. The big factor for the four-star running back will be if Ohio State gets a bowl ban included in their sanctions.
There is a new twist to his commitment, however, with the news of Ohio State hiring Urban Meyer.
To continue reading this article you must be an Insider
November, 8, 2011
11/08/11
11:22
AM ET
Michigan just grabbed its 24th commitment for the 2012 class with running back
Drake Johnson
(Ann Arbor, Mich./Pioneer). The Johnson commitment means the coaching staff now has a fullback type committed in Sione Houma (Salt Lake City/Highland) and a speed back in Johnson.
The commitment also means there are only around three to four spots available for the rest of the class. That begs the question: What happens with the Wolverines' pursuit of Ohio State commitment
Bri'onte Dunn
(Canton, Ohio/Glenoak)?
Dunn has decided not to enroll early to the school of his choice, a switch from his longtime stance. That gives him more time to wait and see what happens with Ohio State and the NCAA sanctions. Since he will be waiting to make a decision it also gives him more time to check out other programs, including Michigan.
To continue reading this article you must be an Insider
Weekend Recruiting Wrap: Big Ten - Dec. 2