Michigan Wolverines:

Brian Knorr
June, 23, 2014
6/23/14
5:00
PM ET
Brian's off this week, so I'm attempting three mailbags (today, Wednesday and Friday).
Wish me luck. Better yet, send me questions. And follow us
on Twitter
.
---
Aaron from Minneapolis writes:
Jerry Kill and his staff have frequently said over the last few years that they want to recruit bigger, taller offensive weapons, and they seem to be following through on that. The past couple recruiting classes have included all of one receiver under 6-foot-2, a handful of 6-3 and 6-4" wideouts, and a huge 6-9" tight end. I know big wide receivers are sort of in style around the country, but Kill seems to be taking it to the extreme. Is this something other Big Ten teams are doing, or is Minnesota's big receiver strategy a bit of an outlier?

Adam Rittenberg:
Aaron, the proliferation of spread offenses and their reliance on slot receivers has lowered the demand for the traditionally bigger wideout. It doesn't mean teams don't want those players, especially if they can run. Minnesota's offense has some spread elements, but it's more of a traditional set, based around the power run. The Gophers' last elite receiver,
Eric Decker
, was a taller guy with excellent hands and athleticism. It certainly helps to have size out wide, and Florida State showed last season how beneficial it can be with players like
Kelvin Benjamin
(6-foot-5). But teams generally are looking for speed first and aren't locked in to having every receiver stand taller than 6-foot-2.
---
Angie from Chesapeake, Virginia writes:
Will Green or Smith consider transferring due to the USC running back coming on board at Michigan?

Rittenberg:
Too soon to tell, Angie. The big question is: When will
Ty Isaac
be eligible? He
wants to play immediately
but might have to sit out a season. If he sits,
Derrick Green
and
De'Veon Smith
will enter the season most likely as Michigan's top two ball-carrying options. So they can distinguish themselves without any push from Isaac. Ultimately, most teams want to play at least two running backs and sometimes three. While running back transfers aren't uncommon, you don't see them as much as quarterbacks.
---
Jordan from Katy, Texas, writes:
About Indiana, it has one of the best offenses in the Big Ten, but obviously no one outside of the state is going to notice when its defense is so horrid. How are things going under new defensive coordinator Brian Knorr? Are there signs that the defense IS improving, or is that something we just cannot know until the Hoosiers hit the field in August? Frankly, I think they need to be bowl eligible THIS year or Kevin Wilson's stock will plummet.

Rittenberg:
Jordan, I'm interested to see how Knorr will fare in Bloomington. He
plans to run a 3-4
, which is becoming more popular in the Big Ten (Wisconsin, Maryland also use it). Indiana has upgraded its recruiting efforts on defense and needs some of those players to blossom this fall, especially in the front seven. I'm especially interested in defensive tackles
Darius Latham
and
Ralph Green
. Ultimately, this unit needs to provide concrete evidence this fall after a quarter-century of futility, but as I've always said, Indiana doesn't need a great defense to make a bowl. An adequate one will do. The offense can take care of the rest.
---
@BraydenHodges via Twitter:
What do you think of the early point spread of the MSU-Oregon game? I understand the Spartans being an underdog but 13 points?

Rittenberg:
It seems a little high, although Oregon performs extremely well at home and is capable of putting up a big number on just about anybody. Big Ten teams
typically struggle in games at Pac-12 stadiums
, and Autzen Stadium is one of the nation's toughest environments for a road team. But I think the oddsmakers are underestimating Michigan State's offense, which returns quarterback
Connor Cook
and most of its key pieces from a 13-1 team. The Spartans clearly need a big effort from their defense against
Marcus Mariota
and the Ducks, but Cook and his crew should be able to put up points in this game, if they avoid turnovers. Oregon definitely is the favorite, but 13 points is a lot.
---
Doug G. from San Antonio writes:
Adam-I truly believe
Joel Stave
should get the nod at QB for UW. I know the accuracy needs to improve, but he certainly has proved he can play well, and I believe that three of the losses last year had nothing to do with him. Penn St. was a defensive debacle (for some reason), and Stave had us looking good against South Carolina before he was injured. I know the WR spot is a question mark, and Coach A likes to have a QB who can run, but I hope we see Stave under center against LSU to open the season. I would not mind a few "packages" per game for
Tanner M
., but I also thought he was progressing as a safety. What are your thoughts on this?

Rittenberg:
You bring up some valid points, Doug, and it's good to see that there are some Stave supporters out there. His experience can't be overlooked, especially given how his primary competitor,
Tanner McEvoy
, lacks any experience at the quarterback position at the FBS level. I just wonder how much Stave can improve after losing his top wide receiver (
Jared Abbrederis
) and with so much uncertainty on the perimeter. McEvoy provides the mobility to get out of trouble and create plays when none appear to be there. But it might not be wise to throw him into the fire against LSU's defense in Week 1. That's a tough spot. Ultimately, we need to see Stave back to 100 percent this summer and how he performs in camp when the freshmen wide receivers are there.
May, 1, 2014
5/01/14
2:30
PM ET
Spring practice in the Big Ten has sadly come to an end, and we're both back home after some trips around the conference. Wednesday, we shared out thoughts on the
Big Ten's West Division
, and now it's time to turn our focus to the beast known as the East.
Brian dropped in on Ohio State, Michigan, Michigan State and Indiana, and Adam stopped by Penn State.
Adam Rittenberg:
Let's begin with your trip to the
Mitten State
. You made your first stop in Ann Arbor, where Michigan was wrapping up its first spring with new offensive coordinator Doug Nussmeier. Michigan's top priority is the offense and fixing the line. What did you gather about the unit, and how are the changes on the defense -- player positions and coaching roles -- working out?
[+] Enlarge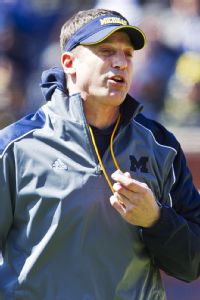 AP Photo/Tony DingNew OC Doug Nussmeier's top priority is fixing Michigan's offensive line.
Brian Bennett:
Things definitely seem a lot smoother on defense.
Jake Ryan
adopted quickly to playing middle linebacker, and
James Ross III
is talented enough to play anywhere. Mark Smith picked a good time to take over the defensive line, as he'll have a pair of senior ends in
Frank Clark
and
Brennen Beyer
and some nice young talent to work with in
Taco Charlton
,
Chris Wormley
,
Willie Henry
, etc. Throw
Jabrill Peppers
into the mix in the back end this summer, and this has a chance to be a very solid defense.
It's just a matter of whether the offense can keep up. The Wolverines are very young on that side of the ball, and the line is full of redshirt freshmen and sophomores right now.
Mason Cole
enrolled in January and was starting at left tackle in spring ball, which said a lot about the state of the position. Michigan's season likely depends on whether that O-line can come together and raise its collective level of play. There are some good-looking athletes at receiver and running back, but not many of them are proven. Many big questions remain in Ann Arbor.
AR:
There are fewer questions at Michigan State. How did the defending Big Ten/Rose Bowl champs seem to be handling their success? And how are they replacing defensive standouts such as cornerback
Darqueze Dennard
?
BB:
Several players told me they were sick of talking about the Rose Bowl, which is a good sign. I saw a team that could definitely repeat as Big Ten champions. The offense brings back most of its major pieces and will add new weapons suchas tight end
Jamal Lyles
and quarterback/athlete
Damion Terry
. The early-season scoring droughts of years past should not happen again this fall.
No doubt Pat Narduzzi's crew lost a lot -- four All-Big Ten defenders, plus both starting defensive tackles. Michigan State has a big experience gap to make up, especially at linebacker. But this is a program that just seems to reload on defense now and has recruited so well to its system. Guys like defensive tackle
Joel Heath
, defensive end
Demetrius Cooper
and safety
Jalyn Powell
all came on strong this spring. Three of the corners vying to replace Dennard had interceptions in the spring game. I have supreme confidence that Narduzzi will have this defense dominating again in 2014.
AR:
Ohio State's defense has many more question marks after a rough 2013 campaign. The line should be terrific but how did the back seven look during your trip to Columbus? And how are new assistants Chris Ash and Larry Johnson fitting into the mix? What else stood out about the Buckeyes?
BB:
In my eyes, this is one of the most intriguing teams anywhere. The Buckeyes are almost frightfully young on offense outside of
Braxton Miller
and are breaking in lots of new players at linebacker and in the secondary. Yet they also have some impressive looking athletes and more overall explosiveness than the previous two seasons under Urban Meyer. Ash is installing a quarters coverage look, but maybe even more important is the fact that the safeties can really run and cover now. The revamped offensive line is a big question mark, as is the inexperience at receiver and the linebacker spot. But when you see young guys like linebacker
Raekwon McMillan
and tailback
Curtis Samuel
running around, you realize there aren't a lot of Big Ten teams that look like the Buckeyes.
Adam, you made it up to State College to check in on Penn State and new coach James Franklin. What's the vibe like up there?
AR:
Electric. The charismatic staff has quickly formed bonds with the players, some of whom knew Franklin from the recruiting process. The defense should be better under Bob Shoop's leadership, as long as the starters stay healthy. There's decent depth up front and safety
Adrian Amos
and cornerback
Jordan Lucas
anchor the secondary. Linebacker
Mike Hull
is embracing his role as the unit's leader.
Christian Hackenberg
can really spin the ball -- very impressive. But can PSU protect him? No Big Ten team, including Ohio State, has bigger issues along the offensive line. Running back
Bill Belton
looked great, and I like the depth at tight end. Franklin is realistic about the depth issues and knows his team can't afford many more injuries.
You also visited Indiana this spring. How did the Hoosiers look, especially on defense with new coordinator Brian Knorr?
BB:
You know the drill. Indiana could make some real noise if it could actually, you know, stop anybody. Knorr has them playing a 3-4, and hey have some major beef inside with the defensive tackles in 325-pounders
Darius Latham
and
Ralph Green III
. Ten starters are back and some promising recruits are on the way, so there's more depth on defense than before. But it's still a major construction project, and the offense might lose a little of its big-play ability as it tries to replace three of its top four receivers from a season ago.
OK, lightning-round finish. I still see Michigan State and Ohio State as the heavy favorites here, with Penn State a dark horse if its O-line issues can be solved. What about you?
AR:
MSU is the team to beat because of the quarterback and the track record on defense. Ohio State definitely is in that mix, too. Michigan remains young at spots but could contend with a serviceable run game. Offensive line is a huge issue in this division. Sleeper-wise, I wouldn't count out Penn State, Indiana or Maryland, which could be dynamic on offense if it finally stays healthy.
April, 10, 2014
4/10/14
4:00
PM ET
Head coaches from the Big Ten East Division, along with a player from each team, addressed the media this afternoon on teleconferences. The
West Division players and coaches
spoke Wednesday.
Here's a closer look at the East:

INDIANA
Defense has been a lingering Indiana concern for years, but coach Kevin Wilson believes he's starting to see a change, thanks to new defensive coordinator Brian Knorr. The scheme hasn't changed radically, but the Hoosiers return 10 starters there -- and Wilson's seen a promising spring so far with an added focus on competition and communication: "They've for sure held their own on a daily basis -- and, in some ways, probably even better -- against the offense."
Wilson believes teams need to invest scholarships into the kicking game, but he thinks it's also too risky to offer recruits straight out of high school. If you look at the NCAA's top 25 kickers, Wilson estimated at least 15 started out as walk-ons. So he's hoping to find some walk-ons who are willing to work for a scholarship, rather than be granted one right away.
At 5-foot-7, Shane Wynn is the Hoosiers' leading returning receiver, and he's transitioning to playing the outside. It's been a little different for Wynn, who said he's had to watch more film as a result. He's reading the corners now, instead of the safeties, as just one example.

MARYLAND
Maryland coach Randy Edsall is confident in his offense and believes the Terrapins have enough options so that opponents can't focus on just one person. If defenses lock on to wideout Stefon Diggs, then quarterback C.J. Brown can take off running or receiver Deon Long can pick up some slack. "The No. 1 thing I do like," Edsall said, "is we can spread the field."
Maryland's staff has already started looking at film of Big Ten teams, so they know what to expect when the conference season begins. Edsall said he wants to at least get a feel for their personnel and what kind of schemes he'll face. He's also confident the Terps will be ready: "We fully expect to be able to compete when we get into the Big Ten this year."
Brown said one of the main reasons he committed to Maryland was the coach who recruited him at the time, former Terps assistant and current Penn State coach James Franklin. He's looking forward to squaring off against Franklin this season, and Edsall said there's no question he would like to develop a rivalry with the Nittany Lions.

MICHIGAN
The quarterback derby will continue, and Brady Hoke included all three of his options in the discussion heading into the offseason. The Wolverines coach did acknowledge, though, that Devin Gardner "probably would be" the starter if there was a game on the schedule this weekend. There isn't, so Shane Morris and Wilton Speight will continue to be in the conversation.
The first opponent on the schedule will always stir emotions for Michigan fans, but Hoke didn't attach any revenge or sentimentality to his reasons for wanting to take on Appalachian State in the opener this fall. "We needed a game," Hoke said. "I thought it would be a good game." Defensive end Frank Clark was certainly aware of the history between the programs, even though he was still years away from joining Michigan and getting a shot at making up for the upset loss in 2007 -- which he called "shocking" and "shows how hard those guys play."

MICHIGAN STATE
Michigan State is coming off a Rose Bowl victory, but coach Mark Dantonio and quarterback Connor Cook would prefer not to think about that any longer. Dantonio said they've talked a lot these last four months about not growing complacent, and Cook only echoed his coach. "A lot of people keep bringing up the Rose Bowl," Cook said. "But we're past that. We're focusing on the now."
The offensive line has made some big strides since January, at least according to Cook. He felt like he had no time in the pocket last spring and said the pass rush was getting to him every time. This spring? He doesn't feel rushed in the pocket, and he thinks that's pretty indicative of how far this line has come.
Jeremy Langford earned a lot of praise from Cook, who said the running back has become a much bigger part of the passing attack. "He's improved a lot with catching the ball," Cook said, complimenting Langford's versatility. "He's done so many different things for us."

OHIO STATE
There is still work to be done in addressing the most glaring weakness on the team last season, but Urban Meyer called Ohio State's pass defense "drastically improved" and will be watching closely for more signs of progress in Saturday's spring game. The Buckeyes will play a traditional game, but the emphasis will be on throwing the football and assessing the skill players on both offense and defense -- giving Meyer a chance to evaluate backup quarterback Cardale Jones in a live setting in addition to checking out the secondary.
Arguably the strongest part of last season's team is undergoing a transition without four senior starters, and the offensive line is somewhat of a concern for Meyer heading into the offseason. With guard Pat Elflein the only other player to have earned a first-team slot to play alongside junior Taylor Decker at this point, that competition is likely to spill over into preseason camp in August. Both tackle Darryl Baldwin and guard Antonio Underwood were praised for their work by defensive tackle Michael Bennett, and Billy Price and Jacoby Boren are dueling at center.

PENN STATE
Franklin said he knew exactly what he was getting into at Penn State, in terms of the current depth and sanctions. He and former coach Bill O'Brien worked together at Maryland, and he said the two had a lot of honest conversations about the current state of the Nittany Lions. The two have continued to talk since.
Derek Dowrey and Brian Gaia are both making transitions from defensive tackle to offensive guard, and Franklin said he has been pleased with their performances so far: "They're doing a good job for us -- and they have to. We're thin at that position."
Franklin said he feels especially comfortable with the talent at running back and defensive line. Middle linebacker Mike Hull was more specific about naming the players who impressed him, pointing to backup linebacker Gary Wooten and cornerback Da'Quan Davis. Hull said Wooten is always around the football and that Davis, who missed part of the spring with a hamstring injury, has come up with several interceptions.

RUTGERS
Another open competition at the most critical position on the field -- quarterback -- is still playing out at Rutgers, and coach Kyle Flood isn't ready to declare a winner in what would seem to be a wide-open battle. Flood indicated that Gary Nova, Mike Bimonte and Chris Laviano are all "really vying for that first-team job."
The change in conference affiliation has been welcomed with open arms by the Scarlet Knights, who can "feel the energy" as theypractice for their first season in the Big Ten. Defensive tackle Darius Hamilton said the team was already buzzing with excitement about the opportunity, and Flood called joining the league a "positive in every way." The move also presents the opportunity for a rivalry to develop with new divisional neighbor Penn State, with both Flood and Hamilton citing the proximity between the schools as a bonus.
March, 12, 2014
3/12/14
12:00
PM ET
Happy Patriot League tournament final day.
March, 10, 2014
3/10/14
10:30
AM ET
Non-Minnesota fans might have missed Friday's official announcement that Mike Sherels has been promoted to Gophers linebackers coach after serving on the team's recruiting staff. Sherels is the first new assistant Jerry Kill has hired in his Minnesota tenure, but the move likely signified -- likely being the operative word -- something bigger for the Big Ten.
The end of the coaching carousel for 2014.
This post always includes a reminder that additional coaching changes still can happen, even though most of the Big Ten has started spring practice. It's the nature of the business.
Despite two new teams in the Big Ten, the number of overall changes in the league dropped for the second consecutive year, going from 32 in 2013 to 27 this year. There was only one complete staff overhaul, at Penn State, and four programs -- Illinois, Iowa, Michigan State and Northwestern -- kept all of their coaches from last season. After replacing more than half of his staff in the last offseason, Illinois' Tim Beckman hopes continuity pays off in what likely will be a make-or-break 2014 campaign. Iowa is back to its stable self after two years of coaching flux, while Northwestern coach Pat Fitzgerald hasn't made a staff change since after the 2010 season.
Michigan State made a major commitment
to Mark Dantonio and his assistants after the Spartans' Rose Bowl win, but it's still impressive that Dantonio retained the entire staff after such a great season.
Both Rutgers and Maryland have some new faces on staff before their inaugural season of Big Ten play. Rutgers has two new coordinators (one outside hire, one promotion), while Maryland has new assistants overseeing both lines.
[+] Enlarge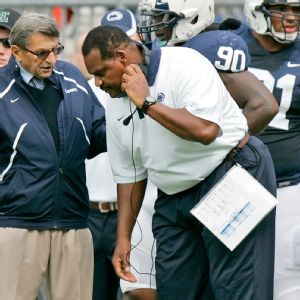 Michael R. Sisak/Icon SMILongtime Penn State defensive line coach Larry Johnson moved to Ohio State this offseason after James Franklin was hired as the Nittany Lions' head coach.
Other than Penn State, Indiana and Rutgers are the only teams featuring two new coordinators in 2014. Although IU assistant Kevin Johns previously held the co-offensive coordinator title, he'll be the main man, as he takes over for Seth Littrell.
For the most part, the coaches leaving Big Ten programs did so voluntarily and for potentially better positions. Penn State head coach Bill O'Brien took the same role with the Houston Texans, while two assistants -- Ohio State's Everett Withers and Maryland's Greg Gattuso -- left to become FCS head coaches at James Madison and Albany, respectively. The Big Ten lost several assistants to the NFL, as O'Brien brought four assistants with him from Penn State (John Butler, Stan Hixon, Charles London and Anthony Midget) and swiped another from Ohio State's staff (Mike Vrabel). Wisconsin also lost running backs coach Thomas Hammock to the Baltimore Ravens.
Arguably the most interesting move took place within the league, as longtime Penn State defensive line coach Larry Johnson replaced Vrabel at Ohio State.
OK, let's get to it already.
Here's the rundown of coaching changes (head coach and full-time assistants only; number of new coaches in parentheses):
INDIANA (3)
Who's gone?
Doug Mallory, defensive coordinator/safeties
Seth Littrell, offensive coordinator/QBs
Jon Fabris, defensive line
Who's in?
Brian Knorr, defensive coordinator/defensive ends/outside linebackers
Larry McDaniel, defensive line
Noah Joseph, safeties
Other moves
Promoted Kevin Johns to main offensive coordinator. Johns also now coaches quarterbacks in addition to wide receivers.
Moved James Patton from assistant defensive line/special teams to tight ends and fullbacks
MARYLAND (3)
Who's gone?
Tom Brattan, offensive line
Lee Hull, wide receivers
Greg Gattuso, defensive line
Who's in?
Greg Studwara, offensive line
Keenan McCardell, wide receivers
Chad Wilt, defensive line
MICHIGAN (1)
Who's gone?
Al Borges, offensive coordinator/quarterbacks
Who's in?
Doug Nussmeier, offensive coordinator/quarterbacks
Other moves
Defensive coordinator Greg Mattison is overseeing linebackers instead of defensive linemen
Mark Smith moves from linebackers to defensive line
Roy Manning moves from outside linebackers to cornerbacks

Curt Mallory will coach only safeties rather than the entire secondary
MINNESOTA (1)
Who's gone?
Bill Miller, linebackers/assistant head coach
Who's in?
Mike Sherels, linebackers (promoted from recruiting staff)
Other moves
Pat Poore moves from wide receivers to running backs
Brian Anderson moves from running backs to wide receivers
NEBRASKA (1)
Who's gone?
Terry Joseph, secondary
Who's in?
Charlton Warren, secondary
OHIO STATE (2)
Who's gone?
Everett Withers, co-defensive coordinator/safeties
Mike Vrabel, defensive line
Who's in?
Chris Ash, co-defensive coordinator/safeties
Larry Johnson, defensive line/assistant head coach
PENN STATE (10)
Who's gone?
Bill O'Brien, head coach/offensive playcaller
John Butler, defensive coordinator/cornerbacks
Charlie Fisher, quarterbacks
Stan Hixon, wide receivers/assistant head coach
Larry Johnson, defensive line
Charles London, running backs
Mac McWhorter, offensive line
Ron Vanderlinden, linebackers
John Strollo, tight ends
Anthony Midget, safeties
Who's in?
James Franklin, head coach
John Donovan, offensive coordinator/tight ends
Bob Shoop, defensive coordinator/safeties
Charles Huff, running backs/special teams
Brett Pry, co-defensive coordinator/linebackers
Josh Gattis, wide receivers/assistant special teams
Herb Hand, offensive line
Ricky Rahne, quarterbacks
Sean Spencer, defensive line
Terry Smith, cornerbacks
PURDUE (1)
Who's gone?
Jon Heacock, defensive backs
Who's in?
Taver Johnson, defensive backs
RUTGERS (4)
Who's gone?
Dave Cohen, defensive coordinator/linebackers
Ron Prince, offensive coordinator
Rob Spence, quarterbacks
Damian Wroblewski, offensive line
Who's in?
Ralph Friedgen, offensive coordinator/quarterbacks
Bob Fraser, linebackers/special teams
Mitch Browning, offensive line
Ben McDaniels, wide receivers
Other moves
Promoted special teams coordinator Joe Rossi to defensive coordinator
Anthony Campanile is coaching only tight ends after overseeing both tight ends and wide receivers
WISCONSIN (1)
Who's gone?
Thomas Hammock, running backs/assistant head coach
Who's in?
Thomas Brown, running backs
March, 5, 2014
3/05/14
2:30
PM ET
We're taking snapshots of each position group with each Big Ten team entering the spring. Up next: the linebackers.

Illinois:
The Illini lose an All-Big Ten player in
Jonathan Brown
but still have decent overall depth at linebacker.
Mason Monheim
started every game at middle linebacker in 2013, and
Mike Svetina
started all but one game at the star position. Both players return as juniors. Svetina will move into Brown's spot on the weak side, while the other position could be filled by
T
.J. Neal, who recorded 38 tackles last season. Ralph Cooper has logged significant reps as a reserve, and Eric Finney gives Illinois some flexibility after playing the star position (safety/outside linebacker).

Indiana:
This becomes a more significant position under coordinator Brian Knorr, who plans to use a 3-4 alignment. Indiana should have enough depth to make the transition as it returns two full-time starters from 2013 --
David Cooper
and
T.J. Simmons
-- as well as two part-time starters in
Forisse Hardin
and
Clyde Newton
, who started the final four games of his freshman season. Like Simmons and Newton,
Marcus Oliver
played a lot as a freshman and provides some depth. The key here will be converting all the experience into sharper, more consistent play.

Iowa:
If you're of the mindset that Iowa always reloads at linebacker, you can rest easy this spring. If not, keep a very close eye on what happens as the Hawkeyes begin replacing one of the more productive linebacker groups in team history:
James Morris
,
Christian Kirksey
and
Anthony Hitchens
. There are high hopes for sophomore
Reggie Spearman
, who played in 10 games as a freshman last fall. Spearman, junior
Travis Perry
and senior
Quinton Alston
enter the spring as the front-runners to take over the top spots. The biggest challenge could be building depth behind them with
Cole Fisher
and others.

Maryland:
The good news is the Terrapins return three productive starters from 2013 in
Cole Farrand
,
L.A. Goree
and
Matt Robinson
, who combined for 233 tackles, including 19 for loss. The bad news is Maryland loses its top playmaker at the position in
Marcus Whitfield
, who recorded nine sacks and 15.5 tackles for loss last season. But the overall picture is favorable, and the depth should be strong when
Alex Twine
and
Yannik Cudjoe-Virgil
return from their injuries. Young players such as
Abner Logan
(37 tackles in 2013) will push for more time.

Michigan:
There are a lot of familiar faces in new positions as Michigan not only has shuffled the roles of its defensive assistant coaches, but also its top linebackers. Standout
Jake Ryan
moves from strong-side linebacker to the middle, while junior
James Ross III
moves from the weak side to the strong side and
Desmond Morgan
shifts from the middle to the weak side.
Joe Bolden
, who had 54 tackles last season, can play both outside and inside, and players such as
Ben Gedeon
,
Royce Jenkins-Stone
and
Allen Gant
add depth. The talent is there for a big year if the position switches pan out.

Michigan State:
It won't be easy to replace the Big Ten's top linebacker tandem in
Max Bullough
and
Denicos Allen
, not to mention Rose Bowl hero
Kyler Elsworth
, but Michigan State has some promising options.
Ed Davis
appears ready to step in for Allen after recording four sacks as a sophomore. Junior
Darien Harris
and two redshirt freshmen,
Shane Jones
and
Jon Reschke
, will compete at middle linebacker. Returning starter
Taiwan Jones
is back at the star position, and
Mylan Hicks
should be in the rotation. Depth is a bit of a question mark here entering the spring.

Minnesota:
The Gophers lose key pieces in all three areas of the defense, and linebacker is no exception as two starters (
Aaron Hill
and
James Manuel
) depart. Minnesota will lean on
Damien Wilson
, who started in 12 games at middle linebacker in his first season with the Gophers and recorded 78 tackles. Junior
De'Vondre Campbell
seems ready to claim a starting spot after backing up Manuel last season. There will be plenty of competition at the strong-side linebacker spot, as
Nick Rallis
,
De'Niro Laster
and others are in the mix.
Jack Lynn
is
backing up Wilson at middle linebacker
but could work his way into a starting spot on the outside with a good spring.

Nebraska:
Optimism is building for the Blackshirts in 2014, thanks in large part to the returning linebackers. The three players who finished last season as the starters --
David Santos
,
Michael Rose
and
Zaire Anderson
-- all are back, as Rose will lead the way in the middle.
Josh Banderas
and
Nathan Gerry
also have starting experience and return for 2014. If younger players such as
Marcus Newby
develop this spring, Nebraska could have the Big Ten's deepest group of linebackers, a dramatic departure from the Huskers' first few years in the conference. Good things are happening here.

Northwestern:
The top two playmakers return here in
Chi Chi Ariguzo
and
Collin Ellis
, who combined for seven interceptions and 11.5 tackles for loss in 2014. Northwestern's challenge is replacing the leadership
Damien Proby
provided in the middle. Ellis has shifted from the strong side to the middle, and Northwestern has moved safety
Jimmy Hall
from safety to strong-side linebacker.
Drew Smith
and Hall will compete for the third starting spot throughout the offseason. Sophomores
Jaylen Prater
and
Joseph Jones
should provide some depth.

Ohio State:
Coach Urban Meyer has made it clear that Ohio State needs more from the linebackers, so it's a huge offseason for this crew, which loses superstar
Ryan Shazier
. The Buckeyes return starters at the outside spots in
Curtis Grant
and
Joshua Perry
, although competition will continue throughout the spring and summer. Redshirt freshman
Darron Lee
surprisingly opened spring practice Tuesday working with Grant and Perry on the first-team defense.
Camren Williams
appeared in all 13 games as a reserve and will be part of the rotation, along with
Trey Johnson
. Meyer said last month that the incoming linebacker recruits won't redshirt, which means an opportunity for mid-year enrollee
Raekwon McMillan
.

Penn State:
Linebacker U is looking for more bodies at the position after struggling with depth issues throughout 2013. The Lions lose leading tackler
Glenn Carson
but bring back two players,
Mike Hull
and
Nyeem Wartman
, who started most of the season. The new coaching staff is counting on Hull to become a star as a senior.
Brandon Bell
, who appeared in nine games and recorded 24 tackles as a freshman, will compete for a starting spot along with
Gary Wooten
. Penn State hopes
Ben Kline
can stay healthy as he provides some experience, and incoming freshman
Troy Reeder
could enter the rotation right away.

Purdue:
Expect plenty of competition here as Purdue loses leading tackler
Will Lucas
and must get more consistent play from the group.
Joe Gilliam
started for most of the 2013 season and should occupy a top spot this fall.
Sean Robinson
also brings experience to the field, and
Ryan Russell
could fill more of a hybrid linebacker/defensive end role this season. Redshirt freshman
Danny Ezechukwu
is an intriguing prospect to watch this spring as he aims for a bigger role. Ezechukwu is just one of several younger players, including decorated incoming recruit
Gelen Robinson
, who have opportunities to make a splash.

Rutgers:
The Scarlet Knights return a good deal of production here with
Steve Longa
and
Kevin Snyder
, who combined for 219 tackles, including 15 tackles for loss and five sacks.
Quentin Gause
also is back after racking up 53 tackles (8.5 for loss) in a mostly reserve role last season. Gause likely will claim the starting strong-side linebacker spot as
Jamal Merrell
departs. The starting spots are seemingly set, so Rutgers will look to build depth with
Davon Jacobs
, who had 30 tackles as a reserve last season, and
L.J. Liston
, both sophomores.

Wisconsin:
Do-it-all linebacker
Chris Borland
is gone, along with
Ethan Armstrong
and
Conor O'Neill
, so Wisconsin must replace three of its top four tacklers from 2013.
Derek Landisch
and
Joe Schobert
can be penciled in as starters, along with
Michael Caputo
, who played mostly safety last season but should slide into one of the outside spots.
Marcus Trotter
brings experience to the rotation. The spotlight will be on younger linebackers such as
Vince Biegel
, who had 25 tackles last season, as well as dynamic sophomore
Leon Jacobs
and
Alec James
, a decorated recruit who redshirted in 2013.
February, 25, 2014
2/25/14
10:00
AM ET
Here's a team-by-team look at what to watch in the new Big Ten East this spring.

Indiana
Spring start:
March 8
Spring game:
TBA
What to watch
Getting defensive: The Hoosiers have had no trouble scoring since Kevin Wilson took over the program, but opponents have made it look even easier. New defensive coordinator Brian Knorr might have his hands full turning around the Big Ten's worst unit, but Indiana could be dangerous if he can.
Quarterback derby: The offense operated just fine with Tre Roberson and Nate Sudfeld taking turns leading the attack, so Wilson might not even need to settle on just one quarterback. Typically it does help to have a pecking order behind center, though, and the Hoosiers will be watching these guys closely to see if one can gain some separation.
Next in line: There is a ready-made candidate to take over as the team's most productive receiver, but Shane Wynn is going to need some help. For all his speed and elusiveness, Wynn is still undersized and doesn't fit the mold of a traditional receiver, which will make it necessary for somebody like Nick Stoner to step up to help replace Cody Latimer.

Maryland
Spring start:
March 1
Spring game:
April 11
What to watch
Get healthy: The Terrapins have one of the most talented groups of wide receivers in the country when they're completely healthy, but that was an issue last season with both Stefon Diggs and Deon Long suffering broken legs -- just for starters. Neither of those game-breakers is expected to be on the field this spring, but their respective rehabs are critical moving forward.
Give and take: An emphasis on protecting the football on offense and creating more turnovers defensively is nothing new in spring practice, but Randy Edsall might just double down on that message this year. The Terrapins finished last in the ACC in turnover margin last season and were ranked No. 102 in the nation with seven more giveaways than takeaways, which isn't a recipe for success in any league.
Coaching chemistry: The deck wasn't completely reshuffled, but the Terrapins will have three new assistants in charge and could use a seamless transition as they prepare to move to a new league. Keenan McCardell (wide receivers), Chad Wilt (defensive line) and Greg Studrawa (offensive line) will help deliver Edsall's message moving forward, and it's as crucial for a coaching staff to jell and find common ground as it is for players on the field.

Michigan
Spring start:
Feb. 25
Spring game:
April 5
What to watch
Go pro: If it was the coordinator keeping Brady Hoke from putting the offense he wanted on the field, that won't be an issue anymore with Al Borges out of the picture. Snapping up Doug Nussmeier from Alabama should put the Wolverines on the path for a more traditional pro-style attack, and establishing that playbook starts on the practice field in spring.
Quarterback quandary: The competition to lead the new-look offense is open between Devin Gardner and Shane Morris, and how that battle shakes out will obviously have a lasting impact and shape the season for the Wolverines. Gardner has the edge in experience and turned in a gritty, wildly productive outing against Ohio State while injured to end the season, but he certainly has lacked consistency. Morris filled in during the postseason with mixed results, but one of those guys will need to emerge.
On the line: The Wolverines were in the middle of the pack in the Big Ten in sacks, and only Purdue was worse in the league at protecting the quarterback. Both sides of the line have plenty of room to develop, and those daily battles against each other this spring will need to sharpen both the pass-rushers and the blockers if Michigan is going to be able to win games up front.

Michigan State
Spring start:
March 25
Spring game:
April 26
What to watch
Something cooking: The finishing flourish in the Big Ten title game and the Rose Bowl showed how far Connor Cook had come from the start of the season to the end, but there's still more room to grow. His numbers are slightly skewed thanks to the way Michigan State handled the job early in the season, but overall he averaged fewer than 200 yards per game passing. With such a great defense, that was enough -- but boosting that total would be better for the Spartans.
Reload defensively: The seemingly impenetrable defense might have been more than sum of its parts, but the individual pieces Michigan State had on hand weren't too shabby, either. With Darqueze Dennard, Max Bullough and Denicos Allen all gone, the Spartans will need to identify some replacements for the stars of that elite unit from a year ago.
Plug some holes: Both starting offensive guards have to be replaced, and given the perhaps overlooked significance of the work the line did for the Spartans last season, that shouldn't be dismissed as a meaningful item on the checklist. Cook has to be protected in the pocket, for starters, but with the way the Spartans traditionally pound the football on the ground, they'll need some road-pavers to step up during spring practice to keep the offense on the upswing.

Ohio State
Spring start:
March 4
Spring game:
April 12
What to watch
Backs to the wall: There weren't many deficiencies to be found on a team that again went through the regular season unbeaten, but Ohio State's glaring weakness caught up with it late in the year. The Buckeyes looked helpless at times against the pass, and new co-defensive coordinator and secondary coach Chris Ash was brought in to make sure that unit is dramatically improved.
Hold the line: The Buckeyes held on to Braxton Miller for another year, but they lost four seniors who had protected the quarterback for the past couple of seasons. That might be a worthwhile trade, but finding replacements up front will be imperative for a team that has leaned heavily on that veteran presence in the trenches since Urban Meyer took over the program. Taylor Decker is the lone holdover in the starting lineup, and he'll need to assert himself as the leader of the unit.
Air it out: Miller had some shaky performances throwing the ball down the stretch, but taking the passing game to a higher level is not solely his responsibility. The Buckeyes also need improved play and more reliable options at wide receiver, and they've recruited to address that issue over the past couple of years. Michael Thomas, who redshirted during his second year on campus, might be leading the charge for a new batch of playmakers on the perimeter.

Penn State
Spring start:
March 17
Spring game:
April 12
What to watch
Starting fresh: There are new playbooks to learn again for the Nittany Lions, and spring practice will be the first chance for James Franklin to start shaping his team in his image. That process doesn't just include memorizing schemes and assignments for the players, since every coach has a different way of structuring practices and meetings. The sooner the Nittany Lions adjust the better off they'll be in the fall.
Next step: As debut seasons go, it's hard to find much fault in the work Christian Hackenberg did after being tossed into the fire as a true freshman. He threw for nearly 3,000 yards with 20 touchdowns, completing 59 percent and setting the bar pretty high for himself down the road. As part of his encore, Franklin would probably like to see the young quarterback cut down on his 10 interceptions as a sophomore.
Tighten up the defense: There were pass defenses with more holes than Penn State's a year ago, but that will be little consolation for a program that has traditionally been so stout on that side of the ball. Adrian Amos and Jordan Lucas can get the job done at cornerback, but the Nittany Lions need to get stronger at safety -- and also need to fill notable spots in front of them with linebacker Glenn Carson and defensive tackle DaQuan Jones now gone.

Rutgers
Spring start:
March 25
Spring game:
April 26
What to watch
Toughen up: The Scarlet Knights have seen hard-hitting competition and proven they aren't afraid of a challenge, but the Big East and American conferences don't provide nearly the weekly physical test that playing in the Big Ten does. There's no reason to think Kyle Flood won't have his team ready for the transition and a new league, but developing both strong bodies and minds starts in spring practice.
Settle on a quarterback: There's a veteran signal-caller on hand with 28 career starts to his credit, but Flood made it no secret as far back as January that he would hold an open competition during camp to lead the offense. Gary Nova has the edge in experience, but he also has more interceptions in his career than games started. That could open the door for one of three younger guys to step in, though Mike Bimonte, Blake Rankin and Chris Laviano have combined to take a grand total of zero snaps.
Star turn: There's nothing wrong with spreading the wealth, and the Scarlet Knights certainly did that in the passing game last season. Having five targets with at least 28 receptions can keep a defense off-balance, which is a good thing. But ending the season with none of those guys topping 573 yards might not be quite as encouraging, and establishing a consistent, go-to, big-play threat in the spring could prove useful for a team that finished No. 62 in the nation in passing yardage.
February, 25, 2014
2/25/14
9:00
AM ET
Spring football kicks off earlier than normal in the Big Ten, as Michigan takes the field Tuesday, Northwestern follows Wednesday and eight other squads begin their sessions by March 8.
The accelerated schedules seem appropriate in a league filled with players, coaches and teams itching for fresh starts.
New assistants get their first chance to repair struggling units, whether it's Doug Nussmeier with Michigan's offense, Brian Knorr with Indiana's defense or Chris Ash and Larry Johnson with a once-feared Ohio State defense. Quarterback competitions begin or resume at nine places, as new faces such as Illinois'
Wes Lunt
, Nebraska's
Johnny Stanton
and Minnesota's
Chris Streveler
enter the mix, while veterans like Wisconsin's
Joel Stave
and Michigan's
Devin Gardner
try to retain their starting jobs.
Happy Valley continues to buzz about new Penn State coach James Franklin, who seems to galvanize everyone whom he encounters. But Franklin barely has been around his new players and finally begins the real work with a team facing very real challenges.
[+] Enlarge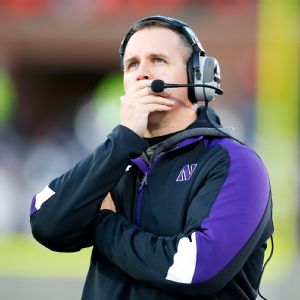 AP Photo/Jeff HaynesNorthwestern coach Pat Fitzgerald hopes his team can start a rebound from a disappointing, injury-riddled 2013 season.
Spring also allows teams such as Northwestern, Michigan, Purdue and Indiana to look forward after disappointing seasons. Michigan State, meanwhile, continues to bask in the Rose Bowl glow but looks toward its next goal -- a national championship -- as spring ball kicks off March 25.
"It's big-picture stuff, building relationships with the players and everyone associated with the program," Franklin told ESPN.com. "The other thing is laying a really good foundation with the philosophies and schemes of how we're going to do things. That's going to happen naturally over time, but I'm not the most patient person. I wish it would have happened yesterday."
Franklin doesn't water down his goals for Penn State, especially in recruiting, but he's also realistic about the challenges of a reduced roster. The Nittany Lions return strong pieces such as quarterback
Christian Hackenberg
and defensive back
Adrian Amos
,
but the two-deep has some holes that Franklin and his assistants must address, while installing new schemes.
"It's one thing when you get put in this situation in the first place with limited scholarships," Franklin said, "but the longer you're in it, the more effect it has. We've got some depth issues, there's no doubt about it, across the board. We're going to have to get creative."
Northwestern also is focused on depth after being hit hard by key injuries in 2013. Pat Fitzgerald blames himself and his staff for failing to get enough second-stringers ready, which proved costly in close Big Ten losses.
After their first bowl-less winter in six years, the Wildcats responded well in the weight room, as more than 50 players recorded personal bests. Although 11 players will miss spring practice, including standout running back/returner Venric Mark, the depth should be better in areas like the secondary.
"We're really emphasizing taking ownership of the finish," Fitzgerald said. "Finishing your technique, finishing the call, finishing the route. There's a lot of disappointment in the way the program didn't take the next step forward."
Michigan coach Brady Hoke
restructured the roles of his defensive assistants
for 2014, but the Wolverines' offense will be in the spotlight this spring after a wildly inconsistent season. Gardner, who continues to recover from a foot injury and likely won't be 100 percent until midway through the spring, will compete with
Shane Morris
,
Russell Bellomy
and midyear enrollee
Wilton Speight
.
But other positions, such as offensive line, figure to be just as important as Michigan tries to achieve Hoke and Nussmeier's vision.
"We had good intentions as far as what we wanted our identity to be, but obviously I don't think it came out the way we'd like it to," Hoke said. "The quarterback position is as important as any, and we have a guy [Gardner] who is very talented and had some really good games and games where we had to protect him better, have a better run game and take pressure off of him, and I don't think we did."
While Michigan turns the page on offense, Ohio State focuses on a defense that allowed 115 points in its last three games and finished 110th nationally in pass yards allowed (268 YPG). The Buckeyes lost top defenders
Ryan Shazier
and
Bradley Roby
, but they also added two accomplished assistants.
Johnson, who churned out NFL linemen during 18 years at Penn State, chose Ohio State instead of remaining in State College. Ash leaves a sole coordinator role at Arkansas for a co-coordinator role at Ohio State, where he'll work with the embattled Luke Fickell and others to mend the defense through a simplified scheme.
"Back in the day when Ohio State played great defense, you knew what you were going to get," Ash said. "They
played with swagger, played with confidence, played with toughness. We have to get back to that. The simplicity of the things we're going to do will lead to faster players, more plays made and a more aggressive defense.
"I wasn't here [in 2013], but I can tell you what Coach Meyer has told me, what Luke Fickell has told me and what I watch on film. I can see there's some hesitation, there's some uncertainty. Why that is, I don't know. But it's my job to get it fixed."
Purdue has plenty to fix after a 1-11 season, and players not surprisingly are
wearing T-shirts with the word "FORWARD" on the backs
. Maryland and Rutgers move forward to a new conference after an offseason that saw several staff changes, including new coordinators at Rutgers (Ralph Friedgen, Joe Rossi).
There's a fresh start of sorts at Wisconsin, as a large and decorated senior class departs. Coach Gary Andersen's markings will be more obvious with his second team, which begins practice March 7.
Wisconsin is just one of many places where the top quarterback job is at stake. Lunt, who sat out last season after transferring from Oklahoma State, competes with
Reilly O'Toole
and
Aaron Bailey
at Illinois.
"Competition's competition, no matter where it's at," said Lunt, who has added about 15 pounds since his arrival and checks in at 225. "It's different because it's different people, different coaches, but I'm excited for it."
He's not alone in the Big Ten. Spring ball can't start soon enough.
January, 31, 2014
1/31/14
4:30
PM ET
Wishing you a great weekend. I'll be hooping it up Saturday in Madison.
Don't forget:
Twitter
.
B1G in Memphis writes:
I agree in principle with
Kain Colter
's call for the organization of student athletes if it seeks to prevent injuries or compensate student athletes for injuries sustained in their college careers. However, the concept of paying student athletes that many have suggested seems unreasonable to me. You couldn't just pay the revenue sports players, because that would be discriminatory to female athletes (Title IX, anyone?). And if you paid all athletes, athletic departments would have an incentive to eliminate non-revenue sports.
[+] Enlarge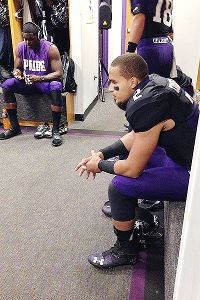 Adam Rittenberg/ESPN.comNorthwestern QB Kain Colter's attempts to unionize players might have good intentions, but seems like it will face many obstacles.
Adam Rittenberg:
Some really good points, B1G. I have a hard time seeing how anything changes without adhering to Title IX. My understanding is if the value of athletic scholarships increase, as the Big Ten and other major conferences have wanted for years, it would apply to all full-scholarship athletes to meet Title IX standards. Colter made it clear that money isn't the top priority in all of this -- long-term medical expenses are -- and if there are some additional protections athletes can receive, that's a good thing.
Chase from Detroit writes:
Adam, I think the other side to the this Brendan Gibbons story is missing here. The program and university definitely need to answer questions about when Gibbons' separation from the university was official, how the information should have been released, and why the investigation took so long. But let's not forget the fact that Gibbons was investigated by the police and faces no legal charges. How is his situation any different from
Jameis Winston
from FSU,
Keith Appling
and
Adreian Payne
from MSU, or
Prince Shembo
from ND? All of these guys were involved in serious sexual assault investigations, but there was never enough evidence or cooperation to face legal charges like Gibbons. Shouldn't Michigan also be commended for taking a hard-line stance even where there were no legal charges?
Adam Rittenberg:
Chase, while Michigan seems to have its policy correct now, we don't know the full story of how the university responded to the initial allegations. Did the alleged victim feel the university responded swiftly and appropriately in her case? It's unfortunate that an incident in 2009 only has repercussions four years later, essentially after Gibbons' playing career. But it does seem like Michigan will approach these situations correctly going forward. I don't think that calls for a ton of praise, though.
---

Nathan from Burlington, Vt., writes:
Adam, I'm a die-hard Rutgers fan. This year was pretty disappointing for us. I expect us to have a .500 record our first year in the B1G but have high hopes for 2015. We have a great recruiting class coming in. Do you think we have a shot at being a top team in 2-3 years in the B1G?
Adam Rittenberg:
Nathan, you mention the recruiting class, and that's what it will take for Rutgers to rise up in the Big Ten, particularly in a tough division like the East. Rutgers will have to lock down its borders and keep the best in-state players at home, which is no easy task given how many Big Ten programs recruit in the Garden State. I also think Rutgers must make strong financial investments in its program, including the coaching staff, to keep pace with the deep-pocketed Big Ten. Should be interesting.
---
Rob from Chicago writes:
What questions must Michigan answer? The timing of the incident is known. The timing of when it was reported to the school is known. The expulsion came at the end of the school's investigation and its own determinations. No criminal charges were ever filed, and there is not an ongoing investigation by the police. (A fact dropped from your attack piece.) Without criminal charges, its akin to the Jameis Winston case. There was no suspension there. Maybe ask MSU the tough questions about [Max] Bullough? ... If we are going to ask tough questions, ask that one as well.
Adam Rittenberg:
Yes, Rob, it's always about what the other school did in its case, never about yours. The glee that certain fan bases take about the troubles of rival teams really bothers me, but whatever. The question here is when Michigan's athletic department and Brady Hoke knew about two things: the initial letter stating the school had determined Gibbons engaged in unwanted sexual conduct, and when the school had decided to suspend Gibbons. If Michigan knew all of this in November and still let Gibbons play at Iowa, that's a problem in my view -- if not a legal/official one, a moral one.
---

Drew from Kennebunk, Maine, writes:
What does Indiana have to do to fix its defense, which has been last in the Big Ten the last three years running, and one of the worst in the nation. They hired a new DC recently, but is coaching the issue here, or something else? Is it more of a lack of talented defensive players, rather than coaching?
Adam Rittenberg:
Love Kennebunk and that entire area, Drew. Talent certainly is the biggest factor when it comes to IU's defense, and Indiana played a bunch of freshmen in Kevin Wilson's first two seasons. New coordinator Brian Knorr will inherit a group with a lot of starting experience. IU will never have the best defensive talent in the Big Ten, but with improved recruiting and a good scheme, the defense can rise to a respectable level, which might be enough because the offense is so strong. If Indiana has a mediocre defense last season, it probably wins seven games.
---

Max Wittek from Los Angeles writes:
Hey Adam, I'm an unrestricted free agent eligible to play immediately after graduation this spring. What are the chances of me continuing the QB transfer tradition in Madison? If the Badgers pursue me, am I
Danny O'Brien
or will I be
Russell Wilson
? How's the weather compared to LA?
Adam Rittenberg:
Weather is awesome, Max. Just like L.A. I'd be a little surprised if you ended up in Madison, especially since Wisconsin has several younger quarterbacks it's looking to develop.
Bart Houston
is only a redshirt sophomore, and
Joel Stave
still has two seasons of eligibility left and a lot of experience under his belt. I don't know if the desperation is the same as it was when Wilson and O'Brien came to Madison.
---

Matt from Plymouth, Minn., writes:
With
Jeff Jones
canceling his visits to Florida and Michigan, it's looking more and more like he will end up a Gopher after all. How big is this going to be for Jerry Kill and the Gopher program if they end up with this year's top in state player?
Adam Rittenberg:
It's huge, Matt. Minnesota has lost many of its top in-state prospects to other programs over the years. There are a limited amount of great players in the state, so to be able to keep one at home is really significant. Jones is a guy who could step in right away and help
David Cobb
in the run game.
January, 29, 2014
1/29/14
12:00
PM ET
The links have decided to unionize.
January, 28, 2014
1/28/14
12:00
PM ET
I'm here tonight to tell you the state of our union is ... cold.
January, 21, 2014
1/21/14
2:00
PM ET
The silly season isn't quite over, as several Big Ten coaching vacancies (including at incoming member Rutgers) have yet to be filled. But several teams recently made important coordinator hires to bolster units for the 2014 season.
We saw in 2013 how much a good coordinator can impact a unit, as Illinois' offense surged under the direction of Bill Cubit, improving from 119th nationally to 46th. Other coordinator hires haven't worked out so well.
Today's poll question asks:
Which Big Ten coordinator hire will be the most important going forward?
Here are the options ...

Ohio State defensive coordinator Chris Ash:
The team has yet to officially announce Ash's hiring, but he is headed to Columbus after spending four seasons on Bret Bielema's staffs at both Wisconsin and Arkansas. Ash will be a co-coordinator at Ohio State and coach defensive backs, but he'll likely be the primary defensive play-caller, a role he held at both Arkansas and Wisconsin. Ohio State's defense struggled at times in 2013, particularly against the pass, an area Ash will be tasked with shoring up.
Penn State offensive coordinator John Donovan:
Donovan also hasn't been officially announced, but as
his Twitter page
confirms, he went with head coach James Franklin from Vanderbilt to Penn State. He spent the past three seasons as Vanderbilt's offensive coordinator and running backs coach. Donovan takes over a unit that performed well under previous coach Bill O'Brien and boasts reigning Big Ten freshman of the year
Christian Hackenberg
at quarterback. The Lions lose top wide receiver
Allen Robinson
but bring back several talented tight ends and running backs. Donovan and his staff must continue to develop Hackenberg and keep the unit on the right track.
Indiana defensive coordinator Brian Knorr:
No coach on this list has a bigger challenge than Knorr, who must bolster a defense that has struggled for the better part of two decades. The former Ohio head coach and Wake Forest defensive coordinator inherits a unit that returns 10 starters but finished 114th nationally or worse in the four major categories (total defense, scoring defense, rush defense and pass defense). Indiana doesn't need its defense to become nationally elite overnight, but some improvement is needed to get the Hoosiers back to bowl games.
Michigan offensive coordinator Doug Nussmeier:
After two seasons as Alabama's offensive coordinator, Nussmeier takes over a Michigan offense that went through a wildly inconsistent 2013 season, setting records for both production and futility. The Wolverines struggled up front and couldn't generate an inside run game, so the ground game will be a priority for Nussmeier. He also must design a system to best feature dual-threat quarterback
Devin Gardner
, who put up monster numbers in several games last season but also struggled with turnovers early and accuracy late.
January, 20, 2014
1/20/14
12:00
PM ET
I'm the best lunch linker in the game.
Harbaugh: Split With 49ers Not Mutual
BIG TEN SCOREBOARD
Thursday, 9/3
Friday, 9/4
Saturday, 9/5
Sunday, 9/6
Monday, 9/7