Michigan Wolverines:

Brian Kelly
May, 20, 2014
5/20/14
10:30
AM ET
This September's 42nd Notre Dame-Michigan matchup is likely the last between the schools for the foreseeable future. That doesn't, however, mean that the appearances of Big Ten teams on the Irish's schedule are coming to an end.
Michigan State and Purdue have been stalwarts on Notre Dame's slate -- more than Michigan. And athletic directors from both schools are happy to see their respective rivalries with the Irish continue, even if they're on an abbreviated basis.
Among imminent matchups, Notre Dame will "host" the Boilermakers Sept. 14 at Lucas Oil Stadium in Indianapolis for its annual off-site Shamrock Series game. The Irish have a home-and-home scheduled with the Spartans for 2016 (at ND) and 2017 (at MSU).
"[Notre Dame athletic director] Jack [Swarbrick] and I are in constant communication, and it's not adversarial whatsoever. But it's a situation where, both with us going to nine [conference] games and with them having to move into the ACC scheduling model, it's created some significant challenges for both of us," Michigan State athletic director Mark Hollis told ESPN.com. "And right now we're kind of in a position of, we know the next two, we know we have two more in the future and we're just kind of taking it one step at a time. We've been in constant communication."
The future, Hollis told local reporters last week, includes an agreement to play a home-and-home in 2026 and 2027, as well as a neutral site game, possibly in Chicago, in 2023.
Notre Dame and Purdue, meanwhile, have five more scheduled games -- Sept. 19, 2020 at Purdue; Sept. 18, 2021 at Notre Dame; Sept. 14, 2024 at Purdue; Sept. 13, 2025 at Notre Dame; and in 2026 on a date and in a neutral site that has yet to be determined.
"I think the relationship between the schools is -- you're not going to take it to San Juan," Purdue athletic director Morgan Burke told ESPN.com. "But we have alums all over the country, too. Strong populations in Texas, in California, in Florida. The likely sites are Chicago and Indianapolis."
Notre Dame coach Brian Kelly
said last week that most of his scheduling conversations with Swarbrick start with Michigan, Michigan State and an SEC team
. But Wolverines athletic director David Brandon told ESPN.com's Adam Rittenberg in an email that there had been no discussions with the Irish.
The mood might have soured between the two schools -- Sept. 7 at Notre Dame will be their last matchup following the Irish's 2012 exercising of a three-year opt-out clause in the series -- but that has not been the case between the Irish and the rest of the Big Ten.
"Jack and I have known each other for a long, long time," Burke said. "He had a hard deal because when the Big East went the way it went, he had to find a home for lots of sports. What he had to do then was to negotiate, he had to use some of the football inventory to do that, and that's what created the issue. There's no issues with wanting to play Purdue or Michigan State. The Michigan thing there's a little bit of a tiff, I guess. But I don't think so.
"Our history goes back a long time. So what we tried to do was to make sure that there was at least a path forward. In other words, don't just announce Lucas Oil and it stops, but try to show people that we're going to play more than just once every 10 years. That's the best we could do now. Who knows what the landscape will be down the road? My hope is that someday, I hope we don't look back and say we lost something that started in 1946, because there are Purdue and Notre Dame folks who have been going to those games for years and tailgated. And you've had some great athletic contests with some great family relationships. And as we break some of this stuff apart and get bigger leagues, do you lose some of those relationships, and 10 or 15 years from now, does that hurt you?"
With Purdue having played Notre Dame 85 times, and with Michigan State having played the Irish 77 times, both schools are hoping that the answer to that question is a resounding no.
"There's going to be fewer games with Notre Dame because of the national landscape, and that's one of the unfortunate parts of conference expansion, is those nonconference games take secondary step," Hollis said. "But it's important to Michigan State that we continue to play on a national stage, so we'll have Notre Dame as much as we can have Notre Dame. They want as many games, we want as many games, it just all has to fit."
September, 6, 2013
9/06/13
2:00
PM ET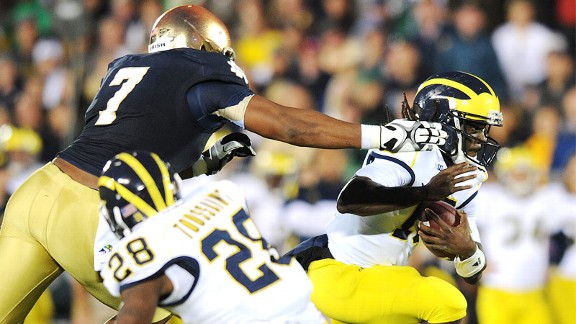 Chris Williams/Icon SMIStephon Tuitt is looking forward to making memories at the Big House on Saturday.
SOUTH BEND, Ind. —
Stephon Tuitt
's memories of Notre Dame's last trip to Michigan are, well, colorful.
"I just remember it was a big ol' stadium with a lot of yellow pompoms," Tuitt said. "That's it."
Tuitt traveled to the Big House in 2011, but he never played a snap. Both he and
Aaron Lynch
, prized freshmen ends with one college game under their belts at the time, were held out of the 35-31 loss to the Wolverines as coach Brian Kelly deemed them not ready.
Tuitt's role has ballooned in the two years since, as the 6-foot-6, 322-pounder will stand eye-to-eye this Saturday with a fellow All-American, left tackle
Taylor Lewan
.
Well, almost eye to eye.
"He's 6-8 and can move really good," Tuitt said. "We watch his film. He's a great tackle. He backs up well. He has great strength. … Me going against that is a great matchup and a great opportunity for me to really showcase the things that I worked on this summer, and a great opportunity for him to showcase what he worked on this summer, and I'm expecting a great matchup between me and him."
It is a showdown of probable first-round draft picks next spring. Lewan passed on that opportunity for a fifth and final season with the Wolverines, much like the other measuring stick Tuitt gets to see every day in practice in
Zack Martin
, who has helped with the preparation for the challenge that awaits this weekend.
"That's the thing about it," Tuitt said. "You've got one of the best tackles on our team, one of the best tackles in the country. It makes you better. It makes your confidence way higher, too."
Tuitt will inevitably have a decision of his own at the end of this season as the prized junior looks to build off a 12-sack 2012 campaign that he had previously deemed a "learning year." Playing in just his seventh year of organized football, the behemoth from Monroe, Ga., has learned to harness his big frame and become more than just a quarterback hunter.
Or, as linebacker
Jarrett Grace
described it: "He doesn't just have to be Godzilla out there throwing everyone around. He can be Godzilla focused in one area taking everyone out, because we've got other great guys on the defensive line that are also working their technique."
So Tuitt's only chance in Ann Arbor might also serve as his last chance against the Wolverines, with the attention surrounding the Big House's second night game only raising the stakes as he faces his stiffest individual test.
"No more going back, so I've got to leave it all," Tuitt said. "Leave it all out there."
September, 2, 2013
9/02/13
12:00
PM ET
I labored to put these links together. Get it? Get it? Enjoy the holiday.
September, 1, 2013
9/01/13
3:32
PM ET
Notre Dame's biggest rival is USC. Michigan's is Ohio State. Neither is debatable.


But the Irish and the Wolverines are two of the three winningest programs in college football history, a pair of Midwestern powers whose annual clashes have, especially as of late, turned in some of the most exciting early-season finishes in college football.
But with Notre Dame entering Ann Arbor, Mich., this Saturday for its last scheduled trip to the Big House, Brian Kelly is not so sentimental about the loss of the Michigan rivalry, which will be played once more in 2014 in South Bend, Ind, before each says its goodbyes.
"Well I really haven't seen it as one of those historic, traditional Notre Dame rivalries," the fourth-year Irish coach said Sunday. "I've seen it as just a great football game that Notre Dame has played. For me, I've been in Michigan a long time, so I've always felt that the Notre Dame-Michigan game was a big regional game. But I think in the Notre Dame history books, this game has [been played], but obviously there's been some years where it hasn't been played for a number of years as well."
Irish athletic director Jack Swarbrick exercised a three-year out clause in the game's contract right before kickoff of last season's tilt, giving the school some schedule flexibility shortly after it agreed to play five ACC teams annually starting in 2014.
Michigan coach Brady Hoke told a crowd at a luncheon this past May that Notre Dame was "chickening out of" playing the Wolverines each year.
Asked Sunday for his reaction to Hoke's comments, Kelly said he hopes the two sides can work something out in the future, though Michigan athletic director David Brandon
had said in May that it would be a "long time" before the series resumes
.
"I think everybody knows the challenges that we have as an independent when it comes to scheduling," Kelly said. "We're a team that a lot of people want to play, including Michigan, obviously, or Brady wouldn't comment in that regard.
"So we're trying to do the best we can with maintaining the independent status and fulfilling the obligations we have with the ACC. We'd like to play everybody; unfortunately, we can't. And there's going to be little bit of a hiatus with this game but we'll work hard to get them back on the schedule."
Asked what might be lost without Notre Dame and Michigan on each other's schedules, Kelly said: "I would think that the geographical proximity, and certainly from a recruiting standpoint in the Midwest, Notre Dame and Michigan are recruiting kids [who] are very good students, and certainly there's a lot of similarities. I don't think any time off will affect the great rivalry that these two teams have shared over the years."
January, 10, 2013
1/10/13
10:00
AM ET
Each Thursday, the WolverineNation staff sits down to talk Michigan sports. This week, they look at national championships, the basketball team's young'uns and one of the last big recruiting targets.

1) The national championship has come and gone, so, with the recruits Michigan is getting and Brady Hoke's expectations, how long is it until the Wolverines are competing at that level?


September, 22, 2012
9/22/12
11:16
PM ET
Denard Robinson
was the difference in the Michigan-Notre Dame classics in 2010 and 2011.


Robinson was again the key figure in the 2012 meeting, though not in a good way for the Wolverines. And the game was anything but a classic -- but Irish fans will gladly take the ugly
13-6 victory
.
It was a bizarre game in South Bend that featured eight turnovers, including six of them by the losing team. Here's a quick look at how it went down.
It was over when:
Tommy Rees
found
Tyler Eifert
for a 38-yard gain on third-and-4 from the Notre Dame 31 with less than two-and-a-half minutes remaining. That play, coming against one-on-one coverage, allowed the Irish to run out the clock and keep Robinson from pulling off another miracle. It was Eifert's only catch of the game.
Game ball goes to:
The Notre Dame defense. For the past two years, they were absolutely terrorized and traumatized by Robinson. This time, the Irish not only held Michigan out of the end zone, they forced Robinson to turn it over five times (four interceptions, one fumble). He had 228 total yards, and his longest run was only 20 yards. It was like a photo negative of Robinson's previous two performances in this series. The front seven got great pressure and stayed in its lanes, while
Manti Te'o
played an enormous game with two interceptions and two hurries that led to turnovers. That's why the Irish erased their nightmares from years past.
Stat of the game:
Michigan had 299 total yards to only 239 for Notre Dame. But the minus-four in turnovers was too much to overcome.
How the game was won:
Turnovers, turnovers, turnovers. Notre Dame coach Brian Kelly made the best move of the game when he lifted
Everett Golson
for Rees in the first half. Golson looked too skittish for this stage and had two bad interceptions. Rees settled down the offense and while he threw for only 115 yards, he was the only quarterback in the game who took care of the ball.
Second guessing:
Michigan was driving the ball well in the first quarter and had the ball on the Notre Dame 10-yard line when offensive coordinator Al Borges got a little too tricky. He called for a halfback pass from the diminutive
Vincent Smith
, who jumped in the air with Te'o barreling down on him and lobbed an easy interception in the end zone. The Wolverines could have used the momentum early and ended up really needing the points.
What Notre Dame learned:
While this one wasn't pretty, the Irish could hardly have asked for a better start to this season. Its defense is playing at a championship level -- to hold Michigan and Robinson to six points is an outstanding achievement. There are still questions for this team, and Kelly will have to answer even more quarterback controversy questions this week, but this is the toughest Irish team we've seen in a while.
What Michigan learned:
The Wolverines still aren't ready for prime time. They got blown out in the opener against Alabama and then were ridiculously sloppy with the ball in this one. While Michigan had by far its best defensive performance to date and can build on that, Robinson is still making too many mistakes in the passing game. There's really no reason for the Wolverines to be ranked in the top 25 right now, but Michigan still will be a factor in the weakened Big Ten, which went 0-3 against Notre Dame.
September, 20, 2012
9/20/12
4:30
PM ET

Michigan looks to beat Notre Dame for the fourth straight year under the lights in South Bend on Saturday (7:30 p.m. ET, NBC).
September, 19, 2012
9/19/12
9:00
AM ET
Notre Dame has the perfect record, the home crowd, the prime-time stage and the more complete team, not to mention three years of frustrating losses as fuel.
Brian Kelly's squad is all set up to finally take down No. 18 Michigan.
There's only one problem:
Denard Robinson
. Every Notre Dame player, coach or fan will shudder when they see No. 16 in a winged helmet Saturday night at Notre Dame Stadium. He's there to ruin their party.
When shamrocks face dreadlocks, dreadlocks win -- in unforgettable fashion.
Ever since Robinson took his first snap in a Michigan uniform -- a 43-yard touchdown run following a fumble in the 2009 opener -- he has been arguably the most exciting player in college football. More accomplished college stars don't have a highlight reel as extensive or as impressive as Robinson's. And no team has been Robinson's foil more than Notre Dame.
The Michigan senior quarterback has tormented Notre Dame the past two seasons.
[+] Enlarge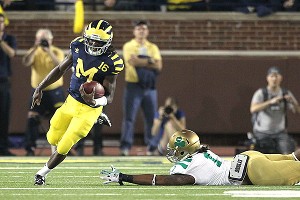 Leon Halip/Getty ImagesLast season, Denard Robinson led Michigan's improbable comeback against Notre Dame.
In 2010, he set Michigan, Big Ten and Notre Dame records in rallying the Wolverines to a
28-24 victory
in South Bend. Making his first career road start, Robinson shattered his own team total offense mark with 502 yards; set team records for total plays (68) and single-game road rushing (258 yards); recorded the fifth-highest rushing effort in Michigan history; set the Big Ten quarterback rushing record; recorded the longest run in Notre Dame Stadium history (an 87-yard scoring dash in the the second quarter) and the second-longest ever against the Irish (88 yards by Michigan State's Dick Panin in 1951); and set the single-game total offense record by a Notre Dame opponent.
Robinson also directed the game-winning drive (12 plays, 72 yards), which he of course capped with a 2-yard scoring run with 27 seconds left. Only
three FBS quarterbacks had more yards in a game
during the 2010 season than Robinson, and none faced a big-time opponent like Notre Dame.
His statistics against Notre Dame last September weren't quite as insane, although not far off (446 yards of total offense, 338 passing yards, 108 rushing yards, four passing touchdowns, one rushing touchdown). What stood out is that he did almost all of his work in the fourth quarter. Robinson completed only three of his first 13 pass attempts for 59 yards with a touchdown and two interceptions before firing a 77-yard pass to Junior Hemingway at the end of the third quarter.
"For three quarters," Michigan coach Brady Hoke said, "we did nothing on either side of the ball. Denard, in the fourth quarter, played well."
That's putting it mildly.
Robinson connected on 7 of 10 pass attempts for 202 yards and three touchdowns with one interception in the fourth quarter -- translating to a passer rating of 318.7 (he had 105.2 rating in the first three quarters). Robinson rallied Michigan from a 24-7 deficit entering the quarter and then from a 31-28 deficit in the closing seconds, finding
Roy Roundtree
from 16 yards out for the winning score
with two ticks left
.
"Man," Robinson said, "it was a great game."
Robinson wasn't available for an ESPN.com interview this week, and Michigan didn't spend much time discussing its recent triumphs against Notre Dame. Besides, it's hard for anyone -- Robinson, his coaches, his teammates -- to truly pinpoint why he has been so good against Notre Dame.
They'd just like it to continue Saturday night.
"It's interesting," offensive coordinator Al Borges said. "I don't know. He pretty much prepares the same way, from my perspective, for every game. He's just had good games against Notre Dame. ... I'm not sure why."
"I don't know if anybody knows [the reason]," Hoke said. "Every year's different, every game's different, the pieces that are on the field are different. It's just been lucky for us, lucky for Michigan, that he's played well."
"It just happened to be Notre Dame, as it should be when it is a big rivalry like that, that he performs his best," Wolverines wide receiver
Devin Gardner
said.
Not surprisingly, this week's scouting report for Notre Dame's defenders, who are coming off of a brilliant performance at Michigan State, was short and sweet.
Stop 16.
"He's a superior football player," Kelly said Tuesday. "He's a difference-maker. ... It's about our defense not giving up those big, chunk plays. We gave them up in the running game in [2010] and we gave them up in the passing game in [2011]."
Robinson has Notre Dame's full attention.
"He's the best player on the field," Kelly said.
Robinson has played only two full games against Notre Dame -- he had 21 rushing yards and no passing yards against the Irish in 2009 -- but already owns the career record for total offense by an Irish opponent (969 yards). He needs four passing touchdowns to tie the record for most against Notre Dame held by former USC star Matt Leinart. He probably won't catch Tony Dorsett for the career rushing record against Notre Dame (754 yards) or Steve Stenstrom for the career passing record against the Irish (1,020 yards).
Still, his impact in the rivalry won't soon be forgotten, especially if he leads Michigan to a fourth consecutive win against the Irish on Saturday night.
"He'll play his best against us," Kelly said. "We're prepared for that."
WolverineNation's Michael Rothstein contributed to this report.
Michigan C Cites Concussions In Decision To Quit
BIG TEN SCOREBOARD
Thursday, 9/3
Friday, 9/4
Saturday, 9/5
Sunday, 9/6
Monday, 9/7