Michigan Wolverines:

Brian Ferentz
April, 17, 2014
4/17/14
12:00
PM ET
Make up your mind, Mother Nature.
March, 12, 2014
3/12/14
5:00
PM ET
Your second serving of my mailbag for the week has arrived ...
@JeffHurdaCow via Twitter writes:
Do you think that the Big Ten will get a team into the playoff, and who is more likely?
[+] Enlarge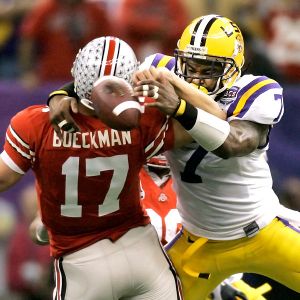 AP Photo/Charlie RiedelOhio State was the last Big Ten team to play for the national championship, after the 2007 season.
Brian Bennett:
That's really the key question for 2014, isn't it? It's bad enough that the Big Ten hasn't played for a national title since the 2007 season; from now on, getting to the final four will determine just how relevant any major league is. Football Outsiders recently looked at the
top 10 contenders for the playoff
and included just one Big Ten team: Ohio State, which they ranked eighth with a 34 percent chance of finishing 11-1 or better. You absolutely have to throw Michigan State in there, as the Spartans broke into the elite ranks last year and has a spotlight nonconference opportunity at Oregon. If Wisconsin can manage to beat LSU in the opener, the Badgers have a very nice schedule the rest of the way. Those would be my top three contenders.
But I think it's going to be tough. The SEC is all but guaranteed at least one spot in the field, and Florida State is a good bet to get back as well. A Big Ten team is likely going to have to finish undefeated or with just one loss against a strong schedule to get into the four-team mix. Not making the playoff in a year when the Rose Bowl is a semifinal would be a bitter pill for the league to swallow.
---
Matt from Ypsilanti, Mich., writes:
I think this could be the year that starts the rise of the Big Ten and the fall of the SEC (short term). My reason is this: For the first time in a long time, I think it looks like QB play will be much improved. It could be a position of strength for the Big Ten in 2014 due to many experienced QBs returning and a lot of young talent as well. Many of the top teams in the SEC do not have their starters back, and although they will still have talented signal callers, they will likely see a drop in production for SEC QBs. Do you agree the Big Ten will have an advantage over the SEC -- and maybe all other conferences -- at QB next year?
Brian Bennett:
I like your optimism. The SEC lost an astonishing amount of talent at quarterback with guys like
Johnny Manziel
,
AJ McCarron
,
Aaron Murray
and
Connor Shaw
leaving. But while the Big Ten brings some good experience back at quarterback, including Ohio State's
Braxton Miller
, Penn State's
Christian Hackenberg
and Michigan's
Devin Gardner
, the overall level of play at quarterback in the league has been lacking for a couple of years, in my opinion. It's great seeing talented young quarterbacks at places like Purdue, Indiana and Nebraska, but they all need to take steps forward. I think the Pac-12 has far and away the best group of returning QBs in 2014.
---
Andrew from Allentown, Pa., writes:
What are your thoughts on the new coaching staff at Penn State? I am pretty high on the staff, but I worry a bit about the offensive coordinator and QB coaches. It looks to me like the defensive staff is pretty elite after what they did at Vandy, but the offense struggled, ranking in the 90s in total offense most of the time. Was this a lack of talent at Vandy or a product of their system?
Brian Bennett:
I like Penn State's staff a lot. Not only are they energetic and big-time recruiters, they proved a lot by winning nine games in back-to-back seasons at Vanderbilt, which many people thought was impossible. That's really all I need to know. Yes, the Commodores were a more defensive-oriented team under James Franklin, but they also played against some stout SEC defenses. And I don't think he ever had a player nearly as talented as Hackenberg. I'm really interested to see what the Nittany Lions offense looks like under Franklin and offensive coordinator John Donovan. There are some concerns at offensive line and wide receiver, but I have confidence in this staff to figure things out.
---

@HawkFlies via Twitter writes:
Is Iowa a dominant offensive line in 2014 with Scherff returning as well as OL coach Brian Ferentz?
Brian Bennett:
I certainly think you could make a case for the Hawkeyes' line being the best in the league in 2014.
Brandon Scherff
is the only returning lineman in the league who made first-team or second-team All-Big Ten, and he's the early leading candidate to win the Rimington-Pace offensive lineman of the year award. Iowa does have to replace tackle
Brett Van Sloten
and guard
Conor Boffeli
, but has plenty of in-house candidates and a great history of success with the position group. I'd like to see the Hawkeyes get a better push up front with those big guys in 2014: Iowa finished just sixth in team rushing in the Big Ten last year, averaging 4.2 yards per carry. But with Ohio State rebuilding its line, the title of best O-line in the league is up for grabs this year (though Wisconsin will also have a lot to say about that).
---

Chris from Chicago writes:
To what degree should injuries during the spring be a concern? I know in Spring 2013 that Northwestern's O-line was banged up, and then they struggled in the fall. Should I be similarly concerned now that the Northwestern D-line is banged up in Spring 2014? What do teams (not just Northwestern) do to overcome spring injuries, and not have them have a carry-over effect into the fall?
Brian Bennett:
You always want position groups, like both lines, to get lots of reps together in the spring and build chemistry, especially if there are several new starters there. But as long as the injuries aren't serious or lingering, I don't think it's always a huge deal. Players still work out a lot together in the summer and then again through two-a-days and preseason practices, so there is plenty of time to jell. There have been lots of examples of players missing all or large parts of spring ball and having a strong season. The absolute worst thing that can come out of spring practice is a long-term injury, so having some players miss that extra contact isn't always a bad thing.
---
Alex K. from Decatur, Neb., writes:
What do you think the direction if the Big Ten should be after the additions of Maryland and Rutgers? Should Notre Dame be a top target still, or maybe more East Coast? No change?
Brian Bennett:
Ah, expansion questions. How I missed thee. Or something. Anyway, perhaps I'm being naive, but I think the expansion merry-go-round has stopped for a while, thanks to the grant-of-rights deals. I believe we'll see some stability for at least the next few years, and there aren't any schools that would fit the Big Ten profile who appear able to or interested in moving. Of course, it only takes one big domino to change everything. The league seems pretty intent on opening new markets and finding areas of population growth, so if there were going to be another expansion push, I would think the conference would try to look to the East and South. But let's hope we don't have to worry about that again for a while.
July, 24, 2012
7/24/12
2:30
PM ET
It's time to jump back into our preseason position rankings with a look at the offensive line units.
On Friday, we ranked the
top individual players at the position
. These unit rankings reflect star power as well as depth. We're heavily weighing these on last year's performance, along with potential for the 2012 season.
Away we go:
1. Wisconsin:
Sure, the Badgers lost two All-Americans (Kevin Zeitler and Peter Konz) from last year's line. But they've earned the benefit of the doubt for their ability to reload up front. Left tackle
Ricky Wagner
is an Outland Trophy candidate, and center
Travis Frederick
should be one of the best in the Big Ten. The key will be how the new-look right side with
Rob Havenstein
and likely
Robert Burge
moving into starting roles.
[+] Enlarge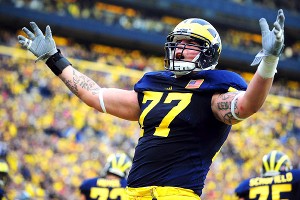 Andrew Weber/US Presswire With top tackle Taylor Lewan returning, Michigan fields one of the best offensive lines in the Big Ten.
2. Michigan:
The Wolverines might have the top tackle in the league with junior
Taylor Lewan
, and guard
Patrick Omameh
is a three-year starter. Senior
Ricky Barnum
is taking over for David Molk at center.
Michael Schofield
should be solid at right tackle, though the left guard spot remains a competition. It should be a strong starting group, though depth here is a major concern.
3. Michigan State:
This could be the best offensive line Mark Dantonio has had in East Lansing. Six players who started games last year are back, and there will be depth and competition at several spots. Third-year starter
Chris McDonald
is one of the league's top guards, while tackles
Dan France
and
Fou Fonoti
are dependable.
Michigan C Cites Concussions In Decision To Quit
BIG TEN SCOREBOARD
Thursday, 9/3
Friday, 9/4
Saturday, 9/5
Sunday, 9/6
Monday, 9/7