Michigan Wolverines:

Brady Pallante
February, 4, 2014
2/04/14
12:30
PM ET
Brady Hoke will sign his fourth Michigan recruiting class Wednesday. Currently, the class sits at 16 commitments and the only real question mark still out there is defensive end
Malik McDowell
, who will chose between Michigan, Michigan State, Ohio State and Florida State.
Hoke will address the media at 2 p.m. Wednesday, the first time he'll be able to discuss these players publicly.
Follow along on Twitter
for updates throughout the day. Until then, here's a primer to tide you over in your day-before-signing-day wait.
THE 2014 CLASS
Current ranking:
No. 12
(16 commits)
Big Ten teams ahead of Michigan:
Ohio State (No. 6, 22 commits)
Big Ten teams in the top 40:
Penn State (No. 22, 24 commits), Wisconsin (No. 31, 27 commits), Northwestern (No. 35, 15 commits), Michigan State (No. 39, 20 commits)
Commits by position:
Quarterback: 1 |
Wilton Speight
*
Running back: 0
Wide receiver: 3 |
Drake Harris
*,
Maurice Ways
,
Freddy Canteen
*
Tight end: 1 |
Ian Bunting
Offensive line: 2 |
Juwann Bushell-Beatty
,
Mason Cole
*
Defensive line: 3 |
Bryan Mone
*,
Lawrence Marshall
,
Brady Pallante
Linebacker: 4 |
Michael Ferns
*,
Noah Furbush
,
Chase Winovich
,
Jared Wangler
Defensive back: 2 |
Jabrill Peppers
,
Brandon Watson
*denotes early enrollee, already signed letter of intent
WHAT TO KNOW
[+] Enlarge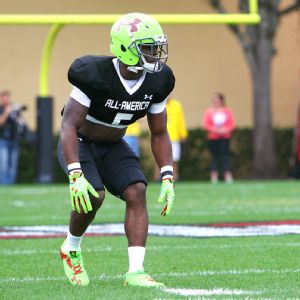 Miller Safrit/ESPNThe Wolverines have been able to hang on to top cornerback Jabrill Peppers, which is no easy feat.
Dry spell:
Michigan hasn't received a commitment since Aug. 8, 2013 (Wangler). At that point, the Wolverines recruiting class was ranked No. 6 in the
Recruiting Nation rankings
. Between the on-field play during a 7-6 season and other teams stepping up their recruiting games, the Wolverines missed out on several top targets.
No. 1 at one time:
Last April, when the 2014 class rankings debuted, the Wolverines were ranked No. 6. In May, Michigan climbed to No. 1. At that point, Michigan had nine commits, eight of whom were ranked in the top 150. Since that point, several Wolverines commits dropped in the rankings, and now they have nine commits in the ESPN 300. And when Michigan was the No. 1 class, the Wolverines were still in on several top recruits in the 2014 class. Of those big-name prospects, the only one to commit to the Wolverines was Peppers, the No. 1 cornerback in the country.
The players who chose other schools over Michigan were defensive end
Da'Shawn Hand
(Alabama), wide receiver
Corey Holmes
(Notre Dame),
Alex Bars
(Notre Dame), wide receiver
Artavis Scott
(Clemson) and defensive back
Parrker Westphal
(Northwestern). The most troubling part of that is how the Wolverines had personal connections with so many of those players. Holmes grew up a die-hard Michigan fan. Bars' older brother is on the Michigan roster. Scott is best friends with Cole. Westphal's high school position coach played at Michigan. And yet, the Wolverines missed on all of them.
Top commit:
Peppers. Not only is he the most important commit from an on-field standpoint -- he should be an immediate contributor for a struggling secondary -- but the fact that a 7-6 Michigan team could keep the commitment from the No. 1 cornerback in the nation says a lot about the relationships that were formed. He had offers from Alabama, LSU, Ohio State and almost everywhere else. He could have left for any school. But the fact that the Michigan coaches were able to keep Peppers during a tumultuous season can be considered more of a coup than getting Peppers committed in the first place.
Lineage:
Wangler. The name should sound familiar to most Michigan fans. John Wangler was a quarterback for Michigan (1977-80) and is most remembered for his 45-yard touchdown pass to Anthony Carter that gave the Wolverines a victory over Indiana in 1979. Jared's older brother Jack, a walk-on wide receiver on Michigan's roster, will be a sophomore when Jared enrolls.
More and more depth:
Linebackers. It looks as though the Michigan linebackers group is going to get stronger. This season, that group was the most consistent defensive position group for the Wolverines, and now they'll add four more quality players. Among
Jake Ryan
,
Desmond Morgan
,
James Ross
,
Joe Bolden
and
Ben Gedeon
, there won't be much playing time for the taking, which means these players are going to be able to learn behind some very talented guys while also competing against them in workouts. Greg Mattison just keeps adding talent to the well he already has at linebacker, so look for this group to continue being the most consistent for the Wolverines in seasons to come.
[+] Enlarge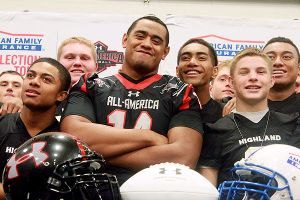 Courtesy of IntersportBy enrolling early, defensive tackle Bryan Mone could be in line for early playing time.
Early enrollees:
6. This is the second season in a row that Hoke has had six early enrollees. Last season, offensive lineman
Kyle Bosch
, offensive lineman
Logan Tuley-Tillman
, tight end
Jake Butt
, defensive end
Taco Charlton
, defensive back
Ross Douglas
and defensive back
Dymonte Thomas
enrolled early. Of those six, three were big contributors this past season, which bodes well for the six who came in early this year. Speight adds solid depth at quarterback, but he likely won't need to contribute next season. Cole and Ferns are in similar positions in that they're both talented, but because of the depth in front of them, it could take them longer to earn playing time. The two guys who could be the quickest to see playing time would be Harris or Mone, as both come in at positions that could use more bodies and talent. Both will have extra time with their position coaches and with the playbook.
No commits:
Running back. The fact that the Wolverines aren't bringing in a running back in this class isn't a huge concern. Between
Derrick Green
and
De'Veon Smith
(and
Drake Johnson
, assuming he recovers well), the Wolverines are in good hands for the next few seasons. However, after losing the commitment of running back
Damien Harris
, the No. 1 running back in the 2015 class, there's a bit of a concern considering he was going to provide depth. Including Harris, Michigan has offered scholarships to three running backs in the 2015 class.
September, 13, 2013
9/13/13
11:00
AM ET
It's time to dip into the Big Ten recruiting mailbag and answer some of your questions. We'll try to give everyone a chance to get their questions answered. We encourage you to send your questions by Twitter to
@bbournival
or
@TomVH
.
@buckeyefan686: How do you see Urban Meyer and Co. utilizing a player like Noah Brown?
Brad Bournival:
First and foremost, Brown is a player who brings versatility and can play either split out or in the slot. He can even go in the backfield if Meyer needs him there. His size -- 6-foot-2 and 215 pounds -- makes him a solid choice to play the X receiver. With explosiveness and good route-running, he's a natural to go out wide for Ohio State. Expect to see him on special teams soon for the Buckeyes.
---
@kraut2k:
Is DeAnthony Arnett having a negative effect with Michigan State and Brian Cole?
Tom VanHaaren:
It seems as though he might be, yes. Arnett, a wide receiver from Saginaw, Mich., hasn't been getting playing time at Michigan State. He transferred from Tennessee after his freshman season, but hasn't made an impact yet. That does seem to be something Cole (Saginaw, Mich./Heritage) has taken notice of. Cole and Arnett are friends, as is Cole's father. A program can't change what it does on the field for a recruit, but in this case it does look like it's having an impact on this prospect. I'm not sure there is much that can be done if that's the way Cole and his family feels.
---
@PSUlions1121: Have you heard anything about Justin Hilliard's visit?
Bournival:
After talking to his dad, the ESPN Junior 300 junior is very intrigued by "linebacker university" and wants to see what Happy Valley is all about. He also has heard all about the atmosphere of a night game, so he wanted to see that firsthand this weekend as well. He has rescheduled his trip to Kentucky for Oct. 12 when the Wildcats play Alabama.
---
@UMKirwin12:
Which Big Ten teams do you think will see their class ranking change the most, up or down, from where they are now to where they end up on national signing day?
VanHaaren:
I think Michigan and Ohio State still have a lot left on their boards to bump each of them up in the rankings. They are both in the top 10, but with some big prospects still in play, they could still see a bump. Northwestern, Michigan State and Nebraska are also teams that have opportunity to jump in the rankings as well. All three teams have ESPN 300 prospects still listing them in their top group, so there is a chance we could see some upward movement.
---
@darkknight1093: With all the turmoil at Texas, do you now see Ohio State as a serious contender to land Solomon Thomas or Myles Garrett?
Bournival:
If things play out like they did with Penn State and Oregon in Meyer's first two classes, don't expect him to do much until after the season. I'm sure there is a lot of interest in Thomas and Garrett, but Meyer is very careful where he picks his spots.
---
@CooperLily21: General question for you. In your opinion what is the most important thing (or things) kids look for in a school?
VanHaaren:
That's tough to answer in a short response because there are so many factors for different kids. It really depends on what the prospect is looking for, what his situation is and what caliber player he is. I think the biggest similarity is a comfort level. This gets overlooked a lot, but a big part of why recruits take visits is to see how comfortable they feel with the coaches, players and that campus. That's partially why it doesn't always work out when a recruit is a fan of a school growing up and then ends up committing elsewhere. If he feels a different level of comfort or feels more wanted at a different program, that goes a long way.
---
@GRSportsBlog: Any idea what's up with Dravon Henry and his shakeup with the top schools?
Bournival:
In a nutshell, the ESPN 300 athlete just didn't think Penn State was a good fit. ACC recruiting reporter Jared Shanker wrote an
excellent piece
on it Wednesday. It looks like it's down to Pitt and West Virginia with Ohio State having an outside shot. The bowl ban might have played a role in Henry dropping the Nittany Lions.
---
@redwingyooper:
Why the delay in Michigan offering Matt Burrell Jr. and Tim Settle when they have shown interest?
VanHaaren:
Numbers are tight again for 2015, so every offer is important. Right now there are only around 15 scholarships available in that class. There are already technically seven spots taken up with greyshirt commit
Brady Pallante
counting towards 2015 for now. With attrition that total number of 15 can rise, so there are probably around 10 spots left, give or take. With Burrell, Michigan has
Jon Runyan Jr
. (Philadelphia/St. Joseph's Prep) already committed as an interior offensive lineman. That's also what Burrell position Burrell plays, and Michigan seems to be in the market for tackles.
August, 23, 2013
8/23/13
4:41
PM ET
Michigan continued its recruiting hot streak by adding defensive back
Shaun Crawford
(Lakewood, Ohio/St. Edward) to the 2015 class on Friday. Crawford is the third ESPN Junior 300 commit for the Wolverines and will help bolster the depth chart almost immediately.
He is the sixth cornerback commitment for Michigan over the past three classes, which shows just how big of a need it was. The Wolverines have landed four ESPN 300 cornerbacks since 2012, including the No. 2 overall prospect in 2014,
Jabrill Peppers
(Paramus, N.J./Paramus Catholic).
Michigan has five commitments for the 2015 class, not including grayshirt commit
Brady Pallante
, who committed in the 2014 class but counts towards 2015 numbers.
June, 25, 2013
6/25/13
11:08
AM ET
ANN ARBOR, Mich. -- Two 2015 commits in just over 12 hours.
It sounds as if Brady Hoke and Michigan are up to their old ways again, picking up multiple commitments in a short period of time. The first came Monday as kicker
Andrew David
(Massillon, Ohio/Washington) committed. This time, the commitment comes from a more familiar name at a familiar position for most Michigan fans.
Tuesday, the Wolverines picked up a commitment from 2015 offensive lineman
Jon Runyan Jr
. (Philadelphia/St. Joseph's Prep). He confirmed his commitment via phone. He's the son of former All-Big Ten offensive tackle Jon Runyan, who played for 14 seasons in the NFL and is now a U.S. congressman.
To continue reading this article you must be an Insider
May, 8, 2013
5/08/13
9:00
AM ET
ANN ARBOR, Mich. -- The Wolverines secured a grayshirt commitment early in the game, giving them a quick start to the 2015 class. And while they have only two other offers out to defensive players in that class, Michigan is obviously looking ahead at other players and possibilities for the future of its program.
So here's a breakdown of who has offers and names you should know as the summer camp scene gets under way to keep you on top of the recruiting game.
To continue reading this article you must be an Insider
April, 5, 2013
4/05/13
3:11
PM ET
A Florida defensive lineman who impressed coaches at a Michigan camp in 2012 has agreed to become part of the Wolverines' 2015 class.
Brady Hoke and his staff put a premium on depth on both sides of the line, and this player will have ample time to in the kind of shape the coaches want when he arrives on campus.
To continue reading this article you must be an Insider
February, 28, 2013
2/28/13
9:00
AM ET
The Weekly Update at WolverineNation is a sneak peek inside Michigan recruiting. This week, a look at three 2014 prospects with interest from the Wolverines.
To continue reading this article you must be an Insider
February, 26, 2013
2/26/13
11:21
AM ET
With coach Brady Hoke and defensive coordinator Greg Mattison, Michigan will always be looking to improve its defensive line. The coaches have done a nice job in the previous classes filling needs and adding key players.
The 2014 class won't be a huge class, but the Wolverines are in on some top national prospects.
Commits:
DT Bryan Mone
Salt Lake City Highland
6-foot-4, 320 pounds
To continue reading this article you must be an Insider
February, 17, 2013
2/17/13
9:46
PM ET
Michigan has already landed on defensive tackle in the 2014 class, and the Wolverines might be close to adding another. There is just a little twist with this prospect.
Brady Pallante
(Naples, Fla./Barron Collier) is in the 2014 class, but Michigan has offered him a greyshirt scholarship. That basically means that Pallante would not be a part of the 2014 class, but would enroll at Michigan in January of 2015.
"I'll be taking it as a 2015, so I'll be a greyshirt. Because of the numbers and the kids they have," he said. "Only a certain amount of kids are allowed to be on scholarship at once, and they had a large number of kids last year. If I commit there then I would sign on signing day, but wouldn't enroll right away."
To continue reading this article you must be an Insider
June, 22, 2012
6/22/12
11:43
AM ET
After three-plus days of football, WolverineNation breaks down which players they believed to be the top performers in each position group at the Michigan football camp. Here are their defensive picks, in no particular order:
D-LINE:
2014 Enoch Smith Jr. -- He has a nice frame and has been starting to pick up offers. Smith has a bigger body and hit the bags really well.
2014 Brandon Hines -- Good size and moves well. Hines was working with the top group throughout camp and was pulled aside for an individual with defensive coordinator Greg Mattison.
To continue reading this article you must be an Insider
Michigan C Cites Concussions In Decision To Quit
BIG TEN SCOREBOARD
Thursday, 9/3
Friday, 9/4
Saturday, 9/5
Sunday, 9/6
Monday, 9/7