Michigan Wolverines:

Bo Schembechler
November, 4, 2013
11/04/13
12:00
PM ET
Let's take a quick spin around the league …
September, 5, 2013
9/05/13
11:00
AM ET
The Michigan-Notre Dame rivalry dates back to 1887 when the Wolverines instructed the Irish in the rules and ways of the game. Today, it's still one of the most well-known and respected matchups in the country. But on Saturday, the two teams will meet for the last time (for the foreseeable future) in Michigan Stadium. To commemorate this event, we've counted down the top five games in the rivalry's history in the Big House.


5. 2009 | Michigan 38, No. 18 Notre Dame 34
Enter Tate Forcier. His career at Michigan was short-lived, but as a freshman he led one of the greatest come-from-behind drives against Notre Dame in Michigan Stadium. With Notre Dame forced to punt, Forcier and the Wolverines got the ball back with 2:13 left in the game, down three. The freshman led Michigan down the field and capped the drive with a 5-yard TD pass with 11 seconds left in the game. The ensuing PAT sealed the victory for Michigan.
4. 1981 | No. 11 Michigan 25, No. 1 Notre Dame 7
The Wolverines had started the season No. 1 in the country, but Wisconsin wiped the floor with them. With Notre Dame's season-opening win over LSU, the Irish came into the Big House ranked No. 1 in the nation, while the Wolverines had dropped to No. 11. But behind clutch defensive performances, which held the Irish without a second- or third-quarter first down, Michigan rolled.
3. 2011 | Michigan 35, Notre Dame 31
If we were counting down the top moments of the rivalry, this would arguably be No. 1. And there are 114,804 people to testify to that. However, as far as the game as a whole, this one was basically a snoozer until the final moments. Everyone remembers Roy Roundtree's game-winning catch from Denard Robinson with two seconds left. Or they remember the catch, one play earlier, by
Jeremy Gallon
. Those kinds of memories erase the fact that the Wolverines went into the fourth quarter down 24-7. But that final quarter -- with all the emotion and anticipating -- gets the 2011 game on the top-five list.
2. 1989 | No. 1 Notre Dame 24, No. 2 Michigan 19
Bo Schembechler's final game in this series was not a memorable one for the Wolverines, who saw Raghib Ismail return two kickoffs for touchdowns. It was the defending national champions, the No. 1-ranked Irish against No. 2 Michigan, with Irish quarterback Tony Rice attempting just two passes in the wet conditions. The Wolverines saw a 10-game unbeaten streak snapped, and the Irish became the first team to beat Schembechler three straight times.
1. 1991 | No. 2 Michigan 24, Notre Dame 14
Up three early in the fourth quarter, Desmond Howard made the first of many memorable plays in what would become a Heisman Trophy-winning season. Howard caught a 25-yard pass from Elvis Grbac on fourth-and-1, a signature moment in this rivalry's history, known to Wolverine fans simply as "The Catch." Michigan snapped a four-game losing streak to Notre Dame.
August, 12, 2013
8/12/13
8:00
AM ET
The Big Ten has its share of rivalries, but not all are created equal. Here's a closer look at the best, the worst and the rivalries on the rise:


Top rivalry:
Ohio State versus Michigan. We didn't have to think too hard on this one. Few rivalry games currently have the
cheapest nosebleeds going for $175
when the stadium seats more than 100,000. Fewer rivalries have their own
hour-long HBO-produced documentaries
. And of course, only one rivalry earned the top spot when it came to
ESPN ranking the century's overall best
. (Ali-Frazier finished No. 2, behind OSU-UM.)
Tradition, quality and history makes this rivalry one of the greatest in all of sports. The two teams first met in 1897, have combined for more than 70 conference titles and are both ranked in the top six when it comes to overall program wins. Usually, the only thing stopping one of these teams from heading to the Rose Bowl or another major bowl is just the other team.
Of course, what really makes this rivalry special is how much these teams have historically hated each other. And yes, we do mean hate. The series heated up in 1969 when Bo Schembechler's Wolverines upset Woody Hayes' undefeated Buckeyes -- and Hayes' hatred of all things Michigan wasn't exactly a secret. According to one anecdote, while in Michigan, the coach
once refused to fill up his sputtering car with gas
because he hated the idea of giving any money to the Wolverine State.
That tradition still continues. Michigan added to the back-and-forth this spring by
stamping its footballs with the words "Made in USA/Not in Ohio."
So it's pretty clear: This isn't just the best rivalry in the Big Ten; it's one of the best in all of sports.
Rivalry on the rise:
There are quite a few worthy selections to choose from, but two immediately spring to mind: Michigan versus Michigan State and Wisconsin versus Nebraska.
The in-state Spartans-Wolverines rivalry is on the upswing because the teams have been more evenly matched in the 2000s -- and it doesn't hurt that the two schools are just about an hour's drive from one another. Since 1999, the Wolverines have only a slight 8-6 edge. Of those 14 contests, eight were decided by one score and at least six could be considered upsets (i.e., unranked MSU beats No. 6 UM 26-24 in 2001, unranked UM beats No. 11 MSU 34-31 in 2005). Also, last year's 12-10 Wolverines victory was
decided on a last-second field goal
and is a series classic. Michigan won after losing to the Spartans four straight years.
As far as Wisconsin-Nebraska, Cornhuskers fans would love to see the Badgers as their season-ending foe instead of Iowa. These will be the best teams in the 2014 season's West Division, so this new rivalry should soon become an intense one. Wisconsin dominated Nebraska 48-17 in 2011 -- but the Huskers rubbed Wisconsin fans the wrong way when the offense called a timeout with 12 seconds left on the 1-yard line. Nebraska responded in 2012 with a 30-27 win. This rivalry is just getting started and has a lot of potential.


Rivalry fading:
Wisconsin-Minnesota. The game for Paul Bunyan's Axe has become less a battle and more a certainty as of late. The Golden Gophers last won in November 2003, two months after current quarterback
Philip Nelson
celebrated his 10th birthday.
The Badgers have won the last nine meetings by an average margin of 17 points and, put simply, this "rivalry" just isn't very fun to watch. What's left to say? Wisconsin rushed for 620 yards in the last two meetings, Minnesota made just one third-down conversation in the game last season, and Wisconsin has scored on every red zone opportunity in the last four meetings. Minnesota needs to bounce back in a big way to renew interest in a rivalry that traces its roots to 1890 and has had a trophy in place since 1948.
July, 19, 2013
7/19/13
11:00
AM ET
ANN ARBOR, Mich. -- The Michigan-Ohio State rivalry has a ton of individual moments which stick out in the memories of fans, be it individual performances or games or sometimes even the hoopla surrounding it.
Considering this rivalry is among the biggest, longest and best in sports, there is an overflow of Michigan-Ohio State moments to pick from when it comes to selecting the five most memorable, from a Michigan perspective.
Here's one man's look at five signature moments in the Michigan-Ohio State rivalry.
1. Michigan upsets Ohio State in 1969
: The game which turned the rivalry from just another rivalry into one of the most celebrated rivalries regardless of sport in the nation. First-year head coach Bo Schembechler and Michigan upset Ohio State, 24-12, snapping a 22-game winning streak for the Buckeyes. The win sparked the "Ten-Year War" between Michigan and Ohio State and its legendary coaches, Schembechler and Woody Hayes. At the time it was considered among the biggest upsets in college football history.
[+] Enlarge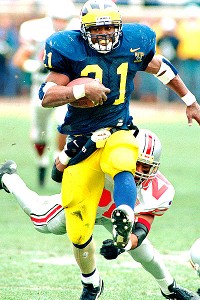 AP Photo/Tom PidgeonMichigan running back Tim Biakabutuka high steps past an Ohio State defender to gain some of his career-high 313 yards.
2. Tim Biakabutuka, 1995:
Perhaps the single-most impressive individual performance from a Michigan player in the history of the rivalry. While Biakabutuka only scored once in a 31-23 win over then-No. 2 Ohio State, ruining the Buckeyes' national title hopes, he gained 313 yards, slashing through the entirety of the OSU defense. It was the second-best single-game rushing performance in Michigan history and one of two 300-plus yard rushing games in school history.
3. Snow Bowl, 1950:
Like most seasons, the Big Ten title was on the line when these teams played in what the Ohio State library website quotes the Ohio State University Monthly as a "full-scale blizzard." Michigan won, 9-3, in a game where Wolverines punter Chuck Ortmann punted 24 times. The game's only touchdown, according to the OSU library site, came after a blocked Ohio State punt in the end zone was recovered by Michigan.
4. Punt returns. So many punt returns:
Stop in the end zone. Look around. Pose. When Desmond Howard finished off a 93-yard punt return for a touchdown in 1991, he struck the iconic Heisman pose still replayed more than 20 years later. The return -- and the pose against Ohio State -- helped cinch his Heisman Trophy. Six seasons later, with another potential statue there for the taking, Charles Woodson caught a punt of his own and returned it 78 yards for a touchdown to help Michigan knock off the Buckeyes. Woodson didn't pose after his return, but the win pushed Michigan to the Rose Bowl and eventual national championship. Oh, and for Woodson, the first and only primarily defensive player to win the Heisman.
5. The day after Bo Schembechler's death:
The day before the biggest game in the history of this rivalry, one of its biggest icons collapsed and died of a heart attack. Bo Schembechler, the architect of a lot of what has turned into the Michigan football of today, had passed away. The
last 24 hours of his life included a funeral for a former player, speaking to the 2006 Michigan team and a dinner with old friends
. While Michigan lost the next day in Columbus, it turned what would usually have been one of the more intense atmospheres of the year into a somber remembrance. Ohio State honored Schembechler, a former assistant, before the game. His death also transformed Michigan's program for a handful of years until Brady Hoke's hire in 2011.
July, 15, 2013
7/15/13
9:30
AM ET
The rivalry never sleeps, even in the middle of summer as the final days tick away until camp opens in August.
But just in case a little offseason kick was needed to get the juices flowing for the next edition of "The Game," BuckeyeNation and WolverineNation are teaming up for a week of content looking at some moments from the past and forecasting what will happen a few short months into the future.
Today, we peek back into series history and identify some of the top heroes and villains from the blood feud. Here are Ohio State's villain for the Wolverines:
1. Jim Tressel, coach:
From the moment he was introduced and grabbed a microphone to address the Ohio State faithful, Tressel's mission was clear -- get the program back on top in The Game. The Buckeyes backed up their new coach with a road upset in 2001, and the next decade was completely dominated by The Vest, who posted a 9-1 record before scandal ended his run on the sideline. Even his exit might have twisted the knife in the Wolverines since it helped Ohio State land Urban Meyer, who knocked off Michigan in his first Game to finish an unbeaten season in 2012.
2. Troy Smith, quarterback:
At the height of that dominant run under Tressel, it was the prolific signal-caller inflicting the majority of the damage on the Wolverines. Smith became just the second Ohio State quarterback to beat Michigan three times, with the last couple coming in forgettable fashion. There was the late comeback in 2005 keyed that included 386 passing yards from Smith, and another virtuoso performance in the epic showdown in 2006 that individually clinched a Heisman and sent the Buckeyes to the national title game.
[+] Enlarge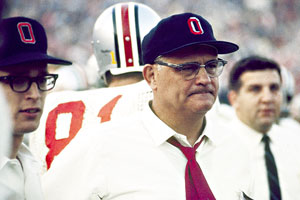 George Long/Getty ImagesIt was during Woody Hayes' 27 years as Ohio State head coach that the blood feud with Michigan truly took shape.
3. Woody Hayes, coach:
The rivalry became firmly entrenched among the most passionate, competitive series in the country when Hayes was at the top of his coaching game and matching wits -- and trading barbs -- with Bo Schembechler. Tressel's gaudy record might have diminished some of hatred for Hayes, however slightly, but his 16 wins in The Game, an infamous decision to go for a 2-point conversion "because he couldn't go for 3" and his place in Ohio State history will always get some Michigan blood boiling.
4. Mike Doss, safety:
Working on a 14-year drought in Ann Arbor and trying to live up to the goal Tressel established when he took over, Doss was instrumental in snapping the skid and setting the tone under Ohio State's new coach in 2001. A pair of interceptions helped set up scoring drives, and an unranked group of Buckeyes snatched a 26-20 win over the No. 11 Wolverines to start building the momentum that would last for pretty much the entire decade.
5. David Boston, wide receiver:
After coming up short in 1997 and hearing all about it from Charles Woodson, Boston exacted some revenge a year later with a massive individual performance as the Buckeyes knocked off the Wolverines 31-16 for one of John Cooper's two wins in the series. Boston was already an enemy for his brash comments before his final season with the Buckeyes, but he could be easily dismissed without ever winning a game. He changed that with 10 catches for 217 yards and two touchdowns, finally backing up his mouth and getting the best of Michigan where it counted -- on the field.
Bonus pick -- Bob Ferguson, fullback:
The message apparently hadn't been delivered emphatically enough, despite Ferguson already having scored three times. He would finish the game with 151 yards. The fourth touchdown by the All-American rusher, though, set the table for the Buckeyes to rub a 50-20 win and a national championship in Michigan's face in 1961 by going for a 2-point conversion with the outcome well in hand.
July, 15, 2013
7/15/13
9:30
AM ET
ANN ARBOR, Mich. -- Nothing really says as much about a rivalry as a good villain. Every narrative, whether someone wants to admit it or not, has one. There's a white hat, a black hat, all of those cliched things.
With Michigan and Ohio State, there is plenty to go around.
Here's a look at the top five Michigan villains for the Buckeyes, most of whom had a hand in critical wins in the last game of the regular season.
1. Bo Schembechler, Coach:
Much like Woody Hayes on the Ohio State side (and maybe Jim Tressel) there is no surprise Schembechler is tops on this list. Heck, a band made up of Ohio State fans even called themselves the Dead Schembechlers. Bo vs. Woody still ranks among the best coaching rivalries in the history of sports. Schembechler finished 11-9-1 against his biggest rival and a 5-4-1 record against Hayes. Oh, and if there were any questions about this, Schembechler's win over Ohio State in 1969 ignited the "Ten-Year War," which elevated this rivalry to among the best in all of sports.
[+] Enlarge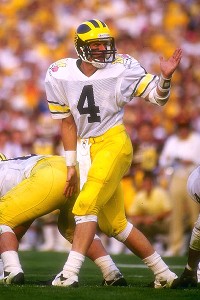 Mike Powell/Allsport Michigan quarterback and Ann Arbor native Jim Harbaugh guaranteed a win over Ohio State in 1986 and delivered.
2. Jim Harbaugh, QB:
You make a guarantee that you will beat your rival, you'd better back it up. When Harbaugh, who grew up in Ann Arbor, said Michigan would beat Ohio State, he permanently placed himself in the history of this rivalry. The Monday before The Game in 1986, Harbaugh said "I guarantee we will beat Ohio State and go to Pasadena." Michigan's response -- they had to do it. Harbaugh did, leading the Wolverines to a 26-24 win at Ohio State that Saturday, sending his team to the Rose Bowl.
3. Charles Woodson, DB:
Where to start? Woodson talked trash with Ohio State receiver David Boston prior to the 1997 contest, then went out and clinched the Heisman Trophy with a 37-yard touchdown reception, a 78-yard punt return touchdown and an interception. This on top of his 1995 performance as a freshman, where in the Tim Biakabutuka game he intercepted two passes to knock off the undefeated Buckeyes. Being from Fremont, Ohio, only makes it more difficult to deal with.
4. Tom Harmon, HB:
Harmon wasn't really even a villain in this rivalry except that he was just so much better than the rest of his peers at the time. According to the Heisman Trophy website, Harmon completed 11 of 12 passes for 151 yards and two touchdowns along with 139 rushing yards and two touchdowns in the final game of his college career and against Ohio State. He also intercepted three passes and kicked four extra points in the game. Harmon won the Heisman after the season. Why wasn't he a bigger villain? Consider this: After the performance, the Michigan Alumnus magazine (on the Bentley Historical Library website) said the crowd at Ohio State gave Harmon a "thundering ovation." Chances are, that doesn't happen today.
5. Barry Pierson, DB:
In the game which really launched the rivalry -- that 1969 one -- Pierson intercepted Ohio State three times. He also had a massive special teams play, returning an Ohio State punt 60 yards to set up a Michigan touchdown. While that entire 1969 team could probably be on that list, Pierson statistically made a major impact that day.
Bonus selection: Drew Henson, QB:
Henson is on this list for a couple of reasons. He was the last Michigan quarterback to beat Ohio State in Columbus in 2000. While that alone might not be enough to be on this list, consider this: When he left Michigan to pursue baseball following that season, he was assigned to be the third basemen for ... the Columbus Clippers. It did not go well. Henson was booed over and over again despite playing for the hometown team and the Triple-A affiliate of the Yankees. All because he played for Michigan and beat Ohio State.
June, 11, 2013
6/11/13
10:00
AM ET
By
Chantel Jennings & Tom VanHaaren
| ESPN.com
ANN ARBOR, Mich. -- Quick Hits is a look at the must-know facts for each region in regard to Michigan and its football recruiting efforts. It will give you an idea of the Wolverines' history in that region, as well as what one can expect from that region over the next few seasons.
MIDWEST
1. How many players on Michigan's roster are from the region?
To continue reading this article you must be an Insider
April, 17, 2013
4/17/13
9:00
AM ET
ANN ARBOR, Mich. -- All players who walk through the door to Schembechler Hall understand what Michigan once was. They merely have to keep their eyes and ears open.
Many college coaches, even those at traditional power programs, concern themselves only with the present and the future. Michigan's Brady Hoke puts the past on a pedestal.
Hoke's players know what the numbers 134 and 42 mean -- Michigan enters its 134th year of football and boasts 42 Big Ten championships. They know about the program's national titles and award winners. They see the Bo Schembechler quotes, the
Big Ten banners
and the
legends lockers
dedicated to program greats.
Many of the current Wolverines hadn't put on a helmet and pads in their lives the last time Michigan won a national title in 1997, but they know what the program was like because coaches like Hoke and defensive coordinator Greg Mattison, both Michigan assistants that season, tell them about it all the time. Offensive line coach Darrell Funk, who had no ties to Michigan before arriving with Hoke in 2011, often shows his players tape of former Wolverines stars Steve Hutchinson, Jake Long and Jon Jansen.
[+] Enlarge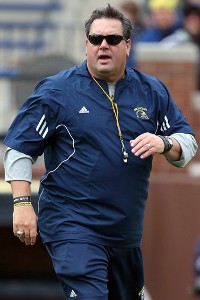 Leon Halip/Getty ImagesBrady Hoke and the Wolverines are working to get the program back to where it once was.
"There's a tremendous sense of pride that Brady instills," Mattison told ESPN.com, "and our entire football organization feels that 'Let's get Michigan back to the way we remember it,' where when Michigan gets on that field, everybody goes, 'Whoa, here they come.' That's what I envision. I want to do anything that I can do to help us get there, to get Michigan back to the football level it was when I remember it."
Senior linebacker
Cam Gordon
was 6 years old when Michigan won the national championship and 13 when the Wolverines claimed their last Big Ten title (2004, co-championship). But he hears about the glory days from coaches like Mattison and new outside linebackers coach Roy Manning, who played for Big Ten championship teams in 2003 and 2004.
"I do remember the stories about Michigan," Gordon said. "Before they even stepped on the field, the game was won."
The constant history lessons taught inside Schembechler Hall don't stem from an unhealthy state of nostalgia. Hoke wants his players to understand the standard at Michigan. He's also extremely blunt about the fact that the Wolverines have yet to meet it.
Hoke guided Michigan to 11 wins in his first season and ended the seven-year losing streak against archrival Ohio State. He has yet to lose a game at Michigan Stadium. He has pulled Michigan out of the fog of the Rich Rodriguez era. Recruiting is undoubtedly on the upswing, and Michigan looks more like its old self on both sides of the ball.
But Hoke's tenure to this point, by his own barometer, has been a failure.
"We didn't get it done," he said of the 2012 season, when Michigan went 8-5. "We were still in a second year of changing a culture and changing a philosophy to some degree, offensively and defensively and the whole scope of what we try and do as a team. But still, at the end of the day, this is about winning Big Ten championships. We have 42 of them, and we need to start on our 43rd."
Hoke's message is heard loud and clear from the team's best player on down.
"The standard at Michigan is a Big Ten championship every single year," All-American left tackle
Taylor Lewan
said. "That's the minimum. Everything else is a failure. The Sugar Bowl, the BCS game, that was awesome. It was such a great experience, Bourbon Street was cool, New Orleans was cool -- failure. Outback Bowl, close game, lost in the last 20 seconds -- failure.
"Those are all games that are failures. The only way this team would be happy, would be satisfied with one season, is if we win a Big Ten championship."
Things weren't that way when Lewan arrived in 2009.
"The main goal was to make it to a bowl game," he said. "I don't know if that's how it's supposed to be at Michigan. I don't know how much my opinion counts, but I think it should be a Big Ten championship every single year. These coaches have done a great job of preaching that.
"We're not going to settle."
It has been nearly a decade since the Wolverines could call themselves league champions, their longest drought since a lull between 1950 and 1964. Every year that passes without a title means Michigan moves a little further away from the great times, a little further away from regaining the mystique Mattison and others preach about.
Talking about a winning culture in the past only goes so far without establishing a winning culture in the present. It's why much of Michigan's offseason work has been from the neck up.
"There were times where we were down in games and we came back and won the game based off our mental toughness," wide receiver
Jeremy Gallon
said. "And there were times in games where we didn't come back, and it was our lack of mental toughness."
Defensive tackle
Quinton Washington
said Michigan worked on breaking "mental barriers" this spring, one of which is playing better away from the Big House. The Wolverines dropped three road games (Notre Dame, Nebraska and Ohio State) and two neutral-site contests (Alabama, South Carolina) last fall.
[+] Enlarge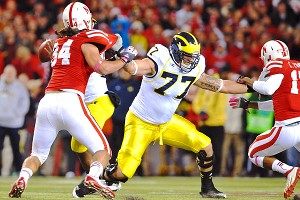 AP Photo/Dave WeaverTaylor Lewan (77) knows expectations are high for every player who wears a Michigan uniform.
Michigan is just 5-7 in road or neutral-site games under Hoke.
"We didn't play well on the road," Hoke said. "We didn't play with the toughness that it takes. We learned a lot in the bowl game about us as people, especially the guys coming back, good and bad."
Hoke has a
Sun Tzu quote
displayed in the weight room that reads:
Victorious warriors win first and then go to war, while defeated warriors go to war first and then seek to win.
The goal is for the Wolverines to enter games with the same mindset as their predecessors.
Many think the Michigan mystique is dead, but Hoke's players are driven to revive it.
"If they don't fear Michigan," Gordon said, "then obviously that's something that we're going to have to change."
Beginning this fall.
"Anywhere you go in the world, everyone knows Michigan," defensive end
Frank Clark
said. "Anywhere in the nation, as far as college football, everyone knows Michigan. For the last couple years, we haven't lived up to those expectations. This next season, we have to.
"It's time. There aren't anymore excuses."
November, 14, 2012
11/14/12
11:00
AM ET
By
WolverineNation Staff
| ESPN.com
ANN ARBOR, Mich. -- While questions about
Denard Robinson
's health hang over the Michigan football team for the third consecutive week, other questions also have started to emerge.
Who will catch passes next year? What about Brady Hoke's on-field demeanor?
These questions and more are answered in this week's WolverineNation mailbag. Questions for next week should go to
jenningsespn@gmail.com
or @chanteljennings.
To continue reading this article you must be an Insider
August, 1, 2012
8/01/12
3:04
PM ET

Every Michigan player should know Bo Schembechler's most famous quote -- "Those who stay will be champions." In case they don't, the words are displayed prominently above the entrance leading from Schembechler Hall into the Al Glick Field House, Michigan's superb indoor practice facility.

Michigan players and coaches see the sign each day before their practice sessions -- even those on the outdoor field -- and it's easy to see for those entering or exiting the team locker room. It reinforces a message that Schembechler preached throughout his 21 seasons at the school, which featured a record 13 Big Ten championships.

The word "champions" is displayed in capital letters, and while there's no attribution, there's really no need for one.
November, 17, 2011
11/17/11
11:12
AM ET
As part of our package of stories reflecting on the life and legacy of former Michigan coach Bo Schembechler, two of the Wolverines current coaches who knew him took time to tell their favorite Bo stories.
Michigan head coach Brady Hoke:
"When I got hired here [as an assistant coach], he didn't come back until we started spring football, and I can remember just talking football with him. He always wanted to know how your guys were doing, how they were playing and what you thought and then he would always give his two cents, which was more like a million dollars when you got something back from Bo as far as a critique. How he treated the kids when he was here, and he was so iconic.
"His former players, they had a significant reunion of Bo's Boys and the 20-year period he coached, I think in 1999, they had a thing here on campus. It told you an awful lot when you saw how many guys came back and what kind of man he was and a leader and mentor and teacher and father."
To continue reading this article you must be an Insider
November, 17, 2011
11/17/11
11:10
AM ET
In 1968, when Jon Falk was a freshman at Miami of Ohio, he became the equipment manager for then-coach Bo Schembechler. One of the first trips the Miami football team took was to Hayward Junior College in San Francisco.
On their way from the airport to the hotel the buses stalled, and Schembechler became livid.
"Defense," he called. "Get out and push the buses."
To continue reading this article you must be an Insider
Michigan Investigated By Feds
BIG TEN SCOREBOARD
Saturday, 12/21
Monday, 12/23
Tuesday, 12/24
Thursday, 12/26
Friday, 12/27
Saturday, 12/28
Monday, 12/30
Tuesday, 12/31
Wednesday, 1/1
Thursday, 1/2
Friday, 1/3
Saturday, 1/4
Sunday, 1/5
Monday, 1/6