Michigan Wolverines:

big ten mailbag
December, 4, 2013
Dec 4
5:00
PM ET
How many of you will be milling around downtown Indianapolis this weekend? Maybe we'll see you there. For now, let's correspond via email:
Alex from Denver, N.C., writes:
Please tell me how the two OSU players can avoid being suspended for an entire game, while Will Gholston in 2011 is suspended for what he did in the Michigan game. Watching the OSU player exit the stadium was ridiculous and the OSU community should be ashamed of that behavior. The Big Ten should be ashamed of condoning that behavior. If you don't discipline it, then you allow it.
Brian Bennett:
The argument from the Big Ten is that
Marcus Hall
and
Dontre Wilson
were ejected from the Michigan game, and that satisfied the requirement of revoked playing time. William Gholston was not ejected from the game against Michigan in 2011 but was suspended by the league for the following game. There is some logic to that argument, especially as it applies to Wilson. As for Hall, I believe some additional punishment was warranted for his double-bird salute as he walked off the field (Urban Meyer said he has handed out internal discipline to Wilson and Hall and another player). And there were other players involved in the scrum who could have faced suspensions.
My big problem with the ruling is that the fight was an ugly scene in the league's most high-profile game, and it looks as if the Big Ten is protecting its two marquee teams and its championship game. Handing down even a smaller suspension like one quarter would have carried some symbolic weight. Instead, the completely meaningless "public reprimand" comes off looking extremely weak and does nothing to curb incidents like that in the future.
Victor from Columbus, OH, writes:
Is it just me or does this Ohio State team have that underdog destiny feeling about them? This team reminds me a lot of the 2002 national championship team. OSU isn't dominating opponents, many people nationally aren't giving them a shot, but most importantly, this team refuses to lose! Even with a decisive win (if OSU wins) this coming Saturday, I believe OSU would still be a relatively large underdog in the BCS championship game. Last time that happened OSU won the national championship and shocked the country. Do you feel the destiny or is it just us OSU fans being over optimistic?
Brian Bennett:
Ohio State as underdog? That's something you don't hear much. It's hard to say a team coached by Meyer coming off an undefeated season is in any way an underdog; remember that the Buckeyes were ranked No. 1 in some preseason polls. The 2002 team was coming off a 7-5 campaign and was not ranked in the Top 10 to start the year, and those Buckeyes had a lot of close, low-scoring games.
Ohio State does, however, figure to be an underdog in a potential BCS matchup with Florida State. But it won't be anything like that scenario against Miami and its roster full of future pros in the Buckeyes' last national championship game win. Things have broken right for Meyer's team this year in that other contenders like Alabama, Oregon, Baylor and Stanford have all lost. And it goes without saying that Florida State has a possible major issue on its hands. So in that sense, perhaps the Buckeyes are a team of destiny.
Justin A. from Columbus, Ohio, writes:
First of all I'd like to say that as a Michigan fan living in Columbus, Ohio life can be rough. Attending The Game this past Saturday, felt like a dream that was ended by a rude awakening. It was a heartbreaking loss and I am proud of my team yet I am sure I will hear plenty of smack talk at work on Monday. As for my question, what does more for the Big Ten's perception: Michigan State beating Ohio State in the B1G CG and MSU playing Stanford in the Rose Bowl and OSU getting matched up with Missouri or Alabama and then both B1G teams beat those teams in their bowl games, or OSU winning the national championship against a Florida State team and hearing about how the SEC didn't have a chance to defend its title streak? I think both scenarios would greatly boost the Big Ten's image, yet I can't decide which scenario would boost it more.
Brian Bennett:
I feel for you Justin, and for Michigan fans everywhere. I can imagine it's not too fun to see your two biggest rivals play for the Big Ten championship on Saturday. As for your question, I'll go with the national championship. Sure, there would be some griping from the SEC that Ohio State lucked its way to a title, and even more so nationally if
Jameis Winston
weren't available for Florida State. Still, when people talk about SEC dominance, do they bring up BCS bowl wins? No, they brag about national titles. That's the ultimate prize, and it's been 12 years since a Big Ten team held the crystal football. People would forget in time the circumstances around the championship, but -- as they say -- flags fly forever. A national title from the Big Ten would also give the league a nice boost heading into the playoff era.
Rob NitLion from Morristown, N.J., writes:
I understand the annual awards are individual based, but how can a Michigan offensive lineman POSSIBLY win a conference award? Again, I understand this is an individual award, and
Taylor Lewan
won the award last year, but let's look at some of the stats that directly relate to the offensive line. Team Sacks allowed -- 3rd worst in B1G. Rushing yards per game -- 2nd worst. So the offensive line couldn't pass protect very well (even with a very mobile QB) and couldn't open up running lanes (again includes yards Gardner earned when protection broke down). What exactly did Lewan do to earn this award?
Brian Bennett:
Michigan would tell you that Lewan graded out higher this year than he did a season ago when he was a first-team All-American and the Big Ten offensive lineman of the year for the first time. They'll also say that he didn't give up a sack this year. I feel for Lewan, and offensive line is one area where every single player has to be in sync or the whole thing breaks down. The Wolverines' well-documented blocking woes weren't Lewan's fault. Still, I think some of that lack of team success has to be factored in, and I saw Lewan lose his composure in the Michigan State game. My pick for offensive lineman of the year in 2013 would have been Ohio State's
Jack Mewhort
.
Brutus from The Ninth Circle writes:
Hey, Brian, not sure how to read the Penn State win against Wisconsin this past weekend. Do you think BO'B squad exceeded their potential, or did they finally just live up to it? I'm thinking it's the latter, in that the talent was there all season but just hadn't been working together at the same time. Seems like they may have a a brighter future than some predicted.
Brian Bennett:
Keeping in mind the obvious depth and talent issues that Bill O'Brien faced, there were definitely times that Penn State underachieved this season. The Nittany Lions lost by 20 to Indiana, probably should have lost to Illinois at home and got smoked by 49 points at Ohio State. The defense was a major problem, as was inconsistency on offense. Don't forget that the Lions played with a true freshman quarterback. I saw Penn State as team with some very good players that was capable of putting together strong performances at time. It just happened that its best performance came at the end.
Kevin from Evanston writes:
With Northwestern being a Top-5 APR school can't they go bowling at 5-7? If they were to go to the Little Caesars Bowl in Detroit, plenty of fans would travel.
Brian Bennett:
There is a way that Northwestern could get into a bowl. I wrote about this last year when the NCAA approved a new bowl waiver. Basically, if there aren't enough 6-6 teams to fill all the postseason slots, the bowls can pick other teams in this order:
Teams that finish 6-6 with wins against two FCS opponents;
Teams that finish 6-7 by losing in their conference title game;
Teams that finish 6-7 but normally play 13 games (so, basically, Hawaii);
FCS teams in transition to the FBS that are at least 6-6
FBS teams that finish 5-7, but finish in the Top 5 of the NCAA's academic progress rate
Northwestern ranked No. 1 in the APR so would be eligible under that fifth clause. But it's not going to happen this year. There are 35 bowl games, and more than 70 teams are already at least 6-6 with more possibilities to come this weekend. So the Wildcats will be staying home.
Jim from Albuquerque, N.M., writes:
I think Bo Pelini is right. You take all the media hype about whether or not he is on the hot seat, and it's not right. I am glad he stood his ground. The media is not into "equal harassment." As for the refs, they made a bad call on a block NU's wide receiver made on a PSU defender. I would have been angry as a head coach too. That was a reasonable block; and the receiver's head was in front of the defender. The media is ruthless and should be censured for damage they can inflict on a football program's image. And there should be legal implications.
Brian Bennett:
Sure, Jim. It's the media's fault that Nebraska gave up 70 points in the Big Ten championship game last year and had a whole bunch of fans ready to make a change. It's the media's fault that Pelini has lost four games every year. It's the media's fault that Pelini hasn't delivered a conference championship or a BCS bowl. It's the media's fault that Nebraska continually shoots itself in the foot with turnovers and has the same volatile personality as its head coach. It's the media's fault that Pelini nearly hit an official with his hat and then cursed in his postgame press conference that was broadcast live, just the latest in a long line of examples of Pelini failing to control his anger.
Yep, all of that is on reporters, because certainly no one else had ever talked about or considered that Pelini might get fired. To borrow another man's words, If you want to arrest me, go ahead and arrest me.
November, 27, 2013
Nov 27
5:00
PM ET
What you gobblin' about, turkeys?
Daniel from Enemy Territory, Ohio, writes:
Brian, what can Michigan do (short of a miracle or swapping teams with say, Alabama) to pull off the major upset against OSU this week?
Brian Bennett:
Well, the Wolverines should be praying the rosary and searching for a Zoltar Speaks machine. That's still their best bet in a game in which they are -- and should be -- heavy underdogs.
[+] Enlarge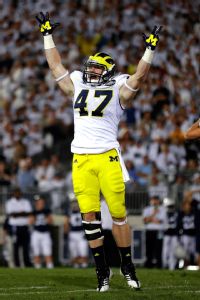 AP Photo/Gene J. PuskarJake Ryan must play well if the Wolverines are going to hang around with the Buckeyes.
The good news, if there is any, is that Michigan is at home, and the team really has nothing to lose. So if the game is close in the second half, the pressure will be all on Ohio State. The Wolverines will have to find a way to create turnovers and then do something with them -- remember, they were plus-three in turnovers last week at Iowa to no avail. They've got to short-circuit that Ohio State offense somehow. Maybe
Jake Ryan
has the game of his life. And on offense, Michigan should throw something at the Buckeyes that they haven't seen on film all season. Forget the running game, which hasn't worked all season and won't work this week. Line up with four- and five-wide, run the hurry up and try to get something going in the passing game, which is still probably the best way to exploit the Ohio State D. If Al Borges is going down, why not in a blaze of glory?
But in all likelihood, it will be a blaze of gory for the Maize and Blue.
John from Au Gres, Mich., writes:
Are you on board with the idea that MSU can pass Wiscy with a more impressive victory of Minny this weekend? Be prepared, I have a feeling the Spartans play for style points, which is out of character. However, we are still stuck with the BCS, and perception matters. Coach D has already said he thinks the Spartans are playing for a BCS bid this weekend.
Brian Bennett:
I assume you mean in our power rankings and on my own personal ballot, since Michigan State is already ahead of Wisconsin where it actually matters. And sure, I'm on board. I'll be in East Lansing on Saturday and am greatly looking forward to seeing the Spartans in person. I already think this is a fantastic team that can play with any team in the country. My only reservation about the Spartans, and it's a slight one, is that the schedule has been highly favorable.
But I just saw Wisconsin play Minnesota last week so should have a great comparison this week. I've said all along that this is basically a flip-a-coin, 2A and 2B situation. I'm totally willing to switch the teams based on what we see this weekend.
Bob Noble from Grand Ledge, Mich., writes:
What am I missing? You continue to have
Ryan Shazier
and
Chris Borland
rated 1 and 2, respectively as Big Ten defensive POY, while
Darqueze Dennard
is at No. 3. Which one of the three is a finalist for the Bronko Nagurski Award as the NATIONAL Defensive POY? Oh yeah, that would be Dennard of MSU. So how is DD lower on the list of Big Ten POY when the two players listed above him aren't even being considered for NATIONAL POY?
Brian Bennett:
First of all, nobody loves Dennard as a player more than me. If he doesn't win the Thorpe Award or make first-team All-America, I'll scream. He is absolutely tremendous and deserving of any honor you want to give him.
Secondly, let's not put a whole lot of stock in whom one award names as its finalists. There are approximately 1.2 million college football postseason awards, and as we've seen over and over again, the voting for those can
often turn out inexplicable and wacky
.
Finally, while all three are great players, I have Shazier and Borland rated a little higher because I think a linebacker makes a little more overall impact on a defense than a cornerback. And while Dennard has other stars around him such as
Max Bullough
,
Denicos Allen
and
Shilique Calhoun
, Borland and Shazier are the unquestioned focal points of their defense.
Paul W. from Dodge City writes:
Do you think if Nebraska was 10-1 or 11-0 right
Ameer Abdullah
would be in the Heisman hunt? I know that he has a lower touchdown total than other running backs but a good game Friday and he could surpass Mark Ingram's rushing total from his Heisman season.
[+] Enlarge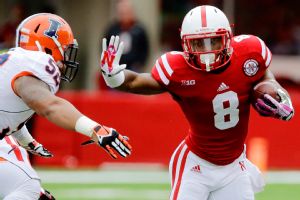 AP Photo/Nati HarnikAmeer Abdullah has topped 100 rushing yards in 10 of Nebraska's 11 games. The Huskers' only loss came when he didn't reach the century mark.
Brian Bennett:
I think you're on to something. Nebraska in a lot of ways has really been out of the national spotlight since the UCLA loss. A lot of people around the country probably don't realize exactly what Abdullah has done, or how he has done it through a spate of injuries around him. Abdullah also hasn't had nearly as many carries as the three Doak Walker finalists have gotten this year. He'll have to settle for likely winning the Big Ten running back of the year award, and, possibly, offensive player of the year.
Ethan from Abbottstown, Pa., writes:
The PSU special teams has been awful this year, and it is one of the major impacts of the sanctions. Do you attribute this special teams downfall to the fact the former only special teams specialists are now being used to fill out the offense and defense? Or the fact that PSU must now recruit only must-need positions and not players who could find a home on kickoff and kick return?
Brian Bennett:
Special teams have been a problem, really, in both seasons so far for Bill O'Brien. But they have been particularly glaring of late. The sanctions certainly have played a role; it's hard not to notice that
Anthony Fera
, who transferred from Penn State after the NCAA free pass, is a Lou Groza Award finalist. O'Brien is also forced to play some walk-ons in key spots in the kicking game.
But I don't think you can blame all the problems on scholarship reductions. Coaching still has to enter the equation, and there have been some obvious breakdowns in coverage and returns. And Penn State's special teams weren't very good last year when the scholarship numbers were much higher. So while I continue to believe the sanctions will have an impact on special teams in the near future, I also think the Nittany Lions can do a better job than they have of working around those depth issues in the kicking game.
John from Lima, Ohio, writes:
As a Buckeye fan it has been very frustrating to hear all year how bad their schedule is and that being the sole reason they should be held out of the title game, never mind how good they actually are. Especially when you see a team like Clemson sneaking back up the rankings when they have zero wins against currently ranked FBS teams, all their FBS wins are against teams with at least four losses, and they played not one, but TWO FCS teams this season. So while OSU's schedule might not be murderer's row this year, why does the media single them out when other teams have the same issues?
Brian Bennett:
Let's not kid ourselves: the negative perception of the Big Ten is weighing down Ohio State. And the Buckeyes are also paying a price for losing by double digits in two BCS title games in the previous decade, which is ridiculous. I also believe not playing in a bowl game last year hurt Ohio State. Clemson got a significant perception bump last year by beating LSU in a bowl game, allowing the Tigers to start out high in the polls. Then they began the year by beating a Georgia team that was ranked in the top 5. That has been enough to keep Clemson ranked high, even though Georgia has since fallen apart because injuries. Ohio State has nothing out of conference to hang its hat on from the past two years.
Pat from Iowa writes:
Who would you consider the biggest surprise team this year for good or for worse? Northwestern's down spiral, Minnesota's amazing year, or perhaps a great Iowa rebound year? Thoughts?
Brian Bennett:
The biggest positive surprise has been Minnesota. No one thought the Gophers would be 8-3 at this point, especially after Jerry Kill took his leave of absence in the middle of the season. That's been an unbelievable story. Northwestern has to be the biggest negative surprise. This was a Top 20 team earlier in the year that most people thought could contend in the Legends Division. If the Wildcats don't beat Illinois, they'll end up 0-8 in the Big Ten. Unreal. No. 2 on both my lists would be Iowa on the positive side and Michigan on the negative.
Martyn from Cuenca, Ecuador, writes:
I read the Big Ten blog religiously. Moved from Madison to Ecuador this year. Miss the atmosphere at Camp Randall & the Kohl Center. On your recent blog about Big Ten linebackers you mentioned Borland's 14 forced fumbles tying the B1G record. I believe it is the FBS record? I will prepare myself to apply to be a guest predictor next year. I catch a few broadcasts on my computer. Keeps my Badger jones in check. A little early, but Happy Holidays.
Brian Bennett:
Vaya con Dios, Martyn. Do they have cheese curds in Ecuador? There was a little confusion in regards to Borland's record. He came into the year needing one to tie the FBS record. But Buffalo's
Khalil Mack
had three forced fumbles in his last game to set the new FBS career mark of 16. Borland is now tied for second and tied for the Big Ten career mark with Purdue's Ryan Kerrigan.
One last note: Happy Thanksgiving, everybody!
November, 20, 2013
Nov 20
5:00
PM ET
Excited for my first trip to Minneapolis this weekend. Gophers fans, where should I go on Friday and Saturday? Hit me up with some suggestions.
I suggest you read this mailbag first:
Doug from San Diego, Calif., writes:
Can you please explain the math/stats behind Baylor being so close to tOSU in the BCS? Both teams have beaten one currently ranked team, both teams played lame non-conference schedules (with tOSU arguably playing a slightly more respectable one), and both teams are statistically ballpark (except for tOSU's passing stats). Is it the polling that is keeping tOSU close or is it math/stats in the computer stuff? And on the same hand, why is FSU so far ahead of tOSU? FSU's wins against Maryland & Miami do not seem impressive right now, and with those teams current rankings FSU have beaten only one currently ranked team (albeit a Top 10 team).
Brian Bennett:
Doug, asking a journalist to do math is always risky business. But I think I can pull it off here. The polls are not to blame for Ohio State's miniscule .0013 lead over Baylor in the latest BCS standings. The Buckeyes are No. 3 in both the USA Today coaches' and Harris polls, while the Bears are No. 4. It's the computers where Baylor makes up some ground, as it is tied for No. 3 in the computer average, with a high of No. 3 and a low of No. 5. Ohio State is fifth in the computers, behind both Baylor and Auburn, with a high of No. 3 and a low of No. 7.
Baylor's computer numbers should rise with a win over Oklahoma State this week, but Ohio State will get a boost if Wisconsin and Michigan State keep winning. As for Florida State, the Seminoles have a healthy lead over the Buckeyes in the polls and are No. 1 in the computer rankings. They haven't been criticized enough for playing a weak schedule, but that win over Clemson still carries weight. At the end of the season, Ohio State could have two better wins -- Wisconsin and Michigan State, should the latter occur -- than Florida State. But the 'Noles' utter dominance all season long gives them the edge.
Rob NitLion from Morristown, N.J., writes:
Bennett-o! This is very much a biased comment but I'd still like your rebuttal. How can you guys possibly leave
Allen Robinson
off of your B1G Offensive Player of the Year list? I understand his TD total is low and he isn't playing on a championship contending team BUT...here is where he deserves consideration. He is by far the best WR in the B1G the past two years. This year in particular he is catching passes from a true freshman QB, on a team that has not proven to have many other consistent receivers (so the focus of defenses is on him). He is CLUTCH!!! ... I'm not saying he is deserving over Miller, Hyde or Abdullah to win the award but he needs to be in the conversation.
Brian Bennett:
Robinson has very much been in the conversation all year long, as he has consistently ranked in the top five of my
weekly awards race tracker
for offensive player of the year. He is a tremendous player and the best of a really good class of receivers in the Big Ten this year. It's just really hard for wide receivers to win these types of individual awards because they're so dependent on their quarterback. While
Christian Hackenberg
has been outstanding for a freshman, I'd love to see what Robinson's numbers would be this year if he were playing with an experienced quarterback (say, the
new starter for the Oakland Raiders
, for example).
The lack of touchdowns also hurts Robinson's case, as does Penn State's also-ran status. A big finish in the last two games could move him up in the race, but he'll likely have to settle for his second straight Richter-Howard receiver of the year trophy. Not a bad consolation prize.
David C. from Davis, Calif., writes:
Again it seems that Michigan State will be penalized for making it to the B1G Championship game when considering possible at-large BCS bids. Isn't it unfair to consider wins and losses when one team plays more games, and if you compare only the regular season schedules, one team has a better record? Granted, this is not nearly as unfair as 2011, when Michigan State beat UM and made it to the Championship game, and UM got a BCS bid solely on their fan base. But still, comparing an 11-2 team to a 10-2 team that didn't make the Championship game, when it would be comparing an 11-1 team to a 10-2 team otherwise, doesn't seem analytically honest.
Brian Bennett:
Let's leave the word "fair" out of the discussion, because it is mostly a foreign concept in the bowl system. Michigan State's first concern is finishing in the Top 14 of the BCS to be eligible for an at-large bid. Remember that the Spartans did not do so in 2011 and therefore could not have been selected for a bid over Michigan. Michigan State is No. 13 right now and should move up a bit in the next two weeks if it wins out, but a loss to Ohio State would knock the team back down and make things close.
Here's the other problem for the Spartans in that scenario: if Wisconsin beats Minnesota this week, Michigan State would not have a single win over a ranked team. Now, I happen to think Mark Dantonio's club is really, really good, but the résumé would be viewed as lacking by some folks. Wisconsin is six spots behind the Spartans in the BCS standings but could jump ahead by winning out and finishing with a seven-game win streak. The body of work for Wisconsin and Michigan State at that point would be pretty similar, with both losing to Ohio State, beating Minnesota and losing their one high-profile nonconference game (thanks to help by officials in both).
Of course, the Spartans can make this all moot by simply winning the rest of their games and not leaving it in the hands of voters, computers and bowl committees to decide.
Nat Parduzzi from East Lansing, Mich., writes:
Hey Brian, I'd like to get your take on something:
Max Bullough
is the unquestionable leader of the nation's top defense at MSU. He's a coach on the field -- you'll see him make adjustments to DL gap assignments and even audible out of blitzes like a QB when he sees something he doesn't like -- I've only seen it constantly done successfully on Alabama's national title teams. While MSU's D has no shortage of praise, Bullough seems to be left out in the cold when it comes to individual accolades -- he's not even a semi-finalist for the Butkus award. What gives? Is it a lack of mind-blowing stats? Stats are for losers. Don't the pundits realize that my... I mean Pat Narduzzi's defense probably doesn't have as high of stats because they're on the field so little?
Brian Bennett:
Nat -- I see what you did there -- you make some really fine points. But I'll let you in on a little secret: most of the people voting for these awards (and full disclosure: I am a voter for several of them, but not the Butkus) simply don't have time to watch every team in the country closely. They may see some highlights or catch a game here and there. But for the most part, they follow one particular team or conference or region. In other words, they don't get to see the nuances of a certain player like Bullough and what he means. That's why stats take on a bigger role, and Bullough -- who's averaging 6.1 tackles per game and has just one sack this season -- isn't going to leap off the page.
Excuse me for using a baseball analogy here, but as someone who watched well over 100 St. Louis Cardinals games this year, this situation reminds me a bit about the case for
Yadier Molina
as MVP. People who watched that team closely saw all the amazing things he did for the pitching staff and defense. But those things can't be found in a box score, which is why he didn't win. Same thing, I think, goes for Bullough.
Victor from Norfolk, Va., writes:
Brian, with Ohio State having its Senior Day this Saturday against Indiana, I personally believe that
Kenny Guiton
should get the start. He is a captain on the team and this is his last time playing in the 'Shoe as a player. I know it probably won't happen but I think it would be a great thing to do for a player who has played exceptionally well when called on and is a great leader on this team.
Brian Bennett:
Victor, I like the thought because of what Guiton has done for the Buckeyes. But any time you're in the hunt for national and conference titles, I don't think you mess with things at quarterback. Remember that Indiana only lost by three points to Ohio State last year and kept things close well into the second half two years ago in Columbus. I don't think Urban Meyer wants to risk anything, especially after his defense gave up a lot of points to a spread team last week, and
Braxton Miller
is still his best option. But Guiton should get a nice ovation when he is honored on the field before the game, and if things go the way they should, he should get some playing time in the second half.
Scott from Barron, Wis., writes:
I see that a lot of Gopher fans think they have a chance against Wisconsin. They are delusional. I have watched all of Minnesota's games. The Gophers are overrated. They beat Northwestern without Mark and Colter, Nebraska WITH Martinez (subtraction by addition), an impotent Penn State, and got a gift from IU. Also, they do not match-up well with Wisconsin. Their strength is running the ball, Wisconsin's strength on defense. Their weakness on defense is stopping the run. .... The Badgers will roll The Goophers, and I will be in the stands cheering when they do.
Brian Bennett:
I don't necessarily disagree with any of that, Scott. Wisconsin is a heavy favorite, and it should be. But you have to admit that there's something special going on with this Minnesota team. The Gophers have some mojo and are playing with a lot of confidence right now. They also have shown an ability to run the ball and control the clock, two things that will be crucial this Saturday. A much worse Gophers team went to Camp Randall last year and trailed by just 11 points heading into the fourth quarter.
Minnesota also has had an extra week to prepare because of its bye last week and will be at home. I'm not saying the Gophers will win. But it wouldn't shock me if they did.
Mark from Az writes:
Seems to me like the real bowl battle in the Big Ten is for the 4th place spot. OSU, MSU, and Wisconsin should all win out. OSU could win the title game and Wiscy is getting closer to an at large berth, which may happen. Or MSU wins the title game and OSU would be mostly certain to get an at large berth. Leaving MSU or Wisconsin for the Capital One bowl. But then who goes to the Outback?
Brian Bennett:
There's still a lot to be decided, obviously. Everything hinges on whether the Big Ten can get a second BCS berth this season. Right now, I'm still leaning toward no on that question. If not, you can comfortably slot Michigan State and Wisconsin into the Capital One and Outback bowls in some order.
But if there are two BCS bids, then things open up a bit. The Outback just had Michigan last year, so I think it would be doubtful that the Wolverines end up there again -- especially since Michigan likely will be no better than 8-4. A potential 9-3 Nebraska team would be attractive to the Outback folks. The Huskers have been to Florida in back-to-back years, though, and may prefer Arizona, though it's hard to say no to the Florida recruiting possibilities.
Iowa and Minnesota are potential Outback teams as well. If the Hawkeyes were to win out to finish 8-4, they could leap Nebraska and Michigan -- both of whom they would have beaten -- and have some momentum that bowls like. Minnesota has the great story with Jerry Kill but also has to battle its poor traveling reputation. And the Gophers have two tough games remaining with Wisconsin and Michigan State.
So I'd give the edge to either Iowa or Nebraska for that spot if the Big Ten gets two in the BCS. But that remains a big if.
Anthony from Worcester, Mass., writes:
As a Michigan fan, I think I would prefer to play in the Gator Bowl rather than the Buffalo Wild Wings Bowl. The Gator Bowl is in recruit-rich Florida, is on January 1st, and is against the SEC. We'd also be playing the #6 SEC team, so we might be favored. I'd rather play an SEC team on NYD than a Big 12 team in late December. Am I wrong?
Brian Bennett:
You're not wrong. The Gator Bowl is still a higher-profile game, and it would likely mean an easier and cheaper trip for most Michigan fans. But have you been to Jacksonville in January? On that front, I'd prefer Arizona.
November, 13, 2013
Nov 13
5:00
PM ET
I'm flippin' out down in Clemson right now but still have time to answer your Big Ten emails. Bring it:
J.R. from Houston writes:
If either Alabama or Florida State loses, who do you think has the best chance of moving up: Baylor or Ohio State? I looked it up, and Ohio State falls behind the Bears in every category except rushing yards, for which Buckeyes are eighth, only one spot ahead. Also Baylor has three ranked teams on its schedule (Oklahoma, Oklahoma State and Texas) while Ohio State only has one (Wisconsin). Not to mention the Big 12 is third in the conference power rankings with an overall rating of 73.9. The Big Ten is fourth with an overall rating of 66.8. If both teams win out, does the Big Ten blog think that Baylor would pass Ohio State and secure the No. 3 spot? P.S. The College Football playoffs can't come soon enough!
[+] Enlarge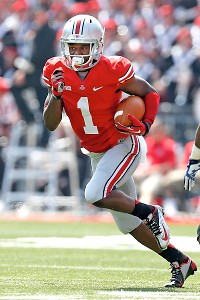 Kirk Irwin/Getty ImagesFreshman Dontre Wilson and the Buckeyes will need style points down the stretch.
Brian Bennett:
Great question, J.R. Right now, Ohio State does have to worry about winning with style points to make sure it stays ahead of Baylor -- and Stanford. Things are getting very, very close.
The good news for the Buckeyes is that Baylor is currently No. 5, not No. 4. Stanford is only .237 behind Ohio State, but I don't believe a one-loss team will pass an undefeated Big Ten champion. So the Bears have some work to do. But Baylor is only 25 points behind Ohio State in the coaches poll and 69 points back in the Harris poll. And it has some marquee matchups still to come by playing at No. 12 Oklahoma State on Nov. 23 and No. 24 Texas on Dec. 7.
If Baylor beats Oklahoma State, that will be a very good win that should propel the Bears in both the polls and the computers. Ohio State could suffer in the next three weeks as it plays Illinois, Indiana and a down Michigan team. That's why having Michigan State win out and play in the Big Ten title game could really boost the Buckeyes. And if Wisconsin wins out, Ohio State's wins over the Badgers and Spartans will look just as good if not better than Baylor's over Oklahoma and Oklahoma State.
Baylor cannot criticize the Buckeyes' nonconference schedule, either, since it played the murderer's row of Wofford, Buffalo and Louisiana Monroe. Ohio State should still worry, because Baylor wins with so much offensive flair that voters could become more sympathetic toward that team. But the best thing the Buckeyes have going for them is that they started out higher in the polls than the Bears, and that poll inertia will be tough to overcome.
John from Newark, Del., writes:
Just a quick note about the BCS computers. The Colley Matrix--which has disliked Wisconsin the most all season -- allows you to add and remove games at will. Reverse only the Wisconsin/ASU result and take a peek at what Colley's computer results would look like if Wisconsin had taken and made the FG.
Brian Bennett:
John, I like the cut of your jib. Excellent find. You can go
here
to that function on the Colley Matrix site and reverse the Arizona State result for the Badgers. What happens is that Wisconsin jumps to No. 10 in the hypothetical Colley Matrix rankings, all the way up from No. 26 in the real life ratings. (It also helps Ohio State, which moves up from No. 4 to No. 3).
Now, you could argue that maybe Wisconsin misses that field goal, because the Badgers' special teams have been suspect. And this is just one computer ranking system out of several used for the BCS. But the point about how much Wisconsin is getting punished by that terrible officiating crew is still valid. It makes 16 spots' worth of difference in one major computer ranking, and voters who still aren't giving the Badgers enough credit would likely have them ranked much, much higher. Wisconsin would go from being criminally underrated at No. 22 in the BCS to a an extremely strong candidate for an at-large bid.
There's only one word for it: Injustice.
M.V. from Grand Rapids, Mich., writes
: If Iowa finishes 8-4 and so does Minnesota, does the tie go to Iowa for beating Minnesota or does Iowa "traveling well" give them the go ahead? In all fairness the better bowl goes to Iowa no matter what. Wouldn't it?
Aaron M. from Purcellville, Va., writes:
I'm starting to get upset with the perception of Gophers. Everyone seems to think that they are just an average football team, and that they don't deserve a good bowl because the fan base apparently doesn't travel well. Let's be real: Minnesota hasn't been to a halfway decent bowl game since 2003 when they went to the Sun Bowl and played Oregon. Michigan is self-destructing. Wouldn't the bowl gain more interest if they took the Gophers especially with Coach Kill's leave of absence? That should provide more storyline.
[+] Enlarge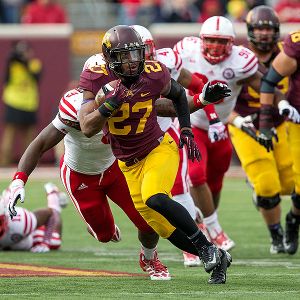 Jesse Johnson-USA TODAY SportsDavid Cobb and the Gophers already have posted eight wins, but will their reward be the best bowl it could be?
Brian Bennett:
I can understand why Minnesota fans are worried. If we were just talking about merit, the Gophers would be in line for a really nice bowl destination right about now. But a lot of things go into bowl selection, including fan support and team momentum. If all things are relatively even, Iowa could very well get the nod over Minnesota because of its fan base. Michigan could do the same because of its brand name.
But the Gophers could also have momentum on their side, if they end up with six straight wins or five of their last six. The Jerry Kill story is a great one, and bowl games love that kind of positive publicity. So all of that is good news. Here's my main concern: Minnesota has yet to draw sellout crowds to its own stadium. Last week against Penn State, the announced attendance was 48,123, or more than 2,000 below capacity at TCF Bank Stadium, and there were even more empty seats than that, according to media reports.
I'm not sure what else Gopher fans are waiting for to get all the way behind this special team. If that stadium is not absolutely full next week against Wisconsin -- and not because of visiting Badgers fans -- then Minnesota can't complain if it gets passed over for a bowl slot.
Mike R. from Camp Lejeune, N.C., writes:
While Michigan has certainly gotten better under Brady cHoke they clearly are still far and away from being elite again. I honestly feel that cHoke's Year 1 win against one of the least inspired/worst coached Buckeyes teams in recent memory, is the only thing keeping him off the hot seat at this point. What do you think it will take for Michigan fans to start calling for his replacement as he has said all the right things but continues to not produce?
Brian Bennett:
It's an interesting hypothetical, at the very least. Let's say Michigan doesn't beat Ohio State in 2011 (it was a three-point game with two minutes left, and
Braxton Miller
missed on what could have been a game-tying touchdown pass on the Buckeyes' final drive). Michigan finishes that regular season at 9-3 and does not go to a BCS game. Hoke would have a two-game losing streak to Ohio State with a likely third loss pending this year.
I still don't think that would put Hoke on the hot seat. He has built up a lot of goodwill by being a Michigan Man and by not being Rich Rodriguez, and his recruiting prowess provides hope for the future. But he'd be on a much shorter leash, and I think Maize and Blue fan anger would be much hotter right now without that win. You can do a lot of things right at Michigan or Ohio State, but if you don't win The Game, it's never enough.
Marcus from NY, NY, writes:
Is it time for Michigan to just start playing
Shane Morris
? I know this sounds crazy, and I am not advocating that Shane Morris will get Michigan out of its funk. Quite the opposite. Michigan will stink with Shane Morris out there. However, the future is now at Michigan, look at the offensive line and the secondary, it's a lot of freshmen and even Hoke has admitted its necessary to get the offensive linemen going to get some experience now. Morris' redshirt has been burned, so get him out there and get some experience. Gardner is completely lost and getting battered, and he's going to struggle from now until whatever pizza bowl Michigan gets to play in. At the very least a somewhat experienced Morris can push Gardner during the offseason and provide another QB for 2014.
Brian Bennett:
Marcus, I think if Morris were ready, he would have played more by now, because Gardner has had his troubles. But Hoke and Borges obviously don't think he's ready. You also run the risk of putting a young quarterback in there behind a bad offensive line and having his confidence shot (along with possibly some of his limbs).
Since Michigan doesn't have a whole heck of a lot to play for this season -- by Hoke's standards, the season is already a failure -- then it wouldn't hurt to get Morris some experience. At the same time, Michigan will be in a dogfight its final three games, and its best chance to win those is still probably with Gardner. I think the bowl game would be the perfect time to work Morris in, especially after he gets those extra bowl practices to develop. An open quarterback competition next spring would be good for everybody.
Steve from Columbus, Ohio, writes:
Brian, love the blog, just wondering why the media isn't pushing for an Urban Meyer-Nick Saban BCS finale. Seems like a journalist's dream, dozens of storylines. FSU is pretty good but no one wants to see another freshman quarterback get worked again. Your thoughts?
Brian Bennett:
Call me naive, but I think most journalists have the integrity to "push" for the two teams they feel are the most deserving. And Alabama and Florida State have that edge right now in a big way. There would still be plenty of storylines in an FSU-Bama clash. And have you seen
Jameis Winston
play? I'm not too worried about him "getting worked." He's a special player, and quite possibly this year's Heisman Trophy winner.
November, 6, 2013
Nov 6
5:00
PM ET
It's Wednesday afternoon. Time for another edition of ye olde mailbag:

Randy from Hopewell Junction, N.Y., writes:
I'm a Spartan alum and follow them faithfully. Needless to say, last week's victory was marquee in many categories. You stated [in Monday's chat] that MSU had not played a ranked opponent this season and won. We just beat Michigan! They were ranked. ND, we should have beaten (they stole that game on cheap penalties!!!), and they are ranked. We actually held them to the fewest yardage they produced all season. But that's basically irrelevant. I think those rankings are highly, highly subjective and think that MSU could beat several of the teams listed above them at the moment. So why not a BCS bowl? if they beat Nebraska and even get to Ohio State?
Brian Bennett:
You twisted my words a bit, Randy. I said that if Michigan State finished 11-2 but lost to Ohio State, then it would be possible that the Spartans would not have beaten a ranked team. And by that I meant a team that is ranked at the end of the season. The odds of Michigan or Nebraska ending up in the Top 25 is looking shaky. Yes, the Spartans beat Michigan when the Wolverines were ranked, but when voters go to submit their final ballots after championship Saturday -- and remember that the coaches' and Harris polls are two-thirds of the BCS formula -- they may simply look down the Spartans' schedule and see no ranked teams in the 'W' column.
None of that is meant to downgrade what Michigan State has done so far or what it might accomplish. I think this is a potentially very worthy BCS at-large team. However, the Spartans have never been picked for an at-large slot in the BCS era even in those years when it was deserving, like 2011. Their profile, unfortunately, is not one that makes BCS bowl reps sit up and get excited about. A loss to Ohio State, unless it was a very close, last-minute type of defeat, could even send Michigan State out of the BCS Top 14. I'd personally love to see that defense get a shot in a BCS bowl, especially against one of the top-flight offenses out there like Oregon, Baylor or Florida State. But I have serious doubts about whether an at-large bid is possible.
Troy S. from La Crosse, Wis., writes:
What are the chances that the Badgers make it to the top 14 of the BCS standings to give them a shot at a BCS bowl? It seems like Brad Edwards thinks they have a fairly good shot at it and predicts them going to the Orange Bowl while you have them playing in the Capital One Bowl? This week they got jumped by 2 teams even though they won at Iowa, what else can they do? Isn't it just cruel and unusual to us Badgers fans that one of the teams that jumped us was Arizona State?
Brian Bennett:
I do think Wisconsin will finish in the Top 14 if it wins out -- which is not guaranteed, especially since this week's opponent, BYU, is awfully good. Poll voters have shown that they'll keep moving teams up as long as you win, and major-conference teams that go 10-2 have excellent shots at getting ranked highly.
Wisconsin has similar problems as Michigan State working against it in regards to the schedule. Right now, the Badgers' best wins are over Iowa and a Northwestern team that has nosedived. The BYU and Minnesota games might end up being their best victories, should they get them, and the computer numbers need a major boost.
But even if Wisconsin finishes in the Top 14, that does not guarantee a BCS at-large bid. It merely makes them eligible. And while the program is an attractive one to bowls, there will be other very desirable teams out there as well from the SEC, Pac-12, ACC and possibly Big 12. The specter of Notre Dame and a BCS buster like Fresno State or Northern Illinois also remains -- remember that if either of the latter finishes in the Top 16, they get an automatic bid.
So at this point, the Badgers need a lot of things to break in their favor. That's why we're not yet ready to project them into a BCS game.
Alan from Columbus, Ohio, writes:
This entire season I have been assuming, along with the national media, that Ohio State will end up in Pasadena for the Rose Bowl or BCS title. However, now the most likely game for OSU to drop is probably the B1G title game to Michigan State, which would exclude the Buckeyes from both Pasadena bowls. If that happens, do you see us getting bumped from the BCS altogether? Hopefully that won't happen, but I'd like to know what to expect in that possibility.
Brian Bennett:
I don't see the Buckeyes getting excluded in that scenario, Alan. If Ohio State takes a 12-0 record into Indy, it will be no worse than No. 4 in the BCS standings and the polls. A loss would bump the Buckeyes down, obviously, but likely not outside of the top 10 or 12. While conference title game losers often have a hard time with the BCS, we'd be talking about a 12-1 team with a star head coach and a fan base hungry to travel after last year's probation (and the poor 2011 season). That would be extremely attractive to bowls, and I believe somebody would snatch up the Buckeyes.
Patrick from Ypsilanti writes:
Brian, can you remind readers how the CFP selection committee will determine bowl match-ups in the non-playoff bowl games? Are there going to be caps on the number of teams from conferences that can play in these games? Is a team like Wisconsin going to be ignored next year for a big bowl in favor of either Northern Illinois or Fresno State?
Brian Bennett:
Good question, because I'm not sure everybody understands that the committee will do more than select the four teams for the playoff. It will also choose the participants of the other "contract" bowls (the new word that will replace the BCS). In other words, the committee will choose the top 12 teams for the six major bowls (which includes the two semifinal host sites). There will be no limit on the number of conference teams in the pool, though some bowls like the Rose Bowl will maintain traditional conference tie-ins. And one spot will be guaranteed for the top champion of the other five conferences.
We don't exactly know yet what the criteria will be for filling out the other bowls, but it should be based on who the committee feels are the best teams. Because the non-power conference will have a spot, there could be a scenario where a team like Northern Illinois gets in ahead of a more accomplished major-conference team. But we also won't see situations where a team like Notre Dame gets a spot solely on its drawing power. This could actually hurt the Big Ten, which has done well in the BCS era because of its large fan bases, earning bids for teams that maybe would have been otherwise borderline (see Michigan in 2011). But it should create much better matchups overall.
Chance from Omaha, Neb., writes:
I was doing some random browsing on Nebraska's 1999 squad (last one to win a conference championship, feels like a million years ago) and
noticed the final AP poll that year
. If you retroactively add the Huskers...8 B1G teams! And no Ohio State. Found that pretty interesting. Do you think we'll see the B1G ever get back to an elite level of having 3 or 4 teams in the top 10 again?
Brian Bennett:
Sure, it will happen again. It was only 2006 when Ohio State and Michigan entered their game ranked 1-2. Not exactly ancient history. The Big Ten had three teams finish in the top 10 that season (and, hey, Rutgers was No. 12!). These things are cyclical, and the fact that Michigan has been down and that Ohio State -- and Penn State -- went on probation didn't help. Heck, if Wisconsin doesn't get jobbed in the desert, and Michigan State gets a better whistle in South Bend, the Big Ten could very well have three Top 10 teams this season.
As we've said all along, depth at the top of the league is something the Big Ten needs to develop over the long term. Ohio State is there every year, while Wisconsin and Michigan State have done their parts. The league needs Michigan and Nebraska to get back to an elite level and for Penn State to do the same after its sanctions end.
Mark from Iowa City, Iowa, writes:
I would normally agree that calling three consecutive timeouts to ice a kicker isn't cool. However, from my perspective the Iowa fans were simply not into the game after the second timeout. When the kicker got set after the third timeout the crowd finally got loud. Kudos to Ferentz for getting the 12th man involved.
Brian Bennett:
As
I wrote Monday
, I have no problem with Kirk Ferentz using the rules to his advantage. That's good coaching. I just have a problem with the rule. There's no reason for teams to call three straight timeouts. I'd like to see that changed. And if calling timeouts is the best way to fire up an Iowa home crowd these days ... well ...
Pert from Davenport, Iowa, writes:
Why is Iowa so bad in the 2nd half of games this season? We have had a halftime lead in nearly all our games. Iowa have historically been know to be a second half team. Ferentz usually makes good halftime adjustments, but it seems to be lacking this year.
Brian Bennett:
It's a great question. I thought Iowa came out looking great in each of its last three games. But then the offense stalled. Actually, that's being kind. The offense has gone into a hole and had dirt poured on top of it. Consider that the Hawkeyes last scored a point in the fourth quarter in the Minnesota game way back on Sept. 28. Its only second-half touchdown in five Big Ten games was that 85-yard pass to
Jake Duzey
at Ohio State, which -- let's be honest -- was a little fluky. Iowa has 16 second-half points total in conference play (it did score a touchdown in OT vs. Northwestern). That's crazy.
Part of it has to be the lack of diversification of the offense. There's only so much the Hawkeyes can do without many explosive playmakers, and other defenses seem to know it. Once Iowa gets behind and has to play catchup, it's hard to stick to the running game. Still, things shouldn't be this dire in the second halves of games.
Jon from Evanston writes:
Michigan State and Wisconsin were both two teams who struggled in 2012, losing a plethora of close games while having injury issues. Consequently many people picked them to turn it around in 2013, and that has happened. Could Northwestern be that team heading into 2014? They have a young team that returns a ton of talent (especially if Mark redshirts), and have had terrible luck this year with injuries and in close games (0-4 in games that they were in until the very end).
Brian Bennett:
Yes, absolutely. I would pick Northwestern as one of the top bounce-back candidates for 2014 without hesitation. This team is way too good to be 0-5 in Big Ten play, and injuries have played a huge role in that. Sometimes, things just go south for teams in a hurry. But Pat Fitzgerald has built a solid program that should be able to turn things around next year, and the Wildcats' recruiting has been on an upswing. Replacing
Kain Colter
won't be easy, but former hotshot recruit
Matt Alviti
is waiting in the wings. The '14 schedule won't be easy: Northwestern plays Cal, Northern Illinois and at Notre Dame in the nonconference portion, but the 'Cats miss Ohio State and Michigan State from the East Division. Another 10-win season might not be in the cards, but neither will an 0-5 Big Ten start.
October, 30, 2013
Oct 30
5:00
PM ET
Craig from Braintree, Mass., writes:
You used the term "signature win" for the the Gophers. How do we know if that win over Nebraska was a signature win? We don't know if it was until the program changes levels. If the Gophers lose their remaining games this year, will it be a signature win? If they finish in the top 25 this year but don't make a bowl game next year, was it really a signature win? It comes down to 'what is a "signature win"' (sort of like what is an MVP).

Brian Bennett:
Don't overthink this one, Craig. Beating Nebraska -- for the first time since 1960, no less -- is absolutely a signature win for this coaching staff at Minnesota. Here's what
Jerry Kill said this summer
:
"We play three or four rival games. We need to get one of those, maybe do it with a [last-minute] field goal. Everywhere I've been, we've had kind of a signature game where it flipped and we really got going for the program. ... That's where we're at in Minnesota right now. We need to find one of those."
Remember that the Gophers' Big Ten wins in the Kill era before last week were against a mediocre Iowa team, Purdue and Illinois (twice). Whether Nebraska turns out to be a great team this year is besides the point, because the Huskers are a marquee name. And Minnesota didn't even need to win on a late field goal, as it beat Nebraska by double-digits.
Husker from Wayzata writes:
Saw your response about
Bo Pelini in the Take Two
. Agree with most of it, but worst/most deflating loss of his tenure is still 2009 at home to Iowa State. Personally, I'd classify the performance against MN as the very predictable overlooking an opponent and not taking a game seriously coming off of a longer layoff. Think 2008 Colorado/2009 Texas Tech/2010 Texas/2012 Northwestern.
Brian Bennett:
The Iowa State loss was truly a bad one and the first one I thought of over the weekend. But that Nebraska team also finished with 10 wins and nearly beat Texas in the Big 12 title game (Iowa State went on to finish 7-6 and, ironically, beat Minnesota in a bowl). In other words, the 2009 loss was a key setback but not a crippling one for a very good Huskers team. The Minnesota loss feels like it could be a turning point in Pelini's tenure, unless Nebraska can come up with a strong November showing. We shall see.
Alex from Harrisburg, Pa., writes:
How concerned should we be with PSU's defense moving forward? And I mean not just for this season but the duration of Bill O'Brien's tenure. I was concerned when Bill was hired that this was clearly an offensive hiring and was not too excited about Ted Roof, but at least last season's defense performed admirably. While I'm not against having a more exciting and competent offense, I feel that Penn State had always had a basis on defense (which is why we're known as Linebacker U). Looking at this season and even with the recruiting focus it is clear that there is a focus on the offensive side of the football. What are your thoughts?
Brian Bennett:
It's an interesting question, and one you always have to wonder about when an offensive-minded guy is the head coach. I also believe the scholarship situation is a real problem here. I think it's easier to build an offense without tremendous depth, since one or two stars at key positions can make a big difference, than it is on defense, especially in today's offense-first world. (Ask
Kevin Wilson
at Indiana how that's going). It's pretty obvious to me that Penn State is light on speed and difference-makers on defense and really misses the outstanding group of seniors it had on that side of the ball last year.
With all that said, it's still shocking to see the Nittany Lions give up 147 points in three games, even if it came against three of the best offensive teams in the Big Ten. I'm not terribly worried about the long-term defensive prognosis under O'Brien, because he's a smart enough coach to figure that out once he gets to play with a full deck. But in the short term while the sanctions are still being felt, defense could remain an issue.
Mark from Arizona writes:
Where has
Mark Weisman
been in the 2nd halves lately? Against Ohio State, he dominated the rushing game. Because of that, Iowa dominated the clock. Because of that, the Buckeyes offense couldnt get in sync. Then the 2nd half comes and Weisman disappears and Iowa starts throwing the ball. They fixed what was working in the first half and lost the 2nd half. If they kept pounding away like they did, I think Iowa would have won the game. Then comes Northwestern. Same thing. Iowa ran Weisman in the first, dominated in all phases, and then did the disappearing act with him and nearly lost. This is poor coaching.
Brian Bennett:
I don't think it's poor coaching as much as it is game situations and adjustments by the other teams.
Let's look at the Ohio State game. Iowa had only two possessions in the third quarter. On its first one, Weisman opened the drive with a 12-yard run and then had a four-yard carry. But two plays later, the Buckeyes stuffed
Damon Bullock
on first down. When it's second-and-nine, that's a passing down. Unfortunately for the Hawkeyes, they threw two straight incompletions and had to punt.
The following drive began with a holding penalty, and then
Jake Rudock
threw an 85-yard touchdown pass to
Jake Duzey
. I think you'd agree that was a good play call. Weisman did not get a carry in the fourth quarter, but Iowa trailed by a touchdown on the road and probably felt it needed to make something happen in the passing game.
In the Northwestern game, the Hawkeyes' best drive of the game came on its first possession, similar to the week before. Weisman ran for 32 yards on that drive, and Iowa scored a touchdown. But Northwestern shut the running game down after that; Iowa would not reach the end zone again until overtime; in fact, after rushing for 68 yards on the opening drive, the Hawkeyes would finish with just 136 rushing yards.
I would like to see Iowa stick with Weisman a little longer, because he tends to wear down opponents late in games. But it's hard to run when opponents are loading the box or if you're trailing in a game that doesn't feature many possessions.
John from Northern Michigan writes:
Compare and contrast the last games played by Wisconsin and Sparty, the entire games. Oh, just happens to be common opponent. Too bad that isn't a protected rivalry.
Brian Bennett:
Michigan State beat Illinois 42-3, one week after Wisconsin won in Champaign by a 56-32 margin. I'm not sure how instructive the comparative scoring is here. The Spartans led only 7-3 late in the first half before completely taking over, while the Badgers were up 42-17 at one point and probably could have scored 70 if they really wanted. They also didn't have their best defensive player,
Chris Borland
, for most of the game. What those two outcomes told me was that Illinois is simply overmatched against the best teams in the conference. Wisconsin's a little stronger offensively, while Michigan State is better defensively. I have both those teams ranked No.s 2 and 3 in the Big Ten right now. I would love to see them play this year, but barring a completely unexpected Ohio State meltdown, it's not going to happen.
Tommy from Savannah, Ga., writes:
Brian, I can't help but wonder what the impact would have been if Vanderbilt wouldn't have pulled out of this year's game with Ohio State. Let's imagine Ohio State beats the Commodores by two touchdowns. Would this have had any effect on their perceived strength of schedule?
Brian Bennett:
My answer: not much. Vanderbilt is 4-4 overall and 1-4 in the SEC, with its best victory coming over an injury-ravaged Georgia. Beating the Commodores would have helped Ohio State's strength of schedule a little, but it wouldn't have added much to the Buckeyes' case. They would still be behind Alabama, Oregon and Florida State in the pecking order. I'm not sure there are many teams out there Ohio State could have scheduled on short notice that would have changed that.
T.J. from Ashland, Wis., writes:
Hey Brian, just wanted to let you know that I enjoy your Blog and have always enjoyed your wit, more this year than any other year I can remember...because...NO ONE ELSE IS TALKING ABOUT THE B1G!!! I've caught three different college football shows on ESPN, and not once was any B1G team mentioned. Outside of the BTN, do you remember a year like this, where it's obvious that there is zero interest in the B1G? Concerns? How long could this continue?
Brian Bennett:
Well, it's not terribly different than last year, and at least this season the Big Ten has a legitimate national title contender since Ohio State is eligible for postseason. But the Buckeyes' status is pretty static, and nobody else is making any noise in the BCS picture right now, which means that the league is fairly irrelevant on the national scene. Same goes in many ways for the Big 12, which has Baylor but not a whole lot else. It also means there aren't many games that create a buzz across the country. For example, the Michigan-Michigan State game this weekend has all the makings of a classic. But when it's No. 21 vs. No. 22, it just doesn't get people talking as much.
This is a problem, and it's why we have written and said on numerous occasions that the Big Ten needs to develop depth at the top of the league beyond Ohio State. When an SEC team has a bad season, the conference usually has several others who can pick up the slack. The Big Ten needs somebody else, whether it's Michigan State, Michigan or Wisconsin, to go on a run and give the league another prominent team besides the Buckeyes.
Vincent R. from Columbus, Ohio, writes
: After watching
Braxton Miller
against Penn State, I saw something in him that I saw in a player most Ohio State fans will remember: Troy Smith. As Braxton was squirming his way out of potential sack after potential sack, I began to see the drive in Braxton that I hadn't seen out of an Ohio State offensive player since the last Heisman Trophy winner. To top that off, after making these great dodges in the pocket, he had the presence in mind, just like Smith, to look down field and see the open man. Bearing this in mind, that Braxton looks as good now as Smith did his senior year, could Braxton Miller win the Heisman next year?
Brian Bennett:
It would be interesting to see where Miller would be in this season's Heisman race had he not gotten hurt early. He'd probably be behind
Marcus Mariota
and
Jameis Winston
, but maybe not too far behind. Miller has been terrific in Big Ten play, and he has his completion rate up to over 70 percent. Assuming he returns for his senior year, which at this point looks like the right call, he'll be a leading Heisman contender in 2014. The reason to exercise caution on that, however, is the fact that the Buckeyes will lose four senior starting offensive linemen. There's also a better-than-decent chance that Miller could have a new offensive coordinator, since Tom Herman should be a hot name in the offseason for head coaching gigs.
Jim K. from New Cumberland, Pa., writes:
Brian, seriously you think that PSU is going to put up 48 points on Ohio State,. NO way! I agree Ohio State's defense is not as good as usual but they won't give up that at the 'Shoe.
Brian Bennett:
I have run some readers' terrible Friday predictions the following week in the mailbag this year. So it's only fair for me to include an email about my own awful score call in the Penn State-Ohio State game. At least I got the winning team right, which is all that matters in my contest with Adam for a St. Elmo's dinner.
October, 16, 2013
Oct 16
5:00
PM ET
It's mail time. I'll warn you in advance, it's going to get weird at the end.
Jason from Columbus writes:
Brian, Iowa is the only FBS team in the country that has not allowed a rushing touchdown in the country this season. Ohio State is 12th in the country with 17 rushing touchdowns in only 6 games. Who comes out on top this weekend, Iowa's rush defense or
Carlos Hyde
,
Dontre Wilson
,
Jordan Hall
, and the rest of the Buckeyes who can run through a defense?
Brian Bennett:
Good question. Urban Meyer is so impressed with Iowa's front seven that he mentioned them in the same sentence as Alabama this week. Not sure I'd go that far, but the improvement of the Hawkeyes' defense up front has been one of the pleasant surprises this season. However, as you mentioned, Ohio State has a great running game. And that all starts with what has been the best offensive line in the Big Ten for the past two years. The Buckeyes' blockers are big, physical and smart, and they pave the way for the speed of Hall, Wilson and
Braxton Miller
as well as the power of Hyde. That's going to be tough for any defense to stop, including one playing as well against the run as Iowa.
The bigger concern I'd have if I were Kirk Ferentz and Phil Parker is Miller taking shots down the field. Ohio State is not a consistently good passing team but does connect at times on the deep ball, and the Hawkeyes are more vulnerable on the back end.
David K. from Oxnard, Calif., writes:
First off, I'm biased: I've been a Badger football fan since November 1962, when I attended the UW-Minnesota game, which the Badgers won with a great comeback, led by Ron Vanderkelen and Pat Richter. And I attended the UW, off and on, from 1966 to 1974. Biases admitted, why the heck isn't
Melvin Gordon
even being mentioned in the discussions regarding the 2013 Heisman Trophy? He's the 3rd-leading rusher in the BCS division with a 9.7 YPC average. Every time he touches the football, everybody holds their breath. I mean, c'mon, guys, what does he have to do? Leap tall buildings in a single bound?
Brian Bennett:
I love watching Gordon, and we named him our midseason offensive player of the year as well as an ESPN.com first half All-American. So he's on the radar for the Heisman, but there are a few things really working against him. One is that Wisconsin has two losses. For better or worse, the Heisman usually goes to players on national title contenders, although Robert Griffin III and Tim Tebow both won it on teams with multiple losses. Another problem is that in the Badgers' signature game, at Ohio State in primetime, Gordon has his lowest output of the season and got injured to boot. Wisconsin simply doesn't have any marquee games left on the schedule, so he won't get the opportunity to make up for it. Gordon would have to put up insane numbers to get back in the conversation. He is, of course, capable of doing just that.
Alex H. from Bloomington, Ill., writes:
Watching that Michigan-PSU game was a bummer, I will not lie. Can we not act like the sky is falling for a moment? The defense played opportunistic despite that last-minute 4th quarter drive, and even on those throws coverage wasn't bad. I was impressed with Gardner's 2nd half. The biggest concern is Lewan out, the run game stalling. This loss doesn't hinder there Big Ten championship goals as they still play Neb, NU, MSU in November. I'd still put them near the top of the Legends, am I being too optimistic in thinking Indy?
Brian Bennett:
Michigan certainly can still win the Legends Division. But the Wolverines are going to have to fix some major problems first. You mentioned the running game, and it is abysmal. It's going to be hard to win those big games in November if Michigan cannot effectively run the ball. The turnovers by Gardner are of course another massive problem. The defense, meanwhile, has been decent but not overpowering, though
Jake Ryan
's return should help. As I've written and asked, what exactly is the strength of this Michigan team? I can't seem to find one. And so it's hard to envision a team like putting together a long winning streak, especially once the schedule toughens up in November.
John K. from Austin, Texas, writes:
You and Adam noted that Brady Hoke "played for the safe field goal instead of going for the touchdown in overtime" as if that is a bad thing. Now, I can understand if he was just going for the tie, but each time it was for the win. He has a good kick (or at least at that point no reason not to believe that). With a good kicker and 42 yards for the win... I'm taking that every day of the week!
Brian Bennett:
To be clear, I'm not saying Hoke should have been going for it on fourth down when all he needed was a field goal to win. I have a major problem with the playcalling on first and second down, when Michigan gained two total yards after
Sam Ficken
missed a field goal in the first overtime. I know
Brendan Gibbons
has been a very good kicker, but a 40-yard field goal on the road in overtime is by no means a sure bet for most college kickers. And then you run the risk of having it blocked, which is exactly what happened.
It's only fair to also point out that Michigan did throw a pass in the third overtime after
Allen Robinson
's fumble, and it gained nine yards. But then on third and one, I hated the call to have
Fitzgerald Toussaint
run it when Michigan's running game had been terrible all game.
We saw the same thing late in the fourth quarter, when Michigan had the ball at Penn State's 28-yard line with 3:10 left, leading by seven. The next three plays were Toussaint runs, which ended up losing two yards, plus a delay of game penalty, to take the Wolverines out of field-goal range.
I understand playing it safe with the lead on the road, but Toussaint had 27 rushes for 27 yards in last week's game. Why would you go to that well 27 times when it clearly isn't working, especially when the game is on the line? You might as well just kneel. And how many times over the years have we seen teams stop being aggressive and then lose?
Sam from East Lansing writes:
First time, long time. Brian, as we progress through the season and my Spartan offense has appeared to return to average (very, very average), I have a scenario question for you. If a Legend' team plays an undefeated Ohio State team in the B1G Championship and loses, possibly putting the Buckeyes in the National Championship, does that mean the loser of B1G Championship game is put in the Rose Bowl automatically or would the bowl committee go back and look at win-loss records, including the B1G Championship lose? Should Legends contender teams who miss Ohio State on the schedule (ie. Michigan State, Nebraska) be rooting for Ohio State to go undefeated? Thoughts of Michigan 2012 Sugar Bowl mishap are dancing in my head. Please calm them.
Brian Bennett:
Not sure you'll like my answer, Sam. If Ohio State goes to the BCS title game, then the Rose Bowl is free to choose any team that qualifies in the BCS standings as its replacement pick. That means the Rose could go outside the Big Ten for its choice, but with this being the 100th edition of the game and the last one before the playoff could disrupt things, I think the Rose Bowl will make every attempt to stage a classic Big Ten-Pac-12 matchup.
The problem is that, historically, losers of conference championship games don't get selected for at-large spots. Bowls prefer teams who are riding winning streaks rather than ones coming off a loss. And Michigan State's issue could be a lack of signature wins. A team like Wisconsin, should it go 10-2, or a Legends runner-up like Nebraska or Michigan could leapfrog the Big Ten runner-up in such a scenario.
As an aside, I know Michigan State is dying to get back to the Rose Bowl. If the Spartans lost to Ohio State in the championship game but still got picked for the Rose, would it feel ... earned? Or does just getting to the Rose Bowl any way possible enough?
Glenn from Florida writes:
Brian, aside from your's, Adam's, and all of ESPN's love for OSU, how can you justify the PSU-Michigan game as not the best and biggest game?
Brian Bennett:
I guess you're talking about our choice of Ohio State-Northwestern as the top game of the first half. You know, just because games go to multiple overtimes does not mean they're great. Michigan-Penn State was very sloppy, and some of the continued failures in overtime was ugly to watch. Northwestern-Ohio State was a far better game aesthetically, in my opinion.
Barry M. from Sheboygan, Wis., writes:
I'm guessing we will not see any Purdue players on [your fantasy teams] this season. You could make it interesting and add a rule that you must take a player from each team for at least one week during the season.
Brian Bennett:
It's nothing personal, Barry, it's just that I want to beat Adam much more than I want to have every school represented on my fantasy team. This isn't the baseball all-star game. Purdue does not have a player in the top 10 in rushing or passing and is starting a true freshman quarterback. There's just not much to choose from. But I'll make you this promise, Barry. If I have either wrapped up the championship or am out of it in the final week, I will pick up a Boilermaker for my team. Even if it's just the kickers.
Bart from Waverly, Neb., writes:
I see how you and Adam both voted Wisconsin in the 17-18 spot. My question is, how do you justify ranking them that high when they have two losses? Granted, one was to OSU, but the other was to a (currently) unranked ASU. I am just curious as the Huskers have had their defensive troubles, but our single loss was to a top-10 team in UCLA, and only Adam was generous enough to include Big Red in his rankings.
Brian Bennett:
I've heard from a few Huskers fans who are miffed that I didn't rank Nebraska, and many of them try to use the loss to UCLA as some sort of justification. Sorry, but you don't get credit just for playing a highly-ranked team, especially if you lose to said team by 20 points at home while looking terrible in the second half. Nebraska just hasn't beaten anyone with a pulse. I won't rank the Huskers until they do, and if that happens, they'll climb up my ballot quickly.
It's a much different story for Wisconsin, whose two losses were on the road to very good teams, and one of those defeats was a direct result of some of the worst officiating incompetency I've ever seen. The Badgers played Ohio State, clearly the best team in the league, to within a touchdown on the road and smashed what was a Top 20 Northwestern team. There's no doubt in my mind that Wisconsin deserves a Top 20 ranking.
Tim P. from Port Washington, Wis., writes:
It is maddening to me to keep hearing about Michigan's "winged" helmets. The markings on a wolverine are the alleged "wings" on its head and stripes down the rest of its body. The Michigan helmet is thus simply a representation of the markings on the wolverine animal. Of course, the Michigan athletic department gets away with calling these helmets "winged" because few, if any, Michiganders have ever actually seen a wolverine. Wolverines are not indigenous to Michigan as their habitat is prmarily alpine tundra and mountain forests; environments which are found only in North America in Canada and the Western U.S. It is estimated there are only 250 to 300 wolverines still living and they are found in Western Montana, Idaho and Eastern Washington and Oregon. So I don't know who started this myth that the Michigan helmets are "winged" but I am sick and tired of hearing about it.
Brian Bennett:
OK, then. It appears we've reached the bizarre part of the mailbag. Proceed with caution...
SSG Smith, Justin from Ft Campbell Ky writes:
Hey Brian, I am not by any means the most knowledgeable NCAA Football fan out there. I say this to humble my self before I ask this question. Were you bullied by a Nebraska fan as a child (or young adult)? ... How do you give so many teams the advantage over Nebraska. Your Biased is unprofessional and your over all hate for the Huskers is blinding. Why do you blog for the Big Ten without being biased?
Brian Bennett:
Ho, boy. Yep, I hate Nebraska so much that I picked the Huskers to win the Legends Division in the preseason. And I picked them to win the Big Ten title game last year. What a hater! Justin also included in his email the records of the teams Nebraska has beaten this year, as if that somehow helped his case. But he did admit right up front that he wasn't knowledgeable, so I can forgive.
John F. from Mansfield, Ohio, writes:
IF you represent the BIG, you should parlay this into BIG votes, I constantly watch "How You VOTED" and ALL I see is YOUR votes for the SEC not the BIG ... YOU cannot say you are BIG representatives, and continue to give other conferences your votes....... this makes you 2-faced and opinionated as well, that's great for people who choose to pencil whip a conference for being the best in the nation... It is press writers who have a vote that are destroying the BIG .......... NOT THE PLAYERS
Brian Bennett:
I only included about half of John's email, which if there were any justice would have been cobbled together by random letters from magazines. I guess the ESPN.com power rankings ballots that Adam and I submit each week are what's holding the Big Ten back. Sure, makes sense. Also, covering a league as a reporter and "representing" a conference are two very different things. Until the Big Ten starts signing my checks, I'll report, write and vote with my conscience, thanks.
October, 9, 2013
Oct 9
5:00
PM ET
Mail time ...
Mark H. from Columbus, Ohio, writes:
My comment/question is in regards to Ohio State. If it were not for the bowl ban last year, Ohio State probably would have received more votes and more "love" in regards to the polls. They probably would have been in the BCS title game, and with the way Notre Dame played and the way the OSU defense came together, they could have won the national title. If OSU runs the table this year, that would be 25 consecutive victories. The last time that was accomplished was the USC dynasties of 2003-2005. I agree their schedule is not the greatest (however some of that is out of their control due to when games are scheduled) in regards to quality of opponents. However, it is difficult to win 25 games in a row in any sport. When will OSU start getting the credit that they deserve? It seems ridiculous that a team could win 25 straight and not play for a national title. Yes, the schedule is not extremely tough, but not all of our games are against FCS opponents. When will OSU get their shot and the past stop hurting them?
[+] Enlarge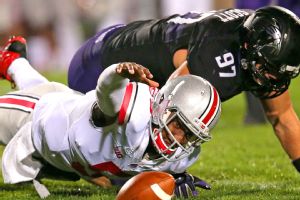 Jonathan Daniel/Getty ImagesOhio State quarterback Braxton Miller tries to recover his own fumble against Northwestern on Saturday.
Brian Bennett:
I'm not in any way convinced that Ohio State was BCS title caliber last year, but if the Buckeyes had gotten in against Notre Dame, there was a good shot they would have won it (And SEC fans would never have stopped complaining about it). Yet I don't think any past Ohio State performances or history is hurting this team as much as the schedule and the perceived weakness of the Big Ten. Right or wrong, people just don't think the Buckeyes have played strong-enough competition, and though their wins over Wisconsin and Northwestern were terrific, they were in a dogfight at the end of those games.
Urban Meyer's team is actually in a good position in the USA Today coaches' poll at No. 3 (the AP poll makes no difference in the BCS formula). Yet it's not so simple as saying a loss by Alabama or Oregon will get Ohio State into the top two. The Florida State-Clemson winner is likely to leapfrog the Buckeyes, and Stanford could do the same if it beats Oregon. If you're an Ohio State fan, you've got to root for the Pac-12 and ACC champions to each have one loss. If that happens, then the Buckeyes should get a shot if they run the table, which is becoming an increasingly likely scenario.
The problem is, as I wrote Sunday, that the
top teams just aren't losing much this year
. That could change in the second half. A few key games to keep an eye on in regards to Ohio State's chances:
Saturday: Oregon at Washington. The Huskies gave Stanford all they could handle last weekend. Beating Oregon will be tough, but the game's at home for U-Dub.

Oct. 19: Stanford vs. UCLA: If the Bruins can win in Palo Alto, the Cardinal would already have one loss heading into its Nov. 7 showdown against Oregon.

Nov. 30: Clemson at South Carolina. Say the Tigers beat Florida State (the game is in Death Valley). Then the Gamecocks could knock the ACC out of BCS title contention here.

Nov. 30: Florida State at Florida. Same deal as above for the Seminoles. (Yes, Ohio State fans might have to root for the SEC). The Noles also play Miami on Nov. 2.
Ohio State is going to need some help somewhere. But it must also actually win its next seven games first.
---
John from Fort Lauderdale writes:
Don't know about you but I love this Ohio State team. Just got done playing a physical Wisconsin team and played on the road at Northwestern, with the Wildcats having a week off to prepare, and they still won! I have to give credit where credit is due, OSU didn't play their best game by any means, and I think Northwestern played with more passion and played as best they could.
Brian Bennett:
What's interesting to me about these Buckeyes is that Meyer has kind of the rock-star persona, at least in college football land, and there's lots of buzz about Ohio State's speed and athletes. But, really, the 18-game winning streak has been more about grinding it out. For me, the offensive line has been the biggest key to everything. It's the best line in the Big Ten, and the Buckeyes can wear teams down at the end of game by simply lining it up and running. They've done that ever since the win at Michigan State last year and did it again in the second half in Evanston. Speaking of which ...
---
Confused Fan from Somewhere, Ohio writes:
All spring and summer building up to the season, Urban Meyer stressed how last year Ohio State didn't exactly run the spread offense he wanted, and it was more of a pro style. Then he'd talk about how the real spread offense was going to be run this year. The first few games we saw a little bit of the H-Back with
Jordan Hall
/
Dontre Wilson
but it was very little. Now that we have
Carlos Hyde
back it seems like they've got right back to the offense we ran last year. This last week against Northwestern, Hall didn't even play, and Wilson had zero carries or receptions and the H-back was nonexistent. When will we see the REAL spread offense if at all?!?!?
Brian Bennett:
We saw it a bit more against Wisconsin, when Wilson was used quite a bit. But Meyer went old school Big Ten against Northwestern. I think he and Tom Herman recognized that Ohio State had the advantage up front and that was the best way to beat the Wildcats, who to their credit have increased their speed on the perimeter in recent years under Pat Fitzgerald. But Northwestern isn't the biggest team physically at a lot of positions. Hey, you do what you have to do to win games, and the combination of speed and power is what makes the Buckeyes tough to spot. They did score 40 in Evanston, though two of those came on non-offensive touchdowns (and the last one made a lot of people in Las Vegas mad. Or giddy).
---
Mike from Macungie, Pa., writes:
I'm sure you're getting a lot of grief from the Penn State fans for your Indiana article, but I did want to say it was very well written. It was a tough game to watch, and an even tougher loss to swallow, but Indiana played REALLY well and we did not. Anyway, as always keep up the good work, and hopefully you can write about Penn State's one-week turnaround against Michigan!
Brian Bennett:
I haven't gotten any grief, and I actually went to Bloomington figuring I'd pick up a feature story on Penn State heading into Michigan week. Then Indiana pulled the upset, and it turned into a bigger and much different story than I anticipated. And apparently more than Indiana fans expected, because the stands were sadly about half empty.
---
Terry from Newport News, Va., writes:
With the obvious decline of the product PSU can put on the field; will Bill O'Brien's NFL stock fall? Should he have bolted after last season? I'd hate to see him leave but It looks like a couple .500 or less seasons in our future.
Brian Bennett:
O'Brien would not want to work for any NFL franchise that somehow sees this as an indictment of his coaching ability. While O'Brien didn't have his best day in Bloomington -- I thought he should have played for points early, and I didn't like how he went away from the run against the Big Ten's worst rush defense -- a decline by Penn State would have so much more to do with the roster and scholarship issues than the head coach. The Nittany Lions are playing a true freshman quarterback and have, for them, a shocking lack of big-time playmakers on defense. Former college head coaches like Greg Schiano and Chip Kelly aren't exactly setting the NFL world on fire. But O'Brien's background as the highly successful former New England Patriots offensive coordinator ensures he will remain a hot commodity at the next level.
---
Andrew from Bloomington writes:
After reading several posts about the IU/PSU game, the vast majority of bloggers say it was an awful loss for the Lions and rarely credit the Hoosiers for a BIG (pun intended) victory. They especially like to blame Zwinak/Lynch/Belton instead of actually crediting IU for having SOME semblance of a run defense (WHAT?!?). I understand BO'B is working under the circumstance of reduced scholarships, but shouldn't people be giving more credit to Indiana for a win they needed for bowl eligibility?
Brian Bennett:
I got the sense, from talking to
Kevin Wilson
and some players afterward, that Indiana wasn't surprised by that performance. In fact, they felt like that's how they should have been playing. If you'll recall, the Hoosiers put up a lot of yards on teams last season, but they didn't always translate that to points. They were able to do that in the second half on Saturday, and it was clear that their receiving corps, led by
Cody Latimer
and
Kofi Hughes
, was too much for Penn State's secondary. Wilson has also been adding young talent to the defense, and while it's far from a great or even good unit, it finally made some plays in key moments. It helped that Penn State didn't have a lot of options outside of
Allen Robinson
in the passing game, and that O'Brien didn't stick with the run. I think
Zach Zwinak
could have had a really big day if he'd gotten 25-to-30 carries instead of only 17.
---
Brian from Whiteman Air Force Base, Mo., writes:
Do you think
Ameer Abdullah
's beastly game against Illinois was: A) A one-time, supernatural occurence, B) A product of a leaky Illinois front 7, or C) A sign that Ameer has finally found his running style and rhythm?
Brian Bennett:
I'd go with a combination of B and C. Abdullah has had big games before, though nothing quite as large as 225-yard effort on Saturday. He's always had the talent to be a great back in the Big Ten. I do think Abdullah has asserted himself and become a leader on the Nebraska offense, especially with
Taylor Martinez
out. And Illinois' defense is probably going to struggle against the better offenses in this league. Add in the fact that it was a windy day in Lincoln best suited for running the ball, and the conditions were ripe for an Abdullah explosion. Wish I'd had him on my Big Ten fantasy team, though I still crushed Rittenberg last week.
---
Pat from Madison, Wis., writes:
Brian, I think J.J. Watt's and Russell Wilson's respective success in the NFL does more for Wisconsin's perception among recruits than either wins, or TV exposure. Now that practically every program can be seen on TV, traditional programs lose that carrot for recruits. As the NFL is the dream for the very best prospects, they'll want to know if there is a track record of success at the next level. What do you think?
Brian Bennett:
I was just thinking about this the other day. Wisconsin can lay claim to two of the biggest stars in the NFL right now, and it's something they need to capitalize on. Gary Andersen knows this, and on Monday he talked about how he sent out care packages full of Badgers gear to former players. I'm sure he wouldn't mind seeing Wilson and Watt wearing a Wisconsin hat or sweatshirt while doing national interviews. As Andersen and the Badgers look to improve their national recruiting presence, they should emphasize how playing in Madison can lead to greatness at the next level.
---
Nick from Big Ten Country, USA:
I need you to look deep into your crystal ball for me. No lotto numbers or anything silly like that, just important stuff like Michigan's future this season. When the season's finished what will the Wolverines' identity be as a team? Will we be able to look back on the success/failure of the team and point to how
Devin Gardner
overcame his turnover issues or will he let it define him? Will we be able to hang our hats on a solid defense that keeps us in games and makes stops when they're absolutely necessary? Will we focus on a young Michigan team that grew up in a hurry or showed their youth? Will it be another successful failure in which we find ourselves in some combination of 10+ wins, a win over Ohio, or a BCS bowl but no BIG Championship?
Brian Bennett:
The crystal ball may work better after this weekend, because I'd like to see if Michigan can go get it done in State College. We know the Wolverines are awfully good at home, but the road has been a different story. And though Penn State has some issues, it also probably has the best offense Michigan's defense has faced. Like all Legends Division contenders, November will define the season for Brady Hoke's team. Michigan plays on the road against Michigan State, Iowa and Northwestern and has Nebraska and Ohio State at home that month. Rigorous.
Before the season, I picked Michigan to miss out on the Legends title because I thought the team was a bit too young. The schedule was viewed as highly advantageous, but I'm not so sure about those November road games, much less this weekend. This is a team that should improve, especially if
Jake Ryan
comes back mostly healthy. But I think we will eventually view this year as one of transition for Hoke's program, with something like a 9-3 record and Capital One Bowl appearance. That's what my crystal ball says for now. But check back later.
September, 18, 2013
Sep 18
5:00
PM ET
It's time for another edition of the Wednesday mailbag. Don't forget to follow us on
Twitter
, where many of our gameday thoughts and updates now live. And while we understand that many of you get very emotional while following your favorite teams, think before you tweet us. We're not afraid to use the block button on those who hurl abusive language and insults our way. For most of you, thankfully, this is not a problem.
OK, on to the emails ...
[+] Enlarge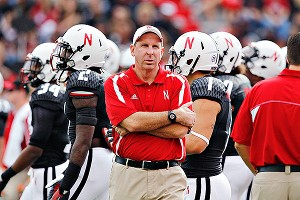 Bruce Thorson/USA TODAY SportsBo Pelini's old rant coming out on the heels of a horrific collapse against UCLA have put the coach in a tough spot.
Adrian from Minneapolis writes:
I don't understand why people are getting upset over the Bo Pelini audio link. None of this is bombshell material. He curses out the media -- who doesn't know that Pelini doesn't like the media? -- and gets upset over fans leaving at halftime. He does not attack the general fan base, as some keep saying. It may be a revelation to some people (living under a rock), but Pelini has a temper. Sure, I was a little disappointed when I heard the news, but once I actually listened to the audio, I don't see anything that I couldn't have already guessed. Are the blowout losses putting such a weight on the Pelini tenure that we are at the point where any additional straw will break the proverbial camel's back? I believe Pelini may have struck the issue with putting too much pressure on players, as losses tend to start with a single mistake and snowball with team. Taking a different approach to add more fun for the players may be the catalyst this team needs under Pelini.
Brian Bennett:
Really? He didn't attack the fan base? I'd hate to see your version of an attack. In and of itself, I don't think the recording is a huge deal. (And, hey, cursing out the media is a good way to get fans on your side). But it is just the latest in a series of bad developments for Pelini, and a sign that we might be reaching a tipping point with his career at Nebraska. This audio probably doesn't come out if Nebraska hadn't lost yet another big game in dispiriting fashion, or else at least it would have quickly gone away. But you combine fan frustration over the losses, plus a not-so-great brushoff of former Huskers great Tommie Frazier and Pelini's own words from 2011, and you've got an escalating problem.
I do not believe Pelini will get fired over any of these developments. However, if first-year athletic director Shawn Eichorst decides at the end of the year that he wants to make a change, he can certainly point to these things as reasons to let go of a coach who averaged more than nine wins per season. This also probably doesn't help Pelini's plan to make things more fun for his players; in fact, the pressure to win has just ratcheted up. Ultimately, the fate of Pelini's tenure will be decided by how the team performs in its big November games.
Edward from Milwaukee writes:
Obviously, no matter what, Wisconsin's loss will stand, but even so after that game away from home do you think you are ready to possibly give Wisconsin a chance to win the Leaders Division or quite possibly a fourth Big Ten championship?
Brian Bennett:
If you forget about the ending, which will be hard to do for some time, then there are a lot of positives to take out of that game for Wisconsin. They hung with and probably should have beaten a Top 25 caliber team on the road and an opponent that was strong in some of the Badgers' most vulnerable areas. Especially after two blowout wins over patsies that told us very little, that was very encouraging. I still have concerns over that secondary and the inconsistent passing game, two areas that must improve since scoring and offense are on the rise in the Big Ten. Those deficiencies might be tough to overcome next week in Columbus. I think Wisconsin has to beat Ohio State to have a chance to win the Big Ten, and while the Badgers will be competitive, that remains a very tall order.
Gregg G. from Amherst, Wis., writes:
Why has no one in the media identified the officiating crew by name(s)? They benefit by being able to hide behind the references to "a Pac 12 crew." Please write another blog post and give us the names of the referee an the official who dozed off while ASU covered the ball.
Brian Bennett:
Anyone who can find a box score on the internet can figure out those names. I'm reluctant to write them because the last thing I want is for those officials to face harassment from upset fans. We all make mistakes in our jobs. It just stinks that it was so blatant, and I hope the Pac-12 adequately addresses the issue behind the scenes.
[+] Enlarge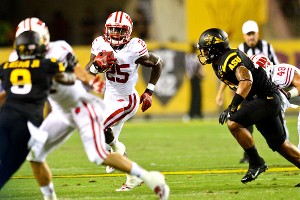 Matt Kartozian/USA TODAY SportsWisconsin RB Melvin Gordon would have to keep up his torrid pace to become a Heisman hopeful.
Justin from Madison writes:
Do you think there's any chance of
Melvin Gordon
III becoming a serious Heisman contender this year? Just looking at the stats, he seems to be the most accomplished running back in the country so far this year, averaging 12.9 yards per carry for 477 yards. (That puts him in second place for rushing yards, but the guy in front of him 24 more carries and only 16 more yards.) Granted, two of Wisconsin's three games have been against cupcakes, so a little skepticism might be understandable at this point in the season. But it's worth keeping in mind that Gordon averaged over 10 yards per carry last year as well (on 62 carries). If he keeps making plays, do you see MGIII getting into the Heisman race?
Brian Bennett:
He might be the leading contender right now in the Big Ten, which isn't saying a whole lot. Ohio State's
Braxton Miller
isn't completely out of the picture, but after one mediocre performance and basically two missed games because of injury, Miller would have to be otherworldly down the stretch to get consideration, because he won't have the stats. Michigan's
Devin Gardner
was in the running after his Notre Dame performance, but an ugly showing at Akron took him right out. Nebraska's
Taylor Martinez
has no shot, and Northwestern's
Venric Mark
has barely played. Penn State's
Allen Robinson
is putting up huge numbers, but receivers always get overlooked for the Heisman.
So can Gordon jump in to the race? Possibly. The Arizona State loss hurt, but voters should understand the circumstances. If he can keep this type of pace up, it would be nearly unprecedented. There appears to be a bias against Wisconsin running backs, as we saw with Montee Ball, so he'd have to overcome that. For right now, though, Gordon needs to focus on improving his pass protection skills, because that will keep him on the field longer.
Brian from Madison, Wis., writes:
So Wisconsin lost -- among others of course -- and the Big Ten is perceived in a not-so-great light after a Week 3 meltdown. Would the perception of the Big Ten be changed at all if Wisconsin had won? And if so, why would the perception of an entire league hinge on one team?
Brian Bennett:
A Badgers win would have helped a little, but not much. The story was already being shaped after Nebraska's collapse at home, Michigan's clunker against a bad Akron team and Penn State losing at home to UCF. The Big Ten had three shots against ranked teams and lost all three. Wisconsin could have saved a little face for the Big Ten (and did, for astute observers), but the conference had a chance to make a statement and failed to do so.
Grant from San Francisco writes:
I would like to talk about Minnesota. I have had many seizures, so I can relate to Jerry Kill's zeal to power through and not let his health issues prevent him from chasing his dreams and improving Minnesota's program. As seizure sufferers, we do not want to be socially/professionally crippled by something that is so far out of our control. However, at what point does Minnesota draw the line? My family has experienced my seizures, and I can guarantee you that in the minutes or hours after one occurs, there is no emotional or mental normalcy to be had by anyone involved. It is disruptive, intense, draining, and scarring to witness something like that. While I fully support Kill's desire to persevere through the circumstances, at what point does Minnesota relegate him strictly to the coaching box, or remove him completely? Or would that be a PR nightmare that they would rather avoid, at the potential cost of wins, recruits, etc.?
Brian Bennett:
Grant, thanks for the note and your perspective on the matter. I wish nothing but the best for coach Kill and admire his courage. He is raising a lot of awareness for people with epilepsy. His assistants and players also deserve credit for battling through and supporting their coach. Where I think this becomes a problem is if it repeatedly happens during games and Kill is not able to finish them. If your head coach can't stay on the sidelines to coach the games, that's an obvious problem. I also think Kill is well aware of this and would be the first one to know when it was time to walk away. He said on Tuesday that coaching from the press box wouldn't make any difference with his condition. Let's hope he can figure this thing out.
[+] Enlarge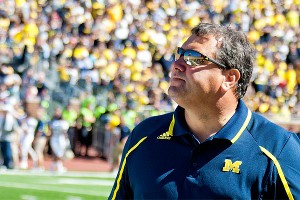 AP Photo/Tony DingMichigan head coach Brady Hoke watches game action from the sideline.
Raj from Washington, D.C
. ,
writes
: What would have been the impact if Akron indeed was able to upset Michigan? Obviously it would set back Michigan this year in terms of perception. But would it have permanently affected recruiting? Could anyone take Michigan seriously, especially since the upsets of Appalachian State and Toledo weren't too long ago? Could Brady Hoke ever recover, if indeed the horror was actually true?
Brian Bennett:
It would have been a major embarrassment, the kind that would be hard to live down and one that would be repeatedly mentioned by rivals and their fans. It also would have hurt the credibility of both Michigan and the Big Ten. Other than that, I don't think it would have had a lot of long-term effect for Michigan. Recruits don't base their decisions on one game, and Hoke and his staff have shown that they are great at fostering relationships with prospects. Hoke and the program could have easily recovered, though it would leave a stain on this season. Good thing for them it didn't happen.
Mark from Arizona writes:
I know you didn't watch the Iowa game live, but after catching up on it later, what do you think of them now? Here's my take after three games:
Jake Rudock
has some skill. He makes tight passes, he's got a little scrambling ability, and he's smart by knowing when to tuck and run verse trying to force a pass. I think by establishing the run game, it's going to open up the passing game. If Iowa sticks to this, do you see steady improvement and a couple of upsets by Iowa this year, giving them eight wins? Also, do you think by rotating so many receivers and tight ends that its causing the receivers to be out of sync mentally and that's why they are dropping passes?
Brian Bennett:
Mark, I agree with many of your points. I really like Iowa's physicality and dedication to the run game. The Hawkeyes are getting more offensive plays than any team in the Big Ten, which is very surprising. The defense has shown some improvement up front as well, and all three linebackers are very solid. I like what I've seen from Rudock and think he should only get better. Iowa's plan all along was to use the run game to open up the passing game, but so far the success of that has been sporadic at best. I remain unimpressed with the talent at receiver, especially in terms of their ability to get separation, make tough catches or turn short throws into explosive plays. That's an issue that I'm not sure will be solved and could hold Iowa back when it gets into the meat of a difficult Big Ten schedule. But I think the Hawkeyes can at least win six games and get back to a bowl. I know this: Very few teams will look forward to playing Kirk Ferentz's team and knocking heads with
Mark Weisman
and that offensive line.
Xavier from Paoli, Ind., writes:
It seems like the brightest spot of the weekend for the Big Ten isn't getting any light shined on it. Indiana had the only win against a top 40 team and no credit is being given. Yes, Bowling Green is a MAC team but a MAC team that was getting votes in the AP and coaches polls after week 2. Indiana still has a lot to prove. but I think you guys need to give some credit where credit is due.
Brian Bennett:
That was a very impressive win for the Hoosiers, Xavier. I was the dummy who predicted a Bowling Green upset, mostly because I was very impressed with how the Falcons played in their first two games. Then Indiana went out and destroyed them, putting together a surprisingly strong defensive effort. The problem for Indiana and
Kevin Wilson
remains that Navy loss. Had the Hoosiers won that one, they'd be 3-0 and getting lots of attention because of their elite offense. Instead, there remains heavy skepticism, especially since Navy so thoroughly dominated the IU defense. Perhaps that was just a fluke based on the Midshipmen's style of play. Wilson's team has a chance to get back on the national radar this week at home against Missouri in the only Big Ten vs. SEC matchup of the regular season.
September, 11, 2013
Sep 11
5:00
PM ET
It's Wednesday. Business time. So let's get down to the business of your e-mails:
Adam from D.C. writes:
After two weeks down, I have a couple questions/observations. First, Michigan should top the power rankings after putting down Notre Dame. OSU has yet to really impress/dominate their weak scheduled opponents. This was really evident when Baylor hung 70 points and put up 781 yards on the same Buffalo team that OSU only scored 40 on and put up 460 yards. Is Michigan really the B1G team to beat and should they be on top of the power rankings? Secondly, we all know the Nebraska defense is still having issues. But Northwestern has actually given up the most yards of all the B1G teams so far and is second-to-last in points per a game allowed. You could argue they had to play Cal, but then Cal just barely beat Portland State. So who has the worst defense in the B1G?
Brian Bennett:
Adam and I had the Michigan-Ohio State power rankings debate on Saturday night. If you go only by what the two teams have on their 2013 résumés, then the Wolverines deserve to be on top. They are, after all, the only Big Ten team to defeat a ranked opponent. However, Ohio State hasn't had the opportunity to do the same, and we were convinced all offseason that the Buckeyes were the best and most talented team in the conference. Are we really going to abandon that notion simply because their wins over Buffalo and San Diego State (by a combined score of 82-27, by the way) weren't otherworldly beatdowns?
The other thing to consider here is that Urban Meyer has yet to play with a full deck.
Carlos Hyde
remains suspended,
Bradley Roby
and
Rod Smith
missed the opener,
Braxton Miller
missed most of last week's game,
Corey Linsley
has been recovering from an injury, etc. I still think Ohio State at full strength is the Big Ten's best team, but it sure would be nice to actually see that total lineup go against a strong opponent. Guess we'll have to wait for the Wisconsin game. Also: Two games are in the books. Let's not get too hung up on rankings just yet.
As for Northwestern, the defense hasn't put up terrific stats, but the Wildcats easily have played the toughest schedule in the first two weeks. They are the only team in the league who has opened against a pair of AQ teams, and whatever you want to say about Cal, that team is going to score a whole bunch of points this year. Syracuse really only moved the ball effectively in the second half after Northwestern had built a huge lead and might have been coasting a bit. The loss of cornerback
Daniel Jones
hurt in the Cal game, and freshman
Dwight White
needs to make some major improvements before Big Ten play. But I like the playmaking ability of that defense, which has come up with seven interceptions in the first two games.
It's impossible to judge Northwestern's defense statistically against a team like Wisconsin, which has pitched a pair of shutouts against FCS quality teams. The title of worst defense in the Big Ten still belongs to Indiana until proven otherwise.
---
Quinn from Moline, Ill., writes:
Michigan came off a huge win recently, but Notre Dame hadn't completely proven themselves as a really good team, in my opinion. As well, Northwestern just dismantled Syracuse, but Syracuse isn't nearly as good as Notre Dame is. Who has more momentum going into Week 3?
Brian Bennett:
Let's not take anything away from Michigan's win. Notre Dame is very, very good, and I believe that will be shown throughout the season. I can't believe how many people want to dismiss the Irish and seem to be completely forgetting that they still have many of the same players as last year's team that played for the BCS title.
Northwestern, to me, has been wildly impressive. You can't overstate how tough it was to start on the road in Pac-12 country, fly across two time zones and back, and then play a physical (if perhaps not offensively gifted) Syracuse team. And the Wildcats won both games by double digits without basically anything from
Venric Mark
. They deserve accolades right now, and if you don't think this is a legitimate conference contender, you're not paying attention.
As far as momentum? I'm not sure it matters. Both teams might be a little beat up, emotionally and physically, after these early season challenges. And Michigan plays Akron and UConn next, while Northwestern gets Western Michigan and Maine.
---
Mike from San Diego writes:
Brian, I know the Badgers have played inferior competition so far this year, but I have never been more optimistic for a game against OSU. In Week 1, OSU didn't look too sharp against Buffalo (granted they were missing a few players due to alleged criminal activity). I don't expect the Badgers' defense to throw a shutout against the Buckeyes, but Wisconsin did hold them to the fewest amount of points in regulation last year. Let's say a glimpse of last year's defense shows up to the game and Wisconsin running backs run like they are capable. Stave is healthy (he was injured last year), and Miller already has a few bumps and bruises. Under those assumptions how do you like Bucky's chances? Personally, I am more worried about Northwestern the following week.
Brian Bennett:
More worried about Northwestern at home than Ohio State on the road? That might be a first. Wisconsin has looked great the first two weeks -- who's had a better early honeymoon than Gary Andersen? -- but the competition was so weak that it's hard to know what that means. Bret Bielema's teams used to steamroll inferior competition at home all the time. The Badgers did play very well defensively against Ohio State last year. Miller might have been a bit banged up, but that Wisconsin defense did a great job of taking away his runs, gumming up the middle of the field and making it a slog. That could happen again, as we don't know yet how healthy Miller will actually be in two weeks with that MCL sprain. On the other hand, the Buckeyes are much better at receiver this year and have more weapons on offense, including
Dontre Wilson
and a healthy
Jordan Hall
. Plus, Carlos Hyde will be back that week with presumably fresh legs.
Of course, we also need to see how that young Silver Bullets defense will handle Wisconsin's powerful running game. We'll have a much, much better handle on the Badgers after this week's Arizona State matchup, which I think will tell us a lot more about Wisconsin's chances vs. Ohio State.
---
Steven from Ann Arbor writes:
It has come up regarding
Devin Gardner
and the Michigan quarterback depth situation a couple times, and I apologize if it has already been addressed, but there is a significant amount of data that suggests running quarterbacks aren't nearly as injury-prone as we all (me included) naturally feel they would be. This
link
is a quick sample of what I could find off hand, and there is more, but, as unnatural as it seems, every additional Gardner run does not necessarily magnify his injury risk. With the example of Denard fresh in our memories from last year, this gets lost. I'm sure there are several factors, but one would probably be that hits at the end of a QB run are much more well prepared for than a blindside sack. It clearly isn't as simple as "more runs = more hits = more injuries."
Brian Bennett:
Steven, we may overrate the injury risk of running quarterbacks, since there are plenty of those in college football and they're not getting hurt every week. Knowing how to slide and avoid contact at the end of a run is huge. But the anecdotal evidence on the other side is pretty strong, too. Just look at Braxton Miller, who had to leave Saturday's game against against San Diego State after spraining his MCL when he got sandwiched at the end of a run. Miller also got hurt last year vs. Purdue after taking a hit on a long run. Northwestern's
Kain Colter
suffered a concussion on the second play at Cal when he was smacked on a run. Quarterbacks can get hurt staying in the pocket as well -- just ask Wisconsin's
Joel Stave
, who suffered a broken collarbone when he was sacked last year by Michigan State. But I feel pretty good about Devin Gardner's blind side as long as
Taylor Lewan
is protecting it. I don't have a problem with Michigan running Gardner, because that's a big weapon and they have to play to his strengths. But I find it hard to believe that there isn't added risk of injury there.
---
Matt E. from Southern MD writes:
Brian, thanks for all the work you and Adam do to entertain us B1G faithful. Why no love for Penn State in "What We Learned in the Big Ten: Week 2" though? We obviously have some growing to do and need to establish some consistency, but I thought there were a number of positives to take away from this past weekend.
Brian Bennett:
Matt, the title of that post is "What We Learned in the Big Ten," not "Giving Love to Teams in the Big Ten" or "Here Are Some Positives to Take Away." We're taking a big-picture approach there, trying to assess the big themes and league-wide revelations from each game day. We do only five items per week. With 12 teams in the Big Ten, odds are we're not going to hit on every team in great detail, especially during a nonconference weekend that includes some pretty lopsided games. As for Penn State, what did we really learn about the Nittany Lions?
Christian Hackenberg
had some highs and lows, the running game looked much better and the defense continues to shine. But it was Eastern Michigan. Penn State
should
beat Eastern Michigan 45-7. We learned much more about Penn State in Week 1 against Syracuse, a game I covered in person, and we'll likely learn more this week against UCF.
---
Dave from Kansas City writes:
Do you think Kirk Ferentz is in as much danger of losing his job as Mack Brown or Lane Kiffin?
Brian Bennett:
It's actually an interesting comparison, because Brown and Kiffin are among the handful of coaches who make as much or more per year as Ferentz. The Kiffin similarities end, however, when you consider he's only under contract until 2015, at a reported $4 million per year. While eating two more years at that price would be painful, USC can afford it.
Brown's situation is closer to Ferentz, contract wise. Texas has him signed through the 2020 season -- the same length as Ferentz's deal -- with a $5.2 million annual salary and $100,000 raises each year. But, ESPN's Darrell Rovell has reported that Brown's buyout right now is only (maybe I should say "only") $2.75 million. For a school that has more money than Walter White buried in the desert, that's pocket change. Iowa would owe Ferentz around $18 million if it fired him this season, a figure that is still crazy to wrap your head around. And the program isn't nearly as rich as Texas.
Of course, the Hawkeyes are coming off a win, so let's be optimistic here. Iowa really needs to beat Iowa State this week to calm down this talk about Ferentz and to position itself for a potential return to a bowl game this year.
---
Jesse from Plymouth, Mich., writes:
Part of me thinks MSU (and its fan base) should take the patient approach with
Damion Terry
-- allow him to learn the playbook, create chemistry with his teammates, etc. Besides, if we play him and he ends up finishing it out, you can pretty much guarantee Cook, O'Connor and Maxwell won't be on the roster next year. That's a scary thought knowing we won't have any backup QBs besides true freshmen. However, the other part of me wants to see him on the field badly. Everyone keeps pointing to the fact that he doesn't know the playbook as well and that would hinder the play calling. After seeing pro set, read option, Wildcat, pistol, abracadabra ... maybe that would be a good thing, going back to basics and returning to a more simplified scheme for the time being?
Brian Bennett:
Well, first off I can guarantee you that
Andrew Maxwell
won't be on the roster next year because he's a senior. Let's also acknowledge the mythical, magical qualities that fans associate to the backup quarterback. The thrill of the unknown is always so much better than the guy you've seen on the field struggling. Fact is, almost nobody has actually witnessed Terry perform in a Michigan State uniform in practice besides the coaches and a few media members. I trust Mark Dantonio's coaching staff to know whether he's ready to go.
My take on it has been and remains that if the coaches think Terry is ready, or that there's a better than average chance he could offer an improvement on the other quarterbacks the Spartans have, then he needs to play. Because there is no sense in saving a guy's redshirt when it's possible that he could help you win now. This Michigan State team is built to win this year with its defense and its schedule. You worry about next year next year. Whether Terry is in fact an upgrade, no one really knows. I do know that if the receivers, offensive line and play calling don't all also get better, whoever is playing quarterback for the Spartans will have a difficult time succeeding this year.
August, 22, 2013
Aug 22
4:00
PM ET
We are one week from kickoff, people. One week! Remember to breathe.
And if you're not
following us on Twitter
, get to it. We're going to have a lot of great updates on there throughout the season, especially on game days. More than 86,000 followers can't be wrong.
Now back to the old-school way of communicating -- by email.
---
Ryan W. from West Michigan writes:
With all the talk about the Big Ten's perception, tell me why I should even care? Outside of the new playoff committee starting next year, who cares what other people outside of the B1G think? I mean, if us fans enjoy the product on the field, I couldn't care less what someone in Oregon or Florida thinks about my favorite team and conference.
Brian Bennett:
Ryan, if you want to go all Midwest isolationism, have at it. There's something to be said for just following your favorite team and caring primarily about winning the Big Ten. The success of the Big Ten Network validates this. The flip side is, if you want to take that approach, you can't complain about where your team is ranked in the polls, when it is snubbed for a spot in the four-team playoff or when the media incessantly cover the SEC. Perception can also play a large role in recruiting, as some top prospects want to go where they think they have the best chance for a national championship and national exposure. The nature of college football's postseason and the different schedules each team plays has made perception of conferences important in the big picture. But if you like focusing on the small picture, so be it.
---
Tom from Marion, Iowa, writes:
Help me out, fellow Redbird fan. I just don't get it! Well I do get it... the SEC is King. But, in the BCS era, the Big 12 has been in the BCS title game seven times, won two lost five; ACC, Big East, B1G and Pac-12 three times, all with one title; ND o for 1. All I hear is how much the BIG stinks. Where's the hate for the others? Specifically the Big 12; they've lost five out of seven? That's what I don't get.
Brian Bennett:
Huge stretch coming up for the birds on the bat. Anyway, I think there are a few things at play here in terms of the Big Ten's reputation. One is the power of the what-have-you-done-for-me-lately mentality. The Big Ten hasn't had a team play for the national title since the 2006 season, and that's an eternity in our Instagram society. Also, the last two times the league played on that stage, Ohio State got blown out in consecutive years by SEC teams, beginning the whole SEC-speed-trumps-Big-Ten-narrative. Another problem is that the Buckeyes are the only conference team to play for a title, whereas leagues such as the Big 12 (Texas and Oklahoma) and Pac-12 have (USC and Oregon) have had more than one team in the BCS championship game and others right on the cusp of it (Oklahoma State, Stanford). Finally, the Big Ten has not performed well in the past couple of years against the SEC in bowl games or in its nonconference games in general, and its Rose Bowl record in the past decade-plus is abysmal.
Other conferences, as you mention, have had their own failures, and you could argue that Oklahoma has fared just as poorly, if not worse, on the big stage as Ohio State. Why they have escaped the vitriol seemingly directed at the Big Ten is not entirely clear, but some moves by the league that have been viewed as pompous -- ahem, Legends and Leaders -- surely played a role.
---
Darrin from Reedsburg, Wis., writes:
It appears
Tanner McEvoy
is going to be third on the QB depth chart at best. Any chance of seeing him at wide receiver this year?
Brian Bennett:
Darrin, McEvoy worked out at receiver during practice this week. Though he was rather adamant about not playing receiver when
I asked him about it earlier this month
, it makes sense for both him and the team. McEvoy is an excellent athlete who is 6-foot-6, and he played receiver in high school until his senior year. Wisconsin is also very thin at wideout beyond
Jared Abbrederis
. This could be a situation like
Devin Gardner
at Michigan, where McEvoy sacrifices for the team for a while before eventually working his way back to quarterback.
---
Brian from Portland, Ore., writes:
Hey Brian -- cool name! Ohio State offensive coordinator Tom Herman said that he has the two best tight ends in the nation in
Jeff Heuerman
and
Nick Vannett
. To which, I would respond, "Uh, who?" Who's your pick for the top TE in the B1G this year? My bet is on someone wearing blue and white.
Brian Bennett:
As far as tight end groups go, it's hard to beat Penn State. Bill O'Brien seemingly has about a dozen options there, led by
Kyle Carter
and
Jesse James
. I'm also excited to see true freshman
Adam Breneman
-- the nation's No. 1 tight end recruit last year -- in action this season. The Nittany Lions aren't the only ones blessed with outstanding tight ends, however.
Jacob Pedersen
is a proven weapon for Wisconsin.
Devin Funchess
could have a huge year at Michigan.
Ted Bolser
is a big-time receiving threat for Indiana, and Iowa's's
C.J. Fiedorowicz
has a boatload of ability. I even left out a few really good ones. Tight end should once again be a position of strength in the Big Ten.
---
Mike from Macungie, Pa., writes:
Someone posed a question about
Allen Robinson
(I think) being in the running for a Heisman. My question isn't that we do/don't have a Heisman contender, but do you think the sanctions would put a contender from Penn State at a disadvantage? Let's say (and this is a HUGE hypothetical) Allen Robinson has as good of a year, or a better year, than last season. If he's in the top three for the Heisman, do you think the voters would take into account the sanctions against Penn State in possibly not voting for him? Matt Barkley came close two years ago, and you could argue similar circumstances.
Brian Bennett:
It's an interesting question. I don't think probation necessarily hurts a Penn State player's chances of winning the Heisman. Sure, some voters might hold it against a Nittany Lions star, but think about what a great story it would be if a player had a tremendous year and led the team to a 12-0 regular season. That narrative would carry a lot of weight. And remember, Heisman voting is done before the bowls. A Penn State player would potentially be hurt by the lack of a conference championship game, as his season would end a week earlier than some other candidates. The bigger question is, of course, whether the Lions will have enough depth to go 11-1 or 12-0, which is likely a requirement for one of their players to get in the mix. And no matter how good Robinson is, receivers have almost no chance of winning the Heisman. If
this guy
couldn't do it in 2003, or
this guy in 2007
with those ridiculous numbers, forget about it.
---
Shifty from O'Fallon, Ill., writes:
I've seen plenty of references (to include yours in the mailbag Monday), about what Bill O'Brien can do with
Christian Hackenberg
based on how he transformed Matt McGloin. I think they'll likely be great together, but I think everyone underplays how important McGloin's B1G experience was to his breakout season. It's not like McGloin was a 18-year-old walk-on. Dont you think we need to pump the brakes a little before we decide the only thing between Hack and Todd Blackledge is four weeks with BO'B?
Brian Bennett:
Shifty, huh? Remind me not to enter into a real estate deal with you. Anyway, I agree that they hype is probably getting a little out of control for Hackenberg, since he's only a true freshman. But that's what happens when you're the No. 1 quarterback recruit in the nation. I don't think anyone is suggesting that he will put up McGloin's numbers from last year (3,266 yards, 24 touchdowns) right away. McGloin, as you mentioned, had a lot of experience. But as much as I loved watching McGloin's bust out last year, let's not forget that A) he really struggled at times before O'Brien came along; and B) he never had the biggest arm. Hackenberg simply has better physical tools. Does that mean he'll grasp the system and play with McGloin's moxie this year, or ever during his career? Not necessarily. But when you combine his pure skills, O'Brien's quarterback acumen and an offense loaded with receiving targets, the outlook is pretty bright for Hackenberg.
---
Enrique from Grand Rapids, Mich., writes:
Brian, put yourself in Mark Dantonio's shoes.
Damion Terry
has performed admirably the first two fall scrimmages. Your other quarterbacks have been lackluster, failing to make big plays. Meanwhile, your exciting true freshman is 14 of 21, for 341 yards in the air, 40 on the ground, with four touchdowns and no interceptions, and much of that has come against the first-team defense. If (yay, hypotheticals!) Terry can continue to perform this well in the fall practices, would you, the head coach, go with the young upstart? You might not get a better chance than this year to make it to the Rose Bowl after a prolonged absence. Or do you redshirt him and prep him for next year?
Brian Bennett:
Next question
.
Oh, sorry. I got a little too into my Dantonio role-playing. First all, let's acknowledge that Dantonio and his offensive coaches know a heck of a lot more about who's playing well in practice and who understands the system than you and I can glean from some reports and limited practice viewing. And let's not anoint a true freshman based on one glowing scrimmage performance. But I do believe Michigan State should play Terry this season, especially in the first few games, so he could redshirt if he were to get hurt. I'll be surprised if
Andrew Maxwell
is not the starter vs. Western Michigan next Friday, but I think Dantonio should give Terry snaps in some special packages just to see what the kid can do. He is the future, and the future is now for the Spartans. They have an elite defense and a favorable schedule, so they need to go for it this year. The last thing the team needs is a quarterback who is going to make a bunch of mistakes, and there is a serious risk of that with Terry. But he can likely be very effective in certain situations and in a handful of plays per game, giving Michigan State a much-needed different look on offense.
That's me in Dantonio's shoes, anyway. (
So where's the tread?
).
August, 19, 2013
Aug 19
5:00
PM ET
Next Monday will be game week. So excited. For now, more of your Monday mail.
[+] Enlarge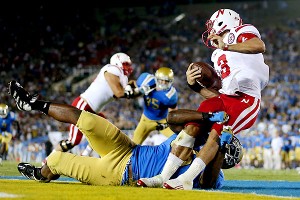 Stephen Dunn/Getty ImagesDon't expect Nebraska's Taylor Martinez to play anywhere but the QB position this fall.
Jeremy from Jenison, Mich., writes:
Which Big Ten team, outside of Ohio State, do you feel has the best chance to make the Rose Bowl? Personally, I think its either Michigan or Nebraska, or Michigan State could possibly sneak in. But what do you think?
Brian Bennett:
Jeremy, I think it's between Michigan and Nebraska. The Huskers benefit because they don't have to play Ohio State in the regular season, while Michigan has the advantage of playing Nebraska in Ann Arbor. I wouldn't be shocked to see Michigan State, Wisconsin or Northwestern sneak up and get to Pasadena (and we are talking about this while assuming Ohio State doesn't go to the BCS title game), but I think the Wolverines and Huskers have better chances because of their talent and schedule. While I rank both below the Buckeyes, either of them could beat Ohio State in a one-game shot -- or in Michigan's case, a second-game-in-two-weeks shot.
Jerry Fan from Minneapolis writes:
Jerry Kill has stated his program needs a signature win this season. Do you think that will happen, and if so, what game do you think it would be?
Brian Bennett:
That's been a consistent theme for Kill this summer, that Minnesota needs to notch a signature win. He hasn't defined exactly what that would look like, but these seem to be the best chances for the Gophers to accomplish that this fall:
Oct. 5: at Michigan
Oct. 19: at Northwestern
Oct. 26: Nebraska
Nov. 9: Penn State
Nov. 23: Wisconsin
Nov. 30: at Michigan State
You could argue whether beating Northwestern or probation-saddled Penn State is really a signature win, but I think Kill would gladly take either of those. Beating Wisconsin would be tremendous for the program because that rivalry has been so one-sided, and the same could be said about Michigan. I'll go out on a limb and say Kill's team does win one of those games, though it won't be against Michigan or Nebraska.
OblioCat from Andersonville, Chicago, writes:
Northwestern wins the Legends Division. Win or lose in the Big Ten Championship Game, is the Big Ten down (even more), or is Northwestern actually a good team? Will the journalists wait for bowl game results to rip on the Big Ten? Granted, when NU beats LSU in its bowl game, part of the South will crumble.
Brian Bennett:
Lot of ifs there, but I doubt too many people would criticize the league for being down if Northwestern wins the Legends Division, unless they finish 8-4 or something and everybody else tanks. The Wildcats are getting plenty of respect this offseason and are ranked in both major polls, so people know how good they are. Heck, the LA Times' Chris Dufresne ranked Northwestern No. 10. The Big Ten's reputation will be based on how the league performs in the nonconference games, but with so few marquee matchups, the Big Ten has more opportunities to reinforce negative perceptions by losing than it does to change them by winning.
Brian from Whiteman Air Force Base writes:
So I was thinking about my Huskers' upcoming season, and thought about Taylor Martinez's future beyond Lincoln. I think it's pretty obvious he won't be drafted as a QB, but more likely as a WR. So I was thinking, how awesome would it be to see him line up at WR a bit for Nebraska, and let our young stub backup QBs (
Tommy Armstrong
and
Johnny Stanton
) get some game experience?? Tim Beck could have a field day with that much talent on the field at one time! That could make for some serious excitement and a terror for defenses!
Brian Bennett:
I'd argue that Nebraska already has a serious amount of talent on offense, and one of the deepest and best receiving corps around.
Taylor Martinez
is so essential to the team's success that I would be stunned to see Beck risk anything by putting him at another position. But I do think playing one of the young guys is going to be important this season for the Huskers as they transition to the post-Martinez era next year. Luckily, the early schedule is such that Martinez could be getting some early rest in September and October, allowing one of those youngsters to get some in-game training.
Kevin from Fairfax writes:
Brian, you missed the most obvious
Heisman sleeper in the Big Ten
:
Akeel Lynch
if he can get on the field early enough. Penn State has the best line in the Big Ten (and maybe the nation) blocking for its running backs, the Nittany Lions have the best collection of skill position players in the league pulling defenders off the line of scrimmage (No PSU back will see a seven or eight man front this year except for in short yardage situations) and the best offensive coaching in the nation.
Brian Bennett:
Eh, sorry, I don't see it.
Zach Zwinak
had a really nice and surprising year last season for Penn State, but it wasn't anything that was remotely Heisman worthy, especially with a 4.9 yards per carry average and only six touchdowns. Plus, coach Bill O'Brien has said that he plans to get carries for Lynch and
Bill Belton
. If anybody is going to attract Heisman attention on the Nittany Lions -- and that in itself is a big question mark because of probation and the lack of roster depth -- I think it will be the quarterback.
Allen Robinson
might be the team's best player, but it's nearly impossible for receivers to win the award. If O'Brien can turn Matt McGloin into the Big Ten's top passer, imagine what he can do with a talent like
Christian Hackenberg
.
Jack from Illinois writes:
While reading your last Big Ten mailbag, I saw your thoughts on Illinois, despite competing and being better, finishing the season at with a record of 3-9. I realize as an Illini fan that we may not be the best team, but should I really be expecting us to be that bad? As daunting as the Illini's schedule looks, it appears there are some games they can really pull an upset in (don't get me wrong though, I don't exactly have much hope in our game against Nebraska). I'm not saying we get bowl eligible, but is it crazy for me to think we get to a record like 5-7?
Brian Bennett:
It's not completely crazy, but Illinois will have to make major strides on offense, defense and special teams to win five games. There are teams on the schedule that the Illini should be able to compete with, like Indiana and Purdue, and they should be favored against Southern Illinois and Miami. Win those four, and it only takes one upset to get to five wins. Still, it seems like an uphill battle given the lack of elite players and depth on the roster.
Dave from Marietta, Ohio, writes:
Regarding the
B1G football bucket list
... I've done all those. Does that mean I'm going to die tomorrow?
Brian Bennett:
I sure hope not, Dave. But whenever you do kick the bucket, you should be pretty happy.
August, 12, 2013
Aug 12
5:00
PM ET
Can we hop in the DeLorean and travel ahead to Aug. 29? No? OK, then, let's just answer some emails.
Justin from Baltimore writes:
Hi, Brian. Which of the following outcomes would be most beneficial in boosting the BIG's national rep? 1. Win all nine of the top nonconference games (ND at Michigan, UCLA at Nebraska, MSU at ND, Wisconsin at ASU, OSU at Cal, PSU vs. Syracuse, BYU at Wisconsin, NW at Cal, and Iowa at ISU ... I think it would actually be in the BIG's interest for ND to beat Purdue in game No. 10 as to not totally devalue the other victories against the Irish). 2. Win the Rose Bowl. 3. Place a team in the BCS championship game and lose in a close, competitive game that really could have gone either way?
[+] Enlarge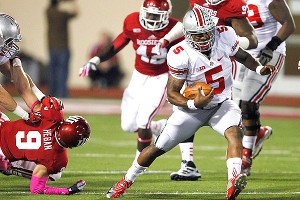 AP Photo/Sam RicheOhio State and Braxton Miller have their eyes on the big prize this season.
Brian Bennett:
I think we can quickly rule out No. 1. The Big Ten just doesn't have many high-profile nonconference games. If Notre Dame loses to both Michigan schools, that probably means the Irish won't have a great season, and beating teams like Cal, UCLA and Arizona State simply doesn't carry that much weight. A Rose Bowl win would be great, but we don't know who the opponent would be. Is it a highly-ranked Pac-12 champion? Even then, I think the No. 3 item in your scenario is the most important. Winning championships is obvious the most beneficial accomplishment for a league's perception. The second-best way to do that might be playing for a championship and coming really close. Especially if a Big Ten team were to take an SEC champ to the wire, that could go a long way toward improving perception.
Nick from Bay Area, Calif., writes:
Suppose the following situation plays out: In the Legends Division, Nebraska finishes 11-1 with its only loss at Michigan. Michigan loses a close one to the Buckeyes and drops another on the road (take your pick, @PSU, @NW, @MSU) to finish 10-2. In the Leaders, Ohio State finishes 12-0 and Wisconsin loses close ones at OSU and Arizona State to finish 10-2. Ohio State destroys Nebraska in the B1G CG. If the Buckeyes go to the NCG, is there a shot that the Badgers could end up in the Rose Bowl again?
Brian Bennett:
I see it's a hypothetical day. Yep, we all need some real football around here to talk about. Anyway, it's an interesting question. Of course, there are scenarios where the Rose Bowl could take a non-Big Ten team if it lost the league champion to the BCS title game, but I doubt the game would want to do that in the final season before the playoff and certainly not in its 100th edition. Let's assume all three Big Ten teams you mentioned finished in the top 14 of the BCS standings but not in the top four. The Rose would be free to take its pick of those teams. I actually think Nebraska or Michigan would be more likely to go to Pasadena, both because they'd have stronger nonconference wins in your scenarios (Notre Dame for the Wolverines, UCLA for the Huskers) than Wisconsin, and because the Rose Bowl might have a bit of Badgers fatigue (and vice versa).
Glenn from Leesburg, Fla., writes:
Brian, why all the hype over OSU? Realistically, what more do they have than teams like UM, PSU, Wisconsin, and Nebraska? They have
Braxton Miller
, but except for PSU, there's some pretty good QBs starting for the other three schools. OSU appears to have a good secondary, so does PSU. OSU lacks depth at LB and DL. They have a good OL, so does PSU and UM. OSU has Urban Meyer, PSU has last season's Coach of the Year, UM has Brady Hoke. OSU has a questionable backfield to support Miller, especially the first few games. OSU had a great recruiting year, so did UM which was ranked ahead of the Bucks in that category. Last fall's undefeated season for OSU has nothing to do with this year's upcoming season. So, why all the hype? You and Adam make it sound like we might as well skip the BIG season and send OSU right to the BCS championship game. Biased much?
Brian Bennett:
Well, let me tackle the "biased much" question first, since it is so ridiculous. Our job here involves giving informed opinions and predictions at times, and we have both said Ohio State is the league favorite. This is not an absurd opinion, since the Buckeyes are ranked No. 2 in the preseason coaches' poll and have been picked to win the Big Ten by just about every major publication, writer, etc. Last year, we both picked Michigan State to win the Big Ten. Did that make us biased toward the Spartans? Come on, Glenn.
Anyway, as a guy from Florida, you should know part of the answer here: Urban Meyer. Yes, he's not the
only
great coach in the league. But he is the only one with national title rings. And in his first season in the conference, he went 12-0. The Buckeyes have had an abundance of talent most years, and they're loaded again in 2013. The offensive line is excellent, Miller finished fifth in the Heisman voting last year, and the skill players are improving, especially with the rave reviews freshman
Dontre Wilson
has garnered thus far. There are questions on defense, but there are also All-America type players on that side like
Ryan Shazier
and
Bradley Roby
, plus stars-in-the-making like
Adolphus Washington
and
Noah Spence
. I've said I think it will be hard for the Buckeyes to go undefeated again, and let's not forget that they had several close calls last season. But if you're going to predict a 2013 Big Ten champ, Ohio State is the obvious pick right now.
Brian M. from Oregon, Ohio, writes:
Brian, I must take exception to your response to Brian from Atlanta. You can't look at it as 25 games in a row. You have to look at it one game at a time. The Buckeyes aren't playing 25 straight games. They're playing one opponent, and then preparing for the next. When you look at it on a game-by-game basis, you're hard pressed to think that Ohio State
won't
finish undefeated. Further, what happened last season is already in the past. It has no bearing on this season. From here, it's 14 games to go, not 25 (or 26 as it were). Additionally, Brian from Atlanta mentioned some of the close games Ohio State had last year. This seems to be a common misapprehension amongst Buckeye doubters. The Buckeye team that beat that school up north in November, was far better than the one that took the field against Miami (OH) (IO) in September. Certainly other teams have improved as well, but consider the giant leap forward Urban Meyer-coached teams traditionally take in Year 2 of his system. Other teams will have improved, but Ohio State has improved more, and they are better to begin with. Once again, it seems far more likely that Ohio State will finish undefeated than not.
Brian Bennett:
While it's true that this season's Ohio State team is different, and it won't have to win 25 games in a row this season, my point was that it's really, really hard to go undefeated in any given year, much less do it two years in a row. You make a good point about Meyer's second-year track record, but also recall that he had only one undefeated season under his belt before last year, and that was at Utah. You also make it sound like Ohio State didn't have close games late in the season, but the Buckeyes won an overtime game in the penultimate game at Wisconsin, as well as that miracle comeback against Purdue on Oct. 20. And remember that they only beat Michigan by five points, at home. Yes, Meyer's team should be favored in at least 11 games this season, but we are saying that based mostly on what those opponents did last year, not the teams that they will become this season. I won't be surprised if the Buckeyes run the table, but I'd give better odds that they slip up somewhere.
Josh from Madison, Wisc., writes:
Who ultimately starts for the Badgers this season,
Joel Stave
or
Tanner McEvoy
?
Brian Bennett:
You're giving short shrift to
Curt Phillips
, who might not have the arm strength of Stave or the athleticism (post injuries) of McEvoy but has a combination of both and serious veteran moxie. It's nearly impossible right now to tell whom Gary Andersen and Andy Ludwig will choose as their starter. McEvoy is at a disadvantage because he didn't arrive on campus until the summer, and his experience at playing quarterback on any level is limited. I'd probably put my money on Stave, just because he has the best chance to help the offense stretch the field with his downfield passing ability, and he played well last season before getting hurt. But I also think McEvoy will play at some point this fall, and I still wouldn't count out Phillips being the last man standing.
Weekend Recruiting Wrap: Big Ten - Dec. 2