Michigan Wolverines:

Bennie Oosterbaan
October, 13, 2012
10/13/12
8:50
PM ET
ANN ARBOR, Mich. -- The obvious connection didn't initially enter Michigan coach Brady Hoke's mind as he went through his selection criteria for who would wear the No. 48 jersey of former United States President Gerald R. Ford.
Sure, Hoke has a lot of players from the Grand Rapids, Mich. area on the roster. But he didn't look at that as something which mattered when honoring one of Michigan's legendary players and certainly one of its most successful after football.
It just worked out that way.
[+] Enlarge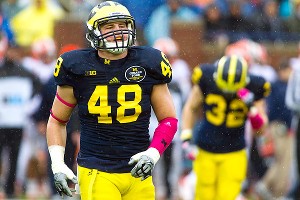 AP Photo/Tony DingMichigan linebacker Desmond Morgan was awarded the honorary No. 48 jersey, formerly worn by Michigan player and former U.S. President Gerald Ford.
Hoke said he gave sophomore linebacker
Desmond Morgan
the No. 48 jersey because of what he does, not because of where he is from.
"It was very easy to choose Desmond because of his character and his integrity," Hoke said. "Because of how he comes every day in our building, in the classroom, in the community. He's a great kid.
"Really, the Grand Rapids connection didn't really have a whole lot to do with it. When I felt I was going to do it with Desmond, then it kind of clicked in."
Morgan is from Holland, Mich., about a half-hour southwest of Ford's hometown of Grand Rapids.
"I'm quite honored and privileged to represent a former Michigan player," Morgan said. "He was a standout person and player and on top of that, President of the United States. It's such a great honor and I'm going to wear it proud."
It also means two of the four Legends Patch jerseys given out belong to sophomore linebackers.
Jake Ryan
switched his jersey number earlier this season to No. 47 in honor of Bennie Oosterbaan.
This was something Ryan and Morgan, who could conceivably be anchors of the Michigan defense for the next two-and-a-half seasons, had already discussed.
"Having 47 and 48 as linebackers is pretty cool, being lined up with each other," Ryan said. "Desmond definitely deserved it and he'll definitely represent the jersey."
September, 15, 2012
9/15/12
3:48
PM ET
ANN ARBOR, Mich. -- Michigan senior tight end
Brandon Moore
will wear the No. 87 Legends jersey in honor of Ron Kramer for the rest of the season.
"When you think of the history and tradition of this program and some of the great players like Ron Kramer, to carry on that legacy, that responsibility, is humbling," Moore said in a statement. "It's an honor to wear No. 87."
Moore, who used to wear No. 89, is injured and will not dress Saturday.
Kramer was a two-time All-American in 1955 and 1956 and a three-time All-Big Ten first-team player from 1954 to 1956. He mostly played tight end and on the defensive line for Michigan, but also saw brief stints at quarterback, running back and returning kicks and punts.
At Michigan, Kramer is eighth all-time in receiving yards among tight ends with 880 from 1954 to 1956.
Besides football, Kramer also played basketball and ran track at Michigan. He averaged 16.9 points a game for the Wolverines from 1954-57 in basketball and scored 1,119 points in his career, 38th all-time. Kramer is also Michigan's all-time free throw percentage leader at 87.8 percent.
Kramer, who died at age 75 in 2010, was a first round draft pick for Green Bay in 1957 and played in the NFL for 10 seasons. He had 229 catches for 3,272 yards and 16 touchdowns during his career.
His jersey has been the third given the "Legends Patch" distinction by Michigan, joining the No. 21 from Desmond Howard last season (currently worn by
Roy Roundtree
) and the No. 47 from Bennie Oosterbaan (worn by
Jake Ryan
).
September, 8, 2012
9/08/12
9:10
PM ET
ANN ARBOR, Mich. -- He ran out on the field wearing a new jersey. And by the end of Michigan's 31-25 win over Air Force on Saturday,
Jake Ryan
had a career game to go with that new number.
[+] Enlarge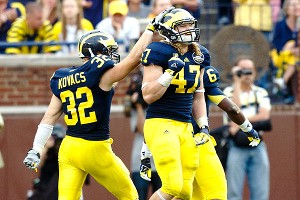 Rick Osentoski/US PresswireWearing the No. 47 legends jersey for the first time, Jake Ryan had a career-high 11 tackles.
During an afternoon when Michigan struggled defensively and couldn't make many plays, often being unable to get off the field on third down, Ryan seemed to be around the ball almost the entire game.
Awarded the Bennie Oosterbaan No. 47 legends jersey before the game Saturday, Ryan recorded a career-high 11 tackles, including a tackle for loss and two pass breakups.
"Just wearing it is amazing," Ryan said. "I'm going to wear it with pride and represent him as well as I can."
He did that Saturday. Michigan coach Brady Hoke told Ryan about a week ago he was selected to wear the jersey if he wanted it. He accepted it.
And now, Ryan said he feels like he is representing someone else whenever he is on the field, a three-time first-team All-America selection and one of the best players ever to play for Michigan.
"As we looked at the guys who, from a character standpoint and the standpoint of how he goes about his business every day, there wasn't a better job than have Jake represent Bennie," Hoke said. "As a staff we came up with that, and that's the right guy.
"How he played, I think he made some plays in there and got on the ground sometimes. For me to say how he really played, I couldn't tell ya. I know he played hard."
September, 8, 2012
9/08/12
4:31
PM ET
ANN ARBOR, Mich. --Michigan redshirt sophomore linebacker
Jake Ryan
is wearing the No. 47 jersey, unretired Saturday before No. 19 Michigan's game against Air Force.
Ryan had five tackles in the season-opener against Alabama.
Bennie Oosterbaan's family was honored on the field before the game, presented with a framed No. 47.
This is the second Legends Patch awarded. Former Michigan receiver Desmond Howard was given the designation last season and his No. 21 jersey was first worn by Junior Hemingway and then this season by fifth-year senior
Roy Roundtree
. Oosterbaan's No. 47 is the first of four previously retired jerseys to be put back into circulation this season by Michigan.
Oosterbaan is one of two three-time All-Americans at Michigan, earning the honor in 1925, 1926 and 1927. After playing at Michigan, he started coaching at the school, first as an assistant for Fritz Crisler and then as the Michigan head coach from 1948 to 1958.
In that time, he had a 63-33-4 record and won the national championship in 1948. His teams also won or shared three Big Ten titles.
Oosterbaan was also a two-time All-American in basketball in 1927 and 1928.
September, 5, 2012
9/05/12
2:06
PM ET
ANN ARBOR, Mich. -- Michigan running back
Fitzgerald Toussaint
is inching back to reclaiming his starting position.
Toussaint, who was suspended for the season opener against Alabama last Saturday, will play against Air Force this Saturday. And while Michigan coach Brady Hoke said Wednesday that he hasn't made a definite decision on who will be Michigan's starting running back, Toussaint has a good shot at it.
"I'm sure we'll sit down after Wednesday's practice," Hoke said. "Most likely, there's a good chance he will."
Michigan C Cites Concussions In Decision To Quit
BIG TEN SCOREBOARD
Thursday, 9/3
Friday, 9/4
Saturday, 9/5
Sunday, 9/6
Monday, 9/7