Michigan Wolverines:

Beau Allen
May, 12, 2014
5/12/14
1:00
PM ET
Tired of NFL draft rewind posts? Well, it's nearly over. And besides, not much else is happening in mid-May.
We're taking a closer look, roundtable-style, at
the Big Ten's draft
: how certain teams did, the risers, the falls and more. Noted draft hater Brian Bennett is somewhere in Italy, so Big Ten reporters Mitch Sherman, Josh Moyer and Austin Ward are kind enough to join me in breaking down the draft.
The draft roundtable is on the clock ...
[+] Enlarge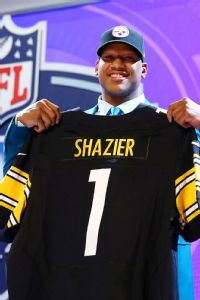 Elsa/Getty ImagesRyan Shazier ended a three-year drought without a Buckeye in the first round.
Let's start off with individual teams you cover -- Nebraska (Sherman), Penn State (Moyer) and Ohio State (Ward), for those who need a refresher. What stood out to you most about each team's draft showing?
Moyer:
Penn State had just three players drafted, so what really stood out to me was how divided the opinion was on
Allen Robinson
, who was picked up by the
Jacksonville Jaguars
in the second round. At times, he was a projected first-rounder. At other times, he wasn't projected to go until Day 3. Some lauded the Jags' pick; others labeled it a reach. Let me add my two cents: He's going to succeed in the NFL. I spoke with two former PSU and NFL wideouts,
O.J. McDuffie
and Kenny Jackson, and they both said last season that A-Rob boasts more physical skills than they ever did. That has to count for something.
Sherman:
NFL organizations continue to rate Nebraska defensive backs highly. Cornerback
Stanley Jean-Baptiste
(second round to the Saints) was the 11th draftee from the secondary in the past 10 years. Since 2003, though, just two Nebraska offensive players, including new Redskins guard
Spencer Long
, have landed in the top three rounds. Receiver
Quincy Enunwa
, despite technical shortcomings, offers value to the Jets as a sixth-round pick. As expected, all others, including quarterback
Taylor Martinez
, had to take the free-agency route.
Ward:
Ohio State has long been a pipeline for the next level, but it had actually been three years since it had produced any first-round picks until
Ryan Shazier
and
Bradley Roby
on Thursday night. The Buckeyes followed that up with four more players being selected, which suggests the talent level is starting to get back to the level the program is accustomed to after going through a bit of a down stretch. It seems a bit backward that two guys from a beleaguered defense were the top picks while the record-setting offense wasn't represented until
Carlos Hyde
and
Jack Mewhort
were grabbed in the second round, but either way the Buckeyes appear to be back as a favored target for NFL organizations.
Turning our attention to the entire Big Ten, which player surprised you by how high he was drafted, and which player surprised you with how far he fell in the draft?
Rittenberg:
I was a little surprised to see
Michael Schofield
go before the end of Day 2. We knew Michigan's poor offensive line play wouldn't impact
Taylor Lewan
, but I thought it might make teams hesitant about selecting Schofield. He's a good player who enters a great situation in Denver. Another Big Ten offensive lineman on a struggling unit, Purdue's
Kevin Pamphile
, surprised me with how early he went. I didn't see
Darqueze Dennard
, the nation's most decorated cornerback on arguably the nation's best defense last season, dropping to No. 24 overall. Wisconsin's
Chris Borland
and Ohio State's Hyde went later than I thought they would.
Sherman:
Long's rise to the third round surprised me after he missed the final six games of his senior season with a knee injury that kept him out of the combine and limited him at Nebraska's pro day. I pegged the former walk-on as a fifth- or sixth-round pick. And I thought Lewan might slip past the first 15 picks because of character questions from a pair of off-field incidents at Michigan. Conversely, I thought Borland's exemplary résumé at Wisconsin might propel him into the top 50 picks. At No. 77 to the 49ers he's a steal.
Ward:
There really weren't guys who made shocking jumps up the board in my mind, though Ohio State safety
Christian Bryant
sneaking into the seventh round was a feel-good story after he missed the majority of his senior season with a fractured ankle. The Big Ten also had a handful of first-round caliber players slide to the second day, so Minnesota's
Ra'Shede Hageman
, Indiana's
Cody Latimer
, Hyde or Penn State's Robinson all qualified as minor surprises -- and great values for their new teams.
Moyer:
How many people thought
Dezmen Southward
would be the first Badger drafted? I sure didn't. The
Atlanta Falcons
scooped him up early in the third round, and they probably could've snagged him two rounds later. As far as guys who fell, I expected both Latimer and Dennard to go sooner. They didn't free-fall, but you kept hearing before the draft how those two improved their stock -- and then Latimer nearly fell to the third round, anyway.
[+] Enlarge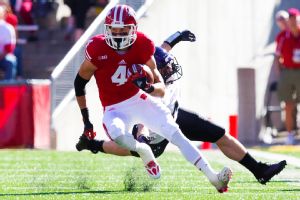 Jeff Hanisch/USA TODAY SportsWisconsin WR Jared Abbrederis went in the fifth round to the Green Bay Packers.
Which Big Ten players will be the biggest sleepers/best values in the draft?
Ward:
General managers and coaches might view running backs as easily replaceable in this new era in the NFL, but the league's most recent champion offered another reminder of how important it is to have a productive rushing attack and an elite tailback. Hyde hasn't proven anything at the next level yet, so comparing him with Seattle's
Marshawn Lynch
is a bit premature. But Hyde has all the physical tools to be a star, from his well-built frame to his often overlooked speed, and he's going to a team in San Francisco that has a system that will put him in position to thrive.
Rittenberg:
Southward's high selection surprised me, too, but the other four Wisconsin players -- Borland,
Jared Abbrederis
, running back
James White
and nose tackle
Beau Allen
-- all are good value pickups. White is an extremely versatile player who might never be a featured back but can block, catch passes and do whatever his coaches need. Allen gained great experience as a nose tackle last fall. I think the
New York Jets
get a sixth-round steal in Enunwa, whose blocking skills should help him get on the field. Big Ten coaches loved
DaQuan Jones
, who looks like a nice value pickup for Tennessee in the fourth round.
Sherman:
I'll place Robinson (second round to Jacksonville) and Abbrederis (fifth to Green Bay) together in a category of undervalued Big Ten receivers. Perhaps it illustrates a general stigma about offensive skill players from the conference; throw second-rounders Latimer and Hyde into the discussion, too. NFL decision-makers might not respect the competition these players face on a weekly basis and count it against them in evaluations. If so, that's a big problem for the Big Ten.
The Big Ten had eight more players drafted this year than in 2013, but its champion, Michigan State, had only one selection. What does this say about the league and its trajectory?
Sherman:
After 2012, the Big Ten presumably had nowhere to go but up in producing quality prospects. The influx of Urban Meyer-recruited talent will soon impact the Big Ten in the draft. Same goes for Brady Hoke, even if he's not making gains in the standings. Penn State and Nebraska, too, are upgrading their talent, so the trajectory figures to continue upward. As for Michigan State, it was young on offense and clearly better than the sum of its parts on defense, a testament to Mark Dantonio and Pat Narduzzi. The absence in the draft of
Max Bullough
and
Denicos Allen
caught me off guard.
Moyer:
Having more picks shows the Big Ten is on the right track ... but it still has a long way to go. Yes, it improved on last year -- but it still finished behind the SEC (49), ACC (42) and Pac-12 (34) this year, in terms of players drafted. As far as Michigan State, I think their success serves as a reminder that the right coaching and the right schemes can still trump a roster full of NFL-caliber players. Penn State's success during the sanctions also helps to reinforce that.
Ward:
It's another reminder of how well-coached the Spartans were a year ago, particularly in turning a defense that had just one player drafted into the nation's best unit. Dantonio deserves another bow for the job he and his staff did a year ago, even if they didn't have much to celebrate during the draft. The league does seem to be on the rise again in the minds of top athletes around the country with Meyer, Hoke and now James Franklin upping the ante on the recruiting trail. Those efforts should produce even better weekends than the one that just wrapped up.
Rittenberg:
It says something when arguably the best Big Ten team in the past seven or eight years -- MSU had nine double-digit league wins plus the Rose Bowl triumph -- produces only one draft pick. Still, I think the arrow is pointed up after a horrendous 2013 draft. The Big Ten has struggled to produce elite prospects at both cornerback and wide receiver in recent years. This year, the league had three corners drafted in the first two rounds, and while I agree the Big Ten's wide receivers were undervalued, the league still produced five picks. The next step is obvious: generating better quarterback play as no Big Ten QBs were drafted this year.
May, 12, 2014
5/12/14
9:00
AM ET
The biggest non-game on the American sporting calendar is
all done
, as the 2014 NFL draft wrapped up Saturday afternoon in New York. After
arguably its worst draft in the modern era
in 2013, the Big Ten performed better this year with 30 picks. Still, the league finished fourth among conferences in selections, trailing the SEC (49), ACC (42) and Pac-12 (34).
After a big Friday night with six second-round selections -- including four in a row -- and six third-round selections, the Big Ten's momentum slowed a bit Saturday in the final four rounds. The league had only one sixth-round pick and only four in the seventh round.
Let's start the breakdown by listing Big Ten draftees by round (with comments below). Maryland and Rutgers players aren't included here because neither group competed in the Big Ten (Terrapins CB Dexter McDougle went in the third round; Rutgers had no players drafted).
FIRST ROUND (4)
[+] Enlarge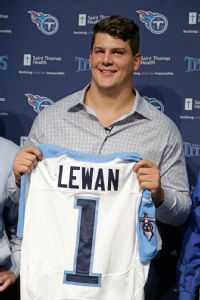 AP Photo/Mark HumphreyTaylor Lewan was the first Big Ten player selected, going 11th overall to the Tennessee Titans.
Analysis:
Click here for my first-round thoughts
SECOND ROUND (6)
Analysis:
Hageman ends up in a really good spot with the Falcons. Although Latimer had an excellent pre-draft performance, it wasn't surprising to see him end up in the middle of the second round. Hyde waited longer than many anticipated, but he enters a great situation with a team that loves to play power football. Robinson joins a new-look Jaguars passing attack featuring quarterback
Blake Bortles
and wideout
Marqise Lee
.
THIRD ROUND (6)
Analysis:
Everyone had Southward going before Borland, right? Borland, the 2013 Big Ten defensive player of the year, had an exceptional college career, but concerns about his height and perhaps his injury history moved him down the draft boards. The Iowa Effect shows up here as both Fiedorowicz and Kirksey were swept up by teams that respect what the Hawkeyes do. What does it say that Michigan's offensive line struggled mightily in 2013 but had two tackles drafted in the first three rounds? Those young Wolverines linemen had better step up this fall.
FOURTH ROUND (4)
Analysis:
Some really good pickups in this round, especially White, who will fit in very well with New England's offense. Although
James Morris
received the most accolades among Iowa's linebackers at the college level, both Kirksey and Hitchens were mid-round selections, while Morris went undrafted and signed with New England as a free agent. As a Chicago Bears fan, I love the Vereen pick. He's a smart, athletic versatile player who knows from his older brother what it takes to succeed in the NFL.
FIFTH ROUND (5)
[+] Enlarge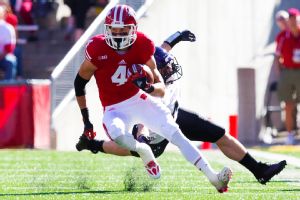 Jeff Hanisch/USA TODAY SportsJared Abbrederis isn't venturing far from Madison as he was drafted by the Green Bay Packers.
Analysis:
Like his teammate Borland, Abbrederis had a much longer wait than expected but lands in a very familiar spot with Green Bay. I think he's a steal and will surprise people with his ability to make plays despite less-than-ideal measurables. Pamphile had a fairly quiet college career but is seen as a project and could develop into a better pro. Urschel is another player who lacks the ideal physical traits sought in the NFL, but could make up for it with exceptional intelligence.
SIXTH ROUND (1)
Analysis:
Enunwa complemented his superb blocking skills with big-play ability in the pass game as a senior. He's a good value for a Jets team that needs to boost the league's 31st-ranked pass offense.
SEVENTH ROUND (4)
Analysis:
All four players could be very good values. Bolser is an athletic tight end who had 15 career touchdown catches. Allen showed versatility as a senior, transitioning to a 3-4 scheme. Gallon heads to a Patriots team that has had success with smaller, productive receivers. Bryant likely would have been selected higher if not for major leg and ankle injuries last season.
Here are the draft picks per B1G team:
Ohio State:
6
Wisconsin:
5
Michigan:
3
Penn State:
3
Nebraska:
3
Iowa:
3
Purdue:
2
Minnesota:
2
Indiana:
2
Michigan State:
1
The big surprise is a Michigan State team that dominated Big Ten play and won the Rose Bowl had just one player selected, as standout linebackers
Max Bullough
and
Denicos Allen
didn't have their names called. Only four teams -- LSU, Alabama, Notre Dame and Florida State -- had more selections than Ohio State. Illinois, which led the Big Ten in draft picks last season (4) and had 18 picks between 2009-13, had no selections. Northwestern also went without a draft pick for the second straight year.
Curious about the Big Ten's undrafted free-agent signings? Check back in a bit as we take a look.
March, 3, 2014
3/03/14
2:30
PM ET
We're taking snapshots of each position group with each Big Ten team entering the spring. Up next: the defensive lines.

Illinois:
This is a significant concern for the Illini, especially after
the recent departure
of
Houston Bates
, who started last season at the Leo (defensive end/outside linebacker) spot. Illinois also loses its other starting defensive end,
Tim Kynard
. The team will rely heavily on junior-college players such as
Jihad Ward
and
Joe Fotu
, but it also needs holdovers like
Dawuane Smoot
and
Paul James
III to step up on the perimeter. Illinois returns more experience inside with
Austin Teitsma
and
Teko Powell
, but there should be plenty of competition, especially with the juco arrivals, after finishing 116th nationally against the run.

Indiana:
The anticipated move to a 3-4 alignment under new coordinator Brian Knorr creates a different dynamic for the line this spring. Indiana must identify options at the all-important nose tackle spot, and possibilities include sophomores
Ralphael Green
and
Darius Latham
, both of whom are big bodies.
Nick Mangieri
had a nice sophomore season and should be in the mix for a starting job on the perimeter (end or outside linebacker), while
David Kenney
could be a good fit as a 3-4 end. Defensive end
Ryan Phillis
is the team's most experienced lineman, and
Zack Shaw
also has some starting experience.

Iowa:
This group should be the strength of the defense as Iowa returns three full-time starters -- tackles
Carl Davis
and
Louis Trinca-Pasat
, and end
Drew Ott
-- as well as
Mike Hardy
, who started the second half of the season opposite Ott. End
Dominic Alvis
departs, but Iowa brings back almost everyone else from a line that allowed only eight rushing touchdowns in 2013. Junior
Darian Cooper
could have a bigger role and push for more playing time inside, and
Nate Meier
provides some depth on the perimeter after recording two sacks in 2013. Iowa is in good shape here.

Maryland:
The Terrapins employ a 3-4 scheme and appear to be in good shape up front, as reserve
Zeke Riser
is the only rotation player to depart.
Andre Monroe
leads the way at defensive end after an excellent junior season in which he led Maryland in both sacks (9.5) and tackles for loss (17).
Quinton Jefferson
started at defensive end last season and recorded three sacks. There should be some good competition this spring at nose tackle between
Keith Bowers
and
Darius Kilgo
, both of whom had more than 30 tackles last season. The challenge is building greater depth with players such as end
Roman Braglio
.

Michigan:
If the Wolverines intend to make a big step in 2014, they'll need more from the front four, which didn't impact games nearly enough last fall. Michigan's strength appears to be on the edges as veteran
Frank Clark
returns after starting every game in 2013 and recording a team-high 12 tackles for loss.
Brennen Beyer
, who started the second half of last season, is back at the other end spot, and Michigan has depth with
Mario Ojemudia
and
Taco Charlton
. There are more questions inside as
Willie Henry
,
Chris Wormley
and others compete for the starting job. Young tackles such as
Henry Poggi
and
Maurice Hurst Jr
. also are in the mix, and
Ondre Pipkins
should be a factor when he recovers from ACL surgery.

Michigan State:
The Spartans return the best defensive end tandem in the league as
Shilique Calhoun
, a second-team All-American in 2013, returns alongside
Marcus Rush
, one of the Big Ten's most experienced defenders.
Joel Heath
,
Brandon Clemons
and others provide some depth on the perimeter. It's a different story inside as MSU loses both starters (
Micajah Reynolds
and
Tyler Hoover
), as well as reserve
Mark Scarpinato
.
Damon Knox
,
James Kittredge
and
Lawrence Thomas
, who has played on both sides of the ball, are among those who will compete for the starting tackle spots. If
Malik McDowell
signs with MSU, he could work his way into the rotation.

Minnesota:
Defensive tackles like
Ra'Shede Hageman
don't come around every year, and he leaves a big void in the middle of Minnesota's line. The Gophers will look to several players to replace Hageman's production, including senior
Cameron Botticelli
, who started opposite Hageman last season. Other options at tackle include
Scott Ekpe
and
Harold Legania
, a big body at 308 pounds. Minnesota is in much better shape at end with
Theiren Cockran
, arguably the Big Ten's most underrated defensive lineman. Cockran and
Michael Amaefula
both started every game last season, and
Alex Keith
provides another solid option after recording five tackles for loss in 2013.

Nebraska:
Other than MSU's Calhoun, Nebraska returns the most dynamic defensive lineman in the league in
Randy Gregory
, who earned first-team All-Big Ten honors in his first FBS season. If the Huskers can build around Gregory, they should be very stout up front this fall. Nebraska won't have Avery Moss, suspended for the 2014 season, and players such as
Greg McMullen
and junior-college transfer
Joe Keels
will compete to start opposite Gregory. The competition inside should be fascinating as junior
Aaron Curry
and sophomore
Vincent Valentine
both have starting experience, but
Maliek Collins
came on strong at the end of his first season and will push for a top job.

Northwestern:
It will be tough to get a clear picture of this group in the spring because of several postseason surgeries, but Northwestern should be fine at defensive end despite the loss of
Tyler Scott
.
Dean Lowry
,
Ifeadi Odenigbo
and
Deonte Gibson
all have significant experience and the ability to pressure quarterbacks. Odenigbo, who had 5.5 sacks as a redshirt freshman, could become a star. The bigger questions are inside as Northwestern must build depth.
Sean McEvilly
is a solid option but must stay healthy.
Chance Carter
and
Max Chapman
are among those competing for starting jobs at tackle.

Ohio State:
A total mystery last spring, the defensive line should be one of Ohio State's strengths in 2014.
Noah Spence
and
Joey Bosa
could become the Big Ten's top pass-rushing tandem, and the Buckeyes have depth there with
Jamal Marcus
,
Adolphus Washington
and others. Returning starter
Michael Bennett
is back at defensive tackle, and while
Joel Hale
might move to offense, there should be enough depth inside with
Tommy Schutt
,
Chris Carter
and Washington, who could slide inside. Nose tackle is the only question mark, but new line coach Larry Johnson inherits a lot of talent.

Penn State:
Like the rest of the Lions defense, the line struggled at times last season and now much replace its top player in tackle
DaQuan Jones
. The new coaching staff has some potentially good pieces, namely defensive end
Deion Barnes
, who won 2012 Big Ten Freshman of the Year honors but slumped as a sophomore. Barnes and
C.J. Olaniyan
could form a dangerous pass-rushing tandem, but they'll need support on the inside, where there should be plenty of competition.
Austin Johnson
will be in the mix for a starting tackle spot, and early enrollees
Tarow Barney
and
Antoine White
also should push for time.
Anthony Zettel
provides some depth on the perimeter.

Purdue:
The line endured a tough 2013 campaign and loses two full-time starters (tackle
Bruce Gaston
Jr. and end
Greg Latta
), and a part-time starter (end
Ryan Isaac
). Competition should be ramped up at all four spots this spring. Senior end
Ryan Russell
is the most experienced member of the group must take a step this offseason.
Evan Panfil
and
Jalani Phillips
will push for time at the end spots, along with Kentucky transfer
Langston Newton
.
The group at tackle includes Ryan Watson and Michael Rouse III, both of whom started games in 2013.

Rutgers:
Keep a close eye on this group in the spring as Rutgers begins the transition to the Big Ten. The Scarlet Knights lose two starters in end
Marcus Thompson
and tackle
Isaac Holmes
, as well as contributor
Jamil Merrell
at tackle.
Darius Hamilton
provides a building block on the inside after recording 4.5 sacks and 11.5 tackles for loss in 2013, and end
Djwany Mera
is back after starting throughout last season.
David Milewski
played tackle last year, but both he and Hamilton likely need to add weight for their new league. Rutgers has some talent in the younger classes and needs players such as
Sebastian Joseph
,
Kemoko Turay
and
Julian Pinnix-Odrick
to emerge.

Wisconsin:
Linebacker
Chris Borland
is the biggest single departure for the Badgers' defense, but the no position group loses more than the line. Wisconsin must replace several mainstays, most notably nose tackle
Beau Allen
, who performed well in the first year of the 3-4 set under coordinator Dave Aranda. Senior
Warren Herring
will step in for Allen after three years as a reserve.
Konrad Zagzebski
is a good bet to fill one of the end spots, but there will be plenty of competition with players such as
Jake Keefer
,
James Adeyanju
,
Arthur Goldberg
and
Chikwe Obasih
.
December, 16, 2013
12/16/13
4:00
PM ET
Bowl season is just around the corner, and all-star season is just beyond the bowls. Invitations for several pre-draft events have gone out to seniors around the Big Ten.
This is
not
a final list, just an early rundown to give you an idea of who is going where to showcase their skills in front of the NFL folks.
REESE'S SENIOR BOWL (Jan. 25, Mobile, Ala.)
EAST-WEST SHRINE GAME (Jan. 18, St. Petersburg, Fla.)
The
NFLPA Collegiate Bowl
has announced only a few player confirmations (including former Wisconsin DE
David Gilbert
), but none yet from the Big Ten. We'll include Big Ten invites in our next update. The
Texas vs. Nation game
and
Raycom College Football All-Star Classic
will not take place this season.
November, 17, 2013
11/17/13
10:00
AM ET
Lessons learned from the weekend that was in the Big Ten:
[+] Enlarge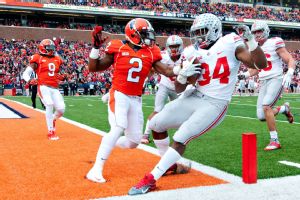 Bradley Leeb/USA TODAY SportsTailback Carlos Hyde rushed for 246 rushing yards and scored five touchdowns in the Buckeyes' win over Illinois.
1. Michigan State vs. Ohio State is happening, so get ready:
The Big Ten championship game is not signed, sealed and delivered yet. But it would take some major chaos for that game not to feature Michigan State and Ohio State. The Spartans clinched at least a tie for the Legends Division title with their
41-28 win at Nebraska
. All they need is to win one of their final two games -- at Northwestern and versus Minnesota -- or have Minnesota lose next week against Wisconsin in order to punch their ticket to Indianapolis. Coach Mark Dantonio's team has come too far to slip up two straight weeks. Ohio State needs one more win to clinch the Leaders spot in the title game because of its head-to-head win over Wisconsin, and the Buckeyes will be favored by multiple scores next week at home against Indiana. This is the matchup that the Big Ten should want -- Michigan State will be in the top 15 and possibly the edge of the top 10 if it wins out, and the Spartans' outstanding defense will test Ohio State's high-scoring offense. It hasn't been the most exciting Big Ten regular season, but things are setting up for a fantastic finish at Lucas Oil Stadium.
2. Wisconsin's defense deserves more notice:
Indiana came into Saturday's game averaging 43.1 points and 527 yards. Whatever you think of the Hoosiers, their offense is legitimately explosive. Wisconsin completely defused that attack in a
51-3 win
, shutting out Indiana in the first half while allowing 224 yards and a lone third-quarter field goal. The Hoosiers had scored in every quarter but three this year and hadn't been blanked in a half since September of last season. The point is that the Badgers' defense is outstanding, yet like the team as a whole, remains underrated. Everyone will notice how Wisconsin ran all over IU for 554 yards, second most in school history, but that pretty much happens every year in the Indiana game. The Badgers D is led by experienced players up front like
Chris Borland
,
Beau Allen
and
Brendan Kelly
and is getting terrific play from less experienced guys like
Sojourn Shelton
and
Tanner McEvoy
on the back end. Don't forget that Ohio State turned in its lowest point total of the season (31) against Dave Aranda's defense. This is a complete team, even if the the voters in the major polls still somehow fail to recognize it.
3. Don't tell Michigan this season is over:
We could have understood if Michigan would have mailed in the end of Saturday's Northwestern game. The Wolverines have been beaten up by opponents and piled on by fans and critics for their lackluster offensive performances. Their Big Ten title hopes are dead, and in coach Brady Hoke's own view, that means the season is a failure already. In the rain in Evanston, they found themselves down 9-6 in the closing moments of an ugly game. But Michigan pulled off a truly incredible effort to set up
Brendan Gibbons
' field goal at the very end of regulation, then ground its way through a
triple-overtime win
. Quarterback
Devin Gardner
, who has been battered and bruised countless times, appropriately scored the winning touchdown and two-point conversion. The Wolverines looked in serious danger of losing out for a 6-6 campaign before Saturday's gritty comeback. While wins at Iowa and against Ohio State the next two weeks won't be easy to come by, Michigan proved that it will not fold up shop. As for Northwestern, you can't fault the effort. But the Wildcats have now lost in just about every terrible way imaginable, including twice in overtime and on a Hail Mary. It's just one of those years for coach Pat Fitzgerald's crew.
[+] Enlarge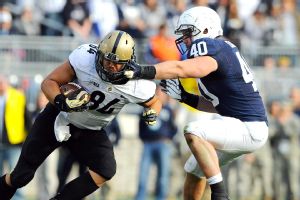 Rich Barnes/USA TODAY SportsLinebacker Glenn Carson and the Nittany Lions gave up just 264 yards to Purdue in the win.
4. It's wait 'til next year -- again -- for Illinois and Indiana:
The best thing you can say about Illinois is that it has shown a lot of fight this year -- even if that sometimes means near fisticuffs between coach Tim Beckman and offensive coordinator Bill Cubit. The Illini did not give up after falling behind Ohio State 28-0 and 35-7 on Saturday, battling back to keep it a two-score game throughout most of the second half. But like the games against Penn State and Indiana, the team simply couldn't finish the job. And so any slight bowl hopes were officially extinguished for Illinois, which now owns the nation's longest conference losing streak -- and second-longest in the long history of the Big Ten -- at 20 games. If Beckman can't lead the team to a win over hapless Purdue next week, he might not get a chance to finish his job, either. Indiana entered the year with high hopes for a bowl. The Hoosiers can still technically get to six wins, but that would require a win next week in Columbus over Ohio State. If you believe that will happen, you are either incredibly optimistic or completely untethered from reality. Coach Kevin Wilson's team has made strides this season on offense and in the running game despite Saturday's showing in Madison, but the defense has failed to grow at all and has some historically inept performances this season. The Hoosiers' status won't change until that side of the ball develops any competency. So it's back to the drawing board for both programs, and they'll have all of December to rethink things.
5. Freshmen making strides at Penn State, Purdue:
If you didn't watch
Penn State's win over Purdue
, we don't blame you. Neither team is going anywhere this season. But the game did provide some hope for the future, thanks to the play of true freshmen on both sides. Purdue quarterback
Danny Etling
took a step forward with the best start of his career, throwing for 223 yards and a touchdown. Both he and Penn State freshman quarterback
Christian Hackenberg
finished with similar stat lines. And their first-year targets fared pretty well, too.
DeAngelo Yancey
was Purdue's leading receiver, with four catches for 83 yards, and Nittany Lions tight end
Adam Breneman
caught the first TD pass of his career. Both teams are looking forward for different reasons, and the play of their youngsters gave them some reasons for hope.
September, 27, 2013
9/27/13
12:00
PM ET
Enjoy the fact that your royal overlords are a frail old woman and a tiny baby.
Michigan C Cites Concussions In Decision To Quit
BIG TEN SCOREBOARD
Thursday, 9/3
Friday, 9/4
Saturday, 9/5
Sunday, 9/6
Monday, 9/7