Michigan Wolverines:

Bart Houston
March, 11, 2014
3/11/14
12:00
PM ET
Spring batted an eyelash toward Chicago on Monday. Wednesday:
more snow
. That Mother Nature, such a tease.
March, 5, 2014
3/05/14
5:00
PM ET
The Big Ten postman always rings twice (a week, at least during the offseason) ...

Rob NitLion from Morristown, N.J. writes
: Brian, you made a very good argument in
this morning's Take Two
-- much better, I feel, than Adam. But you asked a question at the end of your argument, that while rhetorical, I figure I'd provide an answer. "Why not?" Here is why NOT. While some programs like Rutgers and Maryland are used to playing mid-week games, a majority of their fan bases are within a two-hour commuting distance of the stadium (being from Jersey, I have a decent handle on this). It's easy for most fans to leave work and still make an 8 p.m. weekday kickoff. On the other hand, for schools like Ohio State, Penn State, Michigan, etc, the fan bases are much more scattered, a large portion of the season-ticket-holder base is not within an easy driving distance of the campus, so for a Thursday night game, essentially you are asking someone like me to take a four-day weekend to see a Thursday night football game. I don't think this is plausible AND considering you guys just ran articles talking about stadium attendance being down, I cannot see some of the larger programs accepting a Thursday night game on their schedule.
Brian Bennett:
The arguments from both of us were similar, and you echo many of our points, Rob. The programs with super-sized stadiums really don't ever have to think about hosting a weeknight game. (I shudder at the prospect of trying to get to Pittsburgh or Philadelphia or wherever after a Thursday night game in State College, for example.) But for programs such as Illinois, Indiana, Minnesota, Maryland, Rutgers and Purdue, a weeknight game can provide plenty of good exposure. Their fan bases aren't as spread out, and their stadiums aren't nearly as large. And for some of them, filling the stadium isn't easy on a Saturday, anyway, so why not grab the extra eyeballs and attention a Thursday night game could bring?
---

Trevor K. from Wis., writes:
Say
Joel Stave
or
Bart Houston
win Wisconsin's QB battle. Could you see the Badgers utilizing
D.J. Gillins
' athletic ability at wide receiver? There is a HUGE hole there, and it shouldn't be out of the question if he is really that athletic.
Brian Bennett:
There is precedent here, as
Tanner McEvoy
bowed out of the quarterback competition early last year because of an injury and ended up starting at safety. The difference, though, is that McEvoy was a junior college transfer who had already used his redshirt year at South Carolina, so he wanted to get on the field. Gillins is a true freshman, and if he's not ready at quarterback, the coaching staff might want to redshirt him. On the flip side, though, maybe the coaches see him providing value at receiver, especially if the Badgers' young wideouts don't step up this offseason, and maybe Gillins expresses a desire to play early. There are a lot of factors at play here. I'd be really surprised if Gillins makes much of an impact at quarterback this season, simply because he's so young and Wisconsin has other experienced options.
---
TN Spartan from Jackson, Tenn., writes:
I am excited about the new bowl lineup for this next football season. Not sure if you did this anywhere, as I have not seen it, but could you project what the last bowl season would have looked like if it had the new arrangement, and then compare it to how it actually went? Perhaps you could then comment if the W/L record would have improved, or if the matchups would have been better.
Brian Bennett:
It's a little tricky to project, not knowing if you want to include the new playoff system as well. Let's just say for now that the playoff wasn't involved but that the 2014 lineup was somehow superimposed on the 2013 season.
In that case, the top of the order wouldn't look much different. Michigan State would still have gone to the Rose Bowl and Ohio State would still have made a BCS game. Then the next tier would involve the Capital One, Outback and Holiday bowls, with the Big Ten having greater input on matchups. I still think Wisconsin goes to the Cap One and Iowa makes the Outback, based on their records and how they finished the season. The debate would then have come down to whether Michigan or Nebraska should go to the Holiday, much as it did with the Buffalo Wild Wings Bowl. Whoever didn't get picked there would fall to either the Music City or Gator Bowls, and you wonder if the league would step in to avoid placing Nebraska in that rematch with Georgia and giving the Huskers another trip to Florida.
Minnesota could then have found itself in the Kraft Fight Hunger Bowl, which is in the third tier of picks along with the Pinstripe Bowl. The opponents wouldn't have been much different for the league at the top, but the Big Ten would have played Pac-12 teams in the Holiday and Hunger bowls. Going by 2013, that would have been Arizona State and Washington, respectively, in what would have been two tough matchups for the league.
---
James from Akron, Ohio, writes:
With the latest position moves on defense (most notably
Jake Ryan
to MLB) and Greg Mattison's past experience, is there any chance that Michigan switches to a 3-4 defense this year? All of the pieces are in place to make the switch.
Desmond Morgan
would be the other ILB,
James Ross
would still be starting on the outside, while one of the current backups (
Ben Gedeon
/
Joe Bolden
/
Mike McCray
) would fill in the other OLB spot. Mix all of that with the fact and Michigan is thin at DT, am I crazy to think the 3-4 will make some sort of appearance this year?
Brian Bennett:
It's not a crazy thought, especially because the linebacker group looks like the deepest and most talent-rich position on the Wolverines defense. Michigan hasn't really been dominant at defensive tackle since Mike Martin left town, and Mattison often ran the 3-4 while with the Baltimore Ravens. However, Michigan has run a 4-3 scheme so far under Brady Hoke, and Big Ten teams have been hesitant to go away from four down linemen very often, though Wisconsin used a 3-4 alignment often last season and had success with it. Defensive coordinators often talk about wanting to be multiple and offer different looks to the offense, so Mattison might want to at least explore the idea this spring and see how it goes. That might be the best way to get Michigan's best players on the field.
---
Kurt from Winter Wonderland, Ill., writes:
Can we all finally acknowledge that the NU vs. "NU" rivalry has been one of the conference's best through the first three seasons of its incarnation? An underdog winning against a Top 10 Nebraska team in Lincoln, a comeback Nebraska win by one at a strong Northwestern in Ryan Field, and then a Nebraska victory on a Hail Mary last season! What will the next season bring?!
Brian Bennett:
Maybe it's a budding rivalry. I also think Nebraska and Northwestern are the two most unpredictable teams on a week-to-week basis in the Big Ten, with both capable of wild swings of momentum at any time. So no wonder crazy things happen when the two get together.
January, 31, 2014
1/31/14
4:30
PM ET
Wishing you a great weekend. I'll be hooping it up Saturday in Madison.
Don't forget:
Twitter
.
B1G in Memphis writes:
I agree in principle with
Kain Colter
's call for the organization of student athletes if it seeks to prevent injuries or compensate student athletes for injuries sustained in their college careers. However, the concept of paying student athletes that many have suggested seems unreasonable to me. You couldn't just pay the revenue sports players, because that would be discriminatory to female athletes (Title IX, anyone?). And if you paid all athletes, athletic departments would have an incentive to eliminate non-revenue sports.
[+] Enlarge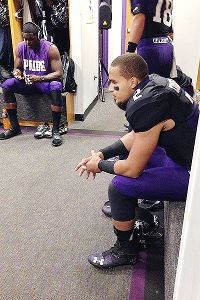 Adam Rittenberg/ESPN.comNorthwestern QB Kain Colter's attempts to unionize players might have good intentions, but seems like it will face many obstacles.
Adam Rittenberg:
Some really good points, B1G. I have a hard time seeing how anything changes without adhering to Title IX. My understanding is if the value of athletic scholarships increase, as the Big Ten and other major conferences have wanted for years, it would apply to all full-scholarship athletes to meet Title IX standards. Colter made it clear that money isn't the top priority in all of this -- long-term medical expenses are -- and if there are some additional protections athletes can receive, that's a good thing.
Chase from Detroit writes:
Adam, I think the other side to the this Brendan Gibbons story is missing here. The program and university definitely need to answer questions about when Gibbons' separation from the university was official, how the information should have been released, and why the investigation took so long. But let's not forget the fact that Gibbons was investigated by the police and faces no legal charges. How is his situation any different from
Jameis Winston
from FSU,
Keith Appling
and
Adreian Payne
from MSU, or
Prince Shembo
from ND? All of these guys were involved in serious sexual assault investigations, but there was never enough evidence or cooperation to face legal charges like Gibbons. Shouldn't Michigan also be commended for taking a hard-line stance even where there were no legal charges?
Adam Rittenberg:
Chase, while Michigan seems to have its policy correct now, we don't know the full story of how the university responded to the initial allegations. Did the alleged victim feel the university responded swiftly and appropriately in her case? It's unfortunate that an incident in 2009 only has repercussions four years later, essentially after Gibbons' playing career. But it does seem like Michigan will approach these situations correctly going forward. I don't think that calls for a ton of praise, though.
---

Nathan from Burlington, Vt., writes:
Adam, I'm a die-hard Rutgers fan. This year was pretty disappointing for us. I expect us to have a .500 record our first year in the B1G but have high hopes for 2015. We have a great recruiting class coming in. Do you think we have a shot at being a top team in 2-3 years in the B1G?
Adam Rittenberg:
Nathan, you mention the recruiting class, and that's what it will take for Rutgers to rise up in the Big Ten, particularly in a tough division like the East. Rutgers will have to lock down its borders and keep the best in-state players at home, which is no easy task given how many Big Ten programs recruit in the Garden State. I also think Rutgers must make strong financial investments in its program, including the coaching staff, to keep pace with the deep-pocketed Big Ten. Should be interesting.
---
Rob from Chicago writes:
What questions must Michigan answer? The timing of the incident is known. The timing of when it was reported to the school is known. The expulsion came at the end of the school's investigation and its own determinations. No criminal charges were ever filed, and there is not an ongoing investigation by the police. (A fact dropped from your attack piece.) Without criminal charges, its akin to the Jameis Winston case. There was no suspension there. Maybe ask MSU the tough questions about [Max] Bullough? ... If we are going to ask tough questions, ask that one as well.
Adam Rittenberg:
Yes, Rob, it's always about what the other school did in its case, never about yours. The glee that certain fan bases take about the troubles of rival teams really bothers me, but whatever. The question here is when Michigan's athletic department and Brady Hoke knew about two things: the initial letter stating the school had determined Gibbons engaged in unwanted sexual conduct, and when the school had decided to suspend Gibbons. If Michigan knew all of this in November and still let Gibbons play at Iowa, that's a problem in my view -- if not a legal/official one, a moral one.
---

Drew from Kennebunk, Maine, writes:
What does Indiana have to do to fix its defense, which has been last in the Big Ten the last three years running, and one of the worst in the nation. They hired a new DC recently, but is coaching the issue here, or something else? Is it more of a lack of talented defensive players, rather than coaching?
Adam Rittenberg:
Love Kennebunk and that entire area, Drew. Talent certainly is the biggest factor when it comes to IU's defense, and Indiana played a bunch of freshmen in Kevin Wilson's first two seasons. New coordinator Brian Knorr will inherit a group with a lot of starting experience. IU will never have the best defensive talent in the Big Ten, but with improved recruiting and a good scheme, the defense can rise to a respectable level, which might be enough because the offense is so strong. If Indiana has a mediocre defense last season, it probably wins seven games.
---

Max Wittek from Los Angeles writes:
Hey Adam, I'm an unrestricted free agent eligible to play immediately after graduation this spring. What are the chances of me continuing the QB transfer tradition in Madison? If the Badgers pursue me, am I
Danny O'Brien
or will I be
Russell Wilson
? How's the weather compared to LA?
Adam Rittenberg:
Weather is awesome, Max. Just like L.A. I'd be a little surprised if you ended up in Madison, especially since Wisconsin has several younger quarterbacks it's looking to develop.
Bart Houston
is only a redshirt sophomore, and
Joel Stave
still has two seasons of eligibility left and a lot of experience under his belt. I don't know if the desperation is the same as it was when Wilson and O'Brien came to Madison.
---

Matt from Plymouth, Minn., writes:
With
Jeff Jones
canceling his visits to Florida and Michigan, it's looking more and more like he will end up a Gopher after all. How big is this going to be for Jerry Kill and the Gopher program if they end up with this year's top in state player?
Adam Rittenberg:
It's huge, Matt. Minnesota has lost many of its top in-state prospects to other programs over the years. There are a limited amount of great players in the state, so to be able to keep one at home is really significant. Jones is a guy who could step in right away and help
David Cobb
in the run game.
October, 22, 2012
10/22/12
2:27
PM ET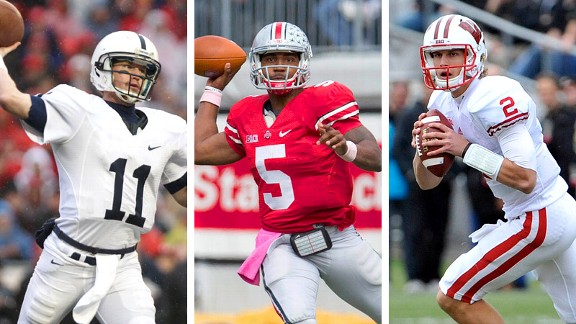 US PresswireThe recent performances by (L to R) Penn State's Matt McGloin, Ohio State's Braxton Miller and Wisconsin's Joel Stave give the Big Ten some hope for improved quarterback play.
Of the many theories to explain the Big Ten's collective struggles this season, the one about the league's dearth of elite quarterbacks certainly rings true.
Through eight weeks, the Big Ten has just one quarterback ranked among the nation's top 30 in pass efficiency (Nebraska's
Taylor Martinez
at No. 15). The league has just one quarterback in the nation's top 30 in completions per game (Penn State's
Matt McGloin
at No. 19). The league has zero quarterbacks ranked in the nation's top 30 in total passing yards.
As former
Ohio State coach Earle Bruce told me last month
, "A team can't get cut short at that position. I don't know whether the evaluation of the quarterbacks has been wrong, or they had injuries or whatever, but the quarterback position is down in the Big Ten. There's no doubt about that."
Bruce is right. There's no doubt. But there's also hope on the horizon for a league that hasn't had a quarterback selected in the first round of the NFL draft since 1995 (Penn State's Kerry Collins).
I sat in Kinnick Stadium on Saturday night and watched McGloin pick apart what had been a pretty salty Iowa defense. McGloin had complete command and tremendous awareness of his receivers and tight ends. He made correct reads and confident throws. McGloin's mobility is, well, limited, but one of his best plays came in the first quarter, when he evaded the rush and spotted tight end
Jesse James
on a deep crossing route to set up Penn State's first touchdown. As I
tweeted at the time
, McGloin is simply a different quarterback.
Michigan C Cites Concussions In Decision To Quit
BIG TEN SCOREBOARD
Thursday, 9/3
Friday, 9/4
Saturday, 9/5
Sunday, 9/6
Monday, 9/7