Michigan Wolverines:

Barry Alvarez
June, 25, 2014
6/25/14
12:00
PM ET
It's OK, these links don't bite.
April, 29, 2014
4/29/14
12:00
PM ET
The links are slimming up for the summer.
April, 1, 2014
4/01/14
1:00
PM ET
The Final Four of our
all-time Big Ten coaches tournament
is all set.
On Monday, we announced that Penn State's Joe Paterno and Nebraska's Tom Osborne both advanced to the semifinals. Now it's time to find out the rest of our field.
Our seventh game pitted No. 2 seed Michigan's Bo Schembechler against No. 10 seed Barry Alvarez of Wisconsin. Alvarez made this closer than expected for a while, but Schembechler finished as the victor, earning 61 percent of your vote to 39 percent for the Badgers' Hall of Famer.
Game 8 was an all-Buckeyes affair between No. 1 overall seed Woody Hayes and No. 9 seed Jim Tressel. Hayes won that one going away, by a count of 82 percent to 18.
So our Final Four matchups will look like this:
No. 4 Joe Paterno vs. No. 1 Woody Hayes
No. 3 Tom Osborne vs. No. 2 Bo Schembechler
We'll open up the voting for these semifinals on Thursday. This should be a lot of fun.
Curiously, we didn't really get a lot of responses on the Alvarez-Schembechler match. Don't forget to
send in your comments
(especially you Bo backers). Here are a couple of your thoughts on the Hayes-Tressel showdown:
Matt from Cape Coral, Fla.: I grew up a huge Tress fan and the 2002 national title game is what finally sold me on football as a kid, but when it comes down to it, Woody is Ohio State football and you cannot argue with five national championships. I voted for Woody.

Robert B. from Logan, Ohio: Brian, in 1964, I was 14. We were in Canton for the North-South game. Woody was recruiting the son of my parents' best friends and we were at a local restaurant for lunch. My father had died less than a month before. Now I don't know if Stein, the boy's father, asked him to, or not, but Woody came over to the table and sat down and talked to me for about 15 minutes. There are hundreds, maybe thousands of stories just like mine that prove that Woody Hayes was more of a hero off the field than on. His record speaks for itself, but I am one speaking to his compassion. To me, he was a soft-spoken, kind man. I bleed scarlet and gray, as my father did, my children do, and my grandchildren do. Woody Hayes was a complete person and that's why I vote for him, even over Tressel.
March, 28, 2014
3/28/14
11:00
AM ET
Who is the greatest Big Ten coach of all time? There's one way to find out: by pitting the best of the best in our own version of March Madness.
Our
Big Ten coaches tournament
bracket is down to the final eight competitors, with a Final Four bid on the line. Our top four overall seeds received first-round byes but now find themselves in some heated battles.
The third of our four second-round games features the first upset from the first round and one of most-recognizable figures in Big Ten history ...
No. 2 Michigan's Bo Schembechler vs. No. 10 Wisconsin's Barry Alvarez

Tournament résumés:
Alvarez: He revived the Badgers program during his 16 years as head coach in Madison, compiling 118 wins and three Rose Bowl championships. In fact, Alvarez is the only league coach to win back-to-back Rose Bowls. He was inducted into the College Football Hall of Fame in 2010, and he always brought a certain swagger to the field that can still be felt in the program, which he oversees as athletic director.
Schembechler: "Those who stay will be champions" was a motto Schembechler used early in his tenure, and he proved that to be true -- at least as far as Big Ten titles. His 13 league championships are tied for the most ever, and his 143 Big Ten victories are the second-most all time. Schembechler has the highest conference winning percentage (.850) of any coach who competed in the Big Ten for at least 10 years. The one thing missing? No national title.
Which coach advances? Voting is open through the weekend, and
drop us a note
as to why you voted the way you did. The best responses will run in our results posts.
February, 27, 2014
2/27/14
12:00
PM ET
January, 21, 2014
1/21/14
5:30
PM ET
Dave Brandon called the perception "pretty silly." The Michigan athletic director,
speaking Monday with WDIV-TV in Detroit
, said he's confused as to why some think he's the one calling the shots with Michigan's football program.
He reiterated that head coach Brady Hoke made the decision to fire offensive coordinator Al Borges following the Buffalo Wild Wings Bowl, and that Hoke identified and hired Doug Nussmeier as Borges' replacement.
"I'm not angered [by it], just confused as to why anybody could draw that conclusion," Brandon said. "I'm not a football coach. I have no experience as a football coach. I've never run a football program. How that conclusion was reached is beyond me."
[+] Enlarge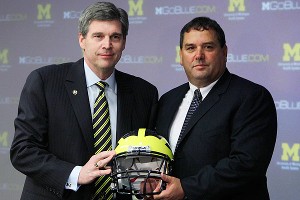 AP Photo/Carlos OsorioMichigan AD Dave Brandon dismisses talk he's overly involved in the football program.
Some reached that conclusion when Brandon spoke with reporters after Nussmeier's introduction while both Hoke and Nussmeier did not. Brandon addressed the state of the program, the standards Michigan football must uphold and denied claims that he's the one pulling the strings on major decisions.
Some reached the conclusion when Brandon somewhat surprisingly
gave Hoke a vote of confidence in November
, in the form of a
1,059-word post that appeared on Brandon's blog
. It wasn't like the short statements we typically see from ADs that basically say, "Coach is safe. Move along."
And yet others reached the conclusion after learning how hands-on Brandon is with the football program. He watches game film on Sundays with the coaching staff, a practice that didn't sit well with former coach Rich Rodriguez. Brandon, who played football at Michigan, certainly isn't the only AD with a keen interest in football, but does his involvement go too far?
Some believe it has. Detroit Free Press columnist Drew Sharp recently
likened Brandon to Dallas Cowboys owner Jerry Jones
, always putting himself in the spotlight.
That might be pushing it, but Brandon once again on Monday had to defend his involvement with the football program.
Brandon in some ways is more of a front man than Hoke. He's a better public speaker and more comfortable in front of a microphone than Hoke, who is great to deal with one-on-one but doesn't thrive in group settings.
Brandon is undoubtedly a high-profile athletics director with a unique back story as the former Domino's Pizza CEO. He has been mentioned as a Michigan gubernatorial and U.S. Senate candidate. He's a big deal, he has made Michigan a boatload of money during his tenure and grown the school's brand despite continued mediocrity in its signature sports program. Hoke leads a famous football program but doesn't have the ego or the glitz seen with some of his coaching peers.
It creates an interesting dynamic around Schembechler Hall. Few athletics directors outshine their football coaches in this day and age. Wisconsin's Barry Alvarez is the only current example in the Big Ten, and that's because he used to coach the Badgers and transformed the program to national prominence.
Brandon made a good point Monday when he said, "I can't hold Brady Hoke accountable for his results if I'm telling him who to put on the staff." Ultimately, Brandon is Hoke's boss, and he must evaluate Hoke's ability to lead Michigan football.
He might be best served doing so from a bird's-eye view.
January, 3, 2014
1/03/14
12:00
PM ET
The Big Ten season wraps up tonight at the Discover Orange Bowl. Ohio State's result goes a long way toward determining the success of this bowl season.
To the links ...
December, 30, 2013
12/30/13
12:00
PM ET
Including last season, the Big Ten is 1-6 in bowl games in 2013. Maybe 2014 will be better?
October, 11, 2013
10/11/13
4:00
PM ET
Thanks for all your questions and answers. Enjoy the games this weekend.
Don't forget:
Twitter
is the best way to follow us on game days.
Phil from Vancouver, Wash., writes:
Lets assume Ohio State runs the table and goes undefeated. If Wisconsin can win out and end up 10-1-0-1 (W-L-T-Screwed), where do you see them ending up for a bowl? With the BIG No. 5 in AQ leagues, I don't see them in the BCS.
Adam Rittenberg:
It depends on so many factors, Phil. If Ohio State doesn't make the national title game and goes to the Rose Bowl, the chances of the Big Ten receiving an at-large BCS berth go down. If the Rose Bowl loses a Big Ten team to the national title game, it likely would look for a Big Ten replacement, as long as one is eligible. Would the Rose want Wisconsin for a fourth consecutive year? Tough to tell. There are also other conferences in play, and right now you'd have to expect the SEC and Pac-12 to each send two teams to BCS bowls. And as long as Clemson and Florida State don't both fall apart, both teams are likely BCS bowl bound as well. The advantage Wisconsin would have is a long win streak to end the season, as opposed to a possible loss in the league title game, which often is the kiss of death when it comes to at-large berths.
---
Ian from Tacoma, Wash., writes:
Adam, I know there has been some talk from you and Brian recently in regard to conference perception and how it shapes top-25 rankings and the national championship picture, but I think this is becoming more of an issue than most folks realize. Why does Georgia scraping by a pretty lousy Tennessee team (that got slaughtered by Oregon) constitute a "tough road win" by the so-called experts, yet Ohio State's road win against top-15 Northwestern gets ignored? Even further, why does Ohio State get lambasted every week for their schedule, while Oregon gets constant media praise, despite having played a MISERABLE slate of games so far? Oregon is getting credit for games they haven't played yet, while Ohio State gets punished for games it hasn't played yet. I'm getting pretty frustrated with the inconsistency and hypocrisy in how teams are portrayed, simply because of the conference in which they compete.
Adam Rittenberg:
Ian, I hear ya, and Ohio State should be getting more credit for finding ways to win against good teams despite making some mistakes along the way. Georgia's win at Tennessee was vastly overvalued because the Bulldogs had so many injuries. Tennessee is mediocre at best. The Oregon example is interesting, because while Virginia and Tennessee aren't any good, it looks like the Ducks at least tried to schedule major-conference teams. Those quick to criticize Ohio State for living in cupcake city probably don't realize Vanderbilt canceled this year's game in Columbus. Vandy is no Alabama, but the Commodores are comparable to Virginia and Tennessee right now. And it's not Ohio State's fault that Cal is going through transition. Could Ohio State have done a little more with scheduling? Perhaps. But the bigger problem for the Buckeyes is the Big Ten's lousy perception, something Georgia and Oregon don't have to worry about.
---
Dan from Watercooler writes:
True or false: Bo [Pelini's] long-term outlook with the Huskers should be more based on what he does this and maybe next season, vs. what happened last season. Reasoning: Bo's defense last season had all sorts of seniors, effectively meaning he had a cap on what he could draw from them talent-wise. We've seen glimpses of what the defense is capable of (see: first half UCLA, parts of Illinois) and can see the talent there, but it needs time to build. Counterpoint: Last year's defense consisted largely of talent he developed; he should have been able to recognize gaps in the defense and find ways to correct them.I'd give him the benefit of a doubt and say, with the seemingly more athletic players he has coming up, he should be judged more on what happens from here.
Adam Rittenberg:
A nice breakdown from the water cooler, Dan. Nebraska's defense might be both younger and more talented this season. Pelini has alluded to it throughout the offseason, and I already see signs of more difference-makers with the Huskers D, especially in the front seven. That said, Pelini shouldn't get a pass for the struggles on defense last season because he brought in all of those players. Although Nebraska's move to the Big Ten probably didn't help a defense that had been shaped for the Big 12, the breakdowns in big games were inexcusable. This year's defense has had and will continue to have some growing pains, but if the unit isn't better in November than now, it falls on Pelini and the staff.
---
Matt from Baltimore writes:
I was looking at
this map of AAU schools
, and I was trying to guess where the next Big Ten expansion could be. Assuming that any schools in the ACC, SEC, or Pac-12 will stay put, it looks like the most appealing school from a state bordering a Big Ten state is Kansas (a distant second is Iowa State). What do you think the odds are of a Big Ten land grab into Big 12 territory in the near future?
Adam Rittenberg:
Ah, Matt, we must be overdue for an expansion question. Keep in mind that the Big 12 also
has a grant of rights agreement
, just like the ACC does, which makes it very difficult for schools to leave the league. The Big 12 also has great leadership now with Bob Bowlsby as commissioner. Although Texas could still send things into flux, I'd be surprised if more Big 12 schools jumped ship. The one league the Big Ten could look to, believe it or not, is the SEC, which amazingly doesn't have a grant of rights agreement. Anyone else think Missouri is a much better fit in the Big Ten than the SEC? Still, Mizzou would be giving up a lot, and I don't think the Big Ten wants to expand West when it has talked so much about being bi-regional and trying to bring in the northeast corridor. Problem is, there aren't any great candidates on the East Coast.
---
Matt from Iowa writes:
Who will be the last to surrender a rushing touchdown, Iowa or Michigan?
Adam Rittenberg:
I'm going with Michigan, especially since Iowa is off this week and the Wolverines face a Penn State team that, while lagging in rushing offense, has 11 rushing touchdowns through the first five games. I have
Akeel Lynch
scoring the game-winning touchdown for Penn State on Saturday, so I think the Wolverines' run of zero rush touchdowns ends.
---
Mike from Minneapolis writes:
Thoughts on the selection committee? As a Nebraska fan, I'm not all that thrilled to see that if they come into the playoff discussion Osborne/Alvarez will have to leave the room and their fate will be decided by a group of southerners.
Adam Rittenberg:
I'm glad you asked, Mike, as I didn't get much chance to address this last weekend. While I understand your concern about Nebraska and the ties that both Tom Osborne and Barry Alvarez have to the school, I couldn't be happier with these choices to represent the Big Ten on the committee. They're both home runs: smart football men who have served as administrations and have thick enough skin to handle the job after coaching major programs for a long time. Alvarez was the overwhelming choice among sitting athletic directors to represent the Big Ten when
we conducted a poll back in July
, and it would have been a close race between Alvarez and Osborne if Osborne still served as Nebraska's AD. Big Ten fans should be really pleased with these two.
---
Jon from Columbus writes:
Adam, Michigan has allowed seven offensive TDs in five games so far, and yet ... and yet ... you're calling for PSU to score 38 on them on Saturday? I just don't see your reasoning based on any sound football analysis. Listen, Penn State might beat Michigan this week. But if it happens, it very likely won't come in a fireworks-filled offensive shootout.
Adam Rittenberg:
Jon, maybe the score prediction is a little high, but Michigan has faced only one decent offense (Notre Dame) through the first five games -- the other four are ranked 106th or worse nationally -- and hasn't done much defensively to stand out aside from allowing no rushing touchdowns.
Tommy Rees
made plays against Michigan's secondary but couldn't avoid the turnover.
Christian Hackenberg
has more natural ability than Rees and poses a bigger challenge for the Wolverines, who still don't have any standouts on defense (
Jake Ryan
comes back soon). This is a great chance for Michigan's defense to stand out against a good quarterback in a tough road setting. But I expect to see quite a few points scored at Beaver Stadium.
January, 8, 2013
1/08/13
10:08
AM ET
Alabama and Notre Dame put a bow on the 2012 college football season Monday night. Most of the Big Ten would just as soon douse it with gasoline and light a match.
But before a largely forgettable 2012 Big Ten season goes up in flames, let's take one final look at the power rankings following the bowls. Ohio State not surprisingly remains on top, and the bottom three teams stay the same as well. There's a bit of shuffling among the seven bowl teams after varying performances. As has been the case most of the season, very little separates Nos. 2-6.
Here's a look at the
pre-bowl power rankings
.
Let's get to it ...
1. Ohio State (12-0; previously: 1):
The Buckeyes will occupy this spot until they lose a game, which might be a while under coach Urban Meyer. After recording just the sixth unbeaten, untied season in team history, Ohio State sets its sights on even bigger goals as it emerges from NCAA sanctions. The Buckeyes showed major strides on offense behind sophomore quarterback
Braxton Miller
and improved on both lines as the season went on. Meyer exceeded most expectations in Year 1, but they'll be much higher in 2013.
2. Northwestern (10-3; previously: 5):
Pat Fitzgerald's team moves up three spots after claiming its first bowl victory in 64 years. There was surprisingly little drama as Northwestern capitalized on Mississippi State's errors and won the TaxSlayer.com Gator Bowl by two touchdowns. The Wildcats recorded just the third 10-win season in team history and easily could have won another game or two despite a young roster. Things are headed in the right direction in Evanston.
3. Michigan (8-5; previously: 2):
The Wolverines were one defensive stop away from recording the most impressive win in the Big Ten's bowl season and in the Brady Hoke era. They paced a very talented South Carolina team in the Outback Bowl and received big performances from wideout
Jeremy Gallon
, running back
Denard Robinson
and quarterback
Devin Gardner
. Unfortunately for Michigan, an elite pass defense couldn't get it done in the end. Four of Michigan's five losses came against top-10 teams, but an 8-5 record isn't what Hoke or his players had in mind this fall.
4. Penn State (8-4; previously: 3):
Penn State and Michigan are similar in that both teams have "good" losses on their résumés (Michigan a few more than Penn State). Both teams rallied to beat Northwestern at home, while Penn State has another quality win against Wisconsin. The Lions and Wolverines didn't play one another, and we'll never know how Penn State would have fared against a team like South Carolina. Michigan gets the slight edge here, but Penn State had a terrific season behind a dramatically improved offense and a defense led by senior stars
Michael Mauti
,
Jordan Hill
and
Gerald Hodges
.
5. Nebraska (10-4; previously: 4):
The Huskers beat the three teams ahead of them in the rankings, but the power rankings place more weight on recent results, and Nebraska finished the season with a thud. Bo Pelini's team surrendered 105 points in its last two games -- losses to Wisconsin in the Big Ten championship game and to Georgia in the Capital One Bowl. Nebraska showed it could move the ball and score against anyone, despite being turnover-prone. But the defense was abysmal in the four losses and raises serious concerns for Pelini's program going forward.
6. Wisconsin (8-6; previously: 6):
The Barry Alvarez-led Badgers showed they could hang with Stanford, but they couldn't take advantage of the unique opportunity to play in the Rose Bowl Presented by Vizio despite finishing third in the Leaders Division. The inconsistent offensive execution that plagued Wisconsin throughout the season surfaced once again against a tough and talented Stanford defense. Wisconsin just didn't have enough firepower to get over the hump, which was really the story of its season.
7. Michigan State (7-6; previously: 7):
A come-from-behind win against TCU in the Buffalo Wild Wings Bowl takes the sting off of a season that didn't go according to plan for Michigan State. The Spartans leaned on their defense and received just enough offense from backup quarterback
Connor Cook
and Co. to get past a young Horned Frogs team in Tempe, Ariz. Michigan State posted its second straight bowl win under coach Mark Dantonio and said goodbye to three juniors -- running back
Le'Veon Bell
, tight end
Dion Sims
and defensive end
William Gholston
-- in the days following the game.
8. Minnesota (6-7; previously: 9):
Minnesota appeared poised to give the Big Ten a surprising 1-0 start to the bowl season. The Gophers made strides on offense between the end of the regular season and the Meineke Car Care Bowl of Texas, as young quarterback
Philip Nelson
and the offensive line looked a lot better against Texas Tech. But Minnesota still doesn't know how to finish and suffered breakdowns down the stretch in a tough loss to the Red Raiders. The team still doubled its win total in Jerry Kill's second season and could make some noise in a tough Legends Division next fall.
9. Purdue (6-7; previously: 8):
The Boilermakers and Minnesota swap places after Minnesota performed much better in its bowl game than Purdue did. A mismatch on paper turned into a total whitewash on the field as Oklahoma State, which had no business being in the Heart of Dallas Bowl, outclassed Purdue from the get-go. Purdue's once-promising season ended with a thud as a veteran-laden Boilers team that kept pace with both Notre Dame and Ohio State struggled mightily against most of the good-to-great teams it faced this season.
10. Indiana (4-8; previously: 10):
After going 1-11 in Kevin Wilson's first year, Indiana could only get better, and took some important steps this season. The Hoosiers showed they can score points on just about every defense in the Big Ten, and their group of skill players is among the league's best. IU's defense still isn't at a Big Ten level, and improving the talent and depth on that side of the ball is the chief challenge for Wilson and his staff entering the 2013 season.
11. Iowa (4-8; previously: 11):
A bowl appearance looked like a guarantee before the season as the schedule set up favorably for eight or more wins. But the offense took a giant step backward, and injuries hurt the unit throughout the season. Iowa's defense kept it in quite a few games but also let down against better offenses like Northwestern and Michigan. The Hawkeyes will look for more cohesion on offense and more playmakers to emerge. The Legends Division seems to be getting only tougher.
12. Illinois (2-10; previously: 12):
No team and no coach wants to turn the page on 2012 more than Illinois and Tim Beckman. Almost nothing went right in Beckman's first season, as the offense stalled and the defense struggled against spread offenses. The Illini dropped all eight of their Big Ten contests and lost by fewer than 14 points just once. Perhaps new offensive coordinator Bill Cubit can get the offense on track. The defense, meanwhile, must fill holes up front and in the secondary. At least Illinois gets a fresh start in 2013.
December, 27, 2012
12/27/12
12:00
PM ET
Big Ten bowl season officially arrives tomorrow night when Minnesota kicks off the Meineke Car Care Bowl of Texas against Texas Tech.
Heavens knows I need a new season to begin after a horrible showing in the regular season, when I finished a full five games behind Rittenberg. My pride suffered, and so did my bank account when I was forced to pick up his steak at St. Elmo's in Indy.
But bowl season offers a chance at redemption, not just for me but for the Big Ten as a whole after the league took some beatings in the fall. Here are our picks for the seven bowl games involving conference teams:
Meineke Car Care Bowl of Texas


MINNESOTA vs. TEXAS TECH (Dec. 28)
Brian Bennett:
The Red Raiders have an interim coach, and Minnesota has had a month to heal the many injuries that ravaged its offense late in the season, both of which are positives for the Gophers. I think Matt Limegrover will find some creative ways to use
MarQueis Gray
. Still, Minnesota lacks the weapons to go up and down the field against a high-scoring Big 12 team.
Michael Carter
and the Gophers secondary will make some plays but not enough to stop Texas Tech
,
which pulls away after a close first two-and-half quarters. ...
Texas Tech 31, Minnesota 17.
Adam Rittenberg:
The Gophers' defense is much improved in Year 2 under Tracy Claeys, but you need a decent amount of offensive firepower to keep pace with Texas Tech. Like you, my concern is the lack of playmakers surrounding
Philip Nelson
and Gray. Both men will see time at quarterback and help the Gophers take a first-half lead, but a Minnesota turnover changes the game and Texas Tech strikes for two fourth-quarter passing touchdowns to win.
... Texas Tech 34, Minnesota 21
Buffalo Wild Wings Bowl


TCU vs. MICHIGAN STATE
Adam Rittenberg:
This figures to be a close, low-scoring game that likely comes down to how much progress Michigan State's offense has made in the past month or so. TCU is loaded with young talent and could contend for the Big 12 title next year, but I saw the Frogs' regular-season finale against Oklahoma and wasn't overly impressed. A heavy dose of
Le'Veon Bell
combined with a fourth-quarter touchdown pass from
Andrew Maxwell
to
Dion Sims
gives Michigan State just enough, as the Spartans' defense rises to the occasion once more.
... Michigan State 21, TCU 17

Brian Bennett:
I've been wrong about Michigan State most of the year, so what's one more? The extra 15 practices must have helped the Spartans' sluggish passing game at least a little bit, and TCU will have to adapt to a more physical style of play than it saw in the Big 12.
Johnny Adams
' turf toe injury worries me, but I like Bell to rush for 150 yards in probably his final college game, while Maxwell provides optimism for 2013 with 200 yards passing.
Max Bullough
makes a defensive stop at the end of the game to seal it. ...
Michigan State 20, TCU 16

Heart of Dallas Bowl
PURDUE vs. OKLAHOMA STATE (Jan. 1)


Brian Bennett:
There's a reason why the Boilers were the biggest underdog on the board in bowl season. They've got an interim coach in Patrick Higgins and have been exposed by some of the better offenses on their schedule, which is a frightening prospect against the high-flying Cowboys. I believe a healthier defensive line will give Purdue a chance in this one, and Oklahoma State is not going to be really pumped up to be in this game a year after playing in a BCS bowl.
Robert Marve
tosses a couple of scores and
Akeem Shavers
runs for 135 yards. But in the end, the Pokes -- led by 175 receiving yards from
Josh Stewart
-- have a little too much for Purdue in a wild one. ...
Oklahoma State 31, Purdue 27

Adam Rittenberg:
Again, the Big Ten team might be more motivated than the Big 12 squad, but can Purdue keep up on the scoreboard? I don't think so. Although cornerbacks
Josh Johnson
and
Ricardo Allen
give the Boilers' a chance against the pass-happy Pokes, Purdue isn't consistent enough or dangerous enough on offense to pace Oklahoma State. I agree Marve has a nice performance in his final college game and
Antavian Edison
scores twice, but Purdue will be playing catch up after a rough first half and falls short.
... Oklahoma State 38, Purdue 28

TaxSlayer.com Gator Bowl


MISSISSIPPI STATE vs. No. 20 NORTHWESTERN (Jan. 1)
Adam Rittenberg:
Is this the year Northwestern ends the bowl losing streak? I think it is for several reasons. Northwestern has its most complete team under coach Pat Fitzgerald. The Wildcats can run the ball effectively and perform well for the most part on special teams. Plus, they ended the season playing better than Mississippi State. Northwestern never makes it easy and will have some tense moments in this one, but
Venric Mark
and
Kain Colter
will find room, combining for 175 rush yards and two scores. Backup quarterback
Trevor Siemian
comes in to throw a third-quarter touchdown and linebacker
Chi Chi Ariguzo
seals the win with an interception.
... Northwestern 27, Mississippi State 24

Brian Bennett:
No more monkeying around. Northwestern finally has a more manageable bowl matchup, though it's certainly still not an easy assignment. The month off should help refresh the legs of Colter and Mark, who work their option magic against a mediocre Mississippi State run defense. Mark scores twice on the ground and also returns a punt for a touchdown. The Bulldogs'
Tyler Russell
shreds the Northwestern defense for 300 passing yards, but
Jeff Budzien
hits a game-winning field goal with no time left. Fitzgerald and his players party like it's 1949. ...
Northwestern 28, Mississippi State 27

Outback Bowl


No. 10 SOUTH CAROLINA vs. No. 18 MICHIGAN (Jan. 1)
Brian Bennett:
I like this matchup a lot and think Michigan can get some things done on offense with a month to prep the
Devin Gardner
/
Denard Robinson
combo. But South Carolina's fearsome defense has shut down better attacks in wins against Clemson and Georgia this season and will soon enough figure out Al Borges' bag of tricks. Michigan jumps ahead early on a long Robinson run and a Gardner touchdown pass.
Jadeveon Clowney
& Co. lock things down in the second half, and
Connor Shaw
runs for a pair of scores for the Gamecocks. ...
South Carolina 24, Michigan 17

Adam Rittenberg:
It'll be a lot of fun to watch Michigan left tackle
Taylor Lewan
match up against Clowney. Two potential first-round draft picks going at it. I agree Borges will get really creative in this one, but Michigan's offensive line won't be able to stop the Gamecocks for four quarters. The Wolverines make a nice rally in the third quarter as Gardner finds Robinson on a touchdown strike, but South Carolina controls the ball and the clock in the fourth.
... South Carolina 21, Michigan 16

Capital One Bowl


No. 7 GEORGIA vs. No. 16 NEBRASKA (Jan. 1)
Adam Rittenberg:
It's hard to have much faith in Nebraska after what we witnessed in Indianapolis. Great teams don't let down on defense like the Huskers did. Great teams don't play such a chaotic brand of football with so many turnovers. Maybe the Huskers face a napping Bulldogs team, jump ahead behind their dynamic offense and hold on for the win. But I don't see it. Georgia will be sluggish early, but I get the sense
Aaron Murray
wants to make a statement after the way the SEC championship game ended. Murray and the Bulldogs light up the Huskers in the second half, while
Taylor Martinez
commits two costly turnovers.
... Georgia 38, Nebraska 23
Brian Bennett:
Does either team want to be here? Can either defense stop the other? Those are the main questions leading into this game. I'm not too worried about the disappointment angle but am concerned about Nebraska's ability to slow down Murray,
Todd Gurley
and a well-balanced Bulldogs offense. The Huskers and Taylor Martinez absolutely must hang onto the football in this one, but I see
Jarvis Jones
forcing a couple of costly turnovers. Nebraska will do a good job against the pass but will give up too much in the running game, as Gurley goes for 150 and a pair of scores. Martinez compiles 300 total yards but is pressured more often than he's used to and forces a couple of bad throws. Georgia owns the fourth quarter. ...
Georgia 35, Nebraska 24.

Rose Bowl Game presented by VIZIO


WISCONSIN vs. No. 6 STANFORD (Jan. 1)
Brian Bennett:
These two teams share a lot of similar traits, as Stanford is the most Big Ten-like Pac-12 team imaginable. The line of scrimmage will be for grown men only. I'd like Wisconsin's chances a lot better if the team didn't have to deal with the distraction of the coaching turmoil. No matter what the Badgers say, that had to hurt their preparation at least a little bit. Plus, the Cardinal seem a little better equipped to throw the ball if the rushing game gets stuffed, while Wisconsin is a little more one-dimensional and will face one of the best run defenses in America. Never count out Barry Alvarez in Pasadena, but I think
Montee Ball
will have to work a little too hard for his yards in this one. Stanford beats the Badgers at their own game, running the clock out late with a physical rushing attack as Wisconsin goes 0-for-Pasathreena. ...
Stanford 24, Wisconsin 21.

Adam Rittenberg:
We can't agree on every pick, can we? Nah. Barry's back and I'm a believer. Stanford's defense is as good as advertised, but the Badgers' offense is confident after the Big Ten title game and once again will empty the playbook. The Badgers score early on some razzle-dazzle, and receive a strong performance from Ball (150 rush yards, 2 TDs) in his final collegiate game. Stanford's pressure forces a turnover in the third quarter that changes momentum, but Wisconsin's underrated defense will be the difference, as
Chris Borland
forces a
Stepfan Taylor
fumble in crunch time. Alvarez improves to 4-0 in the Rose.
... Wisconsin 24, Stanford 23

Season records
Adam Rittenberg: 76-21 (.784)
Brian Bennett: 71-26 (.732)
December, 12, 2012
12/12/12
1:00
PM ET
The Big Ten bowl season kicks off Dec. 28 in Texas, continues the following day in Arizona and wraps up with five games on New Year's Day. Seven Big Ten teams appear in the postseason, and the number would have been larger had Ohio State and Penn State been eligible. Although most would describe the Big Ten's bowl lineup as more daunting than exciting, it's always fun to rank the games based on intrigue. Which games will be the most entertaining, and which will put you to sleep?
Here's my take:
1. Rose Bowl Game presented by VIZIO, Wisconsin vs. No. 6 Stanford
(Jan. 1, ESPN, 5 p.m. ET, Rose Bowl Stadium, Pasadena, Calif.) -- The first Rose Bowl featuring a 5-loss team doesn't sound too appetizing, but Wisconsin finished the season with a 70-point performance in the Big Ten title game and has a lot of stylistic similarities to Stanford. But who are we kidding. The real reason to watch is Barry Alvarez, the former Wisconsin coach who won three Rose Bowls and has taken over the head-coaching duties for the game following the sudden departure of Bret Bielema. Barry's back, and he's going for a 4-0 mark in Pasadena.
[+] Enlarge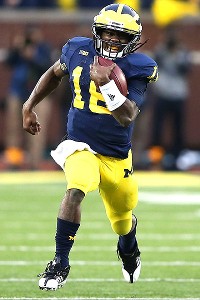 Leon Halip/Getty ImagesDenard Robinson will play his final college game in the Outback Bowl.
2. Outback Bowl, No. 18 Michigan vs. No. 10 South Carolina
(Jan. 1, ESPN, 1 p.m. ET, Raymond James Stadium, Tampa) -- Record-setting Michigan quarterback
Denard Robinson
plays his final game in Maize and Blue, and likely will spend most of it at running back as the Wolverines face a fearsome South Carolina defense led by star end
Jadeveon Clowney
. Michigan left tackle
Taylor Lewan
matches up against Clowney in a battle of likely future first-round picks. Michigan has plenty of "good" losses on its résumé, but this is the last chance for the Wolverines to record a signature win.
3. TaxSlayer.com Gator Bowl, No. 20 Northwestern vs. Mississippi State
(Jan. 1, ESPN2, noon ET, EverBank Field, Jacksonville, Fla.) -- Everyone knows about Northwestern's bowl drought -- the team hasn't won a bowl since the 1949 Rose -- but bad matchups certainly have played a role. Northwestern finally gets a more evenly matched opponent in Mississippi State, which started strong but faded late. The Wildcats return almost all of their key players in 2013, including star running back/returner
Venric Mark
and quarterbacks
Kain Colter
and
Trevor Siemian
, so this game could be a springboard for bigger things ahead if Northwestern comes out on top. Cowbell, anyone?
4. Capital One Bowl, No. 16 Nebraska vs. No. 7 Georgia
(Jan. 1, ABC, 1 p.m. ET, Florida Citrus Bowl, Orlando) -- This game usually ranks higher on the intrigue-o-meter, but it's tough to get too excited about a matchup featuring two teams that would much rather be elsewhere. Nebraska comes off of its worst performance in years, a complete clunker at the Big Ten title game. Georgia performed much better at the SEC championship, but once again couldn't get over the hump. There are some exciting individual players like Nebraska quarterback
Taylor Martinez
and running back
Rex Burkhead
, and Georgia quarterback
Aaron Murray
and linebacker
Jarvis Jones
. Nebraska needs to significantly upgrade its performance to have a chance against the Dawgs.
5. Buffalo Wild Wings Bowl, Michigan State vs. TCU
(Dec. 29, ESPN, 10:15 p.m. ET, Sun Devil Stadium, Tempe, Ariz.) -- If your entertainment gauge is based entirely on number of points scored, this probably isn't the game for you. But if you enjoy fast, physical defenses, be sure and tune in as the Spartans and Horned Frogs square off. Michigan State ranks fourth nationally in total defense, and TCU ranks 18th. It's likely the last chance to catch Spartans star running back
Le'Veon Bell
in Green and White, and Michigan State could shake some things up on offense with some extra time to prepare.
6. Heart of Dallas Bowl, Purdue vs. Oklahoma State
(Jan. 1, ESPNU, noon ET, Cotton Bowl Stadium, Dallas) -- It's a coin flip for the last spot in the Big Ten bowl rankings, but at least this contest should feature some points. Oklahoma State ranks fourth nationally in scoring and fifth in total offense. While Purdue's offense had its ups and downs, the Boilers finished on a good note behind quarterback
Robert Marve
and play-caller Patrick Higgins, averaging 482 yards in the final three games. Oklahoma State is a heavy favorite, but Purdue, playing with an interim coach (Higgins) and a large senior class, has nothing to lose and should have some surprises.
7. Meineke Car Care Bowl of Texas, Minnesota vs. Texas Tech
(Dec. 28, ESPN, 9 p.m. ET, Reliant Stadium, Houston) -- Again, there's not much separating this game from the one above it, but Texas Tech has an interim head coach after Tommy Tuberville's surprising exit, and Minnesota really struggled offensively late in the season as injuries piled up. It will be interesting to see how cornerback
Michael Carter
and Minnesota's improved secondary handles a Texas Tech offense ranked second nationally in passing. But unless Minnesota's offense makes major strides in bowl practices, it's tough to see this one being close.
July, 12, 2012
7/12/12
10:03
AM ET
Our week-long series on college football coaches continues with a look at the best jobs in the country.
What makes a job great? Tradition, administrative/fan support, facilities, recruiting location, championship expectations, recent track record, college town and brand name all play key parts. Most Big Ten schools can be viewed as destination jobs for certain coaches, but only a select few are destination jobs for most coaches around the country.

In ranking the Big Ten's coaching jobs, I placed the most emphasis on the following four factors: tradition, facilities, recruiting location and recent track record. As a reminder, this isn't a ranking of Big Ten coaches, but of the jobs they occupy.
Here's the rundown ...
1. Ohio State:
There's a reason Ohio State can go through a year like 2011 and then hire a coach like Urban Meyer. Most programs would have been in big trouble. From winning tradition to tremendous facilities to a location in the Big Ten's most fertile recruiting state, Ohio State has it all. It is one of the sport's best brands.
2. Michigan:
No Big Ten program has greater long-term tradition than Michigan, and Brady Hoke and his assistants are showing just how dangerous the Wolverines can be on the recruiting trail. Recent facilities upgrades -- stadium, indoor practice facility -- have made Michigan an even better position and certainly a destination job for many coaches.
3. Penn State:
Football is king at Penn State, and despite the recent scandal, this remains a very appealing job. Penn State has the facilities, the administrative support and good tradition on the field. While the school's location isn't ideal, Bill O'Brien's success on the recruiting trail amid the turmoil proves Penn State can still attract top talent.
4. Nebraska:
The job isn't as attractive as it was during the glory years, but Nebraska still has first-class facilities, incredible administrative/fan support and a tradition of winning at the highest levels. The drawback is recruiting location, making Nebraska a tougher sell when the program isn't among the nation's elite.
5. Wisconsin:
There's no way Wisconsin would be anywhere close to the top five before Barry Alvarez arrived in 1990. But Alvarez made Wisconsin relevant, and Bret Bielema has continued the success. Although Wisconsin is lacking in facilities (soon to be improved) and recruiting location, its recent track record has been exceptional, and Madison is an easy sell to prospects. The Wisconsin brand is very strong these days.
6. Michigan State:
Mark Dantonio is showing just how good this job can be if occupied by the right man. The Michigan State job always has had appeal because of the program's tradition and recruiting location. The recent facilities upgrades (completed and ongoing) and stability in the athletic department (AD Mark Hollis) bump the job up a few notches.
7. Iowa:
There are inherent challenges at Iowa, mainly a less than favorable recruiting location in a state that doesn't produce many high-level FBS prospects. The fan support is tremendous and Iowa has some tradition and a solid recent track record under Kirk Ferentz. Long overdue facilities upgrades enhance the appeal of the job.
8. Illinois:
There are definite pluses, namely upgraded facilities and a location in a good state for football recruits. But Illinois still is known as a basketball school, and the program's most successful period came before World War II. Although the Illini have made some questionable coaching hires, the program's inconsistency raises questions about the quality of the job itself.
9. Purdue:
It's a very close call between Purdue and Minnesota, but the Boilers get the nod. Purdue has a stronger recent track record, and while both programs face recruiting challenges, Purdue is more centrally located. Like Illinois, Purdue fights the "basketball school" stigma, although Joe Tiller made this a more appealing job with his successful tenure.
10. Minnesota:
TCF Bank Stadium makes this a much more attractive job, as a head coach can sell on-campus football in a terrific facility. But Minnesota has some significant recruiting challenges, administrative support is so-so and the program's inability to win a Big Ten title since 1967 would give some coaching candidates some pause.
11. Northwestern:
What used to be the worst job in major college sports is much better these days, and the team's historic run of success since 1995 boosts the job's appeal. But Northwestern still faces challenges with its lofty academic standards. It has the
worst facilities
and smallest crowds in the Big Ten, and the delay in announcing a major facilities upgrade raises questions about administrative support.
12. Indiana:
The Hoosiers lack tradition and have very little recent success to boast about. IU's facilities are improved but not near the top of the Big Ten, and it isn't located in a great state for recruiting. The "basketball school" perception never looks more accurate than with Indiana, although the program lured one of the nation's top assistants, Kevin Wilson, to be its head coach in 2010.
Coaches Contending For 'King Of Spring'
BIG TEN SCOREBOARD
Thursday, 9/3
Friday, 9/4
Saturday, 9/5
Sunday, 9/6
Monday, 9/7