Michigan Wolverines:

Andy Ludwig
December, 12, 2013
12/12/13
2:30
PM ET
USA Today has released its annual
database of assistant coach salaries
throughout college football so let's see how the Big Ten aides stack up. Ten of the 12 Big Ten schools report coaches' salaries (Northwestern and Penn State do not).

Once again, Michigan defensive coordinator Greg Mattison leads Big Ten assistants in pay at $851,400, which ranks fourth nationally behind million-dollar coordinators Chad Morris of Clemson, Kirby Smart of Alabama and John Chavis of LSU.
Michigan offensive coordinator Al Borges is the only other Big Ten assistant in the top 10 nationally in total pay ($709,300). Nebraska offensive coordinator Tim Beck ($700,000) is next, followed by Ohio State defensive coordinators Luke Fickell ($610,000) and Everett Withers ($585,000), Michigan State defensive coordinator Pat Narduzzi ($558,908) and Ohio State offensive coordinator Tom Herman ($555,000).
On the whole, the Big Ten has fewer assistants making top-20 salaries than the SEC. There's also a decent drop-off in salary after Herman, as no others make more than $500,000 (Wisconsin coordinators Dave Aranda and Andy Ludwig both make $480,000).
Here are the highest-paid assistants for the 10 Big Ten squads reporting salary:
Michigan:
Defensive coordinator Greg Mattison ($851,400)
Nebraska:
Offensive coordinator Tim Beck ($700,000)
Ohio State:
Defensive coordinator Luke Fickell ($610,000)
Michigan State:
Defensive coordinator Pat Narduzzi ($558,908)
Wisconsin:
Defensive coordinator Dave Aranda and offensive coordinator Andy Ludwig ($480,000)
Purdue:
Offensive coordinator John Shoop ($400,000)
Illinois:
Offensive coordinator Bill Cubit and defensive coordinator Tim Banks ($400,000)
Indiana:
Offensive coordinator Seth Littrell ($356,500)
Minnesota:
Defensive coordinator Tracy Claeys ($346,800)
Iowa:
Defensive coordinator Phil Parker ($325,500)
Claeys clearly is the best value in the league, as he served as Minnesota's acting head coach during Jerry Kill's health-related absence and remained as the main sideline coach even after Kill returned to duty. Iowa's Parker, along with OC Greg Davis ($325,000) also earned their keep and then some as the Hawkeyes flipped their record from 4-8 to 8-4.
Some Michigan fans will scoff at Borges' salary after the Wolverines offense struggled for much of Big Ten play. Fickell, Shoop and Banks also directed units that had forgettable seasons.
One thing to keep in mind when some of these assistants are mentioned for head-coaching jobs is the pay cuts they'd likely take to lead teams in smaller conferences.
In terms of total staff pay, Ohio State leads the Big Ten and ranks sixth nationally at $3,474,504, trailing LSU, Alabama, Clemson, Texas and Auburn. Michigan comes in next at $3,072,000, which ranks 14th nationally.
Bret Bielema left Wisconsin for Arkansas in part because he had lost so many assistants in his final two years in Madison. Bielema's staff at Arkansas ranks 10th nationally in total staff pay ($3,233,000), while Gary Andersen's staff at Wisconsin ranks 28th ($2,495,000)
Here are the Big Ten teams sorted by total staff pay:
Ohio State:
$3,474,504
Michigan:
$3,072,000
Nebraska:
$2,648,500
Wisconsin:
$2,495,000
Michigan State:
$2,410,483
Iowa:
$2,367,500
Minnesota:
$2,152,350
Indiana:
$2,074,780
Illinois:
$2,066,400
Purdue:
$2,010,000
We can have an endless about debate whether college football coaches make too much money in general, but these numbers remain problematic for the Big Ten in my view. Only two teams are truly paying top dollar for their staffs, and some groups are undervalued.
Michigan State's staff obviously jumps out after the Spartans just won the Big Ten championship. MSU co-offensive coordinators Dave Warner ($280,800) and Jim Bollman ($262,000) are among the lowest-paid coordinators in the league, as several position coaches make more than them. Athletic director
Mark Hollis said last week that raises are coming
for head coach Mark Dantonio and his assistants.
Minnesota's staff also deserves a nice bump after handling such a tough situation this season. I also wonder whether Iowa's coordinators get a raise, especially considering what head coach Kirk Ferentz makes.
Purdue's Marcus Freeman and Jafar Williams are the Big Ten's lowest-paid assistants at $120,000. Only one SEC assistant, Kentucky's Derrick Ansley, makes less than $140,000.
August, 12, 2013
8/12/13
5:00
PM ET
Can we hop in the DeLorean and travel ahead to Aug. 29? No? OK, then, let's just answer some emails.
Justin from Baltimore writes:
Hi, Brian. Which of the following outcomes would be most beneficial in boosting the BIG's national rep? 1. Win all nine of the top nonconference games (ND at Michigan, UCLA at Nebraska, MSU at ND, Wisconsin at ASU, OSU at Cal, PSU vs. Syracuse, BYU at Wisconsin, NW at Cal, and Iowa at ISU ... I think it would actually be in the BIG's interest for ND to beat Purdue in game No. 10 as to not totally devalue the other victories against the Irish). 2. Win the Rose Bowl. 3. Place a team in the BCS championship game and lose in a close, competitive game that really could have gone either way?
[+] Enlarge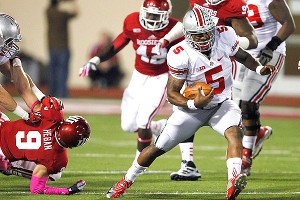 AP Photo/Sam RicheOhio State and Braxton Miller have their eyes on the big prize this season.
Brian Bennett:
I think we can quickly rule out No. 1. The Big Ten just doesn't have many high-profile nonconference games. If Notre Dame loses to both Michigan schools, that probably means the Irish won't have a great season, and beating teams like Cal, UCLA and Arizona State simply doesn't carry that much weight. A Rose Bowl win would be great, but we don't know who the opponent would be. Is it a highly-ranked Pac-12 champion? Even then, I think the No. 3 item in your scenario is the most important. Winning championships is obvious the most beneficial accomplishment for a league's perception. The second-best way to do that might be playing for a championship and coming really close. Especially if a Big Ten team were to take an SEC champ to the wire, that could go a long way toward improving perception.
Nick from Bay Area, Calif., writes:
Suppose the following situation plays out: In the Legends Division, Nebraska finishes 11-1 with its only loss at Michigan. Michigan loses a close one to the Buckeyes and drops another on the road (take your pick, @PSU, @NW, @MSU) to finish 10-2. In the Leaders, Ohio State finishes 12-0 and Wisconsin loses close ones at OSU and Arizona State to finish 10-2. Ohio State destroys Nebraska in the B1G CG. If the Buckeyes go to the NCG, is there a shot that the Badgers could end up in the Rose Bowl again?
Brian Bennett:
I see it's a hypothetical day. Yep, we all need some real football around here to talk about. Anyway, it's an interesting question. Of course, there are scenarios where the Rose Bowl could take a non-Big Ten team if it lost the league champion to the BCS title game, but I doubt the game would want to do that in the final season before the playoff and certainly not in its 100th edition. Let's assume all three Big Ten teams you mentioned finished in the top 14 of the BCS standings but not in the top four. The Rose would be free to take its pick of those teams. I actually think Nebraska or Michigan would be more likely to go to Pasadena, both because they'd have stronger nonconference wins in your scenarios (Notre Dame for the Wolverines, UCLA for the Huskers) than Wisconsin, and because the Rose Bowl might have a bit of Badgers fatigue (and vice versa).
Glenn from Leesburg, Fla., writes:
Brian, why all the hype over OSU? Realistically, what more do they have than teams like UM, PSU, Wisconsin, and Nebraska? They have
Braxton Miller
, but except for PSU, there's some pretty good QBs starting for the other three schools. OSU appears to have a good secondary, so does PSU. OSU lacks depth at LB and DL. They have a good OL, so does PSU and UM. OSU has Urban Meyer, PSU has last season's Coach of the Year, UM has Brady Hoke. OSU has a questionable backfield to support Miller, especially the first few games. OSU had a great recruiting year, so did UM which was ranked ahead of the Bucks in that category. Last fall's undefeated season for OSU has nothing to do with this year's upcoming season. So, why all the hype? You and Adam make it sound like we might as well skip the BIG season and send OSU right to the BCS championship game. Biased much?
Brian Bennett:
Well, let me tackle the "biased much" question first, since it is so ridiculous. Our job here involves giving informed opinions and predictions at times, and we have both said Ohio State is the league favorite. This is not an absurd opinion, since the Buckeyes are ranked No. 2 in the preseason coaches' poll and have been picked to win the Big Ten by just about every major publication, writer, etc. Last year, we both picked Michigan State to win the Big Ten. Did that make us biased toward the Spartans? Come on, Glenn.
Anyway, as a guy from Florida, you should know part of the answer here: Urban Meyer. Yes, he's not the
only
great coach in the league. But he is the only one with national title rings. And in his first season in the conference, he went 12-0. The Buckeyes have had an abundance of talent most years, and they're loaded again in 2013. The offensive line is excellent, Miller finished fifth in the Heisman voting last year, and the skill players are improving, especially with the rave reviews freshman
Dontre Wilson
has garnered thus far. There are questions on defense, but there are also All-America type players on that side like
Ryan Shazier
and
Bradley Roby
, plus stars-in-the-making like
Adolphus Washington
and
Noah Spence
. I've said I think it will be hard for the Buckeyes to go undefeated again, and let's not forget that they had several close calls last season. But if you're going to predict a 2013 Big Ten champ, Ohio State is the obvious pick right now.
Brian M. from Oregon, Ohio, writes:
Brian, I must take exception to your response to Brian from Atlanta. You can't look at it as 25 games in a row. You have to look at it one game at a time. The Buckeyes aren't playing 25 straight games. They're playing one opponent, and then preparing for the next. When you look at it on a game-by-game basis, you're hard pressed to think that Ohio State
won't
finish undefeated. Further, what happened last season is already in the past. It has no bearing on this season. From here, it's 14 games to go, not 25 (or 26 as it were). Additionally, Brian from Atlanta mentioned some of the close games Ohio State had last year. This seems to be a common misapprehension amongst Buckeye doubters. The Buckeye team that beat that school up north in November, was far better than the one that took the field against Miami (OH) (IO) in September. Certainly other teams have improved as well, but consider the giant leap forward Urban Meyer-coached teams traditionally take in Year 2 of his system. Other teams will have improved, but Ohio State has improved more, and they are better to begin with. Once again, it seems far more likely that Ohio State will finish undefeated than not.
Brian Bennett:
While it's true that this season's Ohio State team is different, and it won't have to win 25 games in a row this season, my point was that it's really, really hard to go undefeated in any given year, much less do it two years in a row. You make a good point about Meyer's second-year track record, but also recall that he had only one undefeated season under his belt before last year, and that was at Utah. You also make it sound like Ohio State didn't have close games late in the season, but the Buckeyes won an overtime game in the penultimate game at Wisconsin, as well as that miracle comeback against Purdue on Oct. 20. And remember that they only beat Michigan by five points, at home. Yes, Meyer's team should be favored in at least 11 games this season, but we are saying that based mostly on what those opponents did last year, not the teams that they will become this season. I won't be surprised if the Buckeyes run the table, but I'd give better odds that they slip up somewhere.
Josh from Madison, Wisc., writes:
Who ultimately starts for the Badgers this season,
Joel Stave
or
Tanner McEvoy
?
Brian Bennett:
You're giving short shrift to
Curt Phillips
, who might not have the arm strength of Stave or the athleticism (post injuries) of McEvoy but has a combination of both and serious veteran moxie. It's nearly impossible right now to tell whom Gary Andersen and Andy Ludwig will choose as their starter. McEvoy is at a disadvantage because he didn't arrive on campus until the summer, and his experience at playing quarterback on any level is limited. I'd probably put my money on Stave, just because he has the best chance to help the offense stretch the field with his downfield passing ability, and he played well last season before getting hurt. But I also think McEvoy will play at some point this fall, and I still wouldn't count out Phillips being the last man standing.
May, 20, 2013
5/20/13
9:00
AM ET
Ohio State already had started paying more competitive salaries for assistant coaches before Urban Meyer arrived in November 2011.
But when Meyer and athletic director Gene Smith sat down to discuss staff pay, Smith soon realized he needed to do more.
"I think Michigan had stepped up with their coordinators," Smith recalled last week during Big Ten spring meetings in Chicago. "So we were already going to that before Urban Meyer came, but we bumped it up a little more. Any time there's change, you have that opportunity."
[+] Enlarge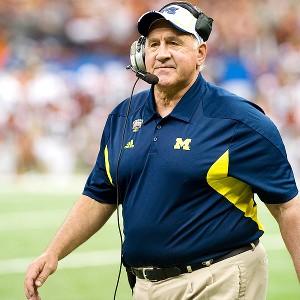 Lon Horwedel/Icon SMIMichigan DC Greg Mattison ranks as the highest-paid assistant coach in the Big Ten for the 2013 season.
"Everyone's always focused on head coaches' salaries," Smith continued. "That's always the thing. But really when you look at the changes, it's really been assistants' salaries across the country -- not just in the SEC, but the Big 12, Pac-12, all across the country."
The Big Ten is part of the change, too, as the league is allocating more money toward football assistants than ever before. The Detroit Free Press has an
excellent look at Big Ten assistants' salaries
, complete with a
database
that includes 10 of the 12 current members (Northwestern doesn't submit salaries as a private institution, and Penn State doesn't have to because of state laws).
The Free Press found that eight of the 10 schools are paying more for assistants in 2013 than they did in 2012 (only Indiana and Illinois are not). There are some significant total increases, such as Wisconsin (up $558,000), Nebraska (up $518,500), Purdue ($400,000) and Minnesota ($355,000). Staff pay had been an issue at Wisconsin, which lost six assistant coaches following the 2012 Rose Bowl, and at Purdue, which paid less for its staff during the Danny Hope era than any Big Ten school.
The total trend among the 10 schools is an increase of $1,720,852.24 for 2013.
Ohio State and Michigan remain No. 1 and No. 2 in Big Ten staff salary, as the Buckeyes allocate $3.416 million and the Wolverines allocate $2.805 million. Nebraska and Wisconsin make the biggest moves in the league for 2013, as the Huskers rise from sixth to third and the Badgers rise from seventh to fourth.
Illinois, which replaced five assistants from the 2012 team, including co-offensive coordinators Chris Beatty and Billy Gonzales, dropped from third in staff pay ($2.314 million) to eighth ($2.065 million).
The database shows that nearly every Big Ten assistant with "coordinator" in his title -- whether he's the sole coordinator or a co-coordinator -- will earn north of $300,000 for 2013. Only 18 assistants listed will make less than $200,000 in 2013 -- 15 work for Minnesota, Illinois, Purdue and Indiana.
Some notes:
Although Wisconsin paid former offensive coordinator Paul Chryst good coin, the school has increased its commitment for Gary Andersen's staff, not only with the coordinators but with some coveted position coaches like running backs coach Thomas Hammock ($300,000).
All of Nebraska's assistants are earning $200,000 or more for 2013, but there's a huge drop-off between Beck and the next highest-paid assistant (defensive coordinator John Papuchis at $310,000).
Michigan State has a similar drop off between Narduzzi and co-offensive coordinators Dave Warner ($270,000) and Jim Bollman ($260,000). Warner will be the primary offensive play-caller and has been on Mark Dantonio's staff since 2006, while Bollman is a newcomer.
Although Michigan is paying top dollar for its coordinators, the school gets its assistants for a relative bargain. Receivers coach/recruiting coordinator Jeff Hecklinski will earn $225,000 in 2013, while the others all will earn $205,000. Ohio State, meanwhile, pays all but one of its assistants $286,000 or more.
The Big Ten's three lowest-paid assistants all are in their first years: Illinois wide receivers coach Mike Bellamy ($125,000) and Purdue linebackers coach Marcus Freeman and running backs coach Jafar Williams (both at $120,000).
Although schools like Illinois, Wisconsin and Iowa ($325,000) pay their coordinators the exact same amount, others have slight differences in salary. Purdue's Shoop makes $5,000 more than defensive coordinator Greg Hudson. Minnesota defensive coordinator Tracy Claeys ($340,000) makes $5,000 more than offensive coordinator Matt Limegrover. Wonder if that leads to any underlying jealousy?
Most Big Ten schools have assistant salaries in round numbers, but there are some interesting totals from Indiana, which pays co-offensive coordinators Seth Littrell and Kevin Johns $255,500.04 and new recruiting coordinator/assistant defensive line coach James Patton $173,740.08. Never know when that change can come in handy.
The Big Ten still lacks some of the OMG totals seen in the SEC -- LSU is
paying new offensive coordinator Cam Cameron $3.4 million
in the next three years -- but the overall trend puts the league more on par with what we're seeing nationally.
Michigan C Cites Concussions In Decision To Quit
BIG TEN SCOREBOARD
Thursday, 9/3
Friday, 9/4
Saturday, 9/5
Sunday, 9/6
Monday, 9/7