Michigan Wolverines:

Alfonzo Dennard
December, 20, 2013
12/20/13
4:00
PM ET
Wishing you a great weekend. Check out the
full ESPN bowl schedule
(with broadcast teams).
Don't forget to follow us
on Twitter
if you aren't already.
To the inbox ...

Mike from Allentown, Pa., writes:
Hey Adam, with all the talk about Penn State's bowl ban being looked into this offseason, I have a hypothetical question for you. If the NCAA were to drop Penn State's bowl ban, would the Big Ten comply and make them eligible for the Big Ten championship? Or, is it possible the Big Ten could extend that ban separate from the NCAA?
Adam Rittenberg:
Mike, the Big Ten's penalties always were tied to the NCAA's. Big Ten rules state that if the NCAA declares a team ineligible for postseason play, that team can't play in the Big Ten championship game. So if the NCAA lifts the bowl ban, the Big Ten would declare Penn State eligible for a league title (the Lions already can win their division). Big Ten commissioner Jim Delany has been pleased with Penn State's response to former Sen. George Mitchell, the independent athletics integrity monitor assigned to the school. So I'd be shocked if the Big Ten added or maintained any sanctions against Penn State once the NCAA ones are lifted.
---

Josh from Indy writes:
Have you ever thought about the comparison between Darqueze and his cousin Alfonzo? Both had great careers for their respective teams. Just wanted your take on this.
Adam Rittenberg:
Josh, I definitely thought about it after
Darqueze Dennard
won the Big Ten's Tatum-Woodson Defensive Back of the Year award, which Nebraska's Alfonzo Dennard claimed in 2011. I can't imagine two family members have won the same award while playing for different teams in the same league. Pretty cool. Darqueze's numbers this season are more impressive than Alfonzo's in 2011, although Alfonzo was a true shut-down guy who basically eliminated one side of the field. Darqueze's pro prospects are better, as many peg him as a first-round draft pick. We'll never know where Alfonzo would have been drafted if he hadn't had the off-field trouble. Both are great players, though.
---

Derek from Preston, Iowa, writes:
Hey Adam, I was just curious as to what you thoughts were on Derrell Johnson-Koulianos' Twitter tirade against Kirk Ferentz. Ferentz is beloved for the most part in Hawkeye Country, and this whole thing just seems weird. Why now?
Adam Rittenberg:
The timing is interesting, Derek, as much of this happened three years ago. I understand Derrell's perspective that Ferentz blackballed him with the NFL and stifled his playing career. Some of his teammates back up the accusations against Ferentz and strength coach Chris Doyle. It's an unfortunate situation, but I would be very surprised if Ferentz or Iowa has anything to say about the accusations, especially so long after the fact. Iowa has moved forward and Ferentz's word still carries weight in NFL circles.
DJK has the right to air his grievances, and he has never held back on his views. Honestly, I can't think of a Big Ten player I've covered who fit in less with a particular program. But I doubt there will be major consequences for Ferentz or Iowa.
---

Fatback from Newark, Ohio, writes:
Just wanting to know what your thoughts about Ohio State's defensive coordinator position. I know Fickell is an OSU guy, but we definitely need a change of pace. What do you think about Fickell moving down to just a position coach ( if he doesn't get another job this offseason), and hiring another person from the outside or moving Mike Vrabel up? I think with Vrabel we would play much more aggressive and sit back in all the zone coverage that teams seem to kill us on. Again, your thoughts?
Adam Rittenberg:
It would be tough for Ohio State to demote Fickell, who was the Big Ten's
third highest-paid assistant this year
($610,000). You're not going to pay that salary to a position coach (at least you shouldn't). Fickell still brings a lot of value to Ohio State as a recruiter, and while his defense has its issues this year, youth in the front seven and
Christian Bryant
's injury didn't help matters. On the other hand, Urban Meyer has extremely high standards, and if he feels Fickell isn't helping the team to a national championship, maybe you make the change.
I've heard that Vrabel has definite head-coaching potential, and he did a nice job with a young defensive line this year. With Everett Withers reportedly departing to James Madison, don't be surprised to see a co-coordinator situation with Vrabel and Fickell. Perhaps Vrabel has more say on play calls. I just can't see Ohio State forcing out Fickell right now.
---
Joe from Kentucky writes:
How can you guys leave off
Blake Countess
and
Stanley Jean-Baptiste
from the All-B1G selection for
Bradley Roby
? Roby was suspended for his off-the-field antics (looks really all-conference) and he got exposed by any of the good WRs he faced.
Jared Abbrederis
and
Jeremy Gallon
made him look silly to the tune of almost 400 yards combined. That does not sound like an all-conference performer to me. On the other hand, Countess led the conference in INTs and Jean-Baptiste was right there (if not tied). I think you guys were a little biased in trying to make MSU and OSU the top two represented teams (which their records show). Also,
Ryan Shazier
is the only person on that Ohio State defense to be named All-B1G.
Adam Rittenberg:
Roby's one-game suspension really isn't relevant, as we included
Carlos Hyde
on the team despite his three-game suspension because he was the Big Ten's best running back in league play (few would argue). I agree that Roby struggled against Abbrederis in the Wisconsin game, but many of Gallon's yards didn't come against Roby in the Michigan game. Roby made a touchdown-saving tackle on Gallon, running completely across the field, one of several displays of athleticism he had this season. He had a very good Big Ten season and is one of the better special-teams players I can remember in this league. SJB had a nice season but no picks in Big Ten play. You could make a case for Countess, but I still feel Roby performed better in Big Ten play than any corner other than MSU's Dennard. Shazier is the only other Buckeye defender on our All-Big Ten team, although lineman
Michael Bennett
deservedly made the second-team.
---

Will from Columbus, Ohio, writes:
Should I be concerned that Michigan will be breaking in two new starters at both offensive tackle positions in 2014? Lewan and Schofield took 99.9 percent of the snaps this year, likely making their replacements having VERY little, to no game experience. After the abysmal display on the interior of the line this year, I do believe there are positives in game time reps of the interior line translating to better protection up the middle next season. Will inexperience on the edge hurt the line more next year than the inside this year, or can you mask the youth more on the outside than in?
Adam Rittenberg:
Some good points here, Will. I agree that Michigan's interior line will be improved next year because of all the experience gained, even through some tough times. It will be interesting to see what Michigan does with
Erik Magnuson
, who can play either guard or tackle but might be best at tackle depending on his development. The staff was excited about
Ben Braden
's development in the offseason, and he could step in for Lewan at left tackle. I'm really interested to see how the line performs in Arizona following bowl practices, but you're right that the group will continue to be under the microscope with both veteran tackles departing.
---
Ken from Carmel, Ind., writes:
When
Clifton Garrett
recently committed to LSU, he mentioned the great game-day atmosphere. Having attended a game there, I agree. Sometimes I think the B10 doesn't get that -- and is slow to pick up other little things like that (night games) that can make the difference in winning or losing recruiting battles, and eventually games. As an Iowa grad, the large number of 11 a.m. games certainly don't help the game-day atmosphere. I get the feeling that the people at the top -- president, and A.D. -- don't understand this. You'll have a couple more arrests with later games, but most people just cheer louder and have more fun - a.k.a., better game-day atmosphere. Your thoughts?
Adam Rittenberg:
Couldn't agree more, Ken, and I've been writing this for years. The Big Ten needs to prioritize prime-time games and become more open to weekday games, which would get some of the smaller programs some much-needed exposure. The good news: the league is definitely warming up to the idea, adding more prime-time games and becoming open to November night games, most likely in the 2014 season. Purdue athletic director Morgan Burke said Thursday that the Big Ten's next television contract will feature more prime-time games. That's a good thing, as the noon ET and 3:30 p.m. ET windows just don't carry the same weight with recruits.
January, 12, 2012
1/12/12
2:06
PM ET
It's time to look back and recognize some of the highlights and lowlights from the Big Ten bowl season:
Best performance:
Michigan State. After falling behind 16-0 to Georgia, the Spartans rallied back to take the lead in the second half. When they needed to drive the field for a tying touchdown with only 1:55 left, they did just that. When
Kirk Cousins
threw an interception on the first overtime possession, they responded by holding tough on defense. Michigan State had 17 tackles for loss against the Bulldogs, including five by defensive end William Gholston. Darqueze Dennard grabbed two interceptions, and the special teams came up with a blocked kick to win the game. The 33-30 triple-overtime victory was yet another milestone for the program under Mark Dantonio.
[+] Enlarge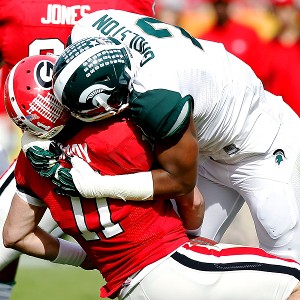 J. Meric/Getty ImagesMichigan State's William Gholston is looking to build off his two-sack performance in the Outback Bowl.
Worst performance:
Penn State clearly didn't want to go to the TicketCity Bowl, and it showed right away. Houston quarterback
Case Keenum
made a mockery of the Nittany Lions' defense, throwing for 227 yards in the first quarter alone. Penn State had allowed that many yards passing in an entire game only once all season. He'd finish with 532 yards passing as the Cougars breezed to a 30-14 victory.
Best new mascot:
Northwestern brought a stuffed monkey with a No. 63 jersey to its Meineke Car Care Bowl game against Texas A&M, symbolizing its quest to end a 63-year bowl victory drought. Alas, the Wildcats will have to order a No. 64 uniform after losing 33-22. Better make it a big jersey, because this postseason curse is more like an 800-pound gorilla at this point.
Worst near-death experience:
Near the end of Iowa's Insight Bowl loss to Oklahoma, star Hawkeyes receiver
Marvin McNutt
was nearly taken out by ESPN's skycam, which fell to the field from its cables. The heavy camera almost hit McNutt off the bounce, and he got caught up in its wiring as he left the Iowa huddle. The skycam was unceremoniously escorted off the field, kind of like how Iowa's season ended in a 31-14 loss.
Worst ball security:
Purdue and Western Michigan combined for 11 turnovers in a wild Little Caesars Bowl. On two separate occasions, the Boilermakers forced a turnover only to give the ball right back to the Broncos as defenders coughed it up trying to go the other way. Ultimately, Purdue got the upper hand by creating seven takeaways and holding on for a 37-32 victory.
Best clock management:
Michigan State trailed Georgia 27-20 late in the fourth quarter of the Outback Bowl when the Spartans were called for pass interference on third-and-3 from the Bulldogs' 37. The officials ruled that Georgia had completed the pass on the play even though receiver
Malcolm Mitchell
clearly dropped the ball. Dantonio challenged the ruling, despite the fact that Georgia was going to get a first down either way. Dantonio's successful challenge meant that instead of the clock running down toward three minutes, the clock was stopped and reset to 3:43. That extra time proved enormous, as the Spartans tied the game with 14 seconds left in regulation.
Worst clock management:
Wisconsin coach Bret Bielema was unsure if he could challenge the ruling when Oregon's
De'Anthony Thomas
hesitated and nearly left the end zone before kneeling down for kick-return touchback. As Bielema asked the sideline official for a clarification, he was charged with a timeout. That was the second timeout burned by the Badgers early in the second half. They dearly could have used the stoppages when the offense ended the game at the Oregon 25-yard line.
Russell Wilson
hurried to the line and was instructed to spike the ball with two seconds left, but officials ruled there was no time left.
Best impersonation of a wide receiver:
Michigan's fake field goal attempt late in the first half of the Allstate Sugar Bowl went awry when holder
Drew Dileo
's intended receiving target, tight end
Kevin Koger
, didn't know the fake was on. So Dileo threw the ball into a crowd, and Virginia Tech deflected it. But long snapper
Jareth Glanda
saved the day by hauling it in for an 11-yard gain. The Wolverines ended up with a field goal on the play, and they needed every point in an overtime victory.
Best use of the kicking game:
Purdue coach Danny Hope turned into a riverboat gambler in the Little Caesars Bowl, calling for two consecutive onside kicks in the first half. Both worked and led to points.
Raheem Mostert
also returned a kickoff 99 yards for a score.
Worst use of the kicking game:
Ohio State had a punt blocked for a touchdown and allowed a 99-yard kickoff return by Florida. The Buckeyes lost by seven points in the TaxSlayer.com Gator Bowl.
Worst loss of composure:
Nebraska star cornerback Alfonzo Dennard and South Carolina receiver
Alshon Jeffery
let their emotions get the best of them in the third quarter of the Capital One Bowl. Dennard took a coupLe of swings at Jeffery, who pushed Dennard's helmet back. Both players were rightly ejected. Amazingly, Jeffery was still named MVP of South Carolina's 30-13 win.
Best crisis management:
We saw what happened to Penn State and Ohio State as they played for lame-duck head coaches. Illinois not only had to deal with that but also a six-game losing streak and a group of assistants threatening to boycott the Kraft Fight Hunger Bowl hours before the game. Somehow, interim head coach Vic Koenning managed to hold things together to help the Illini win 20-14 over UCLA.
Best inspiration:
As Michigan's Brendan Gibbons lined up for the 37-yard kick to win the game in overtime, he had one thing on his mind. "Brunette girls," Gibbons said. "Every time we were like struggling in kicking, coach tells me to think about girls on a beach or brunette girls," Gibbons told reporters. "So that's what we did. Made the kick." And they say blondes have more fun.
January, 10, 2012
1/10/12
4:25
PM ET
The college football season is officially over. So it's time to break out the crystal ball and offer our projections for the preposterously-too-early 2012 Big Ten power rankings.

1. Michigan State:
The Spartans must replace a lot of leadership, including quarterback
Kirk Cousins
, receivers
B.J. Cunningham
and
Keshawn Martin
and All-American defensive tackle Jerel Worthy. But nine starters return off the Big Ten's top overall defense, featuring Will Gholston, Denicos Allen and Isaiah Lewis as potential breakout stars.
Le'Veon Bell
could have a big year as the No. 1 tailback, and if
Andrew Maxwell
can adequately fill in for Cousins, the offense should be fine, especially if Tennessee transfer
DeAnthony Arnett
gets his waiver to become immediately eligible at receiver. Plus, the road schedule (at Central Michigan, at Indiana, at Michigan, at Wisconsin, at Minnesota) is far more manageable than what the team navigated in 2011.
2. Michigan:
A lot of things went right for the Wolverines in 2011, including a favorable schedule. That slate gets harder in 2012, beginning with Alabama at Cowboys Stadium and including road trips to Nebraska and Ohio State. Still,
Denard Robinson
and Fitz Toussaint form one of the most dangerous offensive duos in the league, and the second year under Brady Hoke and his staff should mean more familiarity and comfort. Coming off a BCS win, Michigan could start the season in the Top 10.
3. Wisconsin:
The Badgers will have to overcome many challenges to reach their third straight Rose Bowl. The biggest concern is at quarterback, where there's no experience to replace
Russell Wilson
and his record-breaking efficiency level. Bret Bielema will have to remake almost his entire offensive coaching staff after Paul Chryst took several assistants with him to Pittsburgh. Still, Heisman Trophy finalist
Montee Ball
returns to keep the Wisconsin running game among the best in the country. And the two Big Ten teams who beat the Badgers in 2011 -- Michigan State and Ohio State -- must come to Madison in '12.
4. Ohio State:
The Buckeyes aren't eligible to make the Big Ten title game, but don't be surprised if they put up the best record in the Leaders Division. A transition period can be expected as Urban Meyer takes over as head coach and installs an entirely new offensive system. But Ohio State had a small senior class in 2011 and brings back many talented players, such as defensive lineman John Simon, quarterback
Braxton Miller
and running back
Carlos Hyde
. A schedule that features eight home games should equal much improvement over this year's 6-7 record.
5. Nebraska:
Few teams will be as experienced on offense as Nebraska, which returns seven starters and just about every key skill player on that side of the ball.
Taylor Martinez
and
Rex Burkhead
should be even better with another year in offensive coordinator Tim Beck's system. The questions are on defense, where the Huskers struggled at times in 2011 before losing their top two players in linebacker Lavonte David and cornerback Alfonzo Dennard. Nebraska must get tougher up front defensively to handle the Big Ten grind and has difficult road assignments looming at Ohio State and Michigan State.
6. Penn State:
For the first time since 1965, we'll see what a Penn State team looks like that is not coached by Joe Paterno to start the season. New coach Bill O'Brien made a wise decision to retain defensive assistants Larry Johnson and Ron Vanderlinden, and even without All-American lineman Devon Still, that side of the ball should stay stout with standouts like Gerald Hodges, Jordan Hill and hopefully a healthy Michael Mauti. O'Brien's biggest impact should come on offense. The former New England Patriots offensive coordinator will try to bring the Nittany Lions attack into the 21st century with a competent passing game. Tailback
Silas Redd
provides a nice crutch while that transition occurs.
7. Iowa:
After two straight 7-5 regular-season finishes, the Hawkeyes will look to get back into Big Ten contention. But they'll have to overcome the losses of star receiver
Marvin McNutt
, offensive tackle Riley Reiff, defensive linemen Mike Daniels and Broderick Binns and cornerback Shaun Prater. When he's on,
James Vandenberg
is as good a dropback passer as there is in the Big Ten, but making up for McNutt's production won't be easy. Assuming
Marcus Coker
returns from suspension, the running game should be very good. The defense simply has to improve after giving up too many big plays in 2011, and Kirk Ferentz hasn't yet named a successor to veteran defensive coordinator Norm Parker, who retired.
8. Purdue:
The Boilermakers have a chance to make a move in a Leaders Division that is marked by coaching changes. They return most of the major pieces of their Little Caesars Bowl-winning team, and the return of
Rob Henry
from his season-ending knee surgery opens up some interesting possibilities at quarterback. Kawann Short should be one of the top defensive linemen in the league if he decides to return for his senior year. We'd still like to see more consistency from Danny Hope's program before we rank Purdue too high, however.
9. Northwestern:
Dan Persa
and his record-breaking accuracy are gone, along with top receiver
Jeremy Ebert
. Yet we're not too concerned about the offense and like the multi-dimensional options that
Kain Colter
provides with his all-around athleticism. Northwestern's issue is whether it can fix a defense that had trouble stopping anybody. The fact that the Wildcats lose their top three defensive backs from a secondary that was routinely torched does not inspire confidence.
10. Illinois:
New coach Tim Beckman has his work cut out for him in Year One. He has to completely revamp an offense that couldn't shoot straight in the back half of 2011 while implementing a new spread style. He has to try to maintain the defense without coordinator Vic Koenning or All-American defensive end Whitney Mercilus. And he faces a schedule that sees the Illini going to Ohio State, Wisconsin and Michigan, all three of which won in Champaign this past season. There's still talent on defense, led by promising linebacker Jonathan Brown. Quarterback
Nathan Scheelhaase
needs to build on his second-half showing in the Kraft Fight Hunger Bowl.
11. Minnesota:
After a horrible start, the Gophers showed a lot more fight down the stretch in 2011, beating Iowa and Illinois at home. Jerry Kill knows how to build a program, and the team can't help but be better in 2012, especially if MarQueis Gray continues to develop at quarterback. But Minnesota still has some holes on its roster that can only be fixed through recruiting, and while the Gophers could make a run at bowl eligibility this year, they'll be hard-pressed to make too much noise in a stacked Legends Division.
12. Indiana:
The good news for the Hoosiers is that they played a ton of freshmen in 2011, and the growing pains should start to pay off for guys such as
Tre Roberson
and Mark Murphy in 2012. The second year under Kevin Wilson should also bring progress. Still, this is a team that went 1-11 in 2011 with no wins over FBS teams, so it remains an uphill climb.
Michigan C Cites Concussions In Decision To Quit
BIG TEN SCOREBOARD
Thursday, 9/3
Friday, 9/4
Saturday, 9/5
Sunday, 9/6
Monday, 9/7