Michigan Wolverines:

Alex Swieca
August, 9, 2013
8/09/13
10:00
AM ET
ANN ARBOR, Mich. -- As Michigan moves its camp into padded practices the rest of the way, the Wolverines will be able to start to really discern which position battles are actually competitions and which are going to be wrapped up rather quickly.
[+] Enlarge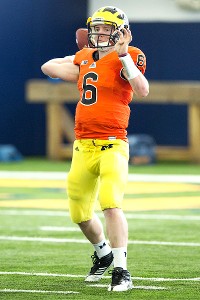 Courtesy of Michigan Athletic DepartmentBrian Cleary is going toe-to-toe with Michigan's heralded QB recruit for the backup job.
Of a lengthy list of position competitions for a team still finishing its rebuilding stages in its third year under Brady Hoke, perhaps the second most-important battle lies between two players who might see less than 25 snaps combined this season.
The backup quarterback.
When
Russell Bellomy
tore his ACL in the spring, Michigan's quarterback depth turned into junior starter
Devin Gardner
and then a morass of inexperience. Competitors either were not on campus yet (freshman
Shane Morris
) or had never played a meaningful snap (walk-ons
Brian Cleary
and, less so,
Alex Swieca
). And once Michigan declined to sign a junior college or fifth-year transfer, that became the lot behind Gardner.
An open competition with no player really having any advantage over the other. Four days in, it's still neck-and-neck between Cleary and Morris.
"They are both doing really well, splitting the two reps," Gardner said. "If one guy made a great pass, the next guy will make a great pass again so I'm glad I'm not the coach. I can't really decide which one."
The decision will eventually come to Hoke and offensive coordinator Al Borges. Coming out of the spring, Cleary established himself as the backup, but Morris had been around the program even as a high school recruit at nearby De La Salle High in Warren, Mich. He didn't enroll early but had been prepping for this moment since he committed almost two years ago.
The long-term commitment, plus his locale, allowed him be on campus often to pick up things from his coaches. He isn't the first Michigan quarterback to do this. Gardner enrolled early in 2010. Drew Henson, perhaps Michigan's most famous quarterback recruit in history, spent his afternoons in the spring of 1998 on campus trying to learn the playbook before his freshman year.
So Morris is not the typical freshman. He understands things a bit more.
"I would say he is (ahead of the curve)," Hoke said. "It's great to have a smart quarterback. Being a smart quarterback and being a wise quarterback under heat time with guys chasing you around and decisions you make, that's two different things.
[+] Enlarge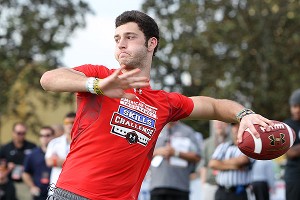 Miller Safrit/ESPNShane Morris has taken advantage of living close to campus to get a head start on school.
"That's what we'll see more of from this point on."
Thus far, Michigan has seen fairly accurate passers. Gardner said the three quarterbacks -- himself, Cleary and Morris -- completed almost every pass in a recent 7-on-7 drill. And while defenders can pick up obvious differences between Gardner and the two backups, the difference between Morris and Cleary is negligible.
"Devin has really come into his role, playing with the game experience he had last year," middle linebacker
Desmond Morgan
said. "Shane's just a freshman coming in. Brian's a guy who didn't play in any games or anything last year.
"So just the comfortableness of being in and seeing the defense, things like that."
This is Michigan's situation right now. In one aspect, it is good for the Wolverines because two inexperienced quarterbacks are forced to receive more of a chance than they would have if Bellomy had not torn up his knee in the spring.
It forced Michigan into an uncomfortable position -- but one which will give two unknowns more reps than they ever would have received before. Plus, with Gardner as the entrenched starter with no chance of movement unless there is an injury, Michigan can take its time making its decision of who would go in if Gardner ever has to go out.
"I would say because you do know the guy who you are expecting to start the season with," Hoke said. "You in some ways can give a few more snaps to that competition area where who is number two."
August, 2, 2013
8/02/13
10:05
AM ET
As Michigan's preseason approaches at the end of this week, WolverineNation takes a look at the 10 players who are most indispensable for the Wolverines this season. This doesn't mean the most talented players, but rather the players, if Michigan lost them, would be in the most trouble.
ANN ARBOR, Mich. --
Devin Gardner
's future -- at Michigan, in football -- was an enigma a season ago. Would he be a quarterback? A wide receiver? Could he realistically transition from throwing passes to catching them and if he did, would he be the deep threat Michigan was missing.
He was, kind of. Gardner proved to be a capable wide receiver last season, but when
Denard Robinson
injured the ulnar nerve in his right arm, ending his time as a quarterback, Michigan and Gardner found the deep passing threat it had lacked since Brady Hoke and Al Borges took over at Michigan.
July, 23, 2013
7/23/13
10:30
AM ET
ANN ARBOR, Mich. -- Michigan heads to Big Ten media days in Chicago this week and, like 11 other teams, the Wolverines have a bunch of optimism and are likely anticipating a lot of the questions they'll get over two days.
Last season, Michigan heard a lot about following up a surprisingly strong first season under Brady Hoke and SEC speed, considering the Wolverines opened against Alabama in Arlington, Texas. Michigan was confident then.
A little over a month and a blowout later, Michigan's chances at a national title were history.
There won't be that type of talk this season -- either of the SEC or national championship variety -- over the next few days. But here are five questions that will likely be asked and probably not fully answered about Michigan.
1. Who will be Michigan's running back?
[+] Enlarge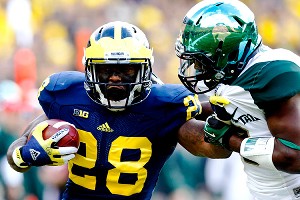 Rick Osentoski/US PRESSWIREThe health of Fitzgerald Toussaint and the depth chart at running back will be a certain topic of conversation at Big Ten media days.
The obvious answer is Michigan has no idea yet. It knows who the candidates are (
Fitzgerald Toussaint
,
Derrick Green
,
Deveon Smith
,
Drake Johnson
and
Thomas Rawls
) but considering two of the top candidates -- Toussaint and Green -- weren't available in the spring, there is a still a big unknown. While Michigan has other questions across its team, this one could be the most important. Why? If Michigan can't find a reliable running back, it would put more pressure on quarterback
Devin Gardner
and his receivers and tight ends to make plays. Plus, it would put Gardner and the passing offense in a situation where there would be a lot of second-and-long and third-and-long situations.
2. How will Michigan cope without Denard Robinson?
The Wolverines gave a peek at that answer the last third of last season when Robinson injured the ulnar nerve in his right arm. Still, what Gardner and offensive coordinator Al Borges ran over the final month of the regular season was still a very basic version of what Michigan could use now. Expect to see more play action, more running the ball and a more pro-style offense. Borges -- and Brady Hoke -- have always favored this. That's the general answer. Exactly what Michigan's offense will look like, including wrinkles specifically for Gardner, will be unveiled in the fall.
3. What happens if Devin Gardner gets hurt (or, who is Michigan's backup quarterback)?
Again, the answer is somewhat known. The first answer, for Michigan, would be to have major concerns. Gardner is the only healthy quarterback on the roster who has any significant game experience. With
Russell Bellomy
sidelined with a torn ACL, his backup is either freshman
Shane Morris
or a pair of walk-ons,
Alex Swieca
or
Brian Cleary
. As Michigan did not secure a fifth-year graduate transfer or a junior college transfer, it will look to one of those inexperienced players if Gardner goes down. Of anything else that could happen to Michigan this season, this would be high on the list of concerns.
4. Who is pressuring the quarterback for Michigan's defense?
Yet another viable question. Linebacker
Jake Ryan
, MIchigan's leader in tackles for loss last season, is out indefinitely with a torn ACL. The school is hopeful he can return by midseason. Along the defensive line, inexperience remains. Tackle
Quinton Washington
is a fifth-year senior,\ but has never been the focal point of the line. Ends
Frank Clark
and
Mario Ojemudia
have talent, but have not put things together consistently. The rest of the options have barely played. Considering Michigan's issues with its defensive front and quarterback pressure a season ago, more inexperience will remain a concern until proven differently, no earlier than Aug. 31 in the season opener against Central Michigan. Michigan, though, will likely say it likes its defensive line.
5. How often will Brady Hoke call Ohio State "Ohio?"
The answer is, well, every time. Entering his third year, the whole thing has worn a little thin. But the over/under here on how many questions he receives about Ohio State, Urban Meyer,
Braxton Miller
is around 30 throughout the two days. Add in rivalry questions and that'll probably bump it up to 40. Apparently Hoke's phrasing for Ohio State is catching on as Florida coach Will Muschamp called Ohio State "Ohio" at SEC media days last week.
June, 25, 2013
6/25/13
9:00
AM ET
ANN ARBOR, Mich. -- It's almost July, which means you only have about a month until Michigan starts fall camp and Brady Hoke can tell you (via us) every week that players are competing, football is being played and that Michigan, fergodsakes, is Michigan. Regardless, there are still questions, which is why I'm here.
Mike will be taking care of the mailbag next week so send your questions to him (michaelrothsteinespn@gmail.com,
@mikerothstein
). Now, on to this week's questions…
1. Spenser Williams, Ann Arbor: Michigan and Ohio State are tearing it up on the recruiting trail, but what can the rest of the Big Ten do to catch up to them and make the Big Ten an elite conference?
To continue reading this article you must be an Insider
April, 30, 2013
4/30/13
9:10
AM ET
ANN ARBOR, Mich. -- Spring practice has ended for Michigan and for the first time, the depth chart for the fall is beginning to take shape.
Yes, there will still be some big competitions on Michigan's offense -- particularly at running back and wide receiver -- but there is now a better idea of who the Wolverines' starting 11 will be in August when they open the season against Central Michigan.
WolverineNation takes a two-day look at what Michigan's depth chart will be come fall, starting with the offense.
Quarterback
To continue reading this article you must be an Insider
April, 16, 2013
4/16/13
9:20
AM ET
ANN ARBOR, Mich. -- Ideally, this conversation would not happen at Michigan or many other BCS-level programs this fall or any fall. But, things occur because of injuries, attrition and coaching switches so it leads to college coaches looking at guys they recruit and saying the same thing.
Which one of these guys will be able to play right away?
In basketball this is a way of life. In football it can get dangerous, depending on the competition. As Michigan builds up its roster, it has had to rely on freshmen less and less, but this season the Wolverines still will need to look to some first-year players to be key contributors on offense and defense.
Here's a look at five freshmen -- or spots -- where you could see rookies this fall.
To continue reading this article you must be an Insider
April, 15, 2013
4/15/13
10:15
AM ET
ANN ARBOR, Mich. -- Michigan's spring practice has ended and now the long wait for the Wolverines begin.
Michigan has a little over four months until its first game of the 2013 season against Central Michigan, and while the Wolverines still have some issues to deal with between now and then -- backup quarterback and running back among them -- some things stood out from the final, and only public, scrimmage of the spring.
Here are five strong takeaways from the last spring practice that Michigan can look at with comfort or concern heading into the offseason.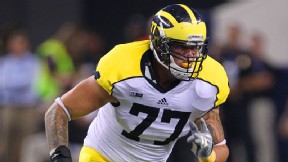 Matthew Emmons-USA TODAY SportsTackle Taylor Lewan and the left side of Michigan's line stood out in the final spring scrimmage.
1.Michigan will be better than expected on the offensive line.
The talent level was evident even before Saturday's open practice, and there was never a concern they wouldn't be good. And yes, there were points on Saturday where Michigan's defensive linemen blew right by their offensive counterparts, especially the guards. But the core group of six linemen -- tackles
Taylor Lewan
and
Michael Schofield
, center
Jack Miller
and guards
Kyle Kalis
,
Ben Braden
and
Graham Glasgow
-- all had moments of looking like a cohesive unit by the fall. The left-side combination of Lewan and Braden specifically stood out, and it wouldn't be surprising to see Michigan run a lot toward its left side this season. Considering Michigan ran a fairly base offense ,and defenses are usually ahead of offenses in spring games, this is a good sign for the Wolverines entering this fall.
2.Fitzgerald Toussaint, Derrick Green or Deveon Smith will be the starter in the fall
. Michigan's running back group was OK, but not overly impressive Saturday -- echoing what coaches have said all spring when no one separated himself.
Justice Hayes
got the start and had a couple of decent runs, but was also crushed in the backfield a lot.
Thomas Rawls
scored a 14-yard touchdown on a run to the left side and again showed flashes of his potential, but he didn't look much different from last year's spring game.
Dennis Norfleet
has potential, but his size is still a concern for being an every-down back. All this means is the initial thought that Michigan's starter will come from the backs either returning or coming in during the summer remains the likely scenario.
April, 13, 2012
4/13/12
8:44
PM ET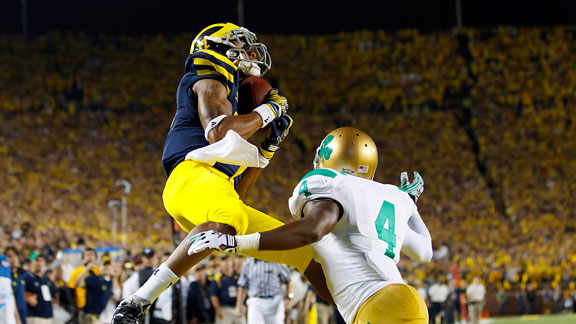 Rick Osentoski/US PresswireWR Roy Roundtree says if he landed the captaincy it would be 'a dream come true.'
ANN ARBOR, Mich. -- Michigan wide receiver
Roy Roundtree
knows being a captain of the Wolverines his senior season isn't a decision that is up to him.
But if it happens -- it would mean a lot to him.
"Since I've been here I've always worked hard as a student-athlete and it's up to the players to vote on that. That ain't the coaches," Roundtree said Friday night before the Braylon Edwards Foundation Celebrity Basketball Game. "It's the players and if you've got that bond and leadership aspect that all the younger players see on our team, then hey, if I become a captain that'd be a dream come true."
October, 25, 2011
10/25/11
4:51
PM ET
Got to see a little bit of a different view Tuesday for the 20 allotted minutes of practice viewing for the media. Instead of watching just stretching, the media was brought in early, although not too much happened. Here's what we observed -- in bullet form:
Martavious Odoms has shed his protective cast on his arm for good. He was out there catching kicks. Taylor Lewan was at practice, with his left ankle heavily bandaged and tape on both of his wrists. Tough to tell whether the tape on the wrists was at least in response to his injury suffered against Michigan State. Ricky Barnum was also at practice, with his right ankle heavily taped.
Cornerback Troy Woolfolk, who has had multiple injuries this season, was at practice with no wraps or braces of any kind to be seen.
To continue reading this article you must be an Insider
Bold Predictions For Spring Recruiting
BIG TEN SCOREBOARD
Thursday, 9/3
Friday, 9/4
Saturday, 9/5
Sunday, 9/6
Monday, 9/7