Michigan Wolverines:

Alex Malzone
December, 2, 2014
12/02/14
3:44
PM ET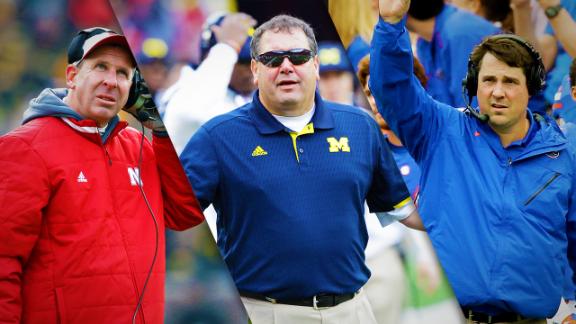 When
Michigan fired coach Brady Hoke on Tuesday
there were only seven commits left in the 2015 class. Those prospects have stayed committed this long, and most plan to do so despite the coaching change.
ESPN 300 offensive lineman
Grant Newsome
said he picked Michigan for the education and the opportunity within football, not for the coach. Because of that, he plans to stay committed to the Wolverines.
June, 16, 2014
6/16/14
5:30
AM ET
The Early Offer is RecruitingNation's regular feature, giving you a dose of recruiting in the mornings. Today's offerings: There are rivalries, and then there is The Big Game. Michigan and Ohio State are bitter competitors on the football field and also on the recruiting front. So it's no surprise to see Michigan and Ohio State prospects taking pot shots at each other all the time on social media, and a Michigan Class of 2014 signee was rather talkative over the weekend after earning MVP honors in an all-star game. But it was Ohio State that created one of the biggest recruiting headlines this past weekend.
Future Wolverine fuels rivalry
To continue reading this article you must be an Insider
May, 12, 2014
5/12/14
1:47
PM ET
Michigan had a strong start to its 2015 class, but it was still searching for the right fit at quarterback.
Since quarterbacks tend to make their commitments early, new Michigan offensive coordinator Doug Nussmeier needed to find the right guy quickly.
Nussmeier did just that on Monday by securing a commitment from in-state prospect
Alex Malzone
. The 6-foot-1, 195-pound quarterback was offered while on a visit to Ann Arbor and accepted almost immediately.
I'm very honored and blessed to say that I have committed to play football at the University of Michigan #GoBlue pic.twitter.com/cSUTI6AVZp

-- Alex Malzone (@AlexMalzone) May 12, 2014
This commitment is exactly what fans were hoping Nussmeier would bring to Michigan since the quarterback position was looking shaky. Nussmeier was responsible for recruiting ESPN 300 quarterbacks
David Cornwell
and
Cooper Bateman
in his few seasons at Alabama, and he's been responsible for plenty of successful college quarterbacks in his tenure as a college coach.
Malzone now has the opportunity to continue that success and gives Nussmeier depth at the position in the future to go along with current Wolverines
Shane Morris
and
Wilton Speight
.
Nussmeier was hired in January, which gave him little time to evaluate prospects at a position that needed help. The 2015 quarterback class was loaded.
By the time Malzone had committed, eight of the top-10 pocket passers and five of the top-10 dual-threat quarterbacks had already committed to other schools.
Luckily for the Wolverines, Malzone was only an hour away from campus, which gave the staff plenty of opportunities to see him in person. Nussmeier was able to evaluate him and see him throw, which led to his offer.
While the staff had been looking at dual-threat quarterbacks in this class, Malzone is more of a pocket passer and isn't likely to make many plays with his feet. He does have mobility, but his strengths lie in his arm and mental makeup.
He won't make many mistakes, commands the offense well and prides himself on his accuracy and decision-making. Malzone's high school team has won three straight state championships, and he is looking to make it a fourth this coming season.
The Wolverines waited quite a while to land a 2015 quarterback, but they finally have their man. Now that Malzone is on board, the staff can focus on other prospects to continue filling needs.
The 2015 class will be similar to the 2014 class in that it will be smaller in total numbers. Michigan already has six commitments, three of which are ESPN 300 prospects.
Much of the rest of the class could depend on how Michigan performs on the field this fall, but it is still shaping up to be another strong group for the Wolverines.
November, 27, 2013
11/27/13
9:00
AM ET
It's called The Game for a reason. The rivalry between Michigan and Ohio State is intense and is always a fan favorite. That holds true with recruits as well, so it's only natural that there will be a ton of top targets on hand for this game.
Here is a look at 10 prospects who will be visiting Ann Arbor, Mich., to watch these rivals face off.
DE Malik McDowell (Southfield, Mich./Southfield):
It still isn't 100 percent this ESPN 300 prospect will be in for the game, according to his father. It is likely, though, that he will be there, which is a good thing because he is one of the few remaining top targets in the 2014 class. McDowell is the No. 68 player in the country and an in-state kid, so it's imperative that Michigan land him in this class.
To continue reading this article you must be an Insider
November, 8, 2013
11/08/13
9:00
AM ET
Michigan takes on Nebraska in what is turning out to be a very important game for the Wolverines' season.
There will be some recruits on campus for the game, so Michigan is hoping to put on a show. Here is a look at 10 prospects who will be watching.
2014 WR Drake Harris (Grand Rapids, Mich./Grand Rapids Christian):
The commit and early enrollee will be in Ann Arbor this weekend to watch his future team. Harris is on the list because there had been some rumors or concerns that he might be one again looking at the Spartans, the team he had originally been committed to. Harris tweeted that he was solid to the Wolverines and that he will be on campus this week for a visit.
To continue reading this article you must be an Insider
October, 4, 2013
10/04/13
11:00
AM ET
It's time to dip into the Big Ten recruiting mailbag and answer some of your questions. We'll try to give everyone a chance to get their questions answered. We encourage you to send your questions by Twitter to
@bbournival
or
@TomVH
.
@HoosierHolmes: What positions are Indiana most focused on to finish up its class?
Brad Bournival:
A look at who the Hoosiers are targeting shows it's still very much on defense -- at linebacker and in the secondary more specifically. Indiana picked up a tremendous hybrid outside linebacker/safety in
Dameon Willis Jr.
(Cleveland/St. Ignatius) on Wednesday. With defensive backs
Micquell Cotton
(O'Fallon, Ill./O'Fallon) and
Craig James
(Edwardsville, Ill./Edwardsville) out there, as well as linebackers
Tegray Scales
(Cincinnati/Summit Country Day) and
Nile Sykes
(Lombard, Ill./Montini Catholic), expect the Hoosiers to turn up the heat defensively on the recruiting front.
---
@GabeJasinski: What big time recruit do you think Michigan State has a chance at getting?
Tom VanHaaren:
The Spartans are in on some big prospects still and have put themselves in the top group of a few ESPN 300 targets. Defensive backs
Montae Nicholson
(Monroeville, Pa./Gateway) and
Parrker Westphal
(Bolingbrook, Ill./Bolingbrook) both have Michigan State in their top group.
I think it might be difficult to pull both, but it seems as though there is a shot.
Nicholson took an unofficial visit to East Lansing, and there is a chance that Westphal will take a visit soon, as well. It's probably a long shot, as Virginia and Pitt appear to be the leader, but wide receiver
Jamil Kamara
(Virginia Beach, Va./Bishop Sullivan) might be an option, as well.
Kamara visits Michigan State on Nov. 3, so who knows what can happen once he's on campus.
---
@buckeyefan686: After Raekwon McMillan and Marshon Lattimore, which uncommitted recruit do you think is the most important for Ohio State to land?
Bournival:
It's not one specific player as much it is a position. Ohio State swung and missed last year along the line and needs to fix that this year. Now, they're doing fantastic with four already in the fold. That said, it is imperative for the Buckeyes to land either
Damian Prince
(Forestville, Md./Bishop McNamara),
Alex Bookser
(Pittsburgh/Mt. Lebanon) or top junior college tackle
Chad Mavety
(Garden City, N.J./Nassau Community College).
---
PSUlions1121: Any chance Penn State could get back in on Dravon Henry now that the sanctions are reduced?
Bournival:
Henry's father Roland was reached the day the sanctions were reduced, but his son's stance didn't change. "It's more the postseason ban than the scholarship restrictions," Roland told ESPN.com recruiting writer Jared Shanker. Some have said that Henry just didn't get the feeling at Happy Valley like he did at West Virginia. While Henry remains uncommitted, the favorite seems to be the Mountaineers, but Pitt looks like it will be in it until the end, as well.
---
@pinkelman9876: Where do you think Nebraska will end up in Big Ten recruiting rankings? Is the perception of Nebraska hurting their chances at projected top talent?
VanHaaren:
Nebraska currently has the No. 37 overall recruiting class in the country, which is good for No. 6 in the conference. The problem for the Cornhuskers is that there aren't many big name targets still on the board that would move the dial too much.
Michigan, Ohio State, Northwestern, Michigan State, Wisconsin and Penn State are all currently ahead of Nebraska and have targets still on the board that would keep them ahead of the Cornhuskers.
Something that I see as a problem has to do with the location relative to the rest of the Big Ten. Once Nebraska joined the Big Ten, they left their footprint in the Big 12 behind. Trying to land Midwest prospects from 12 hours away is very difficult, and it has proven to be hard for this coaching staff. The coaches try to recruit nationally, but there isn't one area where they have a home base to secure top prospects year in and year out.
---
@kholmes147: Regarding 2015 Michigan quarterback recruiting ... since it's clear [Josh] Rosen has no interest, who do you think is most likely to get the second offer?
VanHaaren:
Rosen is currently the only 2015 quarterback with a Michigan offer, and as you mentioned likely will stay on the West Coast.
The coaching staff has been in contact with plenty of other prospects, though, including
Kyle Kearns
(Pleasanton, Calif./Foothill),
Kevin Dillman
(LaMirada, Calif./LaMirada),
Alex Malzone
(Birmingham, Mich./Brother Rice),
Sheriron Jones
(Moreno Valley, Calif./Rancho Verde),
Riley Neal
(Yorktown, Ind./Yorktown).
It's tough to say who will get the first offer, but much like the 2014 class, the coaches can stand to be a little picky for now. They can take some time to evaluate the right prospect, gauge interest levels and see who is the right fit.
October, 3, 2013
10/03/13
2:00
PM ET
Indiana takes center stage in these week's Big Ten storylines, but that doesn't mean other schools aren't getting involved.
Here's a look at the week that was and what's ahead:
To continue reading this article you must be an Insider
September, 16, 2013
9/16/13
8:00
AM ET
It wasn't an exciting weekend for recruiting, but there was still news in the Big Ten. Here is a look at the weekend in recruiting.
Biggest offer:
To continue reading this article you must be an Insider
September, 12, 2013
9/12/13
2:00
PM ET
From official visits past and future to a commitment, the Big Ten was buzzing with headlines this week.
Here's a look at a few programs that highlight a busy week in this week's Big Ten storylines.
Boiler Up
To continue reading this article you must be an Insider
August, 15, 2013
8/15/13
1:00
PM ET
Big Ten fodder is never hard to find, especially in recruiting. This week was no different as schools put forth enough content to fill an entire notebook. Here's a look at a few programs that highlighted a busy week in this week's Big Ten storylines.
ESPN 300 defensive back getting close
To continue reading this article you must be an Insider
June, 20, 2013
6/20/13
7:00
AM ET
ANN ARBOR, Mich. -- With 11 of 16 spots filled in Michigan's 2014 recruiting class, this summer's football camp was a bit odd. Generally, with at least 10 spots open, rising seniors will show up for the opportunity to compete for a scholarship. However, with so few spots, the competition in the 2014 class seemed few and far between.
Even so, a few 2014 prospects did manage to earn offers. Elkton (Md.) Eastern Christian Academy teammates wide receiver
Freddy Canteen
(Elkton, Md./Eastern Christian Academy) and defensive back
Brandon Watson
both earned offers, and there were a few other 2014 prospects who looked solid through camp on whom Michigan coaches might keep tabs.
STANDOUT PERFORMERS
To continue reading this article you must be an Insider
March, 18, 2013
3/18/13
9:48
AM ET
By
Chantel Jennings & Tom VanHaaren & Jared Shanker
| ESPN Insider
Every other Monday, Tom and Chantel sit down with another recruiting writer to chat about a few topics surrounding Michigan recruiting. Today, they asked Midwest recruiting coordinator Jared Shanker to weigh in.
1) Which prospects are you are excited to see in camps in the coming weeks?
To continue reading this article you must be an Insider
December, 13, 2012
12/13/12
1:48
PM ET
The Weekly Update at WolverineNation is a sneak peek inside Michigan recruiting.
BRANDON LEE
Linebacker numbers are still going to be tight for the 2014 class, but a few top prospects have already started to hear from Michigan. Outside linebacker
Brandon Lee
(Indianapolis/Lawrence Central) doesn't yet have an offer but says Michigan is a school he contacts frequently.
To continue reading this article you must be an Insider
Harbaugh: Split With 49ers Not Mutual
BIG TEN SCOREBOARD
Thursday, 9/3
Friday, 9/4
Saturday, 9/5
Sunday, 9/6
Monday, 9/7