Michigan Wolverines:

Akeel Lynch
February, 26, 2014
2/26/14
1:00
PM ET
Spring practice is off and running in the Big Ten, as Michigan took the field Tuesday and Northwestern followed on Wednesday. We're taking snapshots of where each team stands at each position group.
We've already discussed the quarterbacks -- and will have much more on the way -- so the series begins with the running backs.

Illinois:
The Illini are in a bit better shape here than they were the past two springs, as veterans
Josh Ferguson
and
Donovonn Young
both return. Ferguson averaged 5.5 yards per carry and added 50 receptions for 535 yards as the primary playmaker for Illinois' revamped offense. Young added 376 yards on 93 carries. The Illini are looking for others behind the top two, and Dami Ayoola is back with the team after being dismissed in September for a rules violation.

Indiana:
Tevin Coleman
quietly put together a superb sophomore season and leads the Hoosiers' running backs in 2014. Coleman provides big-play ability after averaging 7.3 yards per carry with 12 touchdowns on only 131 attempts in 2013. Indiana loses
Stephen Houston
but brings back veteran
D'Angelo Roberts
, who will play behind Coleman. Younger players such as sophomore
Laray Smith
could get a look here.

Iowa:
Not only did the Hawkeyes toss AIRBHG to the side and get through the season without any major injurie, but they bring back everyone for 2014. Senior
Mark Weisman
leads the contingent after rushing for 975 yards and eight touchdowns last fall.
Jordan Canzeri
came on strong late in the season and is showing no effects from his ACL tear in 2012. Veteran
Damon Bullock
also returns to the mix, and Iowa has talented younger backs such as
LeShun Daniels Jr.
at its disposal. Good situation here.

Maryland:
The Terrapins wide receivers tend to get more attention, but the team also returns its top three running backs from 2013 in
Brandon Ross
,
Albert Reid
and
Jacquille Veii
. Maryland also regains the services of Wes Brown, who finished second on the team in rushing as a freshman in 2012 before
being suspended for all of last season
.
Joe Riddle
is back in the fold as well. The group brings different strengths, from power (Brown) to speed (Veii) to a mixture of both (Ross, Reid).

Michigan:
Sophomore
Derrick Green
enters the spring as the frontrunner to be Michigan's lead back, although coach Brady Hoke wants to ramp up competition everywhere. The Wolverines struggled to consistently run between the tackles, but the 240-pound Green could change things. Hoke also is excited about another sophomore,
De'Veon Smith
. Michigan moved
Ross Douglas
from cornerback to running back, and
Justice Hayes
and
Wyatt Shallman
also are in the mix. "We've got more depth," Hoke said.

Michigan State:
Things look much more promising than they did last spring, when the Spartans ended the session with a linebacker (
Riley Bullough
) as their top back.
Jeremy Langford
emerged as a very solid option during the season, rushing for 1,422 yards and 18 touchdowns. He's back as the clear-cut starter, and
Nick Hill
also returns. It will be interesting to see if
Gerald Holmes
makes a push, or whether
Delton Williams
remains on offense.

Minnesota:
Here's another team that finds itself in very good shape at running back entering the spring.
David Cobb
leads the group after rushing for 1,202 yards and seven touchdowns as a sophomore. Veterans
Donnell Kirkwood
and
Rodrick Williams Jr
. are still around, and highly touted redshirt freshman
Berkley Edwards
will take the field after missing last fall because of knee and ankle injuries. Perhaps the best news will come in the summer as decorated recruit
Jeff Jones
arrives.

Nebraska:
Notice a theme here? Nebraska is yet another Big Ten squad that can feel very good about its running backs entering the spring.
Ameer Abdullah
elected to bypass the NFL draft for one final season at Nebraska, where he led the Big Ten with 1,690 yards on 281 carries as a junior. Abdullah will contend for national awards in the fall.
Imani Cross
, who rushed for 10 touchdowns last year, is one of the nation's top backups.
Terrell Newby
and others add depth behind the top two.

Northwestern:
Top back
Venric Mark
(ankle) will miss spring practice following surgery, and reserve
Stephen Buckley
(knee) also is rehabbing, but Northwestern has no reason to panic.
Treyvon Green
, who filled in well for Mark last season with 736 rushing yards, will get much of the work.
Warren Long
also is in the mix after appearing in seven games as a true freshman. Northwestern also loaded up at running back in recruiting to solidify the position for years to come.

Ohio State:
This will be a position to watch in the spring as Ohio State must replace
Carlos Hyde
, who was nearly unstoppable during Big Ten play last fall. Veteran
Jordan Hall
also departs, and
Rod Smith
will be the veteran of the group despite only 83 career carries. The Buckeyes have some talented young backs, from
Dontre Wilson
, who saw significant playing time last fall, to
Bri'onte Dunn
,
Ezekiel Elliott
and
Warren Ball
. Keep an eye on Elliott, who averaged 8.7 yards per carry in limited work last season but could emerge this spring.

Penn State:
If it feels like
Zach Zwinak
and
Bill Belton
have been competing for carries forever at Penn State, it's because they have. Zwinak and Belton have been part of Penn State's running back rotation for the past two seasons and enter another competition this spring with talented sophomore
Akeel Lynch
, who rushed for 358 yards on only 60 carries last season. It will be interesting to see how much Lynch can push Zwinak and Belton in the team's first spring under a new coaching staff. Penn State has depth issues at several positions, but running back isn't one of them.

Purdue:
The Boilers finished 122nd nationally in rushing offense last season, so the fact all of their running backs return might not spark mass celebration. Senior
Akeem Hunt
leads the group after recording 123 of the team's 319 rushing attempts in 2013. Other veterans
Brandon Cottom
and
Raheem Mostert
also are back, along with younger ball-carries such as
Dayln Dawkins
and three backs --
Keyante Green
,
David Yancey
and
Keith Byars II
-- who redshirted last fall and could have much bigger roles.

Rutgers:
Here's yet another team that returns basically its entire stable of running backs for spring ball.
Paul James
is the name to watch, as he rushed for 573 yards in the first four games last season before suffering a leg injury. James' health is a concern for Rutgers, which could also turn to
Justin Goodwin
, who showed some flashes following James' injury.
Savon Huggins
, who entered last season as the starter before losing ground, is in the mix as he looks to re-establish himself on the depth chart.

Wisconsin:
How many teams can lose a 1,400-yard rusher and still claim to have the best running back group in the Big Ten?
James White
is gone, but Wisconsin remains in very good shape in the backfield.
Melvin Gordon
bypassed the NFL draft for another year in Madison after rushing for 1,609 yards and 12 touchdowns on only 206 carries. Gordon should move into more of a featured role beginning this spring, although he'll be pushed by
Corey Clement
, who had 547 yards and seven touchdowns on only 67 carries.
Jeff Lewis
provides another option behind the top two.
October, 11, 2013
10/11/13
4:00
PM ET
Thanks for all your questions and answers. Enjoy the games this weekend.
Don't forget:
Twitter
is the best way to follow us on game days.
Phil from Vancouver, Wash., writes:
Lets assume Ohio State runs the table and goes undefeated. If Wisconsin can win out and end up 10-1-0-1 (W-L-T-Screwed), where do you see them ending up for a bowl? With the BIG No. 5 in AQ leagues, I don't see them in the BCS.
Adam Rittenberg:
It depends on so many factors, Phil. If Ohio State doesn't make the national title game and goes to the Rose Bowl, the chances of the Big Ten receiving an at-large BCS berth go down. If the Rose Bowl loses a Big Ten team to the national title game, it likely would look for a Big Ten replacement, as long as one is eligible. Would the Rose want Wisconsin for a fourth consecutive year? Tough to tell. There are also other conferences in play, and right now you'd have to expect the SEC and Pac-12 to each send two teams to BCS bowls. And as long as Clemson and Florida State don't both fall apart, both teams are likely BCS bowl bound as well. The advantage Wisconsin would have is a long win streak to end the season, as opposed to a possible loss in the league title game, which often is the kiss of death when it comes to at-large berths.
---
Ian from Tacoma, Wash., writes:
Adam, I know there has been some talk from you and Brian recently in regard to conference perception and how it shapes top-25 rankings and the national championship picture, but I think this is becoming more of an issue than most folks realize. Why does Georgia scraping by a pretty lousy Tennessee team (that got slaughtered by Oregon) constitute a "tough road win" by the so-called experts, yet Ohio State's road win against top-15 Northwestern gets ignored? Even further, why does Ohio State get lambasted every week for their schedule, while Oregon gets constant media praise, despite having played a MISERABLE slate of games so far? Oregon is getting credit for games they haven't played yet, while Ohio State gets punished for games it hasn't played yet. I'm getting pretty frustrated with the inconsistency and hypocrisy in how teams are portrayed, simply because of the conference in which they compete.
Adam Rittenberg:
Ian, I hear ya, and Ohio State should be getting more credit for finding ways to win against good teams despite making some mistakes along the way. Georgia's win at Tennessee was vastly overvalued because the Bulldogs had so many injuries. Tennessee is mediocre at best. The Oregon example is interesting, because while Virginia and Tennessee aren't any good, it looks like the Ducks at least tried to schedule major-conference teams. Those quick to criticize Ohio State for living in cupcake city probably don't realize Vanderbilt canceled this year's game in Columbus. Vandy is no Alabama, but the Commodores are comparable to Virginia and Tennessee right now. And it's not Ohio State's fault that Cal is going through transition. Could Ohio State have done a little more with scheduling? Perhaps. But the bigger problem for the Buckeyes is the Big Ten's lousy perception, something Georgia and Oregon don't have to worry about.
---
Dan from Watercooler writes:
True or false: Bo [Pelini's] long-term outlook with the Huskers should be more based on what he does this and maybe next season, vs. what happened last season. Reasoning: Bo's defense last season had all sorts of seniors, effectively meaning he had a cap on what he could draw from them talent-wise. We've seen glimpses of what the defense is capable of (see: first half UCLA, parts of Illinois) and can see the talent there, but it needs time to build. Counterpoint: Last year's defense consisted largely of talent he developed; he should have been able to recognize gaps in the defense and find ways to correct them.I'd give him the benefit of a doubt and say, with the seemingly more athletic players he has coming up, he should be judged more on what happens from here.
Adam Rittenberg:
A nice breakdown from the water cooler, Dan. Nebraska's defense might be both younger and more talented this season. Pelini has alluded to it throughout the offseason, and I already see signs of more difference-makers with the Huskers D, especially in the front seven. That said, Pelini shouldn't get a pass for the struggles on defense last season because he brought in all of those players. Although Nebraska's move to the Big Ten probably didn't help a defense that had been shaped for the Big 12, the breakdowns in big games were inexcusable. This year's defense has had and will continue to have some growing pains, but if the unit isn't better in November than now, it falls on Pelini and the staff.
---
Matt from Baltimore writes:
I was looking at
this map of AAU schools
, and I was trying to guess where the next Big Ten expansion could be. Assuming that any schools in the ACC, SEC, or Pac-12 will stay put, it looks like the most appealing school from a state bordering a Big Ten state is Kansas (a distant second is Iowa State). What do you think the odds are of a Big Ten land grab into Big 12 territory in the near future?
Adam Rittenberg:
Ah, Matt, we must be overdue for an expansion question. Keep in mind that the Big 12 also
has a grant of rights agreement
, just like the ACC does, which makes it very difficult for schools to leave the league. The Big 12 also has great leadership now with Bob Bowlsby as commissioner. Although Texas could still send things into flux, I'd be surprised if more Big 12 schools jumped ship. The one league the Big Ten could look to, believe it or not, is the SEC, which amazingly doesn't have a grant of rights agreement. Anyone else think Missouri is a much better fit in the Big Ten than the SEC? Still, Mizzou would be giving up a lot, and I don't think the Big Ten wants to expand West when it has talked so much about being bi-regional and trying to bring in the northeast corridor. Problem is, there aren't any great candidates on the East Coast.
---
Matt from Iowa writes:
Who will be the last to surrender a rushing touchdown, Iowa or Michigan?
Adam Rittenberg:
I'm going with Michigan, especially since Iowa is off this week and the Wolverines face a Penn State team that, while lagging in rushing offense, has 11 rushing touchdowns through the first five games. I have
Akeel Lynch
scoring the game-winning touchdown for Penn State on Saturday, so I think the Wolverines' run of zero rush touchdowns ends.
---
Mike from Minneapolis writes:
Thoughts on the selection committee? As a Nebraska fan, I'm not all that thrilled to see that if they come into the playoff discussion Osborne/Alvarez will have to leave the room and their fate will be decided by a group of southerners.
Adam Rittenberg:
I'm glad you asked, Mike, as I didn't get much chance to address this last weekend. While I understand your concern about Nebraska and the ties that both Tom Osborne and Barry Alvarez have to the school, I couldn't be happier with these choices to represent the Big Ten on the committee. They're both home runs: smart football men who have served as administrations and have thick enough skin to handle the job after coaching major programs for a long time. Alvarez was the overwhelming choice among sitting athletic directors to represent the Big Ten when
we conducted a poll back in July
, and it would have been a close race between Alvarez and Osborne if Osborne still served as Nebraska's AD. Big Ten fans should be really pleased with these two.
---
Jon from Columbus writes:
Adam, Michigan has allowed seven offensive TDs in five games so far, and yet ... and yet ... you're calling for PSU to score 38 on them on Saturday? I just don't see your reasoning based on any sound football analysis. Listen, Penn State might beat Michigan this week. But if it happens, it very likely won't come in a fireworks-filled offensive shootout.
Adam Rittenberg:
Jon, maybe the score prediction is a little high, but Michigan has faced only one decent offense (Notre Dame) through the first five games -- the other four are ranked 106th or worse nationally -- and hasn't done much defensively to stand out aside from allowing no rushing touchdowns.
Tommy Rees
made plays against Michigan's secondary but couldn't avoid the turnover.
Christian Hackenberg
has more natural ability than Rees and poses a bigger challenge for the Wolverines, who still don't have any standouts on defense (
Jake Ryan
comes back soon). This is a great chance for Michigan's defense to stand out against a good quarterback in a tough road setting. But I expect to see quite a few points scored at Beaver Stadium.
October, 10, 2013
10/10/13
9:00
AM ET
The halfway point of the season is within sight, and we're neck-and-neck in the predictions race. Will someone pull ahead in Week 7? There are only four games on tap, but several potential close ones.
Let's get it started …


INDIANA at MICHIGAN STATE
Brian Bennett:
Ah, what can top the majesty of a trophy modeled after a spit receptacle? This is a fascinating game in terms of an offense versus defense showdown. I think Indiana can make some plays in its passing game, but Michigan State's improving offense, behind
Connor Cook
and a strong running game behind
Jeremy Langford
, makes the difference.
… Michigan State 28, Indiana 21
Adam Rittenberg:
I love the matchup of strength (Michigan State's defense) versus strength (Indiana's offense) at Spartan Stadium. It'll be a mixed bag for Hoosiers quarterback
Nate Sudfeld
with two touchdown passes and two interceptions, but Michigan State once again contains the run game and gets a pick-six from
Trae Waynes
. The Spartans offense is gaining confidence at the right time, and wideout
Macgarrett Kings
adds two more touchdowns as Michigan State uses a big third quarter to win again.
… Michigan State 30, Indiana 20


NEBRASKA at PURDUE
Rittenberg:
Taylor Martinez
watches as
Tommy Armstrong Jr
. leads the offense to another big performance against a leaky Purdue defense. Armstrong fires a first-half touchdown pass and
Ameer Abdullah
goes for 130 yards and two scores. Boilers quarterback
Danny Etling
sparks his team to an early lead before Nebraska takes control in the second quarter.
… Nebraska 38, Purdue 21
Bennett:
Nebraska hits the road for the first time, but there's nowhere you'd rather play right now in this league than West Lafayette, Ind., if you have to leave home. I agree that Abdullah will have a monster game, and the Huskers pick Etling off twice in a dominant effort.
… Nebraska 38, Purdue 14



NORTHWESTERN at WISCONSIN
Bennett:
Is there any way this can end except in a close game and a tough loss for one of these teams? I say no, especially since these could be the second- and third-best teams in the league, in some order. Northwestern grabs an early 10-point lead, but Wisconsin comes back on a pair of
Joel Stave
touchdown passes to
Jared Abbrederis
.
… Wisconsin 33, Northwestern 30

Rittenberg:
The Wildcats commit more defenders to the run in this one, but
Melvin Gordon
still breaks loose for two long touchdown runs. Wisconsin has some trouble with Northwestern's pass game, and the Wildcats record a special-teams touchdown from
Venric Mark
. But the Badgers surge in the fourth quarter behind Gordon,
James White
and a powerful offensive line as Northwestern's close-game heartbreak continues.
… Wisconsin 31, Northwestern 27


MICHIGAN at PENN STATE
Rittenberg:
I'm going with the upset here as
feisty Bill O'Brien
lights a fire under his team, which plays a much better game under the lights before the home faithful. It's be a shootout, and both
Christian Hackenberg
and
Devin Gardner
eclipse 250 pass yards. But Gardner commits a turnover midway through the fourth quarter, and Penn State scores in the final minute on an
Akeel Lynch
run.
… Penn State 38, Michigan 35
Bennett:
This should be a close one, as both teams have strengths but also some glaring issues. O'Brien commits to the run game early and
Zach Zwinak
scores two touchdowns, but Penn State's issues in the secondary are exposed by Gardner and
Jeremy Gallon
, and Gardner scoots in for the winning score with less than two minutes left.
… Michigan 28, Penn State 24.

That's how we see things playing out Saturday afternoon, but we're not done yet. It's time to hear from our guest picker. As a reminder, throughout the season we'll choose one fan/loyal blog reader each week to try his or her hand at outsmarting us. There's nothing but pride and some extremely limited fame at stake. If you're interested in participating, contact us
here
and
here
. Include your full name (real names, please), hometown and a brief description why you should be that week's guest picker. Please also include "GUEST PICKS" in all caps somewhere in your email so we can find it easily.
This week's guest picker is
Barry Uphoff from Palo Alto, Calif.
Barry, the floor is yours …
I should be your Big Ten guest picker of the week! Was born in Nebraska, have lived in Chicago and been in every stadium in the Big Ten to see a game -- Lincoln is of course my favorite. So why should I be the guest picker for the week? Living in Pac-12 land, especially Palo Alto, is tough! Anything I can do to spend more time on the Big Ten and less time hearing about the Pac-12, the better. If I have to see or hear about the dancing tree one more time, I am going to chop the tree down! Sincerely, George Washington.
(Editor's note: As a Berkeley, Calif., native, I can't stand
the Tree
, either. … Adam)
Here are Barry's Week 7 picks …
Michigan State 31, Indiana 21
Nebraska 35, Purdue 24
Wisconsin 35, Northwestern 28
Michigan 27, Penn State 24
SEASON RECORDS
Adam Rittenberg:
47-8

Brian Bennett:
47-8

Guest pickers:
42-13
September, 23, 2013
9/23/13
9:00
AM ET
Remember two weeks ago when
we were debating Ohio State versus Michigan
as the Big Ten's top team? Well, the Buckeyes have created some separation from Michigan and the rest of the league with two dominant offensive performances. Michigan, meanwhile, either has a massive hangover from beating Notre Dame or a lot of issues to sort out.

We gave the Wolverines the benefit of the doubt after the Akron game and kept them at No. 2. After Saturday night's slopfest at Connecticut, we can no longer keep Michigan in the second slot. Northwestern looked lackluster for the second straight week but avoided the major scare Michigan has endured. Wisconsin, meanwhile, might be the league's second-best squad. We'll find out a lot about the Badgers this week in Columbus.
Minnesota and Iowa make nice moves this week, while Indiana takes a tumble.
As a reminder, we keep these rankings consistent with how we vote in the ESPN.com Top 25. Here's one final look at
last week's power poll
.
Let's get to the rundown ...
1. Ohio State (4-0, last week: 1):
We'll finally get a gauge on these Buckeyes as they open Big Ten play Saturday night against Wisconsin, but the recent results have been encouraging.
Braxton Miller
's absence once again didn't faze Ohio State, which scored 34 points in the first quarter and received a nice boost from running back
Carlos Hyde
in his season debut. Backup signal-caller
Kenny Guiton
continued his surge with a school-record six touchdown passes. Miller likely returns this week, but the Buckeyes' offense clearly is more than just one man this season.
2. Northwestern (4-0, last week: 3):
For whatever reason, Northwestern looks worse against weaker nonleague foes than seemingly stronger ones. The Wildcats had more positives against Cal and Syracuse than Western Michigan and Maine, although they were never in serious danger of losing in the past two weeks. Linebacker
Damien Proby
sparked a takeaway-driven defense Saturday. Quarterbacks
Kain Colter
and
Trevor Siemian
struggled but have two weeks to prepare for Ohio State, when running back
Venric Mark
is expected back.
3. Wisconsin (3-1, 1-0 Big Ten; last week: 4):
Credit Gary Andersen's players for not letting last week's unfortunate ending linger as they opened Big Ten play against Purdue. Wisconsin went back to what it does best, overpowering opponents with the run game, as
Melvin Gordon
and
James White
combined for 292 rush yards and four touchdowns. The Badgers' defense bottled up Purdue, surrendering only 12 first downs, 45 rush yards and 180 total yards. You have to like how Wisconsin is performing before this week's showdown in Columbus.
4. Michigan (4-0, last week: 2):
The Akron game could be forgivingly dismissed as a letdown. But when many of the same issues surface for the second straight week against a poor opponent, it's reason to be concerned. Michigan won't stay perfect much longer if quarterback
Devin Gardner
keeps turning over the ball (he leads the nation with 10 turnovers) and the offensive line endures periods of inconsistent play. Coach Brady Hoke and his staff have plenty of items to address this week before the Jug game against potentially undefeated Minnesota.
5. Nebraska (3-1, last week: 6):
After a turbulent eight days, Bo Pelini wanted his players to have some fun in their final nonleague tuneup. The offense had plenty despite playing without top quarterback
Taylor Martinez
, eclipsing 300 pass yards and 300 rush yards. Reserve quarterbacks
Tommy Armstrong
and
Ron Kellogg III
both performed well. The defense had a lot less fun, however, surrendering 465 yards in a performance that Pelini labeled its worst of the season. Nebraska has to get a handle on its defense this week before opening Big Ten play against Illinois.
6. Minnesota (4-0, last week: 7):
Knock San Jose State if you must, but the Spartans provided the biggest test for Minnesota to date, and the Gophers passed it with flying colors. Minnesota showed the physical dominance coach Jerry Kill has been waiting for, piling up 353 rush yards and six touchdowns behind quarterback
Mitch Leidner
and running back
David Cobb
. Although San Jose State's
David Fales
showed why he's an NFL prospect, the Gophers continued to force turnovers. Minnesota hosts Iowa this week in a game that has more than bacon on the line.
7. Michigan State (3-1, last week: 5):
The Spartans looked like the better team for much of Saturday's game at Notre Dame. But many of the same issues that surfaced in close losses last season -- stalled drives, dropped passes, not enough takeaways and missed field goals -- surfaced in a
17-13 setback
. Coach Mark Dantonio and his players say this feels different, and that they can overcome their errors to make some noise in a
wide-open Legends Division
. The defense remains championship-level, but there are other issues to sort out, namely quarterback.
8. Penn State (3-1, last week: 8):
Kent State's woeful offense turned out to be the perfect cure for a Nittany Lions defense that struggled mightily in a Week 3 loss to Central Florida. Safety
Ryan Keiser
and cornerback
Jordan Lucas
helped
trigger Penn State's first shutout since 2010
, as the Lions allowed only nine first downs and 190 total yards. The run game once again surged behind
Akeel Lynch
(123 rush yards) and others. Penn State's defense will face much greater tests when Big Ten play begins in two weeks.
9. Iowa (3-1, last week: 11):
Kirk Ferentz's crew is clearly on the rise after its most complete performance in recent memory. Iowa received numerous contributions on offense, two punt return touchdowns from
Kevonte Martin-Manley
and a pick-six from
B.J. Lowery
-- all during a 38-point first half against Western Michigan. Lowery added another pick-six in the second half and stomped the Broncos. After a rough start to the season, Iowa has the momentum it needs heading into a pivotal Big Ten opener against Minnesota.
10. Illinois (2-1, last week: 10):
The Illini sat back and watched the rest of the Big Ten in Week 4, enjoying the first of two open weeks. They'll have an excellent chance to improve to 3-1 this week against an 0-3 Miami (Ohio) squad that was shut out Saturday against Cincinnati and has scored just 21 points in its first three games. This is the perfect opportunity for Illinois' defense to rebound after getting gashed by Washington in Week 3. Illini quarterback
Nathan Scheelhaase
tries to bounce back after completing just 9 of 25 pass attempts.
11. Indiana (2-2, last week: 9):
Just when Indiana appears ready to turn a corner, it becomes Indiana again. For the second time in three games, Indiana limped out of the gate and fell behind, never finding a good offensive rhythm and struggling to stop Missouri's balanced attack. Missouri piled up 623 yards, a Memorial Stadium record for an Indiana opponent. The Hoosiers' defense remains far too vulnerable, and quarterback
Nate Sudfeld
struggled, throwing three interceptions. There's a lot to fix in the open week before Penn State comes to town.
12. Purdue (1-3, 0-1 Big Ten; last week: 12):
Trips to Madison haven't been kind to the Boilers, and Saturday's proved to be no exception as Darrell Hazell's team took a step back after an encouraging performance against Notre Dame. When you can't run the ball or stop the run, you have no chance, and Purdue struggled mightily in both areas. Hazell admits
Purdue must do some "soul searching"
following a rough start, and things don't get any easier this week against
Jordan Lynch
and Northern Illinois.
September, 13, 2013
9/13/13
12:00
PM ET
Don't go camping near a lake today ...

September, 10, 2013
9/10/13
12:00
PM ET
But there's one sound that no one knows. What does the fox say?
September, 9, 2013
9/09/13
12:00
PM ET
I think the Bengals defense just called another timeout. Sorry, couldn't resist #bears.
To the links ...
August, 19, 2013
8/19/13
5:00
PM ET
Next Monday will be game week. So excited. For now, more of your Monday mail.
[+] Enlarge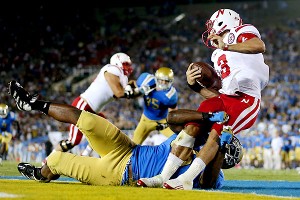 Stephen Dunn/Getty ImagesDon't expect Nebraska's Taylor Martinez to play anywhere but the QB position this fall.
Jeremy from Jenison, Mich., writes:
Which Big Ten team, outside of Ohio State, do you feel has the best chance to make the Rose Bowl? Personally, I think its either Michigan or Nebraska, or Michigan State could possibly sneak in. But what do you think?
Brian Bennett:
Jeremy, I think it's between Michigan and Nebraska. The Huskers benefit because they don't have to play Ohio State in the regular season, while Michigan has the advantage of playing Nebraska in Ann Arbor. I wouldn't be shocked to see Michigan State, Wisconsin or Northwestern sneak up and get to Pasadena (and we are talking about this while assuming Ohio State doesn't go to the BCS title game), but I think the Wolverines and Huskers have better chances because of their talent and schedule. While I rank both below the Buckeyes, either of them could beat Ohio State in a one-game shot -- or in Michigan's case, a second-game-in-two-weeks shot.
Jerry Fan from Minneapolis writes:
Jerry Kill has stated his program needs a signature win this season. Do you think that will happen, and if so, what game do you think it would be?
Brian Bennett:
That's been a consistent theme for Kill this summer, that Minnesota needs to notch a signature win. He hasn't defined exactly what that would look like, but these seem to be the best chances for the Gophers to accomplish that this fall:
Oct. 5: at Michigan
Oct. 19: at Northwestern
Oct. 26: Nebraska
Nov. 9: Penn State
Nov. 23: Wisconsin
Nov. 30: at Michigan State
You could argue whether beating Northwestern or probation-saddled Penn State is really a signature win, but I think Kill would gladly take either of those. Beating Wisconsin would be tremendous for the program because that rivalry has been so one-sided, and the same could be said about Michigan. I'll go out on a limb and say Kill's team does win one of those games, though it won't be against Michigan or Nebraska.
OblioCat from Andersonville, Chicago, writes:
Northwestern wins the Legends Division. Win or lose in the Big Ten Championship Game, is the Big Ten down (even more), or is Northwestern actually a good team? Will the journalists wait for bowl game results to rip on the Big Ten? Granted, when NU beats LSU in its bowl game, part of the South will crumble.
Brian Bennett:
Lot of ifs there, but I doubt too many people would criticize the league for being down if Northwestern wins the Legends Division, unless they finish 8-4 or something and everybody else tanks. The Wildcats are getting plenty of respect this offseason and are ranked in both major polls, so people know how good they are. Heck, the LA Times' Chris Dufresne ranked Northwestern No. 10. The Big Ten's reputation will be based on how the league performs in the nonconference games, but with so few marquee matchups, the Big Ten has more opportunities to reinforce negative perceptions by losing than it does to change them by winning.
Brian from Whiteman Air Force Base writes:
So I was thinking about my Huskers' upcoming season, and thought about Taylor Martinez's future beyond Lincoln. I think it's pretty obvious he won't be drafted as a QB, but more likely as a WR. So I was thinking, how awesome would it be to see him line up at WR a bit for Nebraska, and let our young stub backup QBs (
Tommy Armstrong
and
Johnny Stanton
) get some game experience?? Tim Beck could have a field day with that much talent on the field at one time! That could make for some serious excitement and a terror for defenses!
Brian Bennett:
I'd argue that Nebraska already has a serious amount of talent on offense, and one of the deepest and best receiving corps around.
Taylor Martinez
is so essential to the team's success that I would be stunned to see Beck risk anything by putting him at another position. But I do think playing one of the young guys is going to be important this season for the Huskers as they transition to the post-Martinez era next year. Luckily, the early schedule is such that Martinez could be getting some early rest in September and October, allowing one of those youngsters to get some in-game training.
Kevin from Fairfax writes:
Brian, you missed the most obvious
Heisman sleeper in the Big Ten
:
Akeel Lynch
if he can get on the field early enough. Penn State has the best line in the Big Ten (and maybe the nation) blocking for its running backs, the Nittany Lions have the best collection of skill position players in the league pulling defenders off the line of scrimmage (No PSU back will see a seven or eight man front this year except for in short yardage situations) and the best offensive coaching in the nation.
Brian Bennett:
Eh, sorry, I don't see it.
Zach Zwinak
had a really nice and surprising year last season for Penn State, but it wasn't anything that was remotely Heisman worthy, especially with a 4.9 yards per carry average and only six touchdowns. Plus, coach Bill O'Brien has said that he plans to get carries for Lynch and
Bill Belton
. If anybody is going to attract Heisman attention on the Nittany Lions -- and that in itself is a big question mark because of probation and the lack of roster depth -- I think it will be the quarterback.
Allen Robinson
might be the team's best player, but it's nearly impossible for receivers to win the award. If O'Brien can turn Matt McGloin into the Big Ten's top passer, imagine what he can do with a talent like
Christian Hackenberg
.
Jack from Illinois writes:
While reading your last Big Ten mailbag, I saw your thoughts on Illinois, despite competing and being better, finishing the season at with a record of 3-9. I realize as an Illini fan that we may not be the best team, but should I really be expecting us to be that bad? As daunting as the Illini's schedule looks, it appears there are some games they can really pull an upset in (don't get me wrong though, I don't exactly have much hope in our game against Nebraska). I'm not saying we get bowl eligible, but is it crazy for me to think we get to a record like 5-7?
Brian Bennett:
It's not completely crazy, but Illinois will have to make major strides on offense, defense and special teams to win five games. There are teams on the schedule that the Illini should be able to compete with, like Indiana and Purdue, and they should be favored against Southern Illinois and Miami. Win those four, and it only takes one upset to get to five wins. Still, it seems like an uphill battle given the lack of elite players and depth on the roster.
Dave from Marietta, Ohio, writes:
Regarding the
B1G football bucket list
... I've done all those. Does that mean I'm going to die tomorrow?
Brian Bennett:
I sure hope not, Dave. But whenever you do kick the bucket, you should be pretty happy.
Michigan C Cites Concussions In Decision To Quit
BIG TEN SCOREBOARD
Thursday, 9/3
Friday, 9/4
Saturday, 9/5
Sunday, 9/6
Monday, 9/7