Michigan Wolverines:

Adolphus Washington
June, 16, 2014
6/16/14
5:00
PM ET
Welcome to another edition of the Monday mailbag. Adam is on vacation this week, so I'm going to attempt to fill his Friday slot as well as my usual Wednesday 'bag this week. But I need questions to pull that off, so make sure to send them
here
or hit us up on
Twitter
.
To your queries ...
Aaron from Washington, Iowa, writes:
I feel like
Ty Issac
signing at Michigan hasn't gotten as much attention as it should have. I feel like Michigan's RBs could have a huge year if the pieces fall into place. Your thoughts?
Brian Bennett:
Isaac, who transferred from USC, is potentially a big boost for the Wolverines. But it remains to be seen whether Isaac will receive a waiver from the NCAA to become immediately eligible. He's from Shorewood, Illinois, which isn't exactly next door to Ann Arbor. The NCAA, though, has been pretty lenient on waiver cases of late, so we'll see. We should also have learned by now to exercise caution with hyped transfers. Remember all the hoopla about
Kyle Prater
transferring from USC to Northwestern, or
DeAnthony Arnett
going to Michigan State from Tennessee? Neither has had much of an impact yet in the Big Ten, though there's still time.
There is absolutely no doubt that Michigan has to improve its rushing attack after averaging just 3.3 yards per carry last season.
Derrick Green
should be better as a sophomore, especially with a more streamlined body.
De'Veon Smith
is pushing him. New offensive coordinator Doug Nussmeier is emphasizing the north-south running game, and the Wolverines simply can't win at a high level without it. The question, of course, is whether the offensive line can coalesce and create enough holes for the back to plow through. If not, it won't matter who is carrying the ball.
---
Dale from Los Angeles writes:
I'm a firm believer that certain units of Big Ten teams may look impressive during the season, but it is only because they are playing against Big Ten opponents. For instance, according to the numbers, Michigan State, Wisconsin, Ohio State and Iowa all had top-20 rush defenses in 2013. But look at the bowl performances. MSU held their opponents to 2.85 yards per carry, but Stanford ran for 4.5 ypc against MSU. South Carolina ran for 3.44 ypc against Wisconsin's 3.22 average. LSU ran for 4.31 ypc against Iowa's 3.51 average. Ohio State's rushing D performed the worst relative to their average ypc allowed, as Clemson ran for more than 5 yards per carry and more than 2.2 yards/carry above the average OSU opponent. As soon as they played real teams, the shine rubbed off these so called "elite" rush defenses.
My question is: I know you guys (and most college football analysts) think Ohio State's D-line is the best unit in the Big Ten. But how do you think they measure up nationally? I think Clemson's line is head and shoulders better, considering that this Tigers front blew up Ohio State's allegedly great offensive line for five sacks and 10 (10!!) tackles for loss in the Orange Bowl. Is Ohio State's D-line even in the nation's top 20?
Brian Bennett:
It's always going to be tough to compare college football teams directly against one another statistically across conferences because they all play such different schedules. Also remember that no team plays elite competition every week; statistical measures like yards per carry allowed are always going to be boosted by games against weak nonconference opponents, league bottom-feeders, heavy passing teams, etc. It would be surprising if a team like Michigan State didn't give up more rushing yards than its season average against a team like Stanford, which had one of the nation's better ground games last year and features a powerful attack that is unlike most FBS teams.
It also works in reverse. You mentioned, for example, Wisconsin's game against South Carolina in the Capital One Bowl. The Badgers rushed for 293 yards and for 6.8 yards per carry in that game, numbers that were way above the Gamecocks' season defensive averages. Does that mean that South Carolina's defense was overrated? What about the impact on Big Ten defenses that had to face Wisconsin?
There's very little question about the talent on Ohio State's defensive line. You've got two of the top returning defensive ends in the league in
Joey Bosa
and
Noah Spence
(when he returns from suspension). Defensive tackle
Michael Bennett
is being projected as a first-round NFL draft pick.
Adolphus Washington
is also extremely skilled, and there is promising depth behind the starters. The Buckeyes could have three or four first-round picks on that unit this fall. That's why everyone is so high on that defensive line, though, of course, the group still needs to prove it on the field against the best of the best.
---

Jerry D. from Dublin, Va., writes:
I am amazed at the lack of coverage you are giving Maryland, unless it's some kind of negative press. Maryland finished 7-5 last year with a severely crippled team. Maryland will shock the Big Ten when Ohio State crosses the Mason-Dixon and loses to the Terps. Then the other heavyweight, Michigan State will be "blacked out" by the nighttime atmosphere at Byrd Stadium. Not the biggest stadium in the country, but can be one of the loudest! Go Terps!
Brian Bennett:
Love your optimism, Jerry. A couple of things -- for one, it's the summer time, and things are pretty slow everywhere. There hasn't been a lot of news out of College Park in a while. Maryland doesn't officially even join the Big Ten (along with Rutgers) until July 1, at which time we hope to have some more coverage of the Terps. Maryland fans have also been very quiet -- we haven't heard much from you guys on Twitter on in the mailbags. I think Randy Edsall has an interesting team on his hands and one that can make some noise if it can stay healthy. It's a pretty simple equation around here: The more you win and have an impact on the league, the more we're going to talk about you.
---

Xavier from Paoli, Ind., writes:
I would love to know why Indiana offensive players don't get any respect. I get IU won five games last year, but you can't blame the offense that was ninth in the nation.
Nate Sudfeld
and
Tevin Coleman
are two of the top players at their respective positions. Nate Sudfeld threw for 21 TDs and 9 INTs in 322 attempts last year. Only
Connor Cook
and
Joel Stave
threw for more TDs, but Stave threw four more INT's and attempted 336 passes and Cook attempted 380 passes. Coleman rushed for 958 yards in nine games and averaged 7.8 yards a carry, which was tied for eighth in the nation with
Carlos Hyde
. I truly think both should be getting more respect than they do, because they get just about zero. Maybe they need to put on a Michigan or Ohio State jersey to get it?
Brian Bennett:
We're well aware of Indiana's offensive prowess, Xavier, and we mention those guys a lot around here. We're doing some statistical projections in the next few days, and the Hoosiers will be well represented. If you're talking about national respect, it's all about winning games. When a team has been out of the postseason since 2007, like IU, it becomes pretty irrelevant nationally. Its games don't receive spotlight broadcast times, and individual accomplishments get overlooked. Indiana needs to pull off a couple of Big Ten upsets for its players to get noticed nationally. Sudfeld and Coleman need to deliver in games against Ohio State, Michigan State and other top contenders.
---

Cameron from San Diego writes:
Brian, the Big Ten's ban on FCS schools makes sense for the most part. No self-respecting Ohio State team should be playing Florida A&M. I know there is a bit more of a gray area with matchups like Minnnesota-NDSU and the like. But one that I think absolutely needs to be played that I don't think I've ever heard anyone mention is Rutgers-Princeton in 2019. That's right -- the 150th anniversary of college football. From what I hear there are no talks about it. I don't even know if anybody knows or cares, but I think it would be perfect! It needs to happen! It would be a great thing for the Big Ten to capitalize on as well.
Brian Bennett:
Fun idea, Cameron. The Ivy League has steered clear of playing FBS teams in recent years. But this is one FBS-FCS matchup I could support, if only for the historical celebrations and ceremonies that could come with it.
April, 21, 2014
4/21/14
5:00
PM ET
I've got less than a week left in my 30s. No time for pithy intros. Hit me:
Chris from Augusta, Maine, writes:
Michigan fans are clamoring for success. It seems like the main thing holding them back are the lines. The '13 O-line haul was one of the better recruiting position groups I can remember across the country with guys like
Kyle Kalis
,
Kyle Bosch
,
Patrick Kugler
, LTT (
Logan Tuley-Tillman
),
David Dawson
, etc. And, quality guys on the D-line like
Ondre Pipkins
,
Taco Charlton
,
Chris Wormley
,
Bryan Mone
,
Lawrence Marshall
,
Henry Poggi
, etc. are there. So, it seems like the solutions to the problem are all in place; they are just young and/or developing. When will these two position groups develop enough to make Michigan become a 10-win type team again and actually return to being a regular conference contender?
Brian Bennett:
Some good points, Chris. Our microwave society doesn't allow for a lot of patience anymore, but developing players in the trenches almost always takes time. Brady Hoke and his staff inherited a program that didn't have much depth at all on the offensive line. Michigan was playing a three-man front on defense, so a transition was expected. On the flip side, you could argue that Hoke is now entering Year 4, and his highly ranked recruiting classes have yet to yield many superstars. It's not impossible for young players to contribute early on the lines -- look at what
Noah Spence
,
Adolphus Washington
and especially
Joey Bosa
did as true freshmen on Ohio State's defensive front the past two seasons.
But there's also a reason why coaches like Mark Dantonio often redshirt as many guys on the lines as possible. Michigan has some intriguing talent on the D-line -- Charlton, in particular, looked like a beast this spring -- while the O-line is still stacked with redshirt freshmen and sophomores. If those players can develop, the Wolverines could turn both areas into a strength in a year or two, assuming fans can wait that long.
---

Nick from East Lansing, Mich., writes:
To preface this, I recently graduated from MSU, had season tickets and loved the football program, so this isn't coming from jealousy. It seems the tone from you, Adam, and Spartans fans in general that people believe the offense will carry the Spartans this year. I just don't see their offense being that good. Looking back at the championship game and the Rose Bowl, MSU was very lucky that their offense didn't cost them those games. Cook made quite a few poor decisions that hit defenders in the hand. If they had held on to those balls, MSU's season does not end the way it did. It seems that because MSU won those games, people are willing to forget how close the offense was to losing those games. The MSU offense will be better than at the start of last year, but I believe it is more likely to be in the bottom half of the B1G than the top.
Brian Bennett:
Nick, it sounds like you are scarred emotionally from 2012. Look, no one is saying Michigan State will suddenly become a run 'n' gun team that wins a bunch of shootouts. Even if it had that kind of offensive skill, Dantonio doesn't want to play that way. But the fact is the offense returns almost all of its production from last season, when it averaged close to 30 points per game in Big Ten play. There's every reason to believe that side of the ball can hold its own or even
carry the team at times
if a more inexperienced defense needs a few games to jell.
Connor Cook
admitted to me that
he got lucky last year
that some of his passes weren't picked off, but he was also a first-year starter who should make better decisions this year because of his experience. The tight ends should become more of a weapon for the team and provide some safety valves. If the offensive line can come together, this can be a very good offense, perhaps even as good as the one from 2011 that averaged 31 points per game and finished third in the Big Ten in scoring en route to a Legends Division title.
And lastly, I find your characterization of last season's final two games to be off base. The Spartans scored 34 points in the Big Ten championship game vs. Ohio State and then put up 24 against an outstanding Stanford defense, one that was No. 4 in the FBS against the run coming into the game. Michigan State scored more points against Stanford than Oregon or UCLA did. That's more than just "lucky."
---

Patrick D. via Twitter writes:
Who sees more snaps at QB for #IUFB in 2014?
Tre Roberson
or
Nate Sudfeld
?
Brian Bennett:
This might be the toughest mailbag question of the year. No joke. Indiana's quarterback situation is one of the most confounding ones I've ever seen, and even coach Kevin Wilson can't figure out who should start or play more. It's clear at this point that both Sudfeld and Roberson will play again in 2014, and the Hoosiers might just ride the hot hand. Wilson told me that Sudfeld may look a little better at times in practice, but Roberson can't truly shine in a practice setting because his elusiveness doesn't factor in when coaches call plays dead once a defender gets near a quarterback. If forced to guess, I'll pick Sudfeld for the most snaps, since he just looks like a future NFL quarterback and he played a lot more than Roberson last season. But this is what you'd call a constantly evolving situation, and the good news for Indiana is it somehow works.
---

Nick H. via Twitter writes:
Thoughts on the Minnesota quarterback situation? Does
Mitch Leidner
stay the starter through the full year or does
Chris Streveler
dethrone him?
Brian Bennett:
I'm more bullish on Leidner than most, including Rittenberg. I see a big, strong guy who can really run and should improve as a passer, and Leidner's improved leadership skills this offseason should serve him well. Yet there's no question that Minnesota's passing game needs to take a giant leap forward, and the disappointing performance in the Gophers' spring game did nothing to change that opinion. Jerry Kill has proved that he's not afraid to play more than one quarterback, and by running so much, Leidner will be more at risk for injury. So while I expect him to remain the starter, it wouldn't surprise me to see someone else under center at key times in 2014.
---

Tom from North Jersey writes:
We all know Rutgers has gaps to fill to catch up to most of the Big Ten teams on the field, but based on your time with the Big East blog, what improvements do they need to make to catch up?
Brian Bennett:
My last season covering the Big East was 2010, and I haven't followed Rutgers in great detail in the interim simply because there's little time to pay attention to teams outside the Big Ten. But from what I've seen and what I remember about the Scarlet Knights, I think the first major upgrade has to come at quarterback. Rutgers has consistently been able to field pretty good defenses but only occasionally has been dangerous on offense, and shaky quarterback play has been a big reason why. There's an open competition for that job this spring, though
Gary Nova
has a huge experience edge. The hiring of Ralph Friedgen as offensive coordinator is a reason for optimism, and if anybody can fix Nova, it's Friedgen. Rutgers will also need more depth and talent on both lines in order to compete on a weekly basis in the Big Ten.
March, 3, 2014
3/03/14
2:30
PM ET
We're taking snapshots of each position group with each Big Ten team entering the spring. Up next: the defensive lines.

Illinois:
This is a significant concern for the Illini, especially after
the recent departure
of
Houston Bates
, who started last season at the Leo (defensive end/outside linebacker) spot. Illinois also loses its other starting defensive end,
Tim Kynard
. The team will rely heavily on junior-college players such as
Jihad Ward
and
Joe Fotu
, but it also needs holdovers like
Dawuane Smoot
and
Paul James
III to step up on the perimeter. Illinois returns more experience inside with
Austin Teitsma
and
Teko Powell
, but there should be plenty of competition, especially with the juco arrivals, after finishing 116th nationally against the run.

Indiana:
The anticipated move to a 3-4 alignment under new coordinator Brian Knorr creates a different dynamic for the line this spring. Indiana must identify options at the all-important nose tackle spot, and possibilities include sophomores
Ralphael Green
and
Darius Latham
, both of whom are big bodies.
Nick Mangieri
had a nice sophomore season and should be in the mix for a starting job on the perimeter (end or outside linebacker), while
David Kenney
could be a good fit as a 3-4 end. Defensive end
Ryan Phillis
is the team's most experienced lineman, and
Zack Shaw
also has some starting experience.

Iowa:
This group should be the strength of the defense as Iowa returns three full-time starters -- tackles
Carl Davis
and
Louis Trinca-Pasat
, and end
Drew Ott
-- as well as
Mike Hardy
, who started the second half of the season opposite Ott. End
Dominic Alvis
departs, but Iowa brings back almost everyone else from a line that allowed only eight rushing touchdowns in 2013. Junior
Darian Cooper
could have a bigger role and push for more playing time inside, and
Nate Meier
provides some depth on the perimeter after recording two sacks in 2013. Iowa is in good shape here.

Maryland:
The Terrapins employ a 3-4 scheme and appear to be in good shape up front, as reserve
Zeke Riser
is the only rotation player to depart.
Andre Monroe
leads the way at defensive end after an excellent junior season in which he led Maryland in both sacks (9.5) and tackles for loss (17).
Quinton Jefferson
started at defensive end last season and recorded three sacks. There should be some good competition this spring at nose tackle between
Keith Bowers
and
Darius Kilgo
, both of whom had more than 30 tackles last season. The challenge is building greater depth with players such as end
Roman Braglio
.

Michigan:
If the Wolverines intend to make a big step in 2014, they'll need more from the front four, which didn't impact games nearly enough last fall. Michigan's strength appears to be on the edges as veteran
Frank Clark
returns after starting every game in 2013 and recording a team-high 12 tackles for loss.
Brennen Beyer
, who started the second half of last season, is back at the other end spot, and Michigan has depth with
Mario Ojemudia
and
Taco Charlton
. There are more questions inside as
Willie Henry
,
Chris Wormley
and others compete for the starting job. Young tackles such as
Henry Poggi
and
Maurice Hurst Jr
. also are in the mix, and
Ondre Pipkins
should be a factor when he recovers from ACL surgery.

Michigan State:
The Spartans return the best defensive end tandem in the league as
Shilique Calhoun
, a second-team All-American in 2013, returns alongside
Marcus Rush
, one of the Big Ten's most experienced defenders.
Joel Heath
,
Brandon Clemons
and others provide some depth on the perimeter. It's a different story inside as MSU loses both starters (
Micajah Reynolds
and
Tyler Hoover
), as well as reserve
Mark Scarpinato
.
Damon Knox
,
James Kittredge
and
Lawrence Thomas
, who has played on both sides of the ball, are among those who will compete for the starting tackle spots. If
Malik McDowell
signs with MSU, he could work his way into the rotation.

Minnesota:
Defensive tackles like
Ra'Shede Hageman
don't come around every year, and he leaves a big void in the middle of Minnesota's line. The Gophers will look to several players to replace Hageman's production, including senior
Cameron Botticelli
, who started opposite Hageman last season. Other options at tackle include
Scott Ekpe
and
Harold Legania
, a big body at 308 pounds. Minnesota is in much better shape at end with
Theiren Cockran
, arguably the Big Ten's most underrated defensive lineman. Cockran and
Michael Amaefula
both started every game last season, and
Alex Keith
provides another solid option after recording five tackles for loss in 2013.

Nebraska:
Other than MSU's Calhoun, Nebraska returns the most dynamic defensive lineman in the league in
Randy Gregory
, who earned first-team All-Big Ten honors in his first FBS season. If the Huskers can build around Gregory, they should be very stout up front this fall. Nebraska won't have Avery Moss, suspended for the 2014 season, and players such as
Greg McMullen
and junior-college transfer
Joe Keels
will compete to start opposite Gregory. The competition inside should be fascinating as junior
Aaron Curry
and sophomore
Vincent Valentine
both have starting experience, but
Maliek Collins
came on strong at the end of his first season and will push for a top job.

Northwestern:
It will be tough to get a clear picture of this group in the spring because of several postseason surgeries, but Northwestern should be fine at defensive end despite the loss of
Tyler Scott
.
Dean Lowry
,
Ifeadi Odenigbo
and
Deonte Gibson
all have significant experience and the ability to pressure quarterbacks. Odenigbo, who had 5.5 sacks as a redshirt freshman, could become a star. The bigger questions are inside as Northwestern must build depth.
Sean McEvilly
is a solid option but must stay healthy.
Chance Carter
and
Max Chapman
are among those competing for starting jobs at tackle.

Ohio State:
A total mystery last spring, the defensive line should be one of Ohio State's strengths in 2014.
Noah Spence
and
Joey Bosa
could become the Big Ten's top pass-rushing tandem, and the Buckeyes have depth there with
Jamal Marcus
,
Adolphus Washington
and others. Returning starter
Michael Bennett
is back at defensive tackle, and while
Joel Hale
might move to offense, there should be enough depth inside with
Tommy Schutt
,
Chris Carter
and Washington, who could slide inside. Nose tackle is the only question mark, but new line coach Larry Johnson inherits a lot of talent.

Penn State:
Like the rest of the Lions defense, the line struggled at times last season and now much replace its top player in tackle
DaQuan Jones
. The new coaching staff has some potentially good pieces, namely defensive end
Deion Barnes
, who won 2012 Big Ten Freshman of the Year honors but slumped as a sophomore. Barnes and
C.J. Olaniyan
could form a dangerous pass-rushing tandem, but they'll need support on the inside, where there should be plenty of competition.
Austin Johnson
will be in the mix for a starting tackle spot, and early enrollees
Tarow Barney
and
Antoine White
also should push for time.
Anthony Zettel
provides some depth on the perimeter.

Purdue:
The line endured a tough 2013 campaign and loses two full-time starters (tackle
Bruce Gaston
Jr. and end
Greg Latta
), and a part-time starter (end
Ryan Isaac
). Competition should be ramped up at all four spots this spring. Senior end
Ryan Russell
is the most experienced member of the group must take a step this offseason.
Evan Panfil
and
Jalani Phillips
will push for time at the end spots, along with Kentucky transfer
Langston Newton
.
The group at tackle includes Ryan Watson and Michael Rouse III, both of whom started games in 2013.

Rutgers:
Keep a close eye on this group in the spring as Rutgers begins the transition to the Big Ten. The Scarlet Knights lose two starters in end
Marcus Thompson
and tackle
Isaac Holmes
, as well as contributor
Jamil Merrell
at tackle.
Darius Hamilton
provides a building block on the inside after recording 4.5 sacks and 11.5 tackles for loss in 2013, and end
Djwany Mera
is back after starting throughout last season.
David Milewski
played tackle last year, but both he and Hamilton likely need to add weight for their new league. Rutgers has some talent in the younger classes and needs players such as
Sebastian Joseph
,
Kemoko Turay
and
Julian Pinnix-Odrick
to emerge.

Wisconsin:
Linebacker
Chris Borland
is the biggest single departure for the Badgers' defense, but the no position group loses more than the line. Wisconsin must replace several mainstays, most notably nose tackle
Beau Allen
, who performed well in the first year of the 3-4 set under coordinator Dave Aranda. Senior
Warren Herring
will step in for Allen after three years as a reserve.
Konrad Zagzebski
is a good bet to fill one of the end spots, but there will be plenty of competition with players such as
Jake Keefer
,
James Adeyanju
,
Arthur Goldberg
and
Chikwe Obasih
.
December, 11, 2013
12/11/13
5:00
PM ET
The weather outside is frightful. But your emails are so delightful. Well, except for the guy who sent me repeated missives in all caps about how
Braxton Miller
should have been suspended for the Big Ten championship game. Dude, give it a rest.

Anyway, on to the mailbag:
Scott M. from Charlotte, N.C., writes:
Will we ever know why Ohio State felt two carries were plenty for
Carlos Hyde
in the fourth quarter? The game turned in the third quarter because of the bruiser. Braxton Miller is the driver of the car but those two calls late in the game were just awful. How anyone can say I have third-and-three for the game and my 230 pound, 7-yards-a-rush running back will not touch the ball really needs to look at themselves in the mirror.
Brian Bennett:
Should Carlos Hyde have gotten more than 18 carries against Michigan State? Probably. But don't forget that the Spartans defense specializes in loading the box and daring teams to throw deep. Plus, Miller was the more effective runner of the two most of the night and finished with more yards and yards per carry than Hyde.
The fourth quarter began with an Ohio State punt. Then Michigan State drove for a field goal. On Ohio State's first real possession of the fourth, Hyde ran for four yards on second-and-10, setting up a passing situation on third down. Miller then threw an incomplete pass. The series you're talking about started with 7:36 left. The Buckeyes had Miller run it on third and fourth down, and he was stuffed both times. Urban Meyer said it was his call to give the ball to Miller on fourth-and-2.
And it's hard to fault him for that. We're talking about the two-time Big Ten offensive player of the year who ran for 142 yards vs. Michigan State. A running quarterback is one way to counter the Spartans defense. It didn't work out, mostly because Pat Narduzzi called the right blitz and
Denicos Allen
made a great play. After that, Michigan State scored a touchdown to go up by 10 points, and the the time to run the ball was over for Ohio State.
Bottom line is you have to be successful passing the ball to beat the Spartans. And Ohio State went 8-for-21 for 101 yards through the air.
Tommy B. from Savannah, Ga., writes:
Brian, as a Buckeye fan it's crazy for me to think that after the 2011 6-7 disaster that I'd be so disappointed after the team would go 24-1 under Urban Meyer so far. I'd almost forgot what it felt like to lose on a Saturday (emphasis on almost, it felt terrible in case you were wondering). The problem has obviously been complete inconsistency with the defense. They have big name veteran stars with gaudy numbers and at times (including in the B1G title game) they've been dominant. But in the Michigan game and for some big game-changing plays against MSU they've had complete breakdowns. They have the talent to be better than they are. In your opinion, what's the problem? Fickell? Key injuries (Bryant)? Fickell? Youth in key positions? Fickell?
Brian Bennett:
It's a good question. The place we thought Ohio State's defense might be vulnerable to start the year was up front because of all the youth there. Yet that was arguably the strength of the defense, with guys like
Michael Bennett
,
Joey Bosa
,
Noah Spence
and
Adolphus Washington
. The problem really seemed to be at the linebacker positions other than
Ryan Shazier
and at safety, especially when
Christian Bryant
got injured. Michigan State exposed the Buckeyes' safeties early on last Saturday.
It's kind of hard to believe that Ohio State would find itself so thin at linebacker. The Buckeyes recruited some highly-regarded defensive backs last year, but guys like
Vonn Bell
didn't have much of an impact this season. They're still young, so that's to be expected, but it was disappointing that some of the more veteran players didn't have great seasons (relatively speaking, because Ohio State did go 12-0).
The Buckeyes' defensive coaches all have strong track records, so I have a hard time believing it's simply a coaching issue. But Ohio State clearly needs to develop better depth in its back seven, especially if Shazier decides to leave for the NFL.
Randy from Waukesha, Wis., writes
: I just learned that Wisconsin's
Jared Abbrederis
won an award for the national best walk-on player-of the-year in CF! Did I miss your guys' article on this? If not please tell us more..... B1G can use all the kudos it can get, especially at this time of the year!
Brian Bennett:
Yes,
Abbrederis won the Burlsworth Trophy
, which is award to the best player who started his career as a walk-on. We didn't write a post about it, mainly because there are seemingly thousands of college football awards now, but we did tweet it. Abbrederis was a slam-dunk choice for that award, and it's hard to believe he ever was a walk-on. He'll be on an NFL roster next fall.
King from Los Angeles writes:
I agreed with you about the silliness of the coaches' poll. I am a Huskers fan and I do not believe we deserved a top 25 ranking even though Bo thinks so. I think they should change the way coaches vote by making a rule that you cannot vote for your own team. That could take away all the biases. What do you think?
Brian Bennett:
That would only solve part of the problem, as there still would be inherent conflicts of interest involving teams in a coach's own conference, his opponents, friends, etc. The good news is it won't matter at all as part of the national championship provess next year, so the coaches can be as silly as they want to be. And given how little most coaches want to deal with the hassle, I'm not sure why there should even be a coaches' poll next year.
Greg from Lansing, Mich., writes:
In giving conferences more power on selecting bowl match-ups should we just assume Ohio State/Michigan will always occupy the better bowl games? (If they aren't already in the play-off).
Brian Bennett:
I can understand why there's a feeling in some quarters that Ohio State and Michigan get preferential treatment from the league office. But the truth is that the biggest brand-name schools already get preferential treatment from bowls. Is there any reason why Michigan at 7-5, should be in the Big Ten's No. 3 non-BCS bowl this year? Or why Ohio State went to the Gator at 6-6 in 2011? Only one: drawing power.
What the new system will basically do is allow the leagues more input on the process so as to avoid teams going to the same destination over and over again and to create better matchups. Had it been in place this year, however, I doubt we'd see Nebraska going back to Florida for a rematch with Georgia. Bowls are always going to want big-name teams as long as they are businesses. But better matchups and fresher destinations should help fans.
Greg from Atlanta writes:
As an Iowa fan living in Georgia, I'm wondering how an 8-4 Georgia team gets ranked and an 8-4 Iowa team doesn't? Now, I'm not saying Iowa deserves a ranking, because 4 wins shouldn't get you in the top 25. But, Georgia lost to Vandy and needed double OT to beat Ga Tech. They also struggled with teams they should have throttled and fell far below expectations. Iowa played two teams tough that will both play in BCS bowls. Is this just more bias against the Big Ten? If so, will that bias ever go away?
Brian Bennett:
I don't think this is a case of anti-Big Ten bias as much as it is probably pro-SEC sentiment. Iowa is a tough case and a team I debated putting in my final Top 25 for a while before ultimately deciding against it. Barely. The Hawkeyes' four losses are all highly respectable -- Michigan State, Ohio State, Wisconsin and Northern Illinois. But you shouldn't get credit for just losing to good teams. Iowa's best wins are over Minnesota, Michigan and Nebraska, with two of those on the road. Very solid, but not spectacular.
Georgia's in a similar boat in terms of "good" losses, including Clemson and Missouri. The Dawgs also lost on the road to Auburn thanks to a miracle play at the end. They have also beaten South Carolina and LSU, two wins better than anything Iowa can claim, and the team was decimated by injuries this season.
I think the Hawkeyes are good, and they have some nice momentum after winning their final three games. That's why I'm really looking forward to seeing how they play against LSU. Iowa definitely ends the season in the Top 25 with a win over the Tigers in the Outback. And given the wide-open nature of next year's West Division, at least on paper, Iowa could emerge as one of the preseason favorites in that division in 2014.
September, 19, 2013
9/19/13
12:00
PM ET
Unlike in Cleveland, there are no white flags waving here in September.
September, 3, 2013
9/03/13
3:00
PM ET
Every Monday or Tuesday, I'll take a look back at our Big Ten predictions and poke fun at Brian, our guest picker and myself. Unfortunately, Brian is the big winner after Week 1, going a perfect 12-0 in picks to lead me by a game.
To review, the
Week 1 predictions
made by the reporters and guest picker
Ryan Stitt of Litchfield, Ill.
WEEK 1/SEASON RECORD
Brian Bennett: 12-0 (1.000)
Adam Rittenberg: 11-1 (.917)
It's rewind time …
Indiana State at Indiana
Bennett's pick: Indiana 38, Indiana State 14
Rittenberg's pick: Indiana 42, Indiana State 20
Actual score: Indiana 73, Indiana State 35
20-20 hindsight: We both underestimated the prowess of Indiana's offense, which set a stadium record for points scored. Bennett correctly pegged Tre Roberson to start at quarterback for the Hoosiers and Nate Sudfeld to take over and play plenty. My prediction of three combined rush touchdowns for Tevin Coleman and Stephen Houston fell one score short.
UNLV at Minnesota
Bennett's pick: Minnesota 31, UNLV 16
Rittenberg's pick: Minnesota 27, UNLV 14
Actual score: Minnesota 51, UNLV 23
20-20 hindsight: Again, we didn't expect such a scoring explosion from the Big Ten team. I correctly predicted Minnesota would record several takeaways (it had two). Bennett's pick to click, Gophers running back Donnell Kirkwood, had his night cut short by an ankle injury.
Western Michigan at Michigan State
Bennett's pick: Michigan State 28, Western Michigan 6
Rittenberg's pick: Michigan State 31, Western Michigan 10
Actual score: Michigan State 26, Western Michigan 13
20-20 hindsight: Both of us correctly pegged the Spartan Dawgs defense for a big night, although their pick-six came from a safety (Kurtis Drummond), not a cornerback, as I predicted. Bennett had the better forecast on the offense, writing that the quarterback competition wouldn't be settled in Week 1.
Buffalo at Ohio State
Bennett's pick: Ohio State 42, Buffalo 14
Rittenberg's pick: Ohio State 49, Buffalo 13
Actual score: Ohio State 40, Buffalo 20
20-20 hindsight: Bennett came closer on the score prediction, but we both had the wrong Buckeyes going for long touchdowns as running back Jordan Hall and wide receiver Devin Smith did their thing. Defensive end Noah Spence had a sack, but neither Adolphus Washington nor Ryan Shazier recorded one, as I had predicted.
Massachusetts at Wisconsin
Bennett's pick: Wisconsin 38, UMass 7
Rittenberg's pick: Wisconsin 48, UMass 10
Actual score: Wisconsin 45, UMass 0
20-20 hindsight: This was one of our easier and better predictions of Week 1. Bennett's combined yards prediction of 275 for James White and Melvin Gordon came extremely close -- they had 287 -- and I correctly pegged Badgers quarterback Joel Stave to twice find Jared Abbrederis for touchdowns.
Southern Illinois at Illinois
Bennett's pick: Illinois 31, Southern Illinois 13
Rittenberg's pick: Illinois 27, Southern Illinois 17
Actual score: Illinois 42, Southern Illinois 34
20-20 hindsight: Sense a theme? We both undervalued the offenses of several second-division Big Ten squads in Week 1. Brian came close with his predictions of 35 pass attempts (Illinois had 37) and three Nathan Scheelhaase touchdown passes (he had two).
Purdue at Cincinnati
Bennett's pick: Cincinnati 28, Purdue 27
Rittenberg's pick: Cincinnati 27, Purdue 24
Actual score: Cincinnati 42, Purdue 7
20-20 hindsight: We both expected much more from Purdue in coach Darrell Hazell's debut. Cincinnati quarterback Munchie Legaux made big plays early, not late, as Brian predicted. I had Purdue quarterback Rob Henry committing a key fourth-quarter turnover, but he threw picks in the first and third quarters in a poor performance.
Central Michigan at Michigan
Bennett's pick: Michigan 35, Central Michigan 17
Rittenberg's pick: Michigan 38, Central Michigan 14
Actual score: Michigan 59, Central Michigan 9
20-20 hindsight: We had similar score predictions and both turned out to be way off, at least when it comes to Michigan's offensive output. Michigan receiver Jeremy Gallon had one touchdown catch, not two as I had predicted. Wolverines running back Fitzgerald Toussaint had 57 rush yards, falling short of Brian's prediction (95).
Penn State vs. Syracuse
Bennett's pick: Penn State 27, Syracuse 23
Rittenberg's pick: Penn State 24, Syracuse 21
Actual score: Penn State 23, Syracuse 17
20-20 hindsight: One of our better score predictions, as we both expected a fairly low scoring close game and got one. Penn State had zero rushing touchdowns, not the two I had predicted.
Northern Illinois at Iowa
Bennett's pick: Northern Illinois 23, Iowa 21
Rittenberg's pick: Iowa 24, Northern Illinois 23
Actual score: Northern Illinois 30, Iowa 27
20-20 hindsight: Our lone disagreement of Week 1 went Bennett's way, even though I was in good shape for most of the second half. Iowa running back Mark Weisman (100 rush yards) came 50 yards and two touchdowns shy of my prediction. NIU got a big lift late in the fourth quarter from a Jordan Lynch touchdown pass, not a Lynch scoring run, which was Bennett's forecast.
Wyoming at Nebraska
Bennett's pick: Nebraska 49, Wyoming 21
Rittenberg's pick: Nebraska 52, Wyoming 17
Actual score: Nebraska 37, Wyoming 34
20-20 hindsight: We both expected a stress-free night for the Huskers and a much better performance from the young Nebraska defense. Neither happened. I correctly pegged Nebraska quarterback Taylor Martinez to find Quincy Enunwa for two touchdown passes. Brian's prediction of five combined touchdowns for Martinez and Ameer Abdullah came up short as Imani Cross had Nebraska's two rushing touchdowns.
Northwestern at California
Bennett's pick: Northwestern 30, Cal 24
Rittenberg's pick: Northwestern 33, Cal 24
Actual score: Northwestern 44, Cal 30
20-20 hindsight: We both came up short with our score predictions, although Bennett's forecast of Northwestern recording two timely interceptions proved spot on as linebacker Collin Ellis had a pair of pick-sixes in the second half. Injuries prevented the big night I predicted for Northwestern quarterback Kain Colter and running back Venric Mark.
And now for our guest picker …
Indiana 21, Indiana State 13
UNLV 21, Minnesota 17
Michigan State 28, Western Michigan 17
Ohio State 45, Buffalo 13
Wisconsin 38, UMass 14
Southern Illinois 20, Illinois 17
Cincinnati 27, Purdue 21
Michigan 28, Central Michigan 17
Penn State 28, Syracuse 23
Iowa 24, Northern Illinois 13
Nebraska 27, Wyoming 16
Northwestern 24, California 21
Record:
9-3
Assessment:
Not too shabby, Ryan, although you've clearly lived in Big Ten country too long with some of those low score predictions. You came close with Michigan State-Western Michigan but, like the two of us, underestimated the offensive prowess of teams like Michigan, Northwestern, Indiana, Minnesota and Illinois. That UNLV pick doesn't look too good, but not a terrible first effort.
Who's next?
August, 12, 2013
8/12/13
5:00
PM ET
Can we hop in the DeLorean and travel ahead to Aug. 29? No? OK, then, let's just answer some emails.
Justin from Baltimore writes:
Hi, Brian. Which of the following outcomes would be most beneficial in boosting the BIG's national rep? 1. Win all nine of the top nonconference games (ND at Michigan, UCLA at Nebraska, MSU at ND, Wisconsin at ASU, OSU at Cal, PSU vs. Syracuse, BYU at Wisconsin, NW at Cal, and Iowa at ISU ... I think it would actually be in the BIG's interest for ND to beat Purdue in game No. 10 as to not totally devalue the other victories against the Irish). 2. Win the Rose Bowl. 3. Place a team in the BCS championship game and lose in a close, competitive game that really could have gone either way?
[+] Enlarge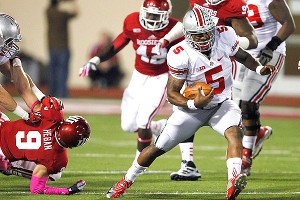 AP Photo/Sam RicheOhio State and Braxton Miller have their eyes on the big prize this season.
Brian Bennett:
I think we can quickly rule out No. 1. The Big Ten just doesn't have many high-profile nonconference games. If Notre Dame loses to both Michigan schools, that probably means the Irish won't have a great season, and beating teams like Cal, UCLA and Arizona State simply doesn't carry that much weight. A Rose Bowl win would be great, but we don't know who the opponent would be. Is it a highly-ranked Pac-12 champion? Even then, I think the No. 3 item in your scenario is the most important. Winning championships is obvious the most beneficial accomplishment for a league's perception. The second-best way to do that might be playing for a championship and coming really close. Especially if a Big Ten team were to take an SEC champ to the wire, that could go a long way toward improving perception.
Nick from Bay Area, Calif., writes:
Suppose the following situation plays out: In the Legends Division, Nebraska finishes 11-1 with its only loss at Michigan. Michigan loses a close one to the Buckeyes and drops another on the road (take your pick, @PSU, @NW, @MSU) to finish 10-2. In the Leaders, Ohio State finishes 12-0 and Wisconsin loses close ones at OSU and Arizona State to finish 10-2. Ohio State destroys Nebraska in the B1G CG. If the Buckeyes go to the NCG, is there a shot that the Badgers could end up in the Rose Bowl again?
Brian Bennett:
I see it's a hypothetical day. Yep, we all need some real football around here to talk about. Anyway, it's an interesting question. Of course, there are scenarios where the Rose Bowl could take a non-Big Ten team if it lost the league champion to the BCS title game, but I doubt the game would want to do that in the final season before the playoff and certainly not in its 100th edition. Let's assume all three Big Ten teams you mentioned finished in the top 14 of the BCS standings but not in the top four. The Rose would be free to take its pick of those teams. I actually think Nebraska or Michigan would be more likely to go to Pasadena, both because they'd have stronger nonconference wins in your scenarios (Notre Dame for the Wolverines, UCLA for the Huskers) than Wisconsin, and because the Rose Bowl might have a bit of Badgers fatigue (and vice versa).
Glenn from Leesburg, Fla., writes:
Brian, why all the hype over OSU? Realistically, what more do they have than teams like UM, PSU, Wisconsin, and Nebraska? They have
Braxton Miller
, but except for PSU, there's some pretty good QBs starting for the other three schools. OSU appears to have a good secondary, so does PSU. OSU lacks depth at LB and DL. They have a good OL, so does PSU and UM. OSU has Urban Meyer, PSU has last season's Coach of the Year, UM has Brady Hoke. OSU has a questionable backfield to support Miller, especially the first few games. OSU had a great recruiting year, so did UM which was ranked ahead of the Bucks in that category. Last fall's undefeated season for OSU has nothing to do with this year's upcoming season. So, why all the hype? You and Adam make it sound like we might as well skip the BIG season and send OSU right to the BCS championship game. Biased much?
Brian Bennett:
Well, let me tackle the "biased much" question first, since it is so ridiculous. Our job here involves giving informed opinions and predictions at times, and we have both said Ohio State is the league favorite. This is not an absurd opinion, since the Buckeyes are ranked No. 2 in the preseason coaches' poll and have been picked to win the Big Ten by just about every major publication, writer, etc. Last year, we both picked Michigan State to win the Big Ten. Did that make us biased toward the Spartans? Come on, Glenn.
Anyway, as a guy from Florida, you should know part of the answer here: Urban Meyer. Yes, he's not the
only
great coach in the league. But he is the only one with national title rings. And in his first season in the conference, he went 12-0. The Buckeyes have had an abundance of talent most years, and they're loaded again in 2013. The offensive line is excellent, Miller finished fifth in the Heisman voting last year, and the skill players are improving, especially with the rave reviews freshman
Dontre Wilson
has garnered thus far. There are questions on defense, but there are also All-America type players on that side like
Ryan Shazier
and
Bradley Roby
, plus stars-in-the-making like
Adolphus Washington
and
Noah Spence
. I've said I think it will be hard for the Buckeyes to go undefeated again, and let's not forget that they had several close calls last season. But if you're going to predict a 2013 Big Ten champ, Ohio State is the obvious pick right now.
Brian M. from Oregon, Ohio, writes:
Brian, I must take exception to your response to Brian from Atlanta. You can't look at it as 25 games in a row. You have to look at it one game at a time. The Buckeyes aren't playing 25 straight games. They're playing one opponent, and then preparing for the next. When you look at it on a game-by-game basis, you're hard pressed to think that Ohio State
won't
finish undefeated. Further, what happened last season is already in the past. It has no bearing on this season. From here, it's 14 games to go, not 25 (or 26 as it were). Additionally, Brian from Atlanta mentioned some of the close games Ohio State had last year. This seems to be a common misapprehension amongst Buckeye doubters. The Buckeye team that beat that school up north in November, was far better than the one that took the field against Miami (OH) (IO) in September. Certainly other teams have improved as well, but consider the giant leap forward Urban Meyer-coached teams traditionally take in Year 2 of his system. Other teams will have improved, but Ohio State has improved more, and they are better to begin with. Once again, it seems far more likely that Ohio State will finish undefeated than not.
Brian Bennett:
While it's true that this season's Ohio State team is different, and it won't have to win 25 games in a row this season, my point was that it's really, really hard to go undefeated in any given year, much less do it two years in a row. You make a good point about Meyer's second-year track record, but also recall that he had only one undefeated season under his belt before last year, and that was at Utah. You also make it sound like Ohio State didn't have close games late in the season, but the Buckeyes won an overtime game in the penultimate game at Wisconsin, as well as that miracle comeback against Purdue on Oct. 20. And remember that they only beat Michigan by five points, at home. Yes, Meyer's team should be favored in at least 11 games this season, but we are saying that based mostly on what those opponents did last year, not the teams that they will become this season. I won't be surprised if the Buckeyes run the table, but I'd give better odds that they slip up somewhere.
Josh from Madison, Wisc., writes:
Who ultimately starts for the Badgers this season,
Joel Stave
or
Tanner McEvoy
?
Brian Bennett:
You're giving short shrift to
Curt Phillips
, who might not have the arm strength of Stave or the athleticism (post injuries) of McEvoy but has a combination of both and serious veteran moxie. It's nearly impossible right now to tell whom Gary Andersen and Andy Ludwig will choose as their starter. McEvoy is at a disadvantage because he didn't arrive on campus until the summer, and his experience at playing quarterback on any level is limited. I'd probably put my money on Stave, just because he has the best chance to help the offense stretch the field with his downfield passing ability, and he played well last season before getting hurt. But I also think McEvoy will play at some point this fall, and I still wouldn't count out Phillips being the last man standing.
July, 17, 2013
7/17/13
10:00
AM ET
Trades aren't happening in college football any time soon. Even if they were legalized, the thought of two hated rivals doing anything to potentially help each other out would make Woody and Bo start spinning in their graves.
But pretend for a second those laws were relaxed and the Buckeyes and Wolverines each had a need so pressing that the programs at least kicked around some ideas. As part of our ongoing look this week at "The Game," a couple ESPN.com beat writers took a shot to see just what they could get from each other that might spur on a championship run for the current roster. Thanks to the Freedom of Information Act, here's a look at how a (fictional) deal might have gone down.
From:
OSU_GM
To:
UM_PersonnelDept
Subject:
Don't tell anybody
Mr. Rothstein:
We probably shouldn't even be talking, and if word gets out that we even considered making a deal, we might need to consider looking for new jobs. But since the rules against trades in college football magically vanished and we were hired for some reason to become general managers for Ohio State and Michigan, respectively, I think we at least owe it to ourselves to pursue all options. As I'm sure you're aware, the Buckeyes were hit pretty hard by graduation in the front seven after knocking off the Wolverines to cap a perfect season last fall (in case you forgot about the celebration in the 'Shoe). And recently the program has seen a group of linebackers that was already thin lose a couple more bodies that could have offered some help off the bench this fall. Additionally, while the future looks pretty bright at tackle for
Taylor Decker
or
Chase Farris
, right now there is one spot without much experience that tends to stand out when there are four seniors starting elsewhere on the line. So, I don't know what position is troubling you most as training camp sneaks up on college football, but if there's a potential swap or two that might help us both out, I am all ears. But you didn't hear that from me.
Sincerely,
Austin Ward
Interim Ohio State personnel director
---
[+] Enlarge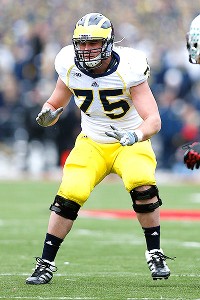 Joe Robbins/Getty ImagesThe Buckeyes wanted Michael Schofield for experience at tackle, but Michigan's demands in return were too rich for OSU's blood.
From:
UM_PersonnelDept
To:
OSU_GM
Subject:
Too late
Mr. Ward:
Unfortunately for you, I'm mouthy. And I've already started rumors you are trying to trade
Braxton Miller
for the remnants of Rich Rodriguez's offense. Apologies in advance. Not going to lie, looking over my roster I have concerns at wide receiver, running back and I could use some experience on the interior of the offensive line. Also, while there's some depth at cornerback, wouldn't mind grabbing one or two from you. Oh, and since you're interested in giving up Miller, that would solidify some of the depth issues there. I see you're fishing for a tackle. Sorry,
Taylor Lewan
is not available. While I like
Michael Schofield
a lot, he is more available at the right price. So too are some of the linebackers. What interests you on the Michigan squad? I'm willing to listen for anyone except for Lewan and quarterback
Devin Gardner
.
Sincerely,
Michael Rothstein
Fake Michigan personnel director
---
From:
OSU_GM
To:
UM_PersonnelDept
Subject:
Re: BRAXTON
Hey bud, these talks just about ended instantly with any mention of the franchise quarterback being available. Newsflash -- Miller won't be on the market heading into his senior season either, so get used to trying to defend him. At any rate, Schofield would be an intriguing option for the Buckeyes because he could provide another veteran presence with ample experience in the Big Ten, potentially giving Decker or Farris another year to develop physically before moving into the starting lineup in 2014. After getting a glimpse at what
Desmond Morgan
could do last fall when he made 11 tackles (in a losing effort) against Ohio State, he might look good in Scarlet and Gray, especially if the spring gave him flexibility to play in the middle. I probably don't need to mention that
Bradley Roby
is untouchable in the secondary, but there is no shortage of talent alongside him in the backend. Might want to take a look at the stable of running backs the Buckeyes have in the fold as well -- but feel free to skip over
Carlos Hyde
.
AW
---
From:
UM_PersonnelDept
To:
OSU_GM
Subject:
No subject
July, 16, 2013
7/16/13
10:00
AM ET
COLUMBUS, Ohio -- Training camp hasn't even started yet. After that grueling month, there's still almost an entire season to be played before "The Game" that matters most.
But it's never too early to set the table for the feud between Ohio State and Michigan, and at BuckeyeNation and WolverineNation, we're doing it all week.
We looked back on Monday at some
heroes
and
villains
on both sides of the rivalry. Today we're looking ahead at the strengths and weaknesses that could decide the latest edition in the storied series, which is just more than four short months away.
STRENGTHS
Ground and pound: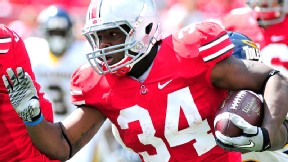 David Dermer/Diamond Images/Getty ImagesOhio State running back Carlos Hyde is poised for a big senior season.
The Ohio State rushing attack was potent enough a year ago, but it's only added more experience and weapons to the mix now. By November, it might be almost impossible to slow down the Buckeyes on the ground as they incorporate the new pieces to the attack and potentially get more support from the passing game.
Braxton Miller
is obviously a threat to score from anywhere on the field, and if
Carlos Hyde
makes the kind of improvement he's targeted in terms of making defenders miss at the second level, that one-two combination will continue to rank among the best in the country, particularly with four seniors back on the offensive line.
But it might be the added dimension of a healthy
Jordan Hall
or a true freshman such as
Dontre Wilson
or
Jalin Marshall
at the hybrid, Pivot position that gives opponents even more fits. Or maybe it's a backfield that can be loaded up with as many as three talented rushers, rolling out
Rod Smith
or
Bri'onte Dunn
in a diamond formation with Hyde and Miller. Either way, the Buckeyes have the personnel to give Michigan a workout in the front seven.
Air patrol:
The expectations are growing for Michigan's passing attack now that
Devin Gardner
has the position all to himself, and he'll have plenty of time to develop and find a rhythm before meeting up with the Buckeyes. But there might be no stiffer test in the country than the one Ohio State can present a quarterback thanks to its overflowing talent and veteran savvy in the secondary. Cornerback
Bradley Roby
and safeties
Christian Bryant
and
C.J. Barnett
would make life difficult on their own, but the Buckeyes can complement that with another senior safety in reserve in
Corey "Pittsburgh"' Brown
, a junior cornerback looking to make a name for himself in
Doran Grant
and a class of incoming defensive backs that represented perhaps the best signing day haul in the nation.
The Buckeyes plan to get as many of those guys involved as possible this season, which could make the secondary even more fearsome by the time Gardner gets a crack at them.
WEAKNESSES
Middle ground:
The fresh faces are almost everywhere in the front seven, but heading to training camp, there's not all that much uncertainty about who will be filling which shoes left behind by the defenders who helped the Buckeyes go unbeaten last fall.
Noah Spence
and
Adolphus Washington
are poised for breakouts at end and
Curtis Grant
and
Joshua Perry
appear ready to lend a hand next to
Ryan Shazier
at linebacker, but there are two critical spots on the inside of the line that bear monitoring as Ohio State prepares to stop opposing rushing attacks.
Michael Bennett
is close to a lock for one role, but there could be a heated competition for reps next to him to complete the rotation.
Tommy Schutt
battled injuries throughout spring practice, but he has the ability to be a future star.
Joel Hale
is a grinder and respected leader, and the junior could be an intriguing option as well. And if big
Chris Carter
can manage his weight, his massive frame clearly could fill up some rushing lanes.
By November, the Buckeyes figure to have long ago answered those questions up front and should have also built up plenty of experience. But that will be at the top of the priority list as Ohio State chases a Big Ten title -- and keeps an eye on its rival.
Kicking it:
More often than not, the Buckeyes had the edge over opponents in the third phase. But considering how much value Urban Meyer places on special teams and how much production he expects, Ohio State wasn't all that close to giving him what he wanted a year ago. Kicker
Drew Basil
wasn't used all that much, aside from the season-ending win over Michigan, but among his 11 attempts last season were a pair of missed field goals from less than 39 yards that didn't exactly inspire confidence. The Buckeyes will be breaking in a new punter as well, and winning the field position battle is as important under Meyer as it has always been under previous regimes at Ohio State -- putting pressure on some young contributors to make plays in kickoff and punt coverage.
Philly Brown
took a couple punts back for touchdowns last year and the "Freak Show" punt block unit made itself a nuisance a few times, but Meyer and newly-promoted special teams coordinator Kerry Coombs keep the bar pretty high in that area of the game. And in tightly contested rivalries, it can make all the difference.
June, 5, 2013
6/05/13
1:00
PM ET
Is it preseason All-America team season already? You bet it is.
Phil Steele has issued his
2013 preseason All-America teams
, and a total of 15 players from the Big Ten made the four squads.

Let's take a look:
First team
Second team
Third team
Fourth team
Some notes and thoughts:
August, 6, 2012
8/06/12
3:00
PM ET
Our "Inside the Game" positional previews with WolverineNation's Michael Rothstein and BuckeyeNation's Austin Ward continue in the trenches.
Ward and Rothstein discuss the contrast in the defensive lines. The Buckeyes could go as far as nine deep and believe they are among the nation's best units, while the Wolverines lost three-fourths of their top-notch line from a year ago, have another player on indefinite suspension and are unsettled at best.


Ohio State
Ward:
The expectation up front for Ohio State is not just to be better than its rivals.
It's not even to be the best in the conference.
The Buckeyes are going into this season with the goal of establishing themselves as the deepest and most talented group in the nation, and they certainly have a shot at building their case.
It helps to start at the top with the return of tireless, tenacious end
John Simon
and the emergence of
Johnathan Hankins
next to him as a force at defensive tackle, but there's plenty more ammunition than that.
Garrett Goebel
and
Adam Bellamy
round out the projected first unit, and even though he's listed behind Hankins,
Michael Bennett
could be too disruptive in the middle to keep on the sideline. When
Nathan Williams
receives full clearance from his knee surgery, he could provide another scary weapon on the edge for a team that could conceivably roll through nine guys without a substantial drop-off.
On top of that, there's a talented trio of newcomers who will fight to either be included or expand that rotation.
Noah Spence
,
Adolphus Washington
and Se'Von Pittman gave Ohio State a recruiting haul in February that would make any program envious. And it figures to set up the Buckeyes not just for a good run in the trenches this fall, but also into the next few seasons.
Michigan
Rothstein:
On a team filled with current or former defensive line coaches -- besides Jerry Montgomery both head coach Brady Hoke and defensive coordinator Greg Mattison came up as defensive line coaches before assuming loftier titles -- there is a lack of a lot of things with their former pet position.
Experience, for one, is lacking as the line will boast three new starters and the one returning starter, senior
Craig Roh
, is adjusting to added weight and a new position as a strongside defensive end.
Depth is another issue, as the Wolverines could see multiple freshmen push for time on the line behind some of the inexperienced starters.
Will Campbell and
Jibreel Black
are the likely starters on the interior of the line, with Campbell being three years of promise without production and Black adding weight and learning to play inside after being converted from defensive end. At rush end, sophomore
Brennen Beyer
slides in as the likely starter after Frank Clark's indefinite suspension due to legal issues.
Behind them are talented freshmen in
Ondre Pipkins
,
Tom Strobel
,
Chris Wormley
and Matt Godin -- all of whom could push for time.
Nathan Brink
provides some veteran stability at end and tackle, but the walk-on doesn't have a ton of experience.
It's a position full of questions at a spot where the Wolverines can't really have them, as much of what Mattison likes to do on defense comes from the expectation of a defensive line getting pressure on a quarterback.
October, 20, 2011
10/20/11
11:44
AM ET
Midwest states catching up to Ohio
When it comes to the Midwest, the state of Ohio is king of high school football. Every year, the Buckeye State will have more top teams and elite recruits than the other Midwest states.

However, the rest of the Midwest is closing that gap a bit. Eleven recruits from the Midwest are among the ESPNU 150. To no one's surprise, Ohio has the most among Midwest states, with four. But Michigan, Illinois and Indiana all have two.

Michigan C Cites Concussions In Decision To Quit
BIG TEN SCOREBOARD
Thursday, 9/3
Friday, 9/4
Saturday, 9/5
Sunday, 9/6
Monday, 9/7