Michigan Wolverines:

Aaron Wellman
August, 14, 2013
8/14/13
10:00
AM ET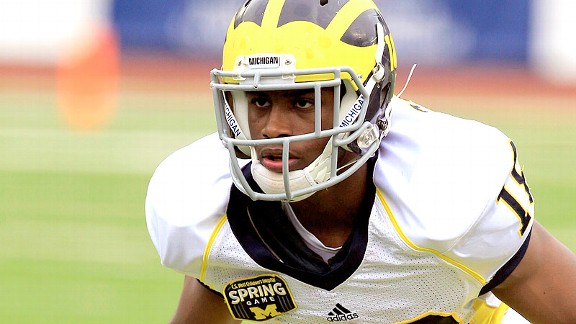 AP Photo/Carlos OsorioBlake Countess, a starter at cornerback in 2011 as a true freshman, missed virtually the entire 2012 season with a torn ACL.
ANN ARBOR, Mich. -- Michigan cornerback
Blake Countess
is a little tired of talking about his knee and whether he's ready to return. Ninety percent of questions to him during this preseason have been about his ACL injury suffered in the 2012 season opener against Alabama, and how it all plays in his mind.
Countess, a redshirt sophomore, keeps answering all the questions. But he really hasn't given it too much thought. Countess only watched the game film of it a few times. And really, it didn't look all that bad.
His injury came on what seemed like a misstep or stumble. It didn't look like it would require surgery and a lost season.
"At first I watched it and was like, 'How did this happen? How did that one bit of contact make my ACL tear?' " Countess said. "It's kind of hard for me to watch since I know the effects of what happens after it."
And from the sideline, Michigan secondary coach Curt Mallory saw the same thing. He was not only Countess' defensive coach, but also the position coach for the spot Countess was playing on the punt team during that injury. Fans and commentators heralded Will Hagerup's 62-yard punt and only gave passing mention at a Michigan player who slowly ambled from the field.
"I didn't see much, and by no means am I a physician, but I didn't see anything other than him come off," Mallory said. "It wasn't something that was horrific as far as cutting, but he just twisted wrong. … Sometimes those are the ones that are the worst."
On the sideline, as Alabama began to run away from Michigan and questions swirled as to his absence, Countess explained to Mallory how he was ready to get back in the game, how his mind was right, how everything was OK. But one look from the athletic trainer told Mallory that it wasn't the whole story and Countess sat out the rest of the game, and ultimately the season.
Surgery brought a new set of challenges. The brace on his leg was an annoyance. And just as life on crutches became something he could handle, snow began to fall in Ann Arbor.
So he'd crutch in to practices and film sessions, sitting next to
Raymon Taylor
-- the player who had taken his spot -- and go over schemes two or three times over. It was partly to make sure Taylor knew it and partly to make sure he knew he was still making an impact on the team away from the field.
During away games, as Countess watched from his couch in Ann Arbor, he'd text redshirt senior cornerback J.T. Floyd during halftimes and write notes on the secondary for when they returned.
"It's easy sometimes when you know you're not going to play that fall to get away from it and you don't stay into it. Physically you're not going to be able to do much, but mentally you can do a lot," Mallory said. "That offseason really was a mental part of it and that's where he was able to grow, get better, really learn the playbook."
Near the end of the season, "coach" Countess was called in to the training room and told to put his crutches against the wall and walk toward strength and conditioning coach Aaron Wellman.
"They were like, 'All right, now come toward me,' and I was like, 'Nah, I'm not going to do that just yet,' " Countess said.
Walking felt weird. He felt like a toddler. A few months before, he had been at the top of his game. Now he was debating with Wellman about whether or not he could/should/would take a step. None of it seemed right.
But he couldn't run until he walked. So naturally, after that session, he began pushing the staff for his run. By the bowl game, the staff let him jog. By spring camp, he had hoped he could jump into drills. But no, he was told, you can cut. That's it.
Again, he was relegated to the sideline -- sans crutches, but still labeled as someone who wasn't quite ready to play.
"It's easy to feel bad for yourself," Countess said. "But you have to really think about the team and how I could push the guys [at] my position that are in there now, so I definitely think I've matured."
And that more mature Countess believes he's ready to lead this Michigan secondary. He's mature enough to admit that the injury sometimes still plays on his mind, that tendinitis bugs him from time to time. And he's mature enough to take himself out in those moments, knowing that a single misstep can have a much larger effect.
The younger players and coaches see that.
"I think there's an appreciation that he had for playing. Sometimes you take it for granted," Mallory said. "The thing he went through a year ago, painful as it was, he has grown from it and realizes it can be taken away from you at any moment. You see that in his work ethic and you see that in his drive."
August, 12, 2013
8/12/13
9:00
AM ET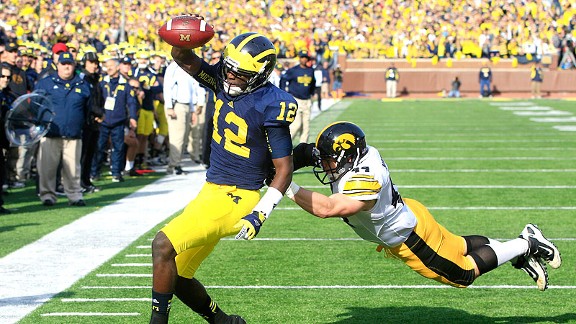 AP Photo/Carlos OsorioFor Michigan to have success, it needs junior quarterback Devin Gardner to stay healthy and make plays because the depth chart behind him is a bit scary.
ANN ARBOR, Mich. -- Meet
Devin Gardner
. No. Seriously. You should. And if you like Michigan, you really should look into protecting him as much as possible in every situation imaginable.
The one non-negotiable thing about Michigan's season is if Gardner is hurt for any length of time, the Wolverines' chances of winning any of those games almost disappears. Any Michigan offense without Gardner this season would be an adventure in experimentation at best.
So go buy some bubble wrap, pad the walls of his apartment or whatever else you want to make sure a random tree branch doesn't fell him. Michigan's players, though, realize they can't stop a random injury from occurring. They have enough faith Gardner can take care of himself.
"Random, freak injury, you can't really control that," senior receiver
Drew Dileo
said. "We look out for each other but if Devin rolls his ankle on a little bitty rock, I can't control that. And vice versa.
"If I slip on the ice in the snow, I can't control that."
In other words, there won't be an entourage accompanying Gardner to any of his graduate school classes this semester -- at least not for protective purposes.
Michigan can control how it uses Gardner during practices in the preseason. While the Wolverines aren't isolating their starting quarterback or keeping him from making plays -- the repititions are too important for what he and Michigan hope to do this season -- having no healthy backup quarterback with even one snap of experience means more early practice snaps for freshman
Shane Morris
and redshirt freshman walk-on
Brian Cleary
.
It also keeps Gardner safe on the sideline.
Gardner might not be the most polished quarterback in the Big Ten or the most talented player on his own team -- that is left tackle
Taylor Lewan
. That lack of depth behind him, though, makes him more critical than any other player.
"He's an important factor to the offense here," senior receiver
Jeremy Gallon
said. "He has to set a tempo. He will set a tempo. His demeanor to the game is very important to us. How he comes out and performs and he's willing to work hard for the team.
"That's very important."
Equally important is the lack of depth behind Gardner, which is why he is the most important player to stay healthy in the entire Big Ten. One could argue Ohio State's
Braxton Miller
, but the Buckeyes have an experienced, serviceable backup in senior
Kenny Guiton
. But for what Michigan wants to do this season, it is Gardner -- and then a shoulder shrug of what would happen if he weren't in the game.
So keeping Gardner upright and healthy is of supreme importance in Ann Arbor.
"That's pretty obvious. I think that's pretty self-explanatory," Michigan receivers coach Jeff Hecklinski said. "Obviously we need to keep Devin healthy and that falls on all of us. Not just the offensive line, but the tight ends and wideouts getting open down the field in time so he doesn't have to hold the ball and the running backs protecting him."
The coaching staff doesn't want to limit Gardner's progress, though. If they start to have him lighten up in practice, it becomes almost an omen setting Gardner up for injury because they believe players are injured when they aren't going hard enough and are concerned about it.
Gardner isn't worried. He just keeps playing as he always has.
"I'm the same person on the field, practicing as hard as I can," Gardner said. "Taylor [Lewan] sometimes tells me not to make certain cuts, but that's just the way I play. You can't get ready for the game unless you play the full speed, the way you're going to play."
Other than Lewan, Gardner said the only one who told him to maybe take it a little easy was Michigan's strength and conditioning coach, Aaron Wellman.
Everyone else? They just want Gardner to play like he did over the final five games of last season, or even an improved version of that player. Keeping Gardner healthy does add a small amount of pressure, especially for those entrusted with protecting him.
"We have to make sure we are on our game with that pass protection-wise," senior right tackle
Michael Schofield
said. "We don't really verbalize it. That's just kind of known."
One day Morris or Cleary could end up as a good starting quarterback for Michigan. But for this season, the Wolverines have only one healthy non-freshman scholarship quarterback. They only have one quarterback who has any game experience. One quarterback who is designated and looked to as a leader.
That's Devin Gardner. Michigan's season rests on his health.
August, 8, 2013
8/08/13
9:00
AM ET
ANN ARBOR, Mich. -- After
Taylor Lewan
made the decision to return to Michigan instead of leaving for the NFL, the left tackle called a team meeting. Not, however, with the team you might think.
The men he brought together in January didn't play Saturdays. They were the ones who did the preparation for it. He wanted to spend his final year at Michigan treating his strength training and nutrition as if he were in the NFL.
"He kind of initiated it," Michigan strength coach Aaron Wellman said. "He said, 'I want to be elite. What do I need to do to become elite from a nutrition standpoint?' "
[+] Enlarge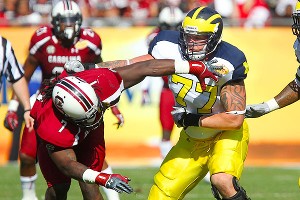 Cliff Welch/Icon SMI Taylor Lewan was already an All-American with 35 career starts, but found room to improve in his offseason workouts.
Lewan was already considered elite in games. Had he left after last season, he would have been a first-round NFL draft pick. But his training and food discipline needed improvement and he knew it.
The shift started with a trip to a local grocery store. Joel Totoro, the nutritionist Michigan hired in 2012 from the New England Patriots, went with Lewan. They walked down every aisle. Lewan asked about various foods.
Totoro told Lewan it was something he could always, sometimes or never eat, depending on nutritional value. Since Totoro can't provide Lewan with multiple meals daily due to NCAA rules, Lewan wanted to learn so he could start planning meals, learning how to cook and to create a full nutritional plan.
"It is more than just, 'Here, here are some healthy foods,'" Totoro said. "You usually end up getting chicken breast and broccoli every day and that gets monotonous and they don't stick with it. So give him the education and tools to make his own decisions, that's how I do it.
"That's real life. It's there. It's overwhelming because they've never had to do that. But once they get there and they are like, 'What if I do that,' you see the learning process start to happen."
Even though he can't physically feed them, Totoro's phone is constantly on. Lewan and other Michigan players have called him from the supermarket. Or they took pictures of menus to receive advice on ordering.
No player latched on more than Lewan. Lewan doesn't have specific caloric goals as they depend on the day's activities, but generally he needs to ingest a half-gram to gram of protein per pound. For the 315-pound Lewan, this means between 157 to 315 grams of protein a day. A typical chicken breast might have 30 grams of protein.
Lewan said he consumed 12 hard-boiled eggs a day, chicken, steak and salad. In between meals, he will have two cans of tuna. Carbs come after workouts. With each meal he'll add olive oil, which adds calories so he can reach his daily allotted amount.
The diet allowed for faster recovery time between workouts, giving him more chances to work out. Then, he could build explosiveness and strength with Wellman.
But the change has been tough for someone who is still a college student.
"It sucks. It's awful. The diet is rough," Lewan said. "When you go out with your friends and they order pizzas and wings, I look at that and I'm salivating. I'm looking at it and am excited about it.
"I go to Buffalo Wild Wings and order a salad and five chicken breasts. I swear that's what I do. They are like, 'I don't think we can do that.' I'm like, 'No, if you go to menu, there's a button that says chicken breast.' I found that out somehow."
Lewan said he has lost five percent of his body fat since January. His biggest gains came with Wellman. Lewan asked Wellman in January where his strength could improve.
Wellman replied explosion and power. He already benched more than 400 pounds and squatted over 500 pounds. With his new diet, which emphasized when he ate as much as what he did, his production increased.
He often worked with skill position players on different exercises, aiming for shorter sets -- usually no more than five repetitions -- with full range of motion to increase explosion. The goal wasn't weight but the speed he in which completed the repetitions. If he dropped below 90 percent of the max set speed on an exercise, he lowered the weight.
In July, Lewan used Keiser exercise equipment -- a pneumatic weight system instead of barbells or weighted plates. Over the summer, Wellman and his staff tracked and charted every rep.
Wellman said Lewan's biggest gains came in lower body explosion. So this shouldn't surprise. Wellman wanted Lewan to move the weight he lifted 1.6-to-1.8 meters per second on the Keiser squat machine.
By the end of the summer, he moved 630 pounds of resistance at 1.7 meters per second, which Wellman said created 5,000 watts of power. He did all of this from a dead stop at the bottom of the squat pushing up.
"Those numbers won't mean anything to most readers," Wellman said. "But those are elite numbers. Not many guys in the country can do that."
Not many guys in the country can do a lot of the things Lewan can, from the way he lifts to how he blocks people fall Saturdays. The one thing he hasn't done is win, which makes this shift in lifestyle not very difficult at all.
"If you keep your goals intact, you know what you're working for," Lewan said. "I know what I'm working for. I have individual goals but my why is the Big Ten championship.
"You know that and the temptation is not that hard. My focus is to be the meanest, most aggressive, best technique offensive lineman every single down."
The discipline he showed during his offseason makeover, and the amount of chicken he has eaten, will only accentuate that.
March, 14, 2013
3/14/13
3:44
PM ET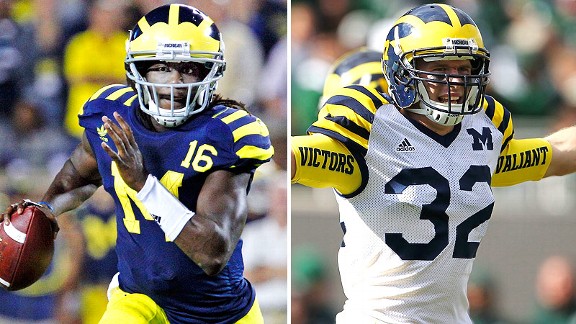 Icon SMI, Getty ImagesDenard Robinson and Jordan Kovacs had a competiton at school's pro day on Thursday.
ANN ARBOR, Mich. --
Jordan Kovacs
didn't need much more motivation for Michigan's pro day on Thursday, but just in case, his workout partner
Denard Robinson
gave him some anyway.
Kovacs and Robinson set up a three-event competition for the pro day. Loser buys dinner at The Chop House, an expensive downtown Ann Arbor steakhouse.
This could come as a potential surprise, but Robinson will be the one paying.
"Oh man, stop. Stop bringing it up," Robinson said, laughing. "He did great today and take my hat off to him. I knew he'd do great today."
While the former Michigan quarterback turned wide receiver did not do much other than positional drills at wide receiver, running back and punt returner during the Michigan pro day, Kovacs stood out.
The former Michigan safety beat Robinson's times in the 20-yard shuttle -- which he ran in 4.19 seconds -- and the three-cone drill, which he completed in 6.62 seconds. Robinson's NFL combine times in those drills were 4.22 in the 20-yard shuttle and 7.09 seconds in the three-cone drill.
Robinson handled Kovacs in the 40-yard dash, running 4.43 seconds at the combine to Kovacs' 4.6 seconds at pro day.
Kovacs entered Thursday knowing he needed to prove his speed and athleticism. Beating Robinson in the competition, along with a good bench-press score for a safety (16 repetitions), helped to prove that.
The Curtice, Ohio, native maintained, though, that while doing well in drills was good for him, it is about what he can do on the field that matters more.
"It's different. We're training for the underwear Olympics today; it isn't football," Kovacs said. "Coach [Aaron] Wellman did a great job of not overdoing it. A lot of guys will go places and think you've got to kill yourselves.
"Coach Wellman, we worked on power. I'm not in great football shape right now. Conditioning-wise, I'm not where I need to be but we weren't worried about that. I was worried about running 40 yards and I think I did that today."
Robinson and Kovacs were the two Michigan players who chose to stay in Ann Arbor and the Michigan facilities to train for turning professional, yet another link the two have. Michigan's two captains last season, they ended up training together while finishing their undergraduate classes in order to graduate in May.
Robinson would be the first in his family to graduate from a four-year college, and that is very important to him. He said he never considered leaving Ann Arbor without his degree in hand.
"I'm taking five classes and working out and putting in the time," Robinson said. "I want to prove something. I want to get my degree.
"... I want to be a role model to my nieces and nephews to be a role model for them and school was important to me."
Together they were diligent on both their workouts, where Robinson is converting to a receiver, and their diet. They were planning to celebrate being done by being able to eat their favorite guilty pleasures -- Oreo cookies for Kovacs and honey buns for Robinson.
They were planning on doing that -- and then eventually grabbing steak dinner as well. On Robinson.
Said Kovacs: "I'm going to enjoy that."
February, 22, 2013
2/22/13
10:10
AM ET
"Exit Interview" is a series started at WolverineNation last season in which we speak with Michigan players who are leaving the Wolverines.
ANN ARBOR, Mich. --
Nathan Brink
started from the bottom as a preferred walk-on and worked his way up, the cliched story of a guy doing everything he could to be a college contributor.
Then, in an instant, it all disappeared as an injury forced Brink to retire with a year of eligibility remaining. Between his arrival and the end, he became a rotation player on the defensive line, making three tackles -- 2.5 for loss -- in 16 career games and one start.
May, 31, 2012
5/31/12
5:58
PM ET
ANN ARBOR, Mich. -- He wanted his team to envision it and understand it, because none of them had been there before as players and only a few coaches on the Michigan staff had, either.

So during the Wolverines' recent trip to California, where the seniors participated in leadership training and a workout with the Navy SEALs, Brady Hoke also did something else.

He had his team stop by the Rose Bowl, the place where the Big Ten champion is slotted to go every season for its bowl game.


Which Players Have The Most To Prove In 2015?
BIG TEN SCOREBOARD
Thursday, 9/3
Friday, 9/4
Saturday, 9/5
Sunday, 9/6
Monday, 9/7