Michigan Wolverines:

Aaron Craft
May, 9, 2013
5/09/13
10:05
AM ET
By
WolverineNation staff
| ESPN Insider
Every Thursday our writers sit down to chat about Michigan sports. Today they're talking Big Ten (football and basketball) and hypothetical 7-on-7 drafts.

1) Where do you see Michigan finishing in the Big Ten this season?


May, 2, 2013
5/02/13
9:50
AM ET
By
Chantel Jennings, Tom VanHaaren & Michael Rothstein
| ESPN Insider
Every Thursday our writers sit down to chat about Michigan sports and the issues surrounding them. Today, they look at redshirts, hypothetical 3-on-3 basketball tournaments and early offers.
1)
Of the 2013 class, which player do you think would benefit the most from a redshirt?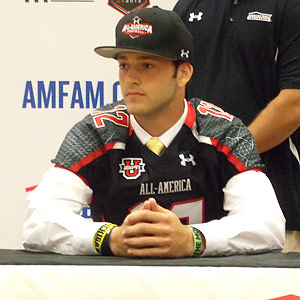 Tom VanHaaren/ESPN.comFreshman QB Shane Morris won't be afforded the luxury of a redshirt that would be of huge benefit.
Michael Rothstein:
Shane Morris
. While offensive linemen usually redshirt to gain size and strength, Morris would be a huge benefactor of an extra year. He won't be Michigan's starter and barely played as a senior due to mononucleosis. Having a year to understand Al Borges' system would be extremely beneficial to his college career. However, he might not have that luxury due to the injury to
Russell Bellomy
which leaves him as the second healthy quarterback on the roster this fall.
To continue reading this article you must be an Insider
February, 5, 2013
2/05/13
11:48
PM ET
ANN ARBOR, Mich. -- Quick thoughts from No. 3 Michigan's
76-74 overtime victory
over No. 10 Ohio State at Crisler Center on Tuesday night:


Overview:
Last season, with the game on the line, Michigan looked to then-freshman point guard
Trey Burke
to carry it. The Columbus, Ohio, native did, making two crucial, tough layups to give the Wolverines a victory over Ohio State in Ann Arbor with "College GameDay" looking on.
A year later, and Burke is now one of the best players in the country. Yet in a different season, it turned into the same situation for Michigan. At the end of the game, turn to Burke. After Burke missed an attempt at a game-winning 3-pointer in regulation, Burke hit Michigan's only field goal in overtime.
Then, with less than a minute left, he stripped the ball from Ohio State point guard
Aaron Craft
, then blocked a Craft shot to help seal the win for Michigan in what had become one of the best basketball games of the season.
Turning point:
Craft pulled up at the free-throw line with 10 seconds left and a shot to give the Buckeyes (17-5, 7-3 Big Ten) the lead. Out of nowhere, Burke came across the lane and blocked Craft's shot -- preserving the Michigan lead and, eventually, the game after
Glenn Robinson III
made one free throw and
Tim Hardaway Jr.
blocked Craft on a drive at the buzzer.
Key player:
Hardaway, with a team-high 23 points, might have been the one doing the majority of the scoring for the Wolverines (21-2, 8-2) on Tuesday night, but it was freshman forward
Mitch McGary
who made the biggest difference for Michigan. Playing 29 minutes, McGary had 14 points -- both career highs -- but performed the majority of his work dealing with the game's smaller things. He was doing a little bit of everything, also finishing with four steals and a block.
Key stat:
Though it took overtime, Michigan's 76 points was the most allowed by Ohio State this season. Michigan allowed 70-plus points for the fifth time and the second consecutive game. The Wolverines gave up 81 points to Indiana on Saturday, then followed it up with 74 points against Ohio State.
Miscellaneous:
Michigan redshirt sophomore center
Jon Horford
made his third consecutive start in place of
Jordan Morgan
, who played sparingly as he nurses an injured right ankle. ... Burke continued to move up Michigan's career assist list, passing his predecessor, Darius Morris, to move into 12th place. He now has 322. ... Ohio State was led by
Deshaun Thomas
, who had 17 points, and
LaQuinton Ross
, who had 16 off the bench. ... Tuesday was Michigan coach John Beilein's 60th birthday.
Next game:
Michigan travels to Wisconsin to face the Badgers at noon on Saturday. Ohio State continues a tough stretch as No. 1 Indiana visits Columbus on Sunday for a 1 p.m. ET tip.
January, 31, 2013
1/31/13
8:15
AM ET
By
Michael Rothstein & Chantel Jennings & Tom VanHaaren
| ESPN Insider
ANN ARBOR, Mich. -- Michigan has its first No. 1 ranking in two decades, its biggest regular-season basketball game in years and football signing day a week away.
And
Denard Robinson
played his final game in a Michigan helmet last weekend, too. All of this is covered in this week's WolverineNation roundtable.
1) With signing day less than a week away, does Michigan pull a last-second recruit out of this class to finish it up or does it stick with what it has?
To continue reading this article you must be an Insider
January, 24, 2013
1/24/13
10:00
AM ET
By
Chantel Jennings, Tom VanHaaren & Michael Rothstein
| ESPN Insider
ANN ARBOR, Mich. -- Every Thursday the WolverineNation writers discuss three important issues affecting Michigan sports. This week they look at some NFL draft stock, a possible Michigan basketball loss and the Wolverines' next recruiting class.
1) You're an NFL coach. If you could draft Denard Robinson but only use him at one position, which would it be and why?
[+] Enlarge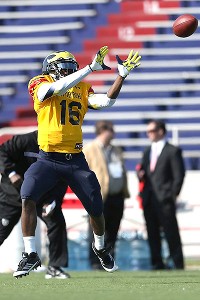 AP Photo/Ben LiebenbergA still banged-up Denard Robinson has struggled at the Senior Bowl.
Michael Rothstein:
Running back. He has shown the ability to have vision and break tackles along with accelerating at great speeds in the open field. It has yet to be proven he can catch -- something he could still do out of the backfield -- and lining him up at running back makes an occasional halfback option pass something other teams would have to be concerned about. It is, frankly, where he can be the most versatile.
To continue reading this article you must be an Insider
January, 18, 2013
1/18/13
12:39
AM ET
MINNEAPOLIS -- Minnesota can no longer blame injuries and defections for the Golden Gophers' sudden issues.
Blaming the competition doesn't fly, either.
Minnesota probably shouldn't win at Indiana (Wisconsin did) or beat Michigan at home (Ohio State did). But the Gophers are no longer the Gophers from the past two seasons, when issues dogged the team.
Yet, the convincing Jan. 9 victory at Illinois was followed up by flops in the first halves at Indiana and then again Thursday against Michigan. The Gophers had chances to come back in both games, playing to their strengths by getting rebounds, spreading the floor, causing turnovers and making shots.
But it was too late in both games and now, after the
83-75 loss
to the No. 5 Wolverines, the Gophers are 3-2 in the Big Ten and looking up at not just Michigan and Indiana, but also Michigan State, Ohio State and 4-0 Wisconsin.
[+] Enlarge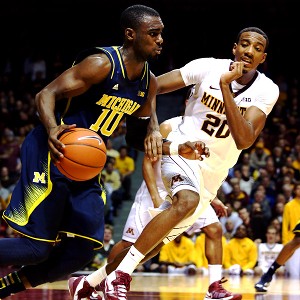 Cal Sport Media via AP ImagesAustin Hollins couldn't keep up with Michigan's Tim Hardaway Jr. most of the night in Minnesota's loss.
"I'm disappointed," said Minnesota coach Tubby Smith. "Usually we respond much better. I don't know what happened."
The ninth-ranked Gophers dug themselves a huge hole against the Wolverines, much as they did against the Hoosiers. Turnovers dogged Minnesota early and often; so, too, did missed free throws. Oh, and the inability to even cover
Tim Hardaway Jr.
, let alone
Trey Burke
-- arguably one of the best backcourts in the country -- led to a 19-point deficit at one point.
"We can't be digging these holes like we do," said Minnesota's
Rodney Williams
, who fouled out after scoring 11 points. "We can't be out there and not be on the same page."
Williams said Hardaway made tough shots in the first half, and that
Austin Hollins
did a good job contesting them. But over the course of the game, the Gophers couldn't stand in front of Burke or Hardaway, unlike Ohio State on Sunday. There was no
Aaron Craft
defending Burke, and certainly no one face-guarding Hardaway as well as possible.
Hardaway finished with 21 points; Burke had 18 points, 9 assists and just 1 turnover. Burke played 36 minutes -- and would have played more had he not ripped his shirt. The Gophers committed 15 turnovers and many turned into Wolverines points -- the most embarrassing of which
Glenn Robinson III
finished off with a 360-degree dunk.
"We're turning the ball over too much," said Minnesota's
Trevor Mbakwe
. "They scored 22 points off turnovers. We got off to a slow start and it killed the momentum [from the second-half comeback at Indiana]. We've got to figure out a way to take care of the ball."
Look, the Gophers have lost only to elite teams -- to Duke in the Battle 4 Atlantis and now to Indiana in Bloomington and Michigan at home. If those are the worst losses the Gophers suffer, they'll be just fine. But there are concerns in the way the Gophers suffered the two most recent defeats.
This team still can contend. But the players cannot point fingers, get frustrated or get out of sync too often.
"We know the winner of the Big Ten is going to have two or three losses," said Mbakwe. "It's too early. You've got to take care of your home game and win all of your home games. Everyone has a loss in the Big Ten except Wisconsin. Hopefully, when we go there next week [after a road game at Northwestern] we can hand them a loss. We still believe we have a chance to win the Big Ten."
March, 6, 2012
3/06/12
1:09
PM ET
Michigan State enters the Big Ten Tournament with the top seed, despite a two-game losing skid to end its regular season schedule.
While the losses at the end of the season were surprising to say the least, it seemed to exemplify a conference in which on any given night any team (that's right, all you Wildcats and Boilermakers fans) could win.
But here are my predictions for how the Big Ten Tournament goes down in Indianapolis. But I will preface that with the fact that I'm terrible at predictions. With the exception of the 2008 NCAA Tournament, in which I picked all four No. 1 seeds to make it to the Final Four, I've never done well in bracket competitions. So, here goes…
To continue reading this article you must be an Insider
February, 18, 2012
2/18/12
9:46
PM ET
Some quick thoughts after the first half:
Turning point:
Ohio State guard Aaron Craft picked up his second foul of the half after Tim Hardaway Jr. drew a charge with 4:04 to go before the break. His absence opened up the floor for point guard Trey Burke, who had been smothered by Craft for the majority of the half. Michigan responded with a 3-pointer from Stuart Douglass on the next possession.


Best player in the half:
Burke. After struggling against Ohio State on the road on Jan. 29, Burke played much, much better at home. He was able to drive intermittently on Craft, controlled pace and played smartly. His best assist of the half was a drive to the free throw line where he somehow found Jordan Morgan for a layup. In all, Burke finished the half with seven points, three assists and no turnovers.
What Michigan needs to do, What Ohio State needs to do:
Michigan --
Keep doing what it is doing. The Wolverines are controlling the pace of play, doing a good job doubling Jared Sullinger and not taking quick shots in a possession that could cause lead to easy transition baskets for the Buckeyes.
Ohio State --
Go inside. Michigan has done a good job on Sullinger, however the Buckeyes are falling in love with the 3-pointer too much and it wasn't falling for them. Michigan struggled in the post with Sullinger in its first meeting, but so far the Buckeyes haven't utilized him as much.
To continue reading this article you must be an Insider
January, 29, 2012
1/29/12
3:45
PM ET
Michigan's run either in sole possession or tied for first place in the Big Ten is over. Ohio State's 64-49 win over the Wolverines in Columbus on Sunday afternoon took care of that.
In reality, though, this was always going to be one of Michigan's toughest games of the season -- on the road against one of the top teams in the country. It is a matchup where the Wolverines -- like they did on Sunday -- have to almost sell out defensively on doubling Ohio State star
Jared Sullinger
, allowing for open offensive rebounds and kick-outs for 3-pointers.
That, along with offensive struggles, were the difference in the game. Here are three major factors to what happened in Value City Arena on Sunday afternoon.
To continue reading this article you must be an Insider
January, 27, 2012
1/27/12
2:38
PM ET
Michigan basketball coach John Beilein and members of the No. 22 Michigan basketball team met with the media on Friday to discuss the Wolverines' matchup with No. 3 Ohio State.
Beilein
: He said the players are spending Friday's practice with more of an emphasis on their improvements (even noting that the team will be doing drills they did in October) and that Saturday's practice will be more Ohio State-focused. The team leaves Saturday night for Columbus.
ON THE KEY TO BEING COMPETITIVE: Beilein point edout that last year the team played with poise in its 62-53 loss in Columbus and in the Wolverines' Big Ten Tournament semifinal loss to Ohio State. "What they've been able to do is things that only [Jared] Sullinger has been able to do," Beilein said. "Get traffic rebounds with four guys around. Somehow he ends up with the ball. And at the rim. And getting to the foul line as well. … It's more just keepin him in check somewhat."
To continue reading this article you must be an Insider
January, 17, 2012
1/17/12
5:03
PM ET
ANN ARBOR, Mich. -- In some ways, few teams are as prepared to handle Michigan's stretch of the next six games as well as the Wolverines.
That, for Michigan, is the good news.
"You just look at the schedule and you have Michigan State, Ohio State and Indiana, all top-ranked teams coming in and going out to play," sophomore guard
Tim Hardaway Jr
. said. "It's going to be a struggle but at the same time you can't get mad, can't get upset, you just have to go out there.
To continue reading this article you must be an Insider
January, 5, 2012
1/05/12
12:01
PM ET
Freshman point guard
Trey Burke
was named one of 20 finalists for the 2012 Bob Cousy Award, a distinction given out to college basketball's top point guard. Only two other players from the Big Ten made the cut -- Ohio State sophomore
Aaron Craft
and Wisconsin senior
Jordan Taylor
.
The list will be narrowed to 10 in February, with the winner being announced April 2.
To continue reading this article you must be an Insider
December, 28, 2011
12/28/11
10:36
AM ET
Ann Arbor, Mich. -- The holiday festivities are spilling over in Ann Arbor and it seems like an extended party for Wolverines fans as they anticipate the Allstate Sugar Bowl and the start of the Big Ten season for the basketball team.
Brings me back to my childhood days of waiting for Santa Claus on Christmas Eve. I never asked for a bowl game or a Big Ten season, though.
But with the excitement, we're sure there are plenty of questions. We love hearing from our readers and answering what questions you have. The mailbag, though, is only as good as what you ask. Questions for next week's mailbag can be sent to michaelrothsteinespn@gmail.com.
Now, on to this week's questions.
Webster Hall, New Orleans
: Is Michigan football back? Would it take a BCS bowl win in Brady Hoke's first year to solidify that view?
A
: What a win would do for the Wolverines is boost excitement around the program from alumni, fans and recruits. But players around the program have given differing views about whether Michigan football is back or not. I think fifth-year senior defensive end
Ryan Van Bergen
said it best when he told me last week, "I don't know if I'll say Michigan football is back until we put together three or four big-time years of football that people are used to seeing. Michigan isn't going to be back because of one year. It'll be back because of multiple years of Big Ten championships."
December, 19, 2011
12/19/11
1:06
PM ET
Michigan freshman point guard
Trey Burke
has had a surprising rookie year for the Wolverines, and the award committees are taking notice.
Burke was one of 60 candidates named Monday for the Bob Cousy Award, given to the country's top point guard. He is averaging 13.1 points and 4.7 assists this season.
Burke is one of five Big Ten point guards on the list, joining Ohio State's Aaron Craft, Purdue's Lewis Jackson, Penn State's Tim Frazier and Wisconsin's Jordan Taylor.
Interestingly, this nomination comes a season after former Michigan point guard Darius Morris -- eventually a second-round pick of the Los Angeles Lakers -- was snubbed from the Cousy Award list.
Big Ten Recruiting Report Card
BIG TEN SCOREBOARD
Thursday, 8/28
Friday, 8/29
Saturday, 8/30