Michigan Wolverines:

2013 Auburn Hills Region
March, 23, 2013
3/23/13
4:00
PM ET
AUBURN HILLS, Mich. -- Visions of
Mitch McGary
's past came bubbling up Saturday afternoon as he stood waiting to set a screen for his point guard,
Trey Burke
.
The Michigan freshman forward stood firmly, and
Briante Weber
had no chance. He ran right into the Wall of McGary and crumpled to the ground for a little while, unable to get up.
The hit, crushing Weber and part of VCU's spirit in Michigan's
78-53
win in the round of 32, harked back to a former life for McGary -- and another sport, football. A 6-foot-6, 190-pound tight end as a freshman at Chesterton High School in northwest Indiana, McGary loved playing football. Until he kept growing.
"My dad made me quit," McGary said. "I was getting too tall."
[+] Enlarge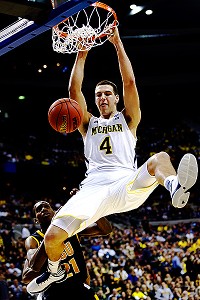 Rick Osentoski/USA TODAY SportsMitch McGary's fierce play in the paint on Saturday helped deliver Michigan to the Sweet 16.
Michigan and coach John Beilein should be happy about that. McGary focused on basketball and a continual growth to the 6-10, 255-pound body of enthusiasm he now inhabits.
Devastating hits, such as what he did to Weber, are merely an energy point for Michigan. McGary is the Wolverines' bruiser and interior presence, something they have been waiting for in Beilein's first five years in Ann Arbor.
McGary almost shrugged discussing the hit, with a sly smile yet insisting it was unintentional. That is part of what makes McGary a question mark for how good this Michigan team could be in the final two weeks of the season.
"Mitch, his confidence was incredible today, easy drop-offs and offensive boards that he got and he just kept going," said Michigan redshirt freshman forward
Max Bielfeldt
. "He can go on a run, and he's just very talented. When he gets his game going, he's really, really tough to stop.
"He's a guy, when he gets going, he's going to keep going, and his enthusiasm keeps his game at a high level."
This enthusiasm has been something Michigan has missed a lot of the season. Burke is a savvy, cool player who rarely displays emotion. Guard
Tim Hardaway Jr.
feeds off emotion, but it comes in spurts.
McGary is like a loose pinball, bouncing all over the place, lighting up bonuses and giving everyone around him added bursts of energy.
Especially if he plays the way he did Saturday, with career highs of 21 points and 14 rebounds against the Rams on 10-of-11 shooting. Michigan reinserted McGary into the starting lineup in the round of 64 against South Dakota State, and he had 13 points and nine boards.
Saturday was something different, though. It was what Michigan had hoped for all along. Although the Wolverines have multiple contributors playing well, McGary is the one who turns them into a title contender.
"He now brings another element to the table," Michigan assistant coach Bacari Alexander said. "Sometimes we joke about them guys being the Justice League.
"If Trey Burke is Batman and Tim is Robin, I'll tell you what: Mitch McGary might be Hercules."
March, 23, 2013
3/23/13
2:51
PM ET
AUBURN HILLS, Mich. -- Quick thoughts from fourth-seeded Michigan's
78-53
win over No. 5 seed VCU on Saturday from the Palace of Auburn Hills.


Overview:
Havoc? The only havoc caused in this game Saturday was from Michigan.
The Wolverines took VCU's vaunted "Havoc" press apart with a combination of their own defense -- the Rams press off of made shots and dead-ball situations -- and their ability to break the press. Michigan handled VCU's press with the ease of an elite college team and handed Rams coach Shaka Smart the most lopsided loss of his career.
The Wolverines used their press break, which was fast but patient, to lead to easy transition on the other end and layup after layup along with open 3-pointers. It was a tape teams likely will use for a long time in trying to figure out how to dissect VCU.
Michigan did this with its star point guard,
Trey Burke
, having another off day. Although his scoring returned, Burke had a season-high seven turnovers, but he did find Michigan's shooters and cutters well for seven assists.
Turning point
: There were many, but the stretch Michigan had to open the second half -- in which the Wolverines had three turnovers and a missed shot yet maintained their double-digit lead -- all but signified a poor day for VCU and an eventual run-out for Michigan. It escalated further when VCU guard
Darius Theus
picked up his third foul at the 17:23 mark in the second half.
Key player:
Michigan forward
Mitch McGary
had the best game of his career, providing the interior presence the Wolverines often had lacked this season. McGary played like the guy they anticipated he might be coming out of high school and prep school. He went 10-of-11 from the field with career highs of 21 points and 14 rebounds, taking advantage of a lacking Rams interior.
Key stat:
Before Michigan's walk-ons came in, the Wolverines committed 12 turnovers, exactly the average teams that beat VCU this season had reached. The Wolverines handled the press easily and, save for one stretch early in the second half, never appeared rattled.
Next:
Michigan makes its first Sweet 16 trip since 1994, facing No. 1 seed Kansas or No. 8 seed North Carolina in Arlington, Texas, on Friday.
March, 22, 2013
3/22/13
6:31
PM ET
AUBURN HILLS, Mich. -- VCU has spent much of this season flustering opposing point guards, sending them into various states of disarray and their "Havoc" defense wreaked, well, havoc on the plans of opponents all season long.
The Rams, though, have not seen an offense quite like the one they will Saturday in the round of 32. VCU turns everyone over. Michigan, with its sophomore point guard
Trey Burke
, hardly ever gives up the ball.
Something has to give.
"It's a difference of style," VCU sophomore guard
Briante Weber
said. "If they take care of the ball, they win. If we get them to turn over, then we win."
It may come off as that simple, but trying to beat Havoc is anything but.
[+] Enlarge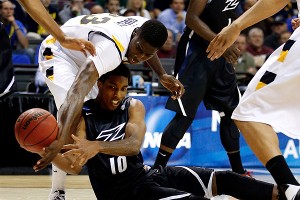 Gregory Shamus/Getty ImagesVCU's "Havoc" defense forced Akron into 21 turnovers during the Rams' first-round rout.
Michigan spent Friday morning looking at variations of VCU's Havoc, then walked through the varying press breaks it would try to use to stop it.
It is not something the Wolverines can simulate. Other teams have tried and failed.
"We really haven't seen pressure like that in my years of being here," said Memphis junior guard
Chris Crawford
, whose Tigers lost to VCU 78-65 in November. "We had to adjust to it, but it was like they were everywhere."
That is part of the plan. VCU spends its entire preseason working on conditioning and defense in an effort to run Havoc at almost all times, forcing opponents to flail about and start to see passing lanes that aren't really there.
It happened for Memphis, which turned the ball over 22 times in that loss. That number is what the Rams have averaged in their 27 wins this season. They have blitzed opponents left and right with a press that can have a multitude of variations, depending on the opponent.
"We just try to deny the wings," VCU guard
Darius Theus
said. "Team stops, actually. Just build a wall around the basket."
The wall, at times, can seem impenetrable. It took Memphis a half to figure out exactly how to move the ball up the floor against VCU. And trying to do it with one primary point guard alone won't work, either.
"What's crazy is it's one thing to try and prepare for it," Memphis assistant Damon Stoudamire said. "When we actually seen it, it started our guys on the initial. If we played them now, we'd be prepared.
"When you see stuff like that, the way it came, it's like a barrage, boom, boom, boom, boom. And they made shots. They turning you over and then they score, that's a bad recipe right there."
The key is to not try and go up the sides of the floor. Doing that will be the high-risk, high-reward maneuver for Michigan. If it beats VCU up the side, it'll have a fast break. If it doesn't -- it'll be a likely turnover.
And it needs to get more than just Burke involved, using guards
Tim Hardaway Jr.
,
Nik Stauskas
and maybe even backup point guard
Spike Albrecht
as options.
"Our guys have to stay connected," Michigan assistant LaVall Jordan said. "They are all connected defensively with their rotations and their traps. We have to be connected offensively."
Someone will get disjointed Saturday. Whichever team doesn't likely will end up winning.
News and Notes
Memphis and Michigan State know each other well even as nonconference opponents. Tigers point guard Joe Jackson and Spartans guard Keith Applingplayed together on the USA Basketball Under-19 team this summer. "I'm real cool with Keith Appling," Jackson said. "We played together in the USA games overseas. I kind of know what he can do good and what he can do bad."He isn't the only one to know a Michigan State player. Memphis' Adonis Thomas and Michigan State's Branden Dawson were teammates on the West team in the 2011 McDonald's All American game, and Dawson said they have stayed in touch. "He's a great guy," Dawson said. "A great player. The thing that really shocked me is that he's 6-7, 240 now. When we were at the McDonald's, he didn't weigh that much." There's also a decent chance Appling will be matched up with Jackson and Thomas with Dawson on Saturday.
Appling tweaked the patellar tendon in his left knee Thursday against Valparaiso. A day later, he said it is still bothering him "a little bit off and on," but that he anticipated playing tomorrow.
Burke said his back is "a little sore" from falling yesterday but definitely would play Saturday. Michigan guard Matt Vogrich, who missed Thursday's game with strep throat, was back with the team Friday.
March, 21, 2013
3/21/13
11:13
PM ET
AUBURN HILLS, Mich. -- Michigan's coaches emphasized something like this all season long, and occasionally they would see it.
A glimpse in practice here. A stretch during a game there. During portions of scrimmages in which they sat point guard
Trey Burke
to give him rest. But for the past two months, Michigan had not seen something like this in a game.
Michigan played with the offensive flow and precision it was fully capable of Thursday night in a
71-56 victory
over South Dakota State in the round of 64 of the NCAA tournament, but something was very, very different.
For the first time this season, Burke was in the single digits, a non-scoring factor with six points. A team that had appeared so reliant on its Wooden Award-candidate guard suddenly needed to find someone else to score for it.
"A lot of people say that this is a one-man offense," Burke said. "But I practice with these guys every single day and I know what they can do. They showed it tonight."
[+] Enlarge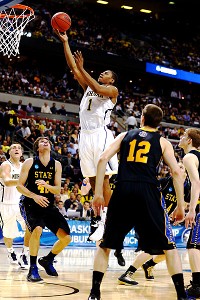 Gregory Shamus/Getty ImagesMichigan's Glenn Robinson III hit three 3-pointers -- his first game with more than one in two months -- on his way to 21 points.
Freshman forward
Glenn Robinson III
, who had not hit more than one 3-pointer in a game since Jan. 24, made three and scored 21 points on nine shots against the No. 13-seeded Jackrabbits (25-10). Junior guard
Tim Hardaway Jr
. hit five 3-pointers and scored 21 points. Freshman
Mitch McGary
, in the starting lineup in place of
Jordan Morgan
, had 13 points and nine rebounds.
And all of a sudden, fourth-seeded Michigan looked more like the top-ranked team it had been at one point this season instead of one that struggled over the past month.
"It's nice for everybody to get to see that we don't have to rely on Trey night in, night out to score baskets for us to win," redshirt sophomore forward
Jon Horford
said. "We do need his defense, which is excellent, and we need his passing and all that stuff he does so well.
"But it's nice that we got to see we don't need him to score 20 points a game to be successful."
For a little while, it became a concern for Michigan. The Wolverines (27-7) knew they had talent, but too often Burke came in to bail them out when they needed it. He would make a big play on defense or score points in a quick spurt when the offense started to stagnate.
Even Michigan coach John Beilein, when he saw Burke had gone 0-for-7 in the first half, said he figured he'd go 7-for-7 in the second. But for the first time this season, he didn't.
"We need Trey to take a lot of shots and we need Trey to carry the offensive load for us, but yeah, sometimes we do rely on him a little bit too much," freshman guard
Nik Stauskas
said. "Everyone kind of stands around and watches him play.
"Today, everyone got in the flow of the offense and not forcing it. And it was great."
Around Michigan, it was indeed great for everyone involved. Burke still had seven assists and helped defend South Dakota State guard
Nate Wolters
along with Hardaway and Robinson, holding him to 10 points on 3-of-14 shooting.
But offensively, Michigan might have found itself at its most crucial time.
Michigan C Cites Concussions In Decision To Quit
BIG TEN SCOREBOARD
Thursday, 9/3
Friday, 9/4
Saturday, 9/5
Sunday, 9/6
Monday, 9/7