Michigan Wolverines:

2012 Big Ten Media days
July, 27, 2012
7/27/12
6:11
PM ET
CHICAGO -- Big Ten football media days are in the books, and the 2012 college football season is officially here.
Here's a look back at some of the top items from the past two days ...

Best dressed:
Montee Ball
. If you want be called Mon-Tay, as Ball now goes by, you had better back it up. The Wisconsin star dressed to impress both days, sporting a suit with a purple vest and bowtie Thursday, followed by a suit with a black vest and a red tie Friday. Guessing that Wisconsin coach Bret Bielema preferred the red tie. Honorable mention goes to Purdue cornerback
Ricardo Allen
for his three-piece beige suit. Very sleek.
Most heartfelt moments:
It's a tie between Penn State linebacker
Michael Mauti
, who reflected on an emotion-charged week for the program, and Michigan quarterback
Denard Robinson
, who made a touching and revealing speech at the Big Ten kickoff luncheon, discussing his humble roots, the loss of his brother and his responsibility as a high-profile athlete.
Best line from Robinson:
"I met the President of the United States, and I met LeBron James, and they both knew who I was."
Best bold statement:
First-year Ohio State coach Urban Meyer is setting the bar high for his quarterback,
Braxton Miller
. How high? "Braxton Miller has a lot of skills that Tim [Tebow] didn't have," Meyer said. "Braxton Miller is dynamic, he's the most dynamic athlete I've ever coached at quarterback. What I just said, people should go, 'Whoa.' He is, really by far. That's how good of an athlete he is." Fullback
Zach Boren
agrees, telling ESPN.com, "One or two Heisman Trophies are in his future." No pressure, Braxton.
Best newlywed moment:
Bielema, who got married in March, was asked which ring feels better, his wedding band or his Big Ten championship ring (he wore both Friday). "It depends on who's asking," he said.
Best physical assessment:
Michigan junior left tackle
Taylor Lewan
, on teammate
Craig Roh
's claim that he's husky. "Call me husky all you want. Feel these hips if you want, too. I'm 310 pounds. There's got to be a little love, right?"
Best recruiting comment:
Northwestern head coach Pat Fitzgerald, asked about plucking heralded linebacker recruit
Ifeadi Odenigbo
from Centerville, Ohio. "Urban can't take 'em all," he said, referring to Ohio State's Meyer. "But they offer 50, we get one, hooray for the 'Cats."
Best media day debut:
Andrew Maxwell
hasn't started a game at quarterback for Michigan State, but the junior handled himself well in the spotlight this week. "I've organized the 7-on-7s, get guys in the meeting room, get guys in the film room, texting them, saying, 'What time are you free? What time do you have class today?' " he said. "You really start to see how that's working when guys are texting and calling you, saying, 'Hey, can we get in the film room today.' When it's a two-way street, that's when you're most effective."
Best social media comment:
Although several of Kirk Ferentz's Iowa assistants are on Twitter, including his son, Brian, the team's offensive line coach, Ferentz hasn't warmed up to social media for his players. "We're really not big on Twitter," he said. "I told them they can Twitter their lives away as soon as they've played their last game. If they want to Twitter the next 60 years, have at it. Facebook, Myspace, your space, my book, your book, it's probably not fair to try to rein that one in, but we just try to encourage that it's going to be part of their DNA. Whatever they post, they're responsible for."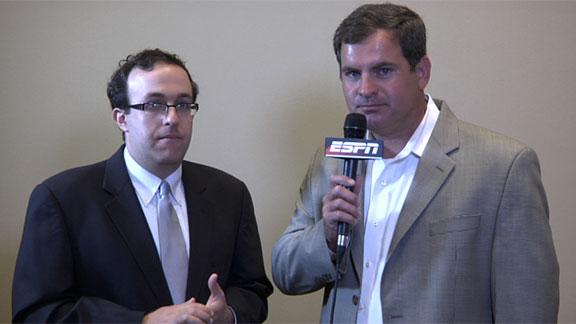 July, 26, 2012
7/26/12
4:00
PM ET
CHICAGO -- Don't expect to see a nine-game Big Ten schedule any time soon.

Commissioner Jim Delany said at Big Ten media days Thursday that league schools are "of a unanimous mind to stay at eight games" in the conference schedule.

The dissolution of the Pac-12/Big Ten alliance forced the league to re-examine its scheduling philosophy. One idea that was heavily discussed this week was whether to increase the number of conference games to nine, the same number the Pac-12 and Big 12 play and that the ACC will soon play. Of the other power leagues, only the SEC has decided to stick with eight conference games.

The Big Ten voted to go to nine games last summer before abandoning the plan when the Pac-12/Big Ten agreement developed. But many coaches were not in favor of playing nine games, and some athletic directors did not like the idea of having an imbalanced number of home and away league games.

Delany said playing just eight league games will give the Big Ten more opportunities to prove itself on a national basis, which he said will be helpful under the playoff system to be implemented in 2014. Strength of schedule is expected to be a key component that a selection committee will consider when choosing the four teams for the playoff.

"That committee will have to look with the eye test at conferences," Delany said. "But it will also have to look at competitive results between conferences. We think going forward that this is the best way to prepare for the new postseason model."

Delany said that the Big Ten schools serious about competing for national championships will soon have "enhanced schedules," meaning tougher nonconference games. Those schools, he said, will "not only demonstrate strength by winning Big Ten championships but also demonstrate strength relative to other conferences."

The commissioner said the Big Ten might work with other conferences to help scheduling, though he said that would likely not rise to the collaborative level that was planned with the Big Ten.
Michigan C Cites Concussions In Decision To Quit
BIG TEN SCOREBOARD
Thursday, 9/3
Friday, 9/4
Saturday, 9/5
Sunday, 9/6
Monday, 9/7