October, 22, 2014
Oct 22
5:00
PM ET
We're on the back side of the wait for Week 9 in the Big Ten. Let's get to the latest batch of questions. As always, thanks for the submissions.
@mitchsherman @ESPN_BigTen huge game for Wisconsin if they want to make a run this year. Coach is very coy on qb situation. What gives?

— Douglas Greenberg (@DougGreenB) October 22, 2014
Mitch Sherman:
Every game is a big one for the Badgers at this point. Since the promising first 30 minutes of the year against LSU, something has seemed constantly amiss with Wisconsin. It is far from out of the running in the wide-open West Division, but with the loss at Northwestern, the Badgers are climbing uphill again. It's reminiscent, somewhat, of the 2012 path, when Wisconsin scuffled through the first half of the season, then dropped three of its final four before backing into the conference title game and clobbering Nebraska. The quarterback situation is just strange. Gary Andersen said this week it's not a competition but that
Joel Stave
and
Tanner McEvoy
will both play. I don't entirely get that, though I recognize, considering Stave's unusual season, that it's likely been one of the most difficult situations a coaching staff could face with two healthy quarterbacks.
@mitchsherman As Nebraska sets it self out from the others in the west can we make the playoff at 11-1 and a big ten championship?

— Brandon Williamson (@Husker_bran) October 22, 2014
Sherman:
Let me direct you to the weekly
Playoff Eliminator
, which puts into context the contenders that remain for the main event in January. Context is the all-important factor here. Without it, no one can say if a Big Ten team has a shot to make the playoff. At this point, even the league's top-ranked teams, when the committee's first poll is unveiled next week, will need help in order to reach the top four. But with highly ranked SEC teams falling each week in conference play and so many big games left before the playoff is set, it makes sense to believe that any Big Ten team would stand a reasonable chance to fit into the playoff picture at 12-1.
@mitchsherman @ESPN_BigTen Lets say Hoke is done. What's your timetable for fielding a competitive team? #nomorepatience

— Paul Satchell (@psatch1) October 22, 2014
Sherman:
Well, that's going to depend on the next coach. Since we're dealing in hypotheticals, let's say the Wolverines hit a home run -- no a grand slam -- in finding their next guy. If a proven NFL coach takes the job or a big-name guy from college who understands the recruiting game, I think Michigan can be competitive immediately. It could be a real contender nationally in the second year, simply because the talent is there. Hoke has recruited well; he and his staff have just struggled to develop talent in Ann Arbor and, to some degree, attract the right mix of recruits. The right coach could fix all of that in a short time.
@mitchsherman @ESPN_BigTen Will Gardner's regression at QB end this week vs MSU? He's got so much talent. Coaches have "done him wrong"

— Carlos Moncada (@losfromcp) October 22, 2014
Sherman
: The short answer is no. The long answer? Not against Michigan State if the U-M played the Spartans every week between now and the end of the season. You saw what happened last year when Michigan State made even Ohio State fans feel sorry for Gardner. (OK, probably not.) The Spartans will be up for this game like they were to face Nebraska on Oct. 4, looking to pound another nail into the coffin of Michigan's season. Gardner, of course, is plenty talented. He's the right choice to run Michigan's offense, considering the roster of quarterbacks, but probably not this offense. Hoke suggested before the Penn State game that Gardner might play to his strength and run the football more. He carried 10 times for 18 yards in the 18-13 U-M win. With a week off to prepare for the Spartans, maybe the offense has undergone a transformation, though it's doubtful a philosophical change could dig Michigan out of this hole.
October, 22, 2014
Oct 22
11:50
AM ET
October, 22, 2014
Oct 22
11:34
AM ET
By
Brett Edgerton
| ESPN.com
Let's face it: It's a good time to be a Spartans fan in the state of Michigan. As
Brian Bennett detailed on Tuesday
, "Little Brother" has owned the Wolverines lately -- and is a huge favorite to continue that domination when the two schools meet on Saturday.
Just how thorough is that Michigan State domination?
Even the iconic block "M" on Michigan's campus has been painted green.
Yes, it appears some MSU fans decided they would sneak into Ann Arbor overnight and not only cover the "M" in green paint, but also add the letters "S" and "U" to the end of it. According to the student newspaper, The Michigan Daily,
the block "M" has been in place since 1953
and is highly visible to students walking to and from classes.
As if walking to an early-morning class wasn't bad enough already...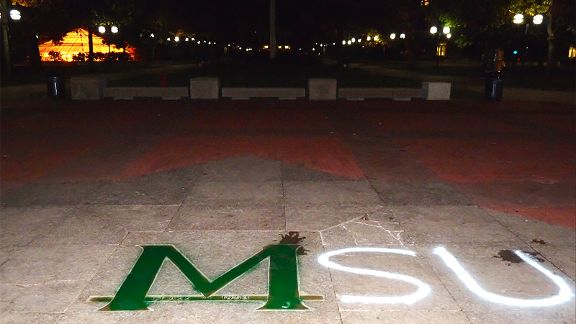 Twitter/@ByAZuniga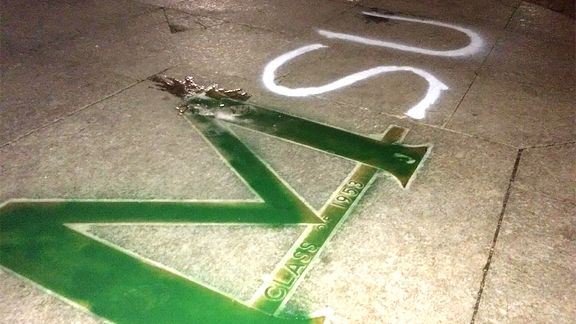 Twitter/@ByAZuniga
October, 22, 2014
Oct 22
8:00
AM ET
Trophy games and rivalries will be a regular occurrence from now until the end of the Big Ten season. This week features one of the nastiest in-state showdowns, but the build-up to this year's version has been comparatively tame.
1. Michigan and Michigan State have never been shy about their mutual distaste for one another. This year's pregame volley of words has been
far more civil
than in the past decade. Maybe it's because Michigan State no longer has to ferociously refute the "little brother" tag. Maybe it's because Michigan limps into Saturday's game with a 3-4 record and doesn't have much of a trash-talking leg on which to stand. The sentiment behind closed doors is probably a little more hostile. The boring "it's a big game because it's the next game" lines are probably the proper do-your-talking-with-your-pads rhetoric. Nonetheless, it makes rivalry week a little too PR-scrubbed and professional for my liking.
2. Is J.T. Barrett at the top of your Big Ten quarterbacks list yet? If not, he should be. The Buckeyes rookie has
the best quarterback rating
in the nation since the third week of the season. He has Ohio State's spread offense running
as smoothly as former two-time conference MVP Braxton Miller ever did
. If Barrett continues to roll and leads Ohio State to a league title, Urban Meyer is going to have a difficult decision to make between two healthy preseason Heisman contenders next August.
3. Death, taxes and Minnesota games being decided by halftime. Those used to be the safe bets during Jerry Kill's first three-plus seasons with the Gophers. On Saturday, Kill's team won for the first time when trailing at half. They have still never lost when leading after two quarters. Coming from behind against Purdue was a significant step forward for Kill's rebuilt program, which is built to play with a lead. Long completions on play-action passes beat the Boilermakers and added to the Gophers' case
as a legitimate West Division contender
.
East Division
West Division
October, 21, 2014
Oct 21
4:00
PM ET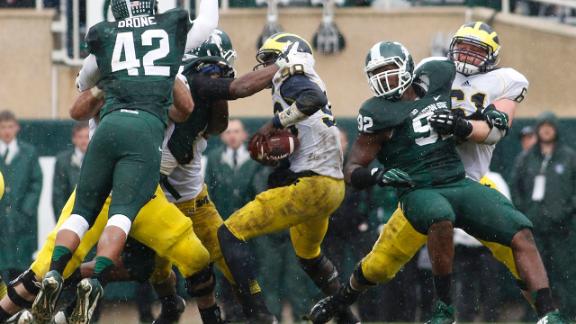 Our crew of Big Ten reporters will occasionally give their takes on a burning question facing the league. They'll have strong opinions, but not necessarily the same view. We'll let you decide which one is right.
The Michigan-Michigan State series resumes on Saturday (3:30 p.m. ET, ABC), and the Spartans have been dominant of late in winning five of the past six meetings. But will it continue? Today's
Take Two topic
is: Which program will be in better shape five years from now?
Take 1: Brian Bennett
The real answer here is we have no idea. Things can change quickly in college sports, and nothing is guaranteed. Just look at Florida and Texas.
It's particularly hard to predict with any accuracy what Michigan will look like in the future, because we don't know who will be the coaching the Wolverines in five months, much less years. Of course, the Maize and Blue have all the resources to bounce back quickly, assuming they hire the right man. But they've missed on that two times in a row now, right?
That's why I'll pick Michigan State. Rivalries tend to go in cycles, and the Spartans' ownership of their in-state opponent likely won't continue at this rate. But stability has been a key to the success of Mark Dantonio in East Lansing, as so many of his coaches have been with him since the beginning. That probably won't stay the case -- Pat Narduzzi has to get a head-coaching gig this winter, and he is likely to take some other Spartans assistants with him when he does -- but Dantonio will keep sticking with what works.
He just coached his 100th game with Michigan State and is only 58. Dantonio figures to still be leading the Spartans five years from now, and the program continues to get better in all areas. Even if Michigan finally maximizes its potential, Michigan State isn't going away. I'll stick with the sure thing.
Take 2: Dan Murphy
Five years is a long time in the cyclical world of college football. As far ahead as Michigan State currently sits in just about every metric of a successful program, there's no reason to believe Michigan can't catch up and possibly pass the Spartans in the future.
There's a good chance Michigan is closing in on a clean slate with its athletic department leadership. Strong relationships between the head coach, athletic director and the university's big wigs is an essential part of creating a consistent winner on the football field. If things in Ann Arbor continue down this current path, the Wolverines will get a chance to start building those bounds from scratch before the 2015 season.
The resources -- money, facility, support and athletic talent -- have always tilted toward Michigan in this rivalry. The ingredients for a better product are there, Michigan just hasn't been able to put them together during the past couple years.
Meanwhile, in East Lansing, Dantonio is battling the high expectations and attrition that come with success. His coaching staff has remained largely intact during the Spartans' rise, but that can't continue forever.
Five years from now, Dantonio will be a 63-year-old coach that might be dealing with a new staff for the first time in a long time. It's not a foregone conclusion that the Goliath he's built will shrink, but history certainly points to the possibility that Michigan will be in a good spot to catch up, which is probably a good thing for Wolverines' fans to keep reminding themselves as this season's meeting plays out on Saturday.
October, 21, 2014
Oct 21
3:00
PM ET
By
ESPN.com staff
| ESPN.com
Questions were asked. Coaches had answers. Here are a few of the highlights from this week's Big Ten conference call ...
By the way, if you're not following us on Twitter, what are you waiting for? Follow along at
@ESPNRittenberg
,
@BennettESPN
,
@ESPNJoshMoyer
,
@DanMurphyESPN
,
@MitchSherman
and
@AWardESPN
.
Brady Hoke filibuster watch: Opening statement clocks in at 90 seconds this week.

— Austin Ward (@AWardESPN) October 21, 2014
Mark Dantonio says he thinks a one-loss Big Ten champ should make the playoff. "But that's just me as a fan," he said.

— Brian Bennett (@BennettESPN) October 21, 2014
More from Dantonio on the playoff: Could make a case for 15 different teams to be in the playoff.

— Dan Murphy (@DanMurphyESPN) October 21, 2014
Last 3 weeks, Fitz has seen Melvin Gordon, David Cobb and Ameer Abdullah: "Pretty special [group of RBs in B1G], no question about that."

— Austin Ward (@AWardESPN) October 21, 2014
Jerry Kill said coming from behind to beat Purdue was significant step last week. Gophers had never won after trailing at half under Kill.

— Dan Murphy (@DanMurphyESPN) October 21, 2014
Urban Meyer said Joey Bosa played his best game on Saturday vs. Rutgers. Kid's still getting better. Scary.

— Brian Bennett (@BennettESPN) October 21, 2014
Kevin Wilson on Tevin Coleman's big plays: "He's got a knack for it. Little bit of it is scheme, lot of it's him."

— Austin Ward (@AWardESPN) October 21, 2014
October, 21, 2014
Oct 21
8:00
AM ET
Three bite-sized opinions, with links below, to start off your morning:
1. Larry Johnson deserves cheers, not jeers from Penn State fans.
The longtime Nittany Lions assistant, now an Ohio State coach, is
returning to Happy Valley
for a Saturday night game. One fan tweeted at me, referring to LJ as "Larry Judas." He's not the only PSU fan that still harnesses some bitterness toward Johnson. But that really misses the mark. Johnson knew James Franklin was big on defensive line coach Sean Spencer -- he admitted as much Monday -- so Johnson simply stepped aside. This is the same man who declined a defensive coordinator position with Illinois in 2008 which would've reportedly doubled his salary. And who, in 2011, declined to put his name in for Maryland's next coordinator job because he already promised Penn State's recruiting class he'd coach them the next season. Just because a coach leaves somewhere doesn't mean he's "disloyal." I'm not 100 percent certain what kind of reception he'll receive Saturday night, but a standing ovation seems much more appropriate than any boos.
2. Purdue fans have a reason to be excited -- finally.
Danny Etling
was heralded as Purdue's savior before he ever took a snap last season. And when he did finally step under center for the first time, against Northern Illinois, the crowd offered him a standing ovation. Well, it turns out the quarterback to turn this Boilermakers team around might just be the lesser-known
Austin Appleby
. At least, he was lesser-known until a few weeks ago. In his last three starts, the Boilermakers are averaging 35.7 points a game. Before Appleby, that number was 23.8. He has some weapons on offense and, if this defense can step up, Purdue could really be a good team. Seriously. Appleby stuck with it after Etling twice beat him out for the starting job, and Appleby still has no shortage of confidence. He said last week that Purdue
"could've hung 40"
on Michigan State.
3. Illinois' "Gray Ghost" uniforms deserve a thumbs-up.
Maybe it's just because I'm a sucker for history, but I really dig the uniforms the Fighting Illini plan to wear this weekend for Homecoming. It's not necessarily how they look --
and they look fine
-- but it's the story behind them that really gets me. Ninety years ago, during Illinois' Homecoming against Michigan, Red Grange scored four touchdowns in the first 12 minutes of the game. He ended up with six TDs as the Illini became the first team to beat Michigan in two years. After that game, famous sportswriter Grantland Rice referred to Grange as a "gray ghost." So, that's the idea behind Illinois' uniforms. Wish more teams would honor history like that. Seems like fans are embracing the new design, too. The jerseys have already
sold out online
.
Now, on to the links ...
East Division
West Division
October, 20, 2014
Oct 20
5:00
PM ET
Let's get this week started off right with a good, old-fashioned Big Ten mailbag ...
@ESPNJoshMoyer Is it still "The Wild Wild West" like, @ESPNRittenberg says about the B1G West Division? Or is Nebraska clearly the leader?

— BlackFlash41Reverse (@Black41Reverse) October 20, 2014
Josh Moyer:
Why not both? Adam is still right -- there's really
not a lot of separation
over in the West. Minnesota is the only team that has yet to drop a conference game, but three others (Nebraska, Iowa, Wisconsin) are within striking distance with only one loss. At the same time, we've been saying for quite a few weeks now that Nebraska clearly boasts the edge, talent-wise, in the division. Heck, I picked the Huskers to win the West in the preseason. Nebraska is the only balanced team here. Minnesota and Wisconsin really don't have much in the way of passing games, and the Hawkeyes haven't exactly been models of consistency. But one misstep in this division could cost the crown. That's why the "Wild, Wild West" may have become slightly clearer, but it's still pretty muddled. We'll know how the East shakes out when Michigan State takes on Ohio State in two weeks. But the West? We might not know until the final week. Take a look at the Huskers' final three opponents: Wisconsin, Minnesota, Iowa. Now that's wild.
Mike from Grand Rapids, Minnesota, writes:
Does Brady Hoke need to win out to save his job? As much as I'm in the minority, I don't want to see Michigan go through another coaching search. This team, their O-line in particular, is pretty young.
Moyer:
See, that's a tough question, Mike -- only because there's about a zero percent chance Hoke wins out. Listen, he's gone. Even he has to know he's gone. Michigan has looked worse every season, and player development seems to be an ongoing issue. I'll even give you the offensive line since it's young. But why is
Devin Gardner
regressing? And why couldn't U-M adjust when Rutgers nailed them for 404 passing yards? As far as player development/recruiting, let me share kind of an eye-opening fact here: Michigan's usual starting lineup features seven players who were on the ESPN 300; Rutgers has recruited seven total ESPN 300 players since 2006. How about resources? For every dollar Rutgers' athletic department spends, Michigan spends $1.82. Yet, Rutgers was the Vegas favorite earlier this season -- and won. So it's clear Michigan is not on the right track. If Hoke somehow turns this team around and beats Michigan State and Ohio State, sure, he'll keep his job. But we might as well talk about what happens to Tim Beckman if Illinois wins out. Because neither is very likely to happen.
@ESPN_BigTen @ESPNJoshMoyer josh-what should us badger fans expect v maryland after our bye week, and who will we see under center? Thanks

— Douglas Greenberg (@DougGreenB) October 20, 2014
Moyer:
Let's get the obvious out of the way first: Expect lots and lots of yards for
Melvin Gordon
. The Terrapins are ranked No. 102 nationally in rush defense and the Badgers are ranked No. 1 in rushing offense. That's a big reason the Badgers are favored by double digits. Before the injury to Indiana's
Nate Sudfeld
, Maryland's offense also kind of reminded me of the Hoosiers without
Tevin Coleman
– you saw all this potential through the air … but you wondered when it was going to materialize. With
C.J. Brown
struggling, you still wonder. Maryland hasn't faced a top-25 defense yet this season, and it should struggle against Wisconsin. As far as Wisconsin's quarterback situation, both players are still splitting reps with the first team.
Joel Stave
has seen more time than
Tanner McEvoy
the last two games and, unless McEvoy practices better this week, I'd expect more of the same.
@ESPNJoshMoyer seeing as Penn State beat Akron, who beat Pitt, who beat Virginia Tech, who beat Ohio State, PSU clearly wins Saturday right?

— Amanda Wrzeszczynski (@PSU_Wrz) October 20, 2014
Moyer:
Haha ... well, I can't argue with that logic. Here's another fact to chew on: Penn State beat Ohio State, 63-14, in 1994. The next season, the Buckeyes won 28-25. Of course, do I really think the Nittany Lions will win Saturday after getting demolished last season by that same 63-14 score? Of course not. This is one of the worst offensive lines in the Power 5, while the Buckeyes have one of the best defensive lines. If Penn State can even keep this close -- Saturday night's game is the hot PSU ticket this season -- then it should be a boost. The Nittany Lions' defense is much improved from last season, but it really hasn't yet played a good quarterback. And
J.T. Barrett
has been great this season. This needs to be a low-scoring affair for PSU to really stand a chance. But I'd be surprised if Penn State really threatened.
October, 20, 2014
Oct 20
4:00
PM ET
When Michigan kicker
Matt Wile
struggled in his first two games this season, he said it helped that his teammates were behind him.
That's not quite as cliché as it may sound.
Sure, Wile's fellow Wolverines told him not to worry when he missed three of four kicks from that dastardly right hash to start the season. They had his back after he went 0-for-2 in a shutout loss to Notre Dame in the metaphorical way good teammates should. They told him he was still their guy and he'd get the next one, and certainly that steadied the senior's shaken confidence. What really helped, though, was when they got behind him in a more literal sense.
Michigan's field goal practice this season has included a chorus of hecklers who stand a few feet behind Wile every time he lines up for a kick. They do their best to distract him, chirping the type of things they hope will make the buzz of 100,000 screaming fans fade in comparison.
Dennis Norfleet
, the team's top punt returner/on-field break dancer, is usually the ring leader.
"Norfleet likes to be pretty loud," Wile said. "They only ever succeed if they can make me laugh. ... They talk about my nonexistent hamster. I apparently have a hamster. I don't know where that came from."
Fictional hamsters aside, the wheels inside Wile's head are now spinning at the right pace when he lines up for a kick. He's made seven of his eight attempts since losing to the Irish. He said the biggest adjustment during that stretch has been not psyching himself out. His only miss in the last five games was a 56-yard attempt that Rutgers freshman
Kemoko Turay
needed moonshoes to block.
"The guy from Rutgers made a great play," Wile said. "I definitely would've liked to see how that turned out otherwise. I thought I hit it pretty well."
In his last outing, an
18-13 win over Penn State
, Wile made all three of his field goals, including a 42-yarder to tie the game in the third quarter and a 37-yarder to take the lead for good in the fourth. The game-tying kick was the closest Wile came to the right hash -- his mental sticking point earlier in the season -- against the Nittany Lions.
Michigan coach Brady Hoke said he starts the special-teams portion of practice by sending Wile down the right hash attempting kicks at different lengths. He didn't claim to be Sigmund Freud in straightening out Wile's approach but said he's made it a point to get the kicker to stop pressing if he starts to struggle in practice.
"If he misses a couple in a row, I'll just tell him don't overthink it," Hoke said. "Sometimes he just flat-out overthinks it instead of just going up there and swinging your leg. I don't know if you want to call that psychology."
Wile does use a few tricks to keep himself mentally centered. If he feels doubt creeping in on the sideline, he visualizes the referee raising his arms after a successful kick. While he's lining up, he'll crunch his upper body into an awkward stance to remind himself to stay compact when he strikes the ball.
He has worked with a kicking specialist back in his hometown of San Diego to remove some kinks from his form. Most importantly, he says, he knows he has his teammates standing behind him.
"Now I don't care where I kick from," Wile said. "If I'm on the field, in my mind I'm going to make the kick."
October, 20, 2014
Oct 20
2:00
PM ET
Curse the double bye, as we have another week coming up with just five Big Ten games. But there are a few good ones on tap, including a couple intriguing rivalries. Here's your early look at the storylines for Week 9:
1. Can Michigan close the Bunyan-sized gap with Michigan State?
Based simply on this year's performances, Saturday's game between Michigan and Michigan State could be one of the most lopsided in the history of the Paul Bunyan Trophy series. The Spartans are riding high, having won 13 straight Big Ten contests, while the Wolverines are just 3-4. Michigan State has won five of the past six in this rivalry, including three straight in East Lansing. The inability to beat his rivals is a big reason Brady Hoke is fighting for his job right now. Maybe the Wolverines can rally behind their embattled coach. If not, this has a chance to get ugly.
2. Will Ohio State keep it rolling?
The Buckeyes have scored 50 or more points in each of their past four games to build their case for the College Football Playoff. This week brings their toughest road test of the season to date, a night game at Penn State. Beaver Stadium will be decked in white, and Nittany Lions fans will do their best to rattle young quarterback
J.T. Barrett
. Penn State's defense is probably the best one Ohio State has played in at least a month as well. Of course, the Lions have lost their first two Big Ten games and are having all sorts of issues with their offensive line, which they spent last week's bye week trying to solve. Don't be surprised if James Franklin and his staff throw out some new wrinkles this Saturday night.
3. Make-or-break game in Madison:
Is Maryland for real? Is Wisconsin a serious contender? The season has failed to adequately answer these questions thus far. The Terrapins are 2-1 in their first year in the league and are coming off a solid win over Iowa. They've been up and down (the down includes a home blowout loss to Ohio State), but they also have a lot of explosive playmakers. Wisconsin has a Heisman Trophy candidate in
Melvin Gordon
but hasn't figured much else out on offense, especially in the passing game. The Badgers already have one conference loss and likely can't afford another one if they want to win the West Division. Can Wisconsin keep pace with Maryland's skill players like
Stefon Diggs
? Can the Terps' shaky defense slow down Gordon? One team will be left standing as a serious division contender after Saturday.
4. Beckman's last stand?
Illinois coach Tim Beckman may well have to make a bowl game to save his job this season. That means the 3-4 Illini probably have to win this week at home against Minnesota, because the rest of the schedule isn't kind. The Gophers sit atop the West Division at 3-0 but looked vulnerable to a big-play passing offense on Saturday against Purdue. Illinois will have to follow the Boilermakers' game plan, though either
Aaron Bailey
or
Reilly O'Toole
must make a big jump at quarterback. Here's the best reason to predict that Minnesota will come away with the road win in Champaign: Beckman's defense is surrendering a Big Ten-worst 271.1 rushing yards per game.
David Cobb
could run all day.
5. Rutgers' mettle being tested:
You really wanted to join the Big Ten, Rutgers. Well, here you go. After dealing with the piping-hot cauldron of the Horseshoe last week -- where the Scarlet Knights got scalded in a 56-17 loss to Ohio State -- Kyle Flood's team jumps back into the fire this week with a trip to Nebraska. It's harder to imagine many more difficult back-to-back road challenges than that in the Big Ten, and it highlights the difficulty of Rutgers' second-half schedule (a November trip to Michigan State still awaits). Nebraska looked terrific last week in the second half at Northwestern and must simply avoid complacency before the big West Division showdowns arrive the final three weeks (at Wisconsin, Minnesota, at Iowa). For the Scarlet Knights right now, this is mostly about survival and not letting a promising season go up in flames
October, 20, 2014
Oct 20
8:00
AM ET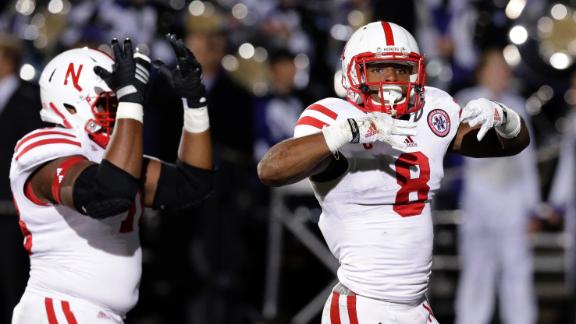 Good morning. A few thoughts before we get to the links:
1. Quarterback
J.T. Barrett
is receiving loads of attention as Ohio State continues its incredible offensive surge. And rightly so, because Barrett's numbers (20 total touchdowns, five interceptions, 65.2 percent completion rate) are astounding. He has the highest ESPN QBR score in the country since Sept. 6, the date of the Buckeyes' loss to Virginia Tech.
But let's not forget the improvement of Ohio State's offensive line. The young group with four new starters looked like a liability in the first couple of games. Since then, it has become a source of strength. The Buckeyes allowed no sacks on Saturday against Rutgers, whose defense came into the game leading the Big Ten in that category. The Scarlet Knights only had two tackles for loss and just one quarterback hurry. Ed Warriner's group showed similar dominance against Maryland, whose defensive front caused Iowa's offensive line all kinds of problems on Saturday.
Urban Meyer had his players
give the assistant coaches a standing ovation
after the Rutgers win. It's hard to tell
just how good the Buckeyes are
right now, Bob Hunter writes. But they look pretty darn good.
2. As great as
Ameer Abdullah
is, I thought Nebraska needed one more weapon to take its offense to a truly elite level. The Huskers might have found that extra option on Saturday at Northwestern.
De'Mornay Pierson-El
, who to this point had done most of his damage on punt returns, had three catches and even threw a touchdown pass to
Tommy Armstrong Jr.
, evoking memories of
a famous trick play from Nebraska's past
. The speedy true freshman gives Armstrong another target along with
Kenny Bell
and
Jordan Westerkamp
. The Huskers were dominant offensively in the second half against a pretty good Northwestern defense, and Pierson-El was a big reason why.
"De'Mornay and Ameer and Kenny, when does it end?" offensive coordinator Tim Beck told the Omaha World-Herald. "You want those guys on the field, because now you've got to guard them all."
3. Indiana just can't seem to sustain any kind of positive momentum. The Hoosiers were a trendy pick to make a bowl this season, especially after
winning at Missouri
on Sept. 20.
But since then, Kevin Wilson's team has gone just 1-3 (with the lone win over North Texas). And as IU showed in Saturday's 56-17 loss to Michigan State, it's highly doubtful that there is another win left on the schedule.
True freshman quarterback
Zander Diamont
clearly
isn't ready
, as his 5-for-15, 11-yard performance vs. the Spartans confirmed. He should be redshirting, but season-ending injuries to
Nate Sudfeld
and
Chris Covington
thrust him into action. Even with
Tevin Coleman
having a season for the ages, the Hoosiers don't have much of a chance without a passing attack and with a defense that can't win Big Ten games on its own. There's much to like about the young talent Wilson has brought to Bloomington, but Indiana continues to be stuck in program quicksand. The last five games will test the resolve of Wilson and his players.
West Division
East Division
And finally
...
Ohio State's band put on another amazing halftime show.
Rock out to it
. The Pinball Wizard part is my favorite.
Picks Of The Week: Michigan-Michigan State