WolverineNation Mailbag
February, 7, 2013
2/07/13
12:00
PM ET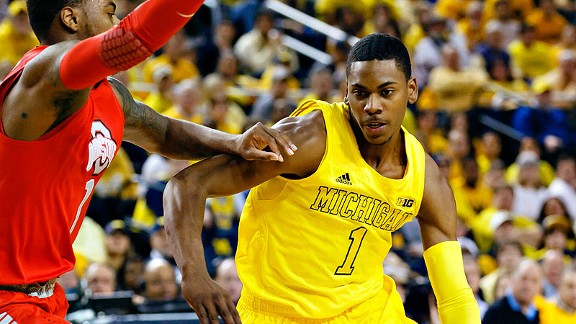 Rick Osentoski/USA TODAY SportsFreshman Glenn Robinson III is just one of the U-M underclassmen who could leave early.
ANN ARBOR, Mich. -- Signing day is in the books so the WolverineNation mailbag has an eye to the future.
There's still a month of regular season basketball left and already a peek into 2014 recruiting. These things and more are covered this week.
Have questions for the Mailbag? Send them to @chanteljennings on Twitter or
jenningsespn@gmail.com
by email.
To continue reading this article you must be an Insider
Insider
Longhorns, Wolverines Announce Home-And-Home Series
Heather Dinich discusses the announced plans for a future home-and-home series between Texas and Michigan.
Longhorns, Wolverines Announce Home-And-Home Series
VIDEO PLAYLIST
MICHIGAN FB RECRUITING SCORECARD
DesmondHoward

Desmond Howard


Do you get the feeling that Jimbo Fisher is kinda feeling like Kevin Sumlin did this time last year?
about an hour ago

DesmondHoward

Desmond Howard


No hotel video? RT @RichelleCarey "@HuffPostPol: Senators call for federal judge to resign over wife beating http://t.co/rrZquLNnf8 "
about 2 hours ago

BTN_Michigan

Big Ten Network


Big news out of Ann Arbor as @umichfootball & Texas schedule a home-and-home series. Details from @TaylorRooks. http://t.co/WMB2bMvp3m
about 3 hours ago

ESPN_BigTen

ESPN BigTen


Ohio State letting Noah Spence practice http://t.co/5iNIF2bTsZ
about 4 hours ago

BTNSean

Sean Merriman


I asked @BTNTomDienhart to give me three #B1G players on the spot in Week 4. Thoughts? - http://t.co/VMghevewrx http://t.co/GZ6zi4nmsn
about 5 hours ago

BTN_Michigan

Big Ten Network


#Michigan news: Big Ten players 'on the spot' in Saturday's Week 4 matchups http://t.co/lMaSM7JNUn
about 5 hours ago

DesmondHoward

Desmond Howard


What's wrong with these QBs and their "potty mouths"? First Colin Kaepernick and now Jameis Winston. #WhatTheySay
about 8 hours ago

DaveBrandonAD

Dave Brandon


I challenged Red Berenson and today he fulfilled the #ALSChallenge with his skates on! Congrats! @umichhockey http://t.co/XfkkNRBTtw
about 9 hours ago

ESPN_BigTen

ESPN BigTen


Big Ten Wednesday mailbag http://t.co/d5tb8fpo7E
about 9 hours ago

mikerothstein

Michael Rothstein


Ezekiel Ansah has a knee injury, that's why he was held out of practice. Travis Lewis a quad, Waddle still with the calf. #Lions
about 10 hours ago

mikerothstein

Michael Rothstein


Don Carey returns to practice while Ezekiel Ansah sits out for the #Lions: http://t.co/5ebxZ2dn9S
about 10 hours ago

ESPN_BigTen

ESPN BigTen


Iowa's run game has been grounded http://t.co/rQ3Itz9RgN
about 10 hours ago

mikerothstein

Michael Rothstein


Dominic Raiola said he saw the news about FSU QB Jameis Winston yelling obscenities: "That's crazy. You can't do that, you know." #Lions
about 10 hours ago

mikerothstein

Michael Rothstein


The #Lions are sticking with Nate Freese at kicker for now: http://t.co/aUMeeb4Whg
about 11 hours ago

mikerothstein

Michael Rothstein


No Waddle, Ansah or Lewis at #Lions practice. Ihedigbo and Carey practice
about 11 hours ago

ChantelJennings

Chantel Jennings


Shocking to see Michigan as the school that charged the most by far in FOIA requests. Shocking, as in, not at all: http://t.co/odnmPfvu57
about 11 hours ago

mikerothstein

Michael Rothstein


#Lions RB Reggie Bush clarifies his comments about his daughter & other players speak on Peterson & domestic violence http://t.co/8LQkFByC7S
about 12 hours ago

BigTenNetwork

Big Ten Network


POLLS: Have you picked your Week 4 #B1G winners? Do so here - http://t.co/bTG7LbQEbZ http://t.co/Qhb6EQ5RSY
about 12 hours ago

ESPN_BigTen

ESPN BigTen


Big Ten awards race tracker: Week 3 http://t.co/DXMlRpjNCk
about 12 hours ago

ScoutMichigan

Scout Wolverines


#Wolverines Hoke Wednesday Presser - Brady Hoke addresses the media as Michigan prepares for Utah this Satu... http://t.co/cptqZgjKbV
about 12 hours ago

bigtenconf

Big Ten Conference


.@NU_Sports's Suchaya Tangkamolprasert tabbed #B1G Golfer of the Week: http://t.co/Hdii710Ulr http://t.co/doycE7pGYH
about 12 hours ago

bigtenconf

Big Ten Conference


.@GoTerpsGolf's Victor Fox named #B1G Golfer of the Week: http://t.co/JOuDeb9IbQ http://t.co/xANQg7SjuX
about 12 hours ago

umichfootball

Michigan Football


The table is set. » http://t.co/by0fDqNWKc http://t.co/vCqPH1Taio
about 12 hours ago

mikerothstein

Michael Rothstein


Bush explained the discipline they are giving his daughter now: "Talking to her and saying that's not OK." #Lions
about 12 hours ago

mikerothstein

Michael Rothstein


Reggie Bush: "Obviously I'm not going to be spanking a 1-year-old girl." #Lions
about 13 hours ago

bigtenconf

Big Ten Conference


RT @B1Gfootball: Ryan Kerrigan of @BoilerFootball had 4 sacks - see top #B1G NFL efforts at http://t.co/AKnToedr1e http://t.co/qiAfKspeLZ
about 13 hours ago

ESPN_BigTen

ESPN BigTen


Progress coming 'on the fly' for J.T. Barrett http://t.co/7eYishFypY
about 13 hours ago

umichfootball

Michigan Football


Official: Michigan & Texas schedule home-and-home series. » http://t.co/QdlW55GMKs http://t.co/giW29aPXnE
about 13 hours ago

ESPN_BigTen

ESPN BigTen


Ameer Abdullah sets pace for Cornhuskers http://t.co/22r7p6xFZ3
about 13 hours ago

umichfootball

Michigan Football


Join the largest crowd anywhere in America (on Saturday) with the @CokeZero Family Pack Presented by @WWJ950. https://t.co/SWb2i0XMPz
about 13 hours ago

mikerothstein

Michael Rothstein


Caldwell said he wants players to speak mind on issues, tells them that. #Lions
about 13 hours ago

mikerothstein

Michael Rothstein


Caldwell talking to the media. #Lions http://t.co/SaOzPFpc24
about 13 hours ago

mikerothstein

Michael Rothstein


Caldwell called Rodgers "exceptional." Said he hasn't seen weaknesses in him.
about 13 hours ago

mikerothstein

Michael Rothstein


Caldwell said Freese is his guy at this point in time. He will kick Sunday. #Lions
about 13 hours ago

ChantelJennings

Chantel Jennings


Really though, I wore new-ish shoes for that 8 mile-roundtrip walk. I had blisters on my feet for two weeks.
about 13 hours ago

ChantelJennings

Chantel Jennings


Yes, yes. Read this. RT @HollyAnderson Sister @louisahthomas swings a big damn bat. http://t.co/QT7byL5Gvw
about 13 hours ago

DaveBrandonAD

Dave Brandon


Bid on Doggie Dream Houses built by #umich #studentathletes in partnership with #HabitatforHumanity, #HumaneSociety http://t.co/3qO969CETY
about 13 hours ago

ESPN_BigTen

ESPN BigTen


Memories of epic Nebraska-Miami battles http://t.co/zkGmp56RR5
about 14 hours ago

mikerothstein

Michael Rothstein


Calvin Johnson says no one can tell him how to discipline his kids. #Lions
about 14 hours ago

mikerothstein

Michael Rothstein


Calvin Johnson: some things shouldn't have been done, like putting your hands on a woman.
about 14 hours ago

mikerothstein

Michael Rothstein


Matthew Stafford meets the media. #Lions http://t.co/e8EaEy6dts
about 14 hours ago

mikerothstein

Michael Rothstein


This week's Detroit #Lions Rising/Falling Stock Watch: http://t.co/kM7YVFQhxB
about 14 hours ago

mikerothstein

Michael Rothstein


The #Lions secondary is now a primary concern: http://t.co/rDEUnLGV4s
about 14 hours ago

ESPN_BigTen

ESPN BigTen


Inside Access: Can the Big Ten be fixed? http://t.co/8eEhcQUK4G
about 15 hours ago

ChantelJennings

Chantel Jennings


Mike Leach told me to bring hiking boots to Pullman when I interviewed him. I didn't. I should've: http://t.co/9t5q2YbnTV
about 15 hours ago

BTN_Michigan

Big Ten Network


#Michigan news: Week 4: See our predictions for all 13 Big Ten football games http://t.co/7Cdp86RKfm
about 15 hours ago

ESPN_BigTen

ESPN BigTen


Miami, Nebraska leave glory years behind http://t.co/nLS3czYdow
about 15 hours ago

ESPN_BigTen

ESPN BigTen


Got a Big Ten question? Send 'em on over to @ESPNJoshMoyer for the mailbag later today. Or email him at espnjoshmoyer@gmail.com
about 15 hours ago

mikerothstein

Michael Rothstein


My view today. Hi, world! (Should be on at 1043 eastern). #Lions #ESPN http://t.co/yoJBOw9hAv
about 16 hours ago

ESPN_BigTen

ESPN BigTen


Recruits weigh in on the Big Ten http://t.co/mWLvjPrYFj
about 16 hours ago

mikerothstein

Michael Rothstein


Today's Detroit #Lions Morning Roar looks at Matthew Stafford's success (or lack of it) against Green Bay: http://t.co/SfJN4MlTzo
about 17 hours ago

mikerothstein

Michael Rothstein


Followers, I am scheduled to be on SportsCenter during the 10 a.m. & 11 a.m. hours to chat about the #Lions
about 17 hours ago

umichfootball

Michigan Football


Reminder: The Inside Michigan Football Coaches Show presented by @ConsumersEnergy will air live from @pizzahse tonight at 7 p.m.
about 17 hours ago

mikerothstein

Michael Rothstein


From yesterday, our How I Prepare series continues with #Lions punter Sam Martin: http://t.co/9zbnLNnVV6
about 17 hours ago

ESPN_BigTen

ESPN BigTen


Big Ten morning links http://t.co/tPI3GYZS5i
about 18 hours ago

ScoutMichigan

Scout Wolverines


#Wolverines Football Minute: U-M Secondary, Utah Attack - VIDEO: Sam Webb and Kyle Bogenschutz take a much ... http://t.co/Vt37nfHhBY
about 21 hours ago

ESPN_BigTen

ESPN BigTen


Coach: Spartans will 'play to win' http://t.co/WLnY7arrcN
1 day ago

ScoutMichigan

Scout Wolverines


#Wolverines Football Minute: QB Play, Utah's Defense - VIDEO: Sam Webb & Kyle Bogenschutz discuss Devin Gar... http://t.co/saqL06nX9D
1 day ago

BTN_Michigan

Big Ten Network


#UMich video: John Arcand - BTN Live Interview http://t.co/Y0RoqSdSma
1 day ago

mikerothstein

Michael Rothstein


A look at various kicking options for the #Lions: http://t.co/LPmFZ5dPyj
1 day ago

mikerothstein

Michael Rothstein


News story on the #Lions signing a corner and promoting a linebacker: http://t.co/TBpWLds7ym
1 day ago

mikerothstein

Michael Rothstein


Hey @Justin_Rogers, the #Lions worked out your namesake today.
1 day ago

ReggieBush

Reggie Bush


My parents didn't call it Spankings though they called it Whoopins!
1 day ago

ReggieBush

Reggie Bush


So for those of you who took my words and tried to twist them up there's your clarification! 😊
1 day ago

mikerothstein

Michael Rothstein


The #Lions brought in a bunch of guys today. Besides Bironas, Hartley, Gorrer, Harris and Cox, there was OT Reid Fragel & CB Justin Rogers.
1 day ago

ChantelJennings

Chantel Jennings


Oregon needs to let Mariota play like Mariota if it wants a shot at the ntl title. And yep, that means more flips: http://t.co/g5deVsdLJv
1 day ago

BTN_Michigan

Big Ten Network


With a new OC, how much more focus is on the run game for @umichfootball? RB Derrick Green talks about it. http://t.co/uQAMjgsBYP
1 day ago

BTN_Michigan

Big Ten Network


How many wins will #Michigan get this season? @BTNTomDienhart gives his guess here - http://t.co/edvvZc77uV http://t.co/yGAuupLBHo
1 day ago

FieldYates

Field Yates


Notable Tuesday workouts:Cardinals - DE Israel Idonije Lions - LB Steve Beauharnais, CB Derek CoxDolphins - TE Tom Crabtree
1 day ago

mikerothstein

Michael Rothstein


Linebacker Jerrell Harris has been signed to the practice squad.
1 day ago

mikerothstein

Michael Rothstein


Also, Nevin Lawson officially heads to IR for the #Lions
1 day ago

mikerothstein

Michael Rothstein


The #Lions have signed cornerback Danny Gorrer and promoted linebacker Julian Stanford from the practice squad, per team.
1 day ago

BTN_Michigan

Big Ten Network


#Michigan news: Mailbag: What has to change for the Big Ten to get better? http://t.co/y2BVkUz3Mw
1 day ago

mikerothstein

Michael Rothstein


ICYMI, our #Lions How I Prepare series continued with punter Sam Martin, who explains mental approach http://t.co/NJFjXbzkoW
1 day ago

ScoutMichigan

Scout Wolverines


#Wolverines Brady Hoke Very Familiar With Utah Approach - Michigan coach Brady Hoke and Utah coach Kyle... http://t.co/mv7XbUyZzf
1 day ago

BTN_Michigan

Big Ten Network


#Michigan news: Audio: Listen to your Big Ten football coach's teleconference http://t.co/TDKhZlWOQF
1 day ago

mikerothstein

Michael Rothstein


The #Lions drop to No. 18 in this week's Power Rankings: http://t.co/vS0NfCtRIs
1 day ago

BTN_Michigan

Big Ten Network


Derrick Green rushed for 2 TDs in @umichfootball's win over Miami University. The Football in 60 airs at 5p ET followed by @BTNLive
1 day ago

JustCallmeBHunt

Branden Hunter


#MichiganState has offered Detroit King 2016 WR Donnie Corley (@DonnieCorley). Huge offer for him. Having a good junior campaign.
1 day ago

DaveBrandonAD

Dave Brandon


A great honor! #Umich named top-ranked public university in U.S. http://t.co/CCm4Y0J8w4 We are very proud! #Leadersandbest
1 day ago

ESPN_BigTen

ESPN BigTen


PSU's 'mad scientist' a boost to defense http://t.co/NKVeZlqauE
1 day ago

BTN_Michigan

Big Ten Network


#Michigan news: BTN announces 2014-15 Big Ten men's basketball coverage http://t.co/wRwhMiKBbM
1 day ago

FootballPost

NationalFootballPost


Source: Lions worked out linebacker Steve Beauharnais http://t.co/ZhVX0ZPhX2
1 day ago

BTN_Michigan

Big Ten Network


Listen to what Brady Hoke had to say as @umichfootball gears up for week 4 of #B1G football action. http://t.co/ojjTxB90Zf
1 day ago

mikerothstein

Michael Rothstein


On @AdamSchefter tweet, #Lions OC Joe Lombardi would theoretically know Hartley from New Orleans
1 day ago

ESPN_BigTen

ESPN BigTen


Conference call: Best of the Big Ten http://t.co/ijZZLXZwie
1 day ago

B1GMBBall

Big Ten Men\'s Hoops


This Just In: @BigTenNetwork to televise a record number of #B1GMBBall games live this season. http://t.co/zkYRKs3iML http://t.co/lMoPPplh7d
1 day ago

BobLeyESPN

Bob Ley


OTL 530pm et ESPN2 WHERE ARE THE NFL OWNERS in speaking to issues of this moment of crisis? Latest on Adrian Peterson and Vikings decision..
1 day ago

RobDemovsky

Rob Demovsky


Aaron Rodgers on his @ESPNMilwaukee radio show tried to turn the phone over to @oliviamunn. "That's not an option," he said.
1 day ago

BigTenNetwork

Big Ten Network


"Big Ten Treasure Hunter" debuts at 8 ET tonight on BTN. Read our Q&A with host John Arcand- http://t.co/YNu6zQWn50 http://t.co/BkhX8JECa2
1 day ago

ChantelJennings

Chantel Jennings


You don't buy a Maserati to go 30 mph. So, Oregon isn't going to ask Marcus Mariota to play it safe: http://t.co/rhCMmv6x0t
1 day ago

ScoutMichigan

Scout Wolverines


#Wolverines Defense Must Create More 'Opportunities' - Brady Hoke says the defense must capitalize on turno... http://t.co/xQYdLpyFDo
1 day ago

mikerothstein

Michael Rothstein


@ChantelJennings uh oh Michigan
1 day ago

ChantelJennings

Chantel Jennings


Good news for journalists. Bad news for universities that like to avoid FOIA requests: http://t.co/2XG3ejxp9L
1 day ago

mikerothstein

Michael Rothstein


The #Lions How I Prepare series continues with a look at what punter Sam Martin (@SamMartin_6) does each week: http://t.co/9zbnLNnVV6
1 day ago

ChantelJennings

Chantel Jennings


Marcus Mariota jumped ahead of Todd Gurley in this week's http://t.co/MK0sbCi59g Heisman Watch: http://t.co/C9Zry5U58l
1 day ago

mikerothstein

Michael Rothstein


Reggie Bush says the NFL needs more consistency on domestic violence penalties: http://t.co/EJjc4DN4Y1 #Lions
1 day ago

ScoutMichigan

Scout Wolverines


#Wolverines Nussmeier Readies Offense For Utah - VIDEO: U-M offensive coordinator Doug Nussmeier breaks dow... http://t.co/uXnDX7bKsg
1 day ago

umichfootball

Michigan Football


Jack Miller's father is still with him all the time. Story » http://t.co/2Ygg7UKiKi http://t.co/7JaQJ8pxT0
1 day ago

bigtenconf

Big Ten Conference


This week's #B1G Field Hockey Player of the Week honors come from @MSUfieldhockey and @TerpFieldHockey http://t.co/t1beFDZoqh
1 day ago
BLOG ARCHIVE:
CATEGORIES: