QB Kizer gets coveted Michigan State offer
November, 16, 2012
11/16/12
11:17
AM ET
A few months ago, as the offers started coming in for 2014 quarterback
DeShone Kizer
(Toledo, Ohio/Central Catholic), he made a list of the schools he wanted to get offers from.
[+] Enlarge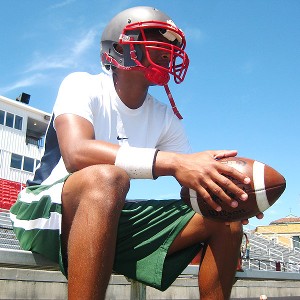 Chantel Jennings/ESPN.comDeShone Kizer picked up an offer from Michigan State head coach Mark Dantonio.
He received one of them Thursday.
Kizer spoke with Michigan State coach Mark Dantonio on Wednesday afternoon, and the conversation ended with an offer.
To continue reading this article you must be an Insider
Insider
Brady Hoke's Future In Hackett's Hands
ESPN's Chris Low discusses the comments made by Michigan interim athletic director Jim Hackett regarding Brady Hoke's future as football coach.
Brady Hoke's Future In Hackett's Hands
VIDEO PLAYLIST
MICHIGAN FB RECRUITING SCORECARD
ESPN_BigTen

ESPN BigTen


Melvin Gordon has TIED the B1G single-season rushing record set in 1996 by Ron Dayne with 2,109 yards. Wiscy took a knee late, gets the W
3 minutes ago

ChantelJennings

Chantel Jennings


Michigan congressman -> RT @john_dingell Go... Blue?
4 minutes ago

TimS_Wolverine

Tim Sullivan


Story on Mike Weber's decommitment from Michigan: https://t.co/z0W06sDZhD
6 minutes ago

ChantelJennings

Chantel Jennings


Oregon takes a 37-3 lead over Colorado (could be 51-3...). Really curious what an Oregon-FSU semifinal would look like. #TBTtoBamaUND2013
7 minutes ago

ESPN_BigTen

ESPN BigTen


FINAL: Maryland 23, Michigan 16. Terps move to 7-4. Wolverines need to upset OSU to get to a bowl.
7 minutes ago

umichfootball

Michigan Football


Final: Maryland 23 - Michigan 16
8 minutes ago

UMGoBlog

Michigan Football


Game over Maryland 23 Michigan 16 #GoBlue
8 minutes ago

UMGoBlog

Michigan Football


RT @TheBlockhams: A thousand words. He knows. http://t.co/07WCJctsvc
8 minutes ago

UMGoBlog

Michigan Football


The Hoke era is evaporating before our eyes #GoBlue
12 minutes ago

ChantelJennings

Chantel Jennings


Ohhhhh. Interesting... RT @SprowESPN Florida State vs Arkansas on a neutral field next Saturday. Spread?
13 minutes ago

umichfootball

Michigan Football


Turnover on downs, Maryland will take over at their own 49 yard line with 4:16 to play.
14 minutes ago

UMGoBlog

Michigan Football


Michigan turns it over on downs #GoBlue
15 minutes ago

UMGoBlog

Michigan Football


Ugh RT @mikeweber25: I'm decommitting from UM thank you Michigan for the love and support I'll remake my decision at the army bowl
15 minutes ago

ESPN_BigTen

ESPN BigTen


More bad news for U-M. Just as Terps take the lead - putting a dent in U-M's bowl hopes - a 4-star recruit decommits https://t.co/1OtjyrdbkW
17 minutes ago

mikeweber25

Mikey


I'm decommiting from the university of Michigan thank you Michigan for the love and support I'll remake my decision at the army bowl
20 minutes ago

ESPN_BigTen

ESPN BigTen


3rd-and-15 -- and Rudock scrambles for a first down. Great awareness. This game isn't over just yet ...
20 minutes ago

ChantelJennings

Chantel Jennings


I get that FSU is undefeated. But seriously, what top 10 (top 20?) team wouldnt be against that schedule? Heck, I bet Marshall would be too.
20 minutes ago

UMGoBlog

Michigan Football


Michigan's trip to the Quick Lane Bowl is in jeopardy #GoBlue
22 minutes ago

BTN_Michigan

Big Ten Network


TD MD: 1-yd run by W Brown. Q4: MD 23, MICH 16 LIVE STREAM: http://t.co/0d0Kx2WepQ
22 minutes ago

umichfootball

Michigan Football


Touchdown, Maryland. Terps now lead 23-16 with 5:59 to play.
22 minutes ago

UMGoBlog

Michigan Football


Maryland 23 Michigan 16 5:59 Q4 #GoBlue
23 minutes ago

UMGoBlog

Michigan Football


TD Maryland #GoBlue
23 minutes ago

ESPN_BigTen

ESPN BigTen


Maryland takes the lead on a Wes Brown TD with six minutes to play. 22-16 with extra point coming soon.
23 minutes ago

BTN_Michigan

Big Ten Network


C Brown hits A Etta-Tawo on 36-yd pass. Brown 165 yds passing. Q4: MD 16, MICH 16 LIVE STREAM: http://t.co/0d0Kx2WepQ
24 minutes ago

UMGoBlog

Michigan Football


Maryland receiver WIDE OPEN 1st Down and goal at the 3 #GoBlue
25 minutes ago

UMGoBlog

Michigan Football


1st Down Maryland at the 32 #GoBlue
27 minutes ago

ChantelJennings

Chantel Jennings


Arkansas = FGSU. RT @Andy_Staples If football had a 64-team field, Arkansas would be that 10-seed that comes in ... and blows up everybody.
32 minutes ago

UMGoBlog

Michigan Football


Brandon is gone but his shady accounting remains RT @misterAndyReid: THE MICHIGAN DIFFERENCE: when 80,000 = 100,000 #goblue
33 minutes ago

umichfootball

Michigan Football


Matt Wile's FGA is no good (39 yards). Maryland will take over at their own 22 yard line with 9:13 in the 4th.
35 minutes ago

UMGoBlog

Michigan Football


Attendance 101,717 *cough* #GoBlue
35 minutes ago

UMGoBlog

Michigan Football


Michigan 16 Maryland 16 Q4 9:13 #GoBlue
36 minutes ago

UMGoBlog

Michigan Football


Missed FG Michigan #GoBlue
36 minutes ago

UMGoBlog

Michigan Football


Everybody just sacked Devin Gardner loss of 8 #GoBlue
38 minutes ago

umichfootball

Michigan Football


Darboh, in traffic, holds on, 1st down after the 23 yard reception at the Maryland 37 yard line.
41 minutes ago

UMGoBlog

Michigan Football


Devin Gardner to Darboh for 23 yards #GoBlue
41 minutes ago

UMGoBlog

Michigan Football


1st and 10 and Michigan 25 yl #GoBlue
43 minutes ago

BTN_Michigan

Big Ten Network


TD MD: 8-yd run by C Brown. Q4: MD 16, MICH 16 LIVE STREAM: http://t.co/0d0Kx2WepQ
44 minutes ago

umichfootball

Michigan Football


Next play, Maryland finds the endzone. We're tied at 16 early in the 4th.
44 minutes ago

ESPN_BigTen

ESPN BigTen


Craddock lines up for a FG, nails it -- and U-M is called for roughing the kicker. Terps' drive continues ... and leads to a TD. #That'sUM
45 minutes ago

UMGoBlog

Michigan Football


Michigan 16 Maryland 16 14:47 Q4 #GoBlue
45 minutes ago

UMGoBlog

Michigan Football


TD Maryland #GoBlue
45 minutes ago

UMGoBlog

Michigan Football


Maryland 1st and goal at the 8 #GoBlue
46 minutes ago

umichfootball

Michigan Football


Roughing the kicker flag is thrown; will be an automatic 1st down for Maryland, at the Michigan 8 yard line.
46 minutes ago

UMGoBlog

Michigan Football


FG good, but roughing the kicker gives Maryland a 1st Down #GoBlue
46 minutes ago

ESPN_BigTen

ESPN BigTen


Brad Craddock's 4th field goal is pre-empted by a roughing the kicker penalty. Maryland 1st-and-goal now with a chance to tie.
46 minutes ago

UMGoBlog

Michigan Football


The rain is coming down, out comes the rain gear #GoBlue
48 minutes ago

umichfootball

Michigan Football


Maryland will be at the Michigan 17 yard line, 3rd & 12, to start the 4th.
49 minutes ago

umichfootball

Michigan Football


End of the 3rd:• Michigan 16• Maryland 9
51 minutes ago

ESPN_BigTen

ESPN BigTen


After three quarters at Michigan, Wolverines lead Maryland 16-9, but Terps are in the red zone.
51 minutes ago

UMGoBlog

Michigan Football


Michigan 16 Maryland 9 end of Q3 #GoBlue
51 minutes ago

UMGoBlog

Michigan Football


You're never wrong using TOs in Q2 but always wrong in Q3 #GoBlue
52 minutes ago

UMGoBlog

Michigan Football


It's hard to gauge how good the Michigan defense is when Indiana, Northwestern and Maryland are so bad #GoBlue
54 minutes ago

ChantelJennings

Chantel Jennings


We've had about four ridiculous or near-ridiculous catches in a row here. Mariota and his receivers are just showing off now.
about an hour ago

umichfootball

Michigan Football


Can't convert on 4th & 6; Maryland will takeover at their own 32 with 3:09 in the 3rd.
about an hour ago

umichfootball

Michigan Football


Timeout, Michigan. 4th & 6 at the Maryland 32 yard line.
about an hour ago

UMGoBlog

Michigan Football


Devin Gardner to AJ Williams 12 yd gain 1st Down #GoBlue
about an hour ago

BTN_Michigan

Big Ten Network


#UMich video: Devin Gardner 15-Yard Touchdown http://t.co/M954tOYk8w
about an hour ago

umichfootball

Michigan Football


With the penalty (block in the back), we'll be lined up at our 30 yard line with 7:34 in the 3rd.
about an hour ago

UMGoBlog

Michigan Football


1st and 10 Michigan at the 30 :( #GoBlue
about an hour ago

umichfootball

Michigan Football


😞.
about an hour ago

UMGoBlog

Michigan Football


TD return called back #GoBlue
about an hour ago

umichfootball

Michigan Football


Wait, there's a flag...
about an hour ago

UMGoBlog

Michigan Football


Dennis Norfleet takes it to the house..flag on the field #GoBlue
about an hour ago

ESPN_BigTen

ESPN BigTen


ICYMI: Melvin Gordon has crossed the 2,000-yard mark. He now has 2,050 yards on the season and needs just 60 more to break a Wiscy record
about an hour ago

umichfootball

Michigan Football


THERE IT IS.
about an hour ago

umichfootball

Michigan Football


GODIN. SACK.Terps to punt.
about an hour ago

BigTenNetwork

Big Ten Network


Enough with the field goals! Devin Gardner runs it in for a @umichfootball TD. http://t.co/E7Ihm8Yjxe
about an hour ago

umichfootball

Michigan Football


.@DevG98 (449) has passed Tom Brady (443) in career completions; No. 98 is now 5th all-time in completions at Michigan.
about an hour ago

umichfootball

Michigan Football


.@DevG98's 15-yard TD run caps a 66 yard, 10 play drive. Up 16-9 with 10:25 in the 3rd.
about an hour ago

BTN_Michigan

Big Ten Network


Devin Gardner scores the first TD of the game against Maryland in the third quarter. Brought to you by @Buick. http://t.co/6v4NycokoY
about an hour ago

BTN_Michigan

Big Ten Network


TD MICH: 15-yd run by D Gardner. Q3: MICH 16, MD 9 LIVE STREAM: http://t.co/0d0Kx2WepQ
about an hour ago

ESPN_BigTen

ESPN BigTen


Devin Gardner's rushing TD gives Michigan a 16-9 lead early in the third quarter. Gardner ran for 37 yards on the drive.
about an hour ago

UMGoBlog

Michigan Football


Michigan 16 Maryland 9 Q3 10:25 #GoBlue
about an hour ago

umichfootball

Michigan Football


.@DevG98, Touchdown!
about an hour ago

UMGoBlog

Michigan Football


Devin Gardner scrambles for the TD #GoBlue
about an hour ago

ChantelJennings

Chantel Jennings


A look at the Gordon v. Perine stats via @ESPNStatsInfo http://t.co/63RNU38fw0
about an hour ago

UMGoBlog

Michigan Football


Michigan 2nd and 10 at the 21 #GoBlue
about an hour ago

UMGoBlog

Michigan Football


Devin Gardner inc to Butt #GoBlue
about an hour ago

ChantelJennings

Chantel Jennings


Bielema, you sly dog.
about an hour ago

umichfootball

Michigan Football


1st down, Michigan. 1st & 10 at the Maryland 21.
about an hour ago

UMGoBlog

Michigan Football


3rd and 1 at the 24 #GoBlue
about an hour ago

UMGoBlog

Michigan Football


Justice Hayes rumbling #GoBlue
about an hour ago

umichfootball

Michigan Football


.@DevG98, runs for 22 yards, up to the Maryland 33 yard line.
about an hour ago

UMGoBlog

Michigan Football


Nice run by Devin Gardner, when he's 100% that's a TD scramble #GoBlue
about an hour ago

ChantelJennings

Chantel Jennings


So the Pac-12 Blog's unanimous Oregon pick is looking good. That Utah one? Not as much...
about an hour ago

umichfootball

Michigan Football


Michigan will start the 2nd half on offense from their own 34.
about an hour ago

ChantelJennings

Chantel Jennings


That last scoring drive was Oregon's 13th scoring drive this season that last <1 minute. Baylor leads the country with 18.
about an hour ago

umichfootball

Michigan Football


.@swieca13 takes you out of the Michigan Stadium tunnel to touch the Go Blue banner. » http://t.co/xFo1U03NAo
about an hour ago

ChantelJennings

Chantel Jennings


Dargan was giving Ekpre-Olomu some pointers there on the near INT. Dragon has five this year, tied for seventh nationally.
about an hour ago

UMGoBlog

Michigan Football


It's clear, Al Borges was THE problem with the offense last season.
about an hour ago

BTN_Michigan

Big Ten Network


#UMich video: Brad Craddock 41-Yard Field Goal http://t.co/2ZKOXLozy6
about an hour ago

Bry_Mac

Bryan Mac


HOKE: "John, what's the key to your offense?"BEILEIN: "Well, we hit a lot of threes, and..."HOKE: "Cool. Got it. Thanks"
about an hour ago

BigTenNetwork

Big Ten Network


Check out Jake Butt's nice catch to set up a @umichfootball FG before the half. http://t.co/brSrSlihGW
about an hour ago

BTN_Michigan

Big Ten Network


Jack Butt makes a big time catch for @umichfootball at the end of the first half against Maryland! #DQFanFavorite http://t.co/veOom7WPsz
about an hour ago

ESPN_BigTen

ESPN BigTen


Michigan-Maryland goes to half with yet another field goal. It's 9-9 in Ann Arbor.
about an hour ago

umichfootball

Michigan Football


Wile connects from 26 yards away to close out the half.• Michigan 9• Maryland 9
about an hour ago

UMGoBlog

Michigan Football


Michigan 9 Maryland 9 halftime #GoBlue
about an hour ago

UMGoBlog

Michigan Football


FG Michigan as time expires #GoBlue
about an hour ago

ESPN_BigTen

ESPN BigTen


Think touchdowns are boring? This Maryland-Michigan game is for you.All tied up, 9-9, at halftime.
about an hour ago

UMGoBlog

Michigan Football


Devin Gardner to Butt 1st Down at the 9 #GoBlue
about an hour ago
BLOG ARCHIVE:
CATEGORIES: