Spring position preview: Specialists
March, 12, 2012
3/12/12
3:24
PM ET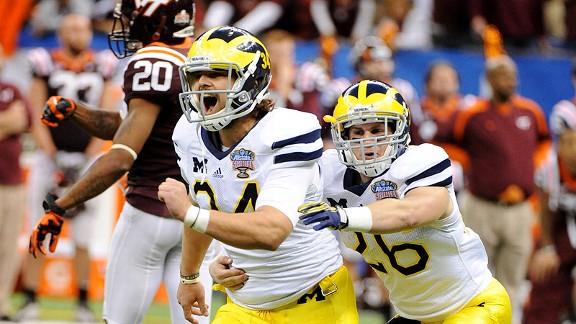 Chuck Cook/US PresswireBrendan Gibbons' Sugar Bowl performance solidified his spot as Michigan's No. 1 kicker.
For the past few seasons, Michigan has been searching for a good kicker. It had also been hoping that Will Hagerup would be a suitable replacement for Zoltan Mesko, now with the New England Patriots.
And it had to try and solve a return game that never really got much traction.
Well, two of those problems have been solved. The third is still being worked on as Michigan enters the spring.
To continue reading this article you must be an Insider
Insider
Gardner Feeling Comfortable With Offense
QB Devin Gardner says he is feeling comfortable with the new offense after a record-breaking win for Michigan.
Gardner Feeling Comfortable With Offense
VIDEO PLAYLIST
MICHIGAN FB RECRUITING SCORECARD
Adidas Youth Michigan Wolverines Heather Grey Ultimate Long Sleeve Shirt Shop »
ESPN_BigTen

ESPN BigTen


New season, same song for LSU, Wisconsin http://t.co/Yqbx4qVDct
about an hour ago

BTN_Michigan

Big Ten Network


#Michigan news: Tom's Take: Week 1 Big Ten honors, grades, stock reports & more http://t.co/O7m3M9gGGL
about 2 hours ago

ChantelJennings

Chantel Jennings


Fans are allowed on the field after games. This is ultimate chaos. http://t.co/Fo6CKGglE1
about 3 hours ago

ChantelJennings

Chantel Jennings


EUGENE, Ore. -- FINAL: Oregon 62 — South Dakota 13. Mariota: 14-20, 267 yds, 3 TDs.
about 3 hours ago

DesmondHoward

Desmond Howard


I have to say that I am surprised that a team coached by Peterson looks like this.
about 3 hours ago

ESPN_BigTen

ESPN BigTen


College GameDay visits for Oregon-MSU http://t.co/I9tXFnha5I
about 3 hours ago

BTNSean

Sean Merriman


Which Big Ten quarterback had the best showing in Week 1? Here's my Week 1 #B1G QB Rankings - http://t.co/Jiov9TvMgW http://t.co/T4ZiRPZHMC
about 3 hours ago

DesmondHoward

Desmond Howard


This Washington/Hawaii game is good. I can't believe I found it!
about 3 hours ago

DesmondHoward

Desmond Howard


How could you not like LSU and @LSUCoachMiles? They reflect his gutsiness.
about 3 hours ago

ESPN_BigTen

ESPN BigTen


What we learned in the Big Ten: Week 1 http://t.co/rg0B9rnfUt
about 3 hours ago

ChantelJennings

Chantel Jennings


Mass clapping at sports events just reminds me of how rhythmically challenged most of America is.
about 3 hours ago

ESPN_BigTen

ESPN BigTen


LSU 28, Wisconsin 24 http://t.co/2BWycCxWQQ
about 3 hours ago

ChantelJennings

Chantel Jennings


Writing up the Oregon helmet stickers post. Considering giving one to all the fans who are sticking out this whole game.
about 3 hours ago

DesmondHoward

Desmond Howard


Had Okie St. played a "clean game" they could have knocked off the defending national champs. Cowboys got grit. I like them.
about 3 hours ago

ChantelJennings

Chantel Jennings


Andersen doesn't know why Gordon only carried the ball twice in the second half against LSU... Bueller? Bueller?
about 3 hours ago

ESPN_BigTen

ESPN BigTen


Plays that changed the game: LSU http://t.co/SP2H6unHws
about 4 hours ago

DesmondHoward

Desmond Howard


Wisconsin is the latest victim of a team having a QB that can run better than he can throw as they lose 28-24 to LSU.
about 4 hours ago

DesmondHoward

Desmond Howard


Wisconsin is the latest victim of a team having a QB that can run better than he can throw as they lose 28-21 to LSU.
about 4 hours ago

bigtenconf

Big Ten Conference


RT @B1Gfootball: FINAL: #13 LSU edges #14 @BadgerFootball, 28-24, in Houston.
about 4 hours ago

ESPN_BigTen

ESPN BigTen


Nothing feels good for Wisconsin about this defeat. Worries about passing game and D-line injuries will carry into September. #WISvsLSU
about 4 hours ago

ESPN_BigTen

ESPN BigTen


For as dominant as Wisconsin looked for much of this game, Badgers need to find a way to generate a threat through the air. #WISvsLSU
about 4 hours ago

ESPN_BigTen

ESPN BigTen


Sure looked from this angle like he went out of bounds on that first-down play. #WISvsLSU
about 4 hours ago

ESPN_BigTen

ESPN BigTen


OK, Badgers need to go 90 yards in 2:23 for the win. Based on the way this second half has gone, it doesn't look great. #WISvsLSU
about 4 hours ago

ESPN_BigTen

ESPN BigTen


Question of the night. RT@CFBHeather Where's @Melvingordon25 been? #WISvsLSU
about 4 hours ago

ChantelJennings

Chantel Jennings


WisconsINT.
about 4 hours ago

ESPN_BigTen

ESPN BigTen


McEvoy threw it up for grabs. Another pick. Second half has turned into a nightmare for Wisconsin. #WISvsLSU
about 4 hours ago

ESPN_BigTen

ESPN BigTen


So Gordon has carried the football twice in the second half? Didn't see that coming. #WISvsLSU
about 4 hours ago

ChantelJennings

Chantel Jennings


I'm guessing we don't see Mariota again until next weekend. Decent start to your Heisman campaign, Marcus, decent start.
about 4 hours ago

ESPN_BigTen

ESPN BigTen


Hilliard to the house for the LSU lead. #WISvsLSU
about 4 hours ago

ESPN_BigTen

ESPN BigTen


Look at that hole. #WISvsLSU
about 4 hours ago

ESPN_BigTen

ESPN BigTen


Jalen Mills intercepts McEvoy. This is snowballing in a bad way for the Badgers. #WISvsLSU
about 4 hours ago

ChantelJennings

Chantel Jennings


South Dakota finds the end zone against Oregon. Nothing to worry about tonight, obviously. But certainly things need to be addressed.
about 4 hours ago

ESPN_BigTen

ESPN BigTen


Quinn is going to catch a lot of passes at LSU. That one got two points for the Tigers. Wisconsin clings to 24-21 lead. #WISvsLSU
about 4 hours ago

ESPNRittenberg

Adam Rittenberg


Play of the game right there. Third-and-21 turns into LSU touchdown. Tigers rolling now, have all the momentum. #LSUvsWIS
about 4 hours ago

ESPN_BigTen

ESPN BigTen


John Diarse on the TD reception for LSU. Tigers going for two. #WISvsLSU
about 5 hours ago

ChantelJennings

Chantel Jennings


Mariota dances around a bit, hits Marshall in the end zone. Ducks are up 35-6. Four minutes til half.
about 5 hours ago

ESPN_BigTen

ESPN BigTen


Drew Meyer will be OK; Herring out with right knee injury. #WISvsLSU
about 5 hours ago

ChantelJennings

Chantel Jennings


Byron Marshall's TD is called back. 54 yard TD turns into a 53 yard rush and SD touchback. Mostly, just careless on Marshall's part.
about 5 hours ago

jaypo1961

Jeff Potrykus


#Badgers now without Zagzebski, Herring and Meyer. It will take a lot for UW to hold on.
about 5 hours ago

leefitting

Lee Fitting


Next weekend, @CollegeGameDay will be in Eugene for @GoDucks and @MSU_Football
about 5 hours ago

ESPNRittenberg

Adam Rittenberg


Wisconsin down another starting defensive linemen as NT Warren Herring helped off. #LSUvsWIS
about 5 hours ago

CollegeGameDay

College GameDay


BREAKING: College GameDay is heading to Eugene next Saturday for Michigan State vs Oregon! #GetUp4GameDay http://t.co/Sg4ox3o9Wj
about 5 hours ago

ChantelJennings

Chantel Jennings


Ekpre-Olomu was having his ankle looked at during the last defensive series. Mathis and Hill still out there for the Ducks.
about 5 hours ago

ChantelJennings

Chantel Jennings


Royce Freeman with his second TD run of the evening. #BelieveInTheHype #Freeman4Prez
about 5 hours ago

ESPN_BigTen

ESPN BigTen


Another stick of an LSU back by a Wisconsin linebacker. This time Marcus Trotter. #WISvsLSU
about 5 hours ago

ESPN_BigTen

ESPN BigTen


Momentum shifting again. #WISvsLSU
about 5 hours ago

ChantelJennings

Chantel Jennings


A few defensive miscommunications by Oregon tonight. South Dakota not really making them pay. MSU will.
about 5 hours ago

ESPN_BigTen

ESPN BigTen


Caputo just planted Fournette. #WISvsLSU
about 5 hours ago

ESPN_BigTen

ESPN BigTen


Gutsy call by Miles, down 17. Fake punt works. #WISvsLSU
about 5 hours ago

ChantelJennings

Chantel Jennings


Interesting conundrum… would the Big Ten be kept out of the playoff if a one-loss team (MSU?) beat undefeated Wisco in the champ game?
about 5 hours ago

ESPN_BigTen

ESPN BigTen


Clement with the TD plunge, and Wisconsin is sending a message tonight. #WISvsLSU
about 5 hours ago

ChantelJennings

Chantel Jennings


Forgot to post this pic of Autzen from earlier. http://t.co/23feDZ2sNW
about 5 hours ago

ESPN_BigTen

ESPN BigTen


Off to the races with Gordon. Just picking up where he left off. @WISvsLSU
about 5 hours ago

ChantelJennings

Chantel Jennings


Darren Carrington. Wow. That catch. He's a redshirt freshman. Then the TD by true freshman Royce Freeman. Some young ducks.
about 5 hours ago

ChantelJennings

Chantel Jennings


OK, better over/under…. Over/under 1.5 incompletions for Mariota tonight.
about 5 hours ago

ChantelJennings

Chantel Jennings


Over/under on 4.5 series for Mariota. Sound off...
about 6 hours ago

ChantelJennings

Chantel Jennings


So, this is actually child's play for Mariota. He's 4-of-4, 2 TDs, 116 yards. 1 rush, 11 yards.
about 6 hours ago

ESPN_BigTen

ESPN BigTen


Wisconsin goes to the locker room up 17-7, not bad at all for Gary Andersen and Co. It gets the ball to start the third quarter. #WISvsLSU
about 6 hours ago

ESPN_BigTen

ESPN BigTen


Derek Landisch, a linebacker in coverage downfield, impressive on the third-down breakup. #WISvsLSU
about 6 hours ago

ChantelJennings

Chantel Jennings


@JShankerESPN Hashtag inflatable alligators.
about 6 hours ago

ESPN_BigTen

ESPN BigTen


That might have been the least catchable of the three potential PI calls on Wisconsin. And the only one actually flagged. #WISvsLSU
about 6 hours ago

ChantelJennings

Chantel Jennings


@JShankerESPN The beginning of the game would've been good too. But I guess now is fine.
about 6 hours ago

ESPN_BigTen

ESPN BigTen


Gordon looks like the fastest guy on the field. #WISvsLSU
about 6 hours ago

ChantelJennings

Chantel Jennings


Well, OK then. RT @BaxterHolmes Famous Jameis: http://t.co/VyktWQrQML
about 6 hours ago

ESPN_BigTen

ESPN BigTen


Joe Schobert on the sack of Harris. Badgers are dominating on D. #WISvsLSU
about 6 hours ago

ChantelJennings

Chantel Jennings


Mariota throws a bomb to Dwayne Stanford. Four snaps. One touchdown. We're right on pace for four series worth of Mariota.
about 6 hours ago

ESPN_BigTen

ESPN BigTen


Nice stop of Harris by Alec James. #WISvsLSU
about 6 hours ago

ESPN_BigTen

ESPN BigTen


In comes Brandon Harris for the Tigers. #WISvsLSU
about 6 hours ago

ESPN_BigTen

ESPN BigTen


LSU punt to the 14. Looking for the Badgers, up 10, to go back to the power game with both running backs. #WISvsLSU
about 6 hours ago

ChantelJennings

Chantel Jennings


Can't hear the Pac-12 Networks audio but I just looked up and saw a photo of Royce Freeman and Mother Theresa. Someone explain...
about 6 hours ago

ESPN_BigTen

ESPN BigTen


DeSean Smith flat-out drops it. He was wide open. Everything is going Wisconsin's way again. #WISvsLSU
about 6 hours ago

ChantelJennings

Chantel Jennings


Melvin Gordon. Great runner, decent diver. He's going to wreak havoc in the Big Ten this season.
about 6 hours ago

ESPN_BigTen

ESPN BigTen


The story of this game so far: LSU can't stop Melvin Gordon, no matter what direction he runs. Badgers lead 17-7. #WISvsLSU
about 6 hours ago

ESPN_BigTen

ESPN BigTen


Great burst from Gordon for the 14-yard TD. #WISvsLSU
about 6 hours ago

ESPN_BigTen

ESPN BigTen


McEvoy runs the option, pitches to Clement for the first down.
about 6 hours ago

ESPN_BigTen

ESPN BigTen


Officials are keeping their flags tucked in on those pass plays.
about 6 hours ago

ESPN_BigTen

ESPN BigTen


Pretty nice punt and roll by Drew Meyer.
about 6 hours ago

ESPN_BigTen

ESPN BigTen


Dangerous play by Wisconsin LB Vince Biegel. Could have been called for PI when his tackle of Fournette came after ball passed.
about 6 hours ago

ChantelJennings

Chantel Jennings


Thomas Tyner is announced as the Ducks' starting RB. Interesting to see how it's all split tonight with Tyner, Marshall, Freeman.
about 6 hours ago

ESPN_BigTen

ESPN BigTen


Miscommunication for the Badgers. Two straight drives end on consecutive incompletions.
about 6 hours ago

ChantelJennings

Chantel Jennings


AKA, girl repellant RT @DTab224 @ChantelJennings that should be a cologne
about 6 hours ago

ESPNRittenberg

Adam Rittenberg


Very impressed with Alex Erickson tonight. Wisconsin needed a sure-handed possession WR. He's getting it done. #LSUvsWIS
about 6 hours ago

ESPN_BigTen

ESPN BigTen


Clement can be a great complement to Gordon, but the difference in explosiveness between the two is notable against LSU's speedy front.
about 6 hours ago

jaypo1961

Jeff Potrykus


#Badgers RG Kyle Costigan pulled and buried a defender on that 9-yard run by Gordon.
about 6 hours ago

ESPN_BigTen

ESPN BigTen


That's 55 yards on 8 carries in an excellent first quarter for Melvin Gordon. #WISvsLSU
about 6 hours ago

ESPN_BigTen

ESPN BigTen


Nice coverage by Michael Caputo. Forces a punt. Badgers to start at 12. #WISvsLSU
about 7 hours ago

mikerothstein

Michael Rothstein


Eastern Michigan...always feeling like you remind me of the Texas State Fightin' Armadillos: http://t.co/f7q6ZRK9Ze
about 7 hours ago

ESPN_BigTen

ESPN BigTen


Gang-tackling of Fournette. #WISvsLSU
about 7 hours ago

ESPN_BigTen

ESPN BigTen


Good thought by Wisconsin to air it out once; not sure about twice. Now punting from its own end zone. Momentum changing. #WISvsLSU
about 7 hours ago

ESPN_BigTen

ESPN BigTen


How not to respond to an 80-yard TD pass? Return the kickoff to the 8-yard line
about 7 hours ago

ChantelJennings

Chantel Jennings


Oh how I've missed when the wind smells of cheap vodka and stale beer. Football season, I'm glad you're back.
about 7 hours ago

ESPN_BigTen

ESPN BigTen


That's what LSU can do -- 80-yard TD from Jennings to Dural and it's 10-7.
about 7 hours ago

ESPN_BigTen

ESPN BigTen


The Brazilian, Rafael Gaglianone, connects from 51. Badgers lead 10-0.
about 7 hours ago

ChantelJennings

Chantel Jennings


Jameis Winston has two picks in the first half today. Last season, Marcus Mariota had four total. #RaceForTheHeisman
about 7 hours ago

ESPN_BigTen

ESPN BigTen


If it's not Gordon, it's McEvoy. The QB gets loose for a big gain, and Wisconsin is driving again.
about 7 hours ago

ESPN_BigTen

ESPN BigTen


Tigers looking out of sync offensively, followed by a bad punt. Big opportunity for Badgers.
about 7 hours ago

ESPN_BigTen

ESPN BigTen


Badgers with three tackles of Leonard Fournette, and no touchdowns yet for the freshman. Amazing, huh?
about 7 hours ago

ESPN_BigTen

ESPN BigTen


That's 76 yards in six plays (five on the ground) -- an efficient, powerful start for Wisconsin.
about 7 hours ago

ESPN_BigTen

ESPN BigTen


What a play call on the end-around after Gordon got the Tigers thinking about him. Great start, and it's 7-0 Badgers.
about 7 hours ago

ESPN_BigTen

ESPN BigTen


Gordon turns the corner for 20, then Reggie Love bursts for 45-yard TD. Wow.
about 7 hours ago
BIG TEN SCOREBOARD
Saturday, 8/30
Thursday, 8/28
Friday, 8/29
BLOG ARCHIVE:
CATEGORIES: