Spring position preview: Safeties
March, 10, 2012
3/10/12
5:32
PM ET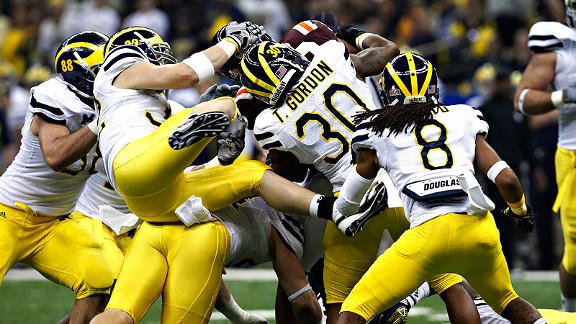 AP Photo/Gerald HerbertStarting safeties Jordan Kovacs (32) and Thomas Gordon both return for Michigan.
He missed the team at first. Then he made it, eventually started and now, the story of former walk-on turned leader Jordan Kovacs is very well known.
But now, Kovacs has only one year left at Michigan and he'll be looked at as a stabilizing force on a defense that returns a lot of starters and contributors, but few of its leaders.
This is where Kovacs, who could finish his college career among the best tacklers in Michigan history, now stands. He is likely going to be the leader on the Wolverines defense next season.
To continue reading this article you must be an Insider
Insider
Kirk Herbstreit's Gameplan Breakdown
Kirk Herbstreit looks at the five big rivalry games of the week that not only give state bragging rights but also have direct implications on the College Football Playoff.
Kirk Herbstreit's Gameplan Breakdown
VIDEO PLAYLIST
MICHIGAN FB RECRUITING SCORECARD
mikerothstein

Michael Rothstein


Caldwell wouldn't say on 97.1 how close Riley Reiff & Reggie Bush were to playing Thursday. Said it is strictly a medical decision. #Lions
16 minutes ago

mikerothstein

Michael Rothstein


Caldwell said he thinks some teams play the #Lions with the approach that they are going to throw more b/c of Detroit's run defense.
20 minutes ago

mikerothstein

Michael Rothstein


Caldwell said, on offensive performance, that this is what they shoot for every week. #Lions "We strive for that. Weekly." On 97.1
22 minutes ago

mikerothstein

Michael Rothstein


Jim Caldwell, on 97.1, goes with every game is different when asked if the #Lions would continue with the quick tempo offense vs. #Bears
23 minutes ago

ESPN_BigTen

ESPN BigTen


Big Ten viewer's guide: Week 14 http://t.co/sEYYnAgbB4
54 minutes ago

ScoutMichigan

Go Blue Wolverine


#GoBlue MHSAA Finals: Friday Prospect Listing - Who are the players to watch for in Friday's Michigan state... http://t.co/FdEBH37BRe
about an hour ago

mikerothstein

Michael Rothstein


Happy Friday. #dogsofinstagram http://t.co/BAzQmL2vyD
about an hour ago

mikerothstein

Michael Rothstein


Last call for this week's #LionsMailbag, full of your questions. Mailbag running tomorrow. Use the hashtag.
about 2 hours ago

mikerothstein

Michael Rothstein


The #Lions offense got the attention Thursday, but the run defense is the area getting respect. Story: http://t.co/w6LDJKG0tk
about 2 hours ago

mikerothstein

Michael Rothstein


Also, if PFF is right -- Ezekiel Ansah had TEN quarterback hurries on Jay Cutler. That would put him 39th among 4-3 DEs this season in 1 gm
about 2 hours ago

mikerothstein

Michael Rothstein


Some #Lions @PFF grades on defense. Highest: Ansah 7.4!!, Slay 4.5, Levy 3.5, Johnson 1.9. Lowest: Ihedigbo -1.2, Taylor -1.5, Palmer -2.0
about 2 hours ago

mikerothstein

Michael Rothstein


Some #Lions @PFF grades. Offense highest: Stafford 4.8, Calvin 3.8, Waddle 2.5, Lucas 2.0. Lowest: Raiola -1.5, Collins -1.6, Pettigrew -2.1
about 2 hours ago

mikerothstein

Michael Rothstein


Snaps 73 on offense: WR: Tate 62, Calvin 57 Ross 37 Fuller 21. TE: Pettigrew 44 Ebron 42 Fauria 8. RB: Bell 46 Riddick 26 Collins 21 Winn 1
about 2 hours ago

mikerothstein

Michael Rothstein


Do the #Lions have a consistent running option right now? They just might: http://t.co/I5XXtYwQr2
about 3 hours ago

mikerothstein

Michael Rothstein


The Fuller Brothers got what they hoped for -- lining up against each other: http://t.co/o9gAqRXOSJ I Original story http://t.co/p7UL5lOQJ9
about 3 hours ago

mikerothstein

Michael Rothstein


How Matthew Stafford and the #Lions rediscovered their offense against Chicago: http://t.co/KeoutdkV9u
about 3 hours ago

mikerothstein

Michael Rothstein


Jumping on Mike and Mike right now on ESPN radio with @dandakich
about 4 hours ago

mikerothstein

Michael Rothstein


Even if/when Reggie Bush returns, the #Lions have found a consistent running option. His name is Joique Bell. Story http://t.co/I5XXtYwQr2
about 12 hours ago

mikerothstein

Michael Rothstein


On at least a couple of snaps, the Fuller family got to see Corey & Kyle matched up on one another: http://t.co/o9gAqRXOSJ #Lions #Bears
about 12 hours ago

jayfeely

Jay Feely


Not in Arizona @wingoz Come on out....the waters warm and the golf courses are green
about 13 hours ago

mikerothstein

Michael Rothstein


What was behind the big offensive day from the #Lions & quarterback Matthew Stafford? Here's a look: http://t.co/KeoutdkV9u
about 15 hours ago

SenJohnMcCain

John McCain


Giving thanks for all American service members deployed today and their families who miss them so dearly #HappyThanksgiving #USA
about 15 hours ago

kyle_ivory

Kyle Ivory Wilson


Shout out to @brandongraham55 for the sack. #detroit #goblue
about 15 hours ago

mikerothstein

Michael Rothstein


As you're eating turkey and watching football, any questions for #LionsMailbag for Saturday? Use the hashtag.
about 16 hours ago

mikerothstein

Michael Rothstein


Updated story on #Lions WR Calvin Johnson setting yet another #NFL milestone: http://t.co/l8hd2SJFPL
about 16 hours ago

mikerothstein

Michael Rothstein


Just found up. Three of Matthew Stafford's six best completion percentage games have come against the #Bears. 75.6 percent today. #Lions
about 17 hours ago

mikerothstein

Michael Rothstein


Colleague @mikecwright & I give out game balls after the #Lions 34-17 win over the #Bears: http://t.co/KXD22T2iag
about 17 hours ago

SeifertESPN

Kevin Seifert


#Bears: 1 rush in 2nd half. Fewest by a team in a half in 4 years, per @ESPNStatsInfo. #Lions have good run D, but yikes, Marc Trestman.
about 17 hours ago

mikerothstein

Michael Rothstein


Calvin Johnson, Peanut Tillman exchange jerseys and other #Lions #Bears notes: http://t.co/cWJkF5gpTR
about 17 hours ago

mikerothstein

Michael Rothstein


Saw this sign on the field after the game in Detroit. happy Thanksgiving y'all. #Lions #bears #turkey http://t.co/SQrwofSXod
about 18 hours ago

mikerothstein

Michael Rothstein


Suited-up Matthew Stafford. #Lions http://t.co/XJPyTa2Fi7
about 18 hours ago

SandoESPN

Mike Sando, ESPN.com


#Lions: Most points since Wk 1 and good sign with TB, MIN and CHI next. Those defenses 29th, 18th and 26th in TDs allowed/gm entering Wk 12.
about 18 hours ago

mikerothstein

Michael Rothstein


It's a final in Detroit. #Lions 34, #Bears 17. Here's your Rapid Reaction: http://t.co/etqiwmGgIL
about 19 hours ago

DevG98

Devin Gardner


Thank You & always #GoBlue! RT @dickc @DevG98 good luck Saturday! #GoBlue
about 19 hours ago

mikerothstein

Michael Rothstein


That was just a crazy interception on a tipped ball by Glover Quin. #Lions
about 19 hours ago

DenardX

Denard Robinson


Thankful http://t.co/zV8F21uZo8
about 19 hours ago

DevG98

Devin Gardner


It's been an honor representing this great university and showing what type of high class, high… http://t.co/zpfGfD4FXJ
about 19 hours ago

mikerothstein

Michael Rothstein


This is the first multi-touchdown rushing game for #Lions RB Joique Bell since Week 1 of 2013.
about 19 hours ago

mikerothstein

Michael Rothstein


Willie Young got his sack of Matthew Stafford. Also a penalty for roughing the passer. #Lions #Bears
about 20 hours ago

umichfootball

Michigan Football


Team 135's parent/staff food drive will provide approximately 4,000 meals for Food Gatherers of Ann Arbor http://t.co/UfpKNoKAJB
about 20 hours ago

jayfeely

Jay Feely


In a year with a lot of disappointments I am eternally thankful for family and my life. Happy Thanksgiving to you all!
about 20 hours ago

mikerothstein

Michael Rothstein


FWIW, Fluellen and Willie Young are pretty good friends. Talked with Fluellen about him this week. Young also said Flu helped him w/ #Lions
about 20 hours ago

mikerothstein

Michael Rothstein


#Lions get their first sack in two-and-a-half games...by Andre Fluellen. Who then does Willie Young's sack dance of a fishing reel.
about 20 hours ago

mikerothstein

Michael Rothstein


Van Noy was in on thatlast play. Also, Ezekiel Ansah looked like he hobbled off after that last play. #Lions
about 20 hours ago

mikerothstein

Michael Rothstein


News story on Calvin Johnson's fastest to 10K receiving yards: http://t.co/l8hd2SJFPL #Lions #Bears #NFL
about 20 hours ago

mikerothstein

Michael Rothstein


Also, Stafford is 11 of 11 for 134 yards when #Bears rush four or fewer guys so far, per @ESPNStatsInfo
about 20 hours ago

mikerothstein

Michael Rothstein


Some more Stafford stuff. 275 yards in first half are most this season in 1H, 2nd most of career (327 in Week 11 last year vs. PIT). #lions
about 20 hours ago

mikerothstein

Michael Rothstein


Matthew Stafford has 275 yards passing in the first half. That's more than he's had in five different full games this season. #Lions
about 20 hours ago

mikerothstein

Michael Rothstein


Calvin Johnson is having just a tiny amount of a day. Over 100 yards and two touchdowns in the first half. #Lions
about 20 hours ago

mikerothstein

Michael Rothstein


Calvin Johnson over 10,000 career receiving yards. Done in 115 games -- fewest in #NFL history (Torry Holt, 116) #Lions
about 20 hours ago

mikerothstein

Michael Rothstein


Matthew Stafford has 211 yards passing already. More than he did in whole game against Arizona (183). Close to New England (264). #Lions
about 21 hours ago

mikerothstein

Michael Rothstein


That's Joique Bell's first touchdown since Week 7 against New Orleans. Also #Lions first rushing TD since then.
about 21 hours ago

mikerothstein

Michael Rothstein


#Lions scored a rushing touchdown but negated by holding on Waddle. Would have been first rushing score since Week 7
about 21 hours ago

B1Gfootball

Big Ten Football


Today's annual slate of @NFL action features 36 former #B1GFootball standouts from 13 different schools #Thanksgiving http://t.co/0g4wXwQVru
about 21 hours ago

mikerothstein

Michael Rothstein


Calvin Johnson has 7 TDs on Thanksgiving. Ties Cloyce Box for most on Thanksgiving. #Lions
about 21 hours ago

mikerothstein

Michael Rothstein


Also on that play, you had Kyle Fuller matching up with Corey Fuller on the same side, so yeah, that actually happened. #Lions #Bears
about 21 hours ago

mikerothstein

Michael Rothstein


The #Lions long touchdown-less streak is over. Matthew Stafford to Calvin Johnson
about 21 hours ago

mikerothstein

Michael Rothstein


#Lions now at 9-plus quarters without a touchdown or quarterback sack. #Bears
about 21 hours ago

mikerothstein

Michael Rothstein


Rob Sims just got beat badly on that play by Jared Allen. Lucas was out wide picking up Shea McClellin. #Lions #Bears
about 21 hours ago

mikerothstein

Michael Rothstein


#Bears S Chris Conte being evaluated for a concussion.
about 21 hours ago

mikerothstein

Michael Rothstein


The #Lions played a little bit of Darryl Tapp inside at tackle again on that drive.
about 21 hours ago

mikerothstein

Michael Rothstein


Quick story on #Lions C Dominic Raiola & making start No. 200: http://t.co/7Oyhjdkq3M
about 22 hours ago

mikerothstein

Michael Rothstein


Dominic Raiola & Jared Allen were just chatting during that timeout. #Lions #Bears
about 22 hours ago

mikerothstein

Michael Rothstein


A bunch of quick passes and screens from the #Bears on that drive. At least two missed tackles, too. #Patriots did this last week.
about 22 hours ago

mikerothstein

Michael Rothstein


Dominic Raiola officially makes start No. 200 for the #Lions
about 22 hours ago

mikerothstein

Michael Rothstein


Ebron, but no Fauria from what I could see, on kick return. #Lions
about 22 hours ago

mikerothstein

Michael Rothstein


He was much better than last year's reality TV competition person -- Tony Lucca from the Voice, who was decent at halftime. #analysis
about 22 hours ago

mikerothstein

Michael Rothstein


Quintavious Johnson just destroyed the national anthem. Was crazy talented on America's Got Talent.
about 22 hours ago

mikerothstein

Michael Rothstein


Quintavious Johnson, from America's Got Talent, doing the anthem. #Lions #Bears #AGT
about 22 hours ago

mikerothstein

Michael Rothstein


The #Lions start on offense.
about 22 hours ago

mikerothstein

Michael Rothstein


The #Lions DL coming out as a group again...including Suh pointing at his own name on the back of his jersey & Mosley posing arms crossed.
about 22 hours ago

mikerothstein

Michael Rothstein


Big cheers for DeAndre Levy.
about 22 hours ago

mikerothstein

Michael Rothstein


Entering today, the #Lions have gone 128:24 without sacking a quarterback. Back to fourth quarter against #Dolphins
about 22 hours ago

mikerothstein

Michael Rothstein


They just played a completely awkward promo of Golden Tate delivering food (?) to a random house somewhere in Detroit. #Lions
about 22 hours ago

bigtenconf

Big Ten Conference


ICYMI: @BadgerVB clinched at least a share of the #B1GVolleyball Champs yesterday, their 5th #B1G title overall. http://t.co/LVkP1nHASM
about 22 hours ago

ScoutMichigan

Go Blue Wolverine


Check out these awesome recruits who decided to #GoBlue !http://t.co/2WHjNGz2Dn
about 22 hours ago

mikerothstein

Michael Rothstein


For pregame reading, here's all about the Fuller Family Affair in Detroit, including custom jerseys. http://t.co/p7UL5lOQJ9 #Bears #Lions
about 23 hours ago

mikerothstein

Michael Rothstein


Looks like Fuller on Fuller is going to happen. #Bears CB Kyle Fuller is ACTIVE today.
about 23 hours ago

mikerothstein

Michael Rothstein


So the #Lions' tackles today -- 2013 UDFA LaAdrian Waddle & 2014 UDFA Cornelius Lucas. Willie Young might get a lot of fishing sack dances
about 23 hours ago

mikerothstein

Michael Rothstein


#Lions inactives: Moore, Bush, Reiff, Warford, Fairley, Webster, Broyles
about 23 hours ago

mikerothstein

Michael Rothstein


Happy Thanksgiving from Ford Field. #Lions #Bears #turkey #nfl http://t.co/FsfqqYJUiF
1 day ago

DesmondHoward

Desmond Howard


Today is "Let's do something fun with my kids day!" #NoSchoolNoWork #ThankfulEveryday
1 day ago

CSing57

Chris Singletary


Happy Thanksgiving from Michigan Football #GoBlue #michigan http://t.co/YGyqxzbUaq
1 day ago

ESPN_BigTen

ESPN BigTen


Happy Thanksgiving from the B1G blog http://t.co/U1Esc71eJf
1 day ago

BTN_Michigan

Big Ten Network


#Michigan news: BTN LiveBIG: Big Ten alums fighting hunger http://t.co/yJFhS5rtgY
1 day ago

ScoutMichigan

Go Blue Wolverine


#GoBlue Kinnel Taking Wait & See Approach - The uncertain status of the Michigan coaching staff has given H... http://t.co/Zi1pm6JhQJ
1 day ago

UMGoBlog

Michigan Football


Please like the following FB Page http://t.co/bBTb14oRZ3 to help raise money for the GVA Animal Rescue & Emerg. Fund ($0.50 for every like!)
1 day ago

ChantelJennings

Chantel Jennings


That's a lotta thigh MT @leefitting Can someone plz help me with the shorts that #12 on St. John's is wearing. It's killing me #80sthrowback
1 day ago

BTN_Michigan

Big Ten Network


#Michigan news: Live: Track Wednesday night's Big Ten Basketball action http://t.co/AoON72NrQT
1 day ago

UMGoBlog

Michigan Football


Please like the following FB Page http://t.co/fRSZtamemw to help raise money for the GVA Animal Rescue & Emerg. Fund ($0.50 for every like!)
1 day ago

umichfootball

Michigan Football


Streaming: Inside Michigan Football Coaches Show presented by @ConsumersEnergy is live from @pizzahse. Tune-in » http://t.co/K1ArC4U4I9
1 day ago

B1Gfootball

Big Ten Football


#14in14: @BadgerFootball hosts @GopherFootball in a battle for the West Division title. http://t.co/FTCqVXsmZz
1 day ago

ScoutMichigan

Go Blue Wolverine


Don't miss the #Buckeyes v #Wolverines in a key #CFB matchup. Save 10% with your Scout Membership! http://t.co/OiuU5zfMnz
1 day ago

ScoutMichigan

Go Blue Wolverine


#GoBlue Michigan Hoping to Flip the Switch Once Again - Michigan put on a strong performance vs. Ohio State... http://t.co/d7Let2Cw3J
1 day ago

ESPN_BigTen

ESPN BigTen


Mascot trash talk? Bucky and Goldy trade barbs on Twitter before rivalry game http://t.co/o2LAHtmq0S
1 day ago

BTN_Michigan

Big Ten Network


#Michigan news: Jess Settles: Big Ten freshmen are making immediate impact http://t.co/9ZBSgNMNmG
1 day ago

ScoutMichigan

Go Blue Wolverine


#GoBlue Hoke: Looking For 'Best' Performance At OSU - Brady Hoke is looking for the big upset win as Michig... http://t.co/xIA3Jt4IfW
1 day ago

mikerothstein

Michael Rothstein


LT Riley Reiff had limited practice today. QUESTIONABLE for Thursday -- along with RB Reggie Bush. #Lions
1 day ago

mikerothstein

Michael Rothstein


Former #Lions DE Willie Young is flourishing with the #Bears: http://t.co/TSVVVTp6XE
1 day ago
BIG TEN SCOREBOARD
Friday, 11/28
Saturday, 11/29
BLOG ARCHIVE:
CATEGORIES: