Michigan visit 'valuable' for Jabrill Peppers
April, 4, 2013
4/04/13
10:06
PM ET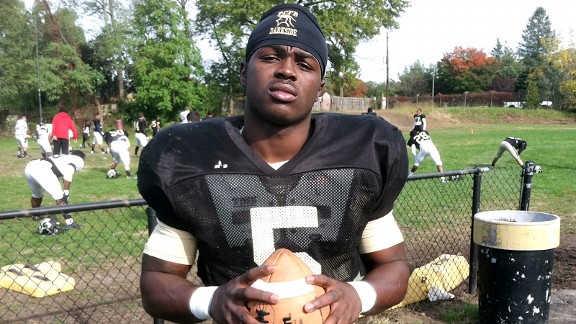 Jared Shanker/ESPN.comESPN Watch List defensive back Jabrill Peppers and high school teammate Juwann Bushell-Beatty enjoyed their unofficial visit to Michigan.
Being a fan of a program growing up does not necessarily mean a player will sign with the school. That could be the case with
Jabrill Peppers
(Paramus, N.J./Paramus Catholic) and Michigan.
But that does not mean Peppers, who still has Michigan in his top four, was not soaking up every minute of his two-day trip to see his childhood favorite.
To continue reading this article you must be an Insider
Insider
Maryland Rallies Past Michigan
C.J. Brown and Wes Brown each rushed for a touchdown in the fourth quarter to help Maryland edge Michigan 23-16.
Maryland Rallies Past Michigan
VIDEO PLAYLIST
MICHIGAN FB RECRUITING SCORECARD
DesmondHoward

Desmond Howard


A dominant performance by @MannyPacquiao (he scored 6 knockdowns) over Algieri.
about an hour ago

DesmondHoward

Desmond Howard


A dominant performance by @MannyPacquiao (he score 6 knockdowns) over Algieri.
about an hour ago

UMGoBlog

Michigan Football


Loss to Maryland Should Seal Brady Hoke's Fate http://t.co/HAeUrcDuxc
about 2 hours ago

ChantelJennings

Chantel Jennings


P.S. If that quote isn't made into a shirt in the next 30 minutes, then the internet is useful for nothing.
about 2 hours ago

ChantelJennings

Chantel Jennings


"Jesus, girls and Marcus Mariota." This sounds about right... http://t.co/gA5EoG7PWE
about 2 hours ago

ScoutMichigan

Go Blue Wolverine


#GoBlue Gardner Leaves Big House in Defeat - Michigan QB Devin Gardner's final home game ends with a 23-16 ... http://t.co/mbfHn47OW5
about 3 hours ago

DesmondHoward

Desmond Howard


WOW!! I can't believe that @USC_Athletics are getting beatdown by @UCLAFootball like this!
about 4 hours ago

ScoutMichigan

Go Blue Wolverine


#GoBlue Recap: After U-M Loss, Retention Unlikely? - Michigan made some costly second half mistakes as the ... http://t.co/uegQcwub0T
about 4 hours ago

DesmondHoward

Desmond Howard


There's a good chance we have a future U.S. president in @CokeZero #SectionZero today. http://t.co/Focmp5gLjX
about 4 hours ago

DesmondHoward

Desmond Howard


A Heisman® pose for the highlight reel. #ShowYourHeismanSweeps 4Chance2Win @Cheezit. Rules: http://t.co/ilth2WTTre http://t.co/CFAPhk0Wcq
about 5 hours ago

BigTenNetwork

Big Ten Network


See what grade @BTNTomDienhart gave your #B1G team in Week 13 - http://t.co/FPhGIn9uZs http://t.co/zoaUttn85b
about 5 hours ago

BTN_Michigan

Big Ten Network


#Michigan news: Tom's Take: Week 13 Big Ten honors, grades, stock reports & numbers http://t.co/g2xJb8Hu2q
about 5 hours ago

ScoutMichigan

Go Blue Wolverine


#GoBlue Hoke: 'We're Disappointed' - VIDEO: Brady Hoke addresses the media after Michigan's 23-16 loss to M... http://t.co/Euyzb3BBHM
about 5 hours ago

ChantelJennings

Chantel Jennings


Oregon wins the games but Freeman wins the "postgame presser outfit" competition. #SleepIsForSuckers #NewLifeMotto http://t.co/6nZGDe44Nl
about 5 hours ago

TimS_Wolverine

Tim Sullivan


LOL at the dude subtweeting me whining about putting up a news item… as he directly tweets at U-M players for not having heart. Winner.
about 6 hours ago

ScoutMichigan

Go Blue Wolverine


#GoBlue Terps Sink Michigan, 23-16 - As the rain started pour down on Michigan stadium, the football team's... http://t.co/xeUFnfOvHZ
about 6 hours ago

BTN_Michigan

Big Ten Network


#UMich video: Maryland at Michigan - Football Highlights http://t.co/KjSHKCLQxp
about 7 hours ago

ESPN_BigTen

ESPN BigTen


What we learned in the Big Ten: Week 13 http://t.co/72eKuJadIO
about 7 hours ago

ESPN_BigTen

ESPN BigTen


Video: Maryland 23, Michigan 16 http://t.co/yjNhuRBS2I
about 7 hours ago

ESPN_BigTen

ESPN BigTen


Welcome to the new normal at Nebraska http://t.co/ITVSJcwm6A
about 7 hours ago

ESPN_BigTen

ESPN BigTen


Video: No. 16 Wisconsin 26, Iowa 24 http://t.co/7P5G9bSkrL
about 7 hours ago

ChantelJennings

Chantel Jennings


Oregon jumbotron had Western Carolina up four on Alabama. The Oregon fans were quite a bit excited... too bad it's not true. At all.
about 7 hours ago

TimS_Wolverine

Tim Sullivan


The worst part of a school (any school) losing a commit is the sprouting all these dumbasses on Twitter who talk crap.
about 7 hours ago

ESPN_BigTen

ESPN BigTen


Melvin Gordon has TIED the B1G single-season rushing record set in 1996 by Ron Dayne with 2,109 yards. Wiscy took a knee late, gets the W
about 7 hours ago

ChantelJennings

Chantel Jennings


Michigan congressman -> RT @john_dingell Go... Blue?
about 8 hours ago

TimS_Wolverine

Tim Sullivan


Story on Mike Weber's decommitment from Michigan: https://t.co/z0W06sDZhD
about 8 hours ago

ChantelJennings

Chantel Jennings


Oregon takes a 37-3 lead over Colorado (could be 51-3...). Really curious what an Oregon-FSU semifinal would look like. #TBTtoBamaUND2013
about 8 hours ago

ESPN_BigTen

ESPN BigTen


FINAL: Maryland 23, Michigan 16. Terps move to 7-4. Wolverines need to upset OSU to get to a bowl.
about 8 hours ago

umichfootball

Michigan Football


Final: Maryland 23 - Michigan 16
about 8 hours ago

UMGoBlog

Michigan Football


Game over Maryland 23 Michigan 16 #GoBlue
about 8 hours ago

UMGoBlog

Michigan Football


RT @TheBlockhams: A thousand words. He knows. http://t.co/07WCJctsvc
about 8 hours ago

UMGoBlog

Michigan Football


The Hoke era is evaporating before our eyes #GoBlue
about 8 hours ago

ChantelJennings

Chantel Jennings


Ohhhhh. Interesting... RT @SprowESPN Florida State vs Arkansas on a neutral field next Saturday. Spread?
about 8 hours ago

umichfootball

Michigan Football


Turnover on downs, Maryland will take over at their own 49 yard line with 4:16 to play.
about 8 hours ago

UMGoBlog

Michigan Football


Michigan turns it over on downs #GoBlue
about 8 hours ago

UMGoBlog

Michigan Football


Ugh RT @mikeweber25: I'm decommitting from UM thank you Michigan for the love and support I'll remake my decision at the army bowl
about 8 hours ago

ESPN_BigTen

ESPN BigTen


More bad news for U-M. Just as Terps take the lead - putting a dent in U-M's bowl hopes - a 4-star recruit decommits https://t.co/1OtjyrdbkW
about 8 hours ago

mikeweber25

Mikey


I'm decommiting from the university of Michigan thank you Michigan for the love and support I'll remake my decision at the army bowl
about 8 hours ago

ESPN_BigTen

ESPN BigTen


3rd-and-15 -- and Rudock scrambles for a first down. Great awareness. This game isn't over just yet ...
about 8 hours ago

ChantelJennings

Chantel Jennings


I get that FSU is undefeated. But seriously, what top 10 (top 20?) team wouldnt be against that schedule? Heck, I bet Marshall would be too.
about 8 hours ago

UMGoBlog

Michigan Football


Michigan's trip to the Quick Lane Bowl is in jeopardy #GoBlue
about 8 hours ago

BTN_Michigan

Big Ten Network


TD MD: 1-yd run by W Brown. Q4: MD 23, MICH 16 LIVE STREAM: http://t.co/0d0Kx2WepQ
about 8 hours ago

umichfootball

Michigan Football


Touchdown, Maryland. Terps now lead 23-16 with 5:59 to play.
about 8 hours ago

UMGoBlog

Michigan Football


Maryland 23 Michigan 16 5:59 Q4 #GoBlue
about 8 hours ago

UMGoBlog

Michigan Football


TD Maryland #GoBlue
about 8 hours ago

ESPN_BigTen

ESPN BigTen


Maryland takes the lead on a Wes Brown TD with six minutes to play. 22-16 with extra point coming soon.
about 8 hours ago

BTN_Michigan

Big Ten Network


C Brown hits A Etta-Tawo on 36-yd pass. Brown 165 yds passing. Q4: MD 16, MICH 16 LIVE STREAM: http://t.co/0d0Kx2WepQ
about 8 hours ago

UMGoBlog

Michigan Football


Maryland receiver WIDE OPEN 1st Down and goal at the 3 #GoBlue
about 8 hours ago

UMGoBlog

Michigan Football


1st Down Maryland at the 32 #GoBlue
about 8 hours ago

ChantelJennings

Chantel Jennings


Arkansas = FGSU. RT @Andy_Staples If football had a 64-team field, Arkansas would be that 10-seed that comes in ... and blows up everybody.
about 8 hours ago

UMGoBlog

Michigan Football


Brandon is gone but his shady accounting remains RT @misterAndyReid: THE MICHIGAN DIFFERENCE: when 80,000 = 100,000 #goblue
about 8 hours ago

umichfootball

Michigan Football


Matt Wile's FGA is no good (39 yards). Maryland will take over at their own 22 yard line with 9:13 in the 4th.
about 8 hours ago

UMGoBlog

Michigan Football


Attendance 101,717 *cough* #GoBlue
about 8 hours ago

UMGoBlog

Michigan Football


Michigan 16 Maryland 16 Q4 9:13 #GoBlue
about 8 hours ago

UMGoBlog

Michigan Football


Missed FG Michigan #GoBlue
about 8 hours ago

UMGoBlog

Michigan Football


Everybody just sacked Devin Gardner loss of 8 #GoBlue
about 8 hours ago

umichfootball

Michigan Football


Darboh, in traffic, holds on, 1st down after the 23 yard reception at the Maryland 37 yard line.
about 8 hours ago

UMGoBlog

Michigan Football


Devin Gardner to Darboh for 23 yards #GoBlue
about 8 hours ago

UMGoBlog

Michigan Football


1st and 10 and Michigan 25 yl #GoBlue
about 8 hours ago

BTN_Michigan

Big Ten Network


TD MD: 8-yd run by C Brown. Q4: MD 16, MICH 16 LIVE STREAM: http://t.co/0d0Kx2WepQ
about 8 hours ago

umichfootball

Michigan Football


Next play, Maryland finds the endzone. We're tied at 16 early in the 4th.
about 8 hours ago

ESPN_BigTen

ESPN BigTen


Craddock lines up for a FG, nails it -- and U-M is called for roughing the kicker. Terps' drive continues ... and leads to a TD. #That'sUM
about 8 hours ago

UMGoBlog

Michigan Football


Michigan 16 Maryland 16 14:47 Q4 #GoBlue
about 8 hours ago

UMGoBlog

Michigan Football


TD Maryland #GoBlue
about 8 hours ago

UMGoBlog

Michigan Football


Maryland 1st and goal at the 8 #GoBlue
about 8 hours ago

umichfootball

Michigan Football


Roughing the kicker flag is thrown; will be an automatic 1st down for Maryland, at the Michigan 8 yard line.
about 8 hours ago

UMGoBlog

Michigan Football


FG good, but roughing the kicker gives Maryland a 1st Down #GoBlue
about 8 hours ago

ESPN_BigTen

ESPN BigTen


Brad Craddock's 4th field goal is pre-empted by a roughing the kicker penalty. Maryland 1st-and-goal now with a chance to tie.
about 8 hours ago

UMGoBlog

Michigan Football


The rain is coming down, out comes the rain gear #GoBlue
about 8 hours ago

umichfootball

Michigan Football


Maryland will be at the Michigan 17 yard line, 3rd & 12, to start the 4th.
about 8 hours ago

umichfootball

Michigan Football


End of the 3rd:• Michigan 16• Maryland 9
about 8 hours ago

ESPN_BigTen

ESPN BigTen


After three quarters at Michigan, Wolverines lead Maryland 16-9, but Terps are in the red zone.
about 8 hours ago

UMGoBlog

Michigan Football


Michigan 16 Maryland 9 end of Q3 #GoBlue
about 8 hours ago

UMGoBlog

Michigan Football


You're never wrong using TOs in Q2 but always wrong in Q3 #GoBlue
about 8 hours ago

UMGoBlog

Michigan Football


It's hard to gauge how good the Michigan defense is when Indiana, Northwestern and Maryland are so bad #GoBlue
about 8 hours ago

ChantelJennings

Chantel Jennings


We've had about four ridiculous or near-ridiculous catches in a row here. Mariota and his receivers are just showing off now.
about 8 hours ago

umichfootball

Michigan Football


Can't convert on 4th & 6; Maryland will takeover at their own 32 with 3:09 in the 3rd.
about 8 hours ago

umichfootball

Michigan Football


Timeout, Michigan. 4th & 6 at the Maryland 32 yard line.
about 8 hours ago

UMGoBlog

Michigan Football


Devin Gardner to AJ Williams 12 yd gain 1st Down #GoBlue
about 9 hours ago

BTN_Michigan

Big Ten Network


#UMich video: Devin Gardner 15-Yard Touchdown http://t.co/M954tOYk8w
about 9 hours ago

umichfootball

Michigan Football


With the penalty (block in the back), we'll be lined up at our 30 yard line with 7:34 in the 3rd.
about 9 hours ago

UMGoBlog

Michigan Football


1st and 10 Michigan at the 30 :( #GoBlue
about 9 hours ago

umichfootball

Michigan Football


😞.
about 9 hours ago

UMGoBlog

Michigan Football


TD return called back #GoBlue
about 9 hours ago

umichfootball

Michigan Football


Wait, there's a flag...
about 9 hours ago

UMGoBlog

Michigan Football


Dennis Norfleet takes it to the house..flag on the field #GoBlue
about 9 hours ago

ESPN_BigTen

ESPN BigTen


ICYMI: Melvin Gordon has crossed the 2,000-yard mark. He now has 2,050 yards on the season and needs just 60 more to break a Wiscy record
about 9 hours ago

umichfootball

Michigan Football


THERE IT IS.
about 9 hours ago

umichfootball

Michigan Football


GODIN. SACK.Terps to punt.
about 9 hours ago

BigTenNetwork

Big Ten Network


Enough with the field goals! Devin Gardner runs it in for a @umichfootball TD. http://t.co/E7Ihm8Yjxe
about 9 hours ago

umichfootball

Michigan Football


.@DevG98 (449) has passed Tom Brady (443) in career completions; No. 98 is now 5th all-time in completions at Michigan.
about 9 hours ago

umichfootball

Michigan Football


.@DevG98's 15-yard TD run caps a 66 yard, 10 play drive. Up 16-9 with 10:25 in the 3rd.
about 9 hours ago

BTN_Michigan

Big Ten Network


Devin Gardner scores the first TD of the game against Maryland in the third quarter. Brought to you by @Buick. http://t.co/6v4NycokoY
about 9 hours ago

BTN_Michigan

Big Ten Network


TD MICH: 15-yd run by D Gardner. Q3: MICH 16, MD 9 LIVE STREAM: http://t.co/0d0Kx2WepQ
about 9 hours ago

ESPN_BigTen

ESPN BigTen


Devin Gardner's rushing TD gives Michigan a 16-9 lead early in the third quarter. Gardner ran for 37 yards on the drive.
about 9 hours ago

UMGoBlog

Michigan Football


Michigan 16 Maryland 9 Q3 10:25 #GoBlue
about 9 hours ago

umichfootball

Michigan Football


.@DevG98, Touchdown!
about 9 hours ago

UMGoBlog

Michigan Football


Devin Gardner scrambles for the TD #GoBlue
about 9 hours ago

ChantelJennings

Chantel Jennings


A look at the Gordon v. Perine stats via @ESPNStatsInfo http://t.co/63RNU38fw0
about 9 hours ago

UMGoBlog

Michigan Football


Michigan 2nd and 10 at the 21 #GoBlue
about 9 hours ago
BLOG ARCHIVE:
CATEGORIES: