RB Hood rethinking top group
March, 18, 2013
3/18/13
6:45
PM ET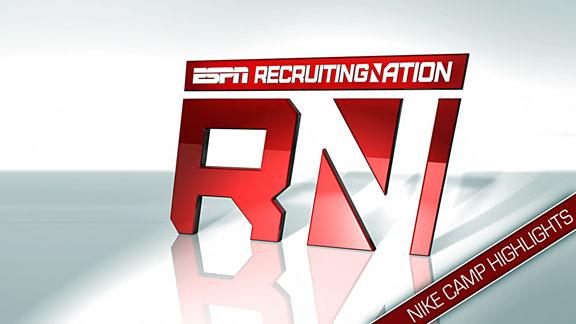 Running back
Elijah Hood
(Charlotte, N.C./Charlotte Catholic) had his list narrowed dow to Notre Dame, Michigan and Ohio State and seemed destined to head North. That changed recently, though, as Hood and his family have been talking about his future plans.
To continue reading this article you must be an Insider
Insider
Utah Gets Much-Needed Delayed Win
Utah coach Kyle Whittingham sees bigger things ahead for Utah after knocking off Michigan on the road.
Utah Gets Much-Needed Delayed Win
VIDEO PLAYLIST
MICHIGAN FB RECRUITING SCORECARD
ScoutMichigan

Scout Wolverines


#Wolverines Utah Postmortem: The Bad & The Ugly - Michigan's committed a series of familiar mistakes in its... http://t.co/NyHganSytY
about 3 hours ago

ChantelJennings

Chantel Jennings


Vote in the Pac-12 Blog's Play of the Week: http://t.co/n7D1gxYEEw
about 6 hours ago

BoysieMom

Nieka Apell


@DenardX Look how my son (in white jersey) and his buds celebrated his 10th birthday. Sad loss, but still fun! http://t.co/D283kg63vK
about 8 hours ago

ScoutMichigan

Scout Wolverines


#Wolverines Recap: Michigan Loses to Utah, Season Outlook - VIDEO: Sam Webb and Kyle Bogenschutz delve deep... http://t.co/fjFOOMk4Nw
about 8 hours ago

wardaddy_75

Larry Warford


Officially done being a rookie! the vets say you're a rook until game 3 of your 2nd year...great to end it with a win! #DefendTheDen
about 8 hours ago

mikerothstein

Michael Rothstein


The Detroit #Lions are once again evaluating their kicking situation. And at this point, it is a situation: http://t.co/oQWN1VwaTh
about 8 hours ago

mikerothstein

Michael Rothstein


The Detroit #Lions defensive line was dominant on Sunday against Green Bay: http://t.co/RomCZNP2j4
about 9 hours ago

jayfeely

Jay Feely


Great to hear Jason RT @JasonRomano: @jayfeely - but here's the good news for Rob http://t.co/MHmSPrF397"
about 9 hours ago

jayfeely

Jay Feely


Still really shook up by the sudden passing of Rob Bironas.Every day is precious. Don't take it for granted & express your love often
about 9 hours ago

ChantelJennings

Chantel Jennings


Our top four stayed the same but there's movement everywhere else in this week's Pac-12 Power Rankings: http://t.co/Piykr5kDhe
about 9 hours ago

jayfeely

Jay Feely


Good luck! USA! RT @HunterMahan On the plane to Scotland. A great challenge awaits us, but we're all up to the task!! http://t.co/V8akAsXnzo
about 10 hours ago

mikerothstein

Michael Rothstein


Good night, Detroit http://t.co/kCQD4RIQVp
about 10 hours ago

ESPN_BigTen

ESPN BigTen


Big Ten bowl projections: Week 4 http://t.co/0FatrYsyIe
about 10 hours ago

_bigplayslay9

Darius slay


Payton manning is that guy!!!!!!!
about 10 hours ago

mikerothstein

Michael Rothstein


Hi, my name is Peyton Manning. I am exceptional at football.
about 10 hours ago

mikerothstein

Michael Rothstein


Jason Jones: "It was a division game so we were all cranked up for that so it's all good." #Lions
about 12 hours ago

ESPN_BigTen

ESPN BigTen


RB Paul James' injury huge blow to Rutgers http://t.co/TvesdXx3lk
about 12 hours ago

mikerothstein

Michael Rothstein


Some observations & notes from inside the #Lions locker room following win over the #Packers: http://t.co/aNfC8EeblF
about 12 hours ago

mikerothstein

Michael Rothstein


Game ball video is up with @RobDemovsky and I -- where I give the #Lions game ball to...well, you have to watch http://t.co/oI5y1GwvMp
about 12 hours ago

mikerothstein

Michael Rothstein


Did not know Laura Robson rooted for Carolina. RT @laurarobson5: Let's get this @Panthers. Hope I wake up to a happy result! #SuperCam
about 12 hours ago

mikerothstein

Michael Rothstein


#Lions LB Stephen Tulloch injures his knee celebrating a sack of Aaron Rodgers. Extent of injury -- read here: http://t.co/78u3mmxU3d
about 12 hours ago

mikerothstein

Michael Rothstein


#Packers packing up after loss to #Lions http://t.co/rJ5x6LAf19
about 13 hours ago

mikerothstein

Michael Rothstein


Caldwell once again said will evaluate kicking situation. #Lions
about 14 hours ago

mikerothstein

Michael Rothstein


Caldwell wouldn't say much about Tulloch's injury. #Lions
about 14 hours ago

mikerothstein

Michael Rothstein


Cassius Vaughn with walking boot on left foot. Asked how foot is "it's good." #Lions
about 14 hours ago

mikerothstein

Michael Rothstein


Rapid Reaction from the #Lions win over the #Packers: http://t.co/G9Aappg1nB
about 14 hours ago

mikerothstein

Michael Rothstein


So that was DeAndre Levy covering Jordy Nelson there. #Lions
about 15 hours ago

mikerothstein

Michael Rothstein


Gorrer back at nickel for the #Lions
about 15 hours ago

mikerothstein

Michael Rothstein


By my count, Bush has 28 snaps at RB today and five at WR/slot. #Lions
about 15 hours ago

mikerothstein

Michael Rothstein


Make that foot and ankle with Calvin Johnson being wrapped. #Lions
about 15 hours ago

mikerothstein

Michael Rothstein


Calvin Johnson having his foot wrapped at the training table for the #Lions.
about 15 hours ago

mikerothstein

Michael Rothstein


Mohammed Seisay in the game now as the #Lions nickel.
about 15 hours ago

mikerothstein

Michael Rothstein


Peppers, as he has done all day, destroyed the #Lions RT (this time, Garrett Reynolds).
about 15 hours ago

mikerothstein

Michael Rothstein


Joe Lombardi told me this week the #Lions were planning on getting the ball to Bush in space more. Have done that well today.
about 15 hours ago

UMGoBlog

Michigan Football


David Molk in for the Eagles.
about 15 hours ago

mikerothstein

Michael Rothstein


#Michigan #Eagles RT @SheridanScribe: David Molk will play center.
about 15 hours ago

ESPN_Pac12blog

ESPN Pac-12


What We Learned Week 4 in the Pac-12: Utah dominated Michigan in all three phases of the game. http://t.co/EXg8DFy3Kz http://t.co/fHioyY1q12
about 15 hours ago

BonaguraESPN

Kyle Bonagura


#Pac12 in AP poll: 2. Oregon, 11. UCLA, 15. ASU, 16. Stanford, 18. USC
about 15 hours ago

mikerothstein

Michael Rothstein


Both Tulloch and Carey are OUT for the #Lions.
about 15 hours ago

mikerothstein

Michael Rothstein


Nate Freese misses again -- this time from 41 yards. 0 for 4 from 40-plus. #Lions ...
about 16 hours ago

mikerothstein

Michael Rothstein


Corey Fuller showed why he's active right there. Got deep in single coverage. #Lions
about 16 hours ago

mikerothstein

Michael Rothstein


Garrett Reynolds back in at RT for #Lions
about 16 hours ago

mikerothstein

Michael Rothstein


#Lions starting MLB Stephen Tulloch might have injured his knee on Rodgers sack celebration: http://t.co/qH52yJtVNv
about 16 hours ago

mikerothstein

Michael Rothstein


On the last Stafford sack, that was on Lucas. He got beat by his man, forcing Stafford from the pocket. #Lions
about 16 hours ago

ESPN_BigTen

ESPN BigTen


Big Ten Power Rankings: Week 4 http://t.co/ONuebucPNq
about 16 hours ago

mikerothstein

Michael Rothstein


The #Lions defense -- 8 of Detroit's 9 points.
about 16 hours ago

BTN_Michigan

Big Ten Network


Our @gerrydinardo has some advice for 2-2 Michigan in this tweet - http://t.co/Pu9JIXpLE3 http://t.co/RKwKLqRbCQ
about 16 hours ago

mikerothstein

Michael Rothstein


Meanwhile, on the sidelines, Don Carey is having a massive wrap placed on his right hamstring. #Lions
about 16 hours ago

mikerothstein

Michael Rothstein


Cornelius Lucas in at right tackle for the #Lions now, replacing Garrett Reynolds.
about 16 hours ago

mikerothstein

Michael Rothstein


Both Don Carey (hamstring) & Stephen Tulloch (knee) questionable to return for #Lions
about 16 hours ago

mikerothstein

Michael Rothstein


Trainers/doctors talking to Tulloch on the sideline. #Lions
about 16 hours ago

mikerothstein

Michael Rothstein


Tahir Whitehead replacing Tulloch here at linebacker. #Lions
about 17 hours ago

mikerothstein

Michael Rothstein


Stephen Tulloch down on the field for the #Lions .... That would be a big loss
about 17 hours ago

mikerothstein

Michael Rothstein


Ha Ha Clinton-Dix with the INT off Fuller's hands. #Lions
about 17 hours ago

mikerothstein

Michael Rothstein


Trainers/doctors are looking at Don Carey on the sidelines. #Lions
about 17 hours ago

mikerothstein

Michael Rothstein


Fauria limps off after the catch. #Lions
about 17 hours ago

mikerothstein

Michael Rothstein


Gorrer now in at nickel for the #Lions
about 17 hours ago

mikerothstein

Michael Rothstein


Both Gorrer & Seisay were on kick coverage there for the #Lions.
about 17 hours ago

mikerothstein

Michael Rothstein


@davebirkett He did. Showed it on replay.
about 17 hours ago

mikerothstein

Michael Rothstein


Nick Fairley made that play for the #Lions, though. Good hand placement on the strip.
about 17 hours ago

mikerothstein

Michael Rothstein


Don Carey's second snap of the season...a touchdown?
about 17 hours ago

mikerothstein

Michael Rothstein


Also, Nick Fairley has a massive wrap on his right bicep. He was limited in practice this week w/bicep injury. #Lions
about 17 hours ago

mikerothstein

Michael Rothstein


Looks like Don Carey's going to be the slot corner here. #Lions
about 17 hours ago

mikerothstein

Michael Rothstein


Definitely a new kick return formation for the #Lions there.
about 17 hours ago

mikerothstein

Michael Rothstein


Jed Collins one of the up backs on special teams, replacing Montell Owens. Also, interestingly, Theo Riddick almost at the line for KR
about 17 hours ago

mikerothstein

Michael Rothstein


The #Lions are going to receive.
about 17 hours ago

mikerothstein

Michael Rothstein


The first runner-up from American Idol Season 13 is singing the anthem here. #Lions #Packers
about 17 hours ago

mikerothstein

Michael Rothstein


Interesting -- the #Lions defensive line doesn't get individual introductions. All walk out together.
about 17 hours ago

mikerothstein

Michael Rothstein


Concoursing at Ford Field. #Lions #Packers http://t.co/FN1HzqfpP1
about 17 hours ago

mikerothstein

Michael Rothstein


They've been running mostly a three linebacker deal during 7-on-7. So that's Levy & Whitehead. I could see Levy doing some coverage.
about 18 hours ago

mikerothstein

Michael Rothstein


Interesting -- the #Lions are having Tahir Whitehead cover a WR in 7-on-7 in warmups here.
about 18 hours ago

mikerothstein

Michael Rothstein


Believe it or not -- Nick Fairley is actually stretching during stretching time for the #Lions. That...hasn't always been the case.
about 18 hours ago

mikerothstein

Michael Rothstein


Interesting to me --Joique Bell carrying a ball anywhere he's going right now for #Lions in warmups. Two fumbles in two weeks.
about 18 hours ago

mikerothstein

Michael Rothstein


.@therealliq I get what you're saying, but they aren't going to keep Ebron down both for TE numbers & his ability to stretch a defense.
about 18 hours ago

jayfeely

Jay Feely


Shocked and saddened to hear of the passing of @RobBironasMy thoughts and prayers are with his family
about 18 hours ago

mikerothstein

Michael Rothstein


.@therealliq Broyles has yet to be active this year. With Ebron, Fauria, Pettigrew, they feel they can go w/4WR & need Ross up for returns
about 18 hours ago

BTN_Michigan

Big Ten Network


#Michigan news: Power Rankings: Perfect Nebraska moves up to No. 2 in latest list http://t.co/8y8RMLAa6l
about 18 hours ago

mikerothstein

Michael Rothstein


Will say again what I said earlier in the week. Start all #Packers WRs. #Lions CBs Sun: Mathis, Slay, guy signed this week, PS call-up.
about 18 hours ago

mikerothstein

Michael Rothstein


Only #Lions players warming up right now are kicker Nate Freese and LS Don Muhlbach.
about 18 hours ago

mikerothstein

Michael Rothstein


No real surprises among the #Lions inactives. Safety James Ihedigbo is out again, meaning he's 0-for-3 in games played this year.
about 19 hours ago

mikerothstein

Michael Rothstein


Vaughn, waddle, Lewis, Moore, Owens, broyles, ihedigbo inactive for #Lions
about 19 hours ago

ESPN_BigTen

ESPN BigTen


Best of the visits: Big Ten http://t.co/GEUR8Pu8KH
about 19 hours ago

mikerothstein

Michael Rothstein


And this week's How I Prepare #Lions series featured punter Sam Martin, who S's the field before every game: http://t.co/9zbnLNnVV6
about 19 hours ago

mikerothstein

Michael Rothstein


From yesterday, the #Lions cut WR Kevin Ogletree, promoted CB Mohammed Seisay: http://t.co/U5nzlkfe3L
about 19 hours ago

mikerothstein

Michael Rothstein


W2W4 today with the #Lions and the #Packers: http://t.co/ayyYDiQc6z
about 19 hours ago

BTN_Michigan

Big Ten Network


#Michigan news: What did Tom Dienhart learn about Big Ten in Week 4? Here's what! http://t.co/cCAW9IsyEl
about 19 hours ago

PaulKuharskyNFL

Paul Kuharsky


Kris Durham and T.J. Graham certain to be inactive. Early workout guys. #Titans
about 19 hours ago

mikerothstein

Michael Rothstein


Greetings from Ford Field. #Lions #Packers http://t.co/elxJvMu8oj
about 19 hours ago

BTN_Michigan

Big Ten Network


#Michigan news: How did we do? Week 4 Big Ten football predictions revisited http://t.co/8pDdbWtQB9
about 19 hours ago

ESPN_BigTen

ESPN BigTen


Meyer: 'I thought I was dying' in '09 http://t.co/A0M6KI6Ejl
about 20 hours ago

ESPN_BigTen

ESPN BigTen


Big Ten helmet stickers: Week 4 http://t.co/BCGicuXLrX
about 21 hours ago

ChantelJennings

Chantel Jennings


A hint for college journalists: writers are always watching, not just reading. So talking during the national anthem is not a good idea.
1 day ago

BTN_Michigan

Big Ten Network


#Michigan news: Big Ten bounces back, registers weekend that was long overdue http://t.co/B05DuwEMvP
1 day ago

ChantelJennings

Chantel Jennings


Ifo Ekpre-Olomu giving major props to Connor Halliday on his play calling and execution.
1 day ago

ChantelJennings

Chantel Jennings


Freshman running back Royce Freeman. That's a normal sized backpack...just looks tiny on him. http://t.co/d8xOcOBsU4
1 day ago

ESPN_Pac12blog

ESPN Pac-12


Video: Oregon coach Mark Helfrich http://t.co/kMAYjoliTW
1 day ago

ChantelJennings

Chantel Jennings


And Oregon wins this one, 38-31. If this Wazzu team shows up games one-three they'd be 3-1 right now, not 1-3.
1 day ago

ChantelJennings

Chantel Jennings


Have a feeling Leach will be submitting that one. RT @LostLettermen HORRIBLE, HORRIBLE, HORRIBLE missed PI call by Pac-12 refs. Deplorable.
1 day ago

ChantelJennings

Chantel Jennings


Assuming he doesn't mess up … again. @JShankerESPN Jimbo Fisher says Jameis Winston is the team's quarterback again beginning Monday.
1 day ago

BTN_Michigan

Big Ten Network


#Michigan news: Tom's Take: Week 4 Big Ten honors, grades, numbers & much more http://t.co/wkIhUtr7Np
1 day ago
BLOG ARCHIVE:
CATEGORIES: