December, 29, 2014
Dec 29
9:50
AM ET
ESPN.com news services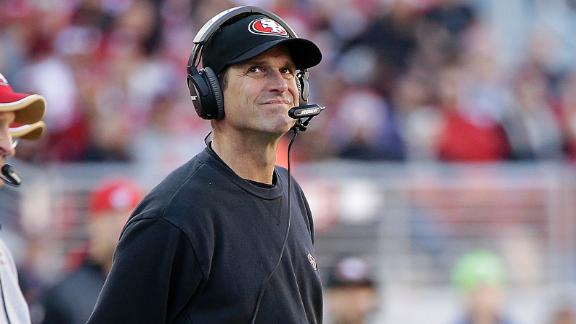 Michigan has told its biggest boosters that a deal for Jim Harbaugh to become its next head coach is done and that a news conference is scheduled for Tuesday, a source close to Michigan told ESPN NFL Insider Adam Schefter.
Interim athletic director Jim Hackett and other officials from the school met with Harbaugh in California on Sunday night after he officially parted ways with the San Francisco 49ers. The agreement reached ended a nearly monthlong coaching search in which virtually any conclusion other than landing Harbaugh would have been deemed a disappointment in Ann Arbor.
Details about Harbaugh's contract weren't immediately available, but reports earlier this month suggested Michigan offered a six-year contract worth at least $48 million.
Harbaugh came close to taking the Michigan job in 2011 but decided to jump to the NFL, and the Wolverines hired Brady Hoke. Hoke's record went steadily downhill during his four seasons at Michigan. He was fired after a Nov. 29 loss to Ohio State that guaranteed the program would not play in a bowl game.
Harbaugh played quarterback at Michigan from 1983 to 1986 before a long NFL career. The Palo Alto, California, native, who spent part of his childhood in Ann Arbor, has remained on the West Coast since becoming a full-time coach. He worked with the Oakland Raiders as a quarterbacks coach in 2002 and 2003 before taking head-coaching jobs at the University of San Diego, Stanford and then the 49ers.
ESPN.com's Dan Murphy contributed to this report.
December, 29, 2014
Dec 29
8:00
AM ET
Welcome back to Morning Links. We hope you survived a week without us. Let's jump right back into a busy final week of 2014 for the Big Ten.
1. All that's left to settle between Michigan and Jim Harbaugh is to dot the I's and cross the T's. Bruce Feldman reported
Harbaugh will be on a plane to Ann Arbor
Monday afternoon. His family and close friends plan to be near campus to celebrate Harbaugh's probable homecoming as the new coach at Michigan. Assuming that nothing goes awry from here, there will be plenty of time in the coming week to sort through what this reunion means for Michigan, the Big Ten and college football in general. For now, it's worth taking a moment to offer kudos to interim athletic director Jim Hackett.
The newcomer spent more than a month developing a plan to land the best option available for the Wolverines. He didn't shy away from taking a big swing, and he knocked the process out of the park. If Hackett decides he wants to stay on in a more permanent position at Michigan, the university ought to do whatever it can to accommodate him. In two months, Hackett has done more to patch the fissures in Michigan's athletic department than Dave Brandon did in five years.
2. Coaching transitions can make for awkward situations during bowl season. That was far from the case for Nebraska this season. Incoming head coach Mike Riley watched the Cornhuskers 45-42 loss in the Holiday Bowl from the stands of San Diego's Qualcomm Stadium.
This column from Dirk Chatelain
about Riley eating hot dogs with his grandson gives Nebraska fans a great look at what to expect from its new leader.
3. The build-up to this week's Sugar Bowl has begun in earnest in New Orleans. The semifinal matchup between Ohio State and Alabama is another chapter in the clash of titan coaches Urban Meyer and Nick Saban. This time around Meyer will have to fight with his third-string quarterback, Cardale Jones. Can Meyer somehow spin that to his advantage? Jones blew Wisconsin away in his one previous start. The Crimson Tide have maybe
one half's worth of competitive game film to study
when prepping for Jones. In reality, the plan to stop him probably isn't much different than what it would be for stopping J.T. Barrett, but Ohio State would be smart to exploit any small edge it can get against Alabama.
East Division
West Division
December, 28, 2014
Dec 28
10:00
PM ET
1. If Jim Harbaugh goes to Michigan, as is expected to happen, it would be the first time the university has hired a head coach with such a high profile since it swiped Fritz Crisler from Princeton in 1938. All Crisler did in 10 seasons in Ann Arbor was slap the wings on the Wolverines' helmet, invent platoon football, win 80 percent of his games (71-16-3) and finish with a 10-0 record in 1947. Harbaugh might not change the way everyone plays, but if he took Stanford from the brink of dropping down to FCS to making a BCS bowl, he can turn around his alma mater. The Wolverines would have much less road to travel.
2. Florida State co-offensive coordinator Randy Sanders, on
Jameis Winston
and the team going hot and cold: "The thing that separates Jameis from a lot of guys is [he is] unbelievably competitive. The tougher the situation, the more competitive the game, the better he plays. We've talked all year about starting fast and finishing strong. That proves the team has half-listened to us because we've finished strong. We haven't always started fast. We've been in the situation where we've had to come back … and the guy always plays well." And then he said, "It scares you to death as a coach to live that way."
3. Kentucky went 2-10 in 2012 and fired its coaching staff, including Sanders. Florida State head coach Jimbo Fisher hired him. Sanders hasn't lost a game since. "Sometimes, the best thing in the world to happen to you is to get fired," Sanders said. "I had a great time at Kentucky. I told my wife several times, 'It's time to move. It's time to go.' I knew it was. But yet I had daughters in high school. It's hard to leave. ... Sometimes God has to step in and say, 'OK, you won't go? I'm going to make you go.' … The fact that I ended up at Florida State and won 27 straight games, getting to coach Jameis, proves that there was a higher power in control of this thing than me."
December, 28, 2014
Dec 28
9:00
PM ET
December, 28, 2014
Dec 28
8:07
AM ET
ESPN.com news services
[+] Enlarge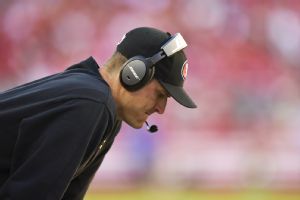 Thearon W. Henderson/Getty ImagesJim Harbaugh has one year remaining on his five-year, $25 million deal with the Niners.
Multiple people at Michigan and in the Jim Harbaugh camp believe the former San Francisco 49ers coach will wind up as the Wolverines' next head coach, as many have reported, sources told ESPN NFL Insider Adam Schefter.
Michigan has been telling its incoming recruits that it plans to have a head coach by the middle of the week, sources added.
Harbaugh and the Niners parted ways on Sunday via a mutual decision between the coach and the team.
Multiple people also insist that Harbaugh has no deal or agreement with Michigan at this time, even though Michigan officials are now in the Bay area, waiting to meet with the man they want to hire as quickly as possible. Michigan officials believe they will be taking Harbaugh and his wife to Ann Arbor with them on Monday, sources told Schefter.
According to ESPN sources and multiple reports, some Michigan officials have indicated that the school would be introducing its new coach Tuesday at a press conference and at the 3 p.m. basketball game with Illinois.
Harbaugh has also called multiple assistant coaches to gauge their interest in joining him at Michigan, sources tell ESPN's John Clayton.
December, 26, 2014
Dec 26
6:29
PM ET
[+] Enlarge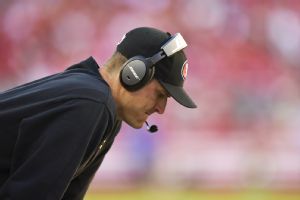 Thearon W. Henderson/Getty ImagesJim Harbaugh has one year remaining on his five-year, $25 million deal with the Niners.
Jim Harbaugh was asked Friday if he planned on resigning as coach of the San Francisco 49ers upon completion of Sunday's season finale against the Arizona Cardinals.
"We've plowed that ground very thoroughly," Harbaugh said, referring to his not wanting to contribute to stories about his coaching future.
So is that a yes or no?
"What will happen will happen, what won't happen won't happen," Harbaugh answered with a smile.
So there's no yes or no answer?
"Correct," Harbaugh said.
Harbaugh, who has one year remaining on his five-year, $25 million deal with the Niners but is purportedly on his way out of Santa Clara, reportedly has a six-year, $48 million offer from the University of Michigan to return to his alma mater and coach the Wolverines.
He also has been linked to the Oakland Raiders, who play their home games 32.4 miles north on I-880, as well as the Chicago Bears, who still have a coach in Marc Trestman.
December, 23, 2014
Dec 23
1:00
PM ET
On Monday night, the
Wisconsin Badgers
went to Berkeley, California, to play a California team that had, on the strength of a top-25 efficiency defense and a top-five defensive rebounding rate since, quietly racked up seven straight wins and a 10-1 record. The Badgers scored 68 points in 61 possessions, shot 21-of-44 from 2, held Cal to just 38.9 percent shooting, and made a tough true road game look like a
comprehensive clinic in sharp, smart basketball
.
At least the Big Ten has Wisconsin going for it, which is nice. Because the rest of the Badgers' conference just keeps getting worse.
On Monday night, long after you were asleep, Nebraska fell to Hawaii at the Diamond Head Classic,
66-58
. That was the Cornhuskers' second loss to a team ranked outside the adjusted efficiency top 150. The first came
on Dec. 10
, at home, against Incarnate Word.
Earlier in the night, Purdue lost at home,
89-84 to Gardner-Webb
. This was also the Boilermakers' second loss to a sub-150 outfit. The first came on
Dec. 6
, at home, against North Florida.
On Monday, Michigan
won its first game in four tries
, marking the official end of a losing streak that began with back-to-back losses on Dec. 6 and Dec. 9 to NJIT and Eastern Michigan, which it followed up with a disastrous road trip to Arizona and another, slightly more respectable home loss to SMU.
On Saturday, Michigan State became the first Big Ten team in two decades to fall to a SWAC school on its own floor, in an abysmal
71-64 defeat to Texas Southern
.
On Nov. 24, Indiana lost at home to Eastern Washington. On Dec. 17, Northwestern lost at home to Central Michigan. Rutgers has lost to St. Peter's and St Francis (PA) on its own floor. The list goes on and on.
And those are just the bad loss highlights. Iowa hasn't suffered a defeat akin to any of the above, but it was blown out on its own floor by Iowa State, and it did score just 44 points in 58 possessions on a neutral court against Northern Iowa Saturday. Ohio State spent the first month of the season looking like a genuine challenger to Wisconsin; this weekend the Buckeyes were ripped apart by a previously lackluster North Carolina team. Even Illinois' Dec. 2 loss at Miami in late November looks far worse than it did at the time, now that the Hurricanes have lost three of four, including a 72-44 (!) home defeat to Eastern Kentucky.
Save Wisconsin, only Minnesota (which needed a late push to get away from Furman Monday, and which has been feasting on cupcakes for almost a month) and Maryland (which looks like a real-deal 11-1, coming off Sunday's road win at Oklahoma State) have managed to hold the line. The Wolverines and Cornhuskers have plummeted out of the national picture; Ohio State hasn't played well against a good team yet; Michigan State looks reliant on shooting; Indiana doesn't defend; Iowa is inconsistent. As a whole, the Big Ten currently ranks fourth in KenPom.com's efficiency league rankings, behind the Big 12, ACC and Big East. If that holds, 2014-15 would be the first since 2009-10 in which the Big Ten didn't finish first.
This season, the Big Ten has one team that looks as likely as any in the past decade to end the conference's 14-year national title drought. That's the good news. The bad news is almost everything else.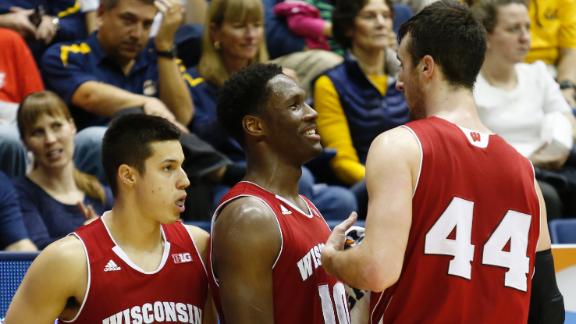 December, 23, 2014
Dec 23
12:35
PM ET
ESPN.com news services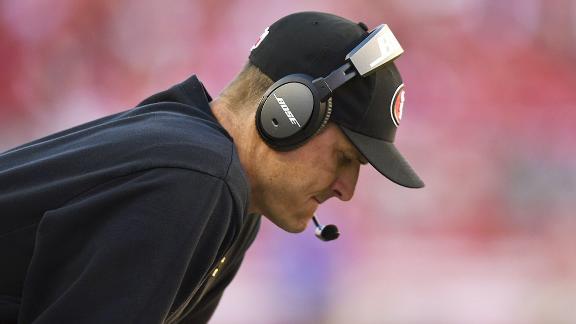 While Jim Harbaugh won't confirm or deny any contact with the University of Michigan, the Wolverines don't seem to be hiding their interest in him about their coaching vacancy.
In fact, U-M officials even took the extra step to wish "Happy Birthday" to the San Francisco 49ers' coach and former Michigan quarterback via social media Tuesday.
Harbaugh said Monday that he hasn't "participated in any of the speculation, the unnamed sources, the rumors" concerning his future as he enters this weekend's season finale against the Arizona Cardinals.
A national report over the weekend has Harbaugh being relieved of his duties within 24 to 48 hours of Sunday's game, and it has also been reported that Harbaugh has a standing offer of six years and $48 million to return to coach at his alma mater.
General manager Trent Baalke confirmed Monday on 95.7 The Game that Michigan officials have, indeed, contacted the 49ers about the 51-year-old Harbaugh.
"I think the University of Michigan, in reaching out, did handle it correctly," Baalke said. "As I look at it, guys, it's very simple: He's the head football coach of the San Francisco 49ers. ...
"Our focus is on this last game. We'll address next season after this season is over, and not until then. We'll deal with this at the end of the season. That's when we'll deal with it."
December, 23, 2014
Dec 23
12:15
PM ET
Michigan hasn't been subtle in its pursuit of Jim Harbaugh for its vacant head-coaching position. The school wants Harbaugh back in Ann Arbor ... real bad.
The campaign continued Tuesday as Michigan football's official Twitter account wished Harbaugh happy birthday (Harbaugh turns 51 today). Harbaugh played quarterback at Michigan from 1983-86.
Happy Birthday, Jim. #GoBlue pic.twitter.com/kameWJ7F5S

— Michigan Football (@umichfootball) December 23, 2014
.
It's hardly uncommon for teams to give birthday shoutouts on Twitter to current players, coaches, support staff and even former players and coaches. But I can't recall Michigan doing this too often, and with the Harbaugh-to-Michigan rumors heating up in the past 10 days, today's tweet was no coincidence.
Harbaugh does have another job, at least until Sunday, when the San Francisco 49ers finish their season against Arizona. The coach is expected to part ways with the 49ers -- his brother, John, the Baltimore Ravens coach,
said as much Tuesday on CSN Baltimore
-- and though other NFL teams are expected to pursue Jim Harbaugh, there is an
increased likelihood he will return to his alma mater
.
Credit Michigan for being so strong in its pursuit of Harbaugh. He is the game-changer that a stale program needs. Will it be a huge letdown if he doesn't return? Sure. But Michigan had to put forth its best possible pitch.
What might Michigan get Harbaugh for the big day? I asked my Twitter followers.
@ESPNRittenberg @umichfootball Can you fit $49 million in a card?

— Aaron Ajlen (@AaronAjlen) December 23, 2014
Gonna say...this http://t.co/oBOU9rJslA RT @ESPNRittenberg: Thoughts on what @umichfootball wants to give Jim Harbaugh for his 51st birthday

— Michael Rothstein (@mikerothstein) December 23, 2014
Wal Mart khakis? RT @ESPNRittenberg: Thoughts on what @umichfootball wants to give Jim Harbaugh for his 51st birthday?

— Erik Burkhart (@HuskerInsanity) December 23, 2014
@ESPNRittenberg @umichfootball The Maybach Exelero would do: http://t.co/f2CwyHcOCd

— Samuel McKewon (@swmckewonOWH) December 23, 2014
.
December, 19, 2014
Dec 19
3:18
PM ET
San Francisco 49ers coach Jim Harbaugh's family and friends have been encouraging him to take the University of Michigan head-coaching job, but he is torn because his heart is in the NFL, according to sources close to the situation.
Harbaugh first would like to see what head-coaching opportunities come available -- and he is likely to be a top choice for a handful of teams -- before getting back to Michigan with an answer, per sources.
He also is aware of the fact that Michigan might not be able to wait for him, especially when it might not even land the coach who is believed to be the school's top choice. Plus, college football recruiting is in full swing. The longer a school waits, the more of a disadvantage it can be. It leaves both sides in a tough and delicate spot, even though they have mutual interest in each other, per sources.
Harbaugh would like to finish coaching this season, go through the players' getaway day on Dec. 29 and then make his decision as quickly as possible. As another source said, Harbaugh's agent Dave Dunn "has a good sense of realistic NFL options already."
But as one Michigan source wondered Friday, "If he wants to stay in the NFL, who will pay him $8 million per year?" -- an indication that the Wolverines are prepared to go hard after Harbaugh.
There is an undisputed emotional connection for Harbaugh, who played at Michigan, is an iconic figure there and has been hearing from family and friends about returning as the prodigal son. Harbaugh's father, Jack, is influential with his son and has made it known that he likes and admires Michigan interim athletic director Jim Hackett, whom he got to know in the mid-1970s, when he was coaching the defensive backs at Michigan while Hackett was playing center at the school.
December, 19, 2014
Dec 19
2:30
PM ET
By
ESPN.com staff
| ESPN.com
Every day this week, before the bowl season kicks off, our Big Ten panel of experts weighed in on different topics related to the regular season.
Our final question of the week:
What was your favorite Big Ten moment of the season?
Brian Bennett:
Take a bow, Melvin
[+] Enlarge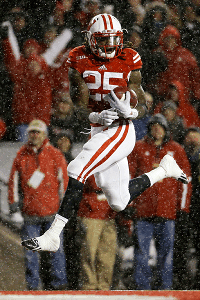 AP Photo/Morry GashNeither sleet nor snow could stop Melvin Gordon against Nebraska.
If there's one moment that I'll forever remember from the 2014 Big Ten season, it happened at Camp Randall Stadium on Nov. 15. That was the day
Melvin Gordon
went off the hinges, running for a then-record 408 yards vs. Nebraska. He averaged a ludicrous 16.3 yards per carry and scored four touchdowns in the most unstoppable individual performance you're ever likely to see. Best of all, Gordon capped his day with a 26-yard touchdown run that gave him the record on the final play of the third quarter. Snow had begun to fall, and Gordon sealed the record with a little bow in the back of the end zone. His record somehow lasted only one week, but the memories will persevere forever.
Josh Moyer:
Penn State fans celebrating the end of the postseason ban
It wasn't the most important Big Ten moment of the 2014 season, but it's still one I've never quite seen before – and probably never will again. After the NCAA announced the
elimination of the bowl ban
, along with other sanction reductions, PSU fans spilled into the streets of downtown Happy Valley and celebrated as if they just knocked off the top team in the nation. Two years of anger and frustration gave way to unbridled joy. Thousands sprinted to different venues on campus and just
chanted, screamed and sang
. Some even crowd-surfed on mattresses at the last stop. I've seen big fan celebrations before, but never for something that happened
off
the field. It was quite a sight.
Mitch Sherman:
Mark Dantonio's answer to the Michigan disrespect
The seeds were planted long before Oct. 25, but when Michigan linebacker
Joe Bolden
drove a stake into the turf at Spartan Stadium, Michigan State reached its boiling point. It's rare that we get to see the reserved Dantonio stick out his chest, but the Spartans punctuated a 35-11 win over U-M with a
Jeremy Langford
touchdown run in the final 30 seconds. That was a message in response not just to the pregame stake-planting but years of disrespect. "I felt like we needed to put a stake in them at that point," Dantonio said after the game, also referencing the "little brother stuff" that has long brewed in this series. It was a great subplot, of which Michigan coach Brady Hoke, fittingly, was "not fully aware."
Austin Ward:
Anthony Schlegel's takedown of a fan on the field
Leaving the stands and running on the field is pointless, dumb and dangerous right from the start. In case anybody had overlooked that last part, Ohio State assistant and former linebacker Anthony Schlegel offered a reminder that would have made The Rock proud. After a student had the bright idea to step on the turf at the Horseshoe during a September game against Cincinnati, he compounded it by getting a bit too close to the Ohio State sideline, where Schlegel popped out to plant him in the ground with an unforgettable body slam. The lesson, as always, is to stay in the seats.
Dan Murphy:
Michigan-Ohio State moment of sportsmanship
Maybe it's all this Christmas music that has me feeling sappy, but the moment that keeps coming to mind (other than Melvin Gordon's insane performance against Nebraska) was shortly after
J.T. Barrett
's season-ending injury against the Wolverines. Michigan quarterback
Devin Gardner
made his way on to the field and offered some support to Barrett, who was still laid out on his back as trainers worked on his leg. At that point, it was the fourth quarter of a one-touchdown game between bitter rivals with a lot on the line -- a potential playoff berth for the Buckeyes and a last-ditch effort to save their coaching staff for the Wolverines. One of the worst moments of the year (Barrett's injury) was quickly followed by a great one. The quarterback's show of genuine solidarity was a reminder that these guys are human beings. Gardner fell short of expectations on the field this season, but it's far more appropriate that college football's lasting image of him will be that moment of sympathy.
Adam Rittenberg:
Bust a move, Coach Kill
I'm tempted to go with Gordon in the snow against Nebraska, especially since I was there to witness history, but Jerry Kill gets my vote for
his "old age" dance moves
after Minnesota wins. Minnesota's rise under Kill has been one of the best Big Ten story lines in the past two seasons. Many wondered early in 2013 if Kill's coaching days soon would end because of his struggle with epilepsy, particularly seizures on game day. But the coach has his condition under control and continues to show why he's one of the best at getting the most out of his teams. You couldn't help but smile seeing Kill enjoy the wins by
dancing in the locker room
, surrounded by his joyous players. Those moments never get old.
Michigan Hires John Harbaugh?
BIG TEN SCOREBOARD
Monday, 12/29
Saturday, 12/20
Monday, 12/22
Tuesday, 12/23
Wednesday, 12/24
Friday, 12/26
Saturday, 12/27
Tuesday, 12/30
Wednesday, 12/31
Thursday, 1/1
Friday, 1/2
Saturday, 1/3
Sunday, 1/4
Monday, 1/12