Former U-M LS says scholly was smart
January, 29, 2013
1/29/13
10:00
AM ET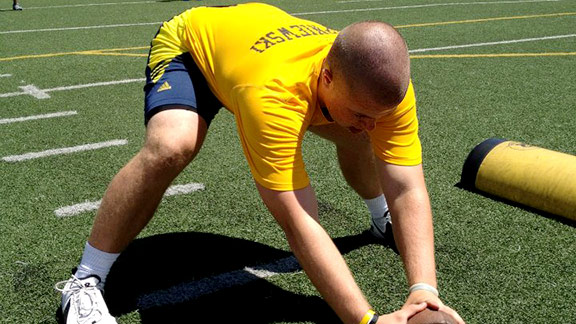 Courtesy of Rubio Long SnappingScott Sypniewski, a long snapper, received a scholarship offer from Michigan.
ANN ARBOR, Mich. -- Michigan coach Brady Hoke surprised quite a few people last summer when he extended a scholarship offer to long snapper
Scott Sypniewski
(Ottawa, Ill./Marquette). The general consensus among fans was puzzlement as they wondered why the scholarship wouldn't go to a more "valuable" skill player, where the Wolverines were struggling to get commits.
However, according to Jeremy Miller, former Michigan long snapper and one of Sypniewski's coaches, the decision was the correct one.
To continue reading this article you must be an Insider
Insider
Michigan Dismisses DE Frank Clark
ESPN Big Ten reporter Dan Murphy reacts to the news that Michigan dismissed DE Frank Clark after police arrested him on domestic violence charges.
Michigan Dismisses DE Frank Clark
VIDEO PLAYLIST
MICHIGAN FB RECRUITING SCORECARD
ChantelJennings

Chantel Jennings


Oregon with its 427th different starting O-line group of the season.
less than a minute ago

umichfootball

Michigan Football


Maryland flagged for pass interference; automatic 1st down at the Maryland 5 yard line.
2 minutes ago

UMGoBlog

Michigan Football


Smith leveled by the turf #GoBlue
4 minutes ago

UMGoBlog

Michigan Football


Michigan 1st and 10 at the 23 #GoBlue
4 minutes ago

umichfootball

Michigan Football


.@DevG98 keeps it for a pick up of 24 yards to the Maryland 23 yard line, 1st & 10.
5 minutes ago

UMGoBlog

Michigan Football


Devin Gardner scrambles for 24 yds #GoBlue
5 minutes ago

UMGoBlog

Michigan Football


Devin Gardner find Butt for 1st Down #GoBlue
5 minutes ago

ESPN_BigTen

ESPN BigTen


Minnesota uses 'Dilly Bar Dan' to celebrate its victory over Nebraska http://t.co/f05tDpYwBd
6 minutes ago

UMGoBlog

Michigan Football


Smith on the carry 1st Down #GoBlue
7 minutes ago

BTN_Michigan

Big Ten Network


MD's B Craddock hits 36-yd FG. Craddock 1-1 today. Q2: MD 3, MICH 3 LIVE STREAM: http://t.co/0d0Kx2WepQ
8 minutes ago

umichfootball

Michigan Football


Brad Craddock's FGA from 38 yards out is good. We're tied at 3 with 13:39 in the 2nd.
9 minutes ago

ESPN_BigTen

ESPN BigTen


Maryland ties the game 3-3 with a 38-yard field goal, but QB C.J. Brown needed help to get off the field after final play of the drive.
9 minutes ago

UMGoBlog

Michigan Football


Maryland FG good Michigan 3 Maryland 3 Q2 13:39 #GoBlue
9 minutes ago

umichfootball

Michigan Football


C.J. Brown is stopped short of the 1st down on 3rd & short.
10 minutes ago

UMGoBlog

Michigan Football


CJ Brown on the keeper short of the 1st Down 4th and 1 #GoBlue
11 minutes ago

ESPNJoshMoyer

Josh Moyer


Gordon's record has gone down -- but last week's game still more impressive than Perine's. Gordon had fewer carries, played better opponent
13 minutes ago

ESPN_BigTen

ESPN BigTen


And Melvin Gordon's week-old NCAA record for most rushing yards in a game (408) has just been broken. Oklahoma's Perine has 427 yards.
14 minutes ago

ESPN_BigTen

ESPN BigTen


Video: Northwestern 38, Purdue 14 http://t.co/InyZq5L5Co
18 minutes ago

UMGoBlog

Michigan Football


RT @MVictors: Norfleet shrugs and gives an aw shucks on the sideline; knows he shouldn't have flashed the fair catch #GoBlue
18 minutes ago

umichfootball

Michigan Football


End of the 1st:• Michigan 3• Maryland 0
18 minutes ago

ESPN_BigTen

ESPN BigTen


Michigan leads Maryland 3-0 after one quarter. A 52-yard run on a fake punt set up the only points so far.
18 minutes ago

UMGoBlog

Michigan Football


End of Q1 Michigan 3 Maryland 0 #GoBlue
19 minutes ago

UMGoBlog

Michigan Football


Maryland 1st and 10 at the 49 #GoBlue
20 minutes ago

UMGoBlog

Michigan Football


Devin Gardner to Devin Funchess short of the 1st Down 4th and 2 #GoBlue
20 minutes ago

UMGoBlog

Michigan Football


Drake Johnson runs west needs to head north #GoBlue
21 minutes ago

UMGoBlog

Michigan Football


Devin Gardner ugh #GoBlue
22 minutes ago

umichfootball

Michigan Football


Mario Ojemudia knocks down C.J. Brown's 3rd down pass and forces a Maryland punt. We'll have the ball at our 20 yard line.
23 minutes ago

UMGoBlog

Michigan Football


Norfleet fair catch? Why... #GoBlue
24 minutes ago

ESPN_BigTen

ESPN BigTen


Video: Illinois 16, Penn State 14 http://t.co/2CE4jX4rSO
24 minutes ago

UMGoBlog

Michigan Football


Maryland 4th and 6 #GoBlue
25 minutes ago

ESPNStatsInfo

ESPN Stats & Info


Justin Hardy had 2 catches for East Carolina on its opening drive - now at 348 career, one shy of Ryan Broyles FBS record.
29 minutes ago

umichfootball

Michigan Football


Will Hagerup's punt goes out of bounds at the Maryland 7 yard line; 3:42 in the 1st.
29 minutes ago

UMGoBlog

Michigan Football


1st and 10 Maryland at the 7 #GoBlue
30 minutes ago

ESPN_BigTen

ESPN BigTen


Video: No. 11 Michigan State 45, Rutgers 3 http://t.co/aOUwdPIzL8
30 minutes ago

UMGoBlog

Michigan Football


Devin Gardner to Devin Funchess inc 4th down and 7 #GoBlue
31 minutes ago

UMGoBlog

Michigan Football


Devin Gardner finds Butt for a 2 yd loss #GoBlue
32 minutes ago

UMGoBlog

Michigan Football


Devin Gardner to Devin Funchess 1st and 10 #GoBlue
33 minutes ago

UMGoBlog

Michigan Football


Devin Gardner scrambles for 4 #GoBlue
33 minutes ago

UMGoBlog

Michigan Football


Devin Gardner CAN throw the ball away #GoBlue
34 minutes ago

BTN_Michigan

Big Ten Network


#UMich video: Matt Wile's Field Goal Goes Through http://t.co/fZ9VHb2s4c
35 minutes ago

UMGoBlog

Michigan Football


Justice Hayes tearing it up 13 yds 1st and 10 at the Maryland 42 #GoBlue
35 minutes ago

UMGoBlog

Michigan Football


Justice Hayes grinds for 7 yds #GoBlue
35 minutes ago

BTN_Michigan

Big Ten Network


Watch @umichfootball Taco Charlton's big sack against Maryland QB C.J. Brown in the first quarter. #DQFanFavorite http://t.co/5BCTzW9seI
35 minutes ago

umichfootball

Michigan Football


1st & 10 at our own 22 yard line with 7:34 to play here in the first; leading 3-0.
37 minutes ago

umichfootball

Michigan Football


C.J. Brown is sacked by Taco Charlton on 3rd down; Terps to punt.
39 minutes ago

UMGoBlog

Michigan Football


Michigan takes over at the 22 #GoBlue
39 minutes ago

UMGoBlog

Michigan Football


Taco Charlton with the sack, Maryland to punt #GoBlue
39 minutes ago

BTN_Michigan

Big Ten Network


Watch @umichfootball Matt Wiles' 22-yard field goal attempt that goes through despite being blocked! http://t.co/W7NeVXmboB
41 minutes ago

BigTenNetwork

Big Ten Network


Fourth down? No problem for @umichfootball. Check out this fake punt! http://t.co/D9gazbzXwD
43 minutes ago

umichfootball

Michigan Football


Matt Wile is good from 22, up 3-0 early in the 1st.
44 minutes ago

UMGoBlog

Michigan Football


Michigan 3 Maryland 0 Q1 9:35 #GoBlue
45 minutes ago

UMGoBlog

Michigan Football


22 yd FG Good #GoBlue
45 minutes ago

BTN_Michigan

Big Ten Network


Joe Kerridge runs for 52-yards and a first down for @umichfootball against Maryland in the first quarter. http://t.co/8iEN9gD3gl
46 minutes ago

UMGoBlog

Michigan Football


Inc to Canteen 4th and goal #GoBlue
46 minutes ago

UMGoBlog

Michigan Football


Devin Gardner on the keeper 3rd and 5 #GoBlue
46 minutes ago

UMGoBlog

Michigan Football


2nd and goal at the 7 Michigan knocking on the door #GoBlue
47 minutes ago

umichfootball

Michigan Football


FAKE! Fake punt, Joe Kerridge rushes it 52 yards to the Maryland 8 yard line.
47 minutes ago

BTN_Michigan

Big Ten Network


#Wolverines' J Kerridge breaks run for 52 yds. Kerridge with 52 yds rushing. Q1: MD 0, MICH 0 LIVE STREAM: http://t.co/0d0Kx2WepQ
47 minutes ago

UMGoBlog

Michigan Football


4th and 6 Michigan runs a trick play, direct snap long gain 1st and goal #GoBlue
48 minutes ago

ESPN_BigTen

ESPN BigTen


Instant Analysis: No. 25 Minnesota 28, No. 23 Nebraska 24 http://t.co/Wip9WyO5N7
48 minutes ago

UMGoBlog

Michigan Football


Devin Gardner dives for the 1st down called back on a penalty #GoBlue
48 minutes ago

UMGoBlog

Michigan Football


Devin Gardner with the pitch, 4th and 1 #GoBlue
49 minutes ago

umichfootball

Michigan Football


1st & 10 at our own 36 yard line.
51 minutes ago

UMGoBlog

Michigan Football


Michigan 1st and 10 at the 36 #GoBlue
51 minutes ago

umichfootball

Michigan Football


3 & out, Maryland. Terps on to punt.
52 minutes ago

BTN_Michigan

Big Ten Network


MICH-MD is underway. In-game tweets by @narrativesci: LIVE STREAM: http://t.co/0d0Kx2WepQ
53 minutes ago

UMGoBlog

Michigan Football


Maryland 1st and 10 at the 20 #GoBlue
54 minutes ago

UMGoBlog

Michigan Football


Game On #GoBlue
54 minutes ago

umichfootball

Michigan Football


Game time. #GoBlue
about an hour ago

umichfootball

Michigan Football


Michigan wins the toss and will defer to the 2nd half.
about an hour ago

ChantelJennings

Chantel Jennings


Shots. Fired. #MinnesotaNice https://t.co/0Od6rwCqhA
about an hour ago

ESPN_BigTen

ESPN BigTen


Nebraska fan wins best haircut of the day http://t.co/9KXauTYTnd
about an hour ago

TomVH

Tom VanHaaren


Welp, Minnesota wins the internet RT @GopherSports: @FauxPelini http://t.co/4PY7iY94Zt
about an hour ago

OnwardState

Onward State


"We've probably been asking for this all year long with the way we've been playing and it finally caught up to us." - Franklin
about an hour ago

ESPN_BigTen

ESPN BigTen


Instant analysis: No. 6 Ohio State 42, Indiana 27 http://t.co/2vnSYet2AW
about an hour ago

ESPN_BigTen

ESPN BigTen


Minnesota with the stunner against Nebraska, 28-24. Gophers were double-digit underdogs; have to give Kill and this team a lot of credit
about an hour ago

ChantelJennings

Chantel Jennings


Being from Minnesota I just can not wrap my head around the fact that Jerry Kill wasn't born and raised there. He's so Minnesota.
about an hour ago

B1Gfootball

Big Ten Football


Congrats to @OhioStAthletics on earning a 2nd straight berth in the #B1GFCG – we'll see you in Indy!
about an hour ago

ChantelJennings

Chantel Jennings


You betcha, Minnesota. Dem der Gofers...
about an hour ago

ESPN_BigTen

ESPN BigTen


Illinois upsets PSU, 16-14, with a game-winning 36-yard FG with 8 seconds left.Illinois-N'western is now a bowl play-in game next week ...
about an hour ago

umichfootball

Michigan Football


.@DevG98 is 1 of 10 finalists for the @SnrCLASSAward, take a minute to vote for No. 98. » http://t.co/U2DEpMLR8t http://t.co/aPONZo4ZUP
about an hour ago

ESPN_BigTen

ESPN BigTen


And, at #PSUvsIll, it's all coming down to an Illinois kick. PSU leads 14-13, but Illinois is lining up for a 35-yard FG. Will be :13 left
about an hour ago

mikerothstein

Michael Rothstein


More from #Harvard in fall (Sorry Yale). #Boston #Cambridge http://t.co/w2KkajqcHb
about an hour ago

NUFBFamily

#B1GCats Football


THERE GOES THAT MAN. Justin Jackson takes it 68 yards TO THE HOUSE! #B1GCats
about an hour ago

mikerothstein

Michael Rothstein


#Harvard in fall. #Boston #travel2014 http://t.co/99fPtdR3GU
about an hour ago

ChantelJennings

Chantel Jennings


ASU and Wazzu are all tied up at 21, but seriously, if this is Luke Falk Game 2, can you imagine what he'll be like as a senior?
about an hour ago

umichfootball

Michigan Football


Today's Senior Day programming will begin at 3:15 p.m. http://t.co/pWfcWIl38u
about an hour ago

bigtenconf

Big Ten Conference


Congratulations to @MSUTrackFieldXC on winning NCAA Women's Cross Country Championship, the 1st in program history. http://t.co/2UxRhm4S3T
about an hour ago

ChantelJennings

Chantel Jennings


Here for Marcus Mariotas "redshirt junior day/senior/stop asking he hasn't thought about it" day. http://t.co/2Ogev1cNT2
about 2 hours ago

ESPN_BigTen

ESPN BigTen


PSU's sputtering offense finds a huge break on a 47-yard TD run by Akeel Lynch. Didn't look like PSU was getting a TD from a long drive ...
about 2 hours ago

JBFWorldwide

JBF Worldwide


JBF global ambassador @jayfeely created The Feely Family Foundation to help educate & protect children #Celebs4Change http://t.co/E0Ub2yiCiz
about 2 hours ago

ESPN_BigTen

ESPN BigTen


Even if OSU tacks on another TD or two against IU, this game isn't going to help those playoff hopes much.Not when OSU was a 34.5-point fave
about 2 hours ago

ESPN_BigTen

ESPN BigTen


We could have a 2nd school rushing record fall today, too. Cobb needs 35 yds to break Laurence Maroney's mark of 1,464 yards from 2005.
about 2 hours ago

ESPN_BigTen

ESPN BigTen


Passes Vaughn Dunbar's 1991 total of 1,805 MT @HoosierFootball: Tevin Coleman's 1,821 rush yds are the most in a single season in IU history
about 2 hours ago

ESPN_BigTen

ESPN BigTen


Passes Vaughn Dunbar's 1991 total of RT @HoosierFootball: Tevin Coleman's 1,821 rushing yards are the most in a single season in IU history.
about 2 hours ago

ESPN_BigTen

ESPN BigTen


OS-Who? The Hoosiers are leading -- yes, LEADING -- the Buckeyes by a score of 20-14 right now, after a 90-yard Coleman TD. Crazy.
about 2 hours ago

ESPN_BigTen

ESPN BigTen


Game on in Lincoln.
about 2 hours ago

ScoutMichigan

Go Blue Wolverine


#GoBlue Michigan vs. Maryland Strategy File - The absence of Maryland top two pass-catchers might lead some... http://t.co/NYYPyQx3pj
about 2 hours ago

umichfootball

Michigan Football


.@DevG98 on arrival. http://t.co/G2xi6k5Ru4
about 2 hours ago

mikerothstein

Michael Rothstein


So this is real, this person is real and happening in Boston right now. #grinch http://t.co/hfQcNimUr2
about 2 hours ago
BLOG ARCHIVE:
CATEGORIES: