3 Up, 3 Down: Ohio State 26, Michigan 21
November, 25, 2012
11/25/12
9:00
AM ET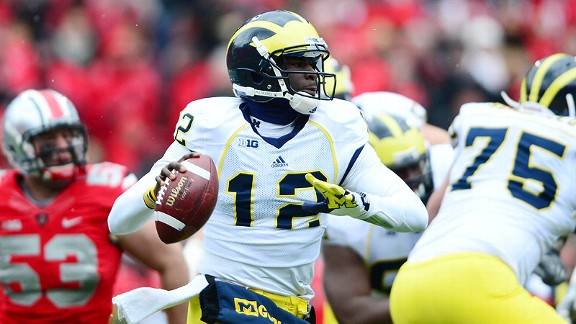 Andrew Weber/US PressiwireDevin Gardner and the offense was shut out in the second half against the Buckeyes.
COLUMBUS, Ohio -- The Wolverines saw a lot of same old, same old on the road Saturday in a 26-21 loss to undefeated archrival Ohio State.
Good defensive play, individual standouts and some major questions on offense. Now with a month until a New Year's Day bowl wraps up this season, the Wolverines have a lot to think about and work on for the future.
Here are three big positives and negatives for Michigan out of its regular season finale.
To continue reading this article you must be an Insider
Insider
Gardner Feeling Comfortable With Offense
QB Devin Gardner says he is feeling comfortable with the new offense after a record-breaking win for Michigan.
Gardner Feeling Comfortable With Offense
VIDEO PLAYLIST
MICHIGAN FB RECRUITING SCORECARD
BTN_Michigan

Big Ten Network


Listen to what Brady Hoke had to say as @umichfootball gears up for week 2 of #B1G football action. http://t.co/AzES4kU4ih
29 minutes ago

BTN_Michigan

Big Ten Network


#Michigan news: Watch BTN2Go's live volleyball net camera for Big Ten matches http://t.co/gRFETKSYe1
38 minutes ago

ChantelJennings

Chantel Jennings


I always wonder what my credit card company thinks of me when they see that 90% of my charges from Aug-Feb are only coffee and Chipotle.
48 minutes ago

bigtenconf

Big Ten Conference


Today marked the first day of fall classes at Maryland, Michigan, Minnesota, Rutgers and Wisconsin. Welcome back to campus, #B1G students.
53 minutes ago

mikerothstein

Michael Rothstein


Matthew Stafford on Corey Fuller. #Lions http://t.co/83iK1vGGLw
about an hour ago

mikerothstein

Michael Rothstein


Sweaty Calvin Johnson needs a face towel. #Lions http://t.co/k0SWt0LlJK
about an hour ago

ChantelJennings

Chantel Jennings


On my way home from a late dinner in Eugene last night I passed Autzen. Lots of office lights still on at 10:30. #MSUweek
about an hour ago

ESPN_BigTen

ESPN BigTen


Big Ten bowl projections: Week 1 http://t.co/uFBPdYc9Ic
about an hour ago

mikerothstein

Michael Rothstein


Kyle Van Noy out half the season for the #Lions. News story: http://t.co/pgC4fWl7Nn
about an hour ago

mikerothstein

Michael Rothstein


#Lions practice report, where the safety group is looking kind of thin: http://t.co/7csAyoLgdK
about an hour ago

mikerothstein

Michael Rothstein


Wrote this Thursday when Van Noy had surgery. Mayhew not so good with the second round draft selections for #Lions http://t.co/B66Kv9cLaJ
about an hour ago

mikerothstein

Michael Rothstein


In other rookie things for the #Lions, S Jerome Couplin got a pretty good birthday gift -- a roster spot: http://t.co/AD1cCSUH5S
about an hour ago

mikerothstein

Michael Rothstein


That's two 2014 draft picks the #Lions won't have for a while due to injury: Van Noy (2nd round); TJ Jones (6th round).
about an hour ago

ChantelJennings

Chantel Jennings


UCLA RT @Ryan_Kartje: OL coach Adrian Klemm: "That was one of the sh*ttiest performances I've ever been a part of as a player or coach.""
about an hour ago

mikerothstein

Michael Rothstein


#Lions put Kyle Van Noy on short-term IR, per team. Re-signed Darryl Tapp.
about an hour ago

mikerothstein

Michael Rothstein


No Ihedigbo, Carey, Van Noy for #Lions
about 2 hours ago

ChantelJennings

Chantel Jennings


@TomVH super, follow that up with a list of "people shorter than Chantel" story. Won't be a blank page, shortie.
about 2 hours ago

ChantelJennings

Chantel Jennings


@TomVH it'll be a short show though. Only one thing: he lives 2,500 miles away from me.
about 2 hours ago

ChantelJennings

Chantel Jennings


@TomVH that's too bad because our first show is called "All of our favorite things about Tom VH."
about 2 hours ago

ChantelJennings

Chantel Jennings


Exciting news: tomorrow were premiering a Pac-12 only Spreecast at 2 pm. Stop by.
about 2 hours ago

bigtenconf

Big Ten Conference


Heilman totaled 13 points on weekend, Licata gave up just 1 goal vs pair of ranked foes & Conley anchored back line. http://t.co/tx5grFQNjr
about 2 hours ago

bigtenconf

Big Ten Conference


#B1G Field Hockey honors: Audra Heilman (@IUFieldHockey) is Off. POW; Kylie Licata & Cori Conley (@PennStateFH) Def. Player & Frosh of Week.
about 2 hours ago

ESPN_BigTen

ESPN BigTen


B1G conference call: Best of Week 2 http://t.co/hYkhZaaHqb
about 2 hours ago

ChantelJennings

Chantel Jennings


That nugget brought to you by @ESPNStatsInfo and their brilliant minds.
about 2 hours ago

mikerothstein

Michael Rothstein


Want to learn a little bit (maybe a lot) more about #Lions DT Ndamukong Suh, read this long piece from @merrillLiz http://t.co/S9VBS4i0Ma
about 2 hours ago

ChantelJennings

Chantel Jennings


Interesting note: Since 2013 the Ducks have run the zone read on 44% of rushes. MSU D has only faced it on 12% of rush attempts since 2013.
about 2 hours ago

ChantelJennings

Chantel Jennings


There's a new No. 2 and No. 3 in this week's Pac-12 power rankings: http://t.co/vs6PC3aQiB
about 2 hours ago

ChantelJennings

Chantel Jennings


Mariota and the Ducks prepare to face the vaunted Spartan defense: http://t.co/rhJUCKYKli
about 3 hours ago

mikerothstein

Michael Rothstein


The #Lions are 18th in the preseason ESPN Power Rankings (and my own Power Rankings ballot): http://t.co/KwwoF0weec
about 4 hours ago

ESPN_BigTen

ESPN BigTen


Big Ten Power Rankings: Week 1 http://t.co/jD2PPH6MNW
about 4 hours ago

ESPN_BigTen

ESPN BigTen


Fitzgerald seems in good spirits. Opens by making a crack about his opponent's starter: "If it's on the Internet, it must be true. Right?"
about 4 hours ago

bigtenconf

Big Ten Conference


First weekly #B1G Field Hockey awards are out. Stay tuned for details of all three award winners: http://t.co/thEYOieVOv #B1G
about 4 hours ago

ChantelJennings

Chantel Jennings


Interesting note from Shaw: there are guys you notice and guys you game plan around. Leonard Williams is one you game plan around.
about 4 hours ago

ChantelJennings

Chantel Jennings


Ted Miller was just referred to as "The Great Ted Miller" on the Pac-12 coaches teleconference. #MicDropped #MakeItTrend #GreatTedMiller
about 4 hours ago

ESPN_BigTen

ESPN BigTen


How big is this weekend for Ohio State recruiting? Meyer: "Probably the biggest of the year." Night games always a big draw ...
about 4 hours ago

ESPN_BigTen

ESPN BigTen


Badgers sticking with Tanner McEvoy http://t.co/ZppP7xYZxg
about 4 hours ago

bigtenconf

Big Ten Conference


Defensive Player of the Week is @IUMensSoccer's Webb after making seven saves on the weekend against Marquette and Georgetown
about 4 hours ago

bigtenconf

Big Ten Conference


Offensive Player of the Week is @MarylandMSoccer's Eticha after scoring a game winning goal and adding an assist over Coastal Carolina
about 4 hours ago

ESPN_BigTen

ESPN BigTen


Urban Meyer on QB J.T. Barrett: "It was what I expected. He's a very cool, collected guy. ... I thought he handled himself very well."
about 4 hours ago

bigtenconf

Big Ten Conference


Maryland's Mikias Eticha and Indiana's Colin Webb named men's soccer Offensive and Defensive Players of the Week. http://t.co/BS9FRUPO6y
about 4 hours ago

ESPN_BigTen

ESPN BigTen


Franklin said he would like to see a more balanced offense -- Hackenberg had 450+ passing yards -- and says PSU has "some work to do."
about 4 hours ago

DaveBrandonAD

Dave Brandon


MT @umichrowing: Felice Mueller finishes 3rd in quad sculls at #WRChamps; Ellen Tomek places 6th in double sculls. http://t.co/DanDwR4GCR
about 4 hours ago

ESPN_BigTen

ESPN BigTen


Hazell said he's expecting QB Etling to take on a "point guard" role w/ distribution. Took no sacks and committed no TOs vs. W. Michigan.
about 4 hours ago

ChantelJennings

Chantel Jennings


Sounded petulant to me. MT @TedMillerRK A extremely brief Mora on protection struggles vs. UVA. I'd rate his mood between grumpy & crusty.
about 4 hours ago

ESPN_BigTen

ESPN BigTen


Maryland WR Taivon Jacobs is out for the sason -- but Edsall said he's not concerned w/ depth. Hard not to like corps w/ Long and Diggs.
about 4 hours ago

BTN_Michigan

Big Ten Network


#Michigan news: Ranking the Games: Michigan State at Oregon highlights Week 2 slate http://t.co/K4roICCNmB
about 5 hours ago

bigtenconf

Big Ten Conference


.@MarylandMSoccer and @IUMensSoccer Receive First Weekly Men's Honors: http://t.co/qGw1BGbWN3
about 5 hours ago

ESPN_BigTen

ESPN BigTen


Time to reconsider Nebraska's offense? http://t.co/za20XJiD4u
about 5 hours ago

ESPN_BigTen

ESPN BigTen


Kyle Flood on opening eyes w/WSU win: "When you're the new kid on the block, it doesn't surprise me that people have questions about us."
about 5 hours ago

mikerothstein

Michael Rothstein


@Matt_Fortuna Always.
about 5 hours ago

ESPN_BigTen

ESPN BigTen


Kill on injuries on the defensive line: "Some of our young guys are going to have to step it up." Says personnel decisions to come later.
about 5 hours ago

mikerothstein

Michael Rothstein


From earlier, why J.J. Watt's new contract could have an influence on #Lions DT Ndamukong Suh: http://t.co/InqzgNyEdu
about 5 hours ago

ESPN_BigTen

ESPN BigTen


Minnesota's Jerry Kill on Middle Tennessee: "We're playing a team, athletically, that is gifted."
about 5 hours ago

UMGoBlog

Michigan Football


Joel Stave (shoulder) out indefinitely http://t.co/oB61tSKDGR
about 5 hours ago

ESPN_BigTen

ESPN BigTen


Ferentz, asked about Ball State, which plays Iowa on Saturday: "It's great to get a question about our opponent."
about 5 hours ago

ESPN_BigTen

ESPN BigTen


Kirk Ferentz preparing to move into his fifth office at Iowa in latest round of facility improvements.
about 5 hours ago

ESPN_BigTen

ESPN BigTen


Dantonio on whether a win Saturday could change perception of the Big Ten: "We won the Rose Bowl last year."
about 5 hours ago

ESPN_BigTen

ESPN BigTen


More Dantonio on Oregon matchup: "To sit there and say it's just about their offense and our defense would be a mistake."
about 5 hours ago

ESPN_BigTen

ESPN BigTen


Dantonio on carrying Big Ten banner: "This is about how we match up, but there's no question we go there representing the Big Ten."
about 5 hours ago

ESPN_BigTen

ESPN Big Ten


Dantonio: "Oregon is certainly cutting edge in terms of their off. philosophy. They have very good players doing what they're asked to do."
about 5 hours ago

ESPN_BigTen

ESPN BigTen


Dantonio: "Oregon is certainly cutting edge in terms of their off. philosophy. They have very good players doing what they're asked to do."
about 5 hours ago

ESPN_BigTen

ESPN BigTen


Pelini says he has a lot of respect for FCS programs: "There's a lot of good football teams. I wish I could name them all."
about 5 hours ago

ESPN_BigTen

ESPN BigTen


Bo reiterates that DE Randy Gregory is likely out this week and probable to play against Fresno State on Sept. 13.
about 5 hours ago

ESPN_BigTen

ESPN BigTen


Pelini on Abdullah: "You don't become the kind of football player he's become by taking days off."
about 5 hours ago

ESPN_BigTen

ESPN BigTen


Nebraska coach Bo Pelini on concern of Huskers looking past McNeese State: "There's always that risk .. You just hear outside noise."
about 5 hours ago

ChantelJennings

Chantel Jennings


https://t.co/rE2S4o9Kr3 RT @GregO_ESPN Gus Malzahn on the Auburn ball boy "That was pretty impressive. I didn't know he could run that way."
about 5 hours ago

ESPN_BigTen

ESPN BigTen


GA said he's not ruling out QB Stave coming back for the bye week. But there's no timetable. Says it's day-to-day. "We'll see what happens."
about 5 hours ago

ESPN_BigTen

ESPN BigTen


Who's Gary Andersen rooting for in the Oregon-Michigan State game? "I'll be pulling for the Big Ten, without question." Plans to watch.
about 5 hours ago

ChantelJennings

Chantel Jennings


Marcus Mariota stays at No. 2 in the Heisman watch but it's a brand new No. 1 that he sits behind: http://t.co/cd3Si0b0dk
about 5 hours ago

ESPN_BigTen

ESPN BigTen


Bart Houston will back up Tanner McEvoy this Saturday and until Stave returns from his shoulder issues. No timetable on his return.
about 5 hours ago

ESPN_BigTen

ESPN BigTen


Hoke declines -- twice -- to talk about any injuries. No comment on the status of Jabrill Peppers, who missed the second half with injury.
about 6 hours ago

ESPN_BigTen

ESPN BigTen


Hoke says U-M needs to establish a run game vs. Notre Dame. Didn't have a problem Saturday- 36 carries, 350 yds- but App St a bit different
about 6 hours ago

ESPN_BigTen

ESPN BigTen


B1G coaches' call starts in a few minutes. Look for updates from every coach from @mitchsherman, @ESPNJoshMoyer, @AWardESPN & @BennettESPN
about 6 hours ago

ESPN_BigTen

ESPN BigTen


B1G schedules enter new, exciting phase http://t.co/MLS83B3LQP
about 6 hours ago

MikeWScout

Mike Wilson


Dantonio says MSU did a spring study and a summer study on Oregon.
about 6 hours ago

DaveBrandonAD

Dave Brandon


An honor for #umich RT @UofMGolfCourse: Part of Alister MacKenzie's "Dream 18". Number 6 at UMGC #PGA365 http://t.co/mlrOKknYwY
about 6 hours ago

mikerothstein

Michael Rothstein


We've been discussing Suh a bit this morning. Here's the preview of tonight's E:60 piece on the #Lions DT: http://t.co/ZwokYVOCDC
about 7 hours ago

mikerothstein

Michael Rothstein


Why J.J. Watt's new contract extension could be an influence on Ndamukong Suh (and a problem for the #Lions): http://t.co/InqzgNyEdu
about 7 hours ago

ESPN_BigTen

ESPN BigTen


Dear Sparty: SOS http://t.co/xRkylb3VnT
about 7 hours ago

ESPN_BigTen

ESPN BigTen


Weekend recruiting wrap: Big Ten http://t.co/iT2FayF9hP
about 8 hours ago

ESPN_BigTen

ESPN BigTen


Planning for success: Ohio State http://t.co/V5nF4FD5Bh
about 9 hours ago

mikerothstein

Michael Rothstein


For your #Giants needs this week, give my buddy @DanGrazianoESPN a follow. He'll make you laugh, too. Also @ConorTOrr
about 9 hours ago

umichfootball

Michigan Football


Notre Dame Week. #GoBlue http://t.co/JRZv0HHb8D
about 9 hours ago

UMGoBlog

Michigan Football


RT @LorneEC3: Let's us never speak of this school in Boone, NC again. It is now ND week. Have someone do your homework like a champion today
about 9 hours ago

mikerothstein

Michael Rothstein


Today's #Lions Morning Roar, with quarterback Kellen Moore excited about still being around http://t.co/Oe1SRZJ0v5
about 10 hours ago

mikerothstein

Michael Rothstein


My game-by-game picks for the Detroit #Lions, leading to....an 8-8 record: http://t.co/qPQRtnnA3j What do you think?
about 10 hours ago

ESPN_BigTen

ESPN BigTen


Big Ten morning links http://t.co/F1mccwr2mV
about 10 hours ago

DVNJr

Don Van Natta Jr.


Tonight: @OTLonESPN's live special: Washington's Nickname, an NFL Dilemma. @BobLeyESPN & @JohnBarrESPN 8 pm ET ESPN2 http://t.co/vdwYV8zKVT
about 10 hours ago

mikerothstein

Michael Rothstein


From last night, #Lions DT Nick Fairley hired a chef to help control his eating habits & weight: http://t.co/5Ky3aqkCcE
about 10 hours ago

DevG98

Devin Gardner


A goal without a plan is just a wish! #HaveAPlan http://t.co/We4V3gIwhw
about 20 hours ago

mikerothstein

Michael Rothstein


Nick Fairley hired a chef last month to help with his diet. #Lions http://t.co/5Ky3aqkCcE
about 21 hours ago

DevG98

Devin Gardner


Trying to get rid of these 6s! Size 14 and no I'm not giving them away! Lol http://t.co/U81JDI2AJd
about 22 hours ago

mikerothstein

Michael Rothstein


#Lions safety James Ihedigbo says he'll be ready to play against the #Giants: http://t.co/ewGPKsl7UM
about 22 hours ago

mikerothstein

Michael Rothstein


I make my predictions for the 2014 #NFL season, including no playoffs for the #Lions: http://t.co/qhSQcNVn9c
about 22 hours ago

mikerothstein

Michael Rothstein


I couldn't see the road on my drive home... RT @CassiusVaughn: Why does it FLOOD in the Detroit so much
about 22 hours ago

mikerothstein

Michael Rothstein


Nick Fairley's back starting again -- story with quotes: http://t.co/pv9vLmgK0A #Lions
about 23 hours ago

RivalsFriedman

Adam Friedman


#Michigan has offered 2016 5-star DE Rahshaun Smith @Nextlevel_shaq @TimS_Wolverine
about 23 hours ago

mikerothstein

Michael Rothstein


Today's Detroit #Lions practice report: http://t.co/kFmPC77HgF
1 day ago

PaulKuharskyNFL

Paul Kuharsky


Whiz: Durham has been a productive receiver. Shawn Jefferson knows him a little bit. #Titans
1 day ago

BTN_Michigan

Big Ten Network


Hey @umichfootball fans - where did Devin Funchess' big day rank in our Week 1 top plays? http://t.co/fi27cQ7qEp
1 day ago
BLOG ARCHIVE:
CATEGORIES: