Denard Robinson Record Watch
October, 16, 2012
10/16/12
12:00
PM ET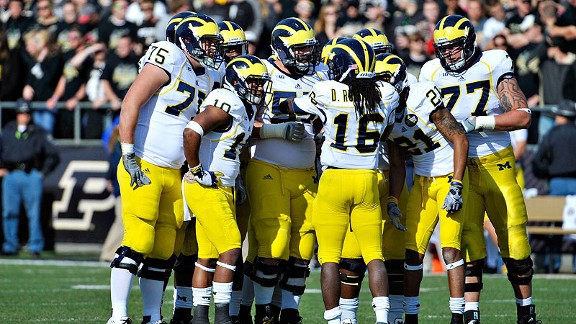 Sandra Dukes/US PresswireDenard Robinson has four 100-yard rushing games this season, two in which he surpassed 200.
As
Denard Robinson
continues through his final season at Michigan, the senior quarterback continues to climb among the career leaders at his school, in his conference as well as all of FBS .
Below is where Robinson stands with records he has a chance -- even if it is remote in some cases -- of setting with anywhere between six and eight games left in his career.
FBS CAREER QUARTERBACK RUSHING YARDS:
1. Pat White, West Virginia (2005-08):
4,480 yards.
Total yards Robinson needs to pass White: 448.
To continue reading this article you must be an Insider
Insider
Quicker Turnaround: Florida Or Michigan?
Kelly Stouffer and Anthony Becht explain the merits of Florida and Michigan, and debate which program will have a quicker turnaround.
Quicker Turnaround: Florida Or Michigan?
VIDEO PLAYLIST
MICHIGAN FB RECRUITING SCORECARD
mikerothstein

Michael Rothstein


What the #lions are practicing on -- part turf, part grass. http://t.co/5T6DhzEFQr
32 minutes ago

mikerothstein

Michael Rothstein


Joique Bell and Reggie Bush at #lions practice working in a drill. http://t.co/43Ivae1hs1
33 minutes ago

mikerothstein

Michael Rothstein


Theo Riddick running at practice. #Lions http://t.co/4NDuomJTA0
33 minutes ago

mikerothstein

Michael Rothstein


The #Lions are trying to keep momentum in London in this week's buzz video: http://t.co/scZqgG2qj4
35 minutes ago

mikerothstein

Michael Rothstein


The #England #rugby symbol looks like something else, too. #rosebowl #bigten #b1g #collegefootball http://t.co/pTuQ7gbTIj
36 minutes ago

mikerothstein

Michael Rothstein


A view of the # Lions practice digs from up high. http://t.co/6zUdirRcdb
46 minutes ago

mikerothstein

Michael Rothstein


The #Lions trip timed nicely for linebacker Tahir Whitehead. His anniversary is tomorrow: http://t.co/BwRuaEjoym
53 minutes ago

mikerothstein

Michael Rothstein


A sparse amount of #Lions tight ends at practice. http://t.co/1mX8oznnks
about an hour ago

mikerothstein

Michael Rothstein


#Lions running backs working out at practice. #bagshot #london http://t.co/aoiKpcVHQW
about an hour ago

mikerothstein

Michael Rothstein


No Ansah, Calvin, Waddle, Pettigrew, Fauria or Ebron at #Lions practice.
about an hour ago

mikerothstein

Michael Rothstein


A sign of the # Lions meeting rooms. # London http://t.co/qMPKm6fjRk
about an hour ago

mikerothstein

Michael Rothstein


Ndamukong Suh getting ready to address the media. #Lions http://t.co/LF0AQ2wW9m
about an hour ago

mikerothstein

Michael Rothstein


Ndamukong Suh talking to the media at Bagshot. #Lions http://t.co/KVbSVmb1IZ
about an hour ago

mikerothstein

Michael Rothstein


Listening to the British media discuss American football is interesting. One guy just talked about falling asleep during a #Bears game.
about an hour ago

mikerothstein

Michael Rothstein


Today's #Lions Morning Roar from England, where Reggie Bush says the Saints win was a bit extra: http://t.co/1draO5Lli4
about 2 hours ago

mikerothstein

Michael Rothstein


The #Lions re-signed Jerome Couplin to their practice squad, bringing him to Europe: http://t.co/vYHoTJqdoP
about 2 hours ago

jkatzenstein

Josh Katzenstein


Understandably with the jet lag, Jim Caldwell tripped on his words during press conference and created a new word, "Sackle."
about 2 hours ago

mikerothstein

Michael Rothstein


Caldwell said they made the practice squad move b/c they needed guys on both sides. Said difficult to do since Powell just got here. #Lions
about 2 hours ago

mikerothstein

Michael Rothstein


Caldwell just dropped a Patton "Take care of your men" reference in dealing with players. Said he wrote it down after reading it. #Lions
about 2 hours ago

mikerothstein

Michael Rothstein


Caldwell said it is day-to-day on Ebron & Fauria but they are "rapidly improving." #Lions
about 2 hours ago

mikerothstein

Michael Rothstein


Caldwell on Stafford: "He's quite a guy." #Lions
about 2 hours ago

mikerothstein

Michael Rothstein


Caldwell said he did not chat with the team about Ebola before coming over to London. Mostly because of private charter. #Lions
about 2 hours ago

mikerothstein

Michael Rothstein


Caldwell said they gave out packets & put information on iPads & had sleep specialist to come in and chat with #Lions about travel.
about 2 hours ago

mikerothstein

Michael Rothstein


Caldwell: Hester will keep you up late at night. Wake you up in the middle of the night sometimes. #Lions #Falcons
about 2 hours ago

mikerothstein

Michael Rothstein


Caldwell said coaches worked ahead in the US on an Atlanta game plan. Players were not allowed to talk about the Falcons until after Sunday
about 2 hours ago

mikerothstein

Michael Rothstein


Caldwell said this facility would be a great place to hold training camp. I, for one, would be OK with that. #Lions
about 2 hours ago

mikerothstein

Michael Rothstein


William Powell has been released from the practice squad. Not sure what happens to him now. #Lions
about 3 hours ago

mikerothstein

Michael Rothstein


Jerome Couplin is headed to England after all. The #Lions signed him to their practice squad. No word on who was released & how that works.
about 3 hours ago

mikerothstein

Michael Rothstein


Bush watched Hayne play rugby in Australia in the State of Origin. #rugby
about 3 hours ago

mikerothstein

Michael Rothstein


Reggie Bush again asked about the rugby star Jarryd Hayne, who he has spoken with about the #NFL
about 3 hours ago

mikerothstein

Michael Rothstein


Bush said "for a period, it felt like we were facing the number one run defense every week." #Lions
about 3 hours ago

mikerothstein

Michael Rothstein


Reggie Bush went into London last night to have dinner with his wife. Rest of time in Bagshot. #Lions
about 3 hours ago

mikerothstein

Michael Rothstein


Reggie Bush does NOT have a two-story room. Just a single level. Thinks it is based on size (Suh a bigger dude). #Lions
about 3 hours ago

mikerothstein

Michael Rothstein


Suh said the only player who talks to him on field is Larry Fitzgerald
about 3 hours ago

mikerothstein

Michael Rothstein


Suh did a Nike event with Steven Jackson last night. Said he is almost like family. #lions
about 3 hours ago

mikerothstein

Michael Rothstein


Suh said Caldwell is not "a yeller and cusser."
about 3 hours ago

mikerothstein

Michael Rothstein


Suh said the best trip he has ever taken was to Cameroon. #lions
about 3 hours ago

mikerothstein

Michael Rothstein


Suh has a two-story room at PennyHill here in Bagshot. #Lions
about 3 hours ago

mikerothstein

Michael Rothstein


The lights of Oxford Circus at night. #london http://t.co/koIf4OkWEl
about 7 hours ago

ScoutMichigan

Go Blue Wolverine


#Wolverines Kinnel: "I'm Still Solid" - Huber Heights (Ohio) Wayne S Tyree Kinnel has a growing number of s... http://t.co/rUT5Ya3iQt
about 9 hours ago

ChantelJennings

Chantel Jennings


Excited to be headed back to the mitten tonight to emcee the Michigan Sport Business Conference (@UMSBC) on Friday.
about 13 hours ago

jayfeely

Jay Feely


Not a bad way to spend a day with good friends#Pebble http://t.co/8h9UzDQAu5
about 13 hours ago

ChantelJennings

Chantel Jennings


Week 8 Pac-12 Blog Play of the Week winner is Oregon WR Dwayne Stanford: http://t.co/Hpd3SU91wk
about 14 hours ago

bigtenconf

Big Ten Conference


ICYMI: Six #B1G field hockey teams remain ranked this week, including three in the top 10 http://t.co/ozySBsZz7X
about 14 hours ago

Justin_Rogers

Justin Rogers


No one claimed Jerome Couplin, so the Lions are free to sign him back to the team's practice squad.
about 16 hours ago

mikerothstein

Michael Rothstein


A long 48 hours for new #Lions TE Kellen Davis culminated in a trip to London -- at being up for 24 hours straight http://t.co/ALDrmk57kU
about 16 hours ago

ChantelJennings

Chantel Jennings


Utah is turning to Travis Wilson at QB… for now: http://t.co/7NlEfBDUr4
about 16 hours ago

bigtenconf

Big Ten Conference


Four #B1G men's cross country teams ranked in the latest @USTFCCCA poll, including No. 6 @Badger_Track: http://t.co/5YLorK4pcO
about 17 hours ago

bigtenconf

Big Ten Conference


In the @USTFCCCA poll, five #B1G women's teams are ranked, including No. 1 @MSUTrackFieldXC and No. 4 @umichtrack: http://t.co/DGr9wuR2Ex
about 17 hours ago

BTN_Michigan

Big Ten Network


#Michigan news: Audio: Listen to your Big Ten coach's Week 9 teleconference http://t.co/SzRdsAt0Zd
about 17 hours ago

tamcarr21

Tammi Carr


http://t.co/LLNWNMbC7s @DesmondHoward #chadtough
about 18 hours ago

Jaguars

Jacksonville Jaguars


1st career 100-yd game. 1st career TD.Vote DRob for @FedEx Ground @nfl Player of the Week: http://t.co/pBsedwGvDA http://t.co/SfgEW7Sz3A
about 18 hours ago

ChantelJennings

Chantel Jennings


Four players that need to have big games for Oregon vs. Cal: http://t.co/Oz1uGdLd7q
about 18 hours ago

ESPN_BigTen

ESPN BigTen


Take Two: Future for MSU, Michigan http://t.co/WMR69hn6TK
about 18 hours ago

ScoutMichigan

Go Blue Wolverine


#Wolverines Football Minute: Protect Gardner, Big Plays - GBW's Josh Newkirk and Sam Webb break down U-M's ... http://t.co/r5dAbeF5N6
about 18 hours ago

ESPN_BigTen

ESPN BigTen


ICYMI: Get inside access to the @UnderArmour-@MarylandPride relationship and see why they say the sky is the limit. http://t.co/gL0oK50OoF
about 18 hours ago

BTN_Michigan

Big Ten Network


Listen to what Brady Hoke had to say as @umichfootball gears up for week 9 of #B1G football action. http://t.co/fCXKAtJOh6
about 19 hours ago

bigtenconf

Big Ten Conference


.@GopherBaseball has participated in 30 NCAA Baseball Tournaments, the most of any #B1G program #TraditionTuesday http://t.co/yHSn2HXHbb
about 19 hours ago

ESPN_BigTen

ESPN BigTen


For Spartans, a golden time to be green http://t.co/RKzkWNnXpk
about 19 hours ago

ScoutMichigan

Go Blue Wolverine


#Wolverines Cook Earns High Praise From Mattison - U-M defensive coordinator Greg Mattison gives high prais... http://t.co/PSTRIeJjnS
about 19 hours ago

BTN_Michigan

Big Ten Network


#Michigan news: Big Ten's best team? 5 reasons for Michigan State and Ohio State http://t.co/TnyVV79NQu
about 20 hours ago

ESPN_BigTen

ESPN BigTen


ICYMI: @B1Gfootball mascots groove to "Shake It Off." Now @taylorswift13 knows where to get dancers for next tour http://t.co/p0pmAuTIvY
about 20 hours ago

bigtenconf

Big Ten Conference


This week's #B1G field hockey honors include @umichfldhockey and @TerpFieldHockey | http://t.co/MhD2mJFEe6 http://t.co/nvgIahFb3a
about 20 hours ago

mikerothstein

Michael Rothstein


#Lions entertain kids & make a fan's day at a play 60 event (with picture of Devin Taylor's hair): http://t.co/1u7sbmxDYe
about 20 hours ago

ScoutMichigan

Go Blue Wolverine


#Wolverines Mattison on MSU's Offense:'They're Very Good' - Greg Mattison praised the MSU's offense, as the... http://t.co/4BhBfpZDhW
about 20 hours ago

bigtenconf

Big Ten Conference


Rachele Schulist of @MSUTrackFieldXC named the #B1G Women's Cross Country Athlete of the Week: http://t.co/RqUmD9aUe4 http://t.co/1YQiHxRQPi
about 20 hours ago

bigtenconf

Big Ten Conference


.@umichtrack's Mason Ferlic named the #B1G Men's Cross Country Athlete of the Week: http://t.co/BuWGXOw2QB http://t.co/oWg8h6viHa
about 20 hours ago

ChantelJennings

Chantel Jennings


You've got an hour left to vote for the Pac-12 Blog's Play of the Week, currently Oregon's Dwayne Stanford leads: http://t.co/dVhBU9JtC4
about 20 hours ago

mikerothstein

Michael Rothstein


Calvin Johnson progressing toward an eventual return for #Lions (although he wouldn't say if it as this week): http://t.co/3yCk5e6qeb
about 21 hours ago

mikerothstein

Michael Rothstein


This week's The Film Don't Lie focuses on the running game for the #Lions: http://t.co/Kr24nJ2XT2
about 22 hours ago

ESPN_BigTen

ESPN BigTen


The Big Ten coaches teleconference is underway. Follow @BennettESPN, @AWardESPN and @DanMurphyESPN for all your news and notes.
about 22 hours ago

McMurphyESPN

Brett McMurphy


Heisman odds: Mariota 3/2, Prescott 9/4, Gordon 6/1, Cooper, Golson & Winston 18/1, Abdullah, Wallace, Barrett & Marshall 20/1 via @BovadaLV
about 22 hours ago

BTN_Michigan

Big Ten Network


#Michigan news: Week 9 Big Ten Previews: Michigan at Michigan State, anyone? http://t.co/CSCPokdGd5
about 22 hours ago

ESPN_BigTen

ESPN BigTen


Backups emerge on Nebraska O-line http://t.co/z9scINFdBy
about 22 hours ago

TremendousUM

Steve Lorenz


Denard Robinson named AFC South Player of the Week #Michigan #goblue: http://t.co/szYLOtbyCg
about 22 hours ago

mikeproppe

Michael Proppe


Good read on Michigan's leader, @DevG98, from Angelique @chengelis in today's paper #GoBlue http://t.co/nOsyuASp2m
about 23 hours ago

ESPN_BigTen

ESPN BigTen


Michigan's offense needs more big plays http://t.co/mdvRrX0BfA
about 23 hours ago

mikerothstein

Michael Rothstein


#Lions RB Reggie Bush believes there will be a NFL team in #London: http://t.co/gQ34ANLa39
about 23 hours ago

mikerothstein

Michael Rothstein


Research told the Detroit #Lions to head to Europe early: http://t.co/7EDkMcV6bL
1 day ago

vxmcclure23

vaughn mcclure


Newly signed tackle Jonathan Scott has joined Falcons in London.
1 day ago

mikerothstein

Michael Rothstein


Just some #Lions waiting in line at Starbucks like everyone else. #london #coffee #brrr http://t.co/v3bAmS8x8g
1 day ago

ESPN_BigTen

ESPN BigTen


Big Ten a big factor for Terrapins' recruiting http://t.co/3onQTV1DaZ
1 day ago

ESPN_BigTen

ESPN BigTen


Weekend recruiting wrap: Big Ten http://t.co/ZiFvDemwrc
1 day ago

TonyDungy

Tony Dungy


God is constantly working in us through it all. #TroyandTonyTuesday http://t.co/D8nl2karbI
1 day ago

ESPN_BigTen

ESPN BigTen


Planning for success: Illinois http://t.co/GibBq7vHG5
1 day ago

UMGoBlog

Michigan Football


Michigan vs Michigan State Football – Looking Back -1990 #goblue http://t.co/UkAekGXtRg
1 day ago

ESPN_BigTen

ESPN BigTen


Big Ten morning links http://t.co/1qfFBSAaiQ
1 day ago

mikerothstein

Michael Rothstein


Quick tourist stop before work at the Marble Arch. #london # lions http://t.co/uI7h6jMLe5
1 day ago

ScoutMichigan

Go Blue Wolverine


#Wolverines Webblog: Michigan Recruiting Roundup (10/20) - GoBlueWolverine caught up with a number of top p... http://t.co/PoFCHWCSyz
1 day ago

mikerothstein

Michael Rothstein


Greetings from London! http://t.co/rJFkvQ97ZV
1 day ago

ScoutMichigan

Go Blue Wolverine


#Wolverines Football Minute: Moving Past PSU, Talking MSU - GBW's Josh Newkirk and Sam Webb talk Penn State... http://t.co/ULiUPjWdK1
1 day ago

ScoutMichigan

Go Blue Wolverine


#Wolverines Hoke Readies Wolverines For MSU - Watch U-M coach Brady Hoke as he addresses the media for his ... http://t.co/5I57NZwexO
1 day ago

bigtenconf

Big Ten Conference


#B1G mascots gonna play, play, play, play, play... http://t.co/pWWmfiKSKf
1 day ago

ChantelJennings

Chantel Jennings


Oregon's Dwayne Stanford has the lead in the Play of the Week vote. Voting closes at noon tomorrow. Get your pick in: http://t.co/dVhBU9JtC4
1 day ago

mikerothstein

Michael Rothstein


@davebirkett @kmeinke make it three from up here in comfort.
1 day ago

mikerothstein

Michael Rothstein


Boarding door closed. See y'all in London.
1 day ago

mikerothstein

Michael Rothstein


@Matt_Fortuna @ChristopherHine also some guy that's spoken...
1 day ago

mikerothstein

Michael Rothstein


Next stop, London! What up @nikiblasina. # Lions #Falcons http://t.co/SiQxto3J3C
1 day ago

mikerothstein

Michael Rothstein


This week's #Lions Inside The Play takes a look at Glover Quin's game-changing interception Sunday vs. #Saints: http://t.co/DH8y4mH3js
1 day ago

ESPN_BigTen

ESPN BigTen


ICYMI -- @GopherFootball gets some big love from @IGGYAZALEA and Eddie Vedder and @PearlJam this weekend. http://t.co/y4J3xHIsWC
1 day ago
BLOG ARCHIVE:
CATEGORIES: