McDowell keeps recruiting on down low
September, 5, 2012
9/05/12
1:30
PM ET
Defensive end
Malik McDowell
(Detroit/Loyola) has been a relatively quiet recruit. That's not a good thing for the fans, because the 2014 prospect happens to be one of the biggest in-state recruits.
His lack of interaction with the media has left some Michigan fans wondering where the Wolverines stand, and when he might make a decision.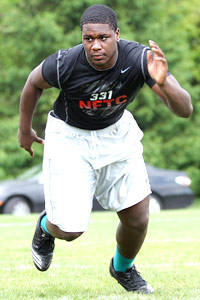 Tom Hauck/ESPNHS2014 DE Malik McDowell says he has pushed back his timetable for a decision.
"I don't call any coaches or anything. Nothing has died down [with Michigan], people just make it sound like that with the clothes I wear," he said. "I wear Michigan State shorts and they say I'm going to Michigan State, or I wear Michigan shorts and I'm going to Michigan. I really do like Michigan, nothing has changed with them."
To continue reading this article you must be an Insider
Insider
3Q MICH D. Gardner pass incomplete
Devin Gardner pass incomplete to De'Veon Smith
3Q MICH D. Gardner pass incomplete
VIDEO PLAYLIST
MICHIGAN FB RECRUITING SCORECARD
umichfootball

Michigan Football


Utah connects on a 48-yard attempt. Utah 23, Michigan 10.
about a minute ago

UMGoBlog

Michigan Football


FG Utah
about a minute ago

UMGoBlog

Michigan Football


Rain picks up here at the Big House #GoBlue
2 minutes ago

ESPN_BigTen

ESPN BigTen


Indiana's defense opens up the second half with an interception. And, with a tied 17-17 game, IU in great position to score here.
3 minutes ago

ESPN_BigTen

ESPN BigTen


Utah leads 20-10 at the Big House after three quarters. Michigan's offense has yet to make it inside the red zone today.
4 minutes ago

BTN_Michigan

Big Ten Network


#Michigan news: Gallery: Check out our favorite Week 4 Big Ten football photos http://t.co/jpNf7nWHTE
5 minutes ago

UMGoBlog

Michigan Football


Utah 20 UM 10 End of Q3 Brady it's time for some of that coaching stuff, clap, clap like the wind!!! #GoBlue
5 minutes ago

WRTreezy

Roy Roundtree


Not over until it says 0:00 on the scoreboard. #IBelieve #GoBlue #FinishStrongFellas
6 minutes ago

umichfootball

Michigan Football


After 3 Quarters: Utah 20, Michigan 10.
6 minutes ago

UMGoBlog

Michigan Football


Utah 1st down #GoBlue
11 minutes ago

umichfootball

Michigan Football


Utah ball.
12 minutes ago

umichfootball

Michigan Football


Gardner rolls out and is stopped right at the marker. Initial ruling is a turnover on downs, but the play is under review.
12 minutes ago

UMGoBlog

Michigan Football


Michigan turns the ball over on downs... Q3 winding down #GoBlue
13 minutes ago

ESPN_BigTen

ESPN BigTen


Interesting note: Navy currently has more pass attempts (12) than RU (10). RU running about four times for every pass. Worked well so far
13 minutes ago

ESPN_BigTen

ESPN BigTen


Michigan stopped short on a fourth down running attempt. Utah leads 20-10 with 1:33 to go in the third quarter.
13 minutes ago

umichfootball

Michigan Football


3rd & 8: Gardner finds Darboh for 5 yards. Michigan will go for it from the Utah 40.
14 minutes ago

ESPN_BigTen

ESPN BigTen


RU extends its lead to 14 on a long (6:32) drive. And Navy is not built for comebacks. Would be a huge win for RU if it holds on.
14 minutes ago

umichfootball

Michigan Football


Gardner keeps it. First down, Michigan.
16 minutes ago

umichfootball

Michigan Football


3rd & 10: Gardner's pass is complete to Justice Hayes, who's stopped juuust short. It'll be 4th & 1.
16 minutes ago

ChantelJennings

Chantel Jennings


That was cute. Blechen wiped off the logo before handing the helmet et back to Dimick.
19 minutes ago

umichfootball

Michigan Football


Derrick Green, making 1-handed catches, gaining a whole bunch of yards, etc.
20 minutes ago

UMGoBlog

Michigan Football


Utah to punt #GoBlue
21 minutes ago

nickbaumgardner

Nick Baumgardner


More booing, as this offense is rattling off the tracks.
26 minutes ago

UMGoBlog

Michigan Football


4th and 22 Michigan to punt #GoBlue
26 minutes ago

umichfootball

Michigan Football


The drive stalls, and Michigan is forced to punt.
26 minutes ago

UMGoBlog

Michigan Football


Michigan going in the wrong direction #GoBlue
27 minutes ago

UMGoBlog

Michigan Football


Weather is on the way #GoBlue RT @MVictors: here you go @UMGoBlog http://t.co/6YermrHfVn
28 minutes ago

umichfootball

Michigan Football


That's Justice. Hayes picks up 13 on 3rd & 1 and Michigan moves up to the Utah 39.
28 minutes ago

UMGoBlog

Michigan Football


Justice Hayes for the 1st down #GoBlue
29 minutes ago

umichfootball

Michigan Football


3rd & 4: Gardner tucks it and runs for a gain of 8. First down, Michigan.
31 minutes ago

ESPN_BigTen

ESPN BigTen


Navy obviously known for the run, but RU pulling the ole, "Anything you can do, I can do better." Averaging 7.4 ypc to Navy's 4.9 ypc.
34 minutes ago

ChantelJennings

Chantel Jennings


Bold words from the former WR. RT @OfficialBraylon Utah looks a lot more explosive and confident then michigan. I'm forgetting who's at home
34 minutes ago

UMGoBlog

Michigan Football


Ugh RT @OfficialBraylon: Utah looks a lot more explosive and confident then michigan. I'm forgetting who's at home
34 minutes ago

UMGoBlog

Michigan Football


Nussmeier eyeing Willie Henry for jumbo back??? #GoBlue
34 minutes ago

UMGoBlog

Michigan Football


Willie Henry the offensive force for Michigan right now #GoBlue
35 minutes ago

BTN_Michigan

Big Ten Network


TD UTAH: 28-yd pass from T Wilson to D Anderson. Q3: UTAH 20, MICH 10 LIVE SCORES: http://t.co/wmMlXKwpdR
36 minutes ago

UMGoBlog

Michigan Football


Utah 20 UM 10 Q3 13:33 #GoBlue
36 minutes ago

ESPN_BigTen

ESPN BigTen


Utah goes 67 yards in less than 90 seconds for a touchdown to start the second half. Utah 20, Michigan 10.
36 minutes ago

umichfootball

Michigan Football


Utah marches down the field, and pushes their lead to 10. Utah 20, Michigan 10 (13:33; 3Q).
36 minutes ago

UMGoBlog

Michigan Football


TD Utah
37 minutes ago

UMGoBlog

Michigan Football


Halftime stats Utah 35 plays for 128 yards, UM 35 plays for 173 yards #GoBlue
37 minutes ago

ChantelJennings

Chantel Jennings


*Whole team + DC Mattison RT @BonaguraESPN Michigan no longer putting the whole team in the box.
37 minutes ago

ESPN_BigTen

ESPN BigTen


Video: Michigan State cruises to easy win http://t.co/99SYwwVbcT
38 minutes ago

UMGoBlog

Michigan Football


Second half on tap #GoBlue
39 minutes ago

UMGoBlog

Michigan Football


We need to have UM Life flight come back and deliver some offense #GoBlue
39 minutes ago

umichfootball

Michigan Football


The second half is underway and Utah will begin from its 33.
39 minutes ago

ChantelJennings

Chantel Jennings


Took them an hour though, terrible pacing. RT @DanMurphyESPN Wisconsin ran for 0.37 miles today in its 68-17 win over Bowling Green.
43 minutes ago

ChantelJennings

Chantel Jennings


This guy: https://t.co/xoJdBPCitk RT @slmandel Wisconsin RAN for 644 yards today. Who knew that was even possible?
47 minutes ago

ESPN_BigTen

ESPN BigTen


Utah has three rushing yards in the first half. Kaelin Clay's punt return TD has the Utes in front of Michigan,13-10, at halftime.
about an hour ago

umichfootball

Michigan Football


Utah takes a 3-point lead into the break. http://t.co/5lmtxwvq78
about an hour ago

BTN_Michigan

Big Ten Network


UTAH's A Phillips hits 38-yd FG. Phillips 2-2 today. Q2: UTAH 13, MICH 10 LIVE SCORES: http://t.co/wmMlXKwpdR
about an hour ago

UMGoBlog

Michigan Football


Utah 13 UM 10 Halftime #GoBlue
about an hour ago

ESPN_BigTen

ESPN BigTen


Utah ends its first sustained drive with a 38-yard field goal, takes a 13-10 at the end of the half.
about an hour ago

UMGoBlog

Michigan Football


Utah FG Q2 as time expired. #GoBlue
about an hour ago

ChantelJennings

Chantel Jennings


Michigan men. RT @DanWolken Seems about right RT @GerdOzone: Brady Hoke and Greg Mattison and throwing F-Bombs at each other. Wow.
about an hour ago

umichfootball

Michigan Football


Clark's sack pushes Utah back 13 yards, a sideline interference penalty gives them 5 back. It's 4th & 14 from the Michigan 21 (:27).
about an hour ago

ChantelJennings

Chantel Jennings


Frank Clark could probably play basketball, wrestling, lacrosse, swimming/diving at Michigan.
about an hour ago

UMGoBlog

Michigan Football


Michigan gets a 5 yd line sideline penalty #GoBlue
about an hour ago

UMGoBlog

Michigan Football


Frank Clark delivers the sack #GoBlue
about an hour ago

umichfootball

Michigan Football


FRANK CLARK.
about an hour ago

ESPN_BigTen

ESPN BigTen


Wisconsin rushed for 644 yards today. According to @ESPNStatsInfo, that's the most in Big Ten history since 1927 -- when Minnesota had 663.
about an hour ago

UMGoBlog

Michigan Football


Utah knocking on the door 2 and 11 M18 Q2 1:28 #GoBlue
about an hour ago

ESPN_BigTen

ESPN BigTen


Of the 12 B1G games that have already started or are completed, only one team is losing: Illinois, to Texas State.
about an hour ago

umichfootball

Michigan Football


Utah's moving the ball, now deep into Michigan territory with 2:14 to the half. Michigan timeout.
about an hour ago

ESPN_BigTen

ESPN BigTen


Video: Northwestern 24, Western Illinois 7 http://t.co/UOv9w48HhS
about an hour ago

UMGoBlog

Michigan Football


1st and 10 Utah M 27 #GoBlue
about an hour ago

ESPN_BigTen

ESPN BigTen


PSU finally distances itself from UMass with a 24-yd TD scamper by Bill Belton, a good RB you don't hear more about b/c of his OL. PSU 13-0
about an hour ago

UMGoBlog

Michigan Football


RT @SamWebb77: Safety spot a little thin now. Delano Hill limped off. Dymonte Thomas in the game
about an hour ago

UMGoBlog

Michigan Football


1st and 10 Utah #GoBlue
about an hour ago

umichfootball

Michigan Football


Jake Ryan, flying to the football. TFL.
about an hour ago

ChantelJennings

Chantel Jennings


That was Thompson's first pass attempt of the day… I think it's safe to say that the Utes are in major trouble if Wilson doesn't return.
about an hour ago

TimS_Wolverine

Tim Sullivan


Michigan defensive linemen from Glenville get crazy interceptions. #science
about an hour ago

UMGoBlog

Michigan Football


UM 10 Utah 10 Q2 5:01 #GoBlue
about an hour ago

umichfootball

Michigan Football


Following Willie Henry's pick six, the score is tied at 10 with 5:01 to the half.
about an hour ago

BTN_Michigan

Big Ten Network


TD MICH: Bad pass by K Thompson intercepted, W Henry returns it for 13-yd score. Q2: UTAH 10, MICH 10 LIVE SCORES: http://t.co/wmMlXKwpdR
about an hour ago

ESPN_BigTen

ESPN BigTen


Michigan DE Willie Henry gets a pick-six to tie the game. Michigan 10, Utah 10 with five minutes to go in the half.
about an hour ago

UMGoBlog

Michigan Football


Willie Henry INT 7 yd ret TD #GoBlue
about an hour ago

umichfootball

Michigan Football


Willie Henry HOW.
about an hour ago

UMGoBlog

Michigan Football


TD MEECHIGAN #GoBlue
about an hour ago

umichfootball

Michigan Football


WHOAAAAA
about an hour ago

umichfootball

Michigan Football


Utah interception.
about an hour ago

UMGoBlog

Michigan Football


Wow, what an INT #GoBlue
about an hour ago

umichfootball

Michigan Football


Ahh, Funchess. First down, Michigan.
about an hour ago

UMGoBlog

Michigan Football


Devin Gardner to Devin Funchess 25 gain #GoBlue
about an hour ago

ESPN_BigTen

ESPN BigTen


Badgers, Spartans have huge days http://t.co/C0IuN2JIpd
about an hour ago

ESPN_BigTen

ESPN BigTen


Watch: Utah player evokes Desmond Howard, strikes Heisman pose at Big House http://t.co/D0PKJ4vEP4
about an hour ago

umichfootball

Michigan Football


Jabrill Peppers calls for a fair catch and Michigan will take over from the 49.
about an hour ago

umichfootball

Michigan Football


And the defense holds. Again. 💪💪💪
about an hour ago

ESPN_BigTen

ESPN BigTen


It's 3rd-and-17 for Mizzou so, naturally, Indiana forces a three-and ... wait a second ... nope, it's a first down. That's the IU defense.
about an hour ago

umichfootball

Michigan Football


Gardner finds A.J. Williams for 7. It's not enough and Michigan will punt.
about an hour ago

UMGoBlog

Michigan Football


Michigan stalled, here comes a punt #GoBlue
about an hour ago

umterps

Maryland Athletics


🐢>🍊
about an hour ago

ChantelJennings

Chantel Jennings


Who wore "The Pose" better — Desmond or Kaelin? ... Not. Even. A. Question. http://t.co/go4shSZOUF
about an hour ago

mikerothstein

Michael Rothstein


Per colleague @FieldYates, the #Lions have cut WR Kevin Ogletree.
about an hour ago

ESPN_BigTen

ESPN BigTen


Iowa gets big win as QB plot thickens http://t.co/iS0441ETsH
about an hour ago

UMGoBlog

Michigan Football


About that last tweet Devin Gardner sacked #GoBlue
about an hour ago

UMGoBlog

Michigan Football


Michigan o line having a good day so far #GoBlue
about an hour ago

umichfootball

Michigan Football


Let Derrick run.
about an hour ago

ChantelJennings

Chantel Jennings


Here's a little more background on Travis Wilson's head injury from last year and his return: http://t.co/rhOjZzr0Q2
about an hour ago

umichfootball

Michigan Football


Michigan will start from its own 42.
about an hour ago
BLOG ARCHIVE:
CATEGORIES: