Mason Cole wowed by U-M first look
July, 31, 2012
7/31/12
12:02
PM ET
Many recruits are active on social media platforms, tweeting about their recruitment and schools. However, few were as vocal on Twitter this weekend as offensive lineman
Mason Cole
(Tarpon Springs, Fla./East Lake), who tweeted a near play-by-play of his visit to Michigan.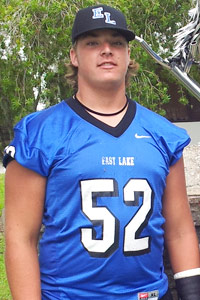 Courtesy of Mason Cole2014 offensive lineman Mason Cole has more than 25 college offers.
"Ann Arbor is sweet!" he tweeted.
Later it was, "#GoBlue, baby, such a college town."
To continue reading this article you must be an Insider
Insider
Utah Gets Much-Needed Delayed Win
Utah coach Kyle Whittingham sees bigger things ahead for Utah after knocking off Michigan on the road.
Utah Gets Much-Needed Delayed Win
VIDEO PLAYLIST
MICHIGAN FB RECRUITING SCORECARD
Adidas Youth Michigan Wolverines Blue Ultimate T-shirt Shop »
ChantelJennings

Chantel Jennings


A hint for college journalists: writers are always watching, not just reading. So talking during the national anthem is not a good idea.
about 3 hours ago

BTN_Michigan

Big Ten Network


#Michigan news: Big Ten bounces back, registers weekend that was long overdue http://t.co/B05DuwEMvP
about 4 hours ago

ChantelJennings

Chantel Jennings


Ifo Ekpre-Olomu giving major props to Connor Halliday on his play calling and execution.
about 4 hours ago

ChantelJennings

Chantel Jennings


Freshman running back Royce Freeman. That's a normal sized backpack...just looks tiny on him. http://t.co/d8xOcOBsU4
about 4 hours ago

ESPN_Pac12blog

ESPN Pac-12


Video: Oregon coach Mark Helfrich http://t.co/kMAYjoliTW
about 4 hours ago

ChantelJennings

Chantel Jennings


And Oregon wins this one, 38-31. If this Wazzu team shows up games one-three they'd be 3-1 right now, not 1-3.
about 5 hours ago

ChantelJennings

Chantel Jennings


Have a feeling Leach will be submitting that one. RT @LostLettermen HORRIBLE, HORRIBLE, HORRIBLE missed PI call by Pac-12 refs. Deplorable.
about 5 hours ago

ChantelJennings

Chantel Jennings


Assuming he doesn't mess up … again. @JShankerESPN Jimbo Fisher says Jameis Winston is the team's quarterback again beginning Monday.
about 5 hours ago

BTN_Michigan

Big Ten Network


#Michigan news: Tom's Take: Week 4 Big Ten honors, grades, numbers & much more http://t.co/wkIhUtr7Np
about 5 hours ago

ChantelJennings

Chantel Jennings


Mariota finds Keanon Lowe, who's having a career-day for the Ducks. PAT is good. UO leads, 38-31 w/ 5:33 remaining.
about 5 hours ago

ChantelJennings

Chantel Jennings


Connor Halliday playing damn near perfect. If he closes out this game without an INT, it'll be just his third in three seasons.
about 5 hours ago

ChantelJennings

Chantel Jennings


@TravHaneyESPN "Rivers = fish. Fish are in MN. Paul Bunyan is from Minnesota. He was a brute. River probably is too. Lets scholly that kid."
about 5 hours ago

ScoutMichigan

Scout Wolverines


#Wolverines Brady Hoke Not Committing to Gardner, Morris - Michigan pulled senior quarterback Devin Gardner... http://t.co/zcpkV1I4eX
about 5 hours ago

ChantelJennings

Chantel Jennings


"Geno, what gives you confidence in facing Tennessee?" We have Diana. "Why's your offense clicking right now?" We have Diana.
about 5 hours ago

ChantelJennings

Chantel Jennings


When Diana Taurasi was at UConn, Auriemma would answer questions with just: "Well, we have Diana." Would love to see Helfrich pull that...
about 5 hours ago

ChantelJennings

Chantel Jennings


Oregon goes for it on fourth-and-10 on the 36. And they get it because they have Mariota and you don't.
about 6 hours ago

ChantelJennings

Chantel Jennings


Also, that was the first interception-free first half for Connor Halliday this season.
about 6 hours ago

ChantelJennings

Chantel Jennings


Through three games, Washington State had 4 sacks. Against the No. 2 team in the nation, Cougs have 6.
about 6 hours ago

ChantelJennings

Chantel Jennings


I'm here. It's very weird. RT @Mark_Schlabach Don't go to bed. Getting weird in Pullman, too
about 6 hours ago

BTN_Michigan

Big Ten Network


#UMich video: Utah at Michigan - Football Highlights http://t.co/8gboIyQAwy
about 6 hours ago

ChantelJennings

Chantel Jennings


Nothing unifies Americans more than being on the big screen but not being able to find out where the camera is that's filming you.
about 6 hours ago

ESPN_BigTen

ESPN BigTen


What we learned in the Big Ten: Week 4 http://t.co/py4ER6uLar
about 6 hours ago

BTN_Michigan

Big Ten Network


#Michigan news: Melvin Gordon, Ameer Abdullah top Week 4 Big Ten offensive efforts http://t.co/oskMeUF6XG
about 6 hours ago

ChantelJennings

Chantel Jennings


I don't know what's weirder: the fact Oregon ONLY rushed 45 yards in the first half or that Wazzu rushed a whole 37 yards that half...
about 6 hours ago

BTN_Michigan

Big Ten Network


Travis Wilson passed for 172 yards and a touchdown as Utah beat @umichfootball 26-10. http://t.co/acAImw9QGZ
about 6 hours ago

ChantelJennings

Chantel Jennings


After giving up two sacks to end the half, the Oregon offensive line stays huddled for a bit as the teams head back to their locker rooms.
about 6 hours ago

ESPN_BigTen

ESPN BigTen


Video: Nebraska RB Ameer Abdullah http://t.co/FiGrU7nvDm
about 6 hours ago

ChantelJennings

Chantel Jennings


I keep thinking the refs are throwing flags everywhere. Nope. Just the Oregon players bright yellow shoes.
about 6 hours ago

ScoutMichigan

Scout Wolverines


#Wolverines Michigan Coach Brady Hoke Post Utah Presser - VIDEO: Michigan coach Brady Hoke speaks following... http://t.co/gYBRBZXKBd
about 6 hours ago

ESPN_BigTen

ESPN BigTen


Nebraska 41, Miami 31 http://t.co/71ugOcfk2b
about 6 hours ago

ChantelJennings

Chantel Jennings


516 yards of offense. 42 points. And it's not even halftime yet. Turn on Oregon-Washington State.
about 6 hours ago

ChantelJennings

Chantel Jennings


There's 3:53 left in the second quarter and we just saw our first 3rd down conversion of the game. #WSUvsUO
about 7 hours ago

DesmondHoward

Desmond Howard


This game is perfect for Jameis Winston. WOW! This whole thing couldn't have worked out better for him.
about 7 hours ago

ChantelJennings

Chantel Jennings


The best part of that play was Halliday turning to Leach with his arms up like "Are we seriously about to do this?" Fourth-and-12? Why not.
about 7 hours ago

ChantelJennings

Chantel Jennings


Wazzu is 0-for-5 on 3rd down conversions and 2-for-2 on 4th down conversions. Because, you know, college football always makes sense.
about 7 hours ago

AndrewGreif

Andrew Greif


WSU and Oregon are a combined 0-7 on third down, which makes it seem like the offenses aren't firing. And yet, 350 combined yards so far.
about 7 hours ago

ChantelJennings

Chantel Jennings


90% of his passing stats -> RT @tysonalger 137 of Mariota's yards have come on two passes.
about 7 hours ago

ESPN_BigTen

ESPN BigTen


Stormy night clouds Michigan's future http://t.co/N95QtGpPZO
about 7 hours ago

ChantelJennings

Chantel Jennings


In the first quarter: Cougars have 10 first downs. Ducks have 2.
about 7 hours ago

ChantelJennings

Chantel Jennings


Wazzu had 8 receivers catch passes in the first quarter. Last year they had seven receivers average at least 3 catches per game on the year.
about 7 hours ago

ChantelJennings

Chantel Jennings


Twice… RT @BonaguraESPN You know it's a weird day when an #EndZoneFade gives WSU a lead over Oregon.
about 7 hours ago

ChantelJennings

Chantel Jennings


Halliday with two really bad incompletions in the red zone on third downs. Not sure what he's seeing/not seeing there.
about 7 hours ago

ESPN_BigTen

ESPN BigTen


Abdullah breaks through for a 10-yard TD to all but ice it for Nebraska. Huskers lead 41-24 with 4:13 to play. #MIAvsNEB
about 7 hours ago

DesmondHoward

Desmond Howard


A fantastic catch by Mike Williams!
about 7 hours ago

ChantelJennings

Chantel Jennings


Here's the thing about reigning NCAA 110m hurdle champ Devon Allen. He's fastest in the nation on the track. Probs faster than your DBs too.
about 7 hours ago

ESPN_BigTen

ESPN BigTen


Tyriq McCord tackles Abdullah by the head. Another 15-yard flag. #MIAvsNEB
about 7 hours ago

ChantelJennings

Chantel Jennings


After letting the Cougars march down the field, the Duck defensive player of the drive goes to the left upright. FG = no good.
about 7 hours ago

ScoutMichigan

Scout Wolverines


#Wolverines Storm Delay Can't Stop Utah, 26-10 Over U-M - Michigan played Utah closely through one half of ... http://t.co/2andBUBP2D
about 7 hours ago

ChantelJennings

Chantel Jennings


Mariota sacked on third-and-9, fumbles, recovered by Ducks. They'll punt. Wow, quite the start.
about 8 hours ago

ChantelJennings

Chantel Jennings


Cougars are on the board first. Halliday looking sharp, controlled in the pocket. Defense actually making plays. WSU 7 - UO 0.
about 8 hours ago

ChantelJennings

Chantel Jennings


Teams have had success against Oregon in the first quarter/half. The question is whether Wazzu can adjust as Oregon does, too.
about 8 hours ago

ChantelJennings

Chantel Jennings


One offense got sacked and forced into a fourth-and-25 punt. The other offense was Washington State.
about 8 hours ago

DesmondHoward

Desmond Howard


The Canes are fighting back in Lincoln, only down 7 in the 4th.
about 8 hours ago

ESPN_BigTen

ESPN BigTen


Canes back to 31-24 on 34-yard field goal. As much as Nebraska has controlled play since mid-second quarter, this is very much still a game.
about 8 hours ago

ESPN_BigTen

ESPN BigTen


If Miami goes in to score here, that roughing-the-passer penalty on Nebraska is officially a game-changing play. #MIAvsNEB
about 8 hours ago

ChantelJennings

Chantel Jennings


Sun setting on the Palouse as we get ready for Oregon-Wazzu kick off: http://t.co/hTzEwse7WQ
about 8 hours ago

DesmondHoward

Desmond Howard


Huge opening half drive for Maguire and the Noles. Touchdown! #confidencebuilder
about 8 hours ago

ChantelJennings

Chantel Jennings


And if you want to know what it's like to spend a full day with Mike Leach: http://t.co/9t5q2YbnTV
about 8 hours ago

ChantelJennings

Chantel Jennings


Pre-game RTs- What to know: http://t.co/SxWA12RN1U, Young WRs step up: http://t.co/BrosF3rHal, Mariota's risk = good: http://t.co/g5deVsdLJv
about 8 hours ago

ESPN_BigTen

ESPN BigTen


Randy Gregory is slow to get up for Nebraska after that Kaaya completion. Bad sign for Nebraska. #MIAvsNEB
about 8 hours ago

DesmondHoward

Desmond Howard


Hey FSU, it's not too late to reduce Jameis Winston's punishment. The NCAA did it just a week ago.
about 8 hours ago

ESPN_BigTen

ESPN BigTen


Kaaya to Malcolm Lewis for a 9-yard score. Miami answers in a big way. Nebraska leads 24-21. #MIAvsNEB
about 8 hours ago

ESPN_BigTen

ESPN BigTen


Miami's defense badly needs its offense to do something right now. #MIAvsNEB
about 8 hours ago

ESPN_BigTen

ESPN BigTen


Video: Illinois 42, Texas State 35 http://t.co/PW4FqusjZs
about 8 hours ago

RKaipustOWH

Rich Kaipust


Nebraska has run 33 of the last 36 offensive snaps in this game. Unreal. #Huskers
about 8 hours ago

ESPN_BigTen

ESPN BigTen


Nebraska has started the second half with the same kind of physical play that put it ahead. Good sign for Huskers. #MIAvsNEB
about 9 hours ago

ESPN_BigTen

ESPN BigTen


Utah 26, Michigan 10 http://t.co/SjZTMs1Fp5
about 9 hours ago

DesmondHoward

Desmond Howard


It will be interesting to see the halftime adjustments Jimbo makes to his O.
about 9 hours ago

ESPN_BigTen

ESPN BigTen


Nebraska leads 17-14 at the half. Huskers owned final several minutes of second quarter to overcome 7-point deficit. #MIAvsNEB
about 9 hours ago

ChantelJennings

Chantel Jennings


Wowwwwwww. RT @theblockm Wikipedia editors are harsh. http://t.co/qmSXclwEVG
about 9 hours ago

ESPN_BigTen

ESPN BigTen


Video: Indiana coach Kevin Wilson http://t.co/dgv3upEaD1
about 9 hours ago

ESPN_BigTen

ESPN BigTen


Powerful showing by Nebraska up front on the past couple possessions. Need to cash in with points here to take halftime lead. #MIAvsNEB
about 9 hours ago

BTN_Michigan

Big Ten Network


ICYMI: Willie Young picked off the Utah pass and found paydirt for @umichfootball. Brought to you by @Buick. http://t.co/MeoQPSeRXE
about 9 hours ago

BTNSean

Sean Merriman


Surprising stat, but Michigan has not reached the red zone against a Power 5 program this season
about 9 hours ago

ChantelJennings

Chantel Jennings


Now, I turn my eyes to Wazzu-Oregon where there will likely be no shortage of offense.
about 9 hours ago

ESPN_BigTen

ESPN BigTen


Utah finishes off its 26-10 victory over Michigan. Wolverines drop to 2-2 this season.
about 9 hours ago

umichfootball

Michigan Football


Final: Utah 26 - Michigan 10
about 9 hours ago

ESPN_BigTen

ESPN BigTen


A 14-play TD drive is Nebraska's longest of the season, capped by Abdullah 3-yard catch. Tied at 14 in Lincoln. #MIAvsNEB
about 9 hours ago

ChantelJennings

Chantel Jennings


Oh. That's worse. RT @DrewCHallett @ChantelJennings Michigan hasn't entered the red zone against a Power 5 team this season.
about 9 hours ago

ESPN_BigTen

ESPN BigTen


A fourth Michigan turnover pretty much kills any chance of a miracle comeback. Utah leading 26-10 with the ball and 2:10 remaining.
about 9 hours ago

ChantelJennings

Chantel Jennings


Michigan hasn't scored an offensive touchdown against a Power 5 team this season. Wow.
about 9 hours ago

BTN_Michigan

Big Ten Network


G Paul falls on #Wolverines fumble, UTAH possession at own 44-yd line. Q4: UTAH 26, MICH 10 LIVE SCORES: http://t.co/wmMlXKwpdR
about 9 hours ago

umichfootball

Michigan Football


4:30 remaining in the game.
about 9 hours ago

umichfootball

Michigan Football


Morris fumbles, Utah recovers.
about 9 hours ago

BTN_Michigan

Big Ten Network


ICYMI: Here's a nice shot of the weather delay at Michigan Stadium. http://t.co/Dj5CLKgAHt
about 9 hours ago

umichfootball

Michigan Football


3rd & 10: Morris finds Chesson for a first down. Michigan driving.
about 9 hours ago

umichfootball

Michigan Football


Morris finds Hayes on the checkdown for an 18-yard gain. First down, Michigan.
about 10 hours ago

BTN_Michigan

Big Ten Network


A Phillips' 41-yd FG is no good for UTAH. Phillips 4-5 today. Q4 6:03: UTAH 26, MICH 10 LIVE SCORES: http://t.co/wmMlXKwpdR
about 10 hours ago

umichfootball

Michigan Football


Shane Morris is sacked on first down, second down's pass incomplete.
about 10 hours ago

umichfootball

Michigan Football


Utah's 41-yard attempt is NO GOOD. Michigan takes over with 6:03 on the clock.
about 10 hours ago

umichfootball

Michigan Football


3rd & 7: Utah is stopped 2 yard short of the first down. Michigan timeout (6:08).
about 10 hours ago

ESPN_BigTen

ESPN BigTen


Michigan and Utah back in action after a 144-minute delay.
about 10 hours ago

UMGoBlog

Michigan Football


Game back on
about 10 hours ago

ESPN_BigTen

ESPN BigTen


Brad Kaaya is not playing like a freshman tonight. So far, 11 of 15 for 166 yards, 1 TD, 1 INT. #MIAvsNEB
about 10 hours ago

BTN_Michigan

Big Ten Network


A Phillips' 50-yd FG is good for UTAH. Phillips 4-4 today. Q4 10:51: UTAH 26, MICH 10 LIVE SCORES: http://t.co/wmMlXKwpdR
about 10 hours ago

BTN_Michigan

Big Ten Network


UTAH's A Phillips hits 38-yd FG. Phillips 4-4 today. Q2 15:00: UTAH 13, MICH 10 LIVE SCORES: http://t.co/wmMlXKwpdR
about 10 hours ago

BTN_Michigan

Big Ten Network


A Phillips' 47-yd FG is good for UTAH. Phillips 4-4 today. Q4 14:20: UTAH 23, MICH 10 LIVE SCORES: http://t.co/wmMlXKwpdR
about 10 hours ago

BTN_Michigan

Big Ten Network


G Paul picks off D Gardner, UTAH take possession at MICH 47-yd line. Q4 13:37: UTAH 23, MICH 10 LIVE SCORES: http://t.co/wmMlXKwpdR
about 10 hours ago

BTN_Michigan

Big Ten Network


TD UTAH: 28-yd pass from T Wilson to D Anderson. Q3 13:33: UTAH 20, MICH 10 LIVE SCORES: http://t.co/wmMlXKwpdR
about 10 hours ago

umichfootball

Michigan Football


Frank Clark picks up a TFL on the first play.
about 10 hours ago
BLOG ARCHIVE:
CATEGORIES: