2014 WR Booth impressed by Michigan
March, 29, 2012
3/29/12
8:19
PM ET
Dominique Booth (Indianapolis/Pike) has already had a pretty great spring break, and not just because he's getting a break from school and homework.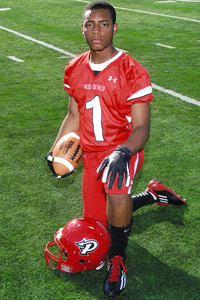 Courtesy Booth Family2014 WR Dominique Booth had six touchdowns as a sophomore and has been getting interest from several Big Ten schools.
The 2014 wide receiver target's vacation started with an offer straight out of the gates from Michigan State football coach Mark Dantonio on Thursday morning.
"I wasn't really expecting that because Michigan State might've been the school I talked to the least," Booth said. "I didn't know they were that interested."
To continue reading this article you must be an Insider
Insider
Utah Gets Much-Needed Delayed Win
Utah coach Kyle Whittingham sees bigger things ahead for Utah after knocking off Michigan on the road.
Utah Gets Much-Needed Delayed Win
VIDEO PLAYLIST
MICHIGAN FB RECRUITING SCORECARD
mikerothstein

Michael Rothstein


On the last Stafford sack, that was on Lucas. He got beat by his man, forcing Stafford from the pocket. #Lions
12 minutes ago

ESPN_BigTen

ESPN BigTen


Big Ten Power Rankings: Week 4 http://t.co/ONuebucPNq
13 minutes ago

mikerothstein

Michael Rothstein


The #Lions defense -- 8 of Detroit's 9 points.
23 minutes ago

BTN_Michigan

Big Ten Network


Our @gerrydinardo has some advice for 2-2 Michigan in this tweet - http://t.co/Pu9JIXpLE3 http://t.co/RKwKLqRbCQ
23 minutes ago

mikerothstein

Michael Rothstein


Meanwhile, on the sidelines, Don Carey is having a massive wrap placed on his right hamstring. #Lions
29 minutes ago

mikerothstein

Michael Rothstein


Cornelius Lucas in at right tackle for the #Lions now, replacing Garrett Reynolds.
31 minutes ago

mikerothstein

Michael Rothstein


Both Don Carey (hamstring) & Stephen Tulloch (knee) questionable to return for #Lions
36 minutes ago

mikerothstein

Michael Rothstein


Trainers/doctors talking to Tulloch on the sideline. #Lions
37 minutes ago

mikerothstein

Michael Rothstein


Tahir Whitehead replacing Tulloch here at linebacker. #Lions
42 minutes ago

mikerothstein

Michael Rothstein


Stephen Tulloch down on the field for the #Lions .... That would be a big loss
43 minutes ago

mikerothstein

Michael Rothstein


Ha Ha Clinton-Dix with the INT off Fuller's hands. #Lions
46 minutes ago

mikerothstein

Michael Rothstein


Trainers/doctors are looking at Don Carey on the sidelines. #Lions
about an hour ago

mikerothstein

Michael Rothstein


Fauria limps off after the catch. #Lions
about an hour ago

mikerothstein

Michael Rothstein


Gorrer now in at nickel for the #Lions
about an hour ago

mikerothstein

Michael Rothstein


Both Gorrer & Seisay were on kick coverage there for the #Lions.
about an hour ago

mikerothstein

Michael Rothstein


@davebirkett He did. Showed it on replay.
about an hour ago

mikerothstein

Michael Rothstein


Nick Fairley made that play for the #Lions, though. Good hand placement on the strip.
about an hour ago

mikerothstein

Michael Rothstein


Don Carey's second snap of the season...a touchdown?
about an hour ago

mikerothstein

Michael Rothstein


Also, Nick Fairley has a massive wrap on his right bicep. He was limited in practice this week w/bicep injury. #Lions
about an hour ago

mikerothstein

Michael Rothstein


Looks like Don Carey's going to be the slot corner here. #Lions
about an hour ago

mikerothstein

Michael Rothstein


Definitely a new kick return formation for the #Lions there.
about an hour ago

mikerothstein

Michael Rothstein


Jed Collins one of the up backs on special teams, replacing Montell Owens. Also, interestingly, Theo Riddick almost at the line for KR
about an hour ago

mikerothstein

Michael Rothstein


The #Lions are going to receive.
about an hour ago

mikerothstein

Michael Rothstein


The first runner-up from American Idol Season 13 is singing the anthem here. #Lions #Packers
about an hour ago

mikerothstein

Michael Rothstein


Interesting -- the #Lions defensive line doesn't get individual introductions. All walk out together.
about an hour ago

mikerothstein

Michael Rothstein


Concoursing at Ford Field. #Lions #Packers http://t.co/FN1HzqfpP1
about an hour ago

mikerothstein

Michael Rothstein


They've been running mostly a three linebacker deal during 7-on-7. So that's Levy & Whitehead. I could see Levy doing some coverage.
about an hour ago

mikerothstein

Michael Rothstein


Interesting -- the #Lions are having Tahir Whitehead cover a WR in 7-on-7 in warmups here.
about an hour ago

mikerothstein

Michael Rothstein


Believe it or not -- Nick Fairley is actually stretching during stretching time for the #Lions. That...hasn't always been the case.
about an hour ago

mikerothstein

Michael Rothstein


Interesting to me --Joique Bell carrying a ball anywhere he's going right now for #Lions in warmups. Two fumbles in two weeks.
about an hour ago

mikerothstein

Michael Rothstein


.@therealliq I get what you're saying, but they aren't going to keep Ebron down both for TE numbers & his ability to stretch a defense.
about 2 hours ago

jayfeely

Jay Feely


Shocked and saddened to hear of the passing of @RobBironasMy thoughts and prayers are with his family
about 2 hours ago

mikerothstein

Michael Rothstein


.@therealliq Broyles has yet to be active this year. With Ebron, Fauria, Pettigrew, they feel they can go w/4WR & need Ross up for returns
about 2 hours ago

BTN_Michigan

Big Ten Network


#Michigan news: Power Rankings: Perfect Nebraska moves up to No. 2 in latest list http://t.co/8y8RMLAa6l
about 2 hours ago

mikerothstein

Michael Rothstein


Will say again what I said earlier in the week. Start all #Packers WRs. #Lions CBs Sun: Mathis, Slay, guy signed this week, PS call-up.
about 2 hours ago

mikerothstein

Michael Rothstein


Only #Lions players warming up right now are kicker Nate Freese and LS Don Muhlbach.
about 2 hours ago

mikerothstein

Michael Rothstein


No real surprises among the #Lions inactives. Safety James Ihedigbo is out again, meaning he's 0-for-3 in games played this year.
about 2 hours ago

mikerothstein

Michael Rothstein


Vaughn, waddle, Lewis, Moore, Owens, broyles, ihedigbo inactive for #Lions
about 2 hours ago

ESPN_BigTen

ESPN BigTen


Best of the visits: Big Ten http://t.co/GEUR8Pu8KH
about 2 hours ago

mikerothstein

Michael Rothstein


And this week's How I Prepare #Lions series featured punter Sam Martin, who S's the field before every game: http://t.co/9zbnLNnVV6
about 2 hours ago

mikerothstein

Michael Rothstein


From yesterday, the #Lions cut WR Kevin Ogletree, promoted CB Mohammed Seisay: http://t.co/U5nzlkfe3L
about 2 hours ago

mikerothstein

Michael Rothstein


W2W4 today with the #Lions and the #Packers: http://t.co/ayyYDiQc6z
about 2 hours ago

BTN_Michigan

Big Ten Network


#Michigan news: What did Tom Dienhart learn about Big Ten in Week 4? Here's what! http://t.co/cCAW9IsyEl
about 2 hours ago

PaulKuharskyNFL

Paul Kuharsky


Kris Durham and T.J. Graham certain to be inactive. Early workout guys. #Titans
about 3 hours ago

mikerothstein

Michael Rothstein


Greetings from Ford Field. #Lions #Packers http://t.co/elxJvMu8oj
about 3 hours ago

BTN_Michigan

Big Ten Network


#Michigan news: How did we do? Week 4 Big Ten football predictions revisited http://t.co/8pDdbWtQB9
about 3 hours ago

ESPN_BigTen

ESPN BigTen


Meyer: 'I thought I was dying' in '09 http://t.co/A0M6KI6Ejl
about 3 hours ago

ESPN_BigTen

ESPN BigTen


Big Ten helmet stickers: Week 4 http://t.co/BCGicuXLrX
about 5 hours ago

ChantelJennings

Chantel Jennings


A hint for college journalists: writers are always watching, not just reading. So talking during the national anthem is not a good idea.
about 11 hours ago

BTN_Michigan

Big Ten Network


#Michigan news: Big Ten bounces back, registers weekend that was long overdue http://t.co/B05DuwEMvP
about 11 hours ago

ChantelJennings

Chantel Jennings


Ifo Ekpre-Olomu giving major props to Connor Halliday on his play calling and execution.
about 11 hours ago

ChantelJennings

Chantel Jennings


Freshman running back Royce Freeman. That's a normal sized backpack...just looks tiny on him. http://t.co/d8xOcOBsU4
about 11 hours ago

ESPN_Pac12blog

ESPN Pac-12


Video: Oregon coach Mark Helfrich http://t.co/kMAYjoliTW
about 11 hours ago

ChantelJennings

Chantel Jennings


And Oregon wins this one, 38-31. If this Wazzu team shows up games one-three they'd be 3-1 right now, not 1-3.
about 12 hours ago

ChantelJennings

Chantel Jennings


Have a feeling Leach will be submitting that one. RT @LostLettermen HORRIBLE, HORRIBLE, HORRIBLE missed PI call by Pac-12 refs. Deplorable.
about 12 hours ago

ChantelJennings

Chantel Jennings


Assuming he doesn't mess up … again. @JShankerESPN Jimbo Fisher says Jameis Winston is the team's quarterback again beginning Monday.
about 12 hours ago

BTN_Michigan

Big Ten Network


#Michigan news: Tom's Take: Week 4 Big Ten honors, grades, numbers & much more http://t.co/wkIhUtr7Np
about 12 hours ago

ChantelJennings

Chantel Jennings


Mariota finds Keanon Lowe, who's having a career-day for the Ducks. PAT is good. UO leads, 38-31 w/ 5:33 remaining.
about 12 hours ago

ChantelJennings

Chantel Jennings


Connor Halliday playing damn near perfect. If he closes out this game without an INT, it'll be just his third in three seasons.
about 12 hours ago

ChantelJennings

Chantel Jennings


@TravHaneyESPN "Rivers = fish. Fish are in MN. Paul Bunyan is from Minnesota. He was a brute. River probably is too. Lets scholly that kid."
about 13 hours ago

ScoutMichigan

Scout Wolverines


#Wolverines Brady Hoke Not Committing to Gardner, Morris - Michigan pulled senior quarterback Devin Gardner... http://t.co/zcpkV1I4eX
about 13 hours ago

ChantelJennings

Chantel Jennings


"Geno, what gives you confidence in facing Tennessee?" We have Diana. "Why's your offense clicking right now?" We have Diana.
about 13 hours ago

ChantelJennings

Chantel Jennings


When Diana Taurasi was at UConn, Auriemma would answer questions with just: "Well, we have Diana." Would love to see Helfrich pull that...
about 13 hours ago

ChantelJennings

Chantel Jennings


Oregon goes for it on fourth-and-10 on the 36. And they get it because they have Mariota and you don't.
about 13 hours ago

ChantelJennings

Chantel Jennings


Also, that was the first interception-free first half for Connor Halliday this season.
about 13 hours ago

ChantelJennings

Chantel Jennings


Through three games, Washington State had 4 sacks. Against the No. 2 team in the nation, Cougs have 6.
about 13 hours ago

ChantelJennings

Chantel Jennings


I'm here. It's very weird. RT @Mark_Schlabach Don't go to bed. Getting weird in Pullman, too
about 13 hours ago

BTN_Michigan

Big Ten Network


#UMich video: Utah at Michigan - Football Highlights http://t.co/8gboIyQAwy
about 13 hours ago

ChantelJennings

Chantel Jennings


Nothing unifies Americans more than being on the big screen but not being able to find out where the camera is that's filming you.
about 13 hours ago

ESPN_BigTen

ESPN BigTen


What we learned in the Big Ten: Week 4 http://t.co/py4ER6uLar
about 13 hours ago

BTN_Michigan

Big Ten Network


#Michigan news: Melvin Gordon, Ameer Abdullah top Week 4 Big Ten offensive efforts http://t.co/oskMeUF6XG
about 13 hours ago

ChantelJennings

Chantel Jennings


I don't know what's weirder: the fact Oregon ONLY rushed 45 yards in the first half or that Wazzu rushed a whole 37 yards that half...
about 14 hours ago

BTN_Michigan

Big Ten Network


Travis Wilson passed for 172 yards and a touchdown as Utah beat @umichfootball 26-10. http://t.co/acAImw9QGZ
about 14 hours ago

ChantelJennings

Chantel Jennings


After giving up two sacks to end the half, the Oregon offensive line stays huddled for a bit as the teams head back to their locker rooms.
about 14 hours ago

ESPN_BigTen

ESPN BigTen


Video: Nebraska RB Ameer Abdullah http://t.co/FiGrU7nvDm
about 14 hours ago

ChantelJennings

Chantel Jennings


I keep thinking the refs are throwing flags everywhere. Nope. Just the Oregon players bright yellow shoes.
about 14 hours ago

ScoutMichigan

Scout Wolverines


#Wolverines Michigan Coach Brady Hoke Post Utah Presser - VIDEO: Michigan coach Brady Hoke speaks following... http://t.co/gYBRBZXKBd
about 14 hours ago

ESPN_BigTen

ESPN BigTen


Nebraska 41, Miami 31 http://t.co/71ugOcfk2b
about 14 hours ago

ChantelJennings

Chantel Jennings


516 yards of offense. 42 points. And it's not even halftime yet. Turn on Oregon-Washington State.
about 14 hours ago

ChantelJennings

Chantel Jennings


There's 3:53 left in the second quarter and we just saw our first 3rd down conversion of the game. #WSUvsUO
about 14 hours ago

DesmondHoward

Desmond Howard


This game is perfect for Jameis Winston. WOW! This whole thing couldn't have worked out better for him.
about 14 hours ago

ChantelJennings

Chantel Jennings


The best part of that play was Halliday turning to Leach with his arms up like "Are we seriously about to do this?" Fourth-and-12? Why not.
about 14 hours ago

ChantelJennings

Chantel Jennings


Wazzu is 0-for-5 on 3rd down conversions and 2-for-2 on 4th down conversions. Because, you know, college football always makes sense.
about 14 hours ago

AndrewGreif

Andrew Greif


WSU and Oregon are a combined 0-7 on third down, which makes it seem like the offenses aren't firing. And yet, 350 combined yards so far.
about 14 hours ago

ChantelJennings

Chantel Jennings


90% of his passing stats -> RT @tysonalger 137 of Mariota's yards have come on two passes.
about 14 hours ago

ESPN_BigTen

ESPN BigTen


Stormy night clouds Michigan's future http://t.co/N95QtGpPZO
about 14 hours ago

ChantelJennings

Chantel Jennings


In the first quarter: Cougars have 10 first downs. Ducks have 2.
about 14 hours ago

ChantelJennings

Chantel Jennings


Wazzu had 8 receivers catch passes in the first quarter. Last year they had seven receivers average at least 3 catches per game on the year.
about 15 hours ago

ChantelJennings

Chantel Jennings


Twice… RT @BonaguraESPN You know it's a weird day when an #EndZoneFade gives WSU a lead over Oregon.
about 15 hours ago

ChantelJennings

Chantel Jennings


Halliday with two really bad incompletions in the red zone on third downs. Not sure what he's seeing/not seeing there.
about 15 hours ago

ESPN_BigTen

ESPN BigTen


Abdullah breaks through for a 10-yard TD to all but ice it for Nebraska. Huskers lead 41-24 with 4:13 to play. #MIAvsNEB
about 15 hours ago

DesmondHoward

Desmond Howard


A fantastic catch by Mike Williams!
about 15 hours ago

ChantelJennings

Chantel Jennings


Here's the thing about reigning NCAA 110m hurdle champ Devon Allen. He's fastest in the nation on the track. Probs faster than your DBs too.
about 15 hours ago

ESPN_BigTen

ESPN BigTen


Tyriq McCord tackles Abdullah by the head. Another 15-yard flag. #MIAvsNEB
about 15 hours ago

ChantelJennings

Chantel Jennings


After letting the Cougars march down the field, the Duck defensive player of the drive goes to the left upright. FG = no good.
about 15 hours ago

ScoutMichigan

Scout Wolverines


#Wolverines Storm Delay Can't Stop Utah, 26-10 Over U-M - Michigan played Utah closely through one half of ... http://t.co/2andBUBP2D
about 15 hours ago

ChantelJennings

Chantel Jennings


Mariota sacked on third-and-9, fumbles, recovered by Ducks. They'll punt. Wow, quite the start.
about 15 hours ago

ChantelJennings

Chantel Jennings


Cougars are on the board first. Halliday looking sharp, controlled in the pocket. Defense actually making plays. WSU 7 - UO 0.
about 15 hours ago

ChantelJennings

Chantel Jennings


Teams have had success against Oregon in the first quarter/half. The question is whether Wazzu can adjust as Oregon does, too.
about 15 hours ago

ChantelJennings

Chantel Jennings


One offense got sacked and forced into a fourth-and-25 punt. The other offense was Washington State.
about 15 hours ago
BLOG ARCHIVE:
CATEGORIES: